NEW PLASTICS
INNOVATION PRIZE - NINESIGHTS
ABOUT - CONTACTS - FOUNDATION - HOME - A-Z INDEX

NEW PLASTICS ECONOMY INNOVATION PRIZE
The Circular Materials Challenge seeks ways to make all plastic packaging recyclable. Around 13% of today's packaging, such as crisp packets, food wrappers and shampoo sachets is made of layers of different materials fused together. This multi-layer construction provides important functions like keeping food fresh, but also makes the packaging difficult to recycle. The challenge therefore invites innovators to find alternative materials that could be recycled or industrially composted.

WHY PLASTICS ?

Love them or hate them, plastics are indispensable in our modern world. In fact, demand for them is expected to double in the next 20 years. Yet most plastic items are used only once before being discarded, often ending up polluting the environment. If nothing changes, there could be more plastic than fish in the ocean by 2050.

So, how do we fix this? If we want to free our oceans from plastic, we have to fundamentally rethink the way we make, use and re-use plastics so that they don't become waste in the first place. That's why we are calling for innovators, designers, scientists and entrepreneurs to find solutions that keep plastics in the economy, and out of the ocean.

WHY PARTICIPATE ?

Winners will receive $200,000 and exclusive access to a 12-month acceleration programme, with the opportunity to receive mentoring and support from New Plastics Economy participant organisations, to advance their innovations and demonstrate that their materials have the potential to be a viable alternative to non-recyclable multi-material laminated packaging.

PARTNERS & SPONSORS

The New Plastics Economy Innovation Prize is led by the Ellen MacArthur Foundation and has been launched in collaboration with the Prince of Wales's International Sustainability Unit. The Prize is funded by Wendy Schmidt, Lead Philanthropic Partner of the new Plastic Economy initiative.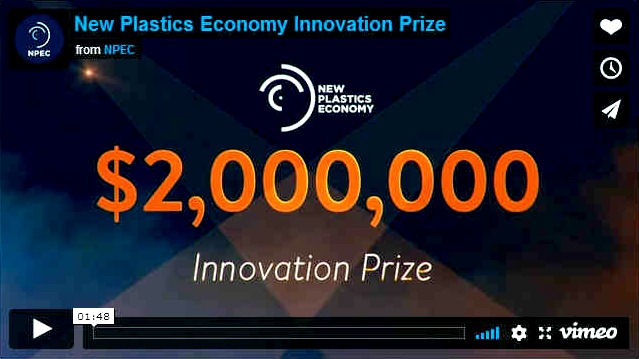 THE CHALLENGE

Combining an unrivalled range of properties with low cost, plastics have become an integral part of our daily lives. Yet the projected growth in their production and current volume of plastics escaping formal collection systems could lead by 2050 to the world's oceans containing more plastics than fish. Packaging, the single largest application of plastics and the biggest source of ocean plastics, is particularly challenging.

The New Plastics Economy initiative, led by the Ellen MacArthur Foundation, aims to move the plastics value chain into a positive spiral of value capture, stronger economics, and better environmental outcomes.

HOW CAN WE MAKE ALL PLASTIC MATERIALS RECYCLABLE ?

One of the most challenging segments of plastic packaging is multi-material laminated films. This group of materials has outstanding functional properties, combining several micro-meter thick layers of different materials that enable both light-weighting and excellent barrier properties. Unfortunately, multi-layer materials are very hard to recycle. So the vast majority of multi-material packaging end up in landfill, incinerated, or escape into the environment.

Replacing un-recyclable materials used in packaging to make them feasible to recycle or compost is a crucial intervention to create a more circular plastics economy.

The Circular Materials Challenge seeks to catalyse innovation, and help to advance the development of materials with the potential to become commercially viable, recyclable or compostable alternatives to the non-recyclable multi-material laminate films used in packaging today. The Challenge aims to stimulate the development of materials that could be captured and recycled or composted effectively, and at the same time have good enough properties to be used to package consumer products, such as food or personal care products. By identifying such materials this Challenge will bring us one step closer to creating a plastics system that works.

The solutions could be a completely new material, a new formulation or variant of existing materials, or existing materials used in a new way to create a recyclable mono-material or a fully bio-based, compostable mono- or multi-material that has the potential to:

1. provide barrier properties suitable for packaging liquid, moist or dry products.

2. be used to manufacture packaging for consumer products (for example, has suitable mechanical properties and is safe to use in food applications). Example packaging applications could include sachets, pouches, snack bags and food wrappings.

3. be collected, recycled or composted after use, as part of a feasible collection and sorting route (either in widely used existing systems or a system that could be developed and used widely).

The challenge is open to all opportunities from early stage to more mature innovations that have the potential to manufactured at scale.
PRINCE CHARLES & ELLEN MACARTHUR: "We must find new ways to keep plastic out of our oceans."
CRITERIA

The proposed solutions will be assessed by an expert panel based on their potential to be used in packaging consumer product applications, and subsequently recycled or composted. The technical assessment will consider:

(i) the potential feasibility to collect, separate, and recycle or compost the material, and convert it into a valuable material resource.

(ii) the material properties needed for suggested applications;

(iii) the ease of sourcing and manufacturing the material, taking into account the potential to use recycled content or by-products from other processes;
In addition, the panel will assess the potential for the solution and team behind it to benefit and advance by being included in the 12-month accelerator programme.
Please see the technical brief for detailed submission guidelines and evaluation criteria.

The final winners will be determined by seeking unanimous agreement among the judges. If this is not possible, decisions will be made by a majority vote.


OFFICIAL RULES

Learn how you can participate while retaining all of your intellectual property. Find out more about eligibility, confidentiality, and submission requirements.
ELIGIBILITY

The Circular Materials Challenge is open to all groups and individuals that have technologies that can achieve the goals of this Challenge. No fee is required to enter and the Ellen MacArthur Foundation welcomes submissions from around the world. Complete eligibility requirements are described in the Official Challenge Rules.
SELECTION AND REVIEW PROCESS

By submitting a response, respondents agree to the Challenge Official Rules and all of the following submission requirements, including confidentiality, selection, and the review processes, including:

* Respondents confirm that their submission does not contain any confidential information.

* Entries will be evaluated by a panel of judges, and will be evaluated based on compliance with the Entry Criteria Guidelines. Whether or not your Entry is determined as a Winner depends on how your Entry compares to the other Entries submitted in the Competition when evaluated based on the Evaluation Criteria within the sole judgment of the judging panel.

* Respondents acknowledge that the Ellen MacArthur Foundation reserves the sole and absolute right and discretion to award prizes as stated in the Challenge, including awarding less than five respondents.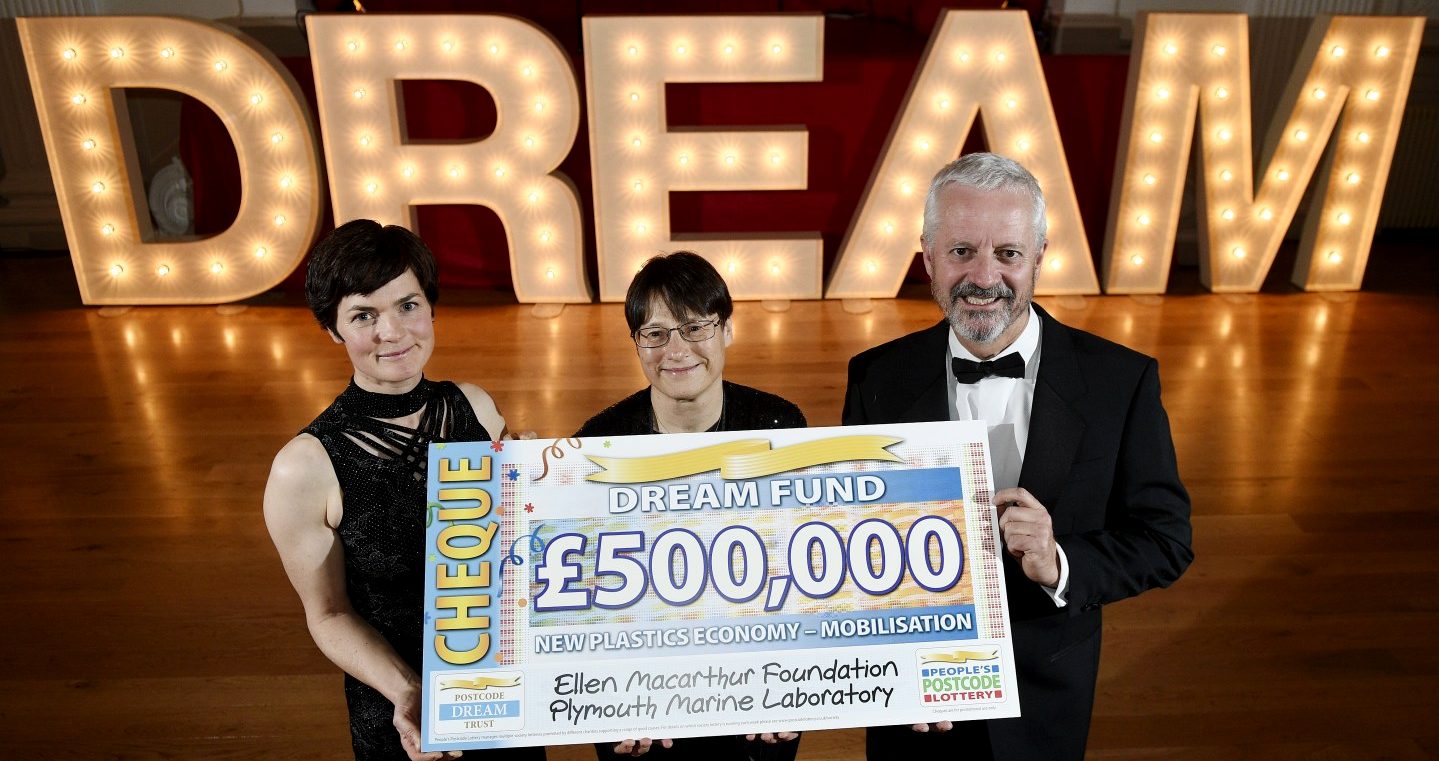 ABOUT THE NEW PLASTIC ECONOMY INNOVATION PRIZE
The challenge is led by the Ellen MacArthur Foundation (EMF) in partnership with global innovation firm NineSigma. The Circular Materials Challenge seeks ways to make all plastic packaging recyclable. The challenge is part of the $2 million New Plastics Economy Innovation Prize to help build a circular economy for plastics by developing new materials, redesigning formats, and rethinking delivery models to eliminate packaging waste.
The prize is funded by Wendy Schmidt, Lead Philanthropic Partner of the New Plastics Economy Initiative and was launched on May 18th 2017 in collaboration with the Prince of Wales's International Sustainability Unit (ISU).

The Circular Materials Challenge has been scoped in close coordination with the initiative's 40+ participants, including Core Partners Amcor, The Coca-Cola Company, Danone, MARS, Novamont, PepsiCo, Unilever, and Veolia. This will help ensure that winners will have the potential to shift the market with their solutions.

www.newplasticseconomy.org/innovationprize
www.newplasticseconomy.org

THE ELLEN MACARTHUR FOUNDATION
The Ellen MacArthur Foundation was created in 2010 to accelerate the transition to a circular economy. The Foundation works across five areas: insight and analysis, business and government, education and training, systemic initiatives, and communication. With its Knowledge Partners (Arup, IDEO, McKinsey & Co., and SYSTEMIQ), and supported by Core Philanthropic Funder (SUN), the Foundation works to quantify the economic opportunity of a circular model and to develop approaches for capturing its value. The Foundation collaborates with its Global Partners (Cisco, Danone, Google, H&M, Intesa Sanpaolo, NIKE, Inc., Philips, Renault, Unilever), and its CE100 network (businesses, universities, emerging innovators, governments, cities and affiliate organisations), to build capacity, explore collaboration opportunities and to develop circular business initiatives. By establishing platforms such as the New Plastics Economy initiative, the Foundation works to transform key material flows, applying a global, cross-sectoral, cross value chain approach that aims to effect systems change.

CONTACTS
Ellen MacArthur Foundation
The Sail Loft
42 Medina Road
Cowes
Isle of Wight
PO31 7BX
United Kingdom
T +44 (0) 1983 296463

Charity Registration No.: 1130306
OSCR Registration No.: SC043120
Company No.: 6897785
LINKS & REFERENCE
https://twitter.com/NewPlasticsEcon
http://www.circulardesignguide.com/
http://www.newplasticseconomy.org/
https://www.ellenmacarthurfoundation.org/
https://ninesights.ninesigma.com/web/circular-materials
http://wef.ch/plasticseconomy
This website is provided on a free basis as a public information service. copyright © Cleaner Oceans Foundation Ltd (COFL) (Company No: 4674774) September 2017. Solar Studios, BN271RF, United Kingdom. COFL is a charity without share capital.