COOKE AQUACULTURE, BC
ABOUT - CONTACTS - FOUNDATION - HOME - A-Z INDEX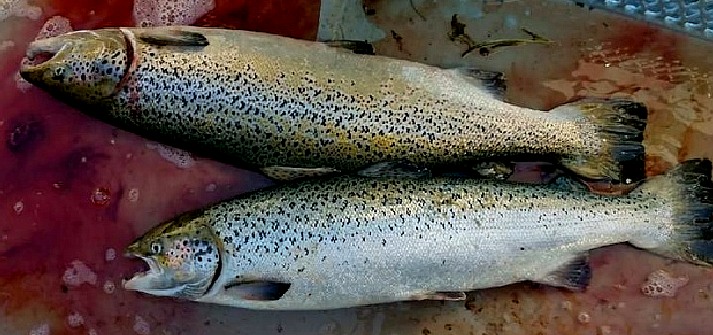 SALMON ESCAPE - Commercial fisher Ellie Kinley posted pictures of Atlantic salmon she said were caught after Cooke Aquaculture's net pen broke, releasing thousands of the invasive species into Pacific waters. There is no way to confirm if the fish pictured here are the fish that escaped other than DNA testing.
LOS ANGELES TIMES SEPTEMBER 3 2017
SEATTLE - Documents filed with state regulators show that a fish farm that broke apart Aug. 19 in the San Juan Islands released more than 160,000 farm-raised Atlantic salmon into Washington state waters — far more than the original estimate — and that the holding pen for the fish was "due for complete replacement."

The Canadian company that operates the farm originally claimed that "several thousand" non-native Atlantics escaped into the Salish Sea, the ecosystem that runs from the Strait of Georgia in British Columbia to the southernmost waters of Puget Sound in Washington state, home of the wild Pacific salmon.

The company also initially said that unusually strong currents, triggered by the moon during the solar eclipse, had caused the pen to break open.

The company, Cooke Aquaculture Pacific, later backed off the linking of the failure to the eclipse. But records filed by the company with the state Department of Natural Resources and the U.S. Army Corps of Engineers indicate that the 30-year-old floating farm's failure was probably the combination of a strong underwater current winning out over a weakened anchoring system that kept the pen in place.

According to a permit application filed in February by Cooke Aquaculture Pacific in anticipation of replacing the three-pen floating farm off Cypress Island, the system was corroding, rusting and "nearing the end of its serviceable life."

Cooke, a subsidiary of seafood giant Cooke Aquaculture of Canada, also was planning to reposition the farm "to align it with the prevailing tidal currents at the site." The fish containment nets, mooring points and net pen structure were under heavy drag loads from the strong Salish currents, the company said.

The accident prompted state and Native tribal officials to declare a fish emergency. They fear the commercially bred, non-native salmon will spread disease and weaken Pacific stocks through crossbreeding.

The state has invited anglers and netters to catch as many Atlantics as they choose, while tribal fishers have been flooding the zone in hopes of lessening the threat of an invasive species in hallowed Pacific salmon feeding grounds.

"Tribal, commercial and recreational fishers continue to recapture fish that escaped the enclosure and Washington's Department of Fish and Wildlife is collecting data on those catches," Cooke said in an update Friday.

A company official had no further comment when reached Saturday. As the Times reported Aug. 24, Cooke was aware its pens were vulnerable, stating in a news release that it "applied for permits to allow us to strengthen and update the Cypress site even before the existing fish were harvested out."

Cooke's latest numbers show that 142,176 salmon were recently extracted from the damaged and now-empty pen. The other 162,824 of the 305,000 Atlantics went off into the Salish. Some have since been fished out from as far away as coastal Vancouver Island and Seattle.

The fish were about to be harvested from the pen and sold to restaurants or turned into seafood products. Cooke planned to then replace and upgrade the pen farm, starting this month and finishing in December.

Instead, the company is now in the process of sending the recovered fish to a recycling plant and piling the pen's twisted, rusting remains onto a barge to be hauled away. Cooke purchased the farm and all other entities of Icicle Seafoods of Seattle a year ago for an undisclosed amount.

Cooke's replacement plan is also on hold while the state completes its investigation into the spill. A planned expansion to another farm Cooke owns on the Strait of Juan de Fuca, one of eight Cooke farm operations in Washington state, remains in limbo as well.

In its Friday update, Cooke officials said that daily water-quality samplings at the spill site north of Anacortes, Wash., "show no adverse effects. Results are being provided to the Unified Incident Command," consisting of state, tribal and company personnel overseeing the spill aftermath.

When the spill first occurred, there was no mention of the weakened condition of the farm.

As Cooke put it in an initial press release, "exceptionally high tides and currents coinciding with this week's solar eclipse" led to the escape of "several thousand" Atlantic salmon. After hearing from critics that the farm had withstood even higher tides and stronger flows in recent months, a revised release was issued two days later blaming the tide and current but not the sun or the moon.

The company also issued a revised estimate of the fish that swam away: 5,000, maybe 6,000.

In the February application to replace the farm through a $1.4-million makeover, Cooke officials wrote that "the current condition of the existing fish pen structure can be described as 'used and nearing the end of serviceable life.' The existing steel net pen structure has been in service for approximately 16 years in the marine environment and is due for complete replacement.

"Corrosion on the metal walkway grating and substructures is beginning to accelerate. The metal hinge joints in some areas are showing signs of excess wear. Complete replacement of the floating steel net pen structure with a newly manufactured one is considered a 'best management practice' for the safe containment of the cultured fish stocks …"

Steel net pen systems in the marine environment are subject to the corrosive effects of salt water and to metal fatigue from the constant wave energy, storms and the "extreme forces" of tidal currents, the company said. Corrosion on the farm's metal walkway grating and substructures was accelerating, and some metal hinge joints showed signs of excess wear.

"Repairing the rusted steel walkways and replacing fatigued metal components of the existing cage system structure in place," the company said, "is not cost-effective or practical." By Rick Anderson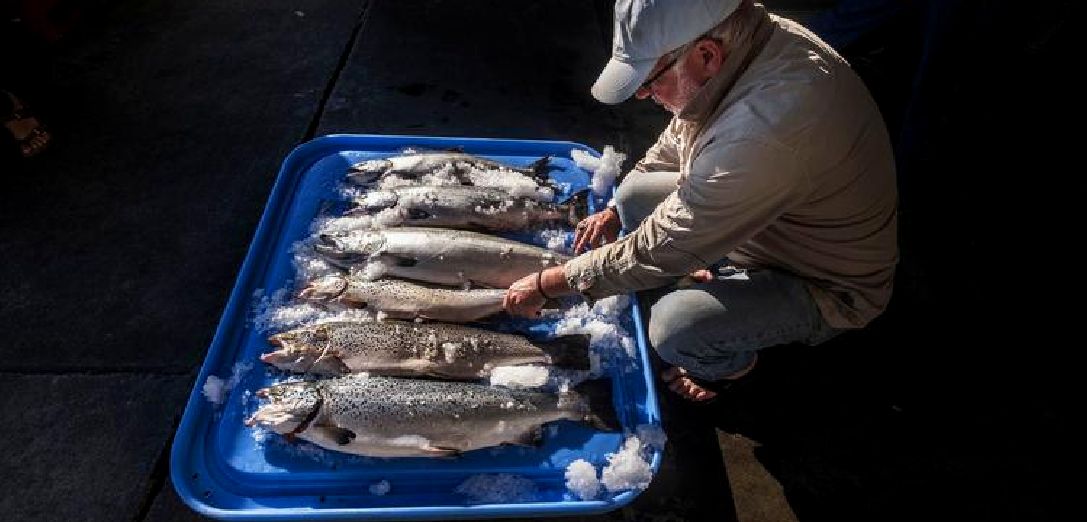 CBC AUGUST 22 2017
According to a CBC news report dated August 22 2017, thousands of fish farmed salmon have escaped into Pacific waters where they are not native and could upset the marine ecosystem if they follow the currents across the North Pacific towards the Philippine Sea.
Nobody knows what these salmon will do and what passage they may seek where their natural spawning pattern is upset and the swim to where they would normally travel upstream to spawn might elude the confused fish, leading them to find new pastures and intermingle with the native species of Pacific salmon. At least that is the worry! Of course it could go the other way. This escape could boost wild fish stocks and that it is why it is so important to monitor the situation to learn from the experience.
The obvious question that needs to be answered is why were this company allowed to farm a non-native species in this location. Would it not have been better to stay with a native species - and is that not a guideline that should be investigated and proposed at an official level?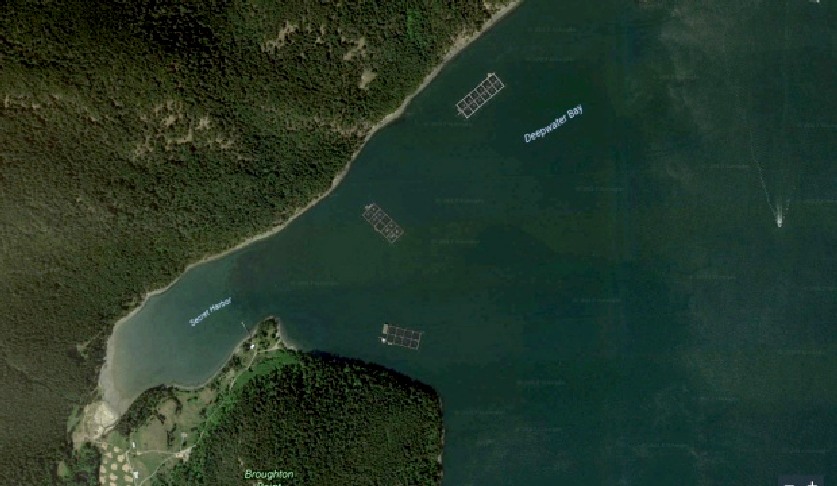 GOOGLE EARTH - The net pens of Cooke Aquaculture's Cypress Island fish farm can be seen on Google Earth, according to Washington state fisheries official Ron Warren. One of the structures, called Site 2 by the company, failed Saturday in part due to strong currents.
CBC NEWS AUGUST 2017
Thousands of Atlantic salmon have escaped into Pacific waters east of Victoria after nets containing an estimated 305,000 fish were damaged at a U.S. fish farm in the San Juan Islands on Saturday.

The company, Cooke Aquaculture, blamed "exceptionally high tides and currents coinciding with this week's solar eclipse" for the failure of the net pen near Cypress Island.

The nets "broke loose" from their anchor Saturday afternoon, said Ron Warren, assistant director of the fish program for the Washington Department of Fish & Wildlife.

Warren said strong tidal flows — which are tied to the lunar cycles, not the eclipse itself — could be a factor in the damage, along with the amount of fish in the pens, which he estimated at more than 1.3-million kilograms.

"A lot of fish, a lot of weight … certainly could have aided in the compromise of the structure itself."

However, while the tides and tidal currents in the area over the past week were "fairly high and fast," they were not projected to be any stronger than they had been May, June or July, said Greg Dusek, a senior scientist with the U.S. National Oceanographic and Atmospheric Administration in a statement.

"The eclipse itself would have nothing to do with this," Dusek wrote.

ATLANTIC SALMON - Atlantic salmon, salmo salar drawn by Tim Knepp
Unknown number of fish

In a statement on Monday, Cooke Aquaculture said it didn't know how many fish escaped, but estimated it was "several thousand." No company official was available for an interview on Tuesday.

Warren pinned early estimates at 4,000 to 5,000, but said the company still on Tuesday has not been able to anchor the net pens due to strong tidal currents.

Atlantic salmon are not native to Pacific waters, but are a major aquaculture species in Washington state and British Columbia.

Their presence in fish farms — and potential to escape from net cages — has been a hotly debated part of the West Coast fish farm industry for years, due to concerns about whether the foreign fish could cause harm to the five wild species of Pacific salmon.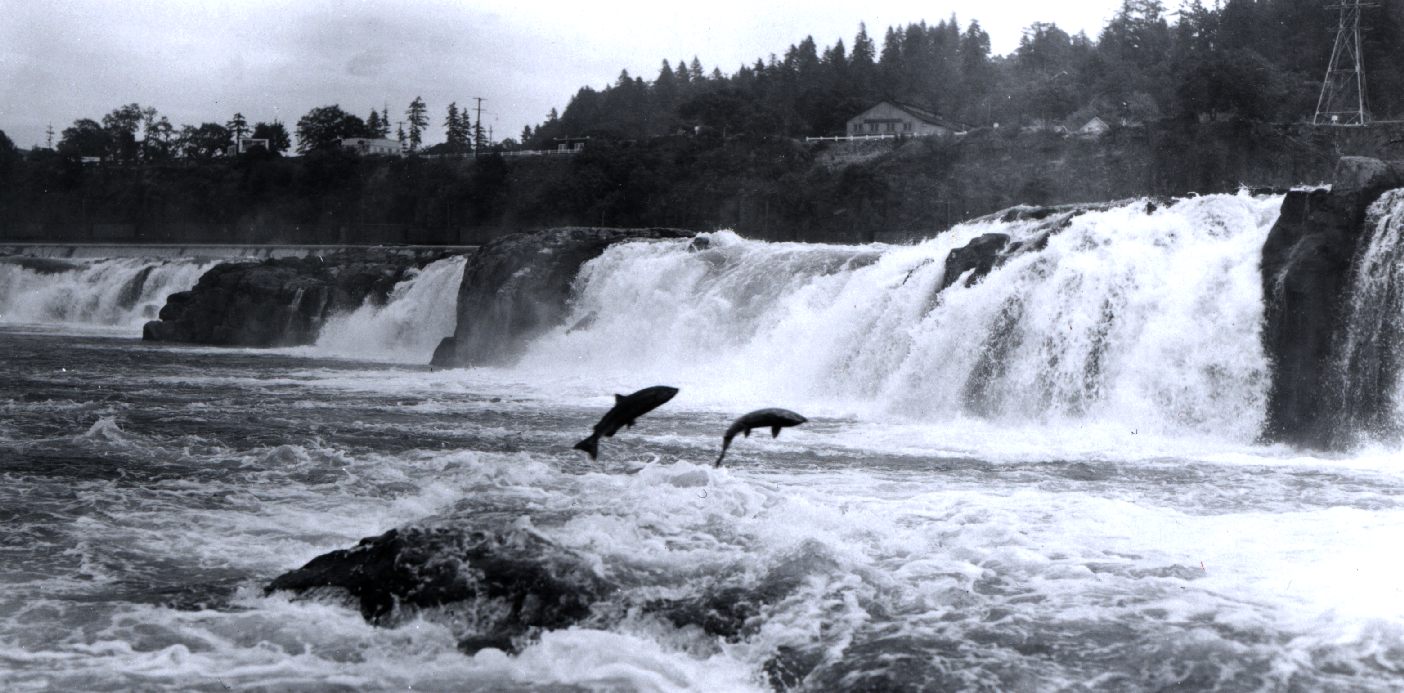 Concern over Atlantic escapes

The concern with an introduced species, like Atlantic salmon on the West Coast, is whether it could become invasive — not just present, but damaging to the native ecology.

Washington officials put Atlantic salmon on their list of invasive species that are not regulated, but are considered "highly threatening" over worries they could harm native fish stocks through competition, predation or disease transfer.

"Atlantic salmon, regardless of whether they have successful spawning, they're competing [against wild fish] for the food source that's there," said Warren, noting threatened wild populations of chinook and steelhead trout in the area.

"That's a concern for us and we're going to be monitoring the best we can."

The Washington Department of Fish & Wildlife is encouraging recreational and commercial fishers to catch Atlantic salmon if they find them, and even changed the rules to allow commercial fishers to sell the fish legally, due to the size of the escape.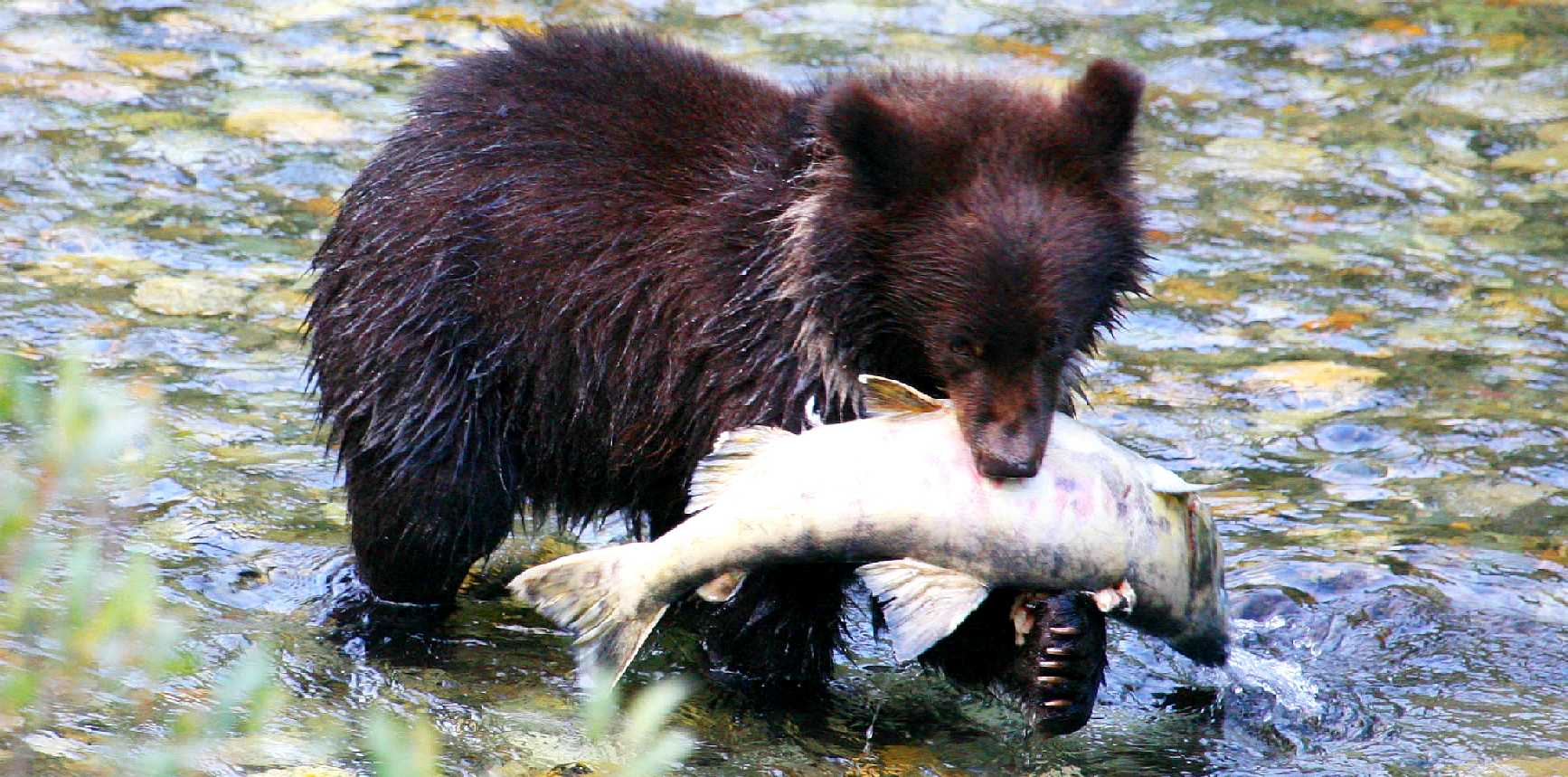 BROWN BEAR - If you've got the Bear necessities, nature's simple recipes, forget about your worries and your woes .... If only life was that easy. Or rather, life is that easy for humans. So easy that we are about to over-populate planet earth and wreck life for many other species in the process.
'Potentially invasive species'

In Canada, Fisheries and Oceans Canada monitors for escaped Atlantic salmon, according to a statement, but doesn't use terms like "invasive" or describe them as any particular threat to local fish.

University of Victoria ecologist John Volpe said the problem is it is unknown what the impacts are.

"In my mind it's really a dereliction of duty in terms of the regulating mechanisms in this country to not have an answer to that question, given that our coast of British Columbia here is literally awash in these potentially invasive species," he said.

"Nothing good is going to come of these releases, and the ... magnitude of negative impacts might be very, very severe."

Volpe, who has found evidence of Atlantic salmon spawning in B.C. waters, said there has been a "chill" on researching the topic in Canada.

A statement from Fisheries and Oceans Canada said the department was aware of the incident, and anyone who suspects they've caught an Atlantic salmon in B.C. waters should report it to the Atlantic Salmon Watch Program at 1-800-811-6010.

A spokeswoman said Tuesday that the agency's program monitoring Atlantic salmon sightings had no new reports this week.

A 2015 report by the department looking for Atlantic salmon found none in the Vancouver Island streams that were surveyed.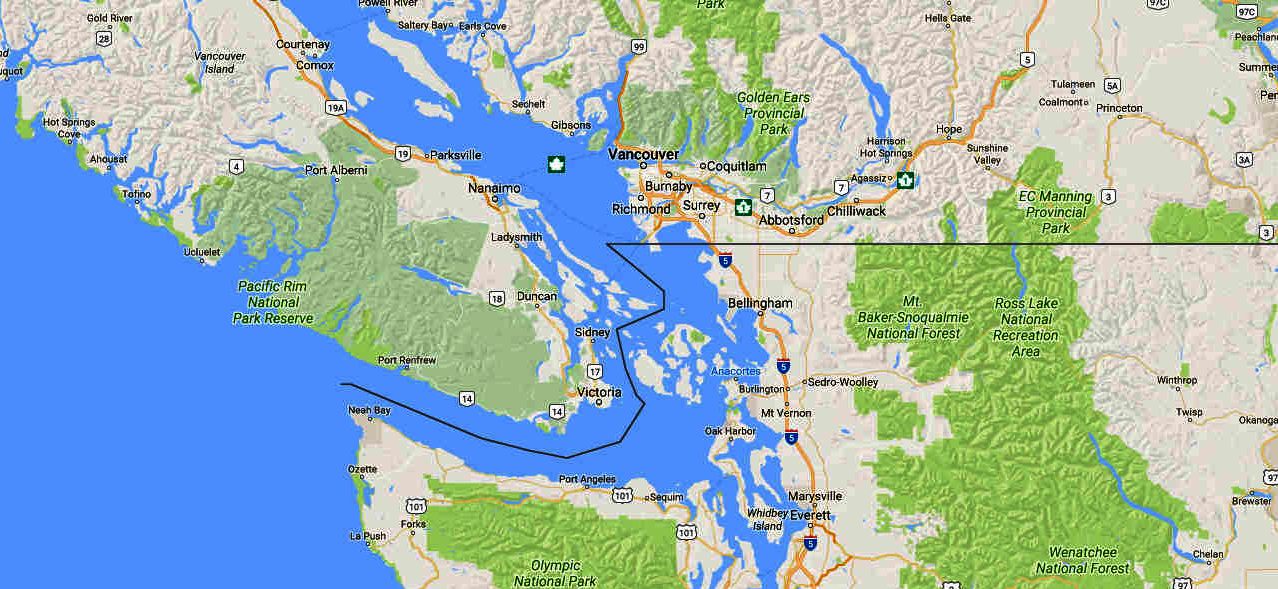 CYPRESS ISLAND, WASHINGTON - The map above is centered on Cypress Island near Vancouver. You can see the passage that the salmon would take if they swam upstream further into British Columbia, or downstream out into the Pacific Ocean.
WILD FISH STOCK MANAGEMENT

The population of wild salmon declined markedly in recent decades, especially North Atlantic populations, which spawn in the waters of western Europe and eastern Canada, and wild salmon in the Snake and Columbia River systems in northwestern United States.

Salmon population levels are of concern in the Atlantic and in some parts of the Pacific. Alaska fishery stocks are still abundant, and catches have been on the rise in recent decades, after the state initiated limitations in 1972. Some of the most important Alaskan salmon sustainable wild fisheries are located near the Kenai River, Copper River, and in Bristol Bay. Fish farming of Pacific salmon is outlawed in the United States Exclusive Economic Zone, however, there is a substantial network of publicly funded hatcheries, and the State of Alaska's fisheries management system is viewed as a leader in the management of wild fish stocks. In Canada, returning Skeena River wild salmon support commercial, subsistence and recreational fisheries, as well as the area's diverse wildlife on the coast and around communities hundreds of miles inland in the watershed. The status of wild salmon in Washington is mixed. Of 435 wild stocks of salmon and steelhead, only 187 of them were classified as healthy; 113 had an unknown status, one was extinct, 12 were in critical condition and 122 were experiencing depressed populations.

The commercial salmon fisheries in California have been either severely curtailed or closed completely in recent years, due to critically low returns on the Klamath and or Sacramento rivers, causing millions of dollars in losses to commercial fishermen. Both Atlantic and Pacific salmon are popular sportfish.

Salmon populations have been established in all the Great Lakes. Coho stocks were planted by the state of Michigan in the late 1960s to control the growing population of non-native alewife. Now Chinook (king), Atlantic, and coho (silver) salmon are annually stocked in all Great Lakes by most bordering states and provinces. These populations are not self-sustaining and do not provide much in the way of a commercial fishery, but have led to the development of a thriving sport fishery.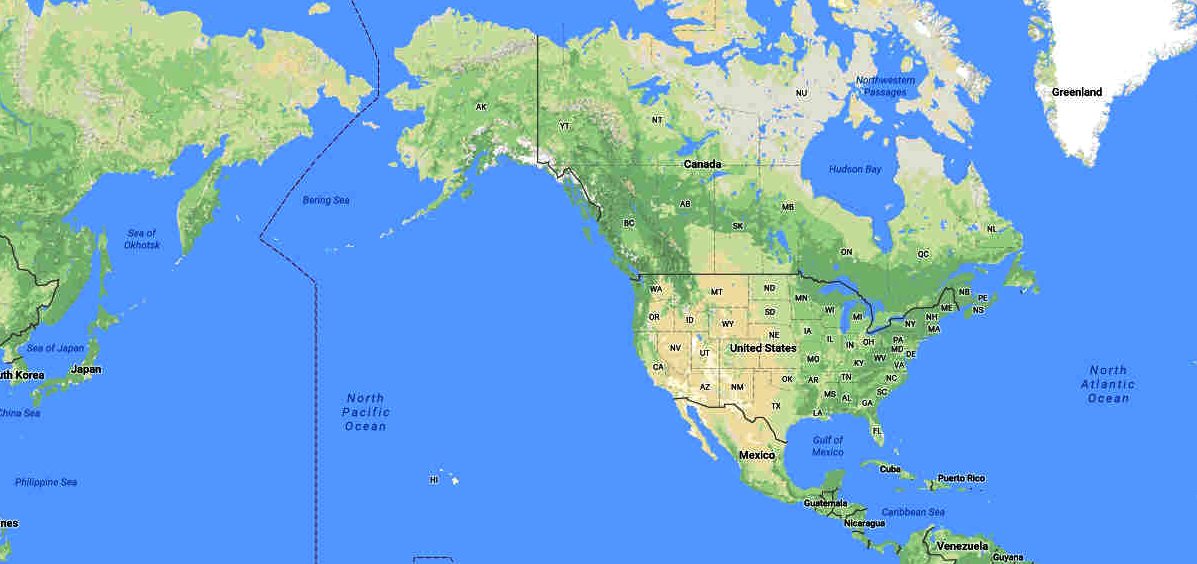 NORTH PACIFIC OCEAN - The map above shows that the escapee salmon could join the Pacific gyre current to invade the Philippine and East China seas, eventually ending up in the Bering Sea before coming down the west coast of Canada and the US.
SALMON IN AQUACULTURE
Salmon aquaculture is a major contributor to the world production of farmed finfish, representing about US$10 billion annually. Other commonly cultured fish species include: tilapia, catfish, sea bass, carp and bream. Salmon farming is significant in Chile, Norway, Scotland, Canada and the Faroe Islands; it is the source for most salmon consumed in the United States and Europe. Atlantic salmon are also, in very small volumes, farmed in Russia and the island of Tasmania, Australia.

Salmon are carnivorous. They are fed a meal produced from catching other wild fish and other marine organisms. Salmon farming leads to a high demand for wild forage fish. Salmon require large nutritional intakes of protein, and farmed salmon consume more fish than they generate as a final product. To produce one pound of farmed salmon, products from several pounds of wild fish are fed to them. As the salmon farming industry expands, it requires more wild forage fish for feed, at a time when 75% of the world's monitored fisheries are already near to or have exceeded their maximum sustainable yield. The industrial-scale extraction of wild forage fish for salmon farming affects the survivability of the wild predator fish which rely on them for food.

Work continues on substituting vegetable proteins for animal proteins in the salmon diet. This substitution results in lower levels of the highly valued omega-3 fatty acid content in the farmed product.

Intensive salmon farming uses open-net cages, which have low production costs. It has the drawback of allowing disease and sea lice to spread to local wild salmon stocks.

On a dry weight basis, 2–4 kg of wild-caught fish are needed to produce one kg of salmon. With the world population expected to grow to 9 billion and buildings and factories competing with agriculture for land, it seems that the 4:1 ratio of wild fish, or feed, needed to sustain fish farmed salmon - would be better spent if that feed was fed directly to humans - before the conversion to salmon meat.

SEEING RED - The distinctive colours of Oncorhynchus nerka, spawning sockeye salmon
RANCHING
Another form of salmon production, which is safer but less controllable, is to raise salmon in hatcheries until they are old enough to become independent. They are released into rivers in an attempt to increase the salmon population. This system is referred to as ranching. It was very common in countries such as Sweden, before the Norwegians developed salmon farming, but is seldom done by private companies. As anyone may catch the salmon when they return to spawn, a company is limited in benefiting financially from their investment.

Because of this, the ranching method has mainly been used by various public authorities and nonprofit groups, such as the Cook Inlet Aquaculture Association, as a way to increase salmon populations in situations where they have declined due to over-harvesting, construction of dams, and habitat destruction or fragmentation. Negative consequences to this sort of population manipulation include genetic "dilution" of the wild stocks. Many jurisdictions are now beginning to discourage supplemental fish planting in favour of harvest controls, and habitat improvement and protection.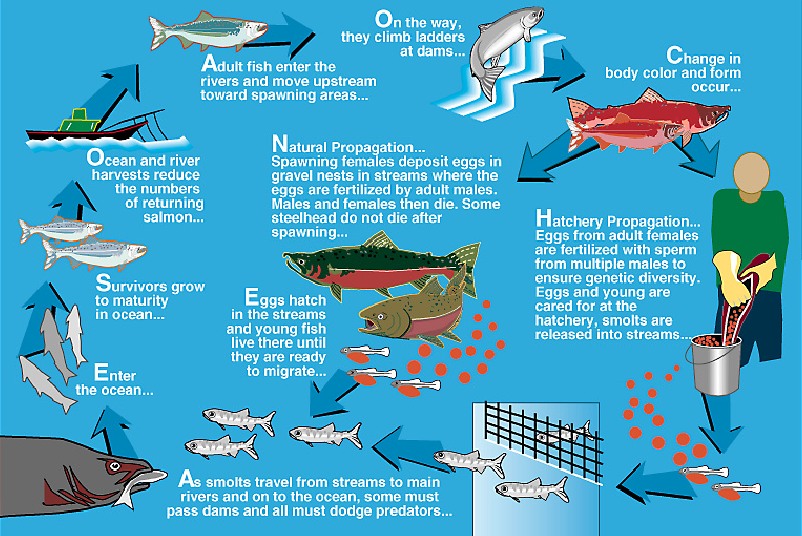 A variant method of fish stocking, called ocean ranching, is under development in Alaska. There, the young salmon are released into the ocean far from any wild salmon streams. When it is time for them to spawn, they return to where they were released, where fishermen can catch them.
An alternative method to hatcheries is to use spawning channels. These are artificial streams, usually parallel to an existing stream, with concrete or rip-rap sides and gravel bottoms. Water from the adjacent stream is piped into the top of the channel, sometimes via a header pond, to settle out sediment. Spawning success is often much better in channels than in adjacent streams due to the control of floods, which in some years can wash out the natural redds. Because of the lack of floods, spawning channels must sometimes be cleaned out to remove accumulated sediment. The same floods that destroy natural redds also clean the regular streams. Spawning channels preserve the natural selection of natural streams, as there is no benefit, as in hatcheries, to use prophylactic chemicals to control diseases.
Farm-raised salmon are fed the carotenoids astaxanthin and canthaxanthin to match their flesh colour to wild salmon to improve their marketability.
One proposed alternative to the use of wild-caught fish as feed for the salmon, is the use of soy-based products. This should be better for the local environment of the fish farm, but producing soy beans has a high environmental cost for the producing region.
Another possible alternative is a yeast-based coproduct of bioethanol production, proteinaceous fermentation biomass. Substituting such products for engineered feed can result in equal (sometimes enhanced) growth in fish. With its increasing availability, this would address the problems of rising costs for buying hatchery fish feed.
Yet another attractive alternative is the increased use of seaweed. Seaweed provides essential minerals and vitamins for growing organisms. It offers the advantage of providing natural amounts of dietary fiber and having a lower glycemic load than grain-based fish meal. In the best-case scenario, widespread use of seaweed could yield a future in aquaculture that eliminates the need for land, freshwater, or fertilizer to raise fish.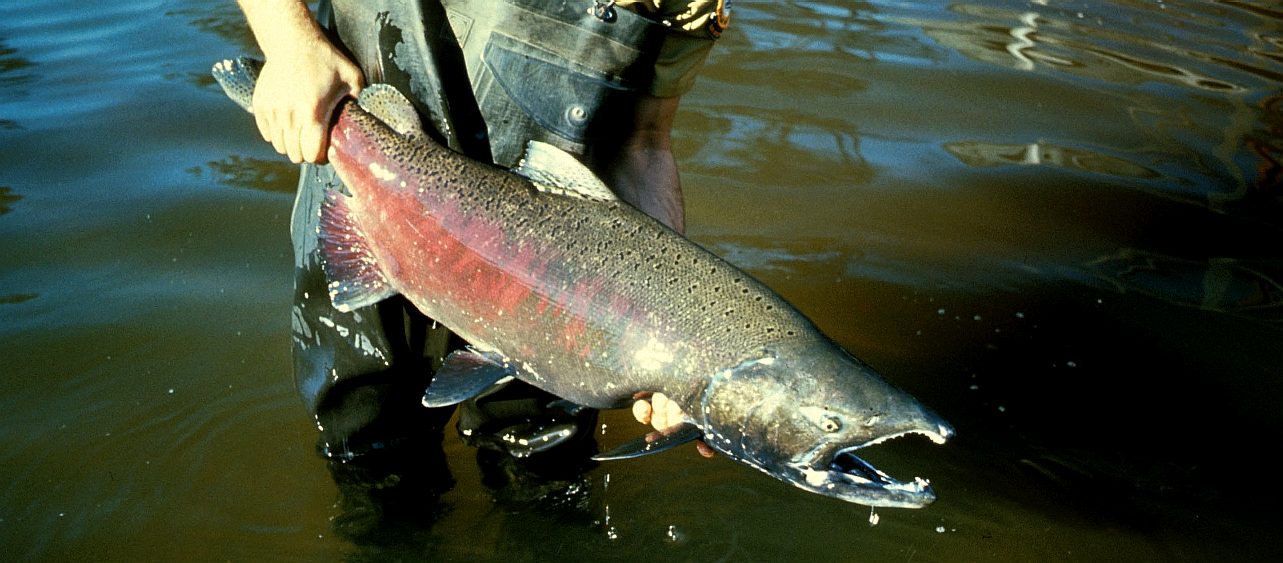 GOLD [FISH] FINGERS - A federal appeals court gave imperiled Coho salmon in Northern California a much-needed boost. In June of 2012, the Ninth Circuit sided with the Karuk Tribe who argued that gold mining permits issued by the U.S. Forest Service violated the Endangered Species Act. Suction dredging and other gold mining activities continue to pose a serious risk to salmon populations.

Defenders legal team helped secure the victory by submitting a brief requesting "en banc" review by the full court. Two out of three judges had previously ruled against the tribe, so having all 11 judges hear the case was essential to overturning a dangerous precedent that would have allowed the antiquated Mining Act of 1872 to trump endangered species protections. The Ninth Circuit's reversal ensures that vital habitat for America's most vulnerable wildlife is protected from environmentally harmful mineral extraction practices. Read more at Defenders Of Wildlife blog.

LINKS & REFERENCE
http://www.latimes.com/nation/la-na-atlantic-salmon-20170903-story.html
http://www.cbc.ca/news/canada/british-columbia/atlantic-salmon-released-cooke-aquaculture-1.4257369
https://en.wikipedia.org/wiki/Salmon
http://www.defendersblog.org/2012/06/doubling-down-on-salmon-destruction/
https://realfood.tesco.com/recipes/fish-and-seafood/salmon-recipes.html
http://www.bbc.co.uk/food/salmon
This website is provided on a free basis as a public information service. Copyright © Cleaner Oceans Foundation Ltd (COFL) (Company No: 4674774) 2017. Solar Studios, BN271RF, United Kingdom. COFL is a charity without share capital.