SWIVEL CATERPILLAR BOGIES
ABOUT - CONTACTS - FOUNDATION - HOME - A-Z INDEX
PARTS - We are using a number of off the shelf robot parts that need to be re-engineered to our purpose. For example there is no tracked drive system that is suitable size wise for the Amphimax, meaning that we have to custom build the chassis units and fit the drives in a different way. The good news is that we don't have to machine the gearboxes ourselves, or the aluminium sprockets and ball-bearing idler wheels. These are laser cut from aluminium plate for a number of robot kits that you can buy online and have been sourced because they are very close to the specification of the full-size 12 ton tracked bogies that we will be using in 2019 if funding is secured to kick this project into touch.
We wanted to improve the traction over uneven beaches where there will be hillocks and hollows that would not normally matter with any regular tracked vehicle because the tracks are virtually the same length as the vehicle being propelled.
In our case we have a very long chassis with multiple caterpillar bogies to spread the load as simply and cost effectively as possible. With rigidly mounted bogies, when the Amphimax encounters a hillock or hollow (large bumps) at a different angle to the beach, a rigidly mounted track will have significant rotation forces trying to lever the chassis up creating high point loads that may prove detrimental to the concept.
For this reason we are about to mount the bogies on swivel axles, to allow the caterpillar bogies to meet a changing angle of beach and go with that angle - where the other bogies will be parallel to the beach or shore.
WHY IS AMPHIMAX SO IMPORTANT TO THE SEAVAX CONCEPT ?
The AmphiMax is not just a launch and recovery machine, it is an essential development tool for Seavax. We can think of no quicker way to take a boat out of the ocean into a dry dock situation anywhere in the world to allow engineers to fit alternative heads for experimenting full size.
The Amphimax has all the equipment built in to allow a team of engineers to fabricate parts, change machinery and even repair a damaged hull using welding equipment, compressors and generators that are part of the portable dockyard.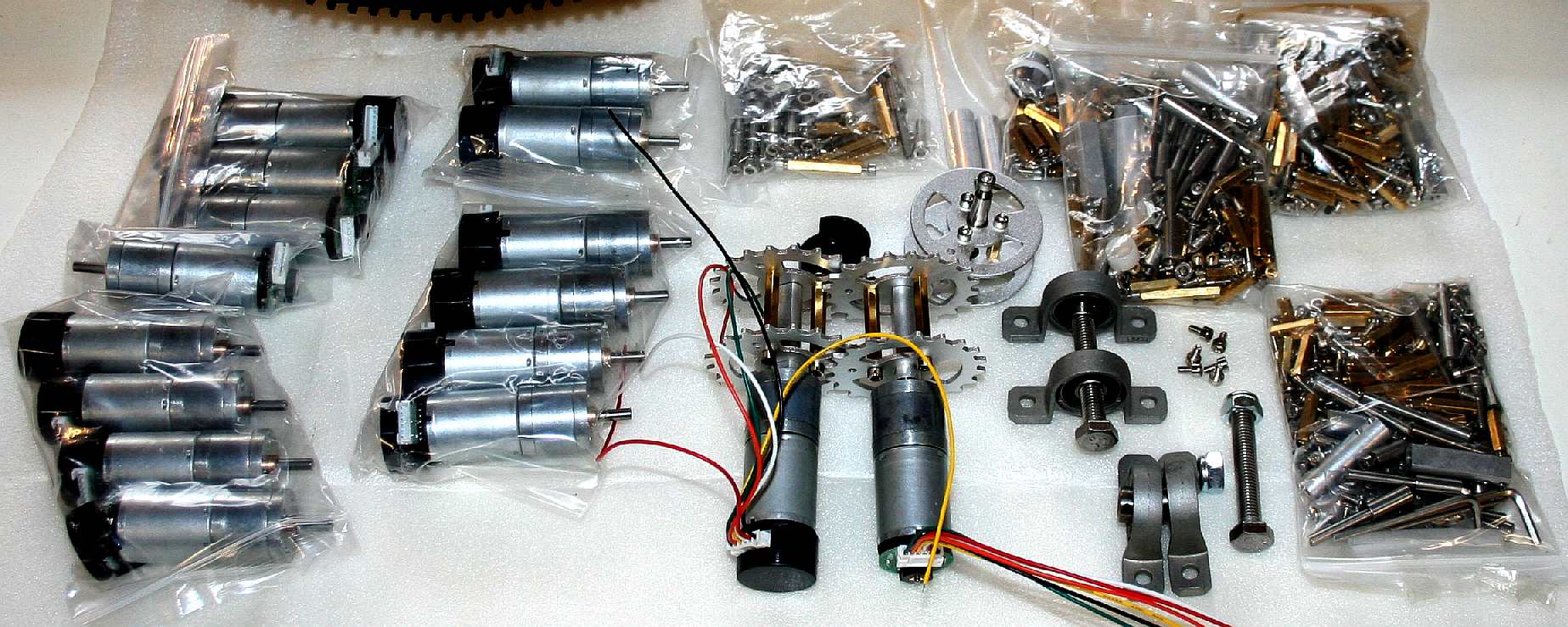 PARTS - It takes a staggering number of individual component parts to make a robot of this size and complexity. In this picture you can see the sixteen motors and gearboxes that are needed to carry the 1/20th scale model of the Seavax into our test tank over a simulated beach.
Until such time as fresh funding allows for the acceleration of the SeaVax project, the Cleaner Ocean Foundation (via its volunteers and associates) will continue to work on the project as far as is possible by carrying out AmphiMax launch simulations and other robotic development.
PARTS - A whole lot of robot parts arrived in January 2018. After the gimbal and lowering mechanism is made for the test tank (that's next), we'll have a sort out and see if it is practical to upgrade the AmphiMax with swivel tracks, where at the moment they are rigid like any other tracked vehicle. A tilt mechanism - if it is not too complicated for the full size portable dockyard - will give better traction when the amphibious vehicle comes in for a landing.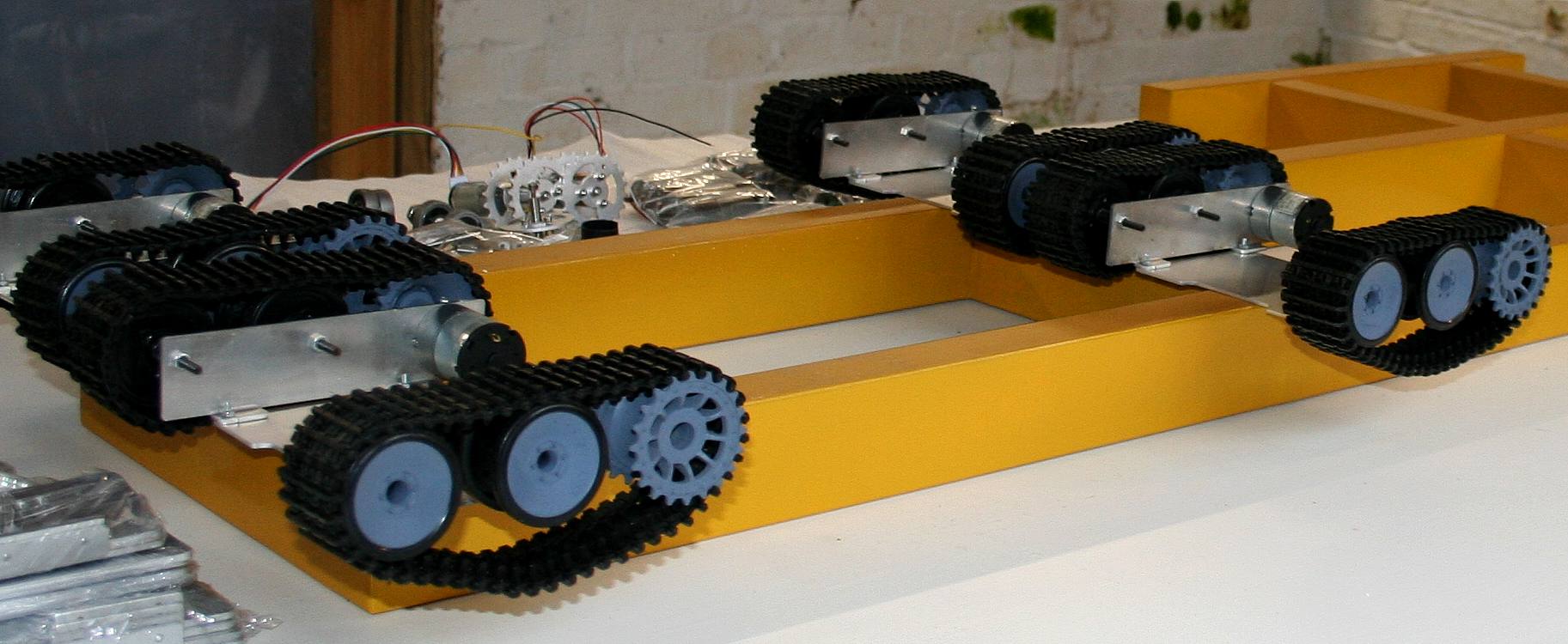 INVERTED - We will not be able to do this with the full size Amphimax. The real thing is just too large to flip. But in the lab the 1/20th scale model can be turned upside down to make fitting the new bogies a whole lot easier.
LINKS & REFERENCE
https://

VERSATILE BOAT SERVICING - Amphimax is most probably the most versatile portable boat and small shipbuilding solution ever conceived on a small budget.
This website is provided on a free basis as a public information service. Copyright © Cleaner Oceans Foundation Ltd (COFL) (Company No: 4674774) 2018. Solar Studios, BN271RF, United Kingdom. COFL is a charity without share capital. The names Amphimax™, RiverVax™ and SeaVax™ are trademarks.