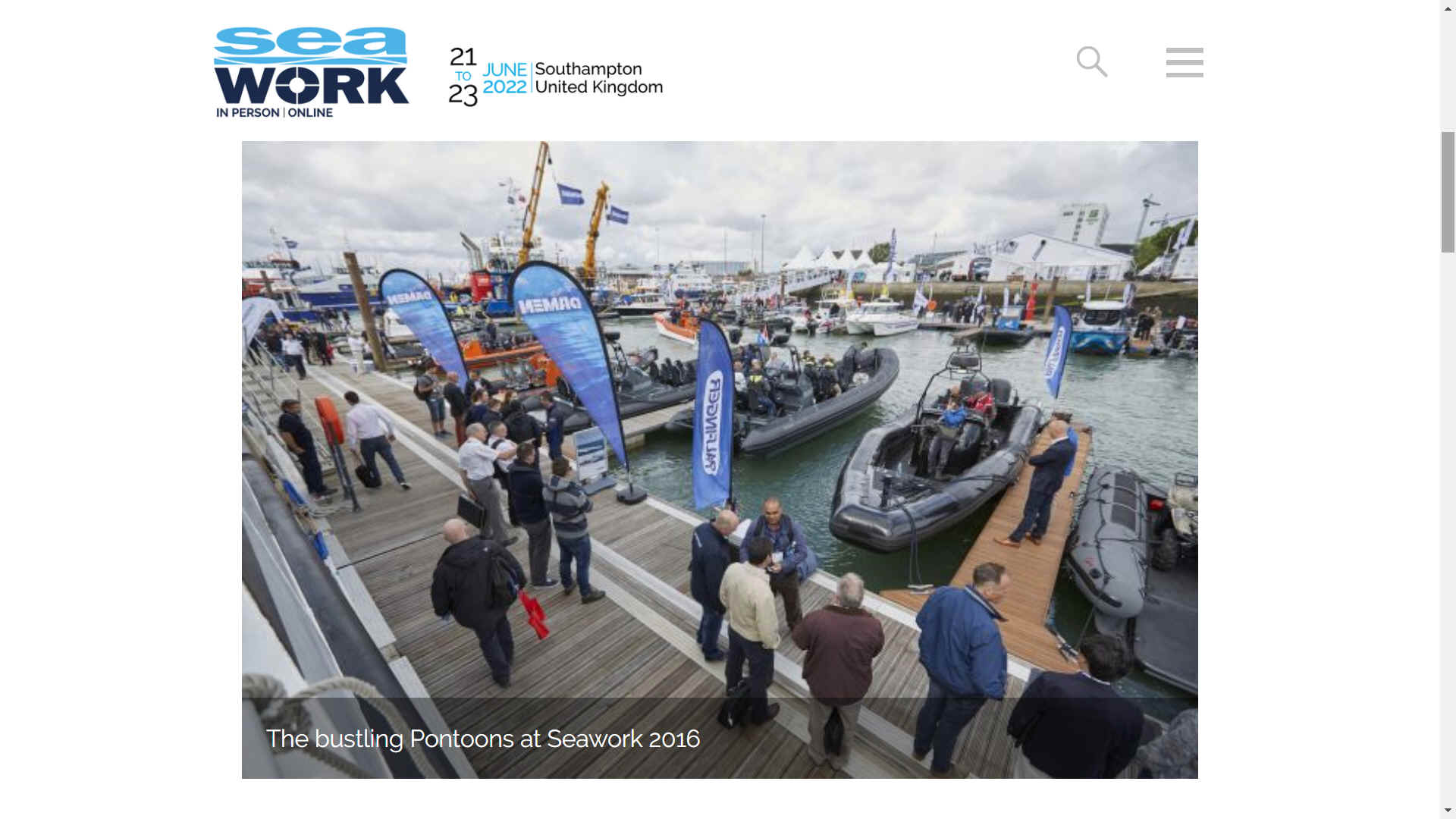 GREENING THE INDUSTRY
For workboat owners and operators looking to meet IMO clean air targets, the clean fuel issue is a priority. What stakeholders are unsure about, however, is how to comply. Will the vessels being ordered now meet 2030 - 2040 targets?
There is still no clarity what fuel will prevail as the industry steers towards a carbon-neutral future. There can be no doubt that conventional propulsion is on its way out. In June 2022 the biggest commercial event in Europe may offer some guidance for the sector's 'green transition'.

According to EMSA, the European Maritime Safety Agency, ship traffic in Europe emits 140 million tonnes of CO2 per year, nearly one fifth of global maritime greenhouse gas emissions. "Despite the fact that the shipping sector has improved its environmental footprint in recent years, major challenges remain for decarbonisation," according to the EU Commissioner for Transport.
Maritime stakeholders are well aware of their responsibility, with 70 per cent of ship owners saying they intend to invest in their fleets in the next two years to cut emissions. 85 per cent of decision-makers at shipyards and supply companies see environment protection and sustainability at the top of the maritime agenda in the coming years, making it the most important topic by far, according to surveys by SMM, the organizers of the Hamburg International Maritime trade fair.

Other conferences Cleaner Ocean Foundation (COF) attended in 2021 and 2022 reveal a similar picture. The marine world is willing to engage positively, but making the right choices is something of a lottery when it comes to choosing low-emission engines that may not meet 2040 targets. Many workboats and ferries are now battery electrics. Some hydrogen hybrids and in June and November 2021, news of two methanol tug developments that are underway by: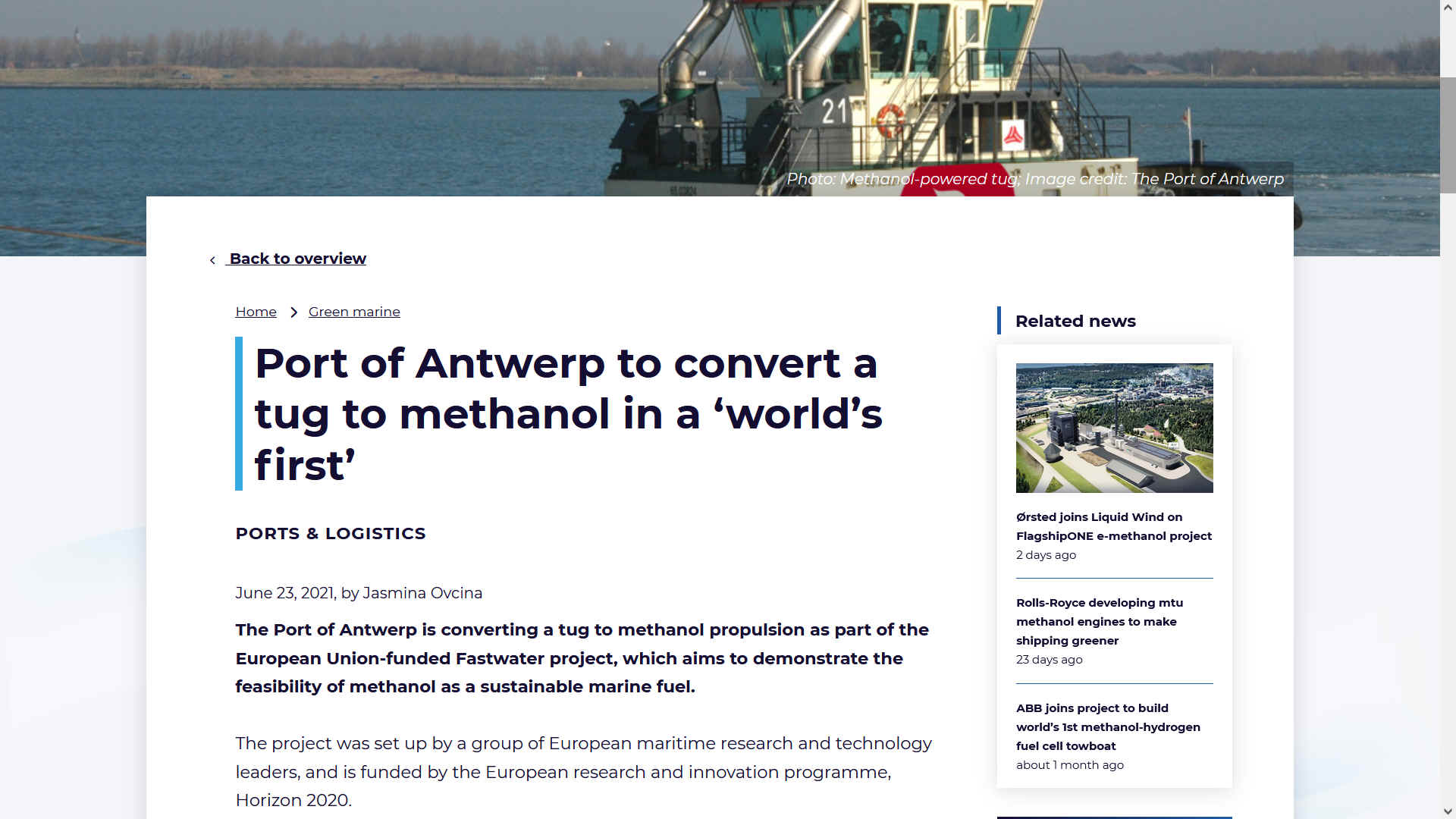 1. JUNE 23 2021 - The Port of Antwerp is converting a tug to methanol propulsion as part of the European Union-funded Fastwater project, which aims to demonstrate the feasibility of methanol as a sustainable marine fuel in internal combustion engines, as opposed to fuel cells.

The project was set up by a group of European maritime research and technology leaders, and is funded by the European research and innovation programme, Horizon 2020.

Partners in this project include Belgian engineering company Multi, which carried out the feasibility study for the project, Swedish shipbuilder Scandinaos, which designed the vessel's modifications, ABC (Anglo Belgian Corporation), which will be responsible for converting the engine and for installing the methanol tanks and pipes, while the German company Heinzmann is adapting the injectors.

"This methatug is a further and also an important step in the transition towards a sustainable and CO2-neutral port that has enabled us to overcome a variety of technical and regulatory challenges. Thanks to projects such as this, we are paving the way and hope to be an example and a source of inspiration for other ports," Jacques Vandermeiren, CEO of Port of Antwerp, said.

The European Commission approved the project in June, after an 18-month-long clearance process and detailed negotiations. Namely, Rhine-based inland navigation craft must comply with the Central Commission for Navigation on the Rhine's (CCNR) regulations, which had previously forbidden the use of methanol as a marine fuel.

To receive the necessary dispensation, the methatug project was therefore submitted to the CESNI, the European committee that administers overall standards for inland navigation.

The methatug project, described by the port as the world's first of its kind, is expected to be operational in early 2022.

"Just like with the hydrotug, the hydrogen tugboat, this project confirms our pioneering role in the field of energy transition. The ecosystem of the Antwerp port platform forms an ideal, large-scale testing ground for a project of this type," Annick De Ridder, port alderwoman, commented.

The Port of Antwerp aims to have one hydrogen-powered tug in 2023 as part of its strategy of becoming a sustainable and CO2-neutral port.

Antwerp-based Compagnie Maritime Belge (CMB) has been hired for the construction of the Hydrotug, which will be driven by combustion engines that burn hydrogen in combination with diesel - so not carbon neutral, but a useful stepping stone.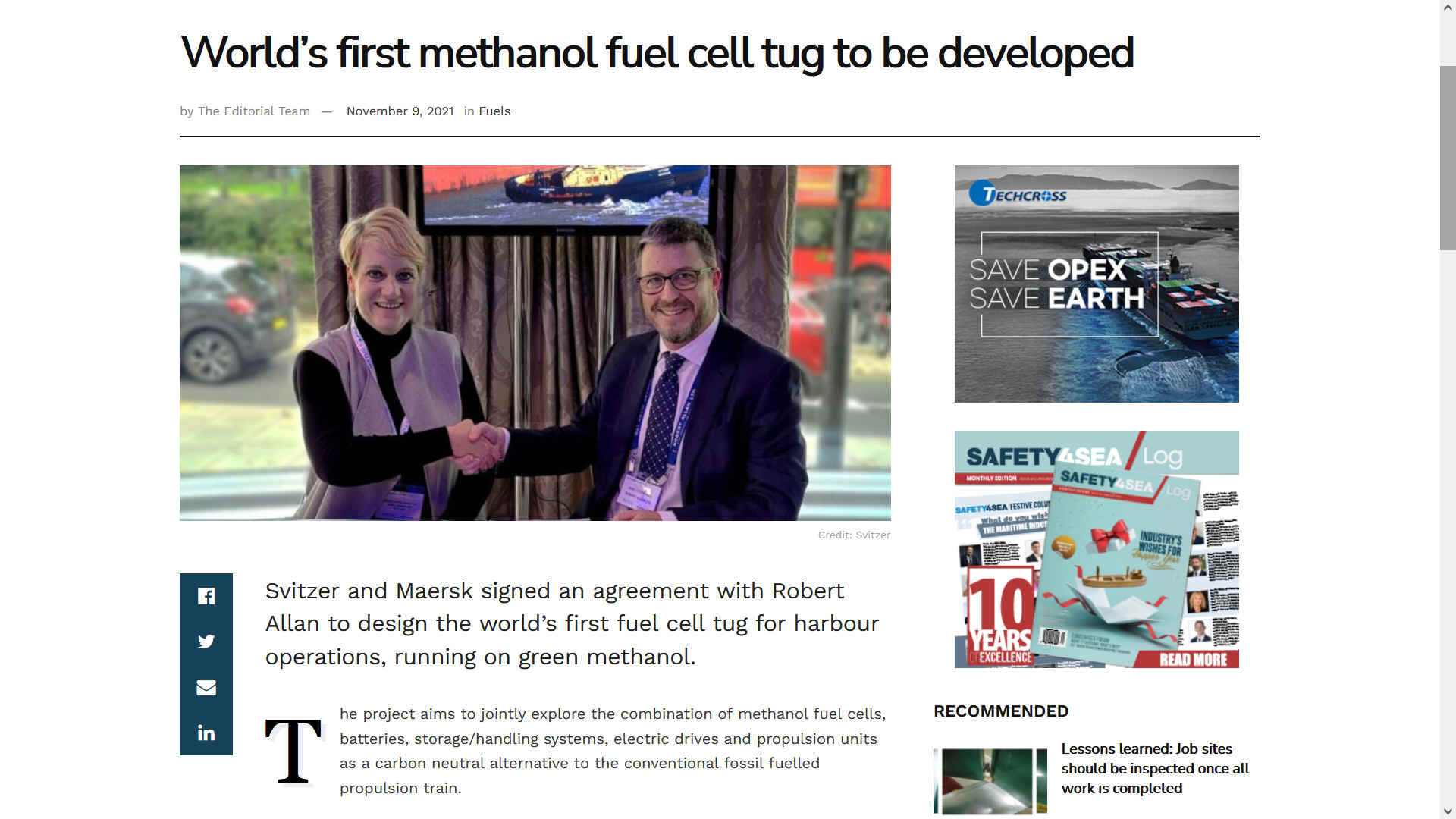 2. NOVEMBER 2021 Svitzer, A.P. Moller - Maersk's world leading towage operator, today unveiled plans in November 2021 to introduce the world's first fuel cell tug boat for harbour towage operations. Scheduled to enter operation in Svitzer's Europe region by Q1 2024, the fuel cell tug will be running on green methanol.
The project aims to jointly explore the combination of methanol fuel cells, batteries, storage/handling systems, electric drives and propulsion units as a carbon neutral alternative to the conventional fossil fuelled propulsion train.

The objective is to extract and apply knowledge and operational experience of methanol feasibility from the near shore small scale tug onto larger ocean-going container vessels.

Ingrid Uppelschoten Snelderwaard, Global COO, Svitzer, is quoted as saying: "Fuel cells will be applicable as main propulsion power for tugs earlier than for larger vessels and, further, the time to build a tug is significantly less than for a container vessel."

The newbuild tug will come with a hybrid electrical propulsion system solution where fuel cells can deliver a specific amount of sustained bollard pull using fuel cells alone, adding additional power from the batteries during the short but often frequent peaks that characterises towage.

The fuel cells can also be used to charge the batteries when the tug is mobilising and when the tug is berthed, minimising the need for expensive shore side charging facilities.

Ole Graa Jakobsen, Maersk Head of Fleet Technology is quoted as saying: "Fuel cell technology could be a disruptor in the maritime technology space, promising high efficiencies and eliminating the need for substantial amounts of pilot ignition fuels while removing harmful emissions."
Mikkel Elbek Linnet - Senior Manager +45 248211 96 Mikkel.Elbek.Linnet@maersk.com


GREEN DREAMS

One key question yet to be answered concerns choosing the right propulsion technology: LNG, hybrid technologies, biofuels, batteries, hydrogen or ammonia. Which is it going to be? This is something COF is looking at with the Elizabeth Swann project, taking the equation offshore, to blue water high speed and endurance capabilities.
The uncertainty indicates a cautious change of focus. Liquefied natural gas (LNG), long favoured as a transitional fuel, has lost some support among responding shipowners: Only 35 per cent would opt for LNG-powered ships today, compared to 45 per cent in 2019. On the other hand, 60 per cent of responding shipyards expect high demand for LNG-propelled vessels, an assessment supported by a number of major newbuilding orders received from owners like Hapag-Lloyd. Hybrid solutions – such as combinations of fossil fuels with battery technology – are considered as promising by responding shipyards in particular. 56 per cent expressed a strong belief in these solutions (compared to 44 per cent of suppliers, and 32 per cent of shipowners).

Maersk has adopted a different strategy. The global leader in the container shipping market recently ordered eight large vessels (16,000 TEU) using methanol as fuel. "In this scenario, renewable energy is used to produce hydrogen, which is then converted into methanol, an alcohol that can be used almost like diesel. It is even possible to convert our older ships to methanol," says Maersk CEO Søren Skou. Maersk expects to reduce its CO2 emissions by 1 million tonnes per year. The market leader aspires to be carbon-neutral by 2050, a much more ambitious goal than that proclaimed by International Maritime Organization (IMO). The trend towards methanol is reflected in the MIR results: Every seventh respondent would opt for methanol as fuel.
All in all, hydrogen-based solutions take second place among the fuels favoured by shipowners, showing a 33 per cent approval rating. Where they seem to be in love with reciprocating engines, as something they understand from old business models.

Another potential game changer for the industry is ammonia: Not only does it burn without emitting CO2 similar to hydrogen, but it also features higher energy density and is easier to store. Again, the emphasis is on reciprocating engines, which are less efficient. As the world goes electric on roads and hydrogen is used for factories and homes, there will be fierce competition for green H2, meaning that IC engines, that are less efficient in a ships propulsion system, over electric drives, will be more costly in the long run.
As shipping has always been driven by the cost of fuel, it remains to be seen if ship owners will stay with exhaust pipes, as EV technology is developed. The British Navy is one example of die hard thinking, that is hampering transition.


CONTACTS
Seawork is organised by: Mercator Media Ltd
Spinnaker House
Waterside Gardens
Fareham
Hampshire
PO16 8SD
United Kingdom

Tel: +44 1329 825335
Fax: +44 1329 550192
sales@seawork.com
info@seawork.com
www.seawork.com


EXHIBITORS A - Z

SB87 - 54 NORTH MARITIME TRAINING
Whitby, United Kingdom
54 North Maritime Training is dedicated to providing the most comprehensive theoretical and practical maritime safe.


A-Plan Commercial Marine Insurance
Q82 - A-PLAN COMMERCIAL MARINE INSURANCE
Worcester, United Kingdom
A-Plan Commercial Marine insurance is a specialist insurance broker working in the Commercial Marine sector.
Aalco Metals
PY97 - AALCO METALS
Wednesbury, United Kingdom
Aalco is Europe's leading independent stockholder, supplying Aluminium, Stainless Steel, Copper, Brass and Bronze.


ABB
PG123 - ABB
Aberdeen, United Kingdom
ABB Marine & Ports is a leading global maritime organization that brings new levels of efficiency, reliability.
ELECTRICAL SERVICES POWER & PROPULSION


Actisense
PY61 - ACTISENSE
Poole, United Kingdom
Actisense makes journeys safer by giving you greater control over your network data.
MARINE ELECTRONICS & INSTRUMENTATION NAVIGATION/COMMUNICATION


Adec Marine Limited
PY117 - ADEC MARINE LIMITED
Croydon, United Kingdom
Adec marine has been established for over 50 years as a leading supplier of marine safety and fire fighting equipment.
MARINE EQUIPMENT SAFETY


Aister Aluminium Shipyard
PG71 - AISTER ALUMINIUM SHIPYARD
Vigo Bay, Spain
For more than 30 years we have been dedicated to the construction of professional aluminium boats.


Alamarin-Jet
Q4 - ALAMARIN-JET
Harma, Finland
Alamarin-Jet Oy are a world leading manufacturer of water jet propulsion systems.


Allsalt Maritime - Home of Shoxs and Kinetix
A55 - ALLSALT MARITIME - HOME OF SHOXS AND KINETIX
Victoria BC, Canada
Allsalt Maritime is a design, manufacturing, and R&D firm specializing in marine shock mitigation technology.


Almar Shipbuilding Industries
PB139 - ALMAR SHIPBUILDING INDUSTRIES
Tuzla/ Istanbul, Turkey
A reserved place for you... In the heart of shipbuilding.


Amaroq Diesel Outboards
VA05 - AMAROQ DIESEL OUTBOARDS
Southwick, United Kingdom
Amaroq is a British company offering a lightweight Diesel outboard based on patented technology.

Amcoveba Marine
Q54 - AMCOVEBA MARINE
Poviglio (RE), Italy
Marine cranes specialist - Amco Veba Marine is a global leader in the production of foldable cranes.


Amgram Ltd
PY77 - AMGRAM LTD
Shoreham, United Kingdom
AMGRAM continue to supply Naval Architecture, Consultancy and Design services to the workboat industry.


AMI Marine
PG61 - AMI MARINE
Southampton, United Kingdom
AMI specialise in recording, storage, & playback of recorded vessel data.


ARES Shipyard
PG77 - ARES SHIPYARD
Antalya, Turkey
At the heart of ARES Shipyard's success is its willingness to partner with leading design and equipment providers.


Armada Engineering Ltd
Q66 - ARMADA ENGINEERING LTD
Falmouth, United Kingdom
For over 30 years, Armada Engineering has created state of the art hydraulic systems and engineering solutions.


ASAP Supplies
PG91 - ASAP SUPPLIES
Beccles, United Kingdom
ASAP Supplies has been supplying to the marine industry for over 30 years, supporting Commercial and Trade sectors.


ASL GRP
S2 - ASL GRP
Rookley, United Kingdom
ASL GRP (the Air Sea Land Group) is a dynamic armour company with over 30 years' experience in the armour, security.


Association of Diving Contractors UK & Ireland
D11 - ASSOCIATION OF DIVING CONTRACTORS UK & IRELAND
Reading, United Kingdom
ADC is a trade association representing the Inland/Inshore Diving Industry Sector.


AST Marine Sciences Ltd
PO27 - AST MARINE SCIENCES LTD
Norwich, United Kingdom
AST Marine Sciences Ltd provide telematics and asset management solutions within the maritime sector.


Atlantas Marine Ltd
SB79 - ATLANTAS MARINE LTD
Yeovil, United Kingdom
Atlantas Marine is a supplier of underwater inspection services and products.


Atlantis Marine Power Limited
PO77 - ATLANTIS MARINE POWER LIMITED
Plymouth, United Kingdom
Global market leader Kohler produces many of the finest marine generators.


Auto-Maskin
PO97 - AUTO-MASKIN
Skjetten, Norway
Auto-Maskin has been designing, manufacturing and integrating its range of Marine Pro engine controllers.


AVO Marine Systems Ltd
SB83 - AVO MARINE SYSTEMS LTD
Ryde, United Kingdom
AVO Marine Systems Ltd – Products for harsh environments, trusted worldwide. READ MORE


Babcock International Group
PY121 - BABCOCK INTERNATIONAL GROUP
Bristol, United Kingdom
Babcock the Aerospace and Defence company, has been trusted to deliver bespoke, highly-skilled engineering services.


BAE Systems
PG163,VA29, VA28 - BAE SYSTEMS
Portsmouth, United Kingdom
Whether it's designing next generation high-performance rigid inflatable boats, introducing smart technology.


Baltic Safety Products
PG29 - BALTIC SAFETY PRODUCTS
Southampton, United Kingdom
Baltic Lifejackets is a Swedish company producing lifejackets since 1977.


Baltic Workboats AS
VA51 - BALTIC WORKBOATS AS
Nasva, Estonia
Baltic Workboats is a modern, well-equipped aluminium and steel boat manufacturer.

Barrus
Q18 - BARRUS
Bicester, United Kingdom
The Barrus Special Products Division is a dedicated team of specialists recognised globally for the design and development.


Barrus Marine Equipment
PO135 - BARRUS MARINE EQUIPMENT
Bicester, United Kingdom
Since entering the Marine Equipment sector in 2018, Barrus is now firmly positioned as a leading distributor.


Bauer Kompressoren UK Ltd
PB99 - BAUER KOMPRESSOREN UK LTD
St Helens, United Kingdom
The BAUER KOMPRESSOREN Group is a third-generation family-run German company


BCB International Ltd
PG119 - BCB INTERNATIONAL LTD
Cardiff, United Kingdom
BCB has been a prime contractor to the life raft and lifeboat industry for over 60 years.


Berthon
VA32, VA33, VA34 - BERTHON
Lymington, United Kingdom
Berthon are a multi discipline business for all marine requirements providing services to the Defence.


Beta Marine
PO93 - BETA MARINE
Quedgeley, United Kingdom
Beta Marine was formed in 1987 by four marine engineers who brought to the company a combined total of over 70 years experience.

Bird Stainless Ltd
PO79 - BIRD STAINLESS LTD
Penistone, United Kingdom
Bird Stainless are global suppliers of Aquinox® precision ground marine shafts.


BMT
PG73 - BMT
Southampton, United Kingdom
BMT is a leading independent naval architecture and marine engineering design consultancy.


Boat Electrics & Electronics Ltd
PY5 - BOAT ELECTRICS & ELECTRONICS LTD
Ayrshire, United Kingdom
Boat Electrics and Electronics Ltd was founded in 1974 and has been family owned and operated ever since.


Boatchecks
SB37 - BOATCHECKS
St Agnes, United Kingdom
We build software solutions for the UK commercial boating sector.


Boating Business
MC16 - BOATING BUSINESS
Fareham, United Kingdom
Boating Business magazine provides unrivalled breaking news coverage of the UK's leisure marine industry.


BPX Electro Mechanical Co Ltd
SB111 - BPX ELECTRO MECHANICAL CO LTD
Romsey, United Kingdom
We are BPX, 150 amazing, talented and knowledgeable people, based in thirteen offices throughout the UK and Ireland.


Brandyourteam.uk
SB47 - BRANDYOURTEAM.UK
Southampton, United Kingdom
Do you need Uniforms or Workwear for your business? Durable Clothing & Quality Branding for all your Corporate & Workwear.


Briggs Marine Contractors Ltd
PB179 - BRIGGS MARINE CONTRACTORS LTD
Burntisland, United Kingdom
Briggs Marine is a leading UK marine contractor offering services across a range of industries.


Brimmond Group
Q92 - BRIMMOND GROUP
Kintore, United Kingdom
Brimmond Group are the exclusive Effer marine crane agent for the UK and Ireland.

British Marine
PY119 - BRITISH MARINE
Egham, United Kingdom
British Marine is the trade association for the UK marine industry, with over 1500 members.


Brunvoll Mar-EI AS
PG97 - BRUNVOLL MAR-EI AS
Dalen, Norway
Brunvoll Mar-El AS "Precision is our passion" offering a highly versatile range of control systems for propulsion.


Buoyant Works
PG43 - BUOYANT WORKS
Saltash, United Kingdom
Buoyant Works design and manufacture high performance fendering solutions for all commercial and leisure vessels.


C A Clase UK Ltd
PG63 - C A CLASE UK LTD
Waterlooville, United Kingdom
We will be showcasing the KVH HTS VSAT systems along with the KVH Global and Regional Agile Plans.


Caldaro AB
PB135 - CALDARO AB
Stockholm, Sweden
Caldaro works with products that are produced by leading suppliers, but adds adaptations to suit specific customer requirements.


Camarc Design
PY111 - CAMARC DESIGN
Argyll, United Kingdom
Camarc Design is based in the UK and is one of Europe's leading small craft design firms.


Capital Seating - Grammer Nautic
S1 - CAPITAL SEATING - GRAMMER NAUTIC
Beaumont Leys, United Kingdom
CAPITAL Seating are proud to exhibit GRAMMER Nautic's range of products.


CEEP Connectors
SB23 - CEEP CONNECTORS
Liss, United Kingdom
We are a Connector Manufacturer and Distributor.


Cengar Limited
PB25 - CENGAR LIMITED
Halifax, United Kingdom
A UK manufacturer of Professional Air Saws, our product range comes with ATEX Certification.

Ceredi
PG81 - CEREDI
Alfonsine RA, Italy
Ceredi since 1972, a leading company specialized in the production of nautical accessories.


Chargemetrix
SB55 - CHARGEMETRIX
Shanklin, United Kingdom
Chargemetrix provide a leading boat monitoring service and connectivity solution for fleet and private owners.


PB145 - CHARITY AND TAYLOR
Great Yarmouth, United Kingdom
Suppliers to the Marine industry of Satellite, Radio, Navigation and Broadcast equipment.

Charles Cleghorn Ltd
PY112 - CHARLES CLEGHORN LTD
Royston, United Kingdom
FASTER SELF-PRIMING - Xylem's "FP" series bronze pumps, modified in 2019 for faster priming, continue to be fitted.


Cheetah Marine International Ltd
VA40 - CHEETAH MARINE INTERNATIONAL LTD
Ventnor, United Kingdom
Welcome to Cheetah Marine. Now in their 29th year of production.


Chieftain Training
T6 - CHIEFTAIN TRAINING
Southampton, United Kingdom
Southampton & Scotland STCW & RYA training centres for workboat, superyacht and small craft.


Chiorino UK Ltd
PG139 - CHIORINO UK LTD
Glasshoughton, United Kingdom
Chiorino manufacture an extensive range of PU Coated Fabrics and sheeting.


CJR Group
PO153 - CJR GROUP
Southampton, United Kingdom
CJR Group – the group holding of CJR Propulsion Ltd and CJR Fabrication Ltd – offers customers decades of experience.


Clements Engineering Ltd
PB97 - CLEMENTS ENGINEERING LTD
Little Staughton, United Kingdom
For over 30 years Clements Engineering has built a strong reputation as a leading designer & manufacturer.


Clever Marine Services Ltd
SB81 - CLEVER MARINE SERVICES LTD
Sulby, United Kingdom
CMS Ltd is Marine service provider and spare part trader established since 2010.


Coastlink
MC16 - COASTLINK
Fareham, United Kingdom
Coastlink 2022 will be held at the Port of Antwerp - Europe's second largest seaport.


Com&Sens
PB34 - COM&SENS
Eke, Belgium
Shift from periodic visual inspection to performance-driven maintenance by using real-time load monitoring.


ComAp
Q78 - COMAP
Prague 7, Czech Republic
ComAp is a Czech-based global company specialising in smart power control solutions and services.


Commercial Rib Charter
VB01 - COMMERCIAL RIB CHARTER
Lymington, United Kingdom
With a fleet of over 25 vessels CRC operate a variety of Catamarans and wheelhouse Ribs from 5m to 17m.


Composite Inspection - Part of the MInton Group
SB107 - COMPOSITE INSPECTION - PART OF THE MINTON GROUP
Cardiff, United Kingdom
Composite Testing – part of the Minton Group. Advanced Non-Destructive Testing (NDT) Solutions for the Marine Industry.


Cox Powertrain
PY65, VA30, VA31 - COX POWERTRAIN
Shoreham-by-Sea, United Kingdom
Cox Powertrain is the world-leading British design and engineering innovator of premium high-performance diesel outboards.


Cummins UK
PO109 - CUMMINS UK
Northamptonshire, United Kingdom
Cummins has a strong marine heritage dating back to the Company's start in 1919.


Cygnus Instruments Ltd
PO151 - CYGNUS INSTRUMENTS LTD
Dorchester, United Kingdom
Leading UK manufacturer of ultrasonic thickness gauges used for detecting metal thickness non destructively.


Darley H2NA
S13 - DARLEY H2NA
United Kingdom
Darley H2NA specialises at providing Naval Architecture support to ships, boats and other floating platforms.


DEIF (UK) Limited
PB11 - DEIF (UK) LIMITED
Golborne, United Kingdom
DEIF is a global supplier of innovative solutions to the marine industry.


Delta Marine Crewing
PY116 - DELTA MARINE CREWING
Vlissingen, Netherlands
Delta Marine Crewing is a manning agency in Vlissingen, bringing crew managers bring employers and employees together.


Department for International Trade
A23 - DEPARTMENT FOR INTERNATIONAL TRADE
London, United Kingdom


Department For International Trade Export Control Joint Unit
A23 - DEPARTMENT FOR INTERNATIONAL TRADE EXPORT CONTROL JOINT UNIT
London, United Kingdom

PO1 - DESTINATION SOUTHAMPTON CONFERENCE BUREAU
Southampton, United Kingdom


VB3, VB21 - DIVERSE MARINE
Cowes, United Kingdom


Dometic
Q2 - DOMETIC
Blandford St Mary, United Kingdom
Dometic is a global company that makes mobile living easy – by providing great solutions to satisfy people's essentials.

du Pré Marine Ltd
PY89 - DU PRÉ MARINE LTD
Hungerford, United Kingdom
du Pré Marine offers specialist technical support and distribution of commercial grade navigation, security systems.


DuroWipers
PY93 - DUROWIPERS
Stonehouse, United Kingdom
DuroWipers is a British manufacturer of top-quality windscreen wipers for the whole marine industry.


Dynamic Load Monitoring (UK) Ltd
PY151 - DYNAMIC LOAD MONITORING (UK) LTD
Southampton, United Kingdom
Specialists in the design, manufacture, repair and calibration of load cells and load monitoring equipment.


PG143 - EBERSPACHER UK LTD
Ringwood, United Kingdom


Elaflex Ltd
PG141 - ELAFLEX LTD
Hoddesdon, United Kingdom
Elaflex Ltd, established in 1987, is associated with Elaflex Hiby of Germany.


PG62 - EMPIRBUS


ENAG
PG27 - ENAG
Quimper, France
ENAG manufacturer of high quality electromechanical and electrical products, suitable for severe environments.


Energy Solutions (UK) Ltd
PG128 - ENERGY SOLUTIONS (UK) LTD
Rochester, United Kingdom
Since 1996 we have been working with leading OEM boatbuilders, superyacht owners, boat yards and individual sailors.


Engines Plus Ltd
Q32 - ENGINES PLUS LTD
Quedgeley, United Kingdom
Engines Plus Ltd, will be exhibiting both propulsion and generators from Sole Diesel and Hyundai Seasall products.


Esco Power SRL
VB18 - ESCO POWER SRL
Ghislenghien-Ath, Belgium
Esco Power is a leading company in parallel hybrid transmissions and solutions.


ESCT - Emergency Services Career Transition
T5 - ESCT - EMERGENCY SERVICES CAREER TRANSITION
London, United Kingdom


ESNA
SB61 - ESNA
Kristiansand, Norway
ESNA is a world-leading design house for Surface Effect Ship (SES) technology.

Everard Insurance Brokers
PB127 - EVERARD INSURANCE BROKERS
West Malling, United Kingdom
Everard are a forward-thinking independent marine insurance broker, offering comprehensive, cost effective insurance.


Exalto Wiper Technologies
PY25 - EXALTO WIPER TECHNOLOGIES
Hardinxveld - Giessendam, Netherlands
Exalto Wiper Technologies is committed to the design, manufacture and supply of marine window wiper systems.


Fairlocks Pool Products Ltd
D5 - FAIRLOCKS POOL PRODUCTS LTD
Weston on the Green, United Kingdom
Returning to Seawork for the sixth year, we are delighted to announce the launch of the SDS Hammer drill from Nemo.


Farra Marine
VB23 - FARRA MARINE
Fairview, Ireland
A new company providing Crew Transfer Vessels to the Offshore Energy sector. Based in Dublin, Ireland.


Fender Innovations BV
PB151 - FENDER INNOVATIONS BV
Wieringerwerf, Netherlands
Fender Innovations has acquired an excellent reputation for the development and production of high-quality products.


Fendercare Marine
PG47 - FENDERCARE MARINE
Seething, United Kingdom
Fendercare Marine, a part of James Fisher and Sons plc, is a world renowned provider of high quality branded products.


Finning (UK) Ltd
PO105 - FINNING (UK) LTD
Cannock, United Kingdom
Finning provides a wide range of Cat® and MaK marine propulsion solutions, auxiliary engines and packaged generators.


Fire Fighting Systems AS
PY147 - FIRE FIGHTING SYSTEMS AS
Moss, Norway
FFS is the global leading designer, maker and seller for large marine offship fire fighting systems.


Fischer Panda UK Ltd
Q2 - FISCHER PANDA UK LTD
Verwood, United Kingdom
Since 1977 Fischer Panda has become the world's leading manufacturer of compact super-silent diesel generators.


Furuno UK Ltd
PY55 - FURUNO UK LTD
Havant, United Kingdom
World leader in the manufacture of radar and navigation systems.


PG62 - FUSION


G+ Global Offshore Wind Health & Safety Organisation
PB161 - G+ GLOBAL OFFSHORE WIND HEALTH & SAFETY ORGANISATION
London, United Kingdom
G+ is the global health and safety organisation bringing together the offshore wind industry to pursue shared goals.

SAFETY
Garmin Europe Ltd
PG62 - GARMIN EUROPE LTD
Southampton, United Kingdom
Garmin, the global leader in satellite navigation, has a comprehensive product portfolio.


Glamox As
PY145 - GLAMOX AS
Molde, Norway
Glamox is the leading supplier of lighting solutions to the world's marine and offshore markets.


Golden Arrow Marine
PO139 - GOLDEN ARROW MARINE
Southampton, United Kingdom
Golden Arrow Marine are excited to be exhibiting at Seawork Connect in this new digital way for 2021.


Greenport
MC16 - GREENPORT
Fareham, United Kingdom
GreenPort provides business information on environmental best practice and corporate responsibility.


Greenport Cruise & Congress Europe
MC16 - GREENPORT CRUISE & CONGRESS EUROPE
Fareham, United Kingdom
GreenPort Cruise & Congress Europe will take place in Piraeus, Greece from 20-22 October 2021.


GRP Solutions Ltd
PG25 - GRP SOLUTIONS LTD
Havant, United Kingdom
South coast based composite specialists GRP Solutions are thrilled to be exhibiting for the first time at Seawork.


PY69 - GUY WHITEHOUSE YACHT DESIGN


H4 Marine Limited
Q74 - H4 MARINE LIMITED
Yelverton, United Kingdom
H4 are distributors of the QuicKutter shaft protection system that was developed in Western Australia.


Hadrian Safety Rails Ltd
A45 - HADRIAN SAFETY RAILS LTD
Hadleigh, United Kingdom
HADRIAN Safety Rails offer a truly hands free travelling personal deck restraint solution.


HamiltonJet
Q10 - HAMILTONJET
United Kingdom
HamiltonJet is one of the leading global waterjet manufacturers, with over 60,000 waterjet units installed.


Harken Industrial
PB95 - HARKEN INDUSTRIAL
Lymington, United Kingdom
With over 50 years' experience working in extreme marine environments.


Heila Cranes Nederland B.V.
Q16 - HEILA CRANES NEDERLAND B.V.
Waalwijk, Netherlands
POWER – PASSION - PARTNERSHIP - Heila Cranes supplies standard and custom built marine and offshore cranes.


Helmsman Systems Ltd
PY153 - HELMSMAN SYSTEMS LTD
United Kingdom
HELMSMAN SYSTEMS are the leading European Partner for KOBELT MANUFACTURING GROUP globally renowned for their range.


Hempel UK Ltd
PG53 - HEMPEL UK LTD
Cwmbran, United Kingdom
Hempel has been making marine coatings since 1915 and today we are one of the marine industry's most trusted coatings.


Hendy Power
Q24 - HENDY POWER
Eastleigh, United Kingdom
Hendy Power is the main distributor for FPT Marine engines in the UK and Ireland.


Henriksen
PY137 - HENRIKSEN
Tonsberg, Norway
"Henriksen HOOKS" is a well established trademark amongst professionals in the maritime and offshore segment.


Hercules Hydraulics
PY64 - HERCULES HYDRAULICS
Paignton, United Kingdom
Hercules Hydraulics is one of the leading suppliers of hydraulic products and systems in the marine industry.


Holyhead Marine
PB61 - HOLYHEAD MARINE
Anglesey, United Kingdom
Holyhead Marine is a long established new build and refit/repair facility serving commercial and military customers.


Holyhead Towing Company
PB61 - HOLYHEAD TOWING COMPANY
Anglesey, United Kingdom
Holyhead Towing Co is the world's leading shallow draft tug and multicat operator.


Houdini Marine Windows Ltd
PY27 - HOUDINI MARINE WINDOWS LTD
Southminster, United Kingdom
Houdini Marine Windows have over 60 years experience of manufacturing bespoke aluminium framed windows, hatches.


HS.Marine
Q80 - HS.MARINE
Sabbioneta (MN), Italy
HS.Marine is a manufacturer and supplier of a wide range of marine and offshore cranes.


PB101 - HST LTD
Swansea, United Kingdom


Humber Ribs
VA27 - HUMBER RIBS
Hull, United Kingdom
Humber Ribs specialise in the design and manufacture of superior commercial strength professional and leisure RIBs.


Humphree AB
PY45 - HUMPHREE AB
Gothenburg, Sweden
World leading electric trim and stabilization systems. Humphree engineers and manufactures marine stabilizing systems.


Hydromaster Propulsion
Q86 - HYDROMASTER PROPULSION
Rotterdam, Netherlands
HYDROMASTER supplies and manufacturers Azimuth Propulsion units in a power range of 50 to 850 kW.


Hypro Marine
PY109 - HYPRO MARINE
Lymington, United Kingdom
With over 35 years' experience in design and manufacture.


Hythe Marine Services
Q8 - HYTHE MARINE SERVICES
Portsmouth, United Kingdom
Hythe Marine Services provides turnkey design, engineering, fabrication and repair services to the marine industry.


Hythe Shipyard
PB167 - HYTHE SHIPYARD
Hythe, United Kingdom
Hythe Shipyard operates a heavy slipway for commercial and non-commercial vessels up to 55 metres.


Hyundai Seasall Co Ltd
Q33 - HYUNDAI SEASALL CO LTD
Seosin-Myeon Hwaseong-si, South Korea
Hyundai SeasAll Co Ltd, which means everything in the sea, was established in August 2009 as a venture company.

I.M.E. Group Ltd
PG79 - I.M.E. GROUP LTD
Southampton, United Kingdom
IME Repair Services Ltd was established in 2006 and is now one of the leading marine repair facilities in the south.


Icefish
MC16 - ICEFISH
Fareham, United Kingdom
The Icelandic Fisheries Exhibition will take place in Smarinn, Kopavogur, Iceland from 8-10 June 2022.


IIMS & MSA
M5 - IIMS & MSA
Portchester, United Kingdom
Dedicated to excellence in marine surveying, IIMS is the leading worldwide professional body for the marine surveyors.


IMES International
PY139 - IMES INTERNATIONAL
Portsmouth, United Kingdom
IMES International offers a comprehensive and independent inspection, monitoring and testing service.


Incat Crowther
PG45 - INCAT CROWTHER
Romsey, United Kingdom
Incat Crowther is a diversified naval architecture business with offices in Australia, the US and the UK.


Intermarine Ltd
PY11 - INTERMARINE LTD
Romsey, United Kingdom
Building Pontoon Systems Since 1992. Intermarine designs and builds berthing pontoon systems, in aluminium, steel, etc.

Invicta Marine Ltd
SB73 - INVICTA MARINE LTD
Chatham, United Kingdom
Invicta Marine Ltd provides a repair service for all types of propellers.


Island Ropes and Rigging Ltd
SB59 - ISLAND ROPES AND RIGGING LTD
Ledbury, United Kingdom
Island Ropes; Going to any length to deliver on time, every time. *Rope supply * Rope Splicing * Rope Consultancy *

Izmir Shipyard A.S.
Q48 - IZMIR SHIPYARD A.S.
Izmir, Turkey
Established in 1996, Izmir Shipyard is a boutique shipyard, with a focus on HDPE and aluminum workboats.


Jetrac Engineering services
PG83 - JETRAC ENGINEERING SERVICES
Chichester, United Kingdom
Supplier of high quality hydraulic hose assemblies, end fittings and adaptors. Supplied fully tested.

JFC Marine
PG51 - JFC MARINE
Tuam, Ireland
With over 30 years' experience in business our solutions are derived from customer understanding, innovative design.


Jobs In Maritime
T8 - JOBS IN MARITIME
Dartford, United Kingdom
Jobs in Maritime is a UK based MCA certified Recruitment and Placement Agency.


Johnson Valves
PG137 - JOHNSON VALVES
Southampton, United Kingdom
Johnson Valves supply isolation valves, safety relief valves, pressure reducing valves, water meters, pipe fittings.


Jotron
Q72 - JOTRON
Cramlington, United Kingdom
Jotron offers communication systems for a wide range of vessels, oil & gas platforms, and the offshore energy markets.


Jotun Paints (Europe) Ltd
PG57 - JOTUN PAINTS (EUROPE) LTD
Scunthorpe, United Kingdom
Jotun is the global leading provider of marine coatings, with established positions in protective, decorative.


Keel Marine Ltd
PG105 - KEEL MARINE LTD
Havant, United Kingdom
Keel Marine is a long established International Marine Consultancy.


Kewatec AluBoat
VA54 - KEWATEC ALUBOAT
Kokkola, Finland
Professional heavy duty boats from Finland. Kewatec AluBoat has produced hundreds of vessels for hardcore professionals.


Kloeckner Metals UK
PG145 - KLOECKNER METALS UK
Leeds, United Kingdom
At Kloeckner we pride ourselves on being one of the leading metal stockholders and processing suppliers in the UK.


Kort Propulsion Company Ltd
PO101 - KORT PROPULSION COMPANY LTD
Erith, United Kingdom
For more than 85 years, Kort Propulsion has been synonymous with developing and supplying outstanding propulsion.


PG90 - KPM MARINE
Birmingham, United Kingdom
KPM has specialised in the design and manufacture of safety critical products for the marine and automotive.

Krueger Ltd
PG143 - KRUEGER LTD
New Milton, United Kingdom
Krueger Ltd are the world's leading specialist in diesel fired and engine driven heating and air conditioning systems.


Lalizas UK Ltd
PG120 - LALIZAS UK LTD
Southampton, United Kingdom
Lalizas is a leading manufacturer of lifesaving equipment for the commercial marine market.


Landau UK Commercial
PG17 - LANDAU UK COMMERCIAL
Southampton, United Kingdom
Landau UK are specialists in vessel general maintenance, upgrades and annual contract maintenance projects.


Laser Crystal
SB39 - LASER CRYSTAL
Poole, United Kingdom
Maritime Ideas Come to Life in 3D. Have you thought of recreating your marine equipment or vessels in intricate 3D.


Leemar Group
PG67, VA08, VA09 - LEEMAR GROUP
Woking, United Kingdom
Leemar Group Customs Workboats (a subsidiary of Leemar Group Limited).


Locate Supplies
PB33 - LOCATE SUPPLIES
Southampton, United Kingdom
As one of the UK's leading metal & plastic suppliers across multiple industries.


PG41 - LOIC MASSON


Longitude Consulting Engineers
PG7 - LONGITUDE CONSULTING ENGINEERS
Southampton, United Kingdom
Longitude Engineering provides independent specialist engineering support to deliver marine projects.

Macduff Ship Design Ltd
PO121 - MACDUFF SHIP DESIGN LTD
Macduff, United Kingdom
Macduff Ship Design is one of the most prolific naval architects and marine surveyors in the commercial and fishing.


Malin Workboats
A33 - MALIN WORKBOATS
Aberdeen, United Kingdom
We offer a range of modern vessels, all designed and built upon a fundamental understanding of our client's needs.


MAN Engines & Components
PB3 - MAN ENGINES & COMPONENTS
Swindon, United Kingdom
MAN in conjunction with PME Power Solutions Group Limited will be showcasing the D2862 LE427 which meets EPA 4/ IMO.


Q47 - MANOR MARINE
Manor Renewable Energy
Q47 - MANOR RENEWABLE ENERGY
Portland, United Kingdom
Manor Renewable Energy (MRE) was established in 2013.


Mantsbrite Marine Electronics
PB47 - MANTSBRITE MARINE ELECTRONICS
Maldon, United Kingdom
Established in 1964, Mantsbrite are principal suppliers of marine electronic equipment.


Manuplas
PY13 - MANUPLAS
Plymouth, United Kingdom
Advanced Insulation is an award winning global supplier of insulation, passive fire protection, buoyancy and cable.


Marfle
SB77 - MARFLE
Helsinki, Finland
We at Marfle provide Marine Analytics solutions for workboats. Our products including Marfle Fleet Analytics.


Marine Accident Investigation Branch - MAIB (DFTC)
PB23 - MARINE ACCIDENT INVESTIGATION BRANCH - MAIB (DFTC)
Southampton, United Kingdom
The MAIB investigates marine accidents involving UK vessels worldwide and all vessels in UK territorial waters.


Marine Civils
MC16 - MARINE CIVILS
Fareham, United Kingdom
Marine Civils is the UK's largest exhibition and conference dedicated to the latest equipment and solutions.


Marine Components International Ltd
S5 - MARINE COMPONENTS INTERNATIONAL LTD
Poole, United Kingdom
MCI (Marine Components International Ltd) are a proud European distributor of leading brands.

Marine Energy Systems
PO91 - MARINE ENERGY SYSTEMS
Plymouth, United Kingdom


Marine Jet Power
Q17 - MARINE JET POWER
Uppsala, Sweden
For more than 30 years, Marine Jet Power (MJP) has been redefining the waterjet market.


Marine Specialised Technology Group
Q14, VA17 - MARINE SPECIALISED TECHNOLOGY GROUP
Liverpool, United Kingdom
Marine Specialised Technology Ltd ("MST") designs, manufacturers and maintains Inflatable & Rigid Inflatables.


Marine Travel
SB115 - MARINE TRAVEL
Canterbury, United Kingdom
A dedicated provider of maritime travel logistics covering ship's crew, offshore, yacht crew, engineers and surveyors.


Marine Ventures Ltd
PB181 - MARINE VENTURES LTD
Reading, United Kingdom
Marine Ventures Ltd Reading UK have specialised in marine anti-pollution systems for over 45 years.


Marinelec Technologies
PG3 - MARINELEC TECHNOLOGIES
Quimper, France
We improve safety of seamen and ships offering a comprehensive and competitive range of products.


Maritime & Coastguard Agency
PY135 - MARITIME & COASTGUARD AGENCY
Southampton, United Kingdom
The Maritime and Coastguard Agency (MCA) works to prevent the loss of life at sea and on the coast in the UK.


Maritime Craft Services (Clyde) Ltd
PB187 - MARITIME CRAFT SERVICES (CLYDE) LTD
Fairlie, United Kingdom
Owners and operators of workboats including Multicats, Shoalbusters, tugs, dive support and crew transfer vessels.


Maritime Volunteer Service
T10 - MARITIME VOLUNTEER SERVICE
Warrington, United Kingdom
Come on board - We're counting on your support so we can help others.


Marlan Maritime Technologies
SB48 - MARLAN MARITIME TECHNOLOGIES
Liverpool, United Kingdom
Marlan Maritime reveal new CoastSense 4D bathymetric & hydrographic monitoring service.


Mastervolt
Q2 - MASTERVOLT


Matrix Pontoons
VA06 - MATRIX PONTOONS
Pontyclun, United Kingdom
ALL NEW PRO-CAT 6000 is a unique twin hull OPEN DECK craft.


MAXSURF Integrated Naval Architecture Software
S18 - MAXSURF INTEGRATED NAVAL ARCHITECTURE SOFTWARE
Parkhurst, United Kingdom
Initial Hull Design Software - Visualize and optimize vessel designs with the complete set of integrated naval architects.


Mermaid Marine
PY103 - MERMAID MARINE
Coventry, United Kingdom
Mermaid Marine has a respected reputation in the marine marketplace for both quality products and first class service.


MGDUFF International Ltd
PO165 - MGDUFF INTERNATIONAL LTD
Chichester, United Kingdom
MGDuff's commitment to commercial vessel operators and ship repairers.


Millstock Stainless Limited
PY143 - MILLSTOCK STAINLESS LIMITED
Willenhall, United Kingdom
Nauticalloy Precision Ground Marine Shafting - Nauticalloy Marine shafting.

MIT
PO5 - MIT
Queenborough, United Kingdom
The Driveline Experts - Whatever your driveline configuration, we keep your vessel running smoothly.


Mitchell Powersystems
PO129 - MITCHELL POWERSYSTEMS
Nottingham, United Kingdom
Offering new product supply and aftermarket solutions to the commercial marine sector.


MJR Power & Automation
S3 - MJR POWER & AUTOMATION
Stockton On Tees, United Kingdom
UK Based with headquarters in Teesside and over 25 of operation, MJR Power & Automation deliver turnkey solutions.


ML Power Systems
Q40 - ML POWER SYSTEMS
Stratford Upon Avon, United Kingdom
ML Power Systems launches the new M&H Stage-V, 9 litre marine engine.


MMG Welding Ltd - Compact Gangway Systems (R)
PB133 - MMG WELDING LTD - COMPACT GANGWAY SYSTEMS (R)
Killybegs, Ireland
Marine Engineering and Manufacturing Company - Experts in coded welding and marine fabrication.


MMS
PB185 - MMS
Hull, United Kingdom
MMS was established in 1988 and is strategically located on the River Humber, UK.


MTU UK Ltd
PY63 - MTU UK LTD
East Grinstead, United Kingdom
MTU is a Rolls-Royce Group Company. The product portfolio includes: high speed engines, marine propulsion systems.


Multi-Mover UK
Q84 - MULTI-MOVER UK
Burton On Trent, United Kingdom
Multi-Mover UK supplies a range of material handling solutions for the commercial, industrial and marine sectors.


Murlac
PG131 - MURLAC
Tamworth, United Kingdom
At Murlac we understand that working in or near water can be a complex task.


Naiad Dynamics US, Inc
PO15 - NAIAD DYNAMICS US, INC
Southampton, United Kingdom
NAIAD DYNAMICS® is the recognized world leader in the design, manufacture & through-life support of active controls.


National Coastwatch Institution
Q45 - NATIONAL COASTWATCH INSTITUTION
Liskeard, United Kingdom
NCI is a national charity operating 56 lookout stations around the coast of England and Wales in support of HM Coastguard.


National Maritime Training Centre
T9 - NATIONAL MARITIME TRAINING CENTRE
Gravesend, United Kingdom
The National Maritime Training Centre at North Kent College is a leading provider of maritime education and practice.


Nauplius Workboats
PB45 - NAUPLIUS WORKBOATS
Groningen, Netherlands
Nauplius Workboats was founded in 2006 by Jaap van den Hul-Kuijten, Marine engineer and Gerrit Knol.


Navitron Systems Ltd
PB37 - NAVITRON SYSTEMS LTD
Havant, United Kingdom
In addition to its traditional scope of Type Approved Commercial Vessel and Work Boat Autopilot Systems, Navitron.


Neptune Marine
PB193 - NEPTUNE MARINE
Hardinxveld-Giessendam, Netherlands
Neptune Marine offers a broad range of maritime solutions, including new building, repair, equipment charter.


NORCO Composites & GRP
PY101 - NORCO COMPOSITES & GRP
Poole, United Kingdom
Established in 1985 in Poole, Dorset, NORCO specialise in large composite structures and GRP mouldings for end user.


Norcom Technology Limited
SB71 - NORCOM TECHNOLOGY LIMITED
Norwich, United Kingdom
Norcom Technology, established in 1986, is a software company specialising in development of systems for navigation.


Norsap UK Ltd
PG130 - NORSAP UK LTD
Falmouth, United Kingdom
NorSap UK is the sales and service agent for NorSap, Norway's leading producer of specialised, quality seating.


North Star Renewables
VB08 - NORTH STAR RENEWABLES
Aberdeen, United Kingdom
North Star Renewables will be committing to and delivering a new fleet of SOV's to meet Offshore demands.

Norwest Marine Ltd
PB36 - NORWEST MARINE LTD
Liverpool, United Kingdom
Based in the historic maritime city of Liverpool, Norwest Marine have over 30 years experience in the marine industry.

O Rings Limited
SB67 - O RINGS LIMITED
Chichester, United Kingdom
With over 40 years of relevant and proven experience 'O' Rings Ltd offers a vast array of products.

Ocean Footprint Limited
PY69 - OCEAN FOOTPRINT LIMITED
Wilton, United Kingdom
Our vision is to provide a range of reliable and cost-effective solutions to marine professionals and boat manufacturers.


Ocean Safety
PO47 - OCEAN SAFETY
Southampton, United Kingdom
With over twenty years of experience in the marine industry.


OceanTools
PG101 - OCEANTOOLS
Aberdeen, United Kingdom
OceanTools is a world leading subsea engineering company specialising in the design and manufacture of underwater tools.


ORCA - Pennel & Flipo
PG41 - ORCA - PENNEL & FLIPO
Mouscron, Belgium
Pennel & Flipo designs, validates and produces ORCA engineered fabrics to protect man and equipment in harsh conditions.


ORCA Crew Services B.V.
PY115 - ORCA CREW SERVICES B.V.
Middelburg, Netherlands
ORCA is an international crewing and recruitment company established by experienced professionals.


OSD-IMT Ship Design & Marine Consultancy
PB35 - OSD-IMT SHIP DESIGN & MARINE CONSULTANCY
Hoofddorp, Netherlands
OSD-IMT is a ship design and marine consultancy company with solid engineering capacity.


P&D Marine Services
Q84 - P&D MARINE SERVICES
Bretby, United Kingdom
P&D Marine Services are continuing to grow the reputation for being the 'One Stop Solution' for all boatyard matters.


P&D Trailers
Q84 - P&D TRAILERS
Burton Upon Trent, United Kingdom
P&D Trailers launches a new range of Boat Trailers. P&D Trailers as part of the P&D Marine Group.


Q2 - PARKER
Perfect Bore Manufacturing
PERFECT BORE MANUFACTURING
Andover, United Kingdom


Petersen Stainless Rigging
S7 - PETERSEN STAINLESS RIGGING
Blaydon-upon-Tyne, United Kingdom
Petersen Stainless Rigging designs, manufactures and supplies stainless steel rigging hardware solutions.


PIRIOU
PG55 - PIRIOU
Concarneau, France
Involved in shipbuilding, repair, naval engineering and services since 1965.


PME Power Systems Group Ltd
PB1 - PME POWER SYSTEMS GROUP LTD
Plymouth, United Kingdom
As the MAN Marine Importer for the UK and Ireland, PME group are proud to represent MAN.

Port Strategy
MC16 - PORT STRATEGY
Fareham, United Kingdom
Port Strategy is a magazine for Port Executives in the port management industry.

Portmere Rubber Ltd
PO29 - PORTMERE RUBBER LTD
Southampton, United Kingdom
Suppliers and manufacturers of : Dock and Lock Gate Seals - A range of unique sealing solutions, expert advice.


Praxis Automation Technology
PG85 - PRAXIS AUTOMATION TECHNOLOGY
Leiderdorp, Netherlands
Founded in the Netherlands in1965, our company has become a leading supplier and manufacturer.

Precision Products (UK) Limited
PY108 - PRECISION PRODUCTS (UK) LIMITED
Chesterfield, United Kingdom
PPUK is a manufacturer of 2 stroke, 4 stroke and industrially applied piston rings and metallic sealing rings.


Primary Networks
SB69 - PRIMARY NETWORKS
London, United Kingdom
We design and manufacture compact PC's to go on board ship for use by the Navy which are fully tested to defence standards.


Propspeed
PO73 - PROPSPEED
Auckland, New Zealand
Peak Performance, Superior Protection & Cost Reduction - Ensure operational readiness while reducing cost.


Propulsion & Future Fuels
MC16 - PROPULSION & FUTURE FUELS
Fareham, United Kingdom
The Propulsion & Future Fuels Conference will take place from 2-4 November 2021 at Le Méridien Hotel, Hamburg.


Proteum
PO19, VA22 - PROTEUM
Southampton, United Kingdom
Proteum are a leading marine distributor for diesel engines, outboards and propulsion units, worldwide.


PSP Worldwide Logistics
PG93 - PSP WORLDWIDE LOGISTICS
Fareham, United Kingdom
PSP Logistics is a leading global freight forwarder based in the UK.


Quick S.P.A
PY71 - QUICK S.P.A
Piangipane (RA), Italy
Already well established as a leader in the Marine sector worldwide, exerting their ability in design and manufacturing.


R & D Marine Ltd
PO35 - R & D MARINE LTD
Baldock, United Kingdom
R & D Marine will be exhibiting their extensive range of Flexible Couplings, Anti-Vibration Mountings, Damper Drives.


Rafnar UK Limited
SB33 - RAFNAR UK LIMITED
Chichester, United Kingdom
Rafnar UK Limited is the exclusive UK licensed builder of the remarkable Rafnar range of boats.


Raymarine
Q64 - RAYMARINE
Fareham, United Kingdom
Raymarine showcases Industry leading technologies at Seawork 2021. Raymarine leads the way in a new era of navigation.


Reintjes UK Ltd
PG23 - REINTJES UK LTD
Long Bennington, United Kingdom
REINTJES UK LTD is a wholly owned subsidiary of REINTJES GmbH, a global specialist in Marine propulsion technology.


Reygar Ltd
PY53 - REYGAR LTD
Dursley, United Kingdom
Reygar provides remote monitoring and control systems. Award winning BareFLEET system remotely monitors vessels.


RG Seasight Fenders
PY118 - RG SEASIGHT FENDERS
Lemvig, Denmark
RG Seasight Fenders make superior bow fenders and complete solutions for the whole vessel from bow to stern.


RIBQUEST Ltd
VB12 - RIBQUEST LTD
South Brent, United Kingdom
Established in 2007; RibQuest are UK manufacturers of bespoke custom RIBs, in commercial, leisure and professional.


Righton Blackburns
PO113 - RIGHTON BLACKBURNS
Kingswinford, United Kingdom
Righton Blackburns is a leading supplier of metals and plastics to today's marine and shipbuilding industry.


Robust Boats Ltd
VA3 - ROBUST BOATS LTD
St Davids, United Kingdom
Robust boats Ltd build a wide range of commercial vessels from 4.5m up to 12.5m.


Rodman Polyships S.A.U.
Q49 - RODMAN POLYSHIPS S.A.U.
Meira - Moaña, Spain
Since 1974, Rodman Polyships S.A.U. has designed, built and satisfactorily delivered different types of Catamarans.


Rotec Hydraulics Ltd
PB173 - ROTEC HYDRAULICS LTD
Taunton, United Kingdom
Rotec Hydraulics together with their sister company Ram Reman offer a one-stop solution for all of your hydraulics.


Roxtec Ltd
S15 - ROXTEC LTD
Bury, United Kingdom
Roxtec cable and pipe sealing solutions, certified by Lloyd's Register, DNV-GL, Bureau Veritas, ABS and others.


Saderet Limited
SB41 - SADERET LIMITED
Braddan, United Kingdom
Saderet Ltd specialises in the supply of survey equipment covering a broad range of land and marine based applications.


Safehaven Marine Ltd
PY35 - SAFEHAVEN MARINE LTD
Youghal, Ireland
Safehaven marine are designers and builders of FRP Pilot boats, Patrol boats, Crew transfer vessels, Hydrographics.

VESSEL DESIGN, BUILD
Scania Power Solutions
Q20 - SCANIA POWER SOLUTIONS
Milton Keynes, United Kingdom
Scania is a world-leading provider of transport and power solutions.


Scot Seat KPM Marine
PG89 - SCOT SEAT KPM MARINE
Fenwick, United Kingdom
Scot Seat KPM Marine is a leading designer and manufacture of shock mitigation seating for marine applications.


Sea Machines
Q62 - SEA MACHINES
Boston, United States
Sea Machines is unlocking the potential of marine operations with revolutionary autonomous control systems.


Sea Sure Ltd, Home of SHOCK-WBV Ltd
A47 - SEA SURE LTD, HOME OF SHOCK-WBV LTD
Southampton, United Kingdom
Sea Sure Ltd is the designer & manufacturer of SHOCK-WBV, based in Southampton UK.


SEA-KIT International
S17 - SEA-KIT INTERNATIONAL
Tollesbury, United Kingdom
SEA-KIT International provides hi-tech, USV (uncrewed surface vessel) solutions for deployment in harsh, offshore conditions.


Seaglaze Marine Windows Ltd
PO117 - SEAGLAZE MARINE WINDOWS LTD
Norwich, United Kingdom
Seaglaze is the established British leader in marine windows and doors.


SEAir
VA36 - SEAIR
Lorient, France
ENHANCED PERFORMANCE AND OUTSTANDING COMFORT SEAir, has a strong expertise in stabilization solutions for motorboats.


Seakeeper
PO95 - SEAKEEPER
California, United States
Seakeepers are designed to eliminate up to 95% of boat roll, as well as removing the anxiety, seasickness, and fatigue.


Seaplant
PY19 - SEAPLANT
Fleetwood, United Kingdom
Seaplant is the powerhouse for offshore & commercial marine industry advertising.


SeaRegs Training
SB80 - SEAREGS TRAINING
Plymouth, United Kingdom
SeaRegs Training specialises in internationally recognised STWC, MCA SQA and RYA courses and marine apprenticeships.


SeaSafe Systems Ltd
PG133 - SEASAFE SYSTEMS LTD
Cowes, United Kingdom
With over 50 years' experience, we are proud to remain an independent, family owned British company.


Seaward - The Boat Development Co
VA07 - SEAWARD - THE BOAT DEVELOPMENT CO
Cowes, United Kingdom
Seaward produce a superb and well proven range of rugged and reliable ultimately seaworthy workboats for pilots.

Seawork Asia
MC16 - SEAWORK ASIA
Fareham, United Kingdom
Seawork Asia is the largest commercial marine and workboat exhibition in the Asian region.


Semmco Life Protection Systems
PB153 - SEMMCO LIFE PROTECTION SYSTEMS
Woking, United Kingdom
Semmco Life Protection Systems has been designing and manufacturing escape and working breathing protection systems.


SERFCA - South East Reserve Forces and Cadets Association
T7 - SERFCA - SOUTH EAST RESERVE FORCES AND CADETS ASSOCIATION
Aldershot, United Kingdom


Servogear
PB143 - SERVOGEAR
Rubbestadneset, Norway
Servogear is a leading manufacturer of Controllable Pitch Propeller Systems for high-speed workboats, fast ferries.


SES
PG87 - SES
Rochester, United Kingdom
Ships Electronic Services is a leading supplier with 45 years of history, operating from 9 offices throughout the UK.


Shawbrook Bank
Q22 - SHAWBROOK BANK
Redhill, United Kingdom
Shawbrook is a leading UK specialist lending bank, offering a thoughtful, human approach to the way it supports business.


Shield Marine Services
PY114 - SHIELD MARINE SERVICES
Romsey, United Kingdom
Shield Marine offers specialist marine services, nationally and internationally, upgrading exteriors and interiors.


Ship Shape IMO
PG161 - SHIP SHAPE IMO
Catfield, United Kingdom
Market Leading range of Marine and Offshore Compliant Mattresses, Bedding, Flooring, Bed Frames, Hotel Supplies.


Shockwave
PG135 - SHOCKWAVE
Sidney BC, Canada
SHOCKWAVE's extensive product line of marine suspension seats is the end result of suspension building experience.

Simrad & Ambex Ltd
VB32 - SIMRAD & AMBEX LTD
Chandlers Ford, United Kingdom
Simrad will exhibit the incredible VSV 50, a 50-knot British Venture Very Slender Vessel (VSV) demonstrator.


Simrad & C-Map
Q70 - SIMRAD & C-MAP
Chandlers Ford, United Kingdom
Simrad is a leader in electronics technology for commercial vessels.


Sittab AB
PB135 - SITTAB AB
Gustafs, Sweden
Sittab is a manufacturer of seat accessories like armrests, swivels, sledges and slides.


Sleipner
PY33 - SLEIPNER
South Brent, United Kingdom
Sleipner is a world-renowned technology company known for its products that improve safety and comfort in boats.


SM Group (Europe)
PY125 - SM GROUP (EUROPE)
Plymouth, United Kingdom
Established in 1972, SMG has grown to become the UK & Ireland's largest value added distributor of marine electronics.


Solberg Advanced Crankcase Ventilation Systems
PO167 - SOLBERG ADVANCED CRANKCASE VENTILATION SYSTEMS
Four Ashes, United Kingdom
Solberg designs and manufactures crankcase ventilation systems for marine propulsion engines and gen-sets.


Solent University - Warsash Maritime School
T3 - SOLENT UNIVERSITY - WARSASH MARITIME SCHOOL
Southampton, United Kingdom
At Solent University's Warsash Maritime School, we believe that by providing you with the highest quality training.

Sonihull
PO157 - SONIHULL
Coventry, United Kingdom
Sonihull is the world's leading manufacturer of ultrasonic anti-fouling systems.


Southampton Freight Services Ltd
PY41 - SOUTHAMPTON FREIGHT SERVICES LTD
Southampton, United Kingdom
Established in 1998, we are a family owned freight forwarder and logistics provider, based in Southampton.


Southern Ropes
PY39 - SOUTHERN ROPES
Fareham, United Kingdom
Southern Ropes is one of the largest manufacturers of high quality synthetic ropes.


Spinlock
PG149 - SPINLOCK
Cowes, United Kingdom
Spinlock are a global leader in the manufacture of innovative lifejackets, PFD's and accompanying equipment.


Springmasters Ltd
PY141 - SPRINGMASTERS LTD
Redditch, United Kingdom
Springmasters Ltd is the UK leading manufacturer and stockist of springs, wire form's & pressings.


Spyderco
D19 - SPYDERCO
Golden Co, United States
Spyderco pioneered the modern folding knife, introducing now-common features like pocket clips, serrated edges.

Star International
VA10 - STAR INTERNATIONAL
Birkenhead, United Kingdom
Star International is an established supplier to the maritime sector, servicing a diverse client base.


Stone Marine Propulsion Ltd
S22 - STONE MARINE PROPULSION LTD
Birkenhead, United Kingdom
Stone Marine Propulsion is one of the world's leading designers and manufacturers of ships propellers.


Stormer Marine
VB07, VB06 - STORMER MARINE
Amsterdam, Netherlands
Stormer Marine is a Dutch shipyard located in Amsterdam that builds workboats for discerning professional clients.


Strategic Marine (S) Pte Ltd
PB123 - STRATEGIC MARINE (S) PTE LTD
Singapore
Strategic Marine is a leading specialist aluminium shipbuilder and the biggest builder of crew transfer vessels.


Stream Marine
S4 - STREAM MARINE
London, United Kingdom
Building on more than 25 years of experience, creating engineered solutions for applications in leisure, lifeboats.


Submarine Manufacturing & Products Limited
D1 - SUBMARINE MANUFACTURING & PRODUCTS LIMITED
Preston, United Kingdom
SMP Submarine Manufacturing & Products Ltd founded in 1985 is based in Lancashire UK.


Suzuki GB Plc
Q6, VA18, VA19, VA20, VA21, VA23, VA24, VA25, VA26 - SUZUKI GB PLC
Milton Keynes, United Kingdom
Suzuki manufactures motorcycles, automobiles, outboard motors and all-terrain vehicles (ATVs) for the global market.


Swathe Services / HYPACK / USS
SB85 - SWATHE SERVICES / HYPACK / USS
Hayle, United Kingdom
Swathe Services is the UK and Ireland distributor for HYPACK. We offer sales, support and maintenance.


T.H.E. Plastic Piling Company Ltd
SB109 - T.H.E. PLASTIC PILING COMPANY LTD
Burntwood, United Kingdom
The Hammerman Equipment Plastic Piling Company, trading as both THE Plastic Piling Co and The Hammerman.


Task Welding
SB19 - TASK WELDING
Portsmouth, United Kingdom


Tecmarine
PB163 - TECMARINE
Brixham, United Kingdom
Tecmarine provides high quality marine electronic and electrical equipment and services.

Teekay Couplings Ltd
PG126 - TEEKAY COUPLINGS LTD
Milton Keynes, United Kingdom
TEEKAY Couplings have an excellent reputation throughout the shipbuilding and repair industries.


Teignbridge Propellers International Ltd
PB7 - TEIGNBRIDGE PROPELLERS INTERNATIONAL LTD
Newton Abbott, United Kingdom
A world leading designer and manufacturer of propellers, shafts, couplings, sterntubes, shaft seals, rudders & shafts.


Tetradock
Q68 - TETRADOCK
Yapton, United Kingdom
Tetradock design, supply and install heavy duty commercial grade pontoons, jetties, walkways and working platforms.


Thames Marine Academy
T11 - THAMES MARINE ACADEMY
Rochester, United Kingdom
Thames Marine Academy is a UK government approved training provider with apprenticeship schemes.


The Motorship
MC16 - THE MOTORSHIP
Fareham, United Kingdom
The Motorship has been an authoritative voice in the fields of shipping and marine engineering since 1920.


The SMS Group
PG153 - THE SMS GROUP
Southampton, United Kingdom
The SMS Group is a national ship repairer and marine engineering services provider.


Tideman Boats BV
VA4 - TIDEMAN BOATS BV
Amsterdam, Netherlands
Manufacturer of indestructible high speed HDPE workboats, Tailor made, built to last!


TMS Ltd
PB129 - TMS LTD
Dawlish, United Kingdom
We pride ourselves on being pro-active problem solvers and take great care to understand our customer's needs.

Toptuxedo
PY7 - TOPTUXEDO
Amorim, Portugal
We operate in the market of garments for the most demanding markets.

Torqeedo GmbH
PO143 - TORQEEDO GMBH
Gilching, Germany
Torqeedo is the market leader for electric mobility on the water.


TPA Pontoons
VA58 - TPA PONTOONS
Worksop, United Kingdom
TPA Pontoons is a division of TPA Temporary Access Solutions, a specialist hire company providing access solutions.


Tritex NDT - Ultrasonic Thickness Gauges
PG5 - TRITEX NDT - ULTRASONIC THICKNESS GAUGES
Dorchester, United Kingdom
Tritex NDT are a leading manufacturer of accurate robust Ultrasonic Thickness Gauges used for measuring metal thickness.


UK Docks Marine Services Ltd
PG95 - UK DOCKS MARINE SERVICES LTD
South Shields, United Kingdom
UK Docks Marine Services Ltd provide maritime infrastructure and technical services supporting ships, boats.


Ullman Dynamics #Ullmanseats
PY67 - ULLMAN DYNAMICS #ULLMANSEATS
Gothenburg, Sweden
Ullman Seats are the only seats scientifically proven to protect people from injury.


Ultraguard Antifouling
Q55 - ULTRAGUARD ANTIFOULING
Kilbirnie, United Kingdom
Ultraguard is a commercial grade ultrasonic antifouling system for hulls and sea water systems.


Ultramag Inspection Services Ltd
PG155 - ULTRAMAG INSPECTION SERVICES LTD
Southampton, United Kingdom
Ultramag Inspection Services Ltd offer Non-Destructive Testing, Mechanical Testing, Welding Procedure.


Universal Turbos
PB131 - UNIVERSAL TURBOS
Fordingbridge, United Kingdom
Universal Turbos are marine turbo specialists based in Hampshire.

Uzmar Shipbuilding Ind & Trade Inc
PB31 - UZMAR SHIPBUILDING IND & TRADE INC
Basiskele, Turkey
First Private Authorised Pilotage and Towage Company of Turkey.


Vera Navis Ship Design
PY74 - VERA NAVIS SHIP DESIGN
Lisbon, Portugal
Vera Navis is a marine design office providing detailed engineering services.


Versa Dock
VA32 - VERSA DOCK
Lymington, United Kingdom
VERSADOCK is a global supplier of modular pontoon, raft and docking solutions with over 20 years' experience.


Vestdavit
PY23 - VESTDAVIT
Bergen, Norway
Vestdavit designs, supplies and supports tailor-made solutions for launching and recovering boats in difficult conditions.


Vetus Commercial Products
PB57 - VETUS COMMERCIAL PRODUCTS
Southampton, United Kingdom
With over 50 years in business, VETUS is one of the world's leading companies when it comes to innovative products.


Viking Life-Saving Equipment
PB183 - VIKING LIFE-SAVING EQUIPMENT
Esbjerg, Denmark
At the heart of VIKING lies an important mission to protect and save human lives all over the world.


Viking Maritime Group
T13 - VIKING MARITIME GROUP
Whitfield, United Kingdom
VIKING MARITIME GROUP has offices in Dover & Portsmouth in the UK, Channel Islands, New Zealand, US and Philippines.


Volvo Penta
PO159, VB22 - VOLVO PENTA
Warwick, United Kingdom
Volvo Penta is a leading global manufacturer of engines and complete power systems for Marine and Industrial applications.


Vulcan Offshore
Q51 - VULCAN OFFSHORE
Southampton, United Kingdom
Vulcan Offshore Ltd was established in 2019 to bring a fresh and modern approach to fabrication services.

PO69 - VULKAN INDUSTRIES LTD. Brighouse, United Kingdom


Walcon Marine Ltd
PY129 - WALCON MARINE LTD
Fareham, United Kingdom
Walcon Marine, established in 1963, specialises in the design and construction of floating and fixed berthing facilities.


Walker Marine Design Ltd
PO59 - WALKER MARINE DESIGN LTD
Hamble-le-Rice, United Kingdom
Walker Marine Design is a professional, award winning naval architecture and consultancy business based in Hamble.


Wallaby Boats GmbH
Q77, VB19 - WALLABY BOATS GMBH
Kappeln, Germany
Wallaby Boats GmbH is the first OEM producing commercial boats using the Nauti-Craft suspension system.


Wardle Marine Services Ltd
VA1 - WARDLE MARINE SERVICES LTD
Alton, United Kingdom
Wardle Marine Services Ltd supply and install pontoons, floating platforms and drive on docks for both commercial and liesure.


WaterMota Ltd
PO71 - WATERMOTA LTD
Newton Abbot, United Kingdom
WaterMota has been supplying the marine industry with engine room packages since 1911.


Webasto
PB175 - WEBASTO
Doncaster, United Kingdom
Webasto enjoys the unique position of being able to deliver complete commercial marine climate control solutions.


MARINE EQUIPMENT BOAT HANDLING EQUIPMENT
Whaly Boats
Q76 - WHALY BOATS
Pontyclun, United Kingdom
Whaly Boats are the fastest selling Roto-moulded Polyethylene boats in the world now with 35 countries aboard.


Wight Shipyard Co
PG151 - WIGHT SHIPYARD CO
East Cowes, United Kingdom
Wight Shipyard Co is Europe's leading high speed craft and aluminium ship builder located on Britain's Isle of Wight.


William Hackett Chain Products Limited
PB191 - WILLIAM HACKETT CHAIN PRODUCTS LIMITED
Halesowen, United Kingdom
WHCP was established in 1892 as a Chain Assembly Maker, manufacturing and supplying Bulk Chain, Bespoke Mooring Chain.


Williams Shipping
PG125 - WILLIAMS SHIPPING
Southampton, United Kingdom
Williams Shipping is a family run logistics and marine services business, operating since 1894.


Workboat Association
PB177 - WORKBOAT ASSOCIATION
Bournemouth, United Kingdom
The Workboat Association (WA), formed in 1994.

ASSOCIATIONS VESSEL OWNERS/OPERATORS
WorkFloat
VA56 - WORKFLOAT
Penryn, United Kingdom
WorkFloat is a self-propelled work platform that 'folds' up for easy and economical transport.


World Fishing
MC16 - WORLD FISHING
Fareham, United Kingdom
World Fishing & Aquaculture magazine and online is dedicated to all aspects of commercial fishing.


Yamaha Motor UK Ltd
Q88 - YAMAHA MOTOR UK LTD
Woking, United Kingdom
Whether you use a lightweight F25 on your tender or our flagship V8 on an offshore powerboat...


YDSA & ABYA
SB53 - YDSA & ABYA
Petersfield, United Kingdom
YDSA is the specialist UK small craft surveying association - members survey vessels from pleasure yachts to RIBs.


You & Sea Ltd
T1 - YOU & SEA LTD
Rhu, United Kingdom
You & Sea is one of the leading RYA/MCA Training Centres in Scotland.


Zelim
VB10 - ZELIM
Edinburgh, United Kingdom
ZELIM is a start-up developing a remotely operated Search and Rescue (SAR) service for the Offshore Renewable Industry.


ZF Services UK Ltd
PO63 - ZF SERVICES UK LTD
Nottingham, United Kingdom
ZF is recognized by its customers as an outstanding and reliable partner for both marine propulsion components.


Zodiac Milpro UK
PB189, VA42 - ZODIAC MILPRO UK
Swansea, United Kingdom
Zodiac Milpro has subsidiaries with offices in Canada, USA, Australia, Spain, United Kingdom, Italy, France.


Zwanny-Ltd
S8 - ZWANNY-LTD
Cwmbran, United Kingdom
Zwanny is a family run company based in South Wales, and has clients spread over The UK and Ireland.


LINKS & REFERENCE
https://www.offshore-energy.biz/port-of-antwerp-to-convert-a-tug-to-methanol-in-a-worlds-first/
https://www.maersk.com/news/articles/2021/11/09/svitzer-to-pioneer-methanol-fuel-cell-tug-operations