NAMAMI GANGE PROGRAMME
ABOUT - CONTACTS - FOUNDATION - HOME - A-Z INDEX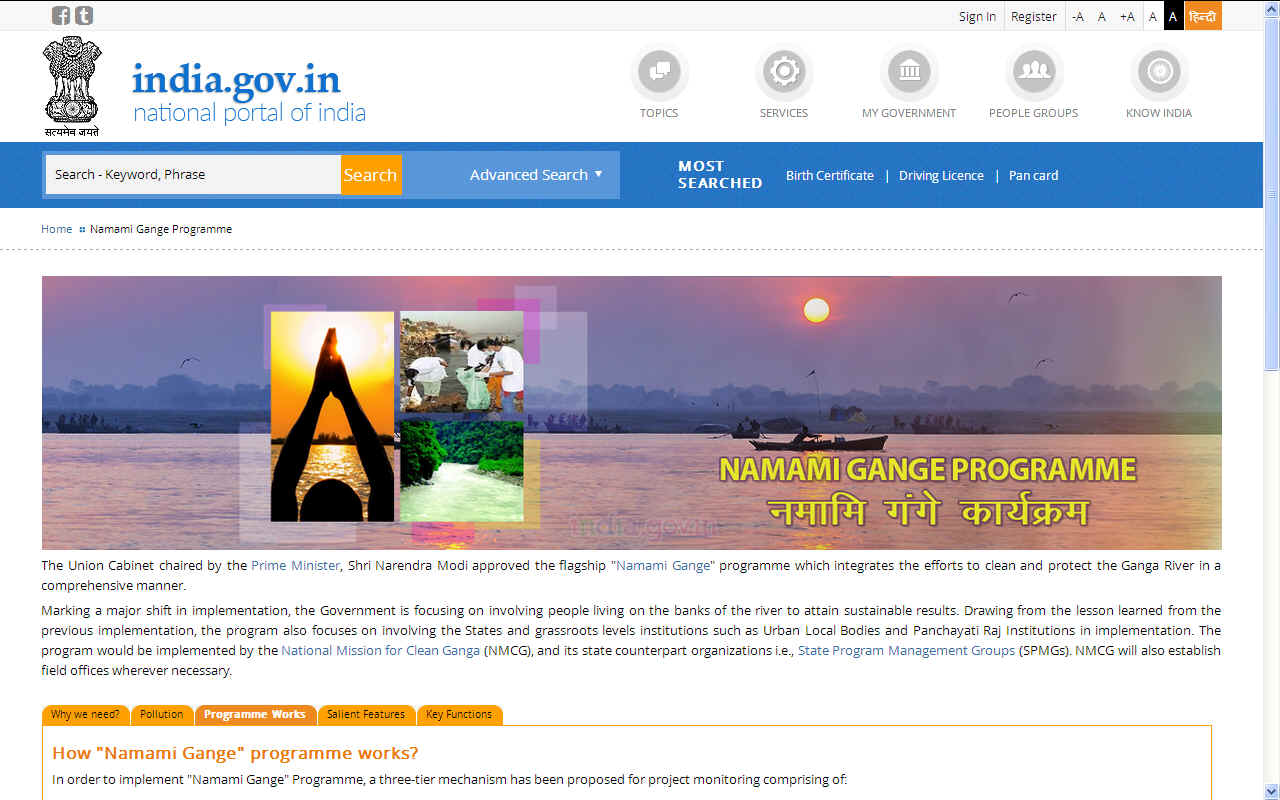 NAMAMI GANGE - After more than one attempt by India to clean up the river Ganges, there is today a movement that is making things happen faster than ever before.
According to their official website, the 'Namami Gange Programme', is an Integrated Conservation Mission, approved as 'Flagship Programme' by the Union Government in June 2014 with budget outlay of Rs.20,000 Crore to accomplish the twin objectives of effective abatement of pollution, conservation and rejuvenation of National River Ganga.

Its implementation has been divided into Entry-Level Activities (for immediate visible impact), Medium-Term Activities (to be implemented within 5 years of time frame) and Long-Term Activities (to be implemented within 10 years).

The key achievements under Namami Gange programme are:-

1. Creating Sewerage Treatment Capacity:- 63 sewerage management projects under implementation in the States of Uttarakhand,Uttar Pradesh, Bihar, Jharkhand and West Bengal.12 new sewerage management Projects Launched in these states.Work is under construction for creating Sewerage capacity of 1187.33 (MLD).Hybrid Annuity PPP Model based two projects has been initiated for Jagjeetpur, Haridwar and Ramanna, Varanasi.

2. Creating River-Front Development:-28 River-Front Development projects and 33 Entry level Projects for construction, modernization and renovation of 182 Ghats and 118 crematoria has been initiated.

3. River Surface Cleaning:-River Surface cleaning for collection of floating solid waste from the surface of the Ghats and River and its disposal are afoot and pushed into service at 11 locations.

4. Bio-Diversity Conservation:- Several Bio-Diversity conservation projects are namely: Biodiversity Conservation and Ganga Rejuvenation, Fish and Fishery Conservation in Ganga River, Ganges River Dolphin Conservation Education Programme has been initiated. 5 Bio-Diversity center's at Dehradun, Narora, Allahabad, Varanasi and Barrackpore has been developed for restoration of identified priority species.

5. Afforestation:- Forestry interventions for Ganga through Wildlife Institute of India; Central Inland Fisheries Research Institute and Centre for Environment Education has been initiated.Forestry interventions for Ganga has been executed as per the Detailed Project Report prepared by Forest Research Institute, Dehradun for a period of 5 years (2016-2021) at project cost of Rs.2300 Crores. Work has been commenced in 7 districts of Uttarakahnd for medicinal plants.

6. Public Awareness:- A series of activities such as events, workshops, seminars and conferences and numerous IEC activities were organized to make a strong pitch for public outreach and community participation in the programme. Various awareness activities through rallies, campaigns, exhibitions, shram daan, cleanliness drives, competitions, plantation drives and development and distribution of resource materials were organized and for wider publicity the mass mediums such as TV/Radio, print media advertisements, advertorials, featured articles and advertorials were published. Gange Theme song was released widely and played on digital media to enhance the visibility of the programme. NMCG ensured presence at Social Media platforms like Facebook, Twitter, You Tube etc.

7. Industrial Effluent Monitoring:- Real Time Effluent Monitoring Stations (EMS) has been installed in 572 out of 760 Grossly Polluting Industries (GPIs). Closure notice have been issued to 135 GPIs so far and others have been given deadlines for compliance to stipulated norms and for installations of online EMS.

8. Ganga Gram:- Ministry of Drinking Water and Sanitation (MoDWS) identified 1674 Gram Panchayats situated on the bank of River Ganga in 5 State (Uttarakhand,Uttar Pradesh,Bihar,Jharkhand,West Bengal). Rs. 578 Crores has been released to Ministry of Drinking Water and Sanitation (MoDWS) for construction of toilets in 1674 Gram Panchayats of 5 Ganga Basin States. Out of the targeted 15, 27,105 units, MoDWS has completed construction of 8, 53,397 toilets. Consortium of 7 IITs has been engaged in the preparation of Ganga River basin Plan and 65 villages has been adopted by 13 IITs to develop as model villages. UNDP has been engaged as the executing agency for rural sanitation programme and to develop Jharkhand as a model State at an estimated cost of Rs. 127 Crore.

National Mission for Clean Ganga, endeavors to deploy best available knowledge and resources across the world for Ganga rejuvenation. Clean Ganga has been a perennial attraction for many international countries that have expertise in river rejuvenation. Countries such as Australia, United Kingdom, Germany, Finland, Israel etc. have shown interest in collaborating with India for Ganga rejuvenation. Memorandums of Understanding (MoUs) were signed with various Central Ministries viz.- Ministry of Human Resource Development, Ministry of Rural Development, Ministry of Railways, Ministry of Shipping, Ministry of Tourism, Ministry of Ayush, Ministry of Petroleum, Ministry of Youth Affairs and Sports, Ministry of Drinking Water & Sanitation and Ministry of Agriculture for synergizing the Government schemes.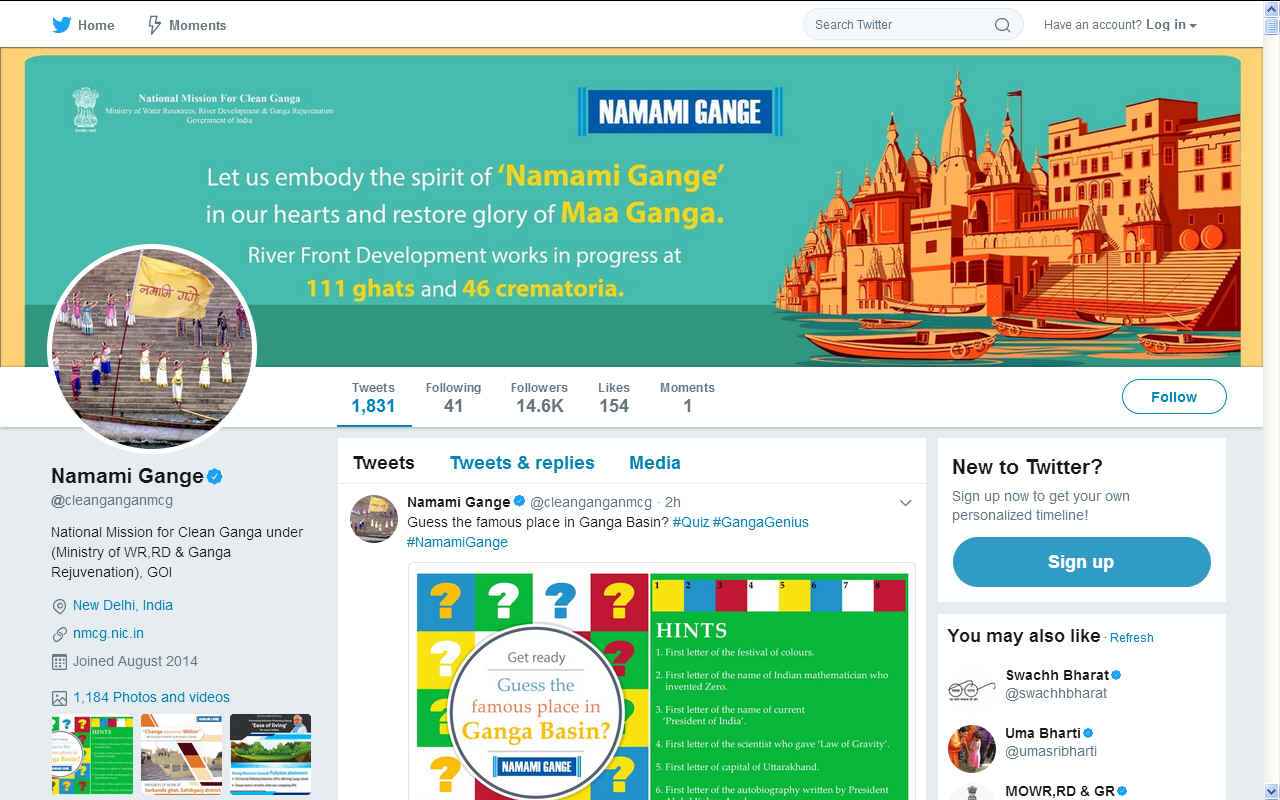 In 2014 the Clean Ganga project was renamed "Namima Gange". Under the lead of Narendra Modi the quest begun many years ago by previous Prime Ministers is finally seeing major progress in the installation of sewage treatment plants and the closure of many seriously polluting industries.
Eleven surface trash skimmers have been deployed to sweep up river debris, running with a campaign to educate farmers and villagers as to careful disposal of waste water and chemicals. All in all it is a wonderful effort with tangible progress a measure of the levels of funding applied by a determined administration, with $3 Billion pledged over the next 5 years, that properly managed is bound to reap the rewards of a cleaner Ganga river.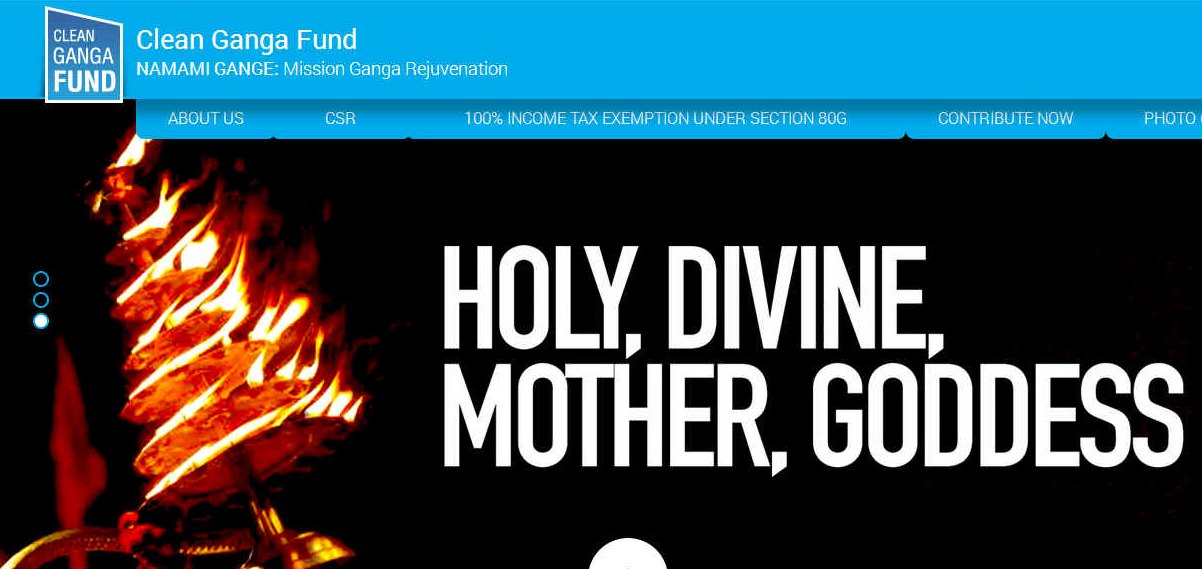 For more information on Ganga Rejuvenation, please contact:

Mission Director
National Mission for Clean Ganga
Ministry of Water Resource, River Development and Ganga Rejuvenation
1st Floor, Major Dhyan Chand National Stadium, India Gate
New Delhi - 110002, India

Tel: (+91-011) 23072900-901
Email: cleangangafund@gov.in
Website: www.nmcg.nic.in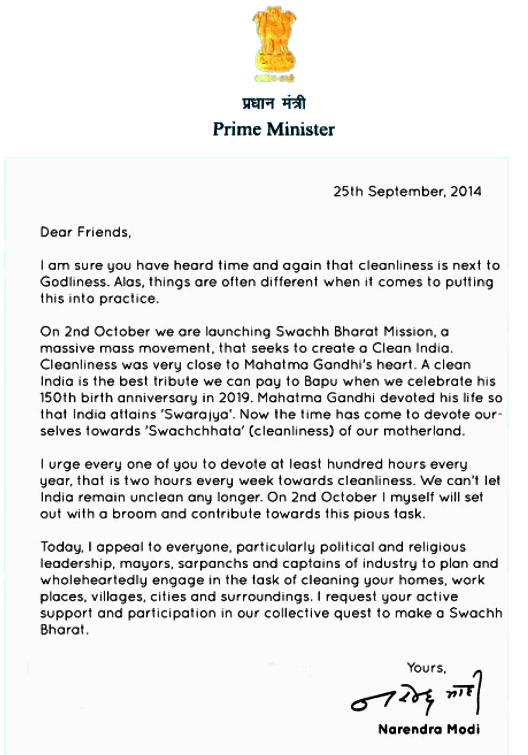 OPEN LETTER SEPTEMBER 2014 - Prime Minister Narendra Modi launched the Swachh Bharat Mission in October 2014. He calls on political, religious and industrial leaders to engage with him in the massive cleanup task ahead. We share his vision in spirit.
FEATURES OF THE "NAMAMI GANGE" PROGRAMME

Over Rs. 20,000 crore was sanctioned in the 2014-2015 budget for the next 5 years. The programme will cover 8 states, 47 towns and 12 rivers under the present project.
Over 1,632-gram panchayats on the banks of Ganga are to be made 'open-defecation-free' by 2022. Several ministries are working with nodal Water Resources Ministry for this project includes - Environment, Urban Development, Shipping, Tourism and Rural Development Ministries. The prime focus will be on involving people living on the river's banks in this project.
Under the aegis of National Mission for Clean Ganga (NMCG) & State Program Management Groups (SPMGs) States and Urban Local Bodies and Panchayati Raj institutions will be involved in this project.
Setting river-centric urban planning process to facilitate better citizen connects, through interventions at Ghats and Riverfronts.
Expansion of coverage of sewerage infrastructure in 118 urban habitations on banks of Ganga.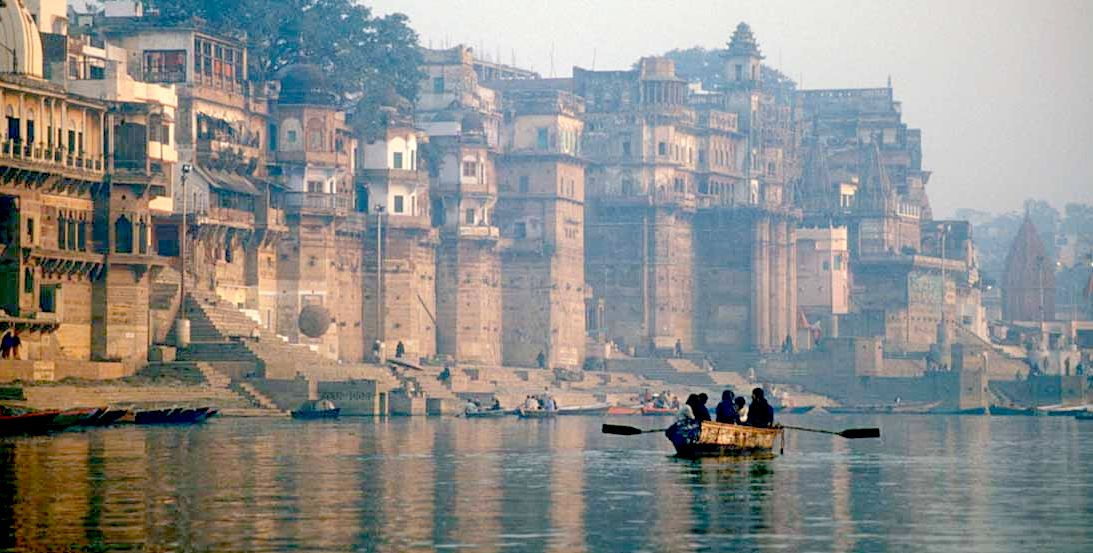 VARANASI - Some of the most polluted water is upstream of Varanasi from Kannauj east. The sacred river Ganga is the largest river, extending over the states of Uttarakhand, Uttar Pradesh, Haryana, Himachal Pradesh, Delhi, Bihar, Jharkhand, Rajasthan, Madhya Pradesh, Chhattisgarh and West Bengal. The Ganga basin is densely populated with 37 per cent of India's population living in the region. Millions of Indians depend on this great river for physical and spiritual sustenance. People have immense faith in the powers of healing and regeneration of the Ganga. The River plays a vital role in religious ceremonies and rituals. To bathe in Ganga is a lifelong ambition of many who congregate in large numbers for festivals such as Kumbh Mela and numerous Snan (bath) festivals. About 47 per cent of the total irrigated area in India is located in the Ganga basin alone.

HOW THE "NAMAMI GANGE" PROGRAMME WORKS

In order to implement "Namami Gange" Programme, a three-tier mechanism has been proposed for project monitoring comprising of:

- A high-level task force chaired by Cabinet Secretary assisted by NMCG at the national level,
- State level committee chaired by Chief Secretary assisted by SPMG at the state level and
- District level committee chaired by the District Magistrate.

"Namami Gange" will focus on pollution abatement interventions namely Interception, diversion & treatment of wastewater flowing through the open drains through bio-remediation/appropriate in-situ treatment/use of innovative technologies/sewage treatment plants (STPs)/effluent treatment plant (ETPs) rehabilitation and augmentation of existing STPs and immediate short-term measures for arresting pollution at exit points on river front to prevent inflow of sewage etc.
The River Ganga has been the source of physical and spiritual sustenance of Indian civilization for millennia. To the Indian mind, the River Ganga is a living Goddess:
पवनः पवतामस्मि रामः शस्त्रभृतामहम्‌ ।
झषाणां मकरश्चास्मि स्रोतसामस्मि जाह्नवी ॥
I am the wind among things of purification, and among warriors I am Rama, the hero supreme. Of the fishes in the sea I am Makara, the wonderful, and among all rivers the Holy Ganges.

Bhagavad Gita; Verse 31, Chapter 10
SHRI NARENDRA MODI - On 26th May 2014 Narendra Modi took oath as the Prime Minister of India, becoming the first ever PM to be born after India attained Independence. Dynamic, dedicated and determined, Narendra Modi reflects the aspiration and hope of over a billion Indians.

Ever since he assumed office in May 2014, PM Modi has embarked on a journey of all-round and inclusive development where every Indian can realize their hopes and aspirations. He remains deeply inspired by the principle of 'Antyodaya', of serving the last person in the queue.
Through innovative ideas and initiatives, the Government has ensured that the wheels of progress move at rapid pace and the fruits of development reach every citizen. Governance has become open, easier and transparent. Contact Details:
Prime Minister's Office
South Block, Raisina Hill
New Delhi-110011
Phone No: +91-11-23012312 Fax: +91-11-23019545, 23016857
https://www.facebook.com/narendramodi https://twitter.com/narendramodi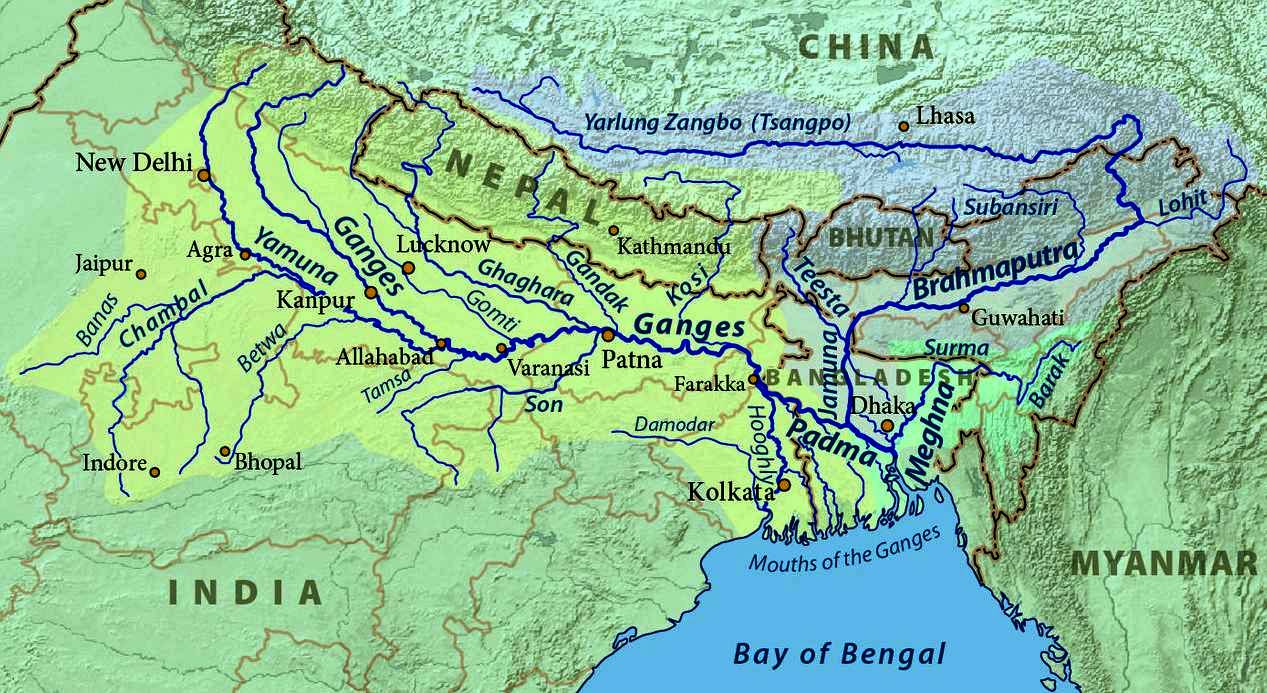 GEOGRAPHY - Map of the Ganges/Brahmaputra basin, a massive complex of rivers that drain India and Bangladesh surface water into the Bay of Bengal, unfortunately, transporting millions of gallons of toxic waste into the Indian Ocean. The Ganges is navigable for approximately 1,450 kilometers from its mouth(s) from Allahabad heading east to Patna, then Farakka to become the Padma, where it is joined by the Brahmaputra as the main distributory of the Ganges, flowing south-east until confluence with the Meghna (as one of three forming the Ganges Delta), before exit into the Bay of Bengal.
CONTACTS IN INDIA
Department International Trade Delhi
British High Commission
Shantipath
New Delhi
Chanakyapuri 110021
India

Email ditindia@fco.gov.uk

Enquiries +91 (11) 2419 2100

Department for Int Trade Ahmedabad
British Deputy High Commission Ahmedabad
Courtyard by Marriott Hotel
Ramdevnagar, Satellite
Ahmedabad
Gujarat 380015
India

Email ditindia@fco.gov.uk

Enquiries +91 79 2646 7138

Department Int Trade Bengaluru
British Deputy High Commission
Prestige Takt
23 Kasturba Road Cross
Bangalore
560001
India

Email ditindia@fco.gov.uk

Enquiries +91 (80) 22100200

Department Int Trade Chandigarh

British Deputy High Commission
178-178A, Business and Industrial Complex
Unit C516, Tower C
Phase I, Industrial Area
Chandigarh
160002
India

Email ditindia@fco.gov.uk

Enquiries +91 82 8800 9897

Department Int Trade Chennai
British Deputy High Commission
20 Anderson Road
Chennai
600 006
India

Email ditindia@fco.gov.uk

Enquiries +91 (44) 42192151

Department Int Trade Hyderabad
British Deputy High Commission
2nd Floor, Taj Deccan Hotel
Road No.1
Hyderabad
Banjara Hills 500034
India

Email ditindia@fco.gov.uk

Enquiries +91 (40) 6666 9147

Department Int Trade Kolkata
British Deputy High Commission
1A Ho Chi Minh Sarani
Kolkata
700 071
India

Email ditindia@fco.gov.uk

Enquiries +91 (33) 2288 5172-76

Department Int Trade Mumbai
British Deputy High Commission
11th floor, Naman Chambers
C/32, G Block, Bandra Kurla Complex
Mumbai
Bandra (E) 400 051
India

Email ditindia@fco.gov.uk

Enquiries +91 (22) 6650 2222
Department for International Trade Pune

British Trade Office
5th Floor, 505 B-Wing
MCCIA Trade Tower
International Convention Centre Complex
403 - A, Senapati Bapat Road
Pune
411 016
India

Email ditindia@fco.gov.uk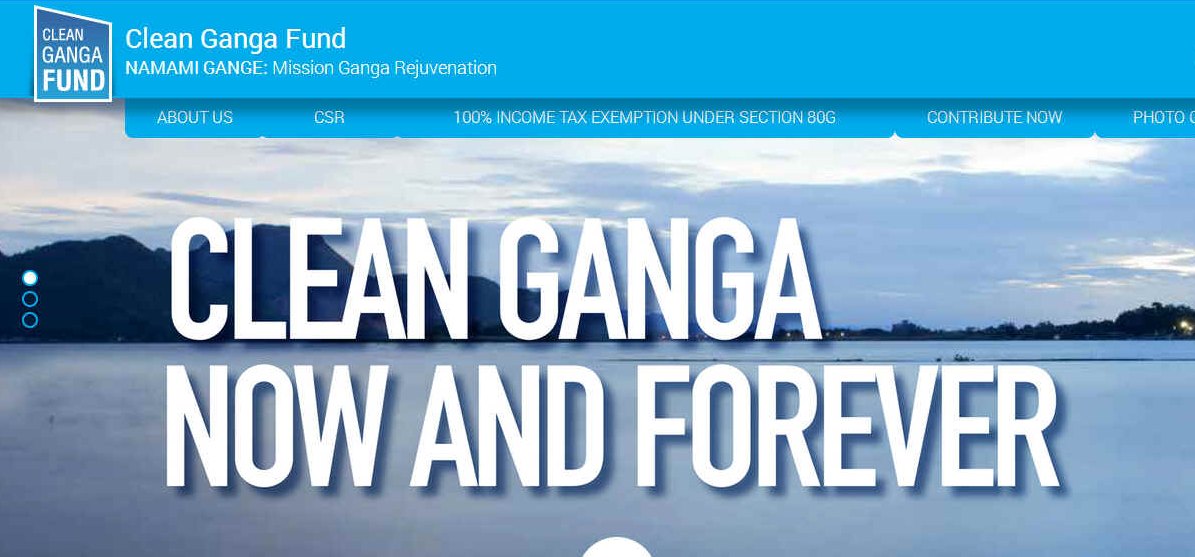 S.No

SPMGs

Contact Details - Address, Phone, Email

-

-

-

1

Bihar

Project Director,SPMG Group (Secretary Urban Development)

Government of Bihar
Vikash Bhawan,Bailey Road, Patna
Bihar – 800001


Phone Number: 0612-2215580,2210000 Fax Number: 0612-2217059,22005520
Mobile Number: NA
Email ID: urbansec-bih@nic.in
Website: NA

2

Jharkhand

Project Director,SPMG Group
Urban Development & Housing Department,
Room no. 403, 4th Floor, Project Bhawan, Dhurwa, Ranchi, Jharkhand-834004


Phone Number: 0651 2446640 Fax Number: 0651 2446640
Mobile Number: NA
Email ID: jhspmgngrba@gmail.com
Website: NA

3

Uttar Pradesh

Address: Project Director,SPMG Group
834, Bapu Bhawan
Sachivalya, Lucknow, - 226001


Phone Number: 0522-2237067 Fax Number: 0522-2235241
Mobile Number: NA
Email ID: pd@sgrca.org
Website: www.sgrca.org/

4

Uttarakhand

Address: Project Director,SPMG Group
117 Indira Nagar Dehradun 248001
Uttarakhand


Phone Number: 0135-2769932 Fax Number: 0135-2763434
Mobile Number: NA
Email ID: spmgngrba.utk01@gmail.com
Website: NA

5

West Bengal

Address: Project Director,SPMG Group
Unnayan Bhawan (3rd Floor), DJ-11, Sector-II,BLOCK-A,KMDA,
Kolkata – 700091


Phone Number: 033-23217371/23217370 Fax Number: 033-23340089
Mobile Number: NA
Email ID: spmg.programdirector@gmail.com
Website: NA
Water is vital to all life on earth. The collection, treatment, distribution and disposal of the water that we use on land to live and for our businesses has a serious knock on effect for marine life - if the water that is fed into rivers and ocean outlets is contaminated - and it is through no fault of water supply companies.
In almost all walks of life humans rely on plastic, in many cases without even realizing it. Our clothing , goods and food packaging is plastic reliant. Every time we wash our clothes micro fibres enter the waste disposal systems that are provided by water suppliers and fed into our treatment and sewage systems.
GANGA HISTORY: DAILY MAIL 11 JUNE 2014

The great Ganga clean-up disaster: How PM-headed conservation group failed to meet for 10 YEARS and spent just Rs 967 crore of Rs 20,000 crore set aside to save river.

Money for nothing, filth for free. That, in a nutshell, is the state of Ganges, India's northern lifeline that passes through five states.

The last three decades have seen an allocation of over Rs 20,000 crore through the two phases of Ganga Action Plan (GAP I & II) to clean up the river. Yet, a clean Ganga remains elusive, as pollutants of all varieties keep choking the holy river.

Behind the statistics of money allocated for cleaning up the Ganga, what remains hidden is the bleak reality of the paltry amounts actually spent and the little work that has been done.

For about 30 years - GAP was conceived in 1985 - hardly Rs 967.30 crore has been spent in the two phases.

According to informed sources in the Union Ministry of Environment and Forest (MoEF), "It's a misconception that thousands of crores have been spent to clean the river. In fact, only Rs 967.30 crore was spent in the two GAPs over the last 30 years, which means a paltry Rs 30 crore per year." Even the target to create infrastructure has not been met with. "

It is just about 30 per cent of the target that has been put in place.

"Against the target of a total sewage treatment capacity of nearly 3,000 million litres a day (MLD), we have been able to achieve only 1098.31 MLD so far," the source said.

Mail Today accessed the official records which offer the real figures on how much has been spent to clean up the river.

According to these records, in the first phase of GAP, "nearly Rs 461 crore was spent on 260 schemes that were completed to treat about 869 mld of sewage entering the river at different points in five states. In GAP-II, 264 schemes were completed at a cost of Rs 505 crore and sewage treatment capacity of 229 mld has been created, which is just about 1/3rd of the target of 3,000 MLD."
Apathy

No particular government or political party can be blamed, however, for the lackadaisical approach, say top government officials.

"The sluggishness in the efforts to clean up the river cuts across political spectrum which gets compounded by the bureaucratic red tape, involving five member states," says the source.

It seems the apathy and ignorance about the river cleaning starts from the top, including prime ministers. Government sources confirmed to Mail Today that not a single meeting of the prime minister-headed National River Conservation Authority (NRCA) has been held in the last 10 years.

The NRCA was constituted in 1995 and its last meeting was held under former prime minister Atal Bihari Vajpayee in 2003.

"The United Progressive Alliance under former PM Manmohan Singh is to blame. It is mandated that NRCA would meet at least once a year… it only resulted in a complete collapse of the vision and policy from the top itself," said a senior government official on condition of anonymity.

Not only has NRCA failed to meet, but even the steering committee of NRCA hasn't got together since 2007.

Headed by the MoEF secretary, the steering committee is mandated to monitor the allocation of funds and progress of sanctioned schemes.

The steering committee is supposed to meet every quarter, with five river basin member states - Uttarakhand, Uttar Pradesh, Bihar, Jharkhand and West Bengal.

Moreover, the National Ganga River Basin Authority constituted in 2009, and comprising of the prime minister as chairman and five member states, met three times but no concrete decision was taken, says a top government source.

While the new government under Prime Minister Narendra Modi has made it clear that Ganga clean-up will be one of the top priorities, many within the ministry seem to be a bit sceptical.

One such informed source in the ministry said: "Perhaps it has not struck many in the ministry under new minister Uma Bharti that Ganga actually flows through five states where the Bharatiya Janata Party or the National Democratic Alliance is not in power. BJP or any NDA partners are not in power or supporting the state governments in Uttarakhand, Uttar Pradesh, Bihar, Jharkhand and West Bengal. Bihar could have been an exception a year back, but not now. So, there is little hope that the new frenzy over cleaning the Ganga would actually see some real action."


MoEF rejig may hit Uma's clean-up plan

There are more woes to the Ganga cleaning mess than just the money involved.

If government insiders are to be believed, bureaucratic red-tape has triggered an administrative crisis in the ongoing Ganga cleaning agenda set up by Uma Bharti, Union Minister for Water Resources, River Development and Ganga Rejuvenation.

It is learnt from reliable sources that a select group of around eight officials, mostly specialists and technocrats, dealing with Ganga Action Plans till now are "being shunted out of the environment ministry and will be asked to merge with scientists in the Ministry of Water Resources."

The move has not only left the specialist officials miffed, but many have started thinking about a different career outside the ministry.

"For all administrative reasons, the National River Conservation Directorate should remain with Ministry of Environment and Forests (MoEF). The work done at MoEF under Ganga Action Plans (GAP) is purely conservation unlike water resources, which is more to deal with building dams and groundwater recharge and monitoring of water sources," a senior ministry official said.

Technical and Scientific Officers in National River Conservation Directorate (NRCD), which is a autonomous wing of MoEF, is responsible for the river conservation (pollution abatement activities) for important rivers and lakes in the country through its national river conservation programme and national lake conservation programme.

Requesting anonymity, an official said: "Ministry of Water Resources (MoWR) has a different mandate altogether - construction of barrages, irrigation projects, hydroelectric projects which goes against mandate of cleaning of rivers. It will be a conflict of interest to transfer NRCD to MoWR."

"Firstly, the administrative gap in these two service cadres is a big roadblock.

"Secondly, service rules of the officers are different in these two ministries as the MoEF is a scientific ministry and their officers are governed by flexible complimentary scheme.

"Thirdly, the MoEF is the nodal ministry for the Water Act, 1974; Environment (Protection) Act, 1986 and other environmental laws responsible for regulating polluters like municipalities, utilities and industries which pollute the rivers and other water bodies," the official added.

The NRCD officials are worried that the mandate to regulate GAP remains with the MoEF, hence "why moving to a ministry playing the secondary role."

It is learnt that some top MoEF officials are also pressing to get back all NRCD officers who have expertise in river conservation works, but are currently posted out in different departments. By Maneesh Pandey in New Delhi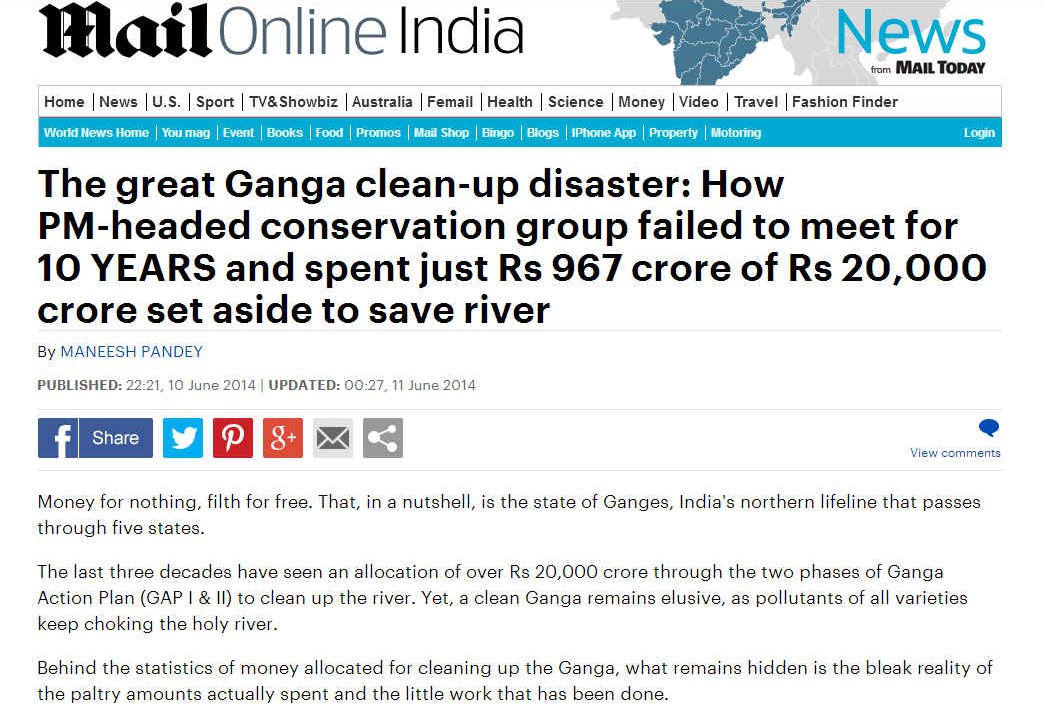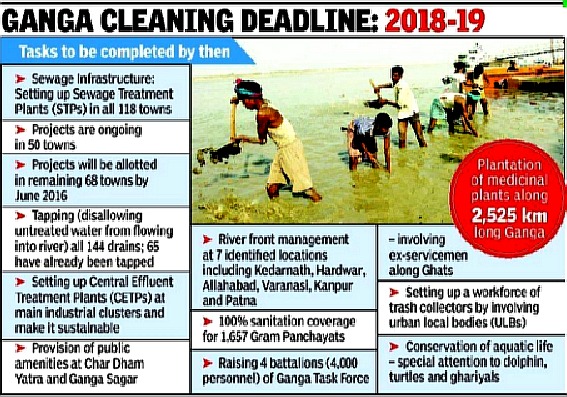 ... - ...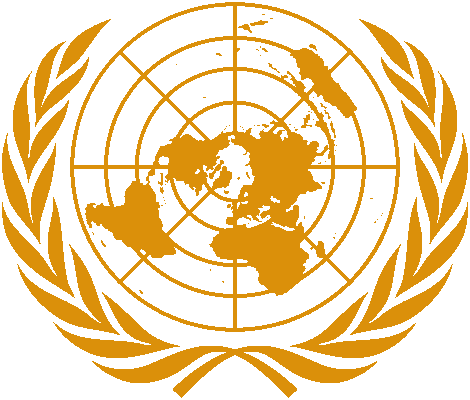 LINKS & REFERENCE
Dailymail Ganga-clean-disaster-How-PM-headed-conservation-group-failed-10-YEARS-spent-just-Rs-967-crore-Rs-20-000-crore-set-aside-save-river
http://www.cleangangafund.in/
http://nmcg.nic.in/NamamiGanga.aspx#
https://www.great.gov.uk/
https://ninesights.ninesigma.com/web/tata-steel-gallery
http://www.pmindia.gov.in/en/pms-profile/
https://www.india.gov.in/spotlight/namami-gange-programme#tab=tab-1
https://twitter.com/cleanganganmcg
https://www.gov.uk/world/organisations/department-for-international-trade-india
https://www.gov.uk/world/india
http://worldwatertechinnovation.com/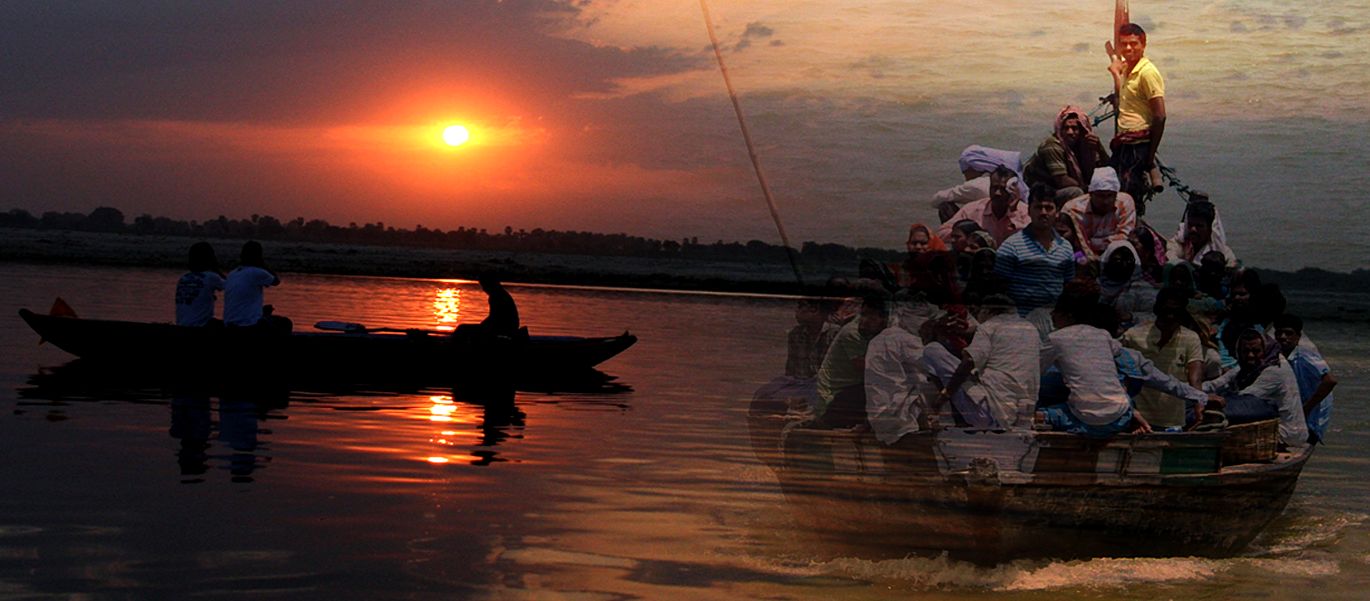 This website is provided on a free basis as a public information service. copyright © Cleaner Oceans Foundation Ltd (COFL) (Company No: 4674774) 2018. Solar Studios, BN271RF, United Kingdom. COFL is a charity without share capital. The names AmphiMax™, RiverVax™ and SeaVax™ are trade names used under license by COF in connection with their 'Feed The World' ocean cleaning sustainability campaign.