WORLD WATER SPEED RECORDS
BLUE GROWTH - CIRCUMNAVIGATION - CONTACTS - DONATE - FOUNDATION - FUNDING - HOME - A-Z INDEX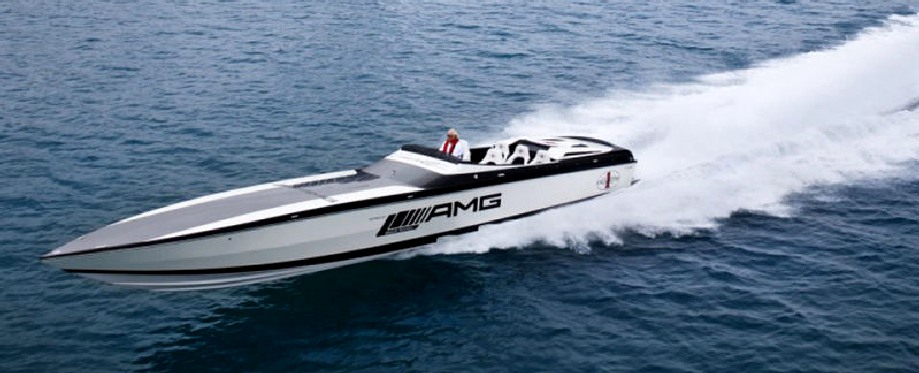 AMG

MERCEDES - At speed offshore testing, this Mercedes deep V powerboat (cigarette) is undeniably fast. 86 knots on batteries and electric motors. Not that fast in reality compared to other powerboats, but then this is offshore racing where the hulls get a severe pounding. The main consideration here is that fossil fuels are not used, provided that the batteries are charged from renewable electricity supplies.

RECORD HOLDERS & IN PROGRESS ATTEMPTS
| mph | km/h | Craft | Pilot(s) | Location | Date |
| --- | --- | --- | --- | --- | --- |
| - | - | - | - | - | - |
| 70.86 | 114.04 | Hydrodome IV | Casey Baldwin | Bras d'Or Lake | 19 September 1919 |
| 74.870 | 120.492 | | Gar Wood | Detroit River | 15 September 1920 |
| 80.567 | 129.660 | Miss America II | Gar Wood | Detroit River | 6 September 1921 |
| 87.392 | 140.644 | Farman Hydroglider | Jules Fisher | River Seine | 10 November 1924 |
| 92.838 | 149.409 | Miss America II | George Wood | Detroit River | 4 September 1928 |
| 93.123 | 149.867 | Miss America VII | Gar Wood | Indian Creek | 23 March 1929 |
| 98.760 | 158.938 | Miss England II | | Windermere | 13 June 1930 |
| 102.256 | 164.565 | Miss America IX | Gar Wood | Indian Creek | 20 March 1931 |
| 103.49 | 166.55 | Miss England II | Kaye Don | Parana River | 15 April 1931 |
| 110.223 | 177.387 | Miss England II | Kaye Don | Lake Garda | 31 July 1931 |
| 111.712 | 179.783 | Miss America IX | Gar Wood | Indian Creek | 5 February 1932 |
| 117 | 189 | Miss England III | Kaye Don | Loch Lomond | 18 July 1932 |
| 119.81 | 192.82 | Miss England III | Kaye Don | Loch Lomond | 18 July 1932 |
| 124.86 | 200.94 | Miss America X | Gar Wood | St. Clair River | 20 September 1932 |
| 126.32 | 203.29 | | | Lake Maggiore | 1 September 1937 |
| 129.50 | 208.41 | Bluebird K3 | Malcolm Campbell | Lake Maggiore | 2 September 1937 |
| 130.91 | 210.66 | Bluebird K3 | | Hallwilersee | 17 August 1938 |
| 141.74 | 228.11 | Bluebird K3 | | | 19 August 1939 |
| 160.323 | 258.015 | | Stanley Sayres, Ted O. Jones | Lake Washington | 26 June 1950 |
| 178.497 | 287.263 | Slo-Mo-Shun IV | Stanley Sayres, Elmer Leninschmidt | Lake Washington | 7 July 1952 |
| 202.32 | 325.60 | | Donald Campbell | Ullswater | 23 July 1955 |
| 216.20 | 347.94 | | | Lake Mead | 16 November 1955 |
| 225.63 | 363.12 | Bluebird K7 | | Coniston Water | 19 September 1956 |
| 239.07 | 384.75 | Bluebird K7 | Donald Campbell | Coniston Water | 7 November 1957 |
| 248.62 | 400.12 | Bluebird K7 | Donald Campbell | Coniston Water | 10 November 1958 |
| 260.35 | 418.99 | Bluebird K7 | Donald Campbell | Coniston Water | 14 May 1959 |
| 276.33 | 444.71 | | | | 31 December 1964 |
| 285.22 | 459.02 | Hustler | Lee Taylor | Lake Guntersville | 30 June 1967 |
| 288.18 | 463.78 | Spirit of Australia | | Blowering Dam | 20 November 1977 |
| 317.60 | 511.13 | | Ken Warby | Blowering Dam | 8 October 1978 |
| To beat | " " | Spirit of Australia 2 | | Blowering Dam | 2019 |
On this page we give you a few examples of some extraordinary human beings who have changed the world, by doing or making something that inspires others to think differently about what is possible, in this case raising the speed at which humans have been able to travel across water in boats, ships being far too slow, but qualifying for the Blue Ribband as applies to passenger vessels on scheduled voyages.
These records involve burning fossil fuels like diesel oil and aviation kerosene blend or even petroleum, all of which add to global warming. The new breed of record breakers are climate friendly. They come from all sectors and walks of life, from private citizens to university students. Click HERE to see the growing list of electric and solar powered boat records.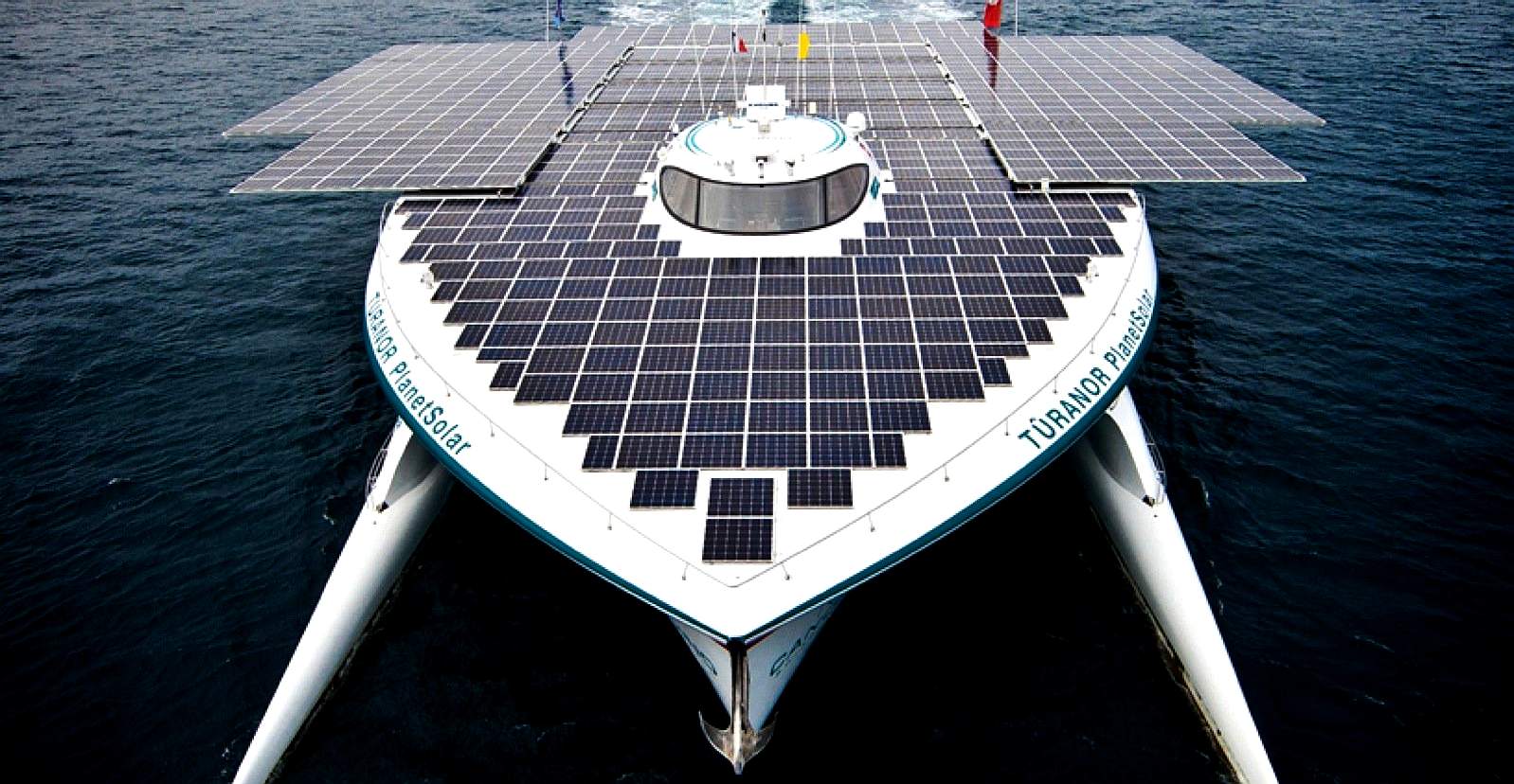 CLIMATE CHANGER - On the 4th of May 2012, history was made, as Raphael Domjan, at the helm of a giant of a catamaran powered only by solar panels crossed the finishing line at Monaco to become the first electric boat to sail around the world. MS Tūranor PlanetSolar, known under the project name PlanetSolar, was (@ 2018) the largest solar-powered boat in the world. The vessel was launched on the 31st March 2010, also going into the Guinness Book of World Records. The project was mostly financed by Immo Stroeher, the owner of the boat, making him one of the great Climate Changers in our books.
LINKS & REFERENCE
http://www.guinnessworldrecords.com/world-records/fastest-solar-powered-vehicle/
This website is provided on a free basis as a public information service. Copyright © Cleaner Oceans Foundation Ltd (COFL) (Company No: 4674774) 2019. Solar Studios, BN271RF, United Kingdom. COFL is a charity without share capital.