EXPEDITION ROUTE MAP
BLUE GROWTH - CIRCUMNAVIGATION - CONTACTS - CROWDFUNDING - DONATE - FOUNDATION - FUNDING
PLEASE USE OUR A-Z INDEX TO NAVIGATE THIS SITE, OR RETURN HOME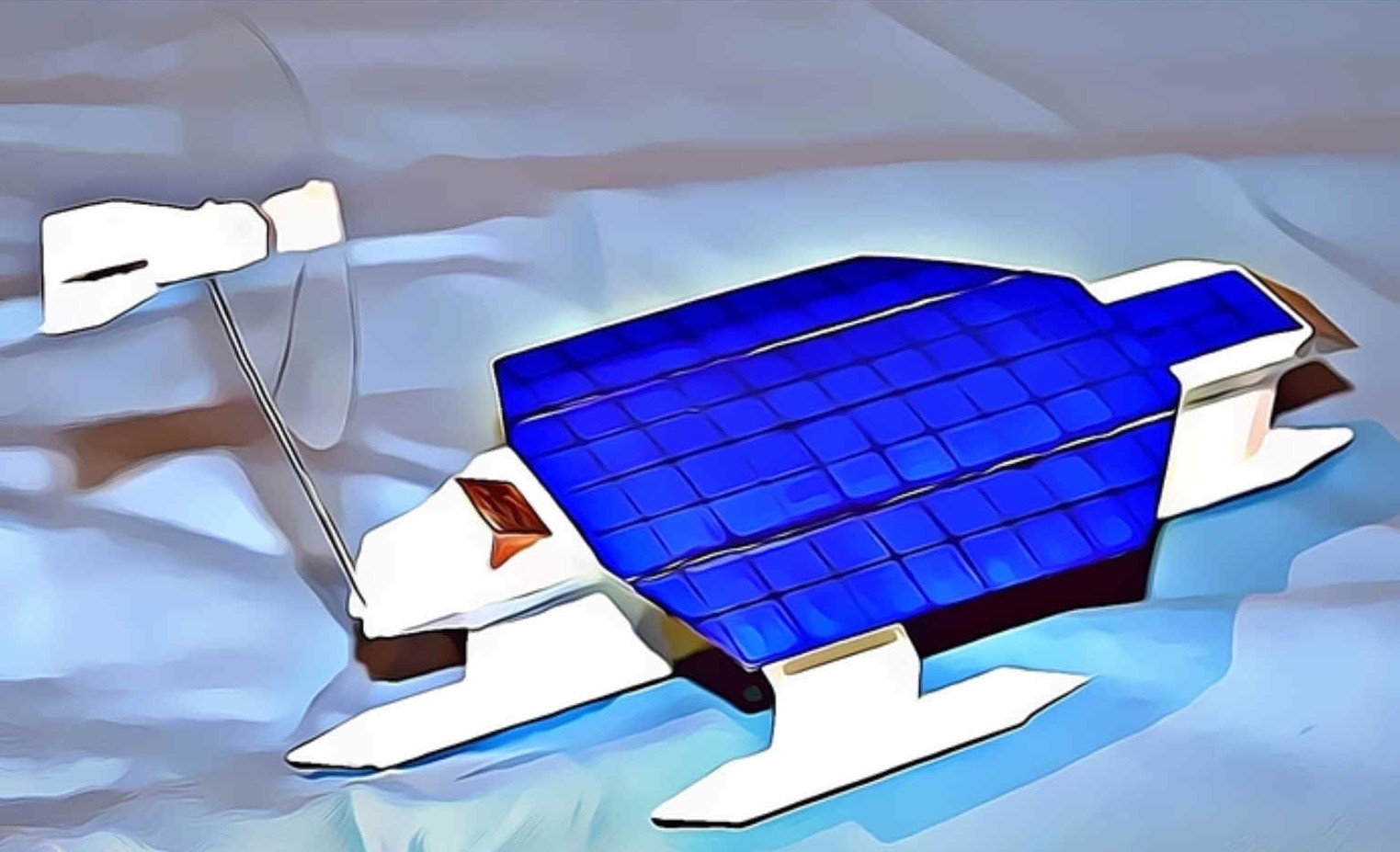 THE ELIZABETH SWANN - Just a model at the moment, but a contender in-waiting, looking for an opportunity to smash the world record for a round the world circumnavigation attempt for an electric boat powered only by energy from nature. The record holder is still Planetsolar from 8 years ago in 2012. When built the Swann's hull will be the largest solar powered boat in the world at 43 meters (140ft). Planetsolar is 113 ft long.
Where John Storm is a fictional character, the Elizabeth Swan is an actual concept boat in the making based on a much modified trimaran hull configuration.
The trimaran hull form has been used by Polynesians for hundreds of years to stabilize fishing canoes before naval architects came on the scene. This design is the logical evolution from the Turbinia of Sir Charles Parsons (long thin hull), through the Cable & Wireless Adventurer of Nigel Irens (thin main hull with outriggers), taking account of the Turanor PlanetSolar of Immo Stroeher and Raphael Domjan, as to incorporating a large area of solar panels.
Solar powered, or zero carbon world navigation events have now taken place for Aircraft, Cars and Boats with three such projects taking place in 2012. As the world is getting hotter, the race is on to cool our blue planet by showing politicians what is possible if you have the will to go our there and get it done. Change is only slowed by the establishment and the financial considerations of political backers like the oil and coal giants that supply most of our energy today - and are prone to price fixing to maintain high profits, even where that is immoral. But the technology is already available to make the switch to renewable energy happen - and this has been so for a long time. Our children will be the ones who suffer if we don't make a move soon. And we mean very soon. The days of black soot from diesel engines, power stations and cargo ships is coming to a close. Is it no wonder that in 2018 schoolchildren all over the world were striking for climate change action to protect their future.
It's been a while since we were at school, and regardless of age, our Trustees believe that it might be useful to anyone interested in progressing low carbon marine transport, for us to plan a route for the Elizabeth Swan, such that if it is deemed a worthy investment in the battle to tackle climate change. This is so that we have a scheme in place to demonstrate that clean ocean transport is not as far away as one might imagine, should the political will crystallize to accelerate sustainable technology.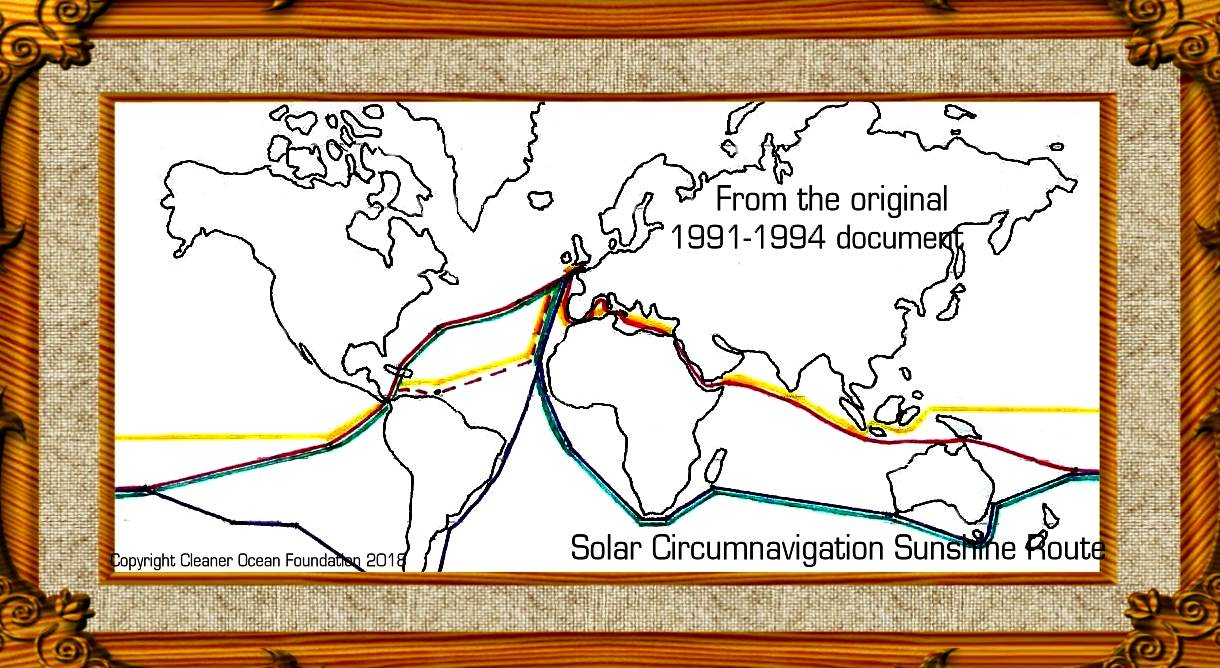 ORIGINAL MAP - It's not much to look at, and it was drawn by hand on a scrap of lined notepaper, but the exercise completed in 1991, is the first study of what was them thought to be possible for a solar powered boat. It turned out the innovator was right. These are typical circumnavigation waypoints, with the Red and Sunshine routes shown. The shortest drawn transit is not necessarily the quickest voyage. You have to take into account the ocean currents and trade winds. From this humble beginning the idea grew and was published on the internet so that anyone could challenge the concept.
If the Foundation were to support the making of such a challenge, it would be in a dual format, also being designed as an ocean awareness event with a global audience to gain maximum media coverage.
Hence this is a theoretical exercise to determine what might be possible in the world of cargo and passenger transport if future ships were to use a power formula derived from the Elizabeth Swan and SeaVax platforms, to increase voyage speed for zero carbon shipping such as to be commercially viable.
The following then is a contingency plan to be ready should the Foundation or any Government, Organization, ocean literacy associate or collaborative research partner decide (jointly) that we are in a suitably robust position to mount such a challenge and that it would be worthwhile in awareness terms, including advancing climate control knowledge.
That the above does not preclude the possibility of responsible commercial sponsors enjoining - being a most welcome prospect, perhaps when the Foundation is further down the R&D line and any proposed circumnavigation is less of a technical risk to potential contributors.
With solar panels and lithium batteries now better value than in bygone years, a project like this represents exceptional PR returns for associates.
ACTIVE HULL - With a SWATH hull design reserve buoyancy becomes an important consideration. With an active hull the reserves are increased dramatically and on demand. SWATH is the acronym for Small Waterplane Area Triple Hull, but may also refer to a Twin Hull. In this design the two outriggers may be lifted out of the water completely in ideal conditions and lowered to cope with cargo carrying where the recommended limits have been exceeded, in times of emergency. It is worth looking into the concept where surface hulls in this trimaran configuration have been shown to be very fuel efficient. Reference the Cable and Wireless Adventurer designed by Nigel Irens in 1998, later to become the Sea Shepherd. The Elizabeth Swan builds on the work of the Turbinia by Charles Algernon Parsons in 1894.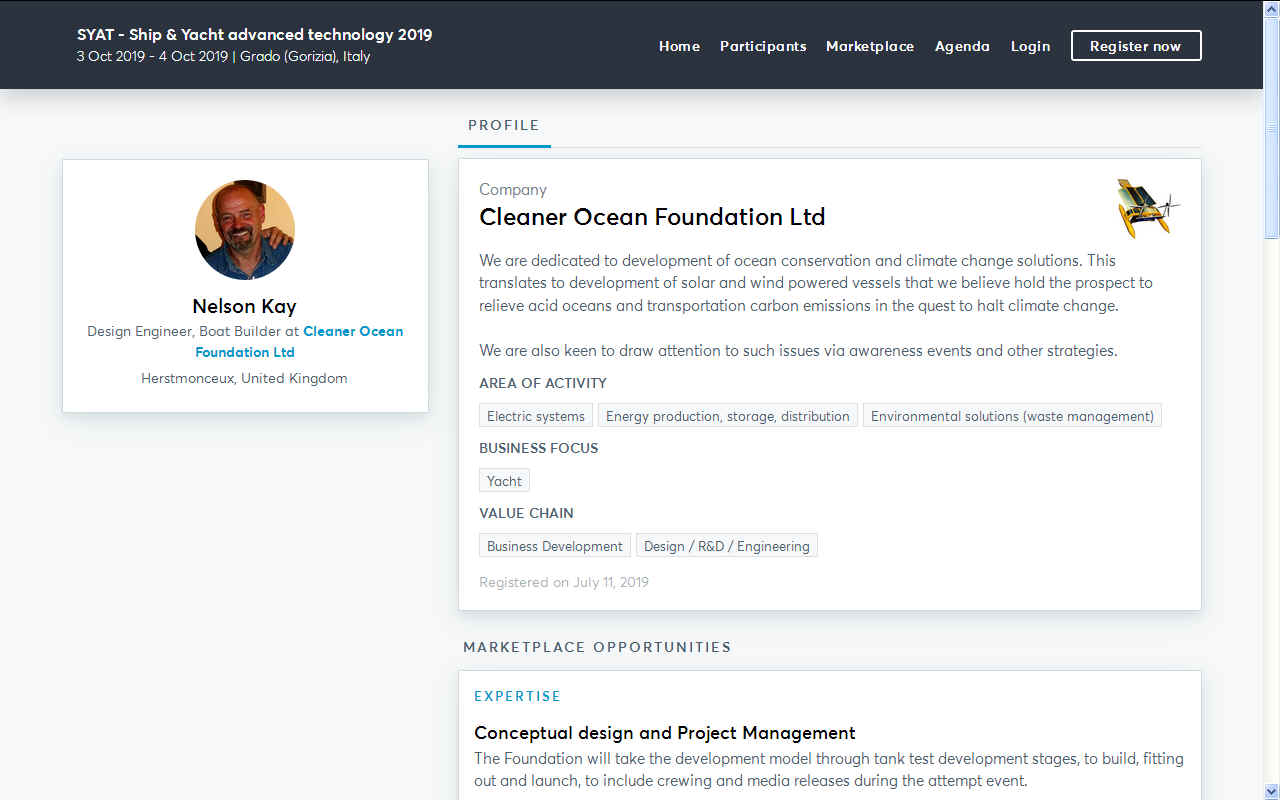 SOLAR & WIND POWER - Green yachting is something to consider for the future of planet earth, as global warming threatens the seas with acid oceans and melting ice caps, you can help lead a change from diesel power or bunker fuels (heavy oil) to clean electric propulsion. Meet Nelson Kay, at this event a volunteer for the Cleaner Ocean Foundation. He will be sharing our information and looking for development partners for the Elizabeth Swan. The Swan is an advanced trimaran that can cruise continuously at speeds of up to 10 knots with a top speed of up to 20 knots.
The Elizabeth Swan or 'Swan' or 'Elizabeth,' as she is referred to in the novel/scripts, has an active hull that for the main part rides sub-surface (under-water) to reduce wave and skin friction drag. Above the water, robotics control the energy harvesting apparatus to maximize the efficiency of a relatively small collection area. As part of this development programme we will be looking at wave piercing design.
The Swan was named after Elizabeth Swann, the fictional character in Disney's superb Pirates of the Caribbean series of adventure films played by Kiera Knightley.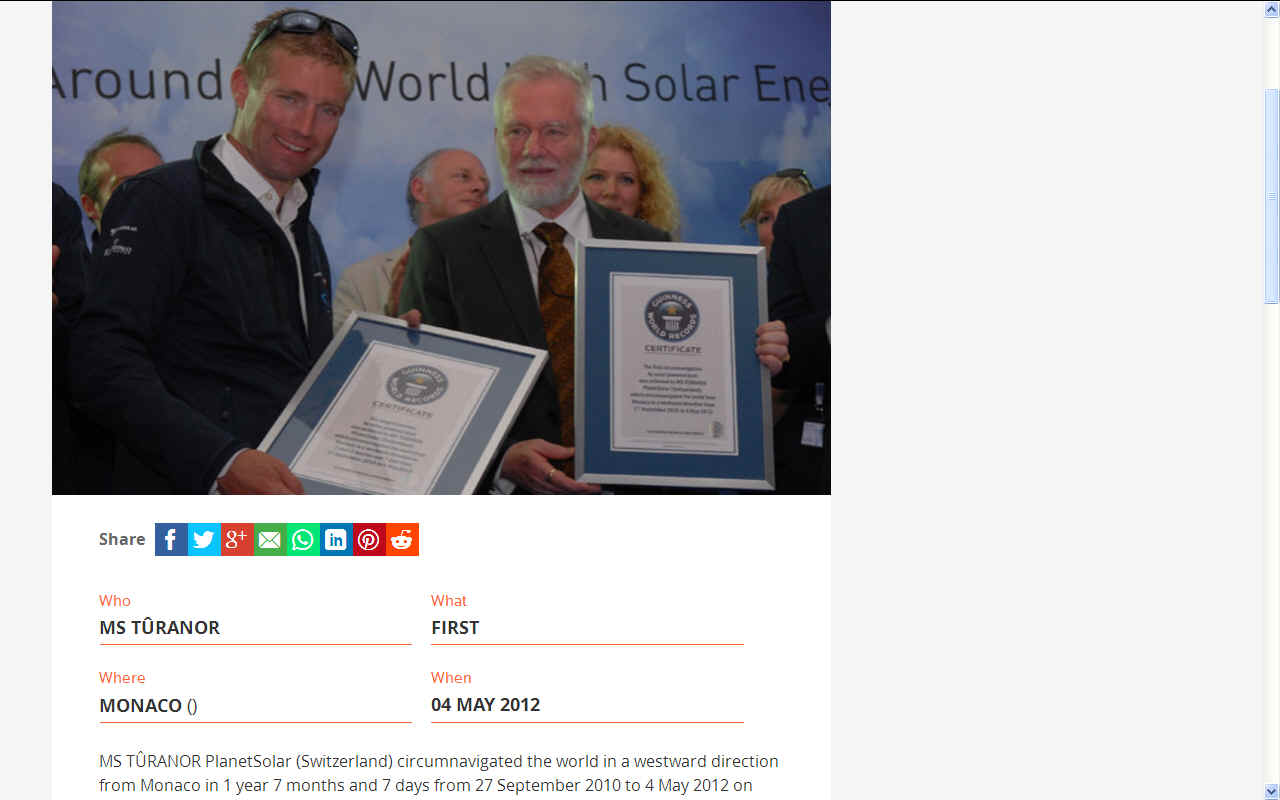 IMMO STROEHER - With backing from the German industrialist and entrepreneur, Immo Stroeher, and a crew of three, RaphaŽl set sail on an expedition to raise climate change awareness on 27 September 2010, heading west in search of the sun. PlanetSolar returned with its Swiss skipper to 'le Rocher' on 4 May 2012 to complete the first solar-powered voyage around the world. This was a stunning world record first and a milestone for solar powered marine transport - an amazing achievement for all concerned.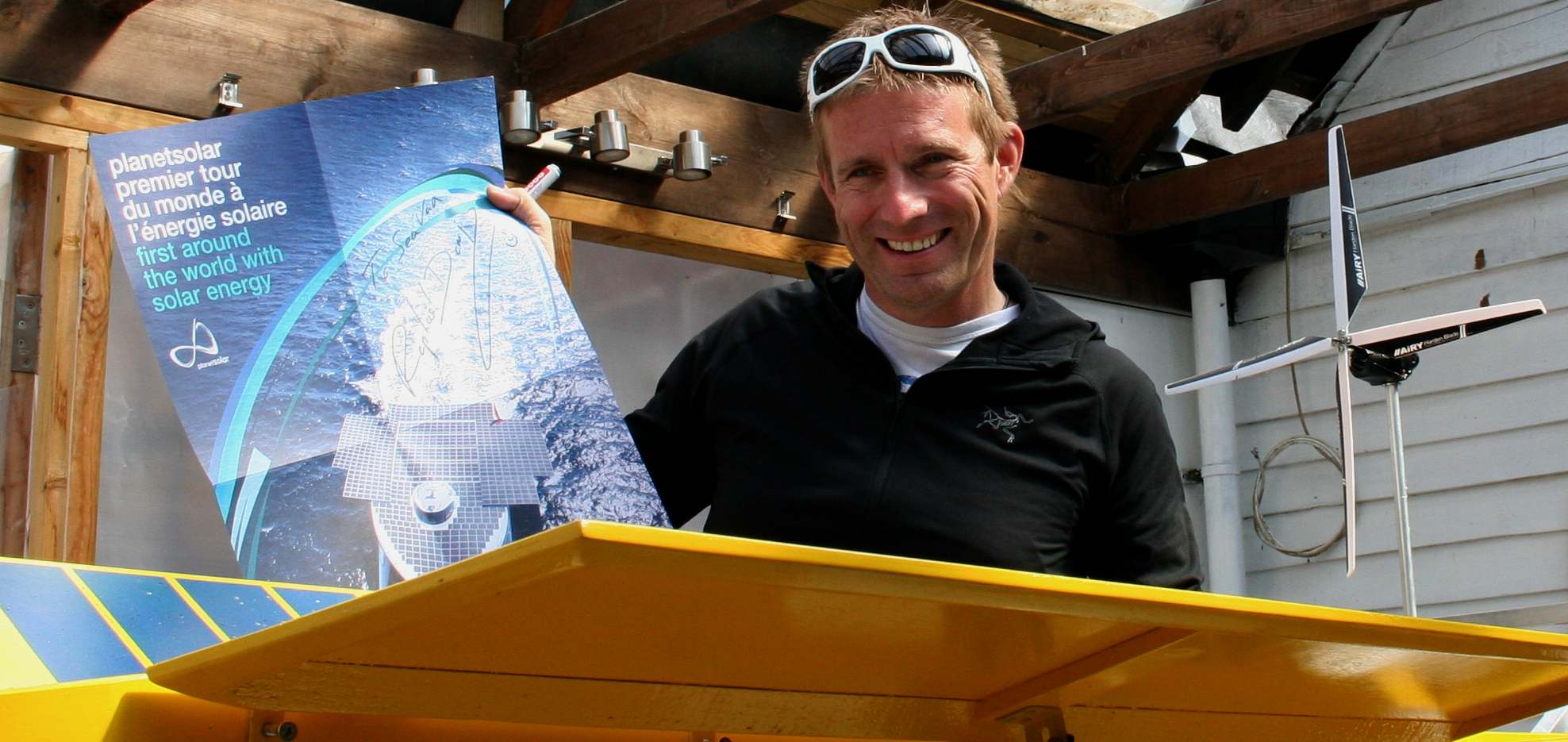 OCEAN AWARENESS 1ST - RaphaŽl Domjan set a world record circumnavigation in a catamaran 35 metres long, 23 metres wide, with solar panels covering a surface of 537 m2.
RaphaŽl is pictured here in our robotics laboratory in Sussex, England where SeaVax, also a solar (and wind) powered vessel, is being developed as an ocean cleaning workboat. Copyright photograph © Cleaner Ocean Foundation August 25 2017.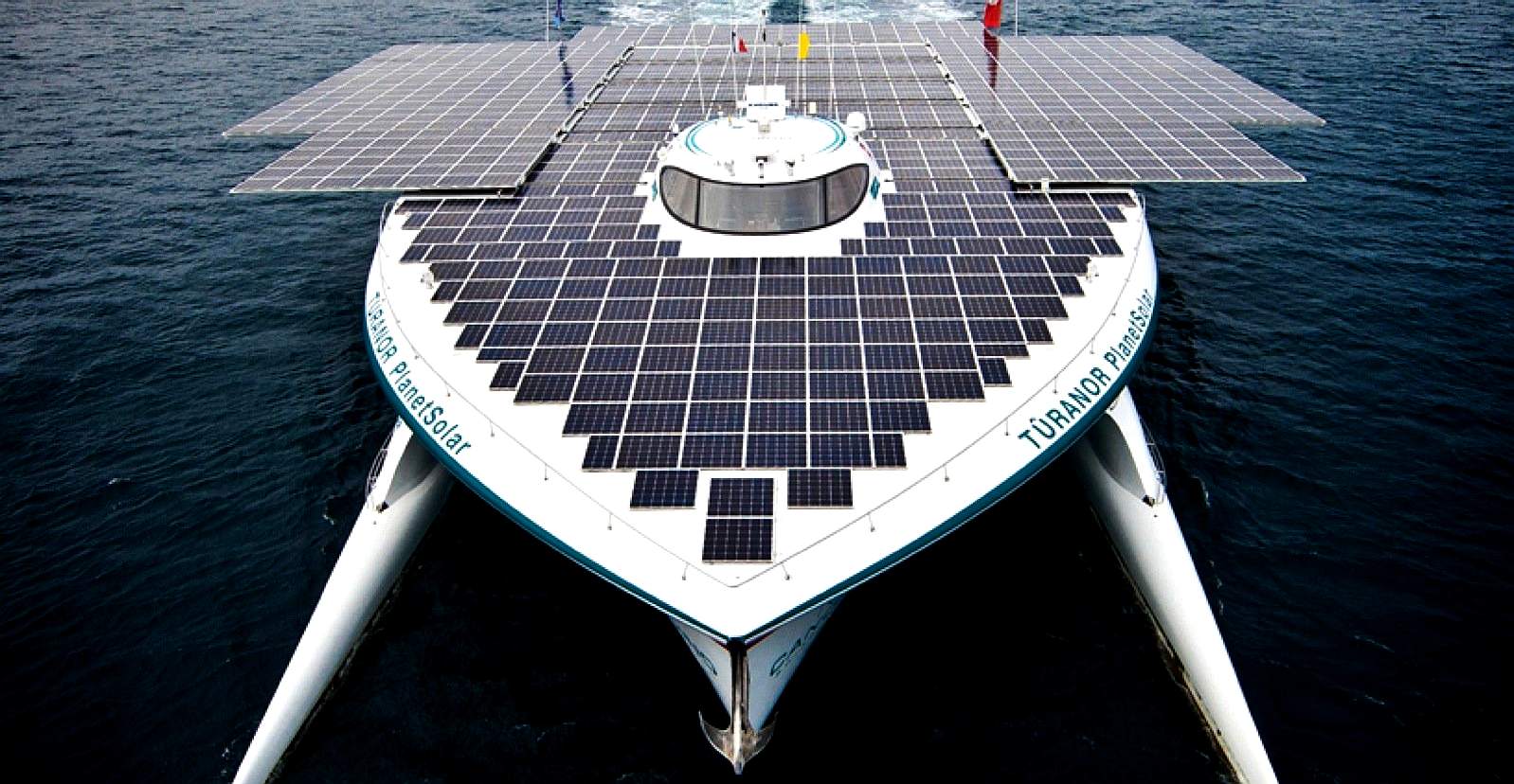 On the 4th of May 2012, history was made, as Raphael Domjan, at the helm of a giant of a catamaran powered only by solar panels crossed the finishing line at Monaco to become the first electric boat to sail around the world. MS TŻranor PlanetSolar, known under the project name PlanetSolar, was (@ 2018) the largest solar-powered boat in the world. The vessel was launched on the 31st March 2010, also going into the Guinness Book of World Records. The project was mostly financed by Immo Stroeher, the owner of the boat, a true Climate Changer and defender of a cool planet earth.
The Cable and Wireless Adventurer was built for the purpose of circumnavigating the world in less than 80 days. This was successfully accomplished in July 1998 in 74 days, 20 hours, 58 minutes, traveling more than 22,600 nautical miles (41,855 km). This achievement set a new Guinness World Record for a powered vessel. The nautical mile or knot, is a unit of speed equal to approximately 1.15078 miles per hour on land (1.852 km). This was a Climate Changing project, in demonstrating a more fuel efficient hull.
Charles Algernon Parsons invented the modern steam turbine in 1884, and, having foreseen its potential to power ships, he set up the Parsons Marine Steam Turbine Company with five associates in 1893. To develop this he had the experimental vessel Turbinia built in a light design of steel by the firm of Brown and Hood, based at Wallsend on Tyne in the Northeast of England. Turbinia was the first steam turbine powered ship, actually a yacht. Built as an experimental vessel in 1894 and easily the fastest ship in the world at that time, Turbinia was demonstrated dramatically at Queen Victoria's Spithead Royal Navy Review in 1897 and set the standard for the next generation of steamships. The vessel is currently located at the Discovery Museum in Newcastle upon Tyne.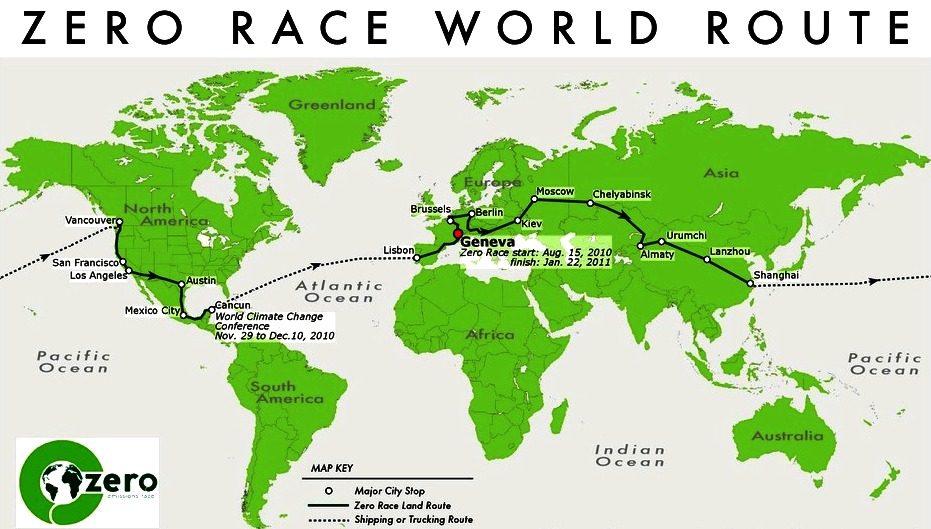 ZERO - Green cars raced around the world in 2010. Starting from the Swiss capital city Geneva, the teams will cover 30,000 kilometers (18,650 miles) on their circumnavigation of the planet, arriving back in Geneva 80 days later. All the vehicles are powered by electricity generated from renewable energy sources, and competitors are expected to achieve up to 500km (186 miles) per day at an average speed of 80km/h (50 miles per hour). Recharging will be done over a four hour lunch break. The organizers said that the Zero Race is all about sustainable mobility and transport, but the main aim of the race is to "generate enthusiasm for vehicles powered by renewable and sustainable energy".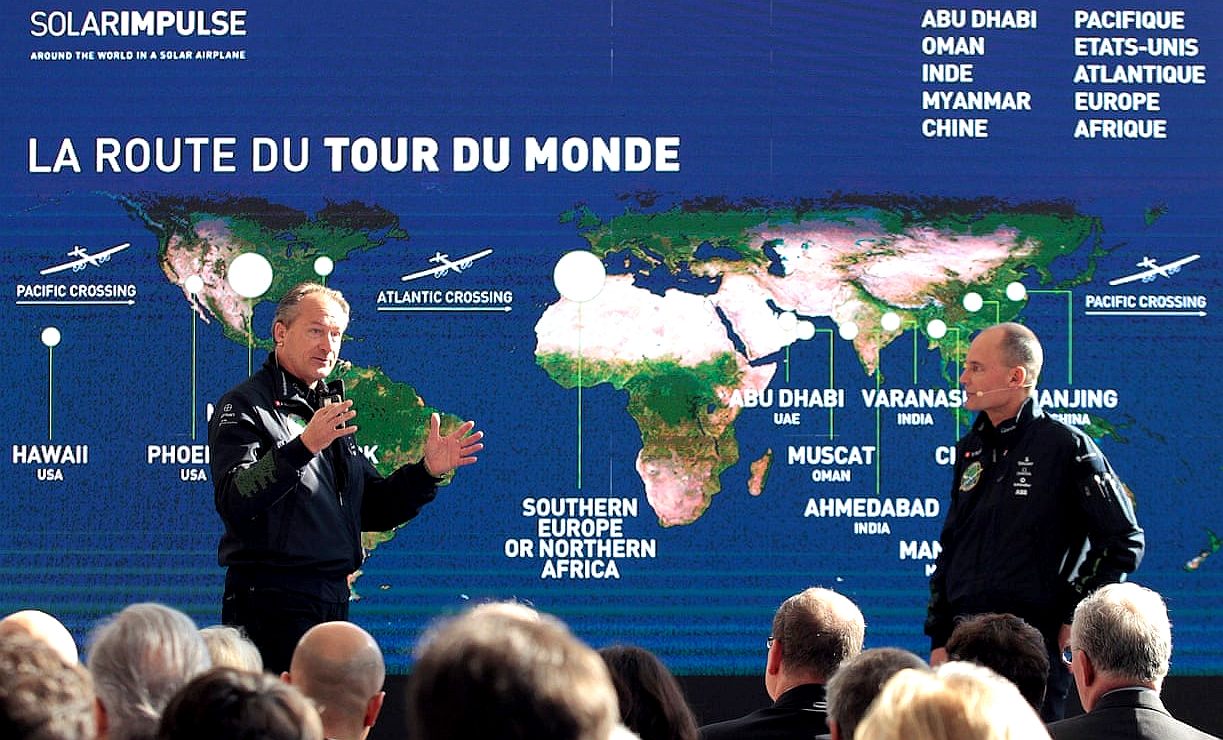 SOLAR IMPULSE 2 JULY 2016 - The Solar Impulse 2 is a solar cell powered aeroplane that has 17,000 photovoltaic cells on the top surface of the wings. Solar Impulse 2 began the circumnavigation in March 2015 in Abu Dhabi before flying over Oman, India, Myanmar, China and Japan, from where it made a 8,924km journey to Hawaii.

The project is aiming to demonstrate the capability and potential of clean technologies. The Solar Impulse team includes pilot Andrť Borschberg. Bertrand Piccard piloted the aircraft across the Atlantic Ocean, arriving in Seville, Spain, on 23 June. The aircraft next stopped in Cairo, Egypt, on 13 July, and landed in Abu Dhabi on 26 July, completing the around-the-world trip in a total of 17 stages and 16-1/2 months; it was the first circumnavigation of the Earth by a piloted fixed-wing aircraft using only solar power at a cost of $170 million dollars. As a Climate Changer, the price tag represents a bargain.
| | | | |
| --- | --- | --- | --- |
| SPEED IN KNOTS | DISTANCE TRAVELED | YEAR MULTIPLIER | RECORD TIME IN DAYS |
| -- | -- | -- | -- |
| 10 | 87600 | 2.705992104 | 135 |
| 9 | 78840 | 2.435392894 | 150 |
| 8 | 70080 | 2.164793684 | 169 |
| 7 | 61320 | 1.894194473 | 193 |
| 6 | 52560 | 1.623595263 | 225 |
| 5 | 43800 | 1.352996052 | 270 |
| 4 | 35040 | 1.082396842 | 337 |
| 3 | 26280 | 0.811797631 | 450 |
| 2 | 17520 | 0.541198421 | 674 |
| - | - | - | - |
| Earth's circumference | 24,902.00 | x 30% (estimate)* | = 32,372.60 miles traveled |
AVERAGE SPEEDS - The table above tells us that we'd need to be traveling at 18 knots continuously to comfortably circumnavigate the world in under 80 days. This is the fabled Phileas Fogg challenge in the famous novel by Jules Verne. We'll have to work our way up to that. The Elizabeth Swan could be a major step forward.
We hope you might experience some of the flavour of this exciting voyage of (technological) discovery from the destinations listed above and learn something of the exotic waypoints. If the World is your Oyster, the Elizabeth Swan is a pearl waiting to be discovered.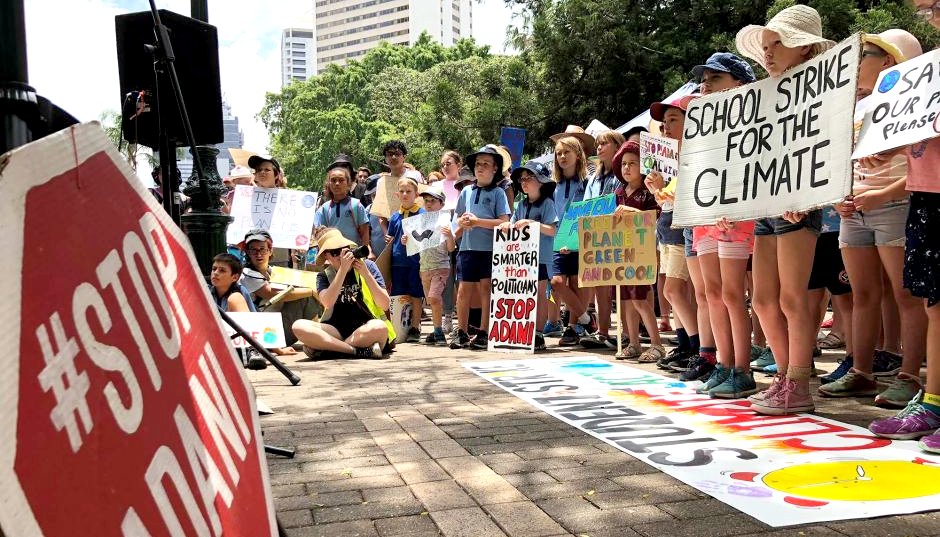 THERE ARE MANY WAYS OF MAKING A DIFFERENCE - You may be thinking that we should already have solar powered cargo ships, why is it taking so long to become a reality? Itís not the energy density of batteries, or any barrier thrown up by the physics of efficiency in photovoltaics. Itís that the ďimpossibleĒ crowd has had too loud a voice for too long, whatever their motivation. Ship yards and builders all over the world could give us low carbon transports, but for the political climate that is focused on short term profits at the expense of burning up the planet. It's a dangerous strategy that schoolchildren all over the world are trying to change. Politicians are more worried about economic growth and competing against other countries as to who has the greatest number of millionaires and billionaires, without considering that continuous growth is unsustainable. As our children are telling us, we only have one planet. Super or turbocharging our manufacturing output will use up our resources more quickly with the inevitable result of economic collapse and an overheated planet. Yes, the bubble will burst unless we act now to stop inflating it.
| | | | | |
| --- | --- | --- | --- | --- |
| LEG | NAUTICAL MILES | TIME IN PORT | WAYPOINT | SUNSHINE DAYS |
| - | - | - | - | - |
| | - | - | | 0.00 |
| 1 | 784 | 2 | | 4.67 |
| 2 | 729 | 2 | | 4.34 |
| 3 | 3,154 | 2 | | 18.77 |
| 4 | 1,182 | 2 | | 7.04 |
| 5 | 970 | 2 | | 5.77 |
| 6 | 3,640 | 2 | | 21.67 |
| 7 | 1,423 | 2 | | 8.47 |
| 8 | 410 | 2 | | 2.44 |
| 9 | 1,886 | 2 | | 11.23 |
| 10 | 340 | 2 | | 2.02 |
| 11 | 724 | 2 | | 4.31 |
| 12 | 1,572 | 2 | | 9.36 |
| 13 | 1,881 | 2 | | 11.20 |
| 14 | 2,109 | 2 | | 12.55 |
| 15 | 698 | 2 | | 4.15 |
| 16 | 670 | 2 | | 3.99 |
| 17 | 1,111 | 2 | | 6.61 |
| 18 | 170 | 2 | | 1.01 |
| 19 | 393 | | | 2.34 |
| - | - | - | - | - |
| - | 23,846 | 36 | RUNTIME DAYS @ 7kts | 141.94 |
| - | - | - | - | - |
| + 10% service | = 156.13 Days | - | 7 KNOTS AVE INC PORT & % | 192.13 |
| -& maintenance | - | - | AT 6 KNOTS AVE | 224.16 |
| - | - | - | AT 5 KNOTS AVE | 268.99 |
CLIMATE CHANGE CHALLENGE - The above table illustrates one of the most likely ocean awareness expedition routes showing the time elapsed in days for 7 knots average cruising speed, including times for 5 and 6 knot averages - allowing for 10% downtime and 36 days in ports. Hence, although the objective is to reduce the current solar circumnavigation record from 584 days, the event in not an outright non-stop yacht competition in the offshore racing sense. It remains to be seen how accurate such a transit example prediction might be.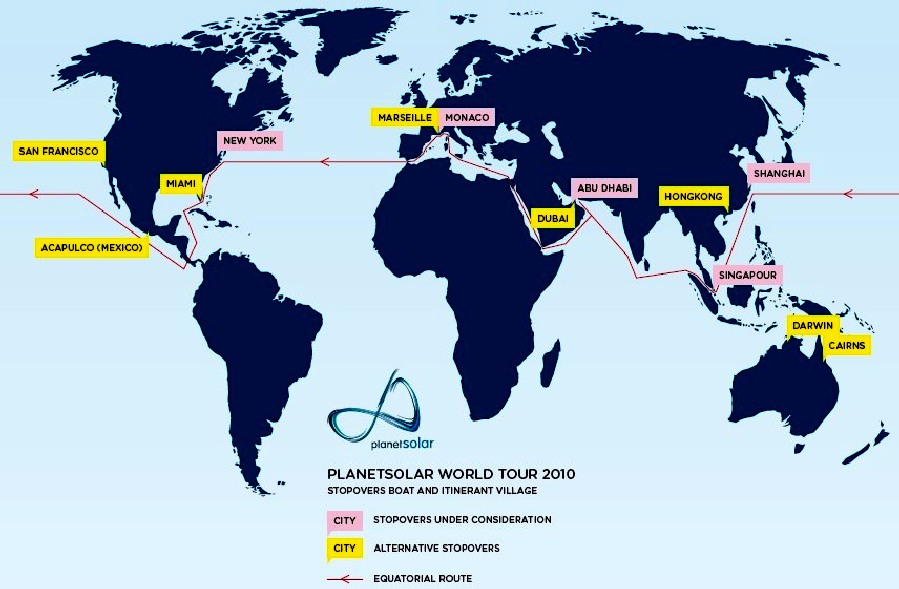 ENERGY OBSERVER - Energy Observer is a former race boat that has been reconditioned, lengthened (four times) and fitted with solar panels and wind turbines, she was built in Canada in 1983 by naval architect Nigel Irens for Mike Birch. The maxi-multihull called Formule TAG, was the first racing catamaran to achieve 500 miles in 24 hours in 1984. She is now: Length 30,5 metres x Width 12,80 metres x Weight 28 metric tons and can do between 8-10 knots. The plan is to sail her around the world in 6 years, to demonstrate a mix of technology including a hydrogen fuel cell in the energy conversion process, presumably to increase the efficiency and longevity of fuel cells, or maybe show cost effectiveness. We like the look of the vertical helical turbines, even though they have a limited output. The power to weight ratio is something to consider, where axial flow turbines are more efficient on a kilogram for kilogram basis, but have the disadvantage of requiring robotic controls to get the best from them. This is the subject of development in 2019 for the SeaVax and Elizabeth Swan platforms.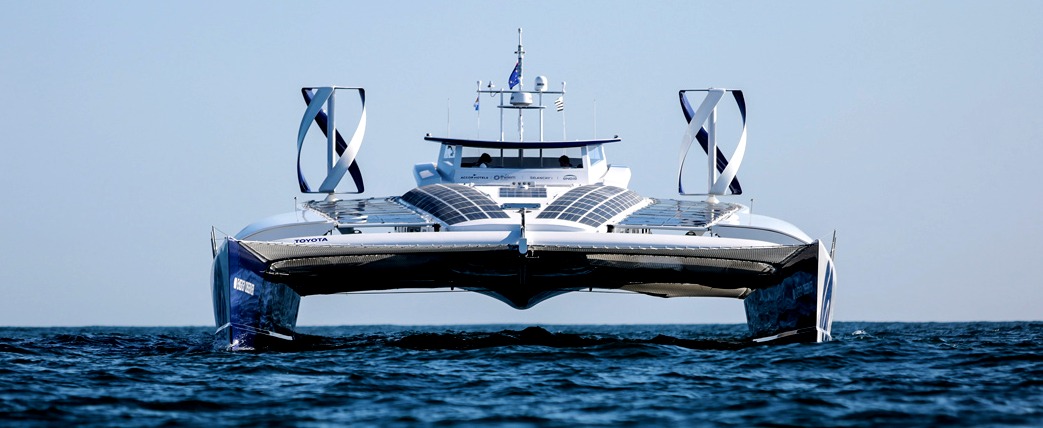 SIX STEPS TOWARD A COOLER PLANET
1. TRANSPORT: Phase out polluting vehicles. Governments aim to end the sale of new petrol, and diesel vehicles by 2040 but have no infrastructure plan to support such ambition. Marine transport can be carbon neutral with development..
2. RENEWABLES: Renewable energy should replace carbon-based fuels (coal, oil and gas) in our electricity, heating and transport.
3. HOUSING: On site micro or macro generation is the best option, starting with new build homes to lock carbon.
4. AGRICULTURE: We need trees to absorb carbon emissions from a growing population, flying, and to build new homes. Reducing food waste and promoting less energy intensive eating habits such as no meat Mondays.
5. INDUSTRY: Factories should be aiming for solar heating and onsite renewable energy generation.
6. POLITICS: - National governing bodies need to adopt rules to eliminate administrative wastages, to include scaling down spending on war machines, educating the public and supporting sustainable social policies that mesh with other cultures.
THE ELIZABETH SWAN - The graceful lines of this elegant solar powered boat complements the zero carbon cruising ideal that many designers and United Nations planners aspire to under SDG13.
A 1:20th scale test tank model of the Elizabeth Swan is under construction. For the development models we will use triple layer, laminated, amorphous cells in combination with polycrystalline (16.5 - 17%) cells to provide 100+ watts of energy for simulated hull speed tests. The real boat will feature cells over 20% efficient. Up to 25% efficient cells are on the horizon.
The world circumnavigation record is currently held by Planetsolar, a ship that weighs 95 tons and generates 93.5kW from 825 solar panels. When built the Swan's hull will be the largest solar powered boat in the world at 43 meters (140ft). Planetsolar is 113 ft long.
LINKS & REFERENCE
https://solarimpulse.com/
http://www.climateaction.org/news/solar_impulse_plane_lands_in_oklahoma_after_11th_leg_of_round_the_world_att
https://www.planetsolar.org/
http://www.guinnessworldrecords.com/world-records/first-circumnavigation-by-solar-powered-boat
This website is provided on a free basis as a public information service. Copyright © Cleaner Oceans Foundation Ltd (COFL) (Company No: 4674774) 2020. Solar Studios, BN271RF, United Kingdom. COFL is a charity without share capital.