GRETA THUNBERG
ABOUT - CLIMATE CHANGE - CONTACTS - DONATE - FOUNDATION - HOME - OCEAN PLASTIC
Please us our A-Z INDEX to navigate this site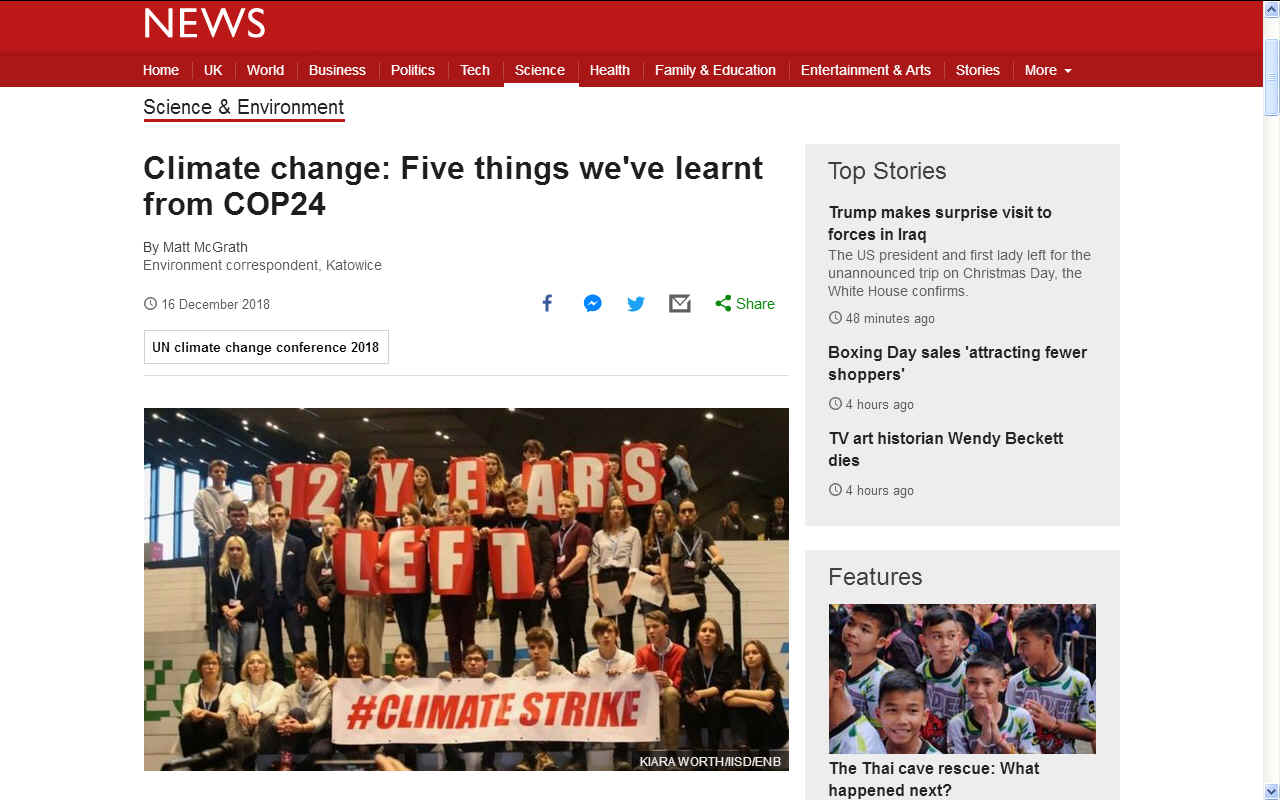 BBC NEWS DEC 16 2018 - Delegates to the UN climate conference in Poland have reached agreement on how to implement the 2015 Paris Climate Accord, which comes into force in 2020. Might we suggest a need to concentrate on building the infrastructure for electric vehicles, encourage low carbon shipping, build more wind farms and make houses that are virtually energy self-sufficient. These are the actions that will bring about change. The only way to make this happen is to insist on targets that includes programmes to deliver from each nation, with sanctions for those countries who will not do the right thing -such as the climate criminals Donald Trump and Vladimir Putin. Some environmental problems need research money to take ideas to technology level 9 for market.
GRETA THUNBERG - is a Swedish climate activist. At the COP24 climate talks in Poland, Decembel 2018, Miss Thunberg addressed the Secretary-General of the United Nations. She received a standing ovation for one of her talks. She is behind the global school strike created to call attention to climate change. She is a rebel with a cause. Miss Thunberg is 15 and autistic and the newest, youngest and most powerful voice on the world stage demanding the world address global warming. Go Greta!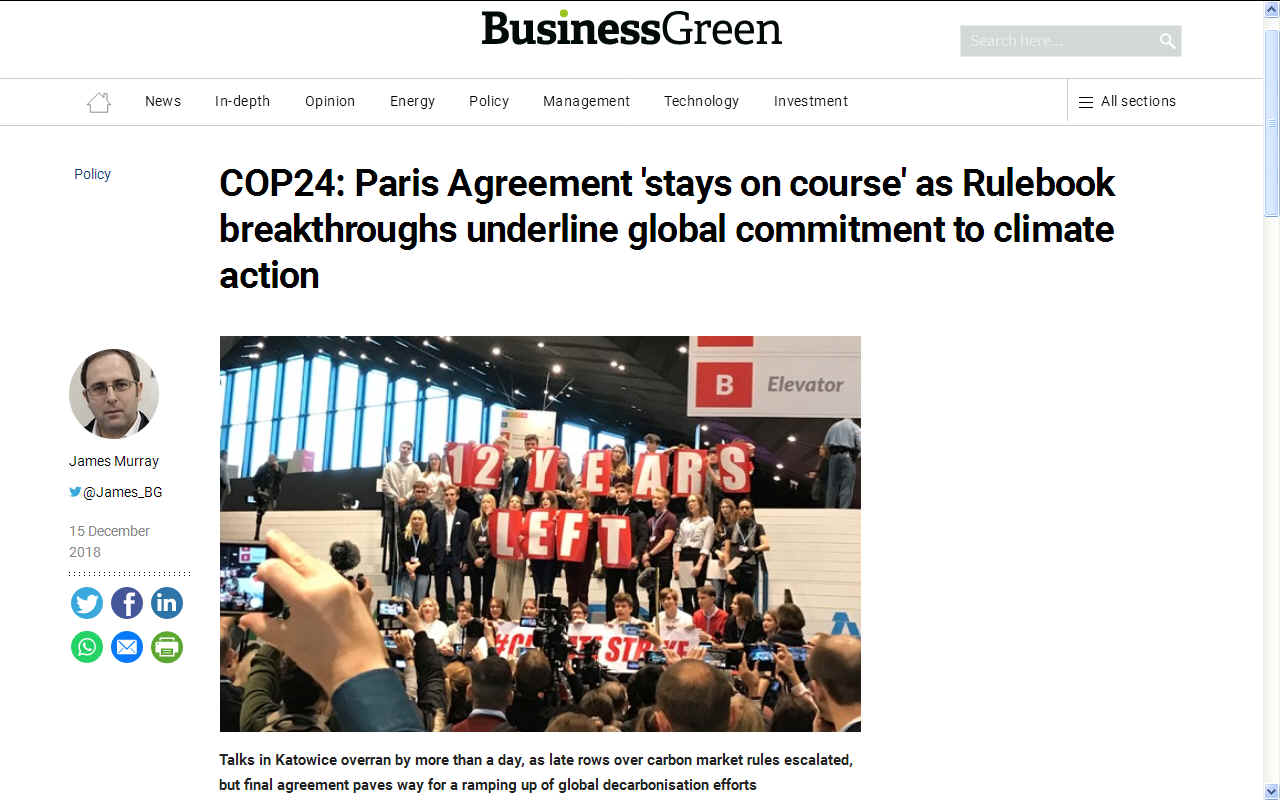 A POWERFUL MESSAGE THAT NEEDS TO BE BACKED UP WITH AN ACTION PLAN
'We Have Not Come Here to Beg World Leaders to Care,' 15-Year-Old Greta Thunberg Tells COP24. 'We Have Come to Let Them Know Change Is Coming'

"We can no longer save the world by playing by the rules," says Greta Thunberg, "because the rules have to be changed."

Striking her mark at the COP24 climate talks taking place this week and next in Poland, fifteen-year-old Greta Thunberg of Sweden issued a stern rebuke on behalf of the world's youth climate movement to the adult diplomats, executives, and elected leaders gathered by telling them she was not there asking for help or demanding they comply with demands but to let them know that new political realities and a renewable energy transformation are coming whether they like it or not.

"Since our leaders are behaving like children, we will have to take the responsibility they should have taken long ago," said Thunberg, who has garnered international notoriety for weekly climate strikes outside her school in Sweden, during a speech on Monday.
15-åriga Greta Thunberg är orolig för klimatet och framtiden för allt levande på jorden. Hon bestämmer sig för att skolstrejka utanför Riksdagen, för att uppmärksamma och framförallt få politikerna att lyfta klimatfrågan. Tre veckor innan valet 2018, påbörjar hon sin aktion. Varför sitter Greta där, vad vill hon ska hända och kommer hon kunna påverka att klimatfrågan sätts främst?
Thunberg said that she was not asking anything of the gathered leaders - even as she sat next to United Nations Secretary General António Guterras - but only asking the people of the world "to realize that our political leaders have failed us, because we are facing an existential threat and there's no time to continue down this road of madness."

Thunberg explained that while the world consumes an estimated 100 million barrels of oil each day, "there are no politics to change that. There are no politics to keep that oil in the ground. So we can no longer save the world by playing by the rules, because the rules have to be changed."

"So we have not come here to beg the world leaders to care for our future," she declared. "They have ignored us in the past and they will ignore us again. We have come here to let them know that change is coming whether they like it or not. The people will rise to the challenge."

"On climate change," said Kevin Anderson, professor of energy and climate change at the University of Manchester, the teenage Thunberg "demonstrates more clarity and leadership in one speech than a quarter of a century of the combined contributions of so called world leaders. Wilful ignorance and lies have overseen a 65 percent rise in CO2 since 1990. Time to hand over the baton."

The climate crisis, she said, "is the biggest crisis humanity has ever faced. First we have to realize this and then as fast as possible do something to stop the emissions and try to save what we can save."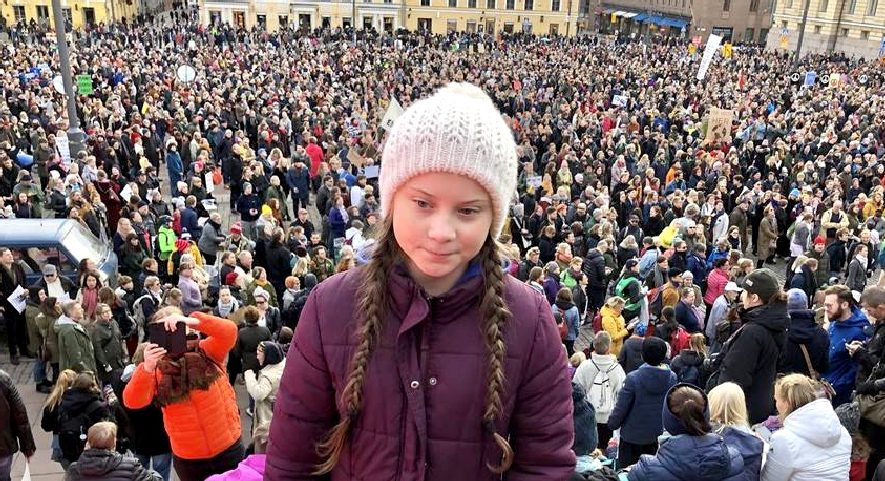 COUNTER PUNCH JANUARY 2 2019 - In 1429 Joan of Arc (17) led French troops to victory over English forces at the Siege of Orleans after she had a vision. Today, eco warrior Greta Thunberg (15) is leading the battle against the ravages of climate change. Greta has vision. She's taken the leadership mantle from Joan of Arc whether she knows it or not. Some things in life just happen!

For nearly three decades, the global movement to fix climate change has been stuck in low or no-gear ever since the nations of the world agreed to cut greenhouse gas (GHG) emissions in 1992 at the Kyoto Protocol. It's been a dry run ever since, nothing of consequence happens.

Instead, GHGs continue to accumulate, and at an accelerating rate no less, and ecosystems are starting to collapse, e.g., the Arctic is losing its entire infrastructure because of global warming and permafrost regions of the world are collapsing. The consequences are too unnerving to mention! More likely, divine intervention is needed, badly needed.

Fortunately, Joan of Arc's contemporary counterpart Greta Thunberg has swept onto the scene from Sweden. Her advent is eerily similar to that of Joan of Arc dressed in armor and white garments leading the French against English forces. Hers was a watershed victory for France during the exhausting and horrifically bloody 100-Years War.

Over subsequent weeks Joan led the French forces into a number of stunning victories over the English, and Reims, the traditional city of coronation, was captured in July. Later that month, Charles VII was crowned king of France with Joan of Arc kneeling at his feet.

All of which prompts consideration for whether Greta's presence and fierce determination can bring tangible results to the climate change fight similar to Saint Joan of Arc's miraculous victories for France. By all appearances, Greta is the right choice to carry Joan of Arc's banner into battle circa 2019 and onwards.

Greta is equally committed to justice as Joan of Arc, but it is climate justice rather than recapturing sovereign territory. Several weeks ago Greta went on strike from school to protest, sitting on cobblestones outside parliament in central Stockholm, handing out leaflets to adults, informing them of their failure to fight the climate crisis.

At about that time, after 2 weeks of her attracting global attention from the media, embarrassed Swedish parliamentarians had her moved from parliament to the other side of a public bridge that links parliament island to mainland Stockholm "for public safety reasons." But, had it actually been for public safety, they would have moved her on the first day. Rather, their modus operandi was to remove her resonating protest from official visitors, MPs and Swedish lobbyists.

Previously, Sweden enacted some of the most ambitious climate laws in the world in order to become carbon neutral by 2045, thus beating the climate targets of 2015 Paris. Still, according to Greta: "This is too little too late; it needs to come much faster. Sweden is not a green paradise, it has one of the biggest carbon footprints." (Source: David Crouch, The Swedish 15-year-old Who's Cutting Classes to Fight the Climate Crisis, The Guardian, Sept. 1, 2018)

Sweden's carbon neutrality is still partially based upon the dubious principle of "carbon offsets." As well, they use a 1990 baseline, which is already suspect since the Kyoto Protocols and Paris Accord intend to control temperature rise to 1.5 – 2oC of the 1850 baseline! Greta says Sweden's carbon neutrality is, at best, inadequate and pandering to the populace.

Meantime, the climate crisis lingers, not going away, as temperatures continue scorching upwards, and year-over-year CO2 emissions set new records. Still, fossil fuels are 80%-85% of the global energy mix, same as 40-50 years ago. This is 100% proof of an historic non-accomplishment by the Intergovernmental Panel on Climate Change (IPCC) as well as all of the various COP meetings and all principals so involved.

Not only, but as Greta insinuates, one solution to climate change could be a change in socio-politico-economic systems. Accordingly, Greta claims: "Our civilization is being sacrificed for the opportunity of a very small number of people to continue making enormous amounts of money. Our biosphere is being sacrificed so that rich people in countries like mine can live in luxury."

By all appearances, she is an advocate of a more socialized economic mix that favors masses over elite globalists. In the true spirit of an extraordinarily strong climate advocate, she avoids air travel. Greta is truly committed to her passion. How else sit in lonely protests at parliament?

The brutal fact is that ever since the nations of the world agreed to curb greenhouse gases at Kyoto in 1992, CO2 emissions (with one small hiatus) have been accelerating, not decelerating. Like clockwork, COP meetings are followed by increases in CO2 emissions. That's a bad trend.

Furthermore, CO2 emissions today are 10-15 times more than the Cretaceous-Tertiary Extinction or the 5th Extinction event 65 million years ago when dinosaurs went down for the count. If dinosaurs couldn't survive back then, what of Homo sapiens today in the face of greenhouse gases emitting 10-15 times faster?

As a result, today's extinction rate is at least 1,000 times more powerful than normal background rates of 1-5 species per year. Nowadays, more than 150 species go extinct per day, not 1-5 species per year like yesteryear!

Accordingly, the consequences of climate change/global warming, and including vast amounts of chemical toxicity, trounce the rate of the five past extinction events. Today, the climate crisis vis a vis past extinction events is literally off the charts!

Greta knows this, and it is why she openly shames adults for messing up the planet. At Katowice, Poland via "ScientistsWarning.org presents Greta Thunberg's Intervention at COP-24" hosted by Stuart Scott she told the UN secretary general António Guterres:

"For 25 years countless people have stood in front of the UN climate conferences, asking our nation's leaders to stop the emissions. But, clearly, this has not worked since the emissions just continue to rise.
So I will not ask them anything.
Instead, I will ask the media to start treating the crisis as a crisis.
Instead, I will ask the people around the world to realize that our political leaders have failed us.
Because we are facing an existential threat and there is no time to continue down this road of madness… So we have not come here to beg the world leaders to care for our future. They have ignored us in the past and they will ignore us again.
We have come here to let them know that change is coming whether they like it or not."

As Greta understands only too well, our biosphere's ecosystems are under severe stress, but it starts where nobody lives. So people do not see it or sense it until it is too late. After all, who lives in the Arctic, Andes' glaciers, Patagonia, Antarctica, Tibetan glaciers, Siberian Arctic permafrost, Alaskan permafrost, or in acidic ocean waters… nobody!

Greta Thunberg knows of the potency of risks at hand because she has studied the subject matter, and now that she fully understands the impending doomsday consequences, she has put world leaders and the entire world on notice that "change is coming whether they like it or not."

Will the world community react in time or will it dilly dally and waste another 30 years holding spectacular COP meetings but failing to cut greenhouse gas emissions?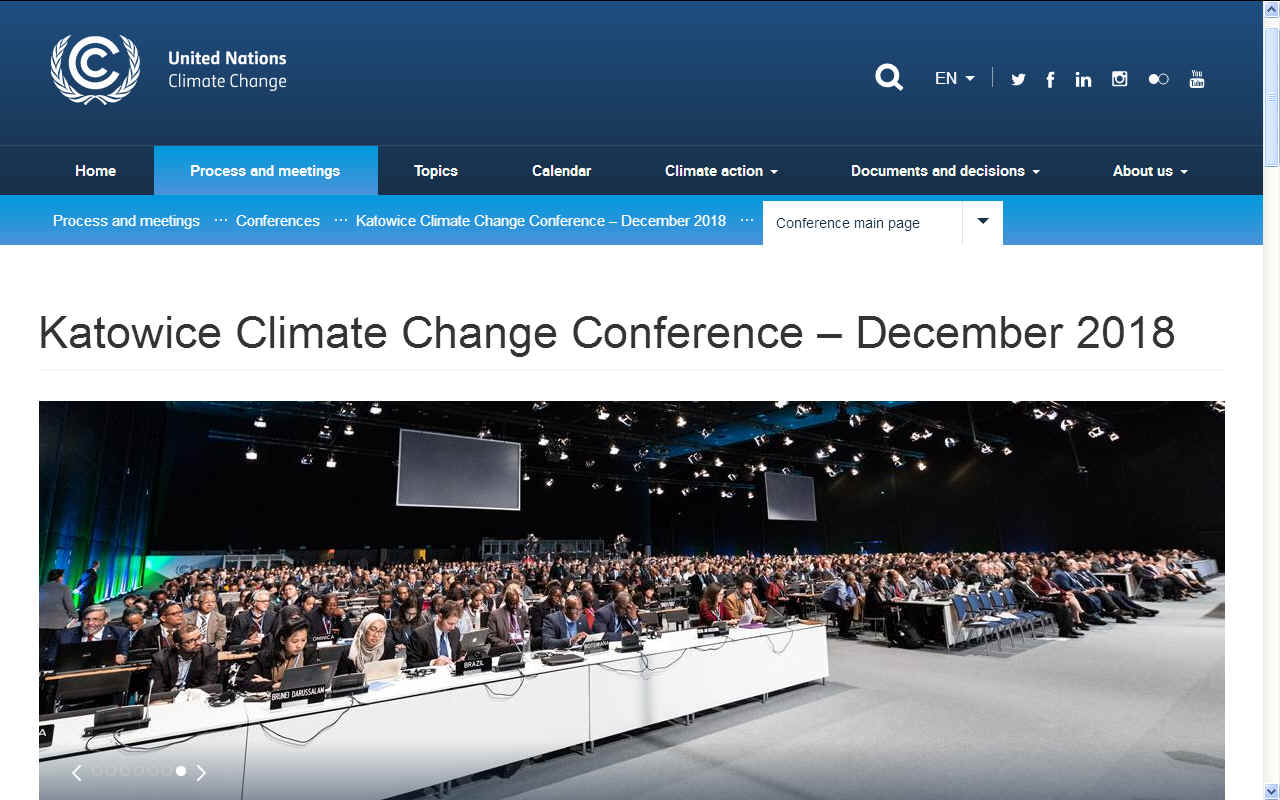 COP 24 - The UN climate summits, i.e. so called COP (Conference of the Parties) are global conferences, in the course of which action for climate policy is negotiated. Poland hosted them twice - in 2008, in Poznań and in 2013, in Warsaw.

In December 2018, for the first time, the climate summit will took place in Katowice. In April 2017 the UN technical mission delegates, while visiting the capital of Upper Silesia, appreciated the city's excellent preparation for the event, including its infrastructure, meeting the highest standards.
The candidacy of Katowice received recognition from Deputy Prime Minister, Minister of Finance and Development – Mateusz Morawiecki, as well as the Minister of the Environment, Professor Jan Szyszko, who stated that, 'The whole region of Upper Silesia and Zagłębie is a very important example of what can be achieved through consistent policy of sustainable development and economic transformation. '
This year's summit will include: 24. Conference of the Parties to the United Nations Framework Convention on Climate Change (COP24), 14. Meeting of the Parties to the Kyoto Protocol (CMP 14) and the Conference of Signatories to the Paris Agreement (CMA 1).

About twenty thousand people from 190 countries will take part in the event, including politicians, representatives of non-governmental organizations, scientific community and business sector.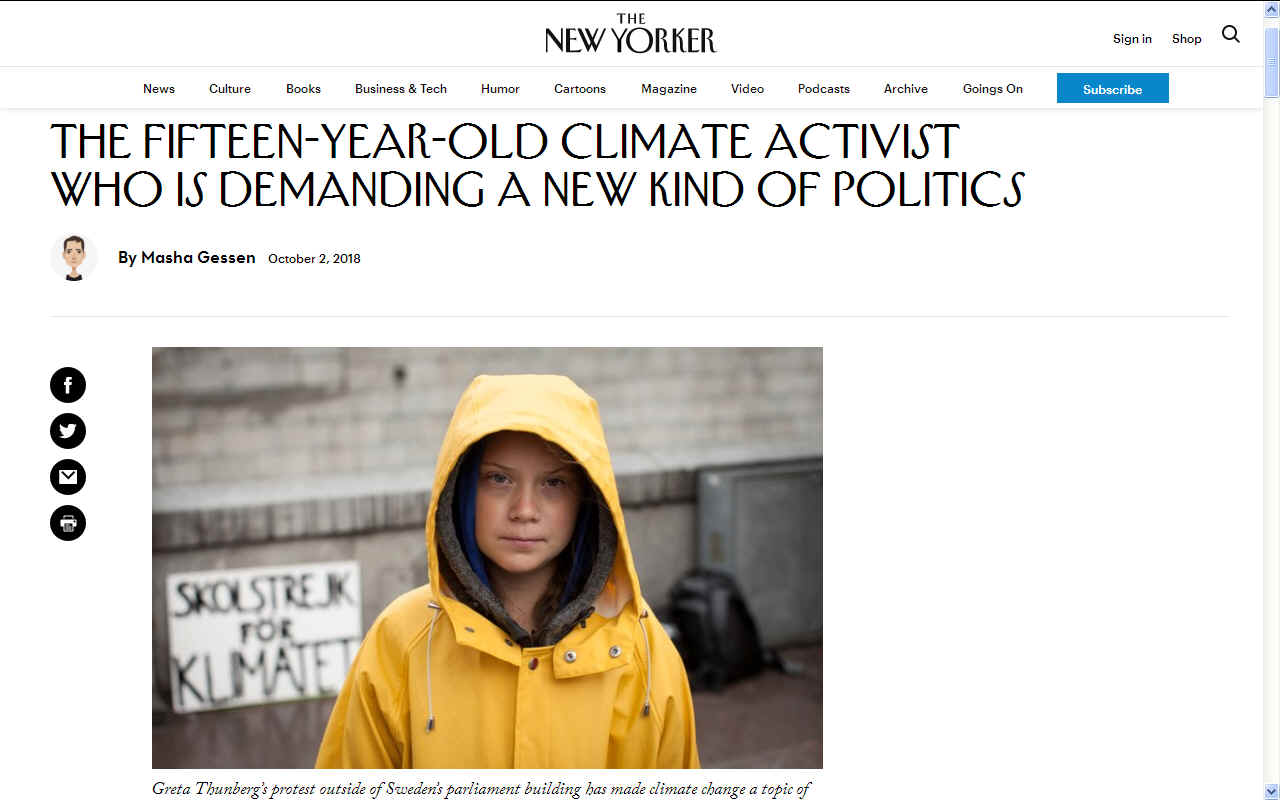 NEW YORKER OCTOBER 2 2018 - Sometimes the world makes so little sense that the only thing to do is engage in civil disobedience—even in a country as attached to its rules and regulations as Sweden is. Fifteen-year-old Greta Thunberg has been protesting for more than a month. Before the country's parliamentary election on September 9th, she went on strike and sat on the steps of the parliament building, in Stockholm, every day during school hours for three weeks. Since the election, she has returned to school for four days a week; she now spends her Fridays on the steps of parliament. She is demanding that the government undertake a radical response to climate change. She told me that a number of members of parliament have come out to the steps to express support for her position, although every one of them has said that she should really be at school. Her parents think so, too, she said—that she should really go to school, though she is right to protest.

Thunberg's parents are Svante Thunberg, an actor, and Malena Ernman, a very well-known opera singer. Ernman has published a book in which she described her family's struggle with her two daughters' special needs: both Greta and her younger sister, Beata, have been diagnosed with autism, A.D.H.D., and other conditions. In part because of her mother's fame and the publicity that surrounded the publication of her book, Greta's protest serves a dual purpose. It not only calls attention to climate policy, as she intended, but it also showcases the political potential of neurological difference. "I see the world a bit different, from another perspective," she explained to me, in English. "I have a special interest. It's very common that people on the autism spectrum have a special interest."

Thunberg developed her special interest in climate change when she was nine years old and in the third grade. "They were always talking about how we should turn off lights, save water, not throw out food," she told me. "I asked why and they explained about climate change. And I thought this was very strange. If humans could really change the climate, everyone would be talking about it and people wouldn't be talking about anything else. But this wasn't happening." Turnberg has an uncanny ability to concentrate, which she also attributes to her autism. "I can do the same thing for hours," she said. Or, as it turns out, for years. She began researching climate change and has stayed on the topic for six years. She has stopped eating meat and buying anything that is not absolutely necessary. In 2015, she stopped flying on airplanes, and a year later, her mother followed suit, giving up an international performing career. The family has installed solar batteries and has started growing their own vegetables on an allotment outside the city. To meet me in central Stockholm, Thunberg and her father rode their bikes for about half an hour; the family has an electric car that they use only when necessary.

Sweden prides itself on having some of the most progressive climate legislation in the world: policies adopted over the last couple of years aim to make Sweden "the first fossil-free welfare state in the world." But there was relatively little discussion of climate policy in the lead-up to the September election, even after Sweden was hit with an unprecedented heat wave and catastrophic fires in July. Karin Bäckstrand, a climate-policy researcher at Stockholm University, told me that climate policy wasn't an election issue precisely because a broad national consensus exists. "Everyone except the [far right] Swedish Democrats agree that we should become fossil-free," she said.

Thunberg calls bullshit on the consensus. In our conversation, she pointed out that, despite Sweden's progressive legislation and the scientific consensus that rich countries must cut their emissions by fifteen per cent a year, in Sweden actual emissions had gone up 3.6 per cent in the first quarter of this year. She has written a piece called "Sweden is not a role model," in which she points out that even the best-laid plans to address climate change make no attempt to look beyond the year 2050. "By then I will, in the best case, not even have lived half my life," she wrote. "What happens next?"

It's true that emissions have risen this year, Bäckstrand said, because Sweden is experiencing an economic boom. On the other hand, the country has cut its emissions by twenty-six per cent since 1990, even while its economy has grown. In just ten years, Sweden has increased its use of renewable sources of energy by twelve per cent. The country is building the world's first fossil-free steel plants. (To put this in context, Bäckstrand noted that she had just returned from San Francisco, where more than twenty thousand people, including the representatives of dozens of national governments, attended the Global Climate Action Summit, but no one from the Trump Administration attended; "Trump didn't even tweet about it!" Bäckstrand said. Bäckstrand added that Thunberg's "voice is needed, because until the fires and the drought, climate change was priority number eight for Swedes. She is arguing that it should be at the top, and she is right." Thunberg's strike has received extensive coverage in Sweden; for the time being, she is a household name, and climate change is a topic of daily conversation.

Thunberg's is a voice of unaccommodating clarity that reminds me of Soviet-era dissidents. I suspect that some of them were also on the spectrum, which in their case meant acting irrationally in the framework of the Soviet system—risking their lives to make the doomed demand that the country act in accordance with its written laws and declared ideals. Thunberg smiled in recognition when I told her this. "I can become very angry when I see things that are wrong," she said. On a recent class trip to a museum exhibit on climate change, for example, she noticed that some figures in the show—statistics on the carbon footprint of meat production, for example—were wrong. "I became very angry, but I'm quiet, so I just went to the exit and sat there by the doors. I didn't say anything until people asked me." In general she prefers action to conversation. In undertaking her school strike, she was inspired by the protests staged by American high-school students in response to the Parkland shooting this year—Thunberg's sit-in is also a walkout.

When Thunberg is at her now-famous post outside of parliament, people come by to talk to her and bring her food. This has had an unexpected effect: Thunberg, who generally eats the same things every day, has tried new food. She surprised herself by doing this, and by finding that she likes falafel and noodles.

In the weeks since the election, the Swedish political conversation has centered on topics far from climate change: the main centrist parties finished in a dead heat, making a far-right party, the Swedish Democrats, which came in third, a potential power broker. Formerly rote procedures such as choosing the speaker of parliament and appointing cabinet members have come to overshadow any policy discussion. Thunberg is peculiarly uninterested in this, though. "I think the election didn't matter," she told me. "The climate is not going to collapse because some party got the most votes. The politics that's needed to prevent the climate catastrophe—it doesn't exist today. We need to change the system, as if we were in crisis, as if there were a war going on." By Masha Gessen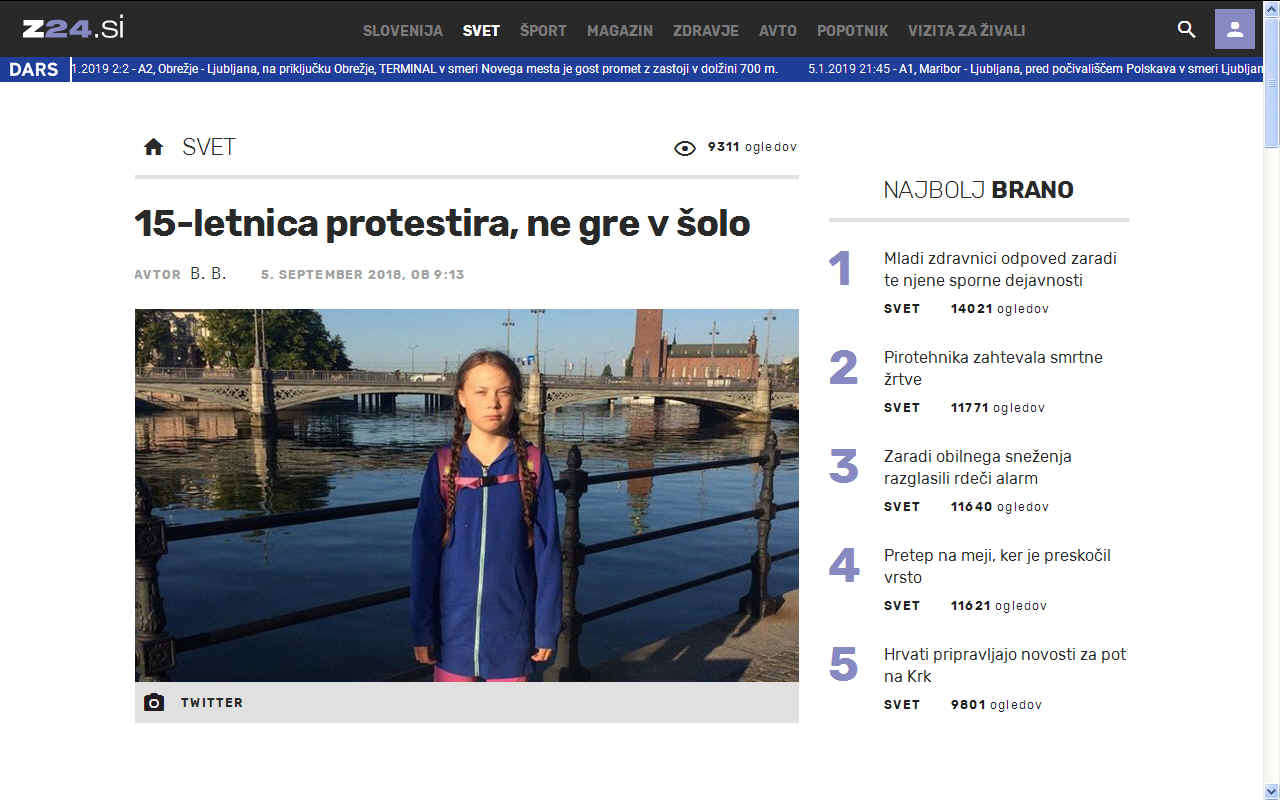 Z24.SI - Švedska se je letos soočala z najbolj vročim poletjem v zgodovini, vroče dogajanje je tudi na pragu septembra, to nedeljo jih čakajo volitve. Pred njihovim parlamentom na vrhuncu predvolilne kampanje vsak dan protestira 15-letna Greta Thunberg, ki jo imenujejo tudi švedska Malala; od politikov zahteva, da sprejmejo potrebne ukrepe zoper klimatske spremembe, piše Guardian. Deklica že dva tedna vsak dan v tišini protestira na pločniku pred parlamentom v središču Stockholma in deli letake, na katerih piše: "To delam zato, ker vi odrasli uničujete mojo prihodnost." Deklica dodaja, da se je v protest odločila zradi tega, ker čuti moralno odgovornost. "Želim, da politiki vprašanje podnebnih sprememb postavijo kot prioriteto, da se osredotočijo na to področje kot na najbolj kritično." Ko se pri njej ustavijo mimoidoči s pripombo, da bi morala biti v šoli, pokaže na torbo s knjigami, nato pa zastavi vprašanje, zakaj sploh hoditi v šolo? "Dejstva več niso pomembna, politiki ne poslušajo znanstvenike, zakaj bi se učila?" Starši je ne podpirajo povsem v njeni odločitvi, da ne hodi v šolo, mnenja učiteljev so deljena. "Kot ljudje pravijo, da je to, kar delam, dobro, kot učitelji pa menijo, da bi morala v šolo," pri tem pove odločna deklica.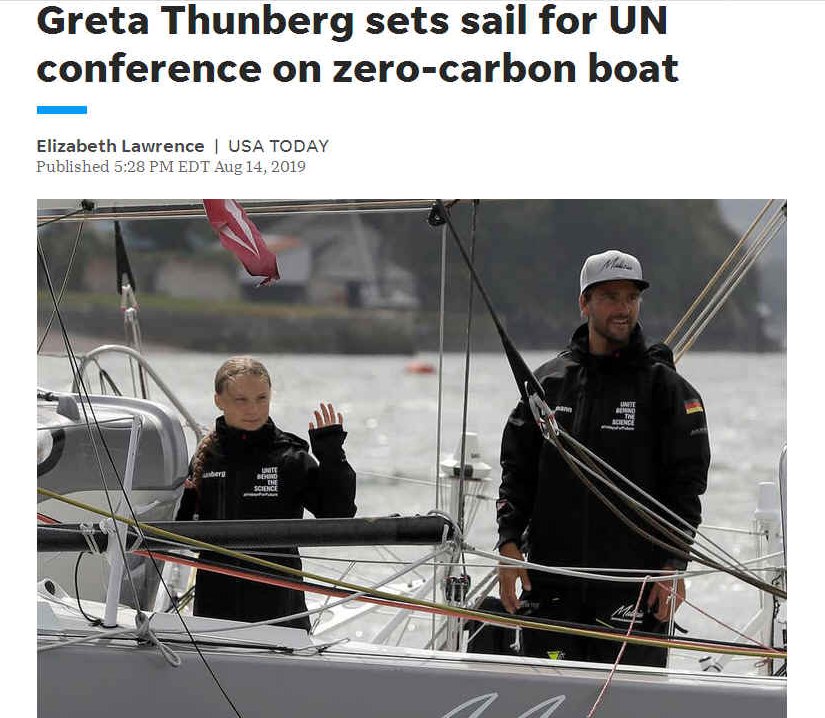 USA TODAY 14 AUGUST 2019 - Climate change activist Greta Thunberg sets sail for New York in the 60ft Malizia II yacht from Mayflower Marina, on August 14, 2019 in Plymouth, England. The Swedish activist Greta Thunberg began her journey to the United States today for the United Nations Climate Conference. Her mode of travel is fitting for someone who's climate conscious: She's arriving in an eco-friendly boat propelled by the wind, with solar panels and wind turbines to power the navigation instruments and other boat equipment.
LINKS & REFERENCE
https://www.newyorker.com/news/our-columnists/the-fifteen-year-old-climate-activist-who-is-demanding-a-new-kind-of-politics
https://www.zurnal24.si/svet/15-letnica-protestira-ne-gre-v-solo-315551
https://sverigesradio.se/sida/avsnitt/1165165
https://www.counterpunch.org/2019/01/02/greta-joan-of-arc-thunberg-shames-leaders-at-cop24/
https://www.cop23.de/en/
This website is provided on a free basis as a public information service. copyright © Cleaner Oceans Foundation Ltd (COFL) (Company No: 4674774) 2019. Solar Studios, BN271RF, United Kingdom. COFL is a charity without share capital. The names AmphiMax™, RiverVax™ and SeaVax™ are trade names used under license by COF in connection with their 'Feed The World' ocean cleaning sustainability campaign.