UN - CLIMATE CHANGE COP 25 2019/2020
ABOUT - CONTACTS - DONATE - FOUNDATION - HOME - A-Z INDEX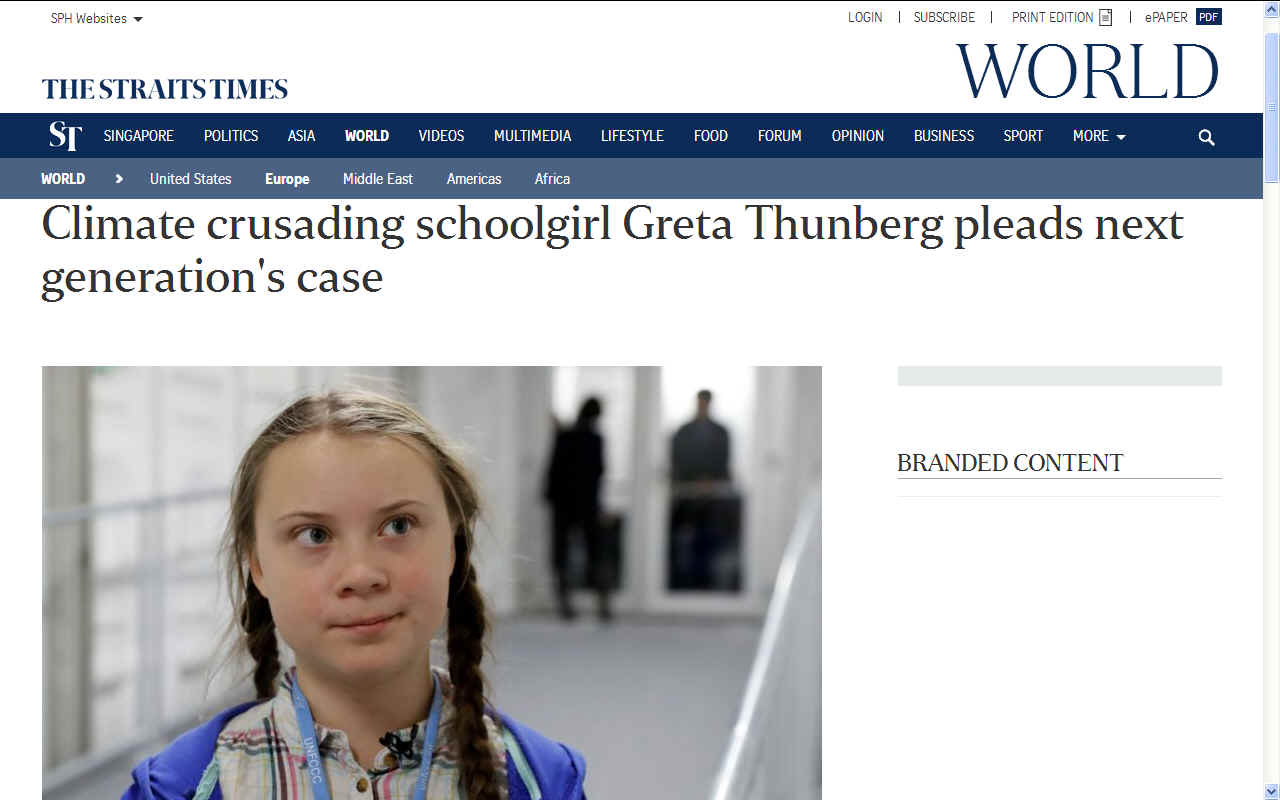 STRAITS TIMES DECEMBER 5 2018 - Climate crusading schoolgirl Greta Thunberg pleads next generation's case.

KATOWICE (AFP) - By the time 15-year-old Greta Thunberg is 45, tens of millions of people are expected to have fled their homes as climate change unleashes a maelstrom of extreme weather, crop failures and devastating forest fires.

Although it is her parent's generation and those before who have made climate change possible, it is the billions of young people like her who will bear its brunt. And she has had enough.

"It's us who are going to live in this world. If I live to be 100 I will be alive in 2103 and that is a long time in the future," she told AFP at the COP24 climate talks.

"We will have to live with the mess that older generations have made. We will have to clean it up for them. That is not fair."

Greta has become a leading name in the growing campaign from youth across the planet, pleading to lawmakers and corporations to slash greenhouse gas emissions and avert runaway global warming.

Officials from nearly 200 nations are at a UN climate summit in Poland trying to agree on a rulebook that will make good on the pledges they made under the 2015 Paris agreement.

That treaty aims to limit global temperature rises to well below 2 deg C and beneath the safer threshold of 1.5 deg C if at all possible.

But with just 1 deg C of warming so far, Earth is already being buffeted by superstorms, droughts and flooding made worse by rising seas.

And the World Bank has warned that if action is not taken by world governments, 143 million "climate migrants" will be displaced by 2050.

Greta and her actor father Svante are at the COP24 talks in the Polish mining city of Katowice to call on lawmakers to act now for the good of future generations. And they want everyone else to do their bit.

After learning about the impacts of people's carbon emissions, Greta insisted that her family become vegan and give up flying.

"For me none of this is sacrifice, I don't need those things," she said. "I understand that some people see it as sacrifice. People don't want to stop flying but it's just something we have to do. There's no other option."
2019: COP 25/CMP 15/CMA 4 TBA

The next summit was expected to take place between November 11 and 22, 2019, but Chilean President Sebastian Piñera now says COP25 is more likely to be held in January 2020.

President Piñera told the press: "We will have the great responsibility of leading and advancing toward a better control of climate change and global warming."
GRETA THUNBERG - is a Swedish climate activist. At the COP24 climate talks in Poland, Decembel 2018, Miss Thunberg addressed the Secretary-General of the United Nations. She received a standing ovation for one of her talks. She is behind the global school strike created to call attention to climate change. She is a rebel. With a cause. Thunberg is 15 and autistic and the newest, youngest and most powerful voice on the world stage demanding the world address global warming. Go Greta!
WILL THERE HAVE BEEN ANY REAL AND MEASURABLE PROGRESS IN 2019 ?
That is the burning question. We owe it to our children to put the brakes on the uncontrolled use of fossil fuels. All over the world schools are experiencing strike action in protest at the inaction of the United Nations members to get their act together. We need to turn the ship and we have a very small rudder. When the captain of the Titanic spotted the iceberg that sank the White Star Line's most famous ship, he tried to avoid the giant floating ice cube by putting the rudder hard over and reversing the propellers, but the ship could not turn in time to avoid a collision.
Where Greta Thunberg sent the United Nations a clear message in December 2018, how much progress will have been made by the Parties. Wil we have a bigger rudder than the Titanic, or will planet earth crash and burn. Since the inception of the COP talks, there has been very little action and a lot of hot air.
All the while we have playground bullies like Donald Trump and Vladimir Putin, the world is in danger. Russia and the USA need to grow up and stop beating up the countries that cannot afford to defend themselves. Climate Criminals like these two super powers need to look long and hard at China, where they use coal for energy, but have agreed to a call to action and are building solar and wind farms like there is no tomorrow.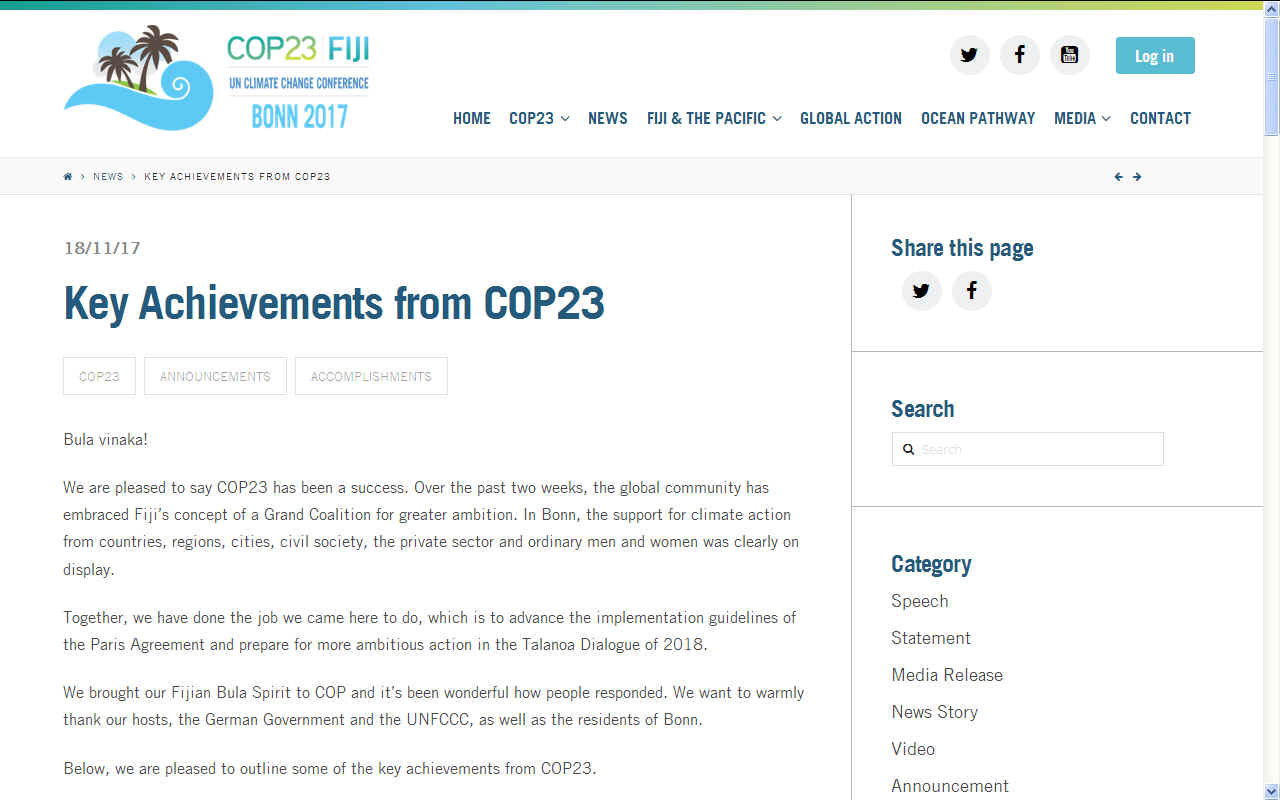 1995 COP 1, BERLIN, GERMANY
1996 COP 2, GENEVA, SWITZERLAND
1997 COP 3, KYOTO, JAPAN
1998 COP 4, BUENOS AIRES, ARGENTINA
1999 COP 5, BONN, GERMANY
2000:COP 6, THE HAGUE, NETHERLANDS
2001 COP 7, MARRAKECH, MOROCCO
2002 COP 8, NEW DELHI, INDIA
2003 COP 9, MILAN, ITALY
2004 COP 10, BUENOS AIRES, ARGENTINA
2005 COP 11/CMP 1, MONTREAL, CANADA
2006 COP 12/CMP 2, NAIROBI, KENYA
2007 COP 13/CMP 3, BALI, INDONESIA
2008 COP 14/CMP 4, POZNAN, POLAND
2009 COP 15/CMP 5, COPENHAGEN, DENMARK
2010 COP 16/CMP 6, CANCUN, MEXICO
2011 COP 17/CMP 7, DURBAN, SOUTH AFRICA
2012 COP 18/CMP 8, DOHA, QATAR
2013 COP 19/CMP 9, WARSAW, POLAND
2014 COP 20/CMP 10, LIMA, PERU
2015 COP 21/CMP 11, Paris, France
2016 COP 22/CMP 12/CMA 1, Marrakech, Morocco
2017 COP 23/CMP 13/CMA 2, Bonn, Germany
2018 COP 24/CMP 14/CMA 3, Katowice, Poland
2019 COP 25/CMP 15/CMA 4 TBA
CONTACTS
The UNFCCC secretariat is located at two different locations.
Main office
UNFCCC secretariat
UN Campus
Platz der Vereinten Nationen 1
53113 Bonn
Germany

Haus Carstanjen Office
Martin-Luther-King-Strasse 8
53175 Bonn
Germany

Mailing address
UNFCCC secretariat
P.O. Box 260124
D-53153 Bonn
Germany

Phone: (49-228) 815-1000
Fax: (49-228) 815-1999
Web: http://unfccc.int

info@climateactionprogramme.org
http://www.climateactionprogramme.org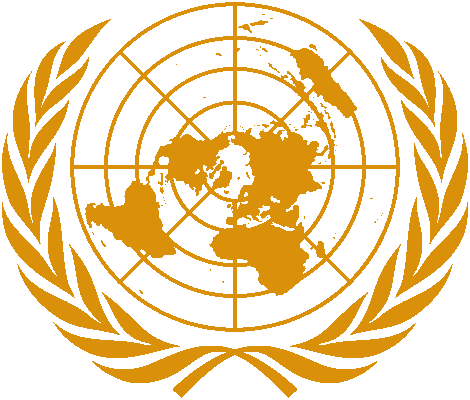 LINKS & REFERENCE
https://www.abc.net.au/news/2018-11-30/australian-students-climate-change-protest-scott-morrison/10571168
https://en.wikipedia.org/wiki/United_Nations_Climate_Change_conference
http://www.climateactionprogramme.org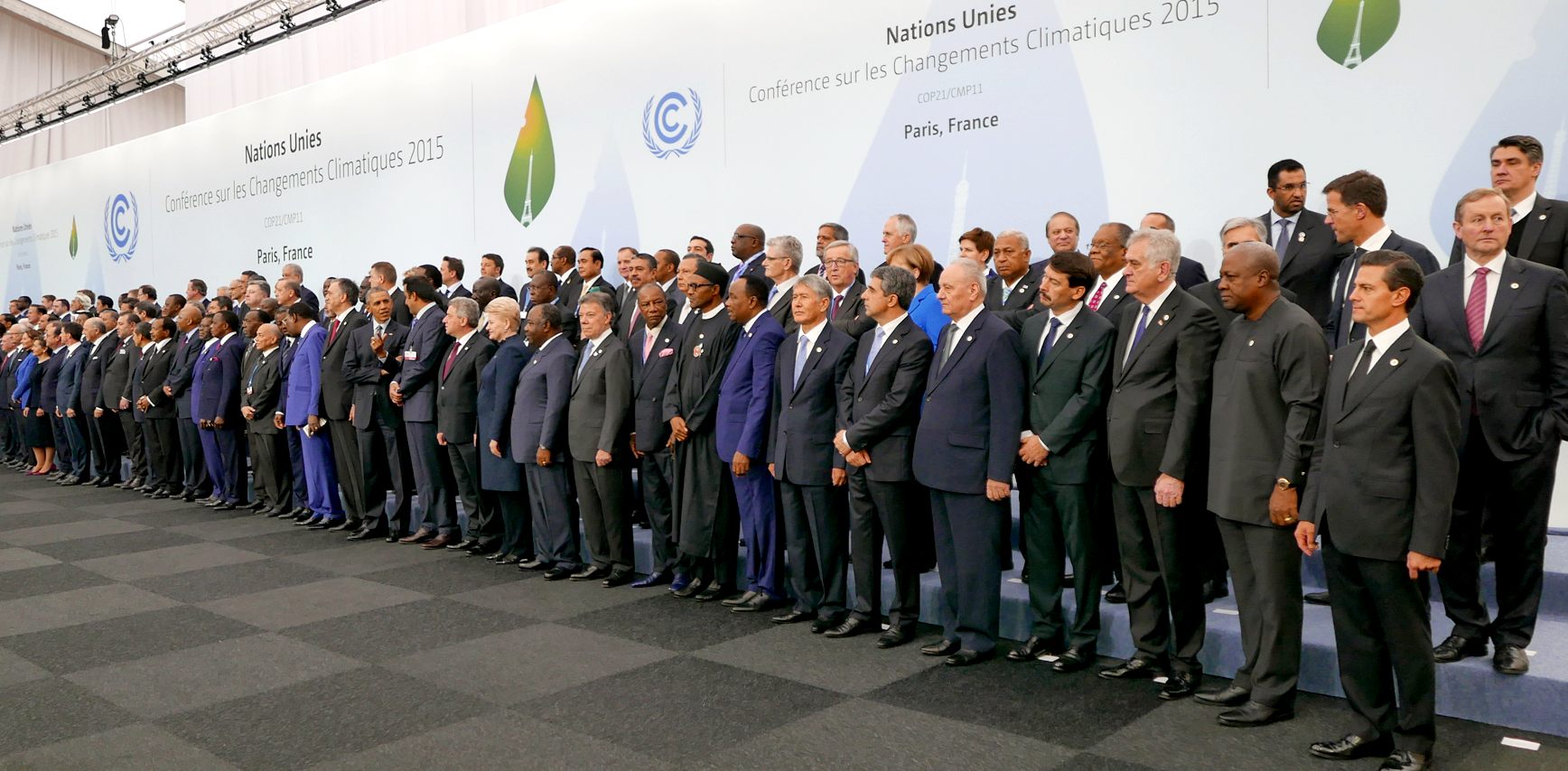 COP THAT - The United Nations Climate Change Conferences are yearly conferences held in the framework of the United Nations Framework Convention on Climate Change (UNFCCC). They serve as the formal meeting of the UNFCCC Parties (Conference of the Parties, COP) to assess progress in dealing with climate change, and beginning in the mid-1990s, to negotiate the Kyoto Protocol to establish legally binding obligations for developed countries to reduce their greenhouse gas emissions. From 2005 the Conferences have also served as the "Conference of the Parties Serving as the Meeting of Parties to the Kyoto Protocol" (CMP); also parties to the Convention that are not parties to the Protocol can participate in Protocol-related meetings as observers. From 2011 the meetings have also been used to negotiate the Paris Agreement as part of the Durban platform activities until its conclusion in 2015, which created a general path towards climate action. The first UN Climate Change Conference was held in 1995 in Berlin.
This website is provided on a free basis as a public information service. copyright © Cleaner Oceans Foundation Ltd (COFL) (Company No: 4674774) 2019. Solar Studios, BN271RF, United Kingdom. COFL is a charity without share capital. The names AmphiMax™, RiverVax™ and SeaVax™ are trade names used under license by COF in connection with their 'Feed The World' ocean cleaning sustainability campaign.