UN - CLIMATE CHANGE COP 21 2015
ABOUT - CONTACTS - FOUNDATION - HOME - A-Z INDEX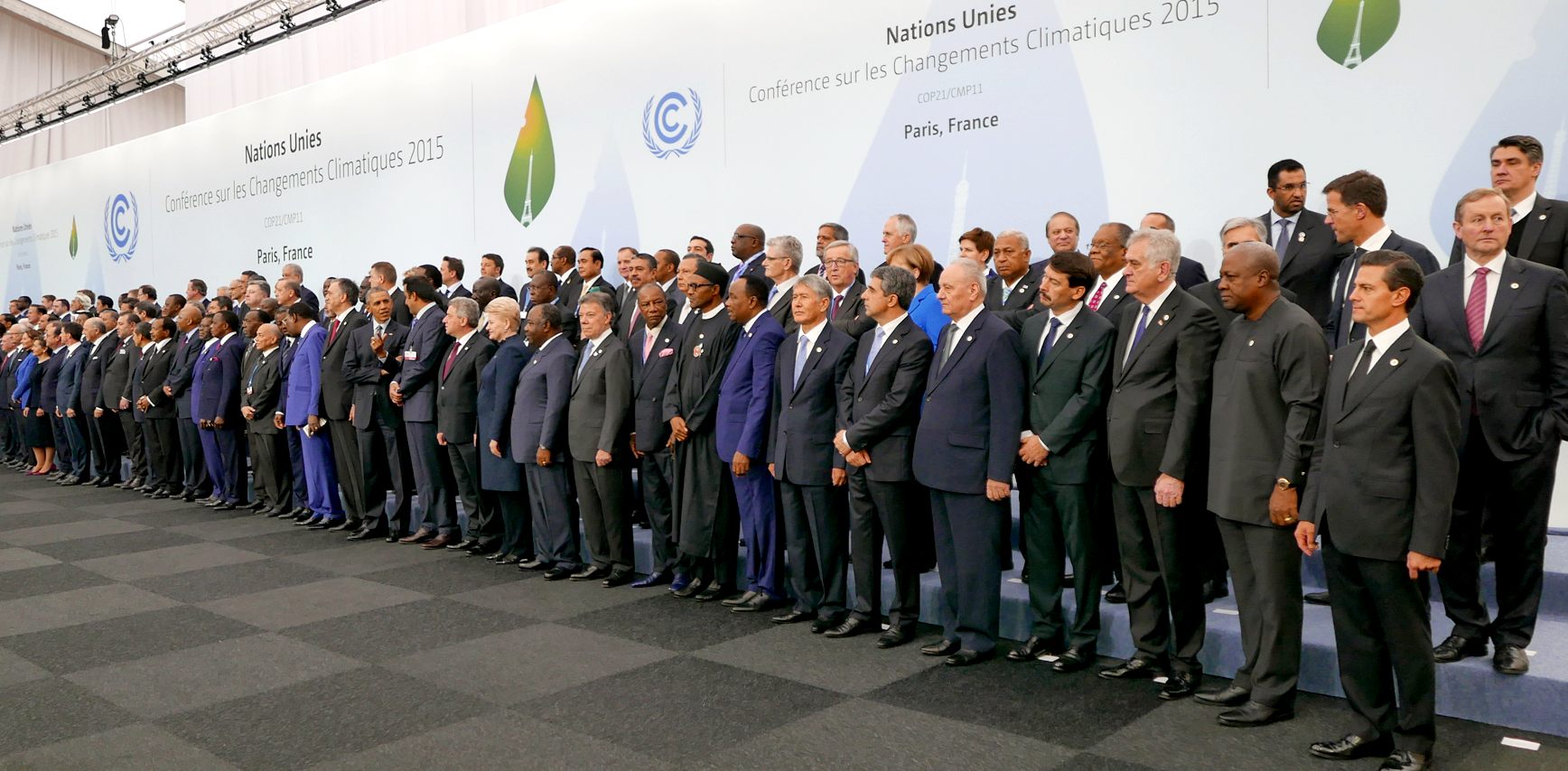 COP THAT - The United Nations Climate Change Conferences are yearly conferences held in the framework of the United Nations Framework Convention on Climate Change (UNFCCC). They serve as the formal meeting of the UNFCCC Parties (Conference of the Parties, COP) to assess progress in dealing with climate change, and beginning in the mid-1990s, to negotiate the Kyoto Protocol to establish legally binding obligations for developed countries to reduce their greenhouse gas emissions. From 2005 the Conferences have also served as the "Conference of the Parties Serving as the Meeting of Parties to the Kyoto Protocol" (CMP); also parties to the Convention that are not parties to the Protocol can participate in Protocol-related meetings as observers. From 2011 the meetings have also been used to negotiate the Paris Agreement as part of the Durban platform activities until its conclusion in 2015, which created a general path towards climate action. The first UN Climate Change Conference was held in 1995 in Berlin.
2015: COP 21/CMP 11, Paris, France - United Nations Climate Change Conference and Paris Agreement

The COP 21 was held in Paris from 30 November to 12 December 2015. Negotiations resulted in the adoption of the Paris Agreement on 12 December, governing climate change reduction measures from 2020. The adoption of this agreement ended the work of the Durban platform, established during COP17. The agreement will enter into force (and thus become fully effective) on November 4, 2016. On October 4, 2016 the threshold for adoption was reached with over 55 countries representing at least 55% of the world's greenhouse gas emissions ratifying the Agreement.
THE PARIS AGREEMENT
The Paris Agreement (Accord de Paris), Paris climate accord or Paris climate agreement is an agreement within the United Nations Framework Convention on Climate Change (UNFCCC) dealing with greenhouse gas emissions mitigation, adaptation and finance starting in the year 2020. The language of the agreement was negotiated by representatives of 196 parties at the 21st Conference of the Parties of the UNFCCC in Paris and adopted by consensus on 12 December 2015. As of November 2017, 195 UNFCCC members have signed the agreement, and 170 have become party to it. The Agreement aims to respond to the global climate change threat by keeping a global temperature rise this century well below 2 degrees Celsius above pre-industrial levels and to pursue efforts to limit the temperature increase even further to 1.5 degrees Celsius.

In the Paris Agreement, each country determines, plans and regularly reports its own contribution it should make in order to mitigate global warming. There is no mechanism to force a country to set a specific target by a specific date, but each target should go beyond previously set targets.

In June 2017, U.S. President Donald Trump announced his intention to withdraw the United States from the agreement, causing widespread condemnation both internationally and domestically. Under the agreement, the earliest effective date of withdrawal for the U.S. is November 2020.

In July 2017, France's environment minister Nicolas Hulot announced France's five-year plan to ban all petrol and diesel vehicles by 2040 as part of the Paris Agreement. Hulot also stated that France would no longer use coal to produce electricity after 2022 and that up to €4 billion will be invested in boosting energy efficiency.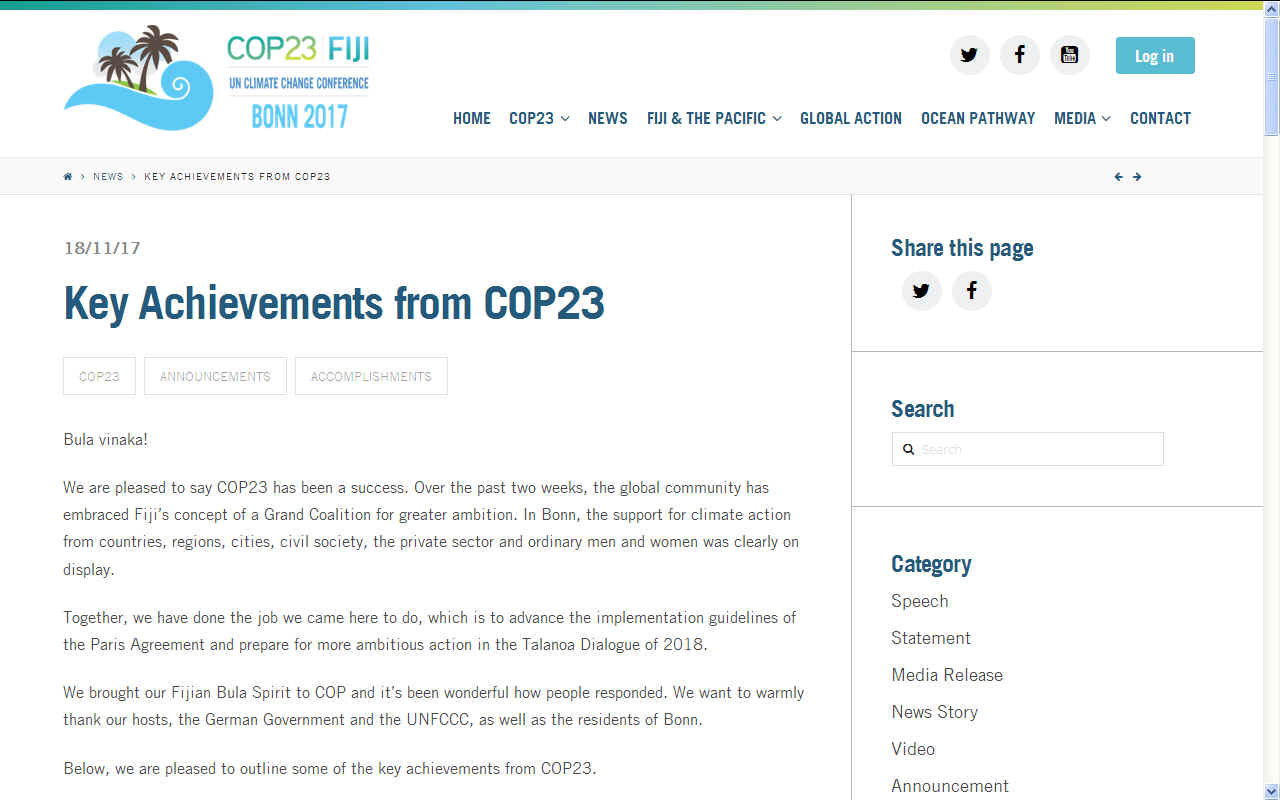 1995 COP 1, BERLIN, GERMANY
1996 COP 2, GENEVA, SWITZERLAND
1997 COP 3, KYOTO, JAPAN
1998 COP 4, BUENOS AIRES, ARGENTINA
1999 COP 5, BONN, GERMANY
2000:COP 6, THE HAGUE, NETHERLANDS
2001 COP 7, MARRAKECH, MOROCCO
2002 COP 8, NEW DELHI, INDIA
2003 COP 9, MILAN, ITALY
2004 COP 10, BUENOS AIRES, ARGENTINA
2005 COP 11/CMP 1, MONTREAL, CANADA
2006 COP 12/CMP 2, NAIROBI, KENYA
2007 COP 13/CMP 3, BALI, INDONESIA
2008 COP 14/CMP 4, POZNAN, POLAND
2009 COP 15/CMP 5, COPENHAGEN, DENMARK
2010 COP 16/CMP 6, CANCUN, MEXICO
2011 COP 17/CMP 7, DURBAN, SOUTH AFRICA
2012 COP 18/CMP 8, DOHA, QATAR
2013 COP 19/CMP 9, WARSAW, POLAND
2014 COP 20/CMP 10, LIMA, PERU
2015 COP 21/CMP 11, Paris, France
2016 COP 22/CMP 12/CMA 1, Marrakech, Morocco
2017 COP 23/CMP 13/CMA 2, Bonn, Germany
2018 COP 24/CMP 14/CMA 3, Katowice, Poland
2019 COP 25/CMP 15/CMA 4 TBA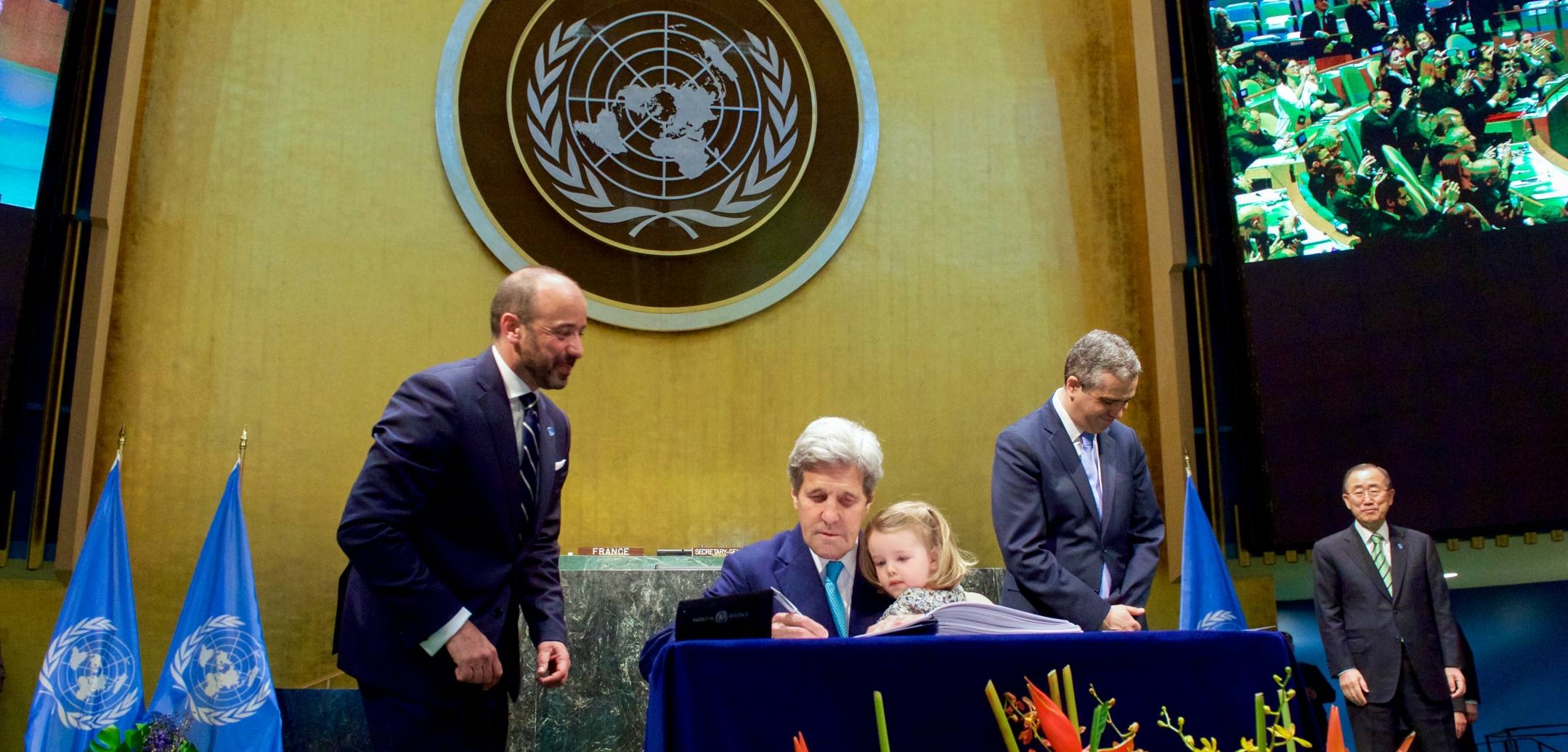 COP OUT - Was all the hard work of John Kerry a feint during the Obama administration to cajole an international commitment that the USA had no intention of following through? We doubt that very much. More likely is that Hicksville greed took hold as US citizens during the last election as they grasped this opportunity to preserve their oil guzzling, fast food, lifestyles for another four (or maybe eight) years, at the expense of the more responsible countries who made pledges they believe in. In our view that is short term-ism that is likely to rebound on the United States in terms of energy security in particular, but may also have a world trade deficit if such a thing as Carbon Tax Analysis Certificates were applied to goods produced anywhere in the world, such that energy used in production became a buying and transportation license issue. If that were the case, the US might have difficulty exporting cars such as Jeeps, and munitions. Not that that would be a bad thing for the arms trade. Anything produced in such a high carbon emitting country could become difficult to sell internationally - with potential bans on transporting climate unfriendly products.
CONTACTS
The UNFCCC secretariat is located at two different locations.
Main office
UNFCCC secretariat
UN Campus
Platz der Vereinten Nationen 1
53113 Bonn
Germany

Haus Carstanjen Office
Martin-Luther-King-Strasse 8
53175 Bonn
Germany

Mailing address
UNFCCC secretariat
P.O. Box 260124
D-53153 Bonn
Germany

Phone: (49-228) 815-1000
Fax: (49-228) 815-1999
Web: http://unfccc.int

info@climateactionprogramme.org
http://www.climateactionprogramme.org
LINKS & REFERENCE
https://en.wikipedia.org/wiki/United_Nations_Climate_Change_conference
http://www.climateactionprogramme.org
http://www.cop-23.org/
https://www.cop23.de/en/
This website is provided on a free basis as a public information service. copyright © Cleaner Oceans Foundation Ltd (COFL) (Company No: 4674774) 2017. Solar Studios, BN271RF, United Kingdom. COFL is a charity without share capital. The names AmphiMax™, RiverVax™ and SeaVax™ are trade names used under license by COF in connection with their 'Feed The World' ocean cleaning sustainability campaign.