SEAVAX - COASTAL TEST RIG
ABOUT - CONTACTS - CROWDFUNDING - DONATE - FOUNDATION - HOME - A-Z INDEX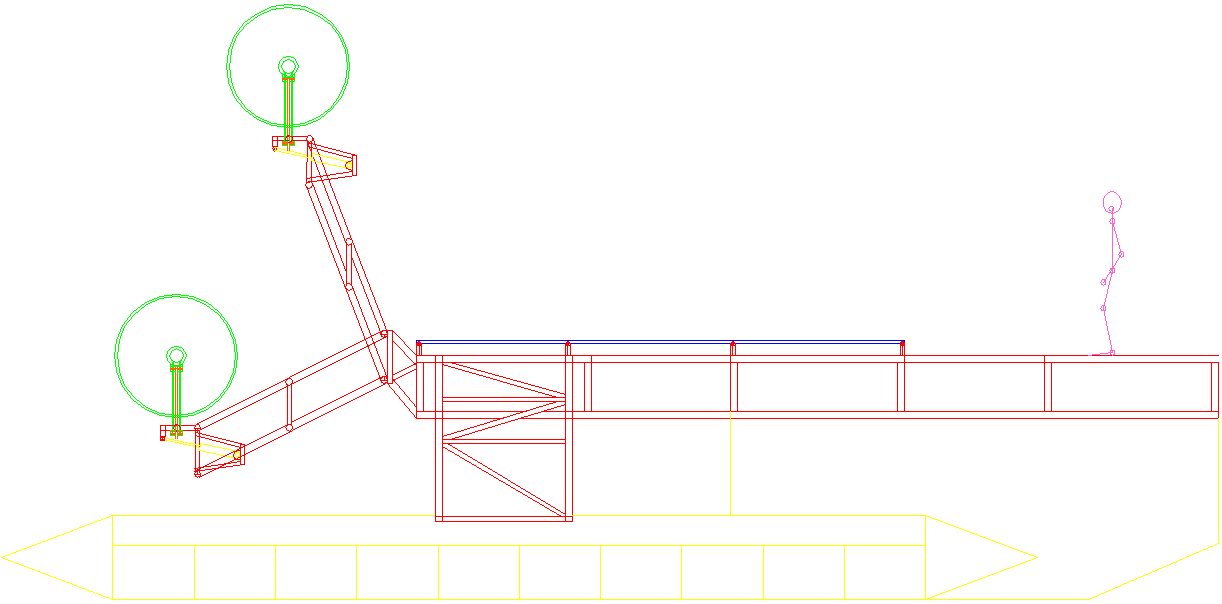 COASTAL CLEANER SIDE VIEW - This is a draft design for a coastal/river test rig based on the SeaVax concept. Unlike SeaVax, this low budget development boat will be built of steel, not aluminium, to keep the up front costs down, though long-term use would favour aluminium alloys. As to economics, who might pay for the operations of such a vessel locally remains to be answered. Unlike a dustcart that collects household waste, there is no immediately obvious health hazard from not cleaning the oceans, rather it is out of sight, toxic, cumulative and just as deadly. Copyright © diagrams March 2019. All rights reserved, Cleaner Ocean Foundation Ltd.
ROBOTIC TRACKING SYSTEM - On the assumption that our Ford Transit test rig works as expected, we will then be looking to take the developed wind turbine rig and bolt it to a floating platform that is 12 meters long as per the above example. This would give us a coastal shore sweeper/skimmer that is zero carbon in operation, that would also work in rivers in the UK.
We should have solved the wind turbine raising problem in 2019 with much needed help from Belgian engineer; Lolita D'Ortona. The Cleaner Ocean Foundation considers this to be cornerstone technology in the race to climate change friendly zero carbon shipping - in this case as applied to the SeaVax ocean cleaning machine and other water transports.
Between £120-150,000 thousand pounds should get this little beauty into the English Channel, operating on clean renewable energy. If you have an advertising budget that might support such a venture, and might be worried about the state of our oceans, we would like to explore potential collaboration with you. The ample deck sides and float space could carry a corporate message to boost a brand that shares our conservation concerns - helping us to forge ahead in uncertain times.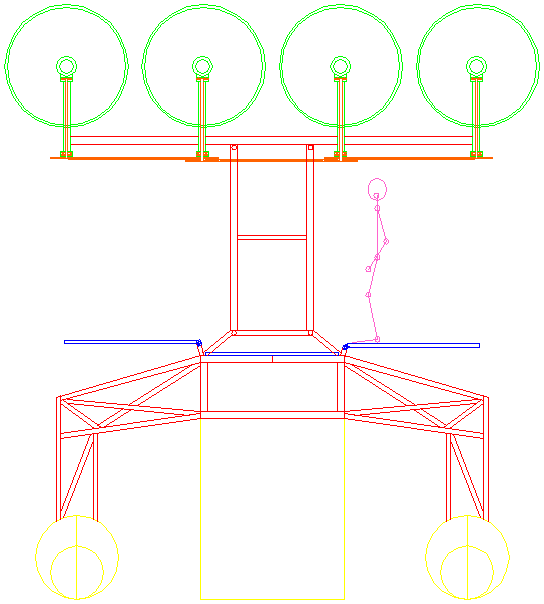 DRAFT COASTAL DESIGN - This design is based on the test rig we are hoping to complete in 2019. The solar panel layout is identical and so is the wind turbine arrangement. The only difference is that we'll be doubling up with 4 wind turbines and 24 solar panels to give us 5,200 watts incoming energy for each hour of peak generation. This rig will feed eight 110 AH deep cycle (lead-acid) leisure batteries to begin with, but we may change to lithium technology as and when funding allows, since this rig may be the subject of further testing and development for the full size SeaVax prototype. The point here being to provide the basic vessel onto which cleaning experiments might proceed. To date this design has been funded entirely by our trustees and volunteers. Copyright © diagrams March 2019. All rights reserved, Cleaner Ocean Foundation Ltd.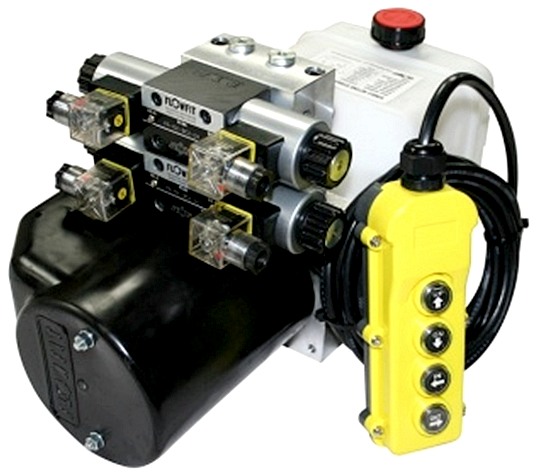 HYDRAULICS - 12V DC Double Acting, Double Solenoid Hydraulic Power Pack designed to operate two double acting cylinders independently on a variety of applications, complete with four button pendent on a 4 meter lead. This unit combines a 2.1cc/rev gear pump with a 1.6kw electric motor with relays and plastic motor cover. There are 4.5, 8.0, 11 or 13 Litre reservoirs with a drain plug. The reservoir feeds via a suction strainer, return oil conveyor and filler breather.

Designed for horizontal mounting, the maximum working pressure is 200 bar with a relief valve set at 160 bar, adjustable from 40-200 bar. The maximum flow rate is 5 litres/minute, with a relief valve. The port size is 3/8" BSP

Such pumps require a high capacity battery and suitable in-line fuse. The motor is designed for intermittent use (S3) which is defined as a sequence of identical cycles of 10 minute duration. The cycle comprises a period of on-load (td) operation in which the motor may reach its maximum permitted temperature, followed by an off-load (tm) of time, insufficient for the motor to return to ambient temperature.
COASTAL CLEANING SERVICES - The big question is that if and when such ocean cleaning vessels are available to purchase, who might buy and operate such machines or who might offer such services to local authorities, and would they be willing to pay for such services?
Such operations could be undertaken by volunteers, such as with beach cleaning, but who would pay for the machines and where would they be berthed or beach-parked when not in use or when being serviced, and who would pay for the servicing?
At the present time such questions do not need to be answered. We are hopeful that cooperation during the development phases of SeaVax might be offered by south coast councils, where there is now a general mood to tackle ocean waste.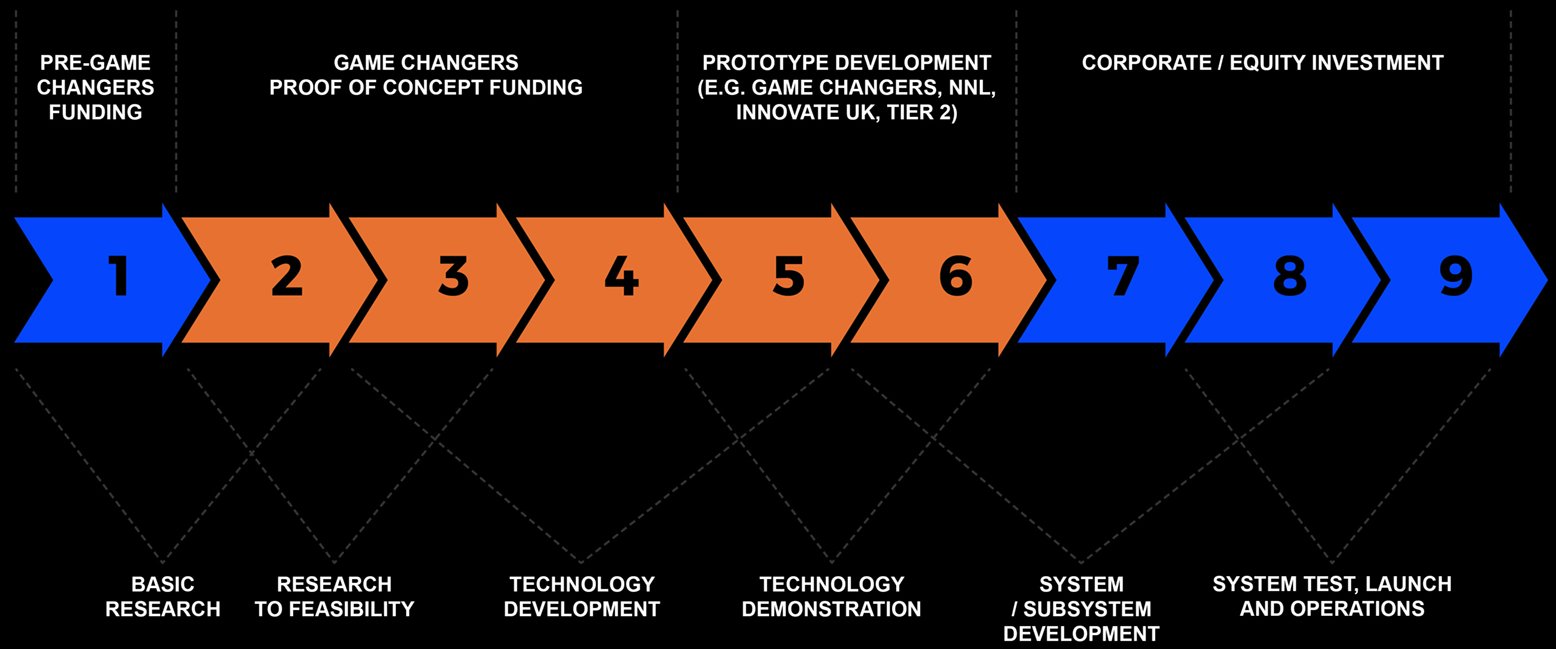 TRL 1 - TRL 2 - TRL 3 - TRL 4 - TRL 5 - TRL 6 - TRL 7 - TRL 8 - TRL 9 - TRL 10
TRL SCALE - The TRL scale is a metric for describing the maturity of a technology. The acronym stands for Technology Readiness Level. The scale consists of 9 levels. Each level characterises the progress in the development of a technology, from the idea (level 1) to the full deployment of the product in the marketplace after level 9.
.
LINKS & REFERENCE
https://www.soci.org/events/scirsc-plastics-from-cradle-to-grave-and-resurrection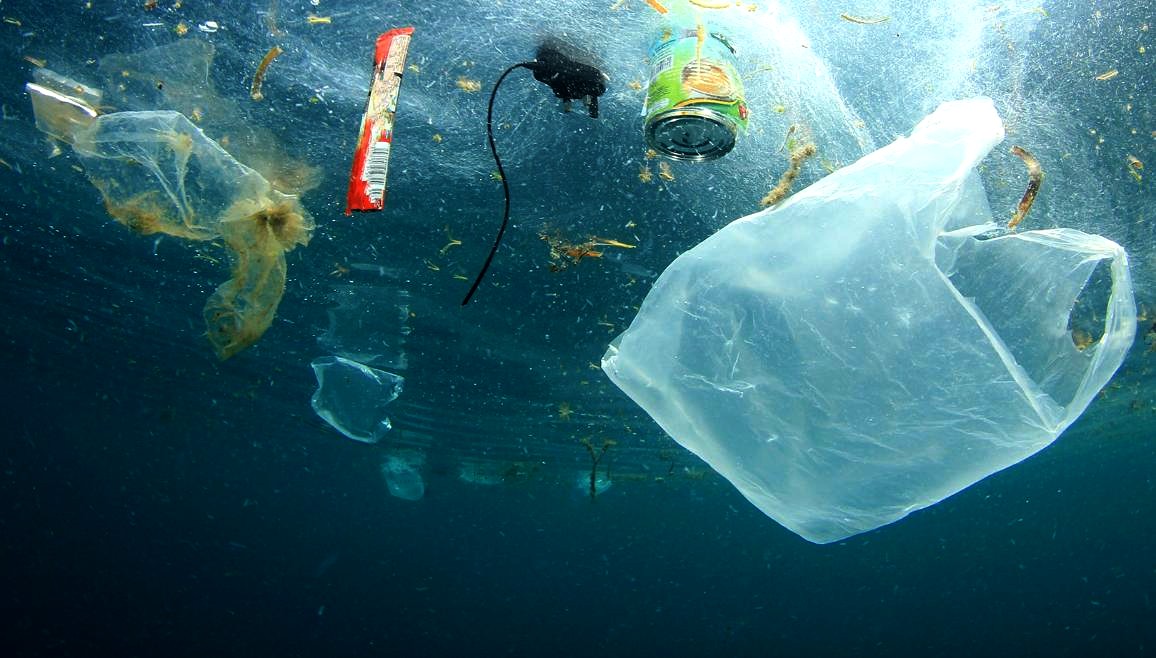 MARINE POLLUTION - This is what is beneath the waves where the human eye cannot detect the mayhem their single use habits are inflicting on marine life that is at the mercy of human activity. Humans are for the most part unaware of the harm their fast-lane lifestyles are causing. We aim to change that by doing all we can to promote ocean literacy to help reduce our plastic, food and carbon footprints.
This website is provided on a free basis as a public information service. Copyright © Cleaner Oceans Foundation Ltd (COFL) (Company No: 4674774) 2019. Solar Studios, BN271RF, United Kingdom. COFL is a charity without share capital. The names Amphimax™ RiverVax™ and SeaVax™ are trademarks.