SIR DAVID ATTENBOROUGH
ABOUT - CONTACTS - FOUNDATION - HOME - A-Z INDEX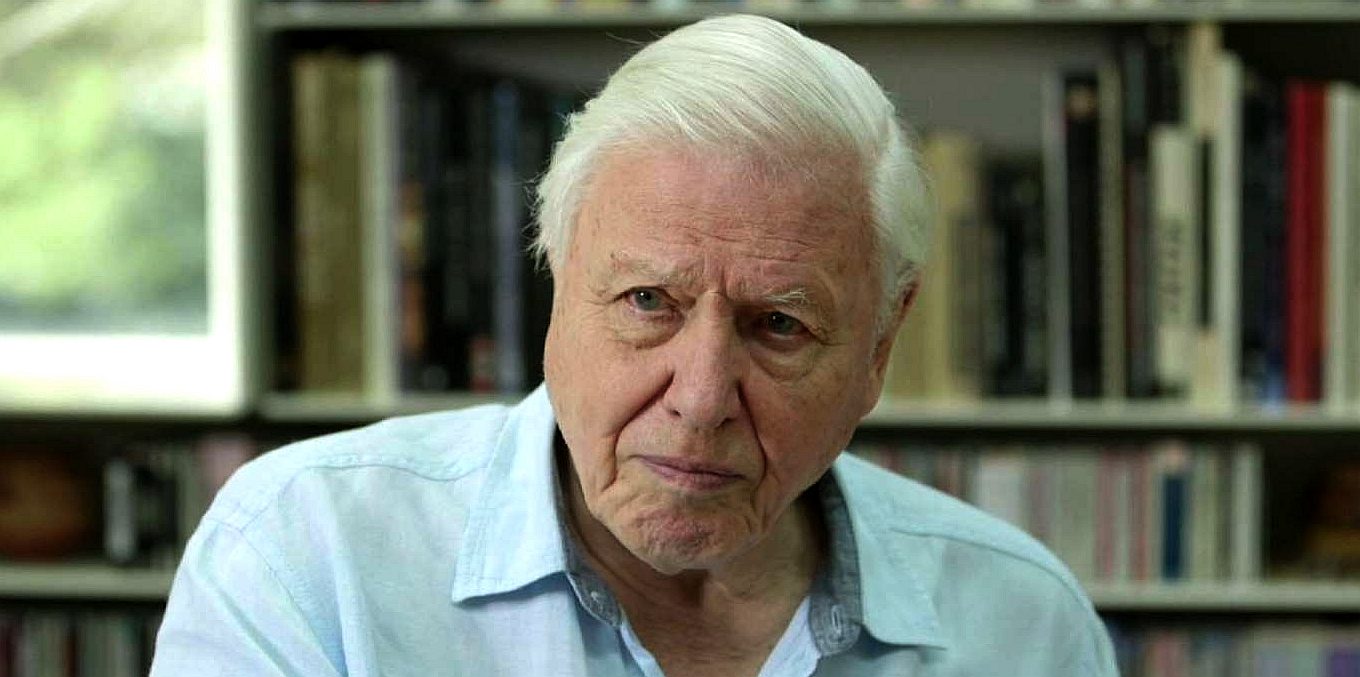 SIR DAVID: "Heartbreaking" sight of albatross mother feeding young plastic.

MSN SKY NEWS 25 SEPTEMBER 2017 - ATTENBOROUGH ON 'HEARTBREAKING' OCEAN PLASTIC

Sir David Attenborough has spoken of the "heartbreaking" experience of seeing an albatross trying to feed her chicks with plastic.

Sir David was speaking about the filming of his highly successful wildlife documentary Blue Planet.

He said: "The albatross are such marvellous birds.

"They form partnerships for 50 years, they circle the Antarctic collecting food, they come back to their mates at the same place, but they also feed their young.

"And there's a shot of the young being fed and what comes out of the mouth, of the beak of the adult"

"Not sand eels and not fish and not squid, which is what they mostly eat.

"Plastic.

"And it's heartbreaking. Heartbreaking."

The albatross is just one species caught up in the terrible effect that plastic is having on the world's oceans.

Every minute, the equivalent of a rubbish-truck load of plastic goes into the oceans but it does not decompose and will remain forever.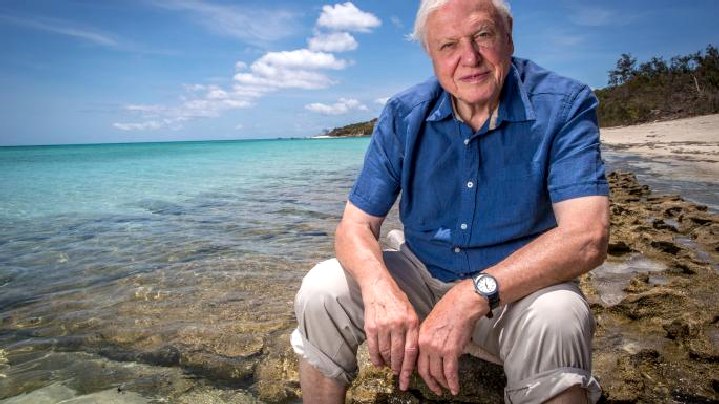 According to the US Smithsonian National Museum of Natural History, one type of albatross in particular - the Laysan - suffers especially badly.

The Laysan albatross catches fish by skimming the surface of the water with its beak, inadvertently picking up floating plastic, which they then feed to chicks.

While the adults can regurgitate their food, the chicks cannot and so it remains in their stomachs.

If people continue to dispose of plastic at the same rate as today, then by 2050 the ocean's plastic could weigh more than the fish.

The plastic can kill sea animals by strangling them or the plastic in an animal's stomach can make it feel full and stop eating, even though it is actually starving.

The plastic also impacts the wider ecosystem: marine life get caught in it, eat it and live in it. It also has a direct impact on our health, acting as a sponge for toxins which can end up in our food.

The interview with Sir David is being released by Greenpeace to mark the launch of Unearthed, the organisation's investigative and environmental news site formerly known as Energydesk.

:: Sky has been running a campaign to make people more aware of the effect plastic has on the world's oceans and to share ways of tackling the problem. To get involved in Sky Ocean Rescue, visit the campaign website here.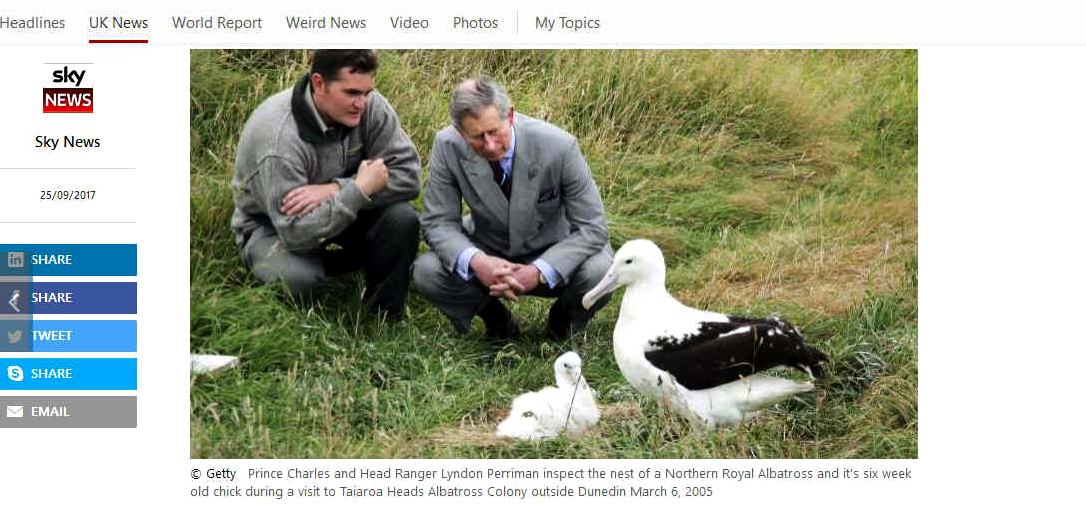 ROYAL ALBATROSS - Prince Charles and Head Ranger Lyndon Perriman inspect the nest of a Northern Royal Albatross and it's six week old chick during a visit to Taiaroa Heads Albatross Colony outside Dunedin March 6, 2005. The Prince of Wales has spoken out on marine litter many times and has teamed up with Dame Ellen MacArthur to support research and awareness that may reduce plastic packaging, to get consumers and product designers thinking about the problem.
THE TIMES FEBRUARY 4 2016 - ATTENBOROUGH WANTS ACTION ON PLASTIC IN SEA
The eight million tonnes of plastic dumped in the oceans each year are a greater problem than raw sewage, ­according to Sir David Attenborough.

Whereas sewage quickly breaks down, plastic remains in the sea for hundreds of years, splitting into tiny toxic particles eaten by birds and fish, the broadcaster said.

He is supporting the Plastic Oceans campaign, based at Brunel University London, which aims to create the first research centre dedicated to studying the problem of plastic pollution.

Oysters are the latest marine creatures shown to be threatened by plastic waste. A new study shows that their reproduction rates almost halve when they ingest plastic particles, which they mistake for phytoplankton. By Ben Webster, Oceans Correspondent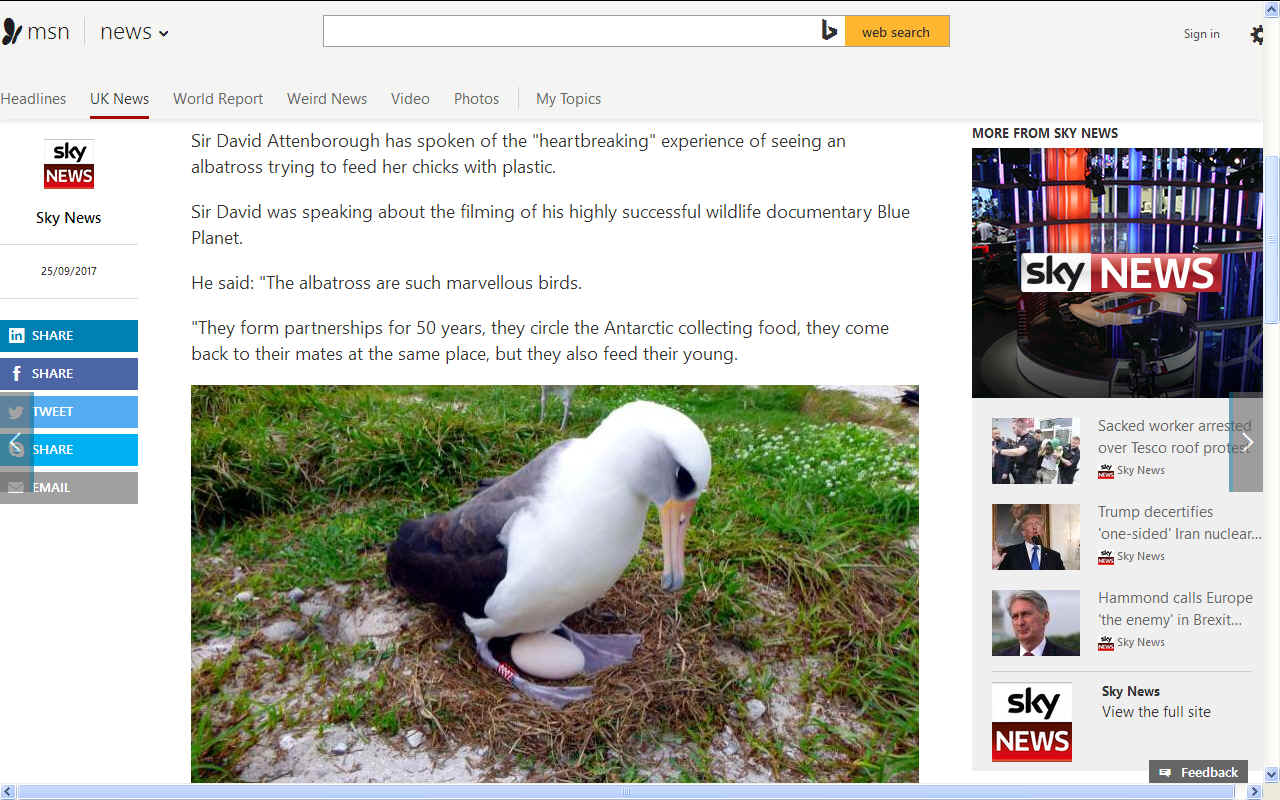 WISE BIRD - Wisdom, a Laysan albatross, at least 66 years old and the world's oldest known breeding wild bird incubates her egg in Midway Atoll National Wildlife Refuge and Battle of Midway National Memorial, Hawaii, U.S. on December 3, 2016

LINKS & REFERENCE
https://www.express.co.uk/news/nature/882481/blue-planet-2-david-attenborough-bird-albatross-ocean-plastic-pollution-south-atlantic
https://uk.news.yahoo.com/sir-david-attenborough-sea-plastics-impact-albatross-heartbreaking-060600348.html
https://www.thetimes.co.uk/article/attenborough-wants-action-on-plastic-in-sea-jwp0pfggr
https://skyoceanrescue.com/
https://www.msn.com/en-gb/news/uknews/attenborough-on-heartbreaking-ocean-plastic/ar-AAsqdz4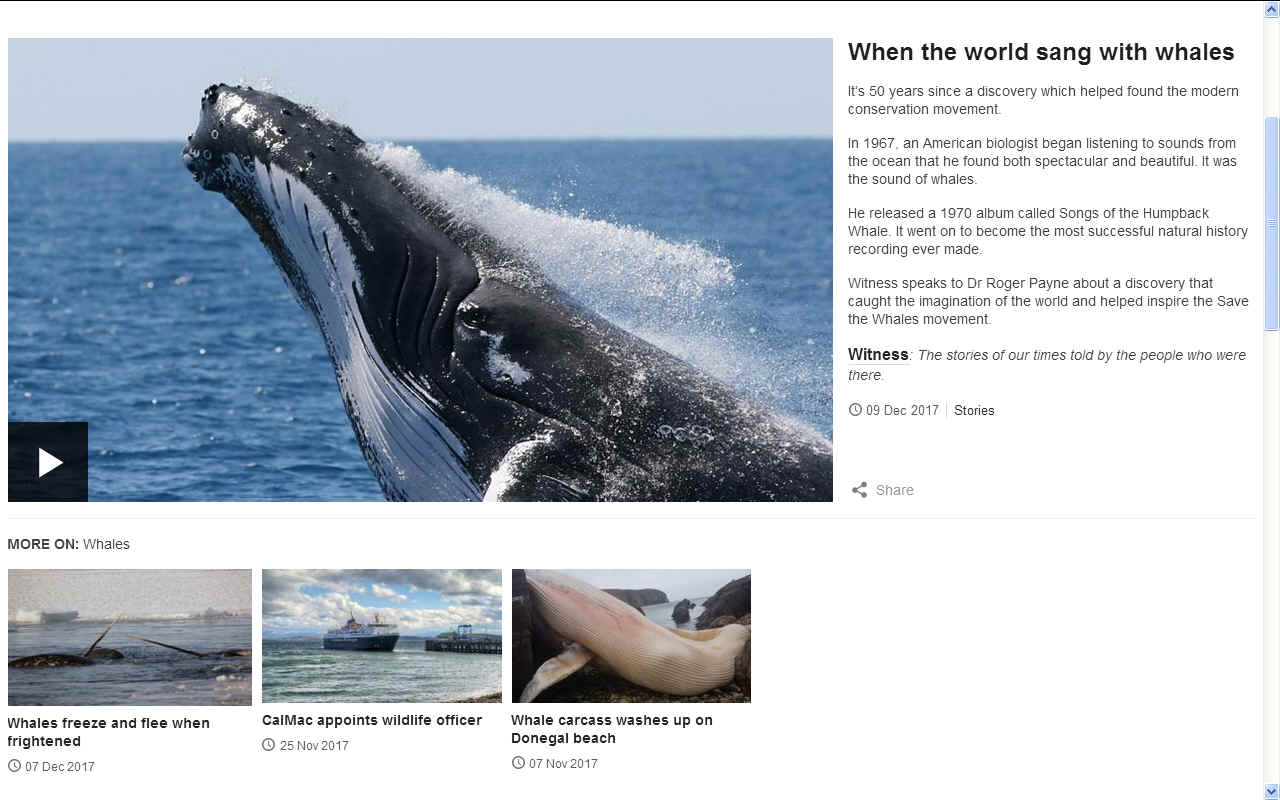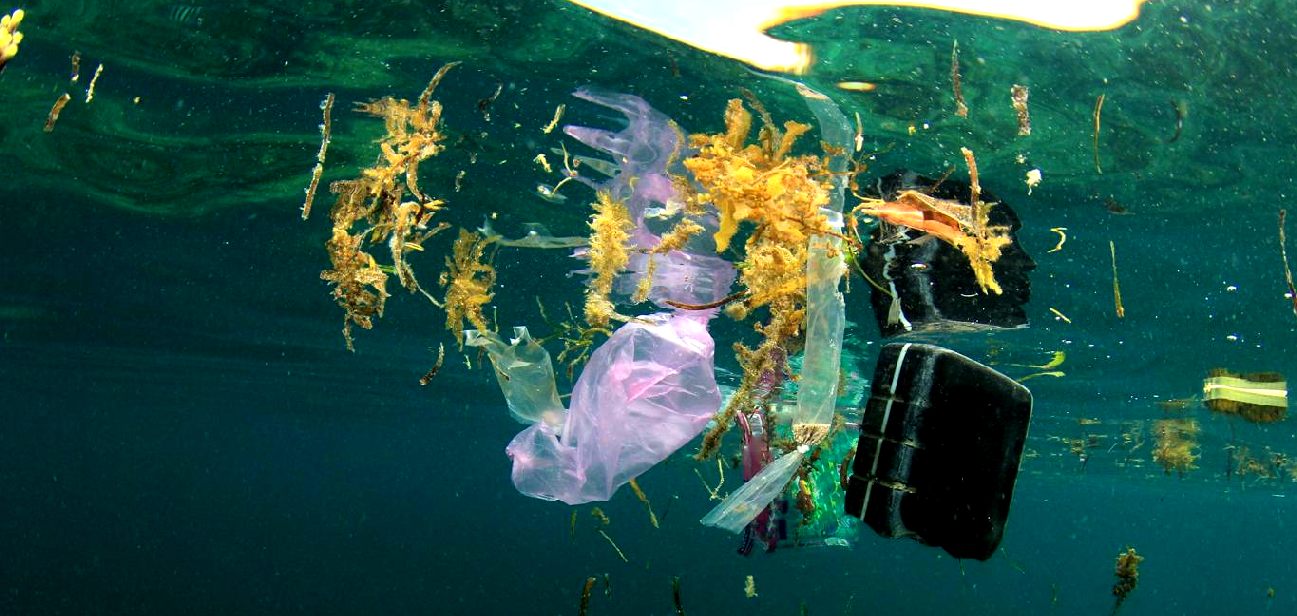 This website is provided on a free basis as a public information service. copyright © Cleaner Oceans Foundation Ltd (COFL) (Company No: 4674774) December 2017. Solar Studios, BN271RF, United Kingdom. COFL is a charity without share capital.