BREXIT
ABOUT - CONTACTS - FOUNDATION - HOME - A-Z INDEX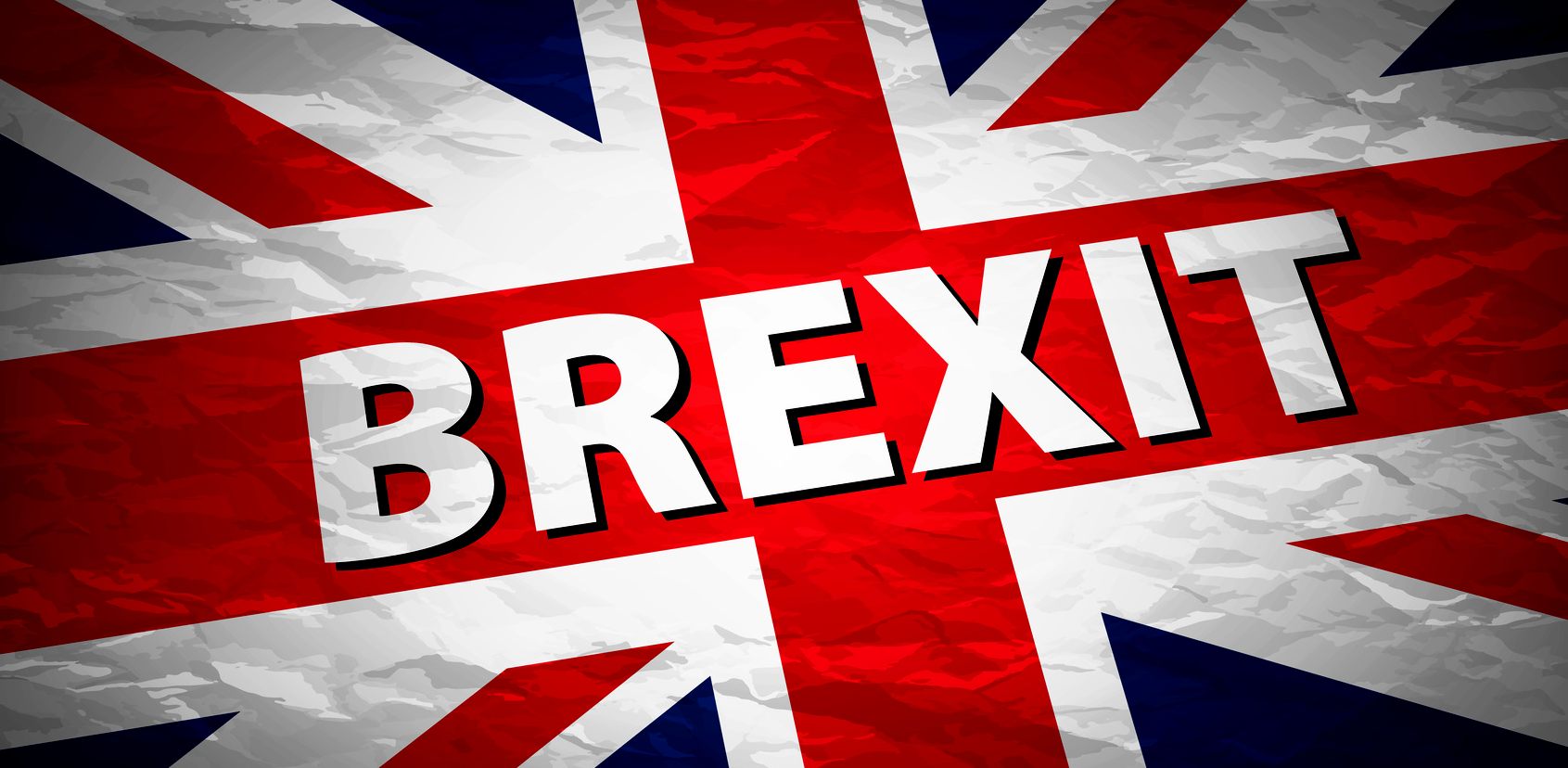 UK CITIZEN SUPPORT: There are about 3 million EU citizens living in the UK and the Brexit vote has understandably become a major concern for them. So what will happen to their rights? There is a lot of confusion and there are no guarantees right now.

The current government refuses to give a guarantee that EU nationals will be allowed to stay after the UK officially leaves the European Union. The Conservative Junior Home Office minister James Brokenshire said that it would not be wise to guarantee any rights right now without a mutual agreement with Europe, regarding the 1.2 million UK citizens living in continental Europe. He said that they can only affirm that EU citizens are permitted to stay in the UK for now.

EU nationals could potentially lose all of their acquired rights, i.e. living and working in the UK without a visa, owning a business in the UK, owning property in the UK and access to public services such as the NHS.

Theresa May, the UK Prime Minister, has so far said that she won't guarantee anything, and that the fate of EU nationals living in the UK will depend on negotiations with Europe regarding the fate of UK nationals living elsewhere in Europe. These negotiations could take years, leaving EU nationals in the dark. She also stated that the EU concept of free movement could no longer exist in the UK.

Labour has condemned this position as being unfair and chaotic for all EU citizens living in the UK because now they cannot plan their lives until this is settled in the future. This could take a few years, possibly more.

Foreign Secretary Philip Hammond is pushing for early talks with Europe regarding the status of EU nationals living in the UK and the status of UK nationals living in Europe. These talks would be held before any formal Article 50 negotiations regarding Britain's leaving Europe. However, European Commission president Jean-Claude Juncker states that any informal discussions with Britain will not happen until after Britain officially triggers Article 50.
BREXIT QUESTION BY CLEANER OCEAN FOUNDATION 9 NOV 2017
Our delegate apologized for the fact that the United Kingdom has voted by a majority to leave Europe, because he was not in favor of that vote personally and asserts his right to express an opinion, a right that we respect as per Articles 9 and 10 of the European Convention of Human Rights. Though this may be a shared opinion, he does not speak for Blue-Growth.com or the Cleaner Ocean Foundation (COF) on this issue. We are all entitled to express our opinions and thoughts and this basic right must be respected.
There is hope that an agreement might be struck when and if the UK disengages from the mainland, whereby the UK is still eligible for collaborative funding in cases where UK technology is of value to any proposal for EU support. Nevertheless, our delegate asked the EMFF panel this question:
Q. Will the UK leaving the EU affect any proposals from the COF?
A. The answer was, "Yes. EU members will have to leave any project when they exit the EU."
Let us hope then that common sense prevails. If Scotland stay true to their word and the worst comes to the worst, Scotland might be a suitable research base to relocate to, the ancestral home of one of our best designers.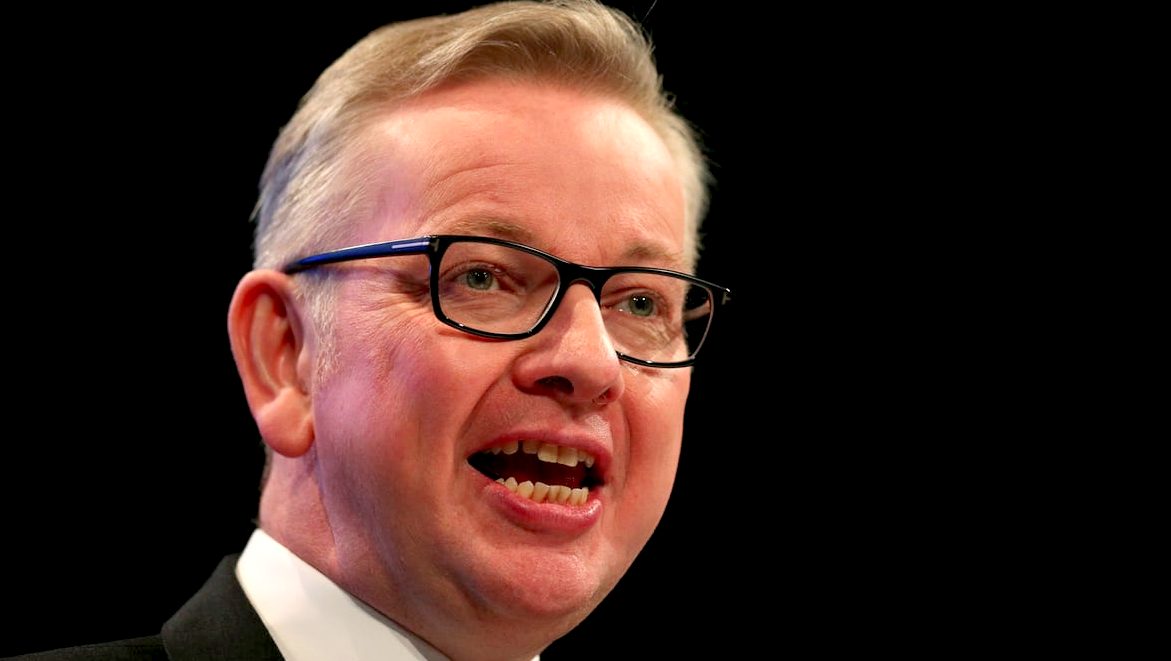 THE GUARDIAN OCT 2017 - A deposit return scheme aimed at slashing plastic pollution has moved significantly closer after environment secretary Michael Gove said he would work with the industry to see how a scheme can be implemented in England.

Gove, speaking at the Conservative party conference in Manchester, announced a four-week call for views to inform how a deposit return scheme (DRS) would be designed. The government's working group on the issue will also consider DRS for metal and glass containers.

Over eight million tonnes of plastic enter the oceans every year, with 80% coming from land. Plastic bottles are a major contributor; in June the Guardian revealed that a million are made every minute and the rate is rising quickly, with annual consumption forecast to top half a trillion by 2021.

At least a dozen nations already have DRS, in which a small deposit is paid when purchasing the bottle, which is then returned when the empty bottle is brought back.

In Germany and Denmark, which have DRS schemes, more than 90% of bottles are returned. In England, just 57% of plastic bottles are recycled, mostly through streetside collection schemes. Gove was pressured this summer by opposition parties and NGOs to introduce a DRS in England, and Nicola Sturgeon announced in September that Scotland would introduce a DRS.

"We must protect our oceans and marine life from plastic waste if we are to be the first generation to leave our environment in a better state than we found it," Gove said. "We want to hear people's ideas on how we could make [a DRS] work in England." In September, Gove said a plastic bottle DRS was a "great idea" but it was vital to devise a programme "that others can buy into".

Gove noted the huge reduction in plastic bag use resulting from the 5p charge placed on single-use bags, and that the government was drawing up "one of the world's toughest bans on plastic microbeads". The DRS working group has been asked to report early in the new year.

"The continuous stream of disposable plastic bottles running into our oceans has been growing alarmingly," said Greenpeace oceans campaigner Elena Polisano. "We urgently need solutions, and we think a DRS is probably the best way to raise the collection rate."

Coca-Cola is one of the world's biggest producers of plastic bottles and in February reversed its opposition to a DRS in Scotland. In July, the company announced it would use more recycled plastic in its bottles. However, on Monday Greenpeace revealed that Coca-Cola has increased its production of plastic bottles by a billion in the last year.

Louise Edge, oceans campaigner for Greenpeace, said: "Coca-Cola talks the talk on sustainability but the astonishing rate at which it is pumping out single-use plastic bottles is still growing."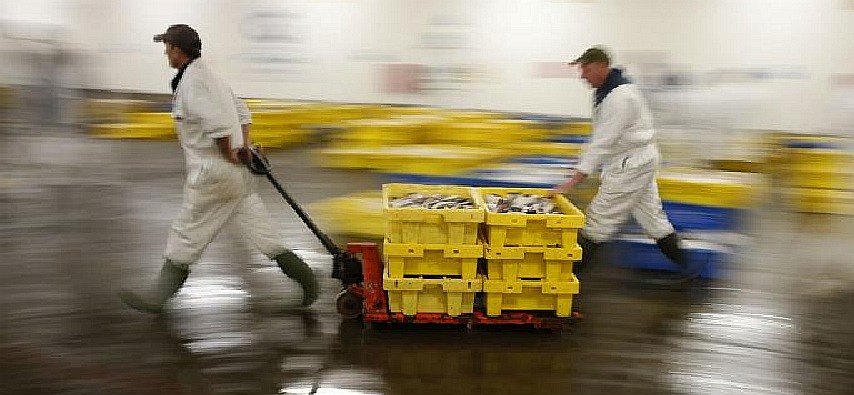 EURONEWS: YOUR FISH AND EAT IT 9 NOV 2017
Grimsby, a seaside town in eastern England, voted overwhelmingly to quit the European Union.

More than two-thirds of people from the area backed leaving Brussels, making it one of the most Eurosceptic regions in Britain.

But now food chiefs from the town, a key player in the UK fishing industry, have been lobbying the government to keep its free trade status with Europe.

Simon Dwyer, from Seafood Grimsby & Humber, told MPs there should be a special exemption for the region's seafood industry, reported the Grimsby Telegraph.

Producers in the town import around 90 percent of the fish they process, making it vulnerable to the introduction of import tariffs, added the newspaper.

The revelation prompted mocking on Twitter, while Professor Brian Cox jokingly asked for an exemption for the whole of the UK.

But some believe the EU's fishing laws led to the collapse of Grimsby's fishing industry in the 1980s and was a key reason why 71.45 percent of voters backed quitting Brussels in the referendum last year.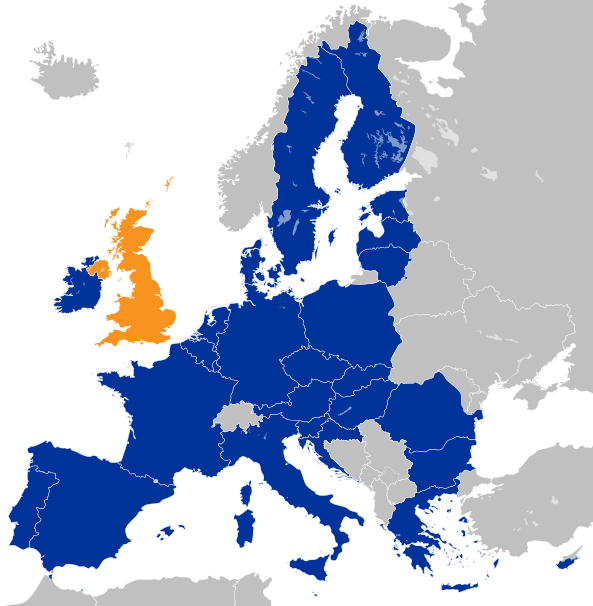 BBC 10 NOVEMBER 2017 - THERESA MAY WARNS BREXIT REBELS AS TALKS RESUME
Theresa May has outlined plans to set the UK's departure date and time from the EU in law, warning she will not "tolerate" any attempt to block Brexit.

She said the EU Withdrawal Bill would be amended to formally commit to Brexit at 23:00 GMT on Friday 29 March 2019.

The bill will be scrutinised by MPs next week - but the PM warned against attempts to stop it or slow it down.

Mrs May was writing in the Daily Telegraph as a fresh round of Brexit negotiations are due to begin later.

The UK is due to leave the European Union after 2016's referendum in which 51.9% of voters backed Brexit.

The prime minister said the decision to put the specific time of Brexit "on the front page" of the Brexit bill showed the government was determined to see the process through.

"Let no-one doubt our determination or question our resolve, Brexit is happening," she wrote.

"It will be there in black and white on the front page of this historic piece of legislation: the United Kingdom will be leaving the EU on March 29, 2019 at 11pm GMT."

The draft legislation has already passed its second reading, and now faces several attempts to amend it at the next part of its parliamentary journey - the committee stage.

Mrs May said most people wanted politicians to "come together" to negotiate a good Brexit deal, adding that MPs "on all sides" should help scrutinise the bill.

She said the government would listen to MPs if they had ideas for improving the bill, but warned against attempts to halt the process.

"We will not tolerate attempts from any quarter to use the process of amendments to this Bill as a mechanism to try to block the democratic wishes of the British people by attempting to slow down or stop our departure from the European Union."

MPs have previously been told there have been 300 amendments and 54 new clauses proposed.

The PM said the "historic" bill was "fundamental to delivering a smooth and orderly Brexit" and would give "the greatest possible clarity and certainty for all businesses and families across the country".

Labour MP and remain campaigner, Chuka Umunna, said many experts believed the March 2019 leaving date did not give much time for negotiations.

He told BBC Radio 5 live: "Lord Bridges said he could not see the government being able to negotiate the transition arrangement, like the bridge to us leaving, and the divorce bill, by 2019. So we may actually need more time."

Lord Kerr, the former diplomat who helped draft Article 50 of the Lisbon Treaty - the mechanism the UK has used to exit the EU - said putting the Brexit date on the bill did not mean the withdrawal process was irreversible.

The cross-bench peer told BBC Radio 4's Today programme that decisions such as these were being made in Westminster, and "had nothing to do with the treaty, and they have nothing to do with the views of our partners in Brussels".

But the Conservative MP and leave campaigner, Peter Bone, welcomed the decision to enshrine the leaving date in law, saying it was a "really big, important step".
THE SUN 10 NOV 2017: Theresa May has been branded economically illiterate by Treasury insiders as relations with the Chancellor plunge to new depths.

Sources from within Philip Hammond's team at No.11 have hit out at the PM's refusal to approve a change to planning laws to end the housing crisis.

They claim that however much money is thrown at the problem, only a relaxation of the planning rules will trigger a housebuilding boom.

In today's column by James Forsyth one source says: "Philip Hammond has explained the economic reality to her. "And she just doesn't want to listen."

Sources close to the PM insist the pair are sharing details about the Budget and dismissed reports of a breakdown in relations.

But others claim relations between Philip Hammond and Theresa May are now as bad as Tony Blair and Gordon Brown during the Labour government.

In Whitehall, insiders claim the Treasury is trying to shield the Budget from Number 10 . The Sun last week revealed the PM and Chancellor clashed at a story Budget meeting.

They met in No.10 to plan big measures in the Chancellor's annual economic blueprint on November 22.

The Budget is the last big chance this year to reboot Theresa May's premiership. But one MP admitted the party simply needed to "get through" the Budget without any gaffes. He told the Sun: "We need a B plus rather than an A Star."
BREXIT ON WIKIPEDIA

Brexit (/ˈbrɛksɪt/ or /ˈbrɛɡzɪt/) is the popular term for the prospective withdrawal of the United Kingdom (UK) from the European Union (EU).

In a referendum on 23 June 2016, 51.9% of the participating UK electorate (the turnout was 72.2% of the electorate) voted to leave the EU. On 29 March 2017, the British government invoked Article 50 of the Treaty on the European Union. The UK is thus on course to leave the EU on 29 March 2019.

Prime Minister Theresa May announced that the UK would not seek permanent membership of the single market or the customs union after leaving the EU and promised to repeal the European Communities Act of 1972 and incorporate existing European Union law into UK domestic law. A new government department, the Department for Exiting the European Union (DExEU), was created in July 2016, with Eurosceptic David Davis appointed its first Secretary of State. Negotiations with the EU officially started in June 2017.

The UK joined the European Communities (EC) in 1973, with membership confirmed by a referendum in 1975. In the 1970s and 1980s, withdrawal from the EC was advocated mainly by Labour Party members and trade union figures. From the 1990s, the main advocates of withdrawal were the newly founded UK Independence Party (UKIP) and an increasing number of Eurosceptic Conservative Party members.
HOW DID WE GET INTO THIS MESS ?
In 2012 Prime Minister David Cameron rejected calls for a referendum on the UK's EU membership, but suggested the possibility of a future referendum to gauge public support. According to the BBC, "The prime minister acknowledged the need to ensure the UK's position within the European Union had 'the full-hearted support of the British people' but they needed to show 'tactical and strategic patience'."

Under pressure from many of his MPs and from the rise of UKIP, in January 2013, Cameron announced that a Conservative government would hold an in–out referendum on EU membership before the end of 2017, on a renegotiated package, if elected in 2015.

The Conservative Party unexpectedly won the 2015 general election with a majority. Soon afterwards the European Union Referendum Act 2015 was introduced into Parliament to enable the referendum. Cameron favoured remaining in a reformed European Union, and sought to renegotiate on four key points: protection of the single market for non-eurozone countries, reduction of "red tape", exempting Britain from "ever-closer union", and restricting EU immigration.

In December 2015 opinion polls showed a clear majority in favour of remaining in the EU, although support would drop if David Cameron did not negotiate adequate safeguards for non-eurozone member states and restriction on benefits for EU citizens.

The outcome of the renegotiations was announced in February 2016. Some limits to in-work benefits for new EU immigrants were agreed, but before they could be applied, a country such as the UK would have to get permission from the European Commission and then from the European Council.

In a speech to the House of Commons on 22 February 2016, Cameron announced a referendum date of 23 June 2016, and commented on the renegotiation settlement. He spoke of an intention to trigger the Article 50 process immediately following a leave vote, and of the "two-year time period to negotiate the arrangements for exit."

THE FOG: Victoria Beaz Hidalgo (seen in the picture above) spoke about some of the pitfalls that applicants fall foul of when applying for funding at the EMFF information event in Brussels on November 9 2017 - as to how applicants for funding might tick the right boxes, but she (and her colleagues) failed to address the Brexit brake, leading to a question from the floor from our delegate - where the Cleaner Ocean Foundation is looking to secure funding for marine litter cleaning, or food security, which amounts to the same thing all under the heading of blue growth. The present uncertainty over Brexit is creating a cloud of vagueness that is likely to put research back many years if the those leading the negotiations do not agree on a way to compromise - that may allow important research to continue.
QUESTIONS UNANSWERED: Bernhard Friess chaired the question and answer section before the lunch break. Another question posed by our man in Brussels was to do with down scoring as a result of a lack of trading track record. This question remains unanswered, we presume because it is awkward and may put off a number of potential applicants, where for the EU it is the numbers game and some kind of a scatter-gun approach. We do though live in hope.
BREXIT ON THE BBC
We're now halfway between the Brexit referendum and the day the UK is supposed to leave the EU, and the entire process seems to be clouded in confusion.

Don't take my word for it. I've spent the last three weeks talking to a variety of people, from Irish thoroughbred breeders to chief executives of construction companies, from nuclear scientists to taxi drivers. And everyone wants to know where on earth all this is heading.

I've seen it argued that Leavers and Remainers find it difficult to have a constructive debate because the Leave side tend to focus on broad political themes (Take Back Control, anyone?) while the Remain side focus on the detail.

That's why some advocates of Remain still have difficulty accepting the fact that a big political decision was made in the referendum.

At the same time a government that has committed itself to Brexit, but is divided about what that actually means, is trying to master the detail in record time.

And if there's one thing about Brexit that does become clearer every week, it is that this is a process of unprecedented complexity. Like unstitching a blanket, or unbaking a cake: you can choose your own simile, but the inference is clear.

No advanced industrial economy has ever tried to do anything quite like this before - extricating itself in an astonishingly short space of time from more than 40 years of shared sovereignty and close economic co-ordination with its nearest neighbours..

No wonder we're still a wee bit perplexed. Explaining Brexit is a bit like stapling jelly.

But here, slightly at random and in no particular order, are a few things that emerged from our series, which may be worth keeping an eye on.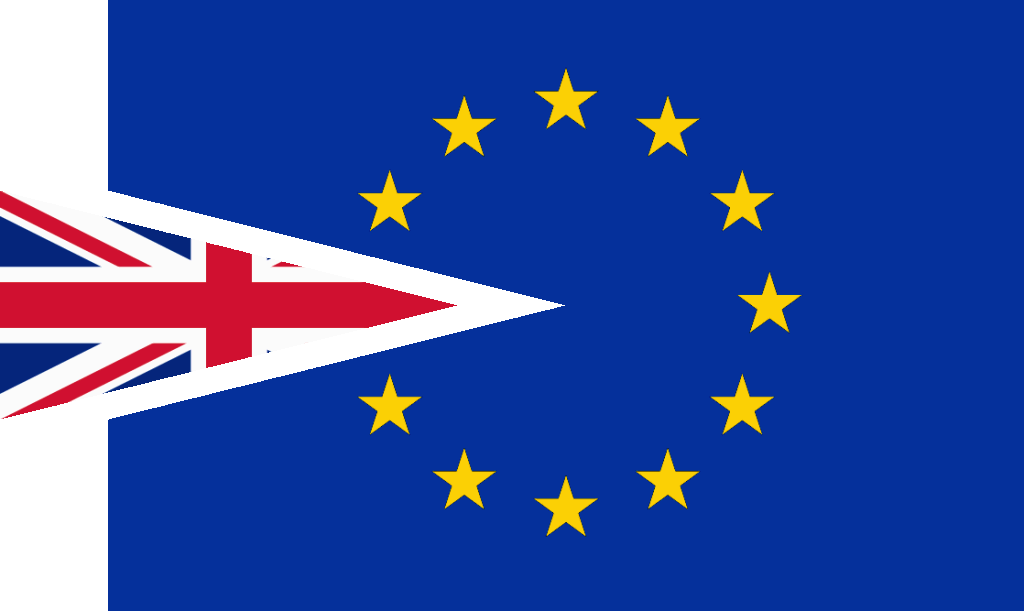 1 DIRECT EFFECT

If a deal is to emerge soon on the issue of citizens' rights (for EU citizens here in the UK in particular) then the notion of "direct effect" is likely to loom large.

It is a really important principle of the European Court of Justice, because it means individuals can invoke European law before national courts. [COMMENT] You should try that in the UK where Article 1 and 13 (your right to an effective remedy) are excluded from the Human Rights Act 1998, hence domestic legislation is very much aligned with the present British attempts to distance themselves from inconvenient statute, even where they helped to draft it after World War Two.

In this case, the Brexit withdrawal agreement (with European law enshrined within it) could be written directly into UK law rather than relying on a separate piece of UK legislation to implement it.

The EU thought that the UK had conceded this point; if that turns out not to be so, it will cause problems.

2 IRELAND

It's not just about the border, and the effect on Northern Ireland, critically important though that is.

A total of 80% of Irish exports go to or through the UK, which is also critical for Irish energy supplies, and no other country outside the UK has nearly as much at stake in the Brexit debate as the Republic of Ireland.

"There is hardly any area of Irish life that won't be affected in one way or another," says Tony Connelly, author of the book Brexit and Ireland.

That means Dublin needs a good deal with the UK after Brexit. But it doesn't mean Ireland won't play tough.

In the Brexit negotiations it is sticking with the mantra of the unity of the EU27, and exasperation with UK politics is mounting.

3 ROBOTS

Anna Wallace, the director of political relations at the professional services firm PricewaterhouseCoopers, told the story of a manufacturing company in Wales that has decided to replace EU migrant workers with machines, rather than with a locally hired workforce.

"They knew they were probably going to do that in five years' time," she says. "But good businesses are now thinking about all of those things together."

It is a reminder that Brexit is only one part of a much larger economic debate, as another technological revolution looms large.

Automation would be changing the working lives of many people come what may (in fact, it already is). But the effect of Brexit will probably speed up things.

The good thing about change? It always brings opportunity as well as risk.

4 THE LABOUR MARKET

The end of the free movement of people from the EU could well lead to some liberalisation of UK immigration policy for the rest of the world.

That may not come as a surprise to many economists who deal with immigration issues, but it may not have been what many Leave supporters thought they were voting for.

The UK will still need immigrant labour to keep its economy moving.

Even the pressure group Migration Watch advocates the creation of new schemes for seasonal agricultural workers from the EU, and for young people between the ages of 18 and 30 to work in the UK for up to two years.

But immigration policy isn't just about the UK choosing whom it wants. They have to want to come to the UK too. The rest of the world beyond Europe may have to fill some gaps in the market.

5 JET

The Joint European Torus in Oxfordshire can lay convincing claim to be the greatest scientific experiment in the UK. The long-term aim is to produce an unlimited supply of clean energy through nuclear fusion.

But Jet is run under the auspices of Euratom, the European Atomic Energy Community. And alongside the EU, we're leaving Euratom too.

The trouble is that funding for Jet runs out at the end of 2018. And until we know the future relationship between Euratom and the UK after Brexit, no one can say for certain that funding will be extended.

Surely, you cry, they won't just pull the giant Torus plug?

"I work in fusion research so by definition I think I'm an optimist," says Ian Chapman, the chief executive of the UK Atomic Energy Authority.

"But everybody is anxious, and everybody wants a resolution to this as quickly as possible."

6 FOG AHEAD

You probably know this one already, but it is worth repeating. When it comes to Brexit, no one has any idea what is going to happen next.

"I've been following British politics professionally for almost 50 years," says the pollster Peter Kellner.

"Never before have I been so uncertain as to where British politics has been heading.

"We're looking at a mountain ahead of us shrouded in fog. We can't see the pass and we don't know what's on the other side."

The battle for Brexit seems to have been around forever, but it may be that the critical phase is only just beginning.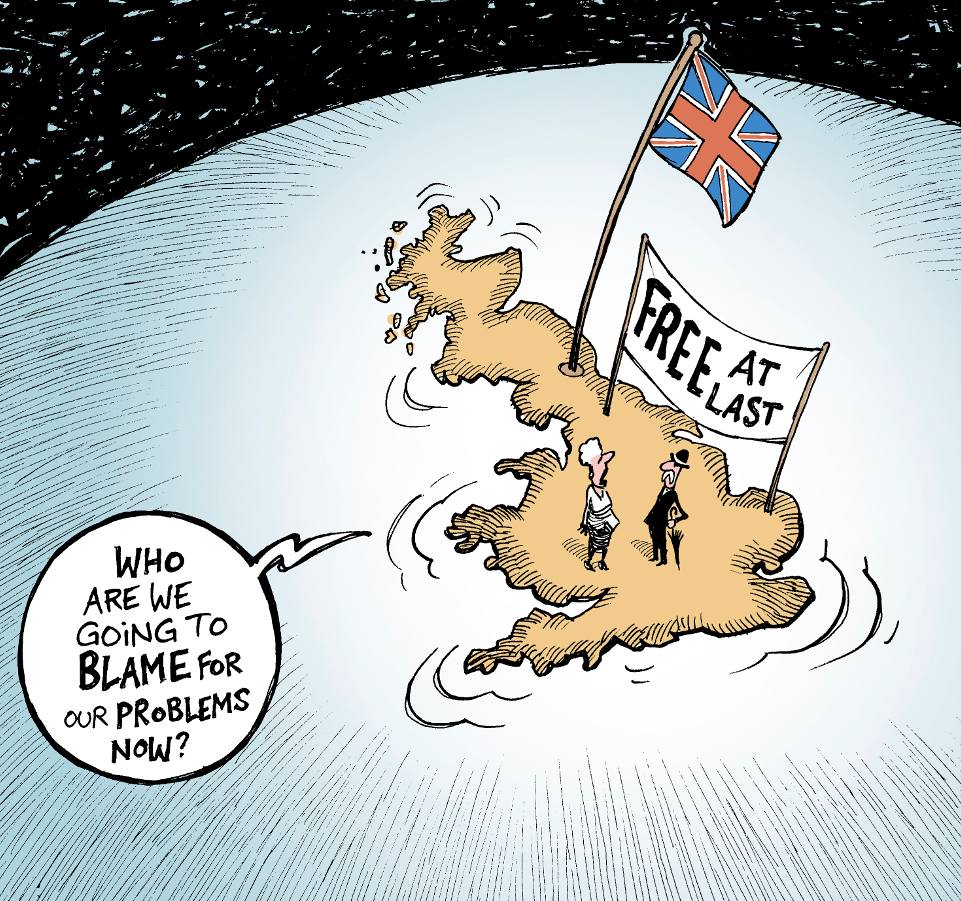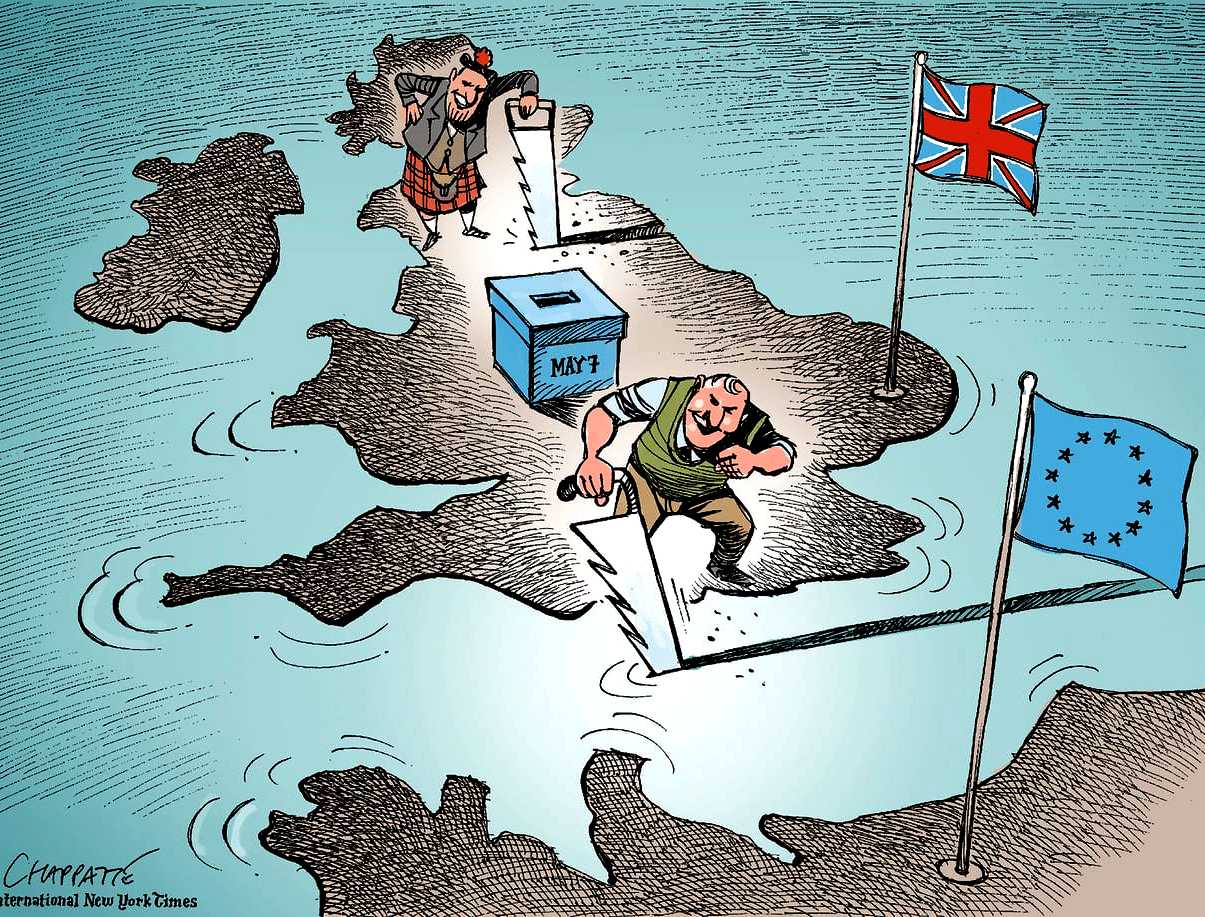 LIFE RAFT: No more gripes about the EU from the UK might be a good thing. It's looking good for Scotland who may decide to remain in the EU and severe ties with the UK. Incredible in a world that is shrinking as technology advances us closer to our neighbours and so becoming more of a global community, that any player would wish to step back into the dark ages. The UK are sending themselves to Coventry, simply because David Cameron threw all his toys out of the pram in earlier negotiations - not realizing that he was opening the UK to die hard nationalists waiting in the wings to fuse immigration issues with sovereignty.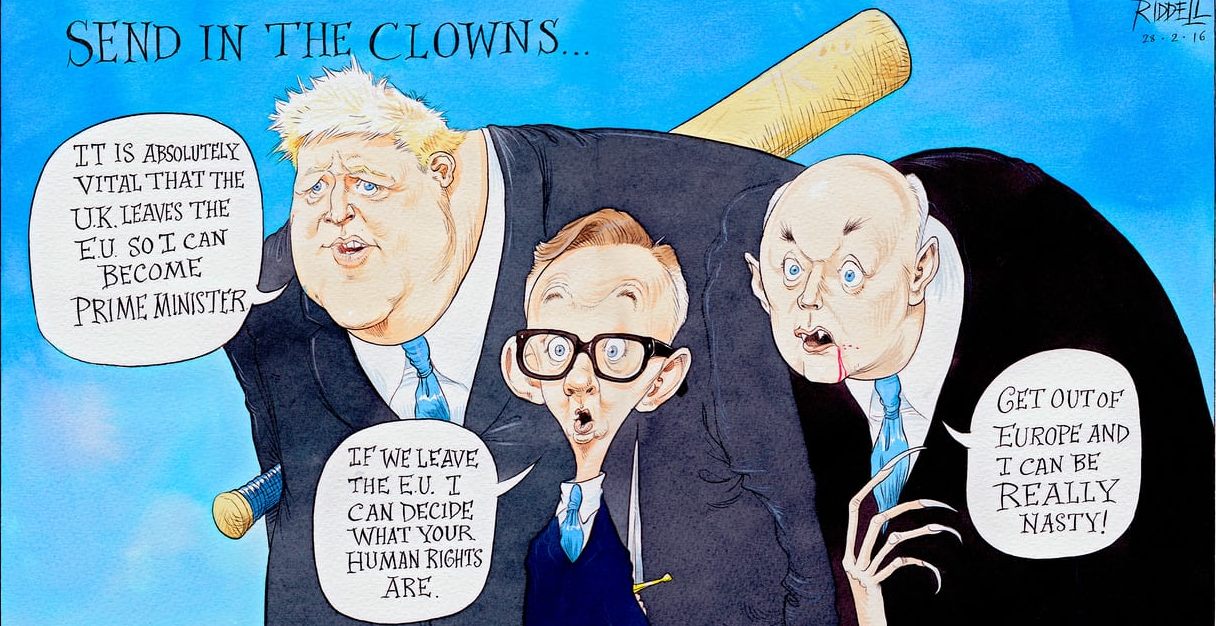 BORIS GOING FOR GOLD: A referendum promised by an insecure leader in an attempt to keep his critics quiet in the run up to the last election, this showdown has been coming for years with anti-human-rights campaigners trying to all but eliminate the inconvenience of every persons basic right to be treated like a human being. Now as the "bastards" who made John Major's life a misery cheer on from their bath chairs, today's rightwing clowns are having their moment in the limelight. Bloodsucking civil servants will be doing all they can to write out as much of the European Convention as they can, knowing full-well that in the end a more civilized society is at the end of the road - where the writing on the wall in sustainability - an invisible intellectual barrier that limits the harm we might invoke on natural resources before that harm comes back to create food shortages and civil unrest. These cartoonists are saying it all.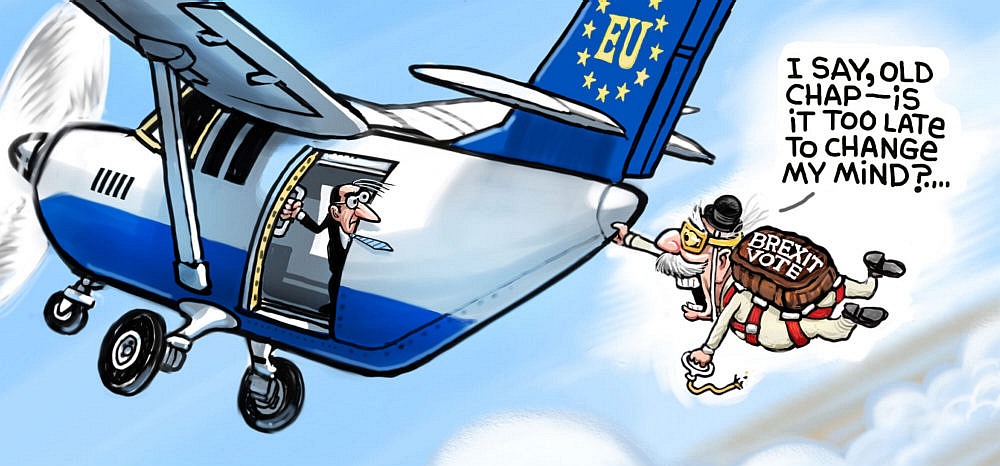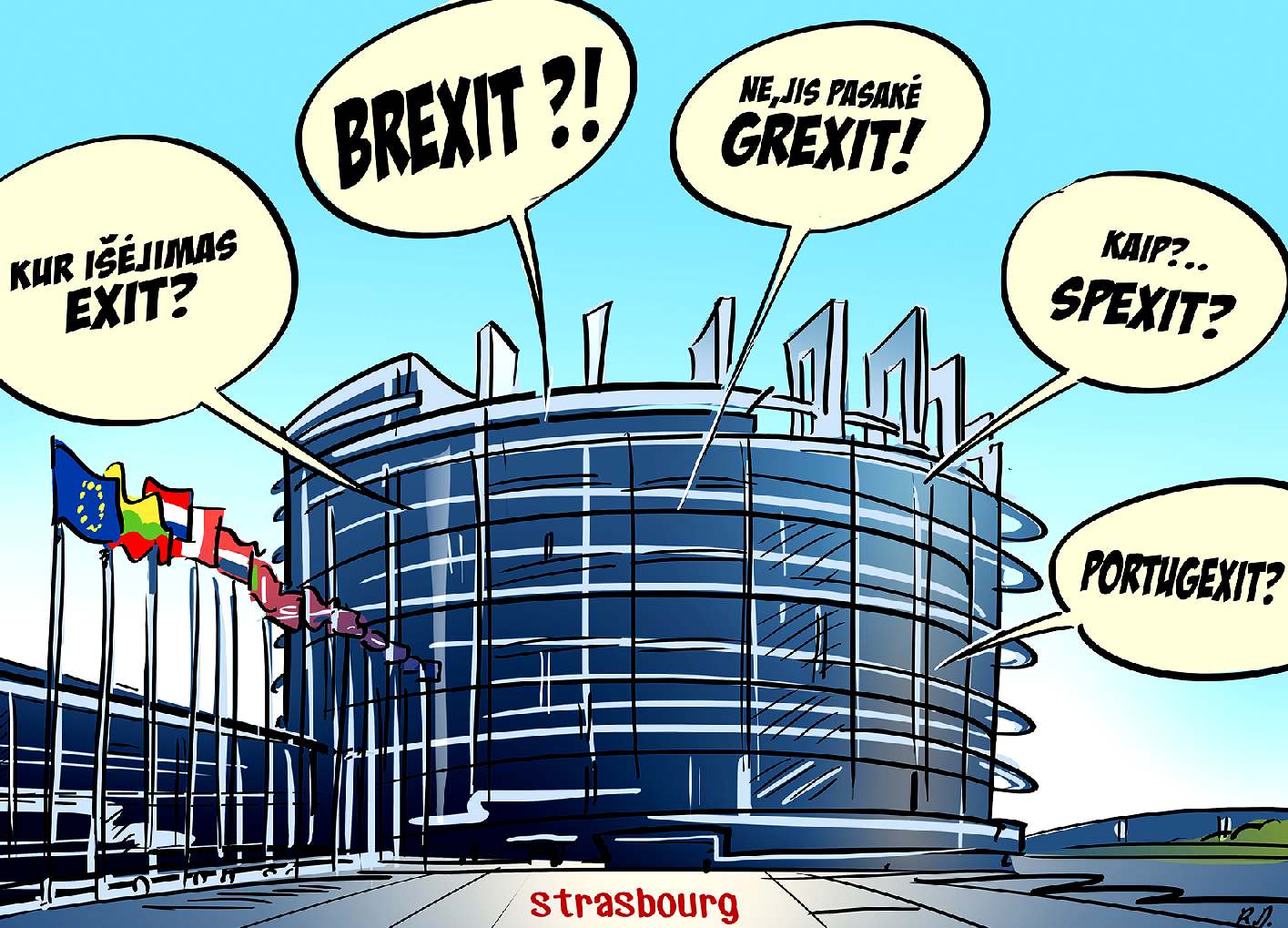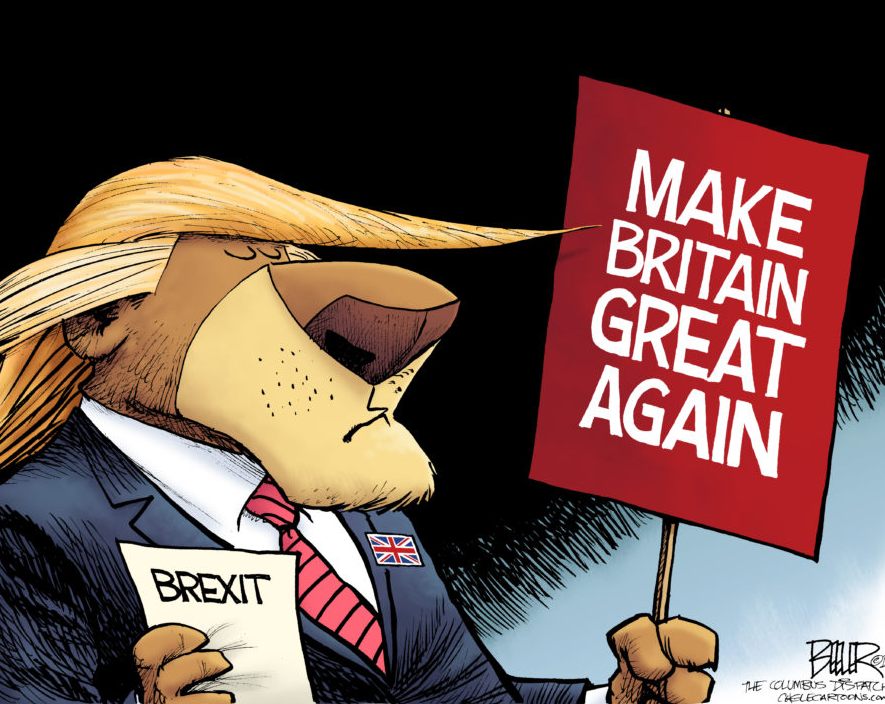 LAUGHTER: The UK referendum has provoked as much debate abroad as at home – and as many laughs, but has not triggered a mass exodus for the obvious reason that being a member of the EU has many advantages.
Many media articles agree that this was a referendum promised by an insecure leader in an attempt to keep his critics quiet in the run up to the last election, this showdown has been coming for years. Now as the "bastards" who made John Major's life a misery cheer on from their bath chairs, today's rightwing clowns are having their moment in the limelight.
CARTOONS
The above collection of cartoons from around the world more or less sums up how the UK is perceived for staging this particular political tantrum. However you may view the situation, one thing at least is that a process of review could be established.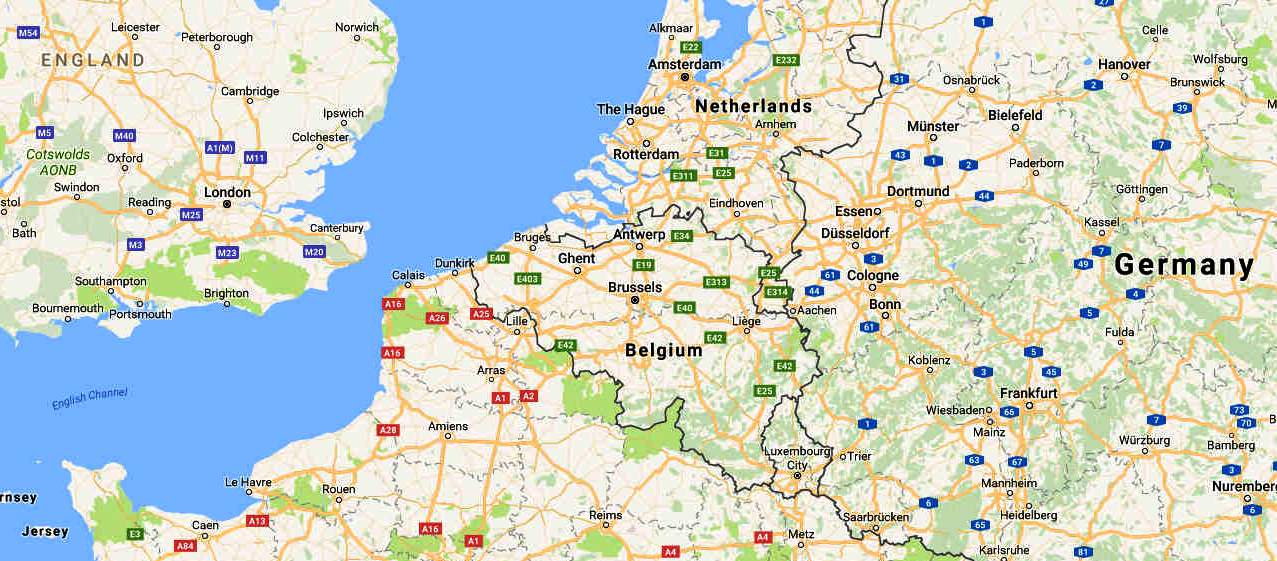 BRUSSELS - The City of Brussels is the largest municipality and historical centre of the Brussels-Capital Region, and the de jure capital of Belgium. Brussels is also home to the European Parliament where any agreements would be signed by the EU.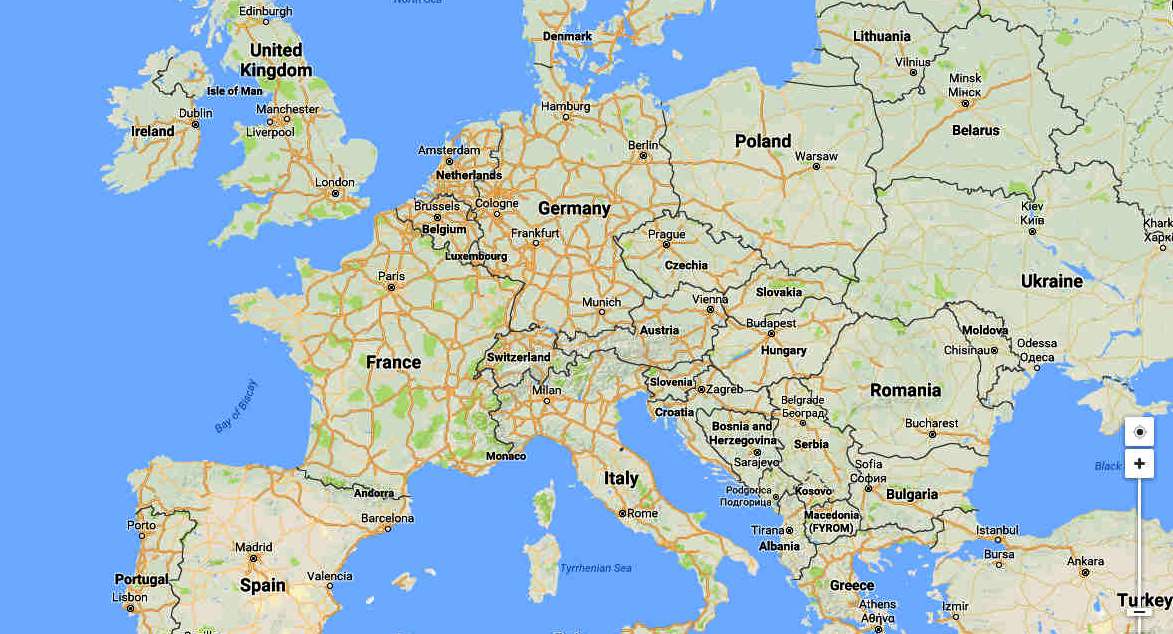 BELGIUM - The Kingdom of Belgium, is a sovereign state in Western Europe bordered by France, the Netherlands, Germany, Luxembourg, and the North Sea. It is a small, densely populated country which covers an area of 30,528 square kilometres (11,787 sq mi) and has a population of about 11 million people. Belgium is home to two main linguistic groups: the Dutch-speaking, mostly Flemish community, which constitutes about 59 percent of the population, and the French-speaking, mostly Walloon population, which comprises about 40 percent of all Belgians. Additionally, there is a small ~1 percent group of German speakers who live in the East Cantons.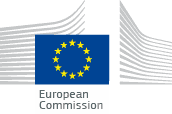 LINKS & REFERENCE
http://www.euronews.com/2017/11/09/brexit-backing-british-town-now-wants-to-keep-free-trade-with-eu
http://www.bbc.co.uk/news/uk-politics-41936428
https://globecartoon.wordpress.com/2016/06/23/after-a-brexit/
https://www.theguardian.com/society/2016/mar/20/brexit-silly-walk-best-political-cartoons-eu-europe-referendum
https://www.politico.eu/interactive/brexit-european-union-referendum-commission-david-cameron-leave-cartoons-draw-brexit-divorce/
http://www.henry4school.fr/UK/history/brexit.htm
https://www.cartoonmovement.com/cartoon/27582
https://www.cartoonmovement.com/cartoon/36728
http://ukcitizenshipsupport.com/uk/brexit-what-will-happen-europeans-living-uk/
http://tbivision.com/news/2016/06/brexit-mean-kids-tv/614042/
http://www.patheos.com/blogs/danpeterson/2016/06/brexit.html
https://en.wikipedia.org/wiki/Brexit
http://www.bbc.co.uk/news/uk-politics-41915195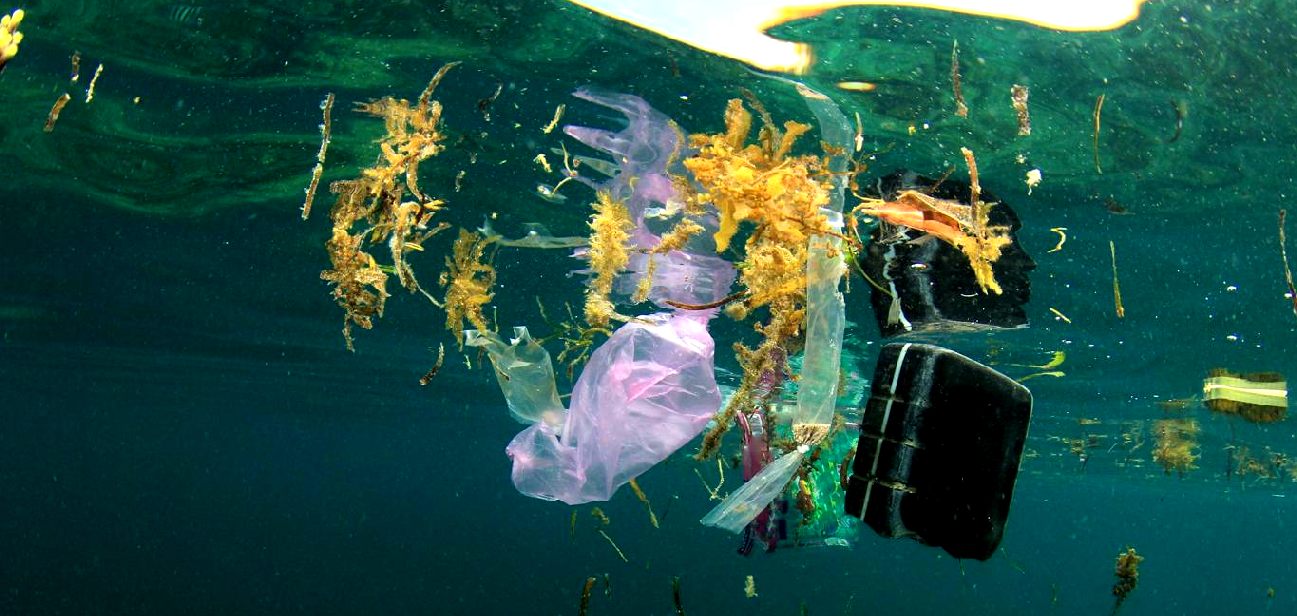 THE OCEAN DOES NOT LIE: Politicians can spin themselves out of almost anything and are ultimately replaced by another spin-doctor who may for a while follow their ideals but will soon become entrenched in political brinkmanship rather than dealing with urgent matters looming and presently out of control such as marine litter.
When you consider the size of the Mediterranean Sea, €14 million euros may not seem like much to be able to tackle the problem of marine litter and this has been the view of the assessors, or rather applications in respect of Horizon 2020 calls have not been funded because of budgetary constraints, though considered to have merit. What is likely to happen as a result of budget shortfalls and the present difficulties over Brexit is that organizations within the UK may decide to relocate their base of operations, or alternatively, look elsewhere for funding or both. This might be simply to extricate themselves from the present quagmire, doing what they can to stay clear of politics.
According to the United Nations Department of Economic and Social Affairs (UN-DESA 2009), the world population is expected to grow from the present 6.8 billion people to about 9 billion by 2050, mostly in developing countries (5.6–7.9 billion). Fisheries around the world provide significant food catches that are dwindling as a result of over-fishing and marine pollution. By tackling marine pollution, the oceans stand a better chance of regeneration, giving fish a healthier environment in which to flourish.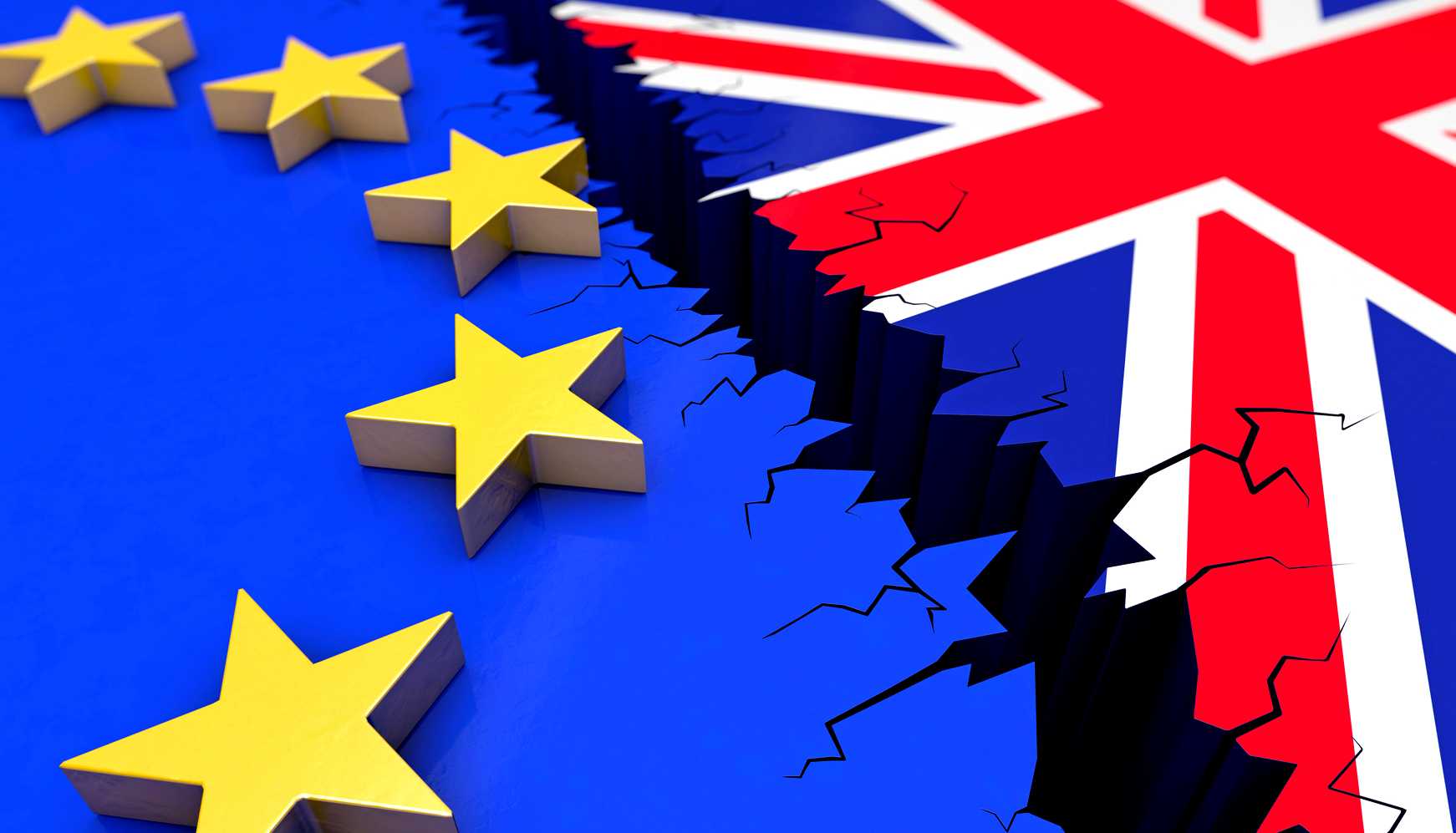 This website is provided on a free basis as a public information service. copyright © Cleaner Oceans Foundation Ltd (COFL) (Company No: 4674774) 2017. Solar Studios, BN271RF, United Kingdom. COFL is a charity without share capital. The names AmphiMax™, RiverVax™ and SeaVax™ are trade names used under license by COF in connection with their 'Feed The World' ocean cleaning sustainability campaign.