COST ESTIMATES
BLUE GROWTH - CIRCUMNAVIGATION - CONTACTS - FOUNDATION - FUNDING - HOME - A-Z INDEX
| | | | |
| --- | --- | --- | --- |
| ITEM | HULL ONLY | IN HOUSE COSTS | SUBCONTRACT BOOST |
| - | - | - | - |
| TOTAL incl 35% contingency | £ 1,277,640.00 | £ 2,231,246.25 | £ 6,977,846.25 |
| | | | |
| Alloy raw materials | £ 38,000.00 | £ 38,000.00 | £ 100,000.00 |
| Laser cutting (water jet or plasma) | £ 5,500 | £ 5,500 | 1* |
| Rolling alloy | £ 5,500 | £ 5,500 | 1* |
| Composite materials | 2* | £ 50,000 | £ 50,000 |
| Moulds | 2* | 2* | 1* |
| Laying up | 2* | 2* | 1* |
| Timber/cabins/divig/glass/living | £ 50,000 | £ 50,000 | £ 50,000 |
| Paints | 2* | 2* | £ 30,000 |
| Painter | 2* | 2* | 1* |
| UAV | 2* | 2* | £ 300,000 |
| Charging pad | 2* | 2* | 1* |
| Hydraulics | 2* | £ 50,000 | £ 150,000 |
| Emergency equipment/diving | 2* | £ 30,000 | £ 30,000 |
| Diving qualification/other temprory | 2* | TBC if req | TBC if req |
| Prop shaft/propellor/reserve motor | 2* | £ 25,000 | £ 25,000 |
| motors for jet drive | 2* | £ 30,000 | £ 30,000 |
| pumps/impellors/jet drive | 2* | £ 20,000 | £ 250,000 |
| Navigation systems/command&control | 2* | 2* | £ 500,000 |
| Instruments | 2* | £ 2,000 | 1* |
| Battery Cartridges | 2* | £ 120,400 | £ 120,400 |
| Controllers | 2* | £ 975 | £ 975 |
| Solar tracking, hydraulics, robotics | 2* | £ 10,000 | £ 300,000 |
| Panels only | £ 22,400 | £ 22,400 | £ 22,400 |
| Welding and Other Tool hire | £ 68,000 | £ 68,000 | £ 30,000 |
| Boat fittings/anchors/windless | 2* | £ 50,000 | £ 50,000 |
| Labour design/details design/ | £ 25,000 | £ 25,000 | £ 500,000 |
| Stressing | £ 30,000 | £ 30,000 | £ 30,000 |
| Premises for vessel | £ 75,000 | £ 75,000 | £ 75,000 |
| Coded welders, 2 for 2 months work | £ 25,000 | £ 25,000 | £ 25,000 |
| Hull fabrication/putting together | 3* | TBC | £ 250,000 |
| Labour testing/sea trials | 2* | TBC | £ 200,000 |
| Overheads/wages | £ 600,000 | £ 600,000 | £ 600,000 |
| Intellectual property - patents | 2* | TBC | £ 300,000 |
| Trademarks | 2* | TBC | £ 50,000 |
| Storage/transfer life support | 2* | £ 100,000 | £ 200,000 |
| Lighting | 2* | TBC | 1* |
| Public relations | 2* | TBC | £ 150,000 |
| Wind turbines | 2* | £ 150,000 | £ 150,000 |
| Boom | 2* | TBC | 1* |
| Furling system | 2* | TBC | 1* |
| Management | 2* | £ 50,000 | £ 500,000 |
| Insurance | £ 2,000 | £ 20,000 | £ 100,000 |
| Contingency @ 35% | £ 331,240 | £ 578,471 | £ 1,809,071 |
| - | - | - | - |
| Build totals | £ 1,277,640 | £ 2,231,246 | £ 6,977,846 |
| - | - | - | - |
| - | KEY | Column1 | $ 8,863,964 |
| - | 1* | included in price above | € 7,735,221 |
| - | 2* | Not required | - |
| - | 3* | done in house | - |
| - | TBC | Price to be confirmed | - |
ESTIMATES 2019 - The above table is not yet complete, but gives a good idea of the project overall budget, not including design and and tank testing, or collaborative research with academia. Such development is likely to add between 2-4 $million dollars + contingency. We do not propose obtaining more definitive quotes for this project unless requested to do so - and please note that such quotation/estimate will be at the expense of the company, person or organization making the application.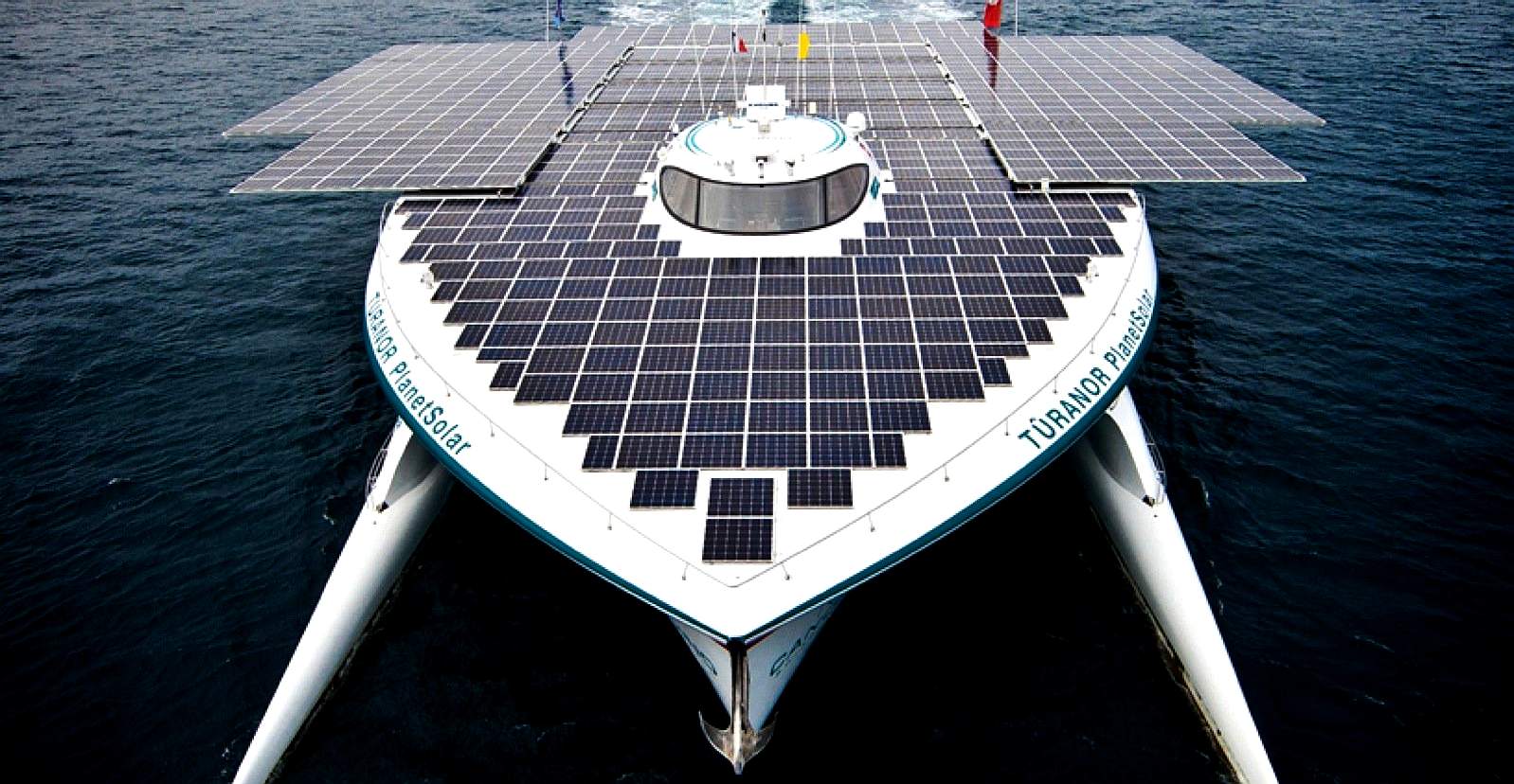 RECORD HOLDER - On the 4th of May 2012, history was made, as Raphael Domjan, at the helm of a giant of a catamaran powered only by solar panels crossed the finishing line at Monaco to become the first electric boat to sail around the world. MS Tūranor PlanetSolar, known under the project name PlanetSolar, was (@ 2018) the largest solar-powered boat in the world. The vessel was launched on the 31st March 2010, also going into the Guinness Book of World Records with a time of 584 days to better by any contender. The project was mostly financed by Immo Stroeher, the owner of the boat.
THE ELIZABETH SWAN - The graceful lines of this beautiful solar powered boat complements the zero carbon cruising ideal that many designers and United Nations planners aspire to under SDG13.
A 1:20th scale test tank model of the Elizabeth Swan is under construction. The development models we will use triple layer, laminated, amorphous cells in combination with polycrystalline (16.5 - 17%) cells to provide 100+ watts of energy for simulated hull speed tests.
The world circumnavigation record is currently held by Planetsolar, a ship that weighs 95 tons and generates 93.5kW from 825 solar panels. When built the Swan's hull will be the largest solar powered boat in the world at 43 meters (140ft). Planetsolar is 113 ft long.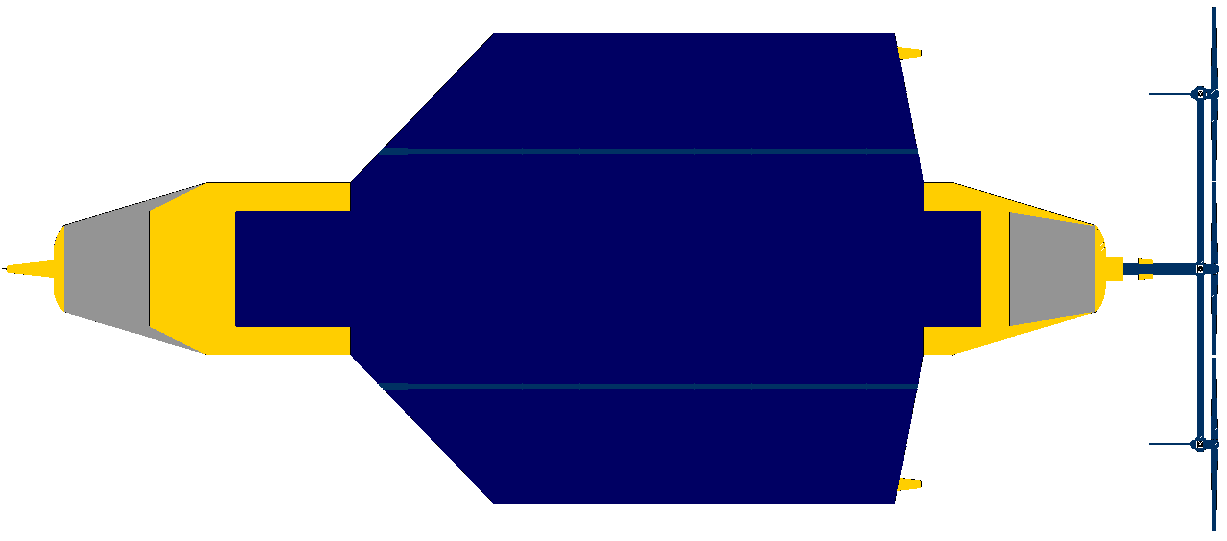 LINKS & REFERENCE
https://www.planetsolar.org/
http://www.guinnessworldrecords.com/world-records/first-circumnavigation-by-solar-powered-boat
This website is provided on a free basis as a public information service. Copyright © Cleaner Oceans Foundation Ltd (COFL) (Company No: 4674774) 2019. Solar Studios, BN271RF, United Kingdom. COFL is a charity without share capital.