THE OCEAN CLEANUP PROJECT
ABOUT - CONTACTS - CROWDFUNDING - DONATE - EDUCATION - FOUNDATION - POLITICS - HOME - A-Z INDEX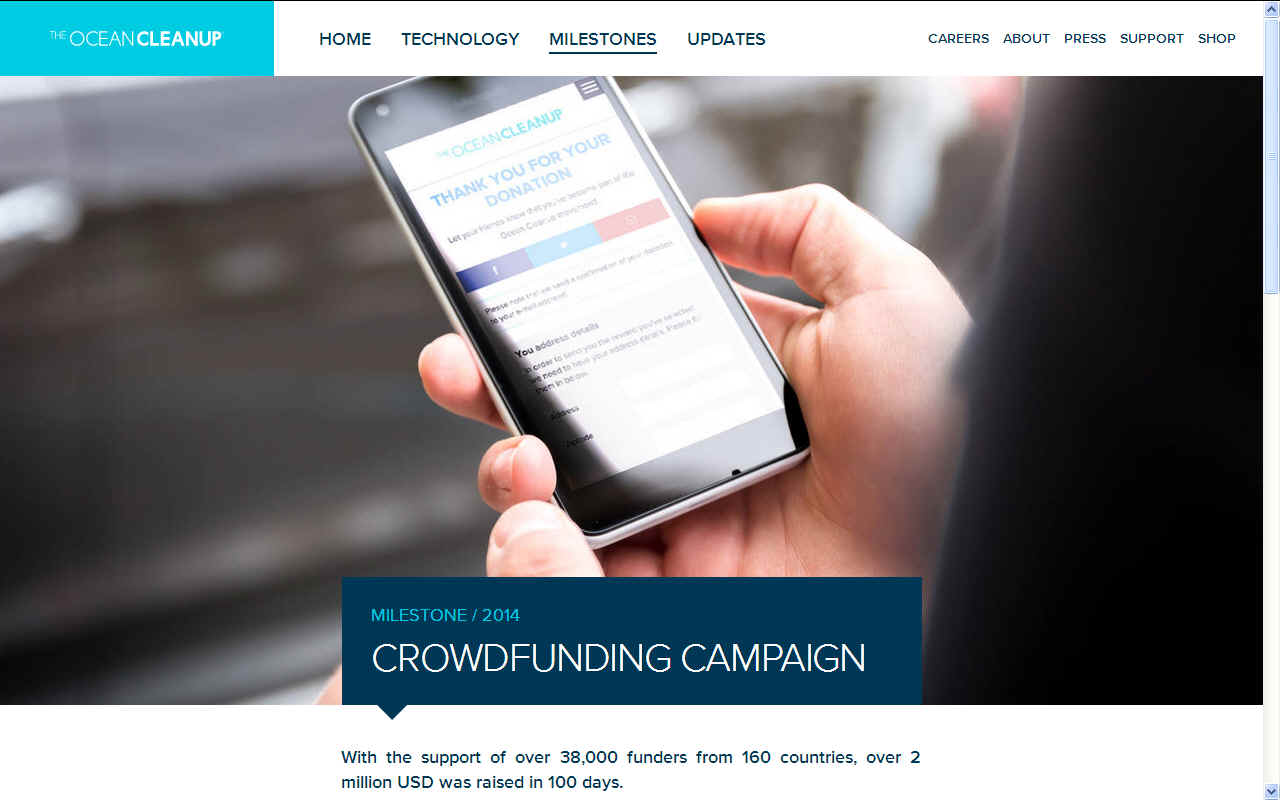 2014 - A crowdfunding campaign kicked the project into touch, netting $2.15 million dollars, with which Boyan Slat and his collaborators were able to expand their horizons. The SeaVax project was also crowd funded from 2016 to 2017, to a lower level, after which the Cleaner Ocean Foundation took over the running of this not for profit social enterprise. There were many loose ends that the Foundation hoped to tie up with Horizon 2020 funding, but that did not happen. Instead, we've been looking at other ways of funding our projects. We cannot afford to put the Foundation at risk as to insolvency, meaning that we have had to proceed more slowly.
According to their website:
"With the support of over 38,000 funders from 160 countries, over 2 million USD was raised in 100 days.

This success brought The Ocean Cleanup one step further in its quest of ridding the oceans of plastics. The money raised helped The Ocean Cleanup initiate the engineering process as well as a series of expeditions. The collected oceanographic data is used by our engineers when designing the cleanup system.

A total of 2,154,282 USD was raised, making it "the most successful non-profit crowdfunding campaign in history" at the time, according to the crowdfunding platform ABN AMRO's SEEDS, who facilitated the campaign.

We are eternally grateful to all of whom supported us worldwide. Thank you to all crowd funders, professional in-kind contributors, as well as the many volunteers and ambassadors who enthusiastically invested their time when The Ocean Cleanup was merely in the concept phase. You gave us the confidence to keep going and without you, we would not have been able to move towards our end goal; cleaning up the oceans."
THE OCEAN CLEANUP HQ
Batavierenstraat 15
4-7th floor
3014 JH Rotterdam
The Netherlands
Foundation name: Stichting The Ocean Cleanup
Chamber of Commerce number (KvK): 57262632
RSIN fiscal number (Dutch tax file number): NL8525.06.429B01

THE OCEAN CLEANUP NORTH PACIFIC FOUNDATION
555 Mission Street
San Francisco, CA 94105
USA

The work of Stichting The Ocean Cleanup is organized into the following legal entities registered in Delft, The Netherlands:

The Ocean Cleanup Technologies B.V. - KvK: 67149308 - RSIN/BSN: NL8568.50.627B01

The Ocean Cleanup Operations B.V. - KvK: 67171656 - RSIN/BSN: NL8568.60.293B01

The Ocean Cleanup Interception - B.V.KvK: 67171842 - RSIN/BSN: NL8568.60.372B01

The Ocean Cleanup Projects B.V. - KvK: 67171699 - RSIN/BSN: NL8568.60.311B01

Note: To maintain their focus on the core mission, they can only welcome visitors by appointment.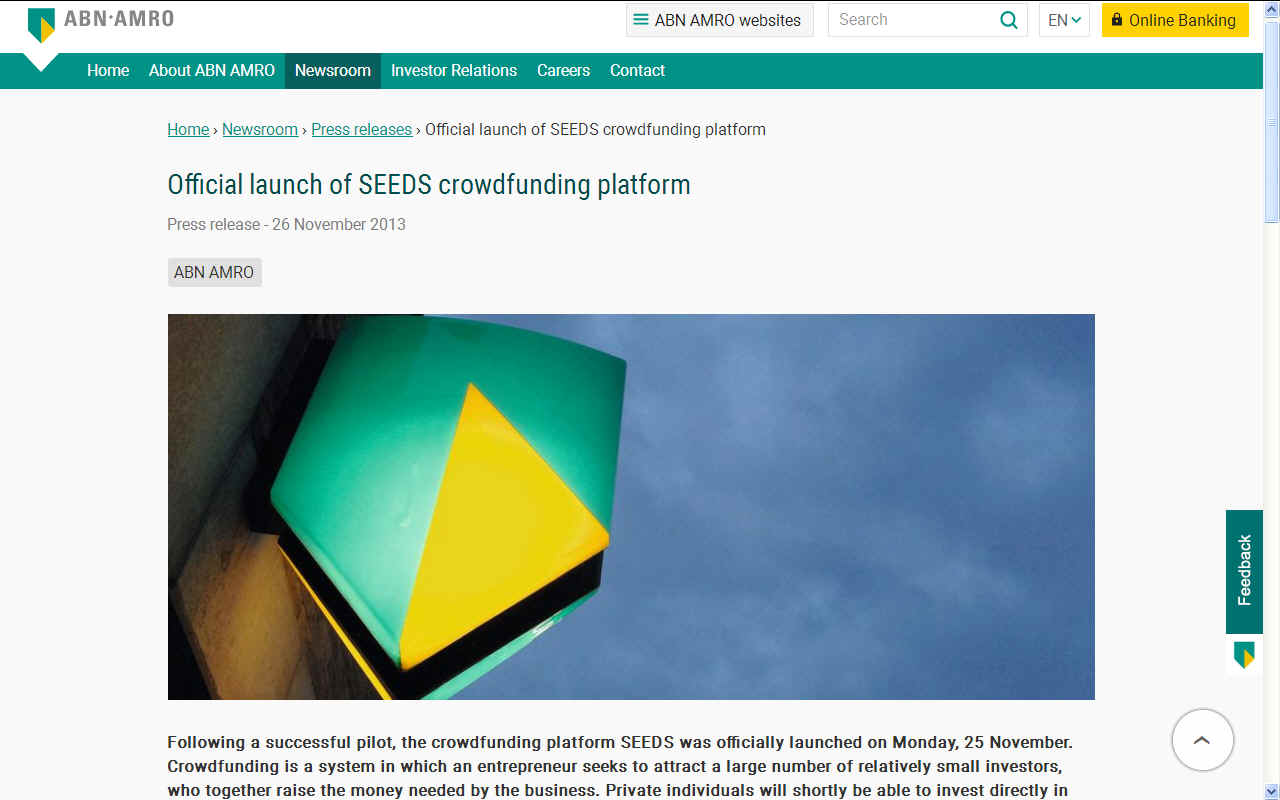 ABOUT ABN-AMRO OFFICIAL LAUNCH SEEDS CROWDFUNDING PLATFORM
Following a successful pilot, the crowdfunding platform SEEDS was officially launched on Monday, 25 November. Crowdfunding is a system in which an entrepreneur seeks to attract a large number of relatively small investors, who together raise the money needed by the business. Private individuals will shortly be able to invest directly in businesses that appeal to them via the website http://www.seeds.nl. Investments start from as little as €10.
Successful pilot

In a pilot carried out in 2012, three businesses were financed via SEEDS. During the pilot, roughly 300 businesses expressed an interest in this form of funding. Partly because of this demand from the market, ABN AMRO decided to formally continue the SEEDS crowdfunding platform.

Crowdfunding as an addition to other funding methods

The bank does not regard crowdfunding as a substitute for more traditional forms of lending, but it can offer a useful alternative in certain cases. With crowdfunding, investors decide for themselves which company they want to invest in. ABN AMRO is using SEEDS to explore ways that different funding instruments might be able to reinforce each other.
Added value of crowdfunding

In addition to raising finance, crowdfunding offers other benefits to both businesses and investors. Crowdfunding enables an entrepreneur to test the market at an early stage to see whether there is a demand for the envisaged new product or service. This also fits in with the business model of start-ups and innovative companies which go to market at an early stage with new initiatives. And investors also often want to invest not just for financial motives, but also because of a commitment to the objectives of the business, for example. These committed investors can also act as a customer panel and as ambassadors for the business.
Risk

Although the amounts involved in crowdfunding are relatively small, investing in companies is and will always be a risky business. Not every company will achieve its goals, and that can mean that the investor receives a lower financial return or even loses their investment entirely.

Set against this risk is a high degree of investor commitment to the business. Investors may be entitled to receive the product or service in which they are investing. And if the business achieves its sales targets, the investors will have a right to a financial return.
Interested businesses

From Monday, 25 November, businesses can register their interest at http://www.seeds.nl. An assessment will then be made of how appropriate crowdfunding is for each registered business/entrepreneur, and how well-founded the business plan is. SEEDS does not express an opinion on the feasibility of the business plan or the quality of the entrepreneurs. With crowdfunding, that judgement is left to the public (the crowd). Investment will be possible from the start of 2014.
CROWD FUNDERS A to Z
LINKS & REFERENCE
http://www.seeds.nl
https://www.abnamro.com/en/newsroom/press-releases/2013/official-launch-of-seeds-crowdfunding-platform.html
https://www.theoceancleanup.com/milestones/crowd-funding-campaign/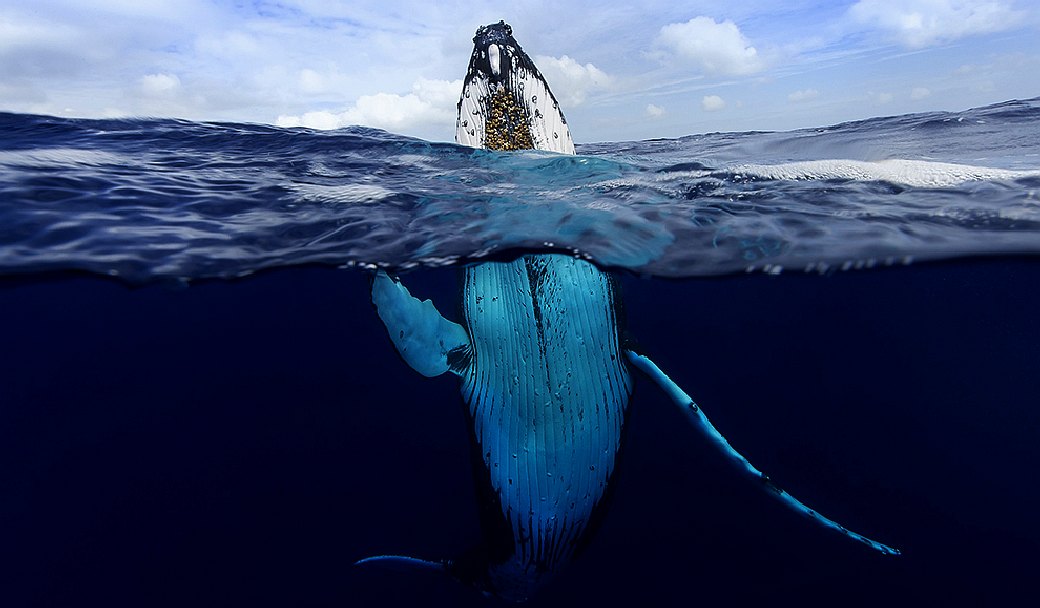 OUT OF SIGHT - We are only human. Humans think about what they see every day. They only infrequently think about problems they never see, and that is only if they hear about an issue on the radio, listening to music, on television, social media or in a movie. What then of the harm we are doing to the oceans of the world as we flush our waste into the deep. Yes, that's right, we've been killing wildlife wholesale and we will keep on doing so unless the message is spread far and wide. People do care. Once they learn about plastic waste and climate change, they respond.
This website is provided on a free basis as a public information service. copyright © Cleaner Oceans Foundation Ltd (COFL) (Company No: 4674774) 2019. Solar Studios, BN271RF, United Kingdom. COFL is a charity without share capital.