SEAVAX - COASTAL TEST RIG
ABOUT - CLIMATE CHANGE - CONTACTS - CROWDFUNDING - DONATE - FOUNDATION - OCEAN CLEANUP - HOME - A-Z INDEX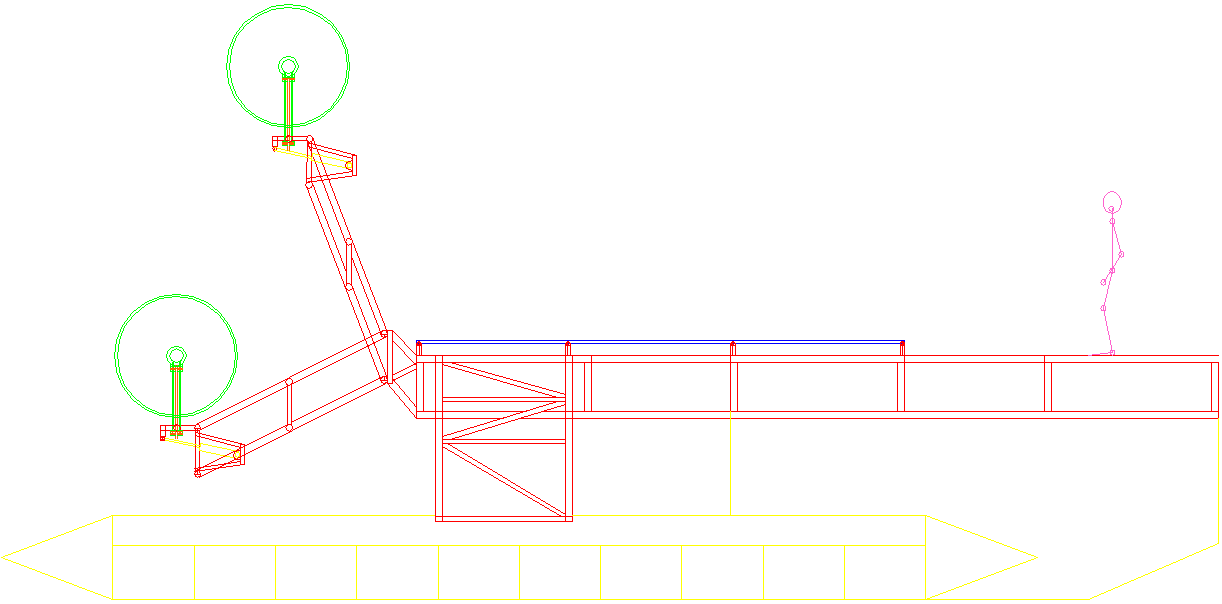 COASTAL CLEANER SIDE VIEW V1 - This is a draft design for a coastal/river experimental rig based on the SeaVax concept. Unlike SeaVax, this low budget development boat will be built of steel, not aluminium, to keep the up front costs down, though long-term use would favour aluminium alloys. As to economics, who might pay for the operations of such a vessel locally remains to be answered. Unlike a dustcart that collects household waste, there is no immediately obvious health hazard from not cleaning the oceans, rather it is out of sight, toxic, cumulative and just as deadly. Copyright © diagrams March 2019. All rights reserved, Cleaner Ocean Foundation Ltd.
We have solar and wind farms giving us reliable clean energy for our homes and factories. These electricity generating facilities are becoming more popular as a way to replace coal power stations that pollute our blue planet and add to climate change, and nuclear power stations that are dangerous radioactive accidents waiting to happen, also polluting the oceans with dumping of spent material as unwanted legacy for future generations. It has to stop.
Solar and Wind energy may be applied to workboats that need to be autonomously energy self-sufficient, though there are a number of technical problems to solve to make them practical, by way of improved performance. This is why our cutting edge research is necessary, to take theory from the drawing board out onto the waves.
PlanetSolar plied the waves in 2012 setting the world's first solar powered circumnavigation record, but perhaps more importantly, proving that solar power can provide clean energy for ocean transport. One way to improve on the power to weight ratio of PlanetSolar is to incorporate wind energy capture. But how do we do that without reducing the energy harvested from solar panels, where the solar panels provide most of the propulsive energy? At certain times of the day and at certain headings, deck fixed wind turbines will shade the solar panels and slow a boat.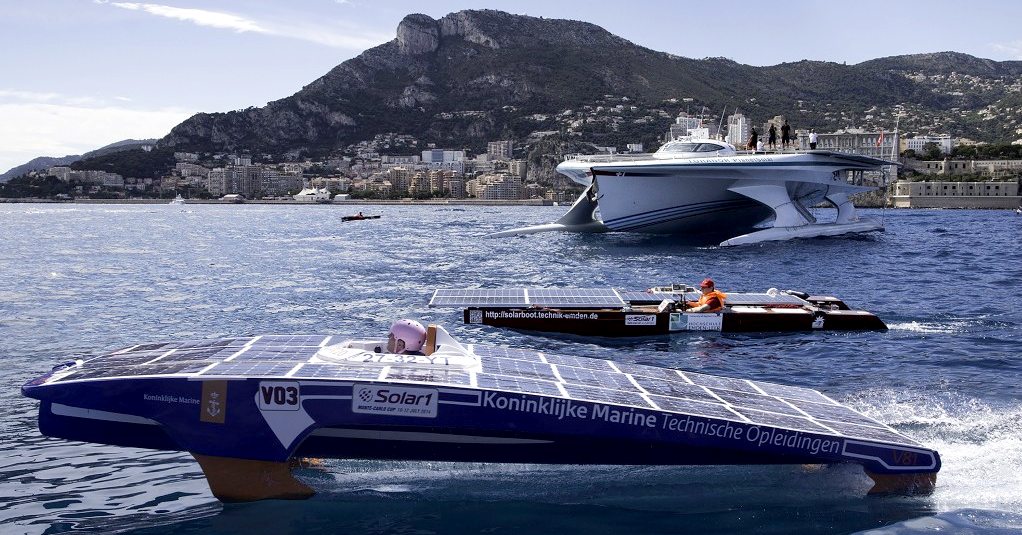 MONACO - PlanetSolar is seen here moored outside Monaco harbour. Solar boat racing is a sport where (mostly) university teams compete with each other to design the fastest craft. This racing is now going offshore, to foster the development of ocean going vessels that may one day translate to cargo ships.
The answer to this conundrum is to have a moveable wind turbine (or turbines) allied to intelligent controls, such as to prevent shading of the primary power source. Such development involves robotic control of any mast and boom. In theory, the additional energy capture from the wind, will enhance the performance of a workboat significantly. Making it worthwhile carrying out this experiment.
EXPERIMENTAL SKIMMER/SAMPLER - On the assumption that our Ford Transit test rig works as expected, we will then be looking to unbolt the experimental wind turbine rig from the Transit and bolt it to a floating platform that at the moment is set to be around 12 meters long as per the above example; draft Version One. This would give us a coastal shore sweeper/skimmer that is zero carbon in operation. Coastal duties would include sampling rivers in the UK, such as the Thames, Medway, Arun, Avon, Exe and Tamar. Though closer to home we might start with the Ouse at Newhaven.
We could have solved a number of the wind turbine raising problems in 2019 with much needed help from Belgian engineer; Lolita D'Ortona. The Cleaner Ocean Foundation considers this to be cornerstone technology in the race to climate change friendly zero carbon shipping - in this case as applied to the SeaVax ocean cleaning machine and other water transports, if we are able to attract the necessary donations to allow us to purchase materials and parts.
Estimate @ 2019 prices rang between £120-150,000 thousand pounds for a no-frills experimental craft. That should get this little beauty onto the English Channel, operating on clean renewable energy, assuming continued help from our volunteers. If you have a budget that might support such a venture, and might be worried about the state of our oceans, we would like to explore potential collaboration with you. The ample deck sides and float space could carry a corporate message to boost a brand that shares our conservation concerns - helping us to forge ahead in uncertain times.
DRAFT COASTAL DESIGN V1 - This design is based on the test rig we are hoping to complete in 2019. The solar panel layout is identical and so is the wind turbine arrangement. The only difference is that we'll be doubling up with 4 wind turbines and 24 solar panels to give us 5,200 watts incoming energy for each hour of peak generation. This rig will feed eight 110 AH deep cycle (lead-acid) leisure batteries to begin with, but we may change to lithium technology as and when funding allows, since this rig may be the subject of further testing and development for the full size SeaVax prototype. The point here being to provide the basic vessel onto which cleaning experiments might proceed. To date this design has been funded entirely by our trustees and volunteers. Copyright © diagrams March 2019. All rights reserved, Cleaner Ocean Foundation Ltd.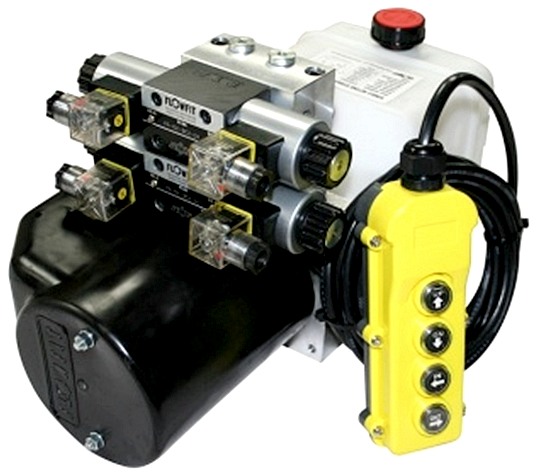 HYDRAULICS - 12V DC Double Acting, Double Solenoid Hydraulic Power Pack designed to operate two double acting cylinders independently on a variety of applications, complete with four button pendent on a 4 meter lead. This unit combines a 2.1cc/rev gear pump with a 1.6kw electric motor with relays and plastic motor cover. There are 4.5, 8.0, 11 or 13 Litre reservoirs with a drain plug. The reservoir feeds via a suction strainer, return oil conveyor and filler breather.

Designed for horizontal mounting, the maximum working pressure is 200 bar with a relief valve set at 160 bar, adjustable from 40-200 bar. The maximum flow rate is 5 litres/minute, with a relief valve. The port size is 3/8" BSP

Such pumps require a high capacity battery and suitable in-line fuse. The motor is designed for intermittent use (S3) which is defined as a sequence of identical cycles of 10 minute duration. The cycle comprises a period of on-load (td) operation in which the motor may reach its maximum permitted temperature, followed by an off-load (tm) of time, sufficient for the motor to return to ambient temperature.
COASTAL SERVICES - The big question is that if and when such ocean cleaning vessels are available to purchase, who might buy and operate such machines or who might offer such services to local authorities. Would local authorities be willing to pay and how might they fund such services?
With dustcarts and refuse bin emptying, the local authority raises funds via Council Tax. The service is necessary for good hygiene and to prevent diseases. It would be hard to build a case for river sampling and cleaning, where the local population might agree to a rate hike, where council taxes are already crippling to some. They might reasonably argue that the problem is more for central government, and our government might reasonably argue that the shores of other governments are sources of pollution for our beaches, meaning that the problem is international in scale. Hence the need for a World Ocean Action Plan - and that means international funding - with an agreement that funds should be made available to foster appropriate technology. Obvious though this may seem, the powers that be continue to fiddle while Rome burns in practical terms, leaving us out in the cold funding wise. We are thought grateful to the G7 for their efforts to slow plastic getting into the sea.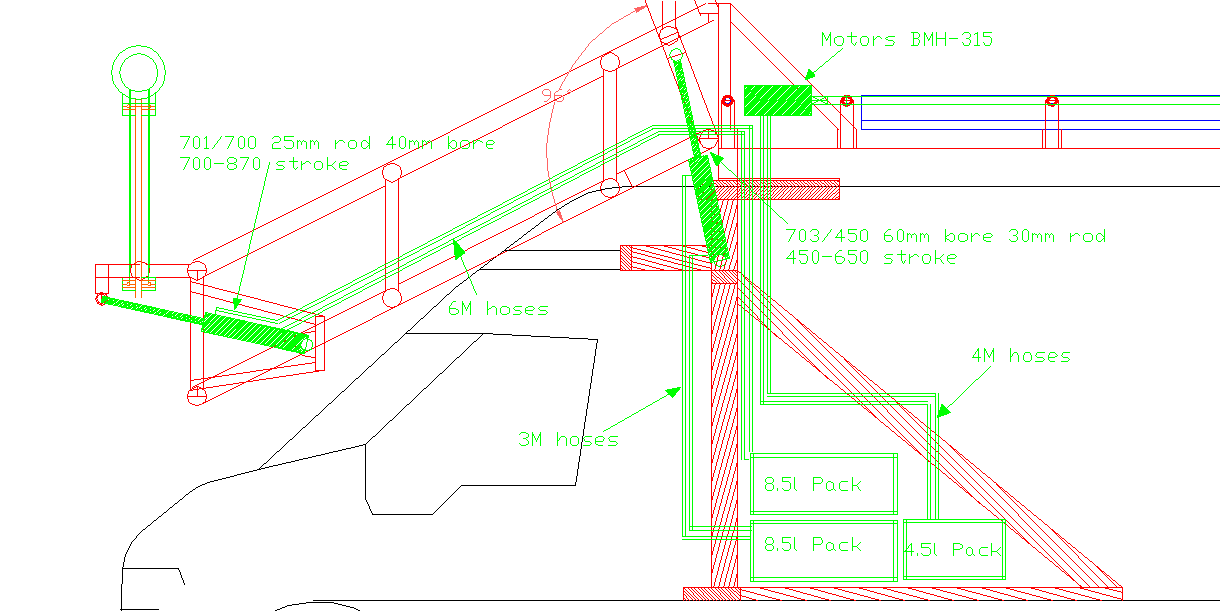 HYDRAULICS - The experimental rig is designed to use three double valve/solenoid dc power packs to supply four double acting rams and two revolving motors. The rams are to move the mast and tilt mechanism, operating in balanced pairs, while the motors are to turn two solar panel arrays to be able to track the sun.

DECK STACK - The picture above shows how the solar panel arrays fold over one another for safety during storm conditions. This mechanism is also hydraulically powered, working in combination with the wind turbine mast to maximize energy harvesting from nature, while remaining safe in operation in all weathers. Copyright diagram © 27-04-19 Cleaner Ocean Foundation Ltd, all rights reserved.
OPERATIONS - Assuming that there was some kind of income to pay for servicing, such operations could be undertaken by volunteers, such as with beach cleaning, but who would pay for the machines and where would they be berthed or beach-parked when not in use or when being serviced, and who would pay for the servicing?
The Lifeboat service is funded by charitable donations. Although we are a not-for-profit company, we are not a registered charity - and according to the Commission, we are not registrable because we are developing the SeaVax. Confusing, you might agree where the concept in any guise is to benefit mankind.
At the present time questions as to who pays, do not need to be answered. We are hopeful that cooperation during the development phases of SeaVax might be offered by south coast councils, where there is now a general mood to tackle ocean waste. Cooperation from councils would be providing beach space rather than money.
There are 5 swirling ocean garbage patches to consider called gyres:
SeaVax as a fully developed system is designed to clean up marine litter in these gyres. A modified version is ideal as a river cleaner.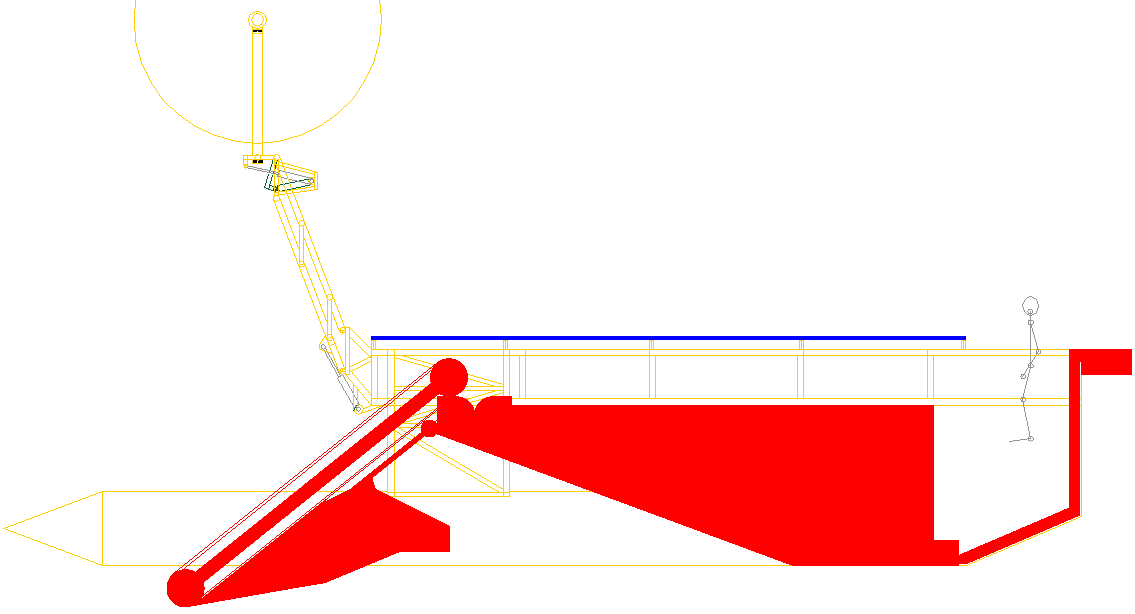 PATENT PENDING - The filtration module, cargo hold and offloading mechanism is shown in red in outline form in the above diagram. The system consists of several integrated components, incorporating motors, pumps, hydraulics, electronics and computer programs - all to be powered by energy from nature - if we are to avoid more greenhouse gas emissions. You can see from the level of integration that such a system would not lend itself to a bolt-on item for existing vessels. Patent protection is being secured where funding as a not for profit may prove impossible to achieve, but where if the stakeholders agree to pay for territorial recovery, a business plan may be prepared for venture capital funding. Copyright © diagram Cleaner Ocean Foundation. All rights reserved.
DRAFT COASTAL DESIGN V2 - These diagrams show a single 1.5kW wind turbine mast, an experiment that is planned for 2020 funding dependent. This version uses 36 solar panels to give 6.9kW (9.25hp) per hour energy harvesting in sunlight. It is worth noting that a small craft like this offers only one eighth the efficiency of the full size SeaVax and larger RiverVax.
This vessel would have a 10 to 15kW/hr reserve using low cost low-tech batteries. Hence, is only suitable for river and coastal work. A higher specification would be needed for serious river cleaning, moving from low cost polycrystaline to more expensive monocrystaline solar panels.
We would like to run a series of tests to determine what format works best in a range of conditions. Ultimately, the vast oceans are the final experiment. It will help us to refine the formula for an international cleaning plan to have data from running coastal trials. Copyright © diagrams 28 March 2019. All rights reserved, Cleaner Ocean Foundation Ltd.
LOBBYING - We will be asking MPs how they might see such a service being funded in 2020.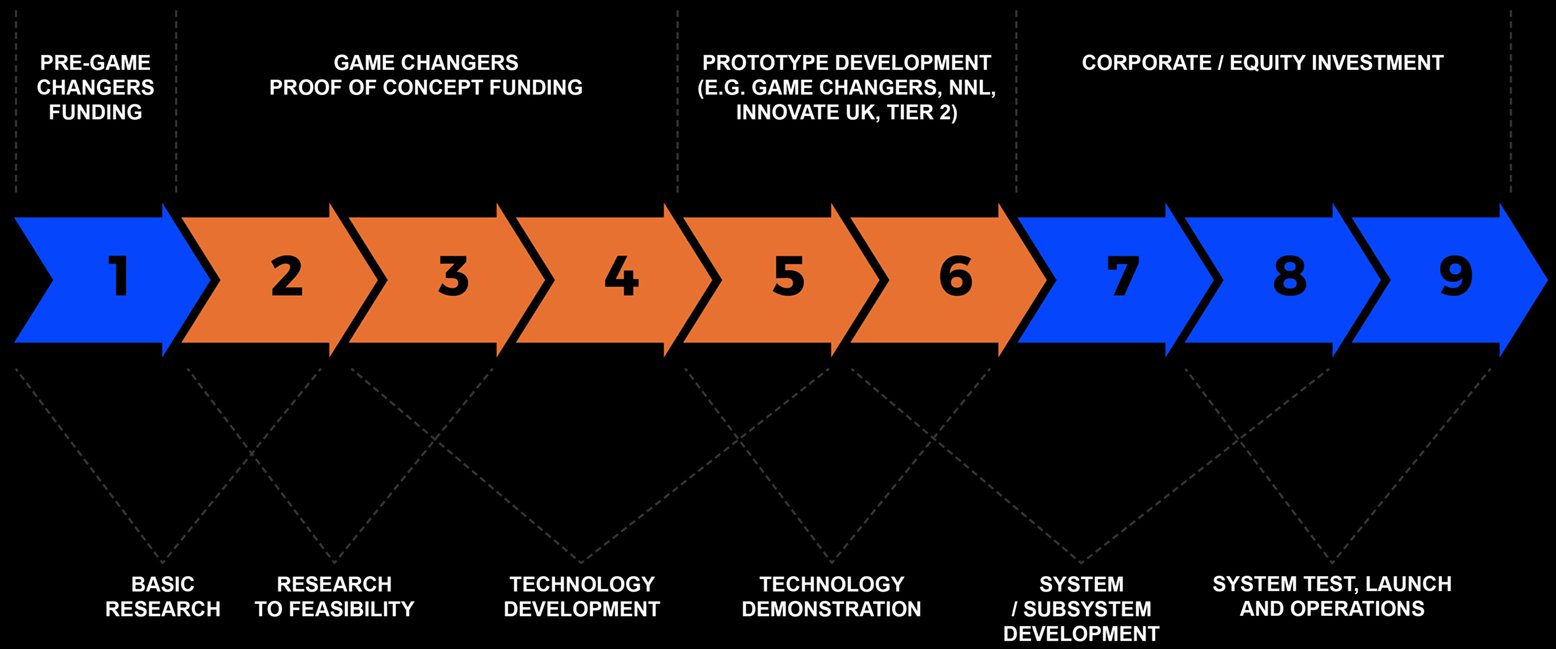 TRL 1 - TRL 2 - TRL 3 - TRL 4 - TRL 5 - TRL 6 - TRL 7 - TRL 8 - TRL 9 - TRL 10
TRL SCALE - The TRL scale is a metric for describing the maturity of a technology. The acronym stands for Technology Readiness Level. The scale consists of 9 levels. Each level characterises the progress in the development of a technology, from the idea (level 1) to the full deployment of the product in the marketplace after level 9.
.
LINKS & REFERENCE
https://www.soci.org/events/scirsc-plastics-from-cradle-to-grave-and-resurrection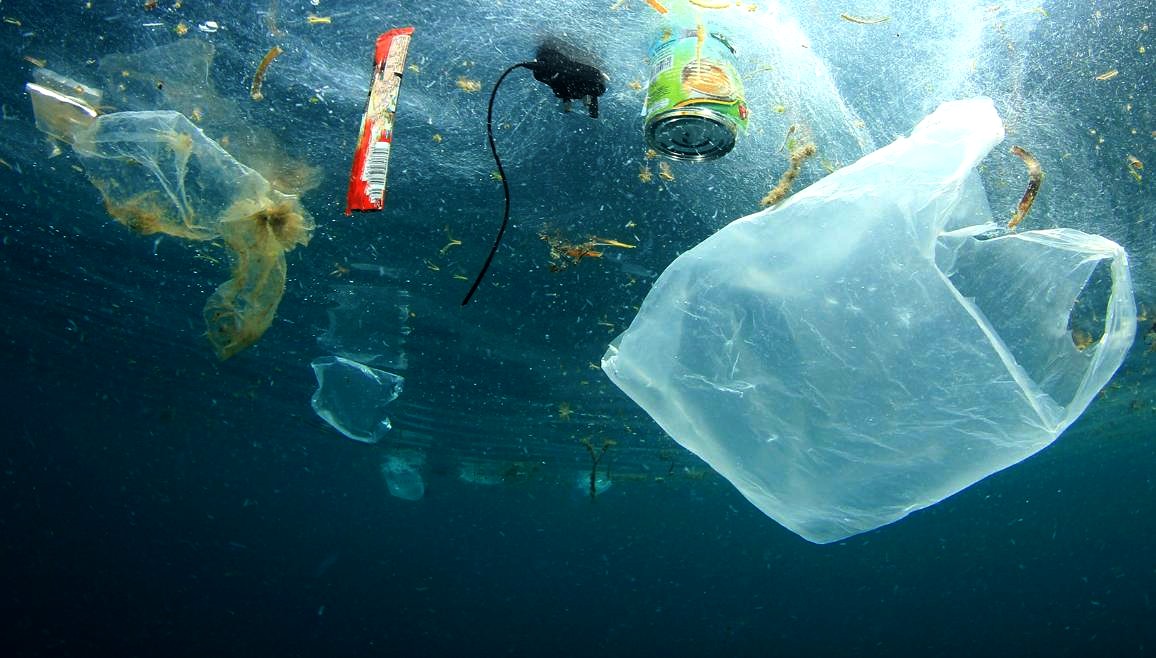 MARINE POLLUTION - This is what is beneath the waves where the human eye cannot detect the mayhem their single use habits are inflicting on marine life that is at the mercy of human activity. Humans are for the most part unaware of the harm their fast-lane lifestyles are causing. We aim to change that by doing all we can to promote ocean literacy to help reduce our plastic, food and carbon footprints.
This website is provided on a free basis as a public information service. Copyright © Cleaner Oceans Foundation Ltd (COFL) (Company No: 4674774) 2019. Solar Studios, BN271RF, United Kingdom. COFL is a charity without share capital. The names Amphimax™ RiverVax™ and SeaVax™ are trademarks.