SOLAR BOAT CHALLENGE
BLUE GROWTH - CIRCUMNAVIGATION - CONTACTS - DONATE - FOUNDATION - FUNDING - HOME - A-Z INDEX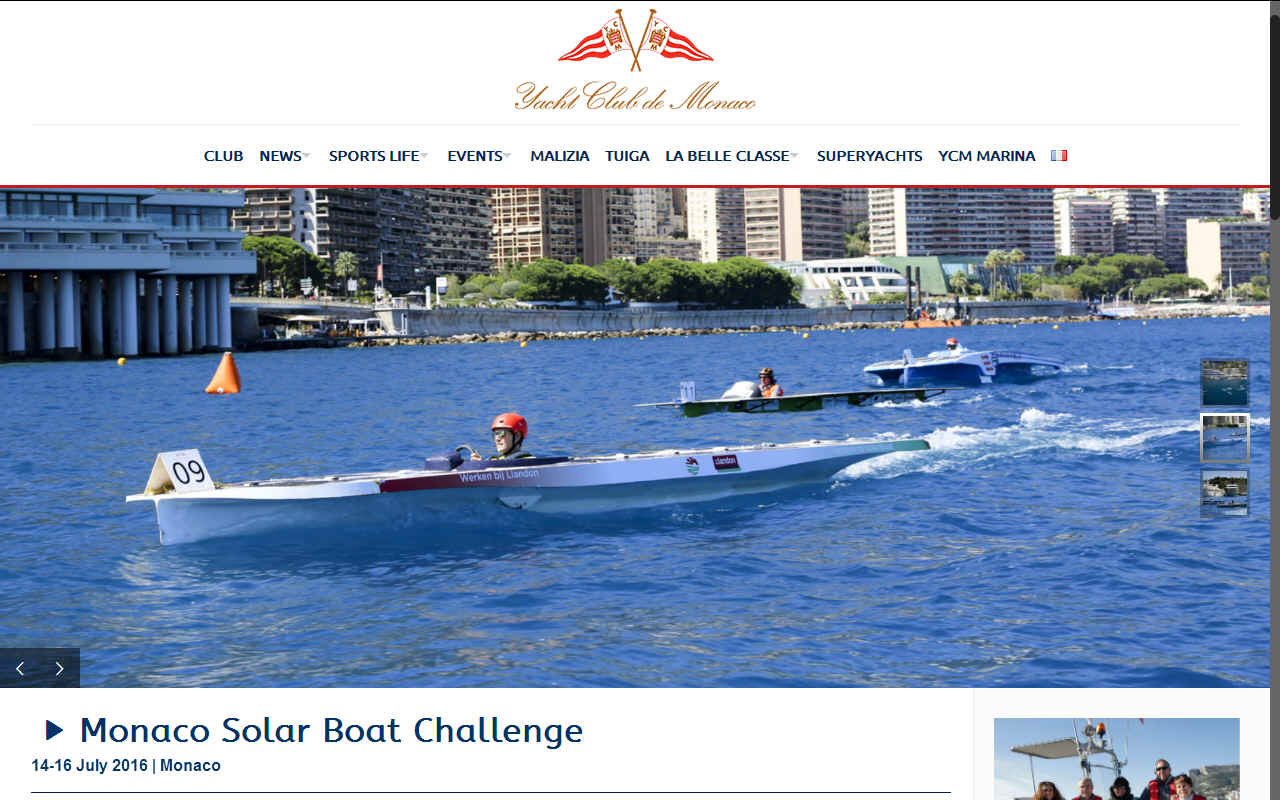 MONACO - The yacht harbour at Monaco is an ideal location for fast electric boats powered by the sun. For over a century Monaco has been a pioneer in powerboating.
In 1904, Monaco was already organising the first powerboat meetings. The world's industrialists came from all over the world to Monaco to present their latest developments in combustion engine technology. Port Hercule and its bay are now the stage for an unusual spectacle with the Monaco Solar Boat Challenge for vessels powered only by the sun.
These cutting edge boats are designed and driven by international university students incorporating revolutionary ideas with existing technology in the quest for a future where environmental protection and innovation will become inseparable.
Organized by the Yacht Club de Monaco, this meeting is very much in line with the Principality's desire to pursue a commitment it holds dear: to prepare today for a better tomorrow. Teams who do not have a solar-powered machine have the opportunity to assemble one from scratch (supplied in kit form by Vripack) before the event to compete in the different races. Now that is what we call a challenge! The younger generation have the chance to give birth to promising projects supported in this way.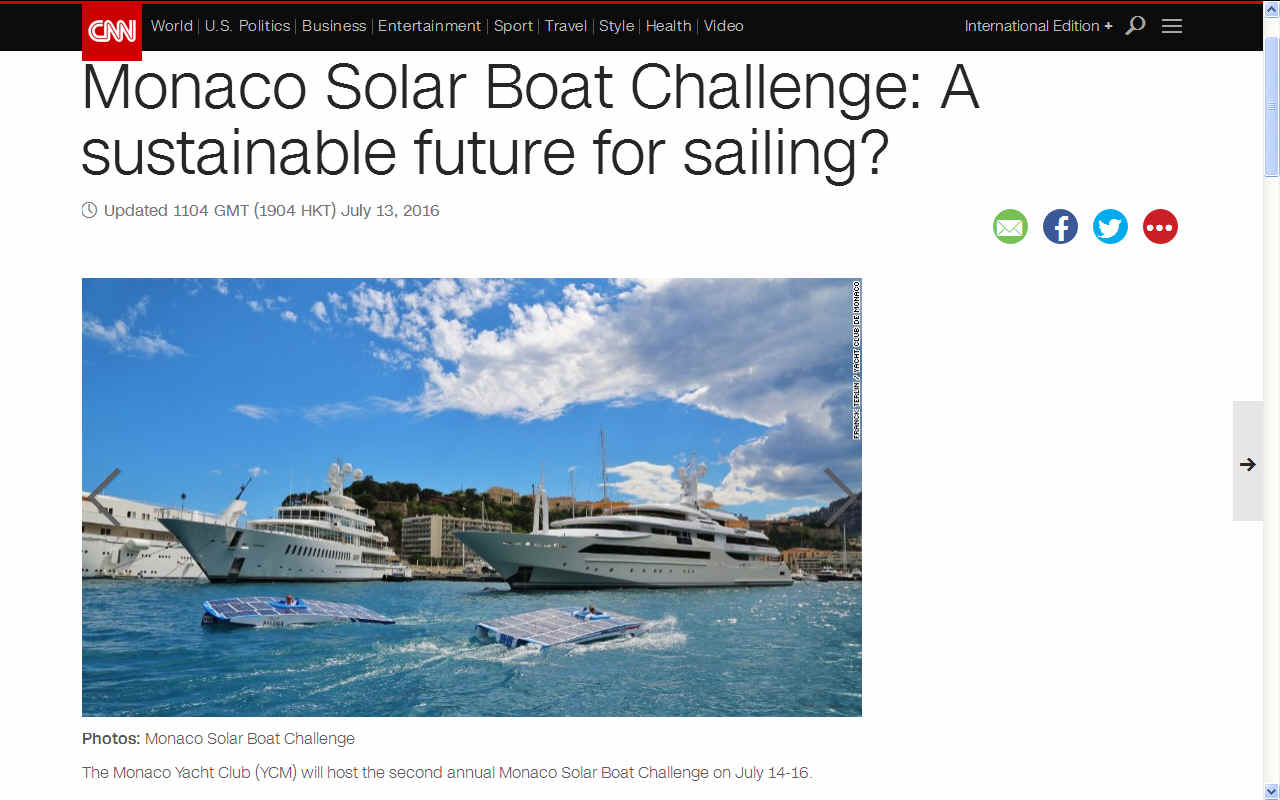 MONACO - The Solar Boat Challenge is aimed at young engineers who might then go on to develop sustainable commercial vessels.
CNN JULY 13 2016 - MONACO SOLAR BOAT CHALLENGE

It's an event that organizers hope will make environmental waves. From July 14 to 16, The Monaco Solar Boat Challenge, organized by the Monaco Yacht Club (YCM) and supported by the International Union of Powerboating, seeks to steer a path towards a more sustainable sailing future.

The event pits some of the world's most innovative sailors against each other as they compete to register the highest speed in hand-built boats powered solely by solar panels.
"Today it was really raining like hell, but we still pushed the boat to limit - we managed a top speed of 52.4 km/h (32.5 mph)," Gerard van der Schaar, the 2015 winner, is quoted as saying to CNN after a day of practice.

The annual improvements are impressive, too. Van der Schaar's 2016 practice time already marks an increase of almost 10 km/h (6 mph) on the speed that saw him set the benchmark for the International YCM Speed Record for Solar Boats in 2015 -- clocking a speed of 23.9 knots (44.4 km/h) over a set course of one eighth of a nautical mile.

But the Dutchman believes the boats have far from reached their limit and is confident the technology can continue to break records in the future.
"In 2006, when we had the first Solar Boat Race, the top speeds were 15 km/h," van der Schaar recalls. "First we thought if we get it to 50 km/h then that's a good mark, today we passed that. I think in the future we will go to 55, 56 and maybe even 60 km/h."

However, this advanced technology doesn't come cheap and if you would like to take part in next year's edition, then be prepared to part with up to €150,000 ($165,000). And while the competitive racing provides great entertainment for those watching, the main objective to is create sustainable sailing for the future and eliminate the carbon footprint left by luxurious mega-yachts - marine diesel contributes around 20 pounds of CO2 per gallon, according to conservation group, Sailors for the Sea.

The principality - whose Port Hercules is routinely packed with super yachts - has led the way in sailing innovation. The first powerboat meeting - organized by Prince Albert I, an experienced sailor himself - was held alongside royal yachts more than a century ago.

Although the objectives of technological advancements may have shifted, "the desire to embrace innovation has not," the YCM said in a statement.

It's a sentiment echoed by van der Schaar who believes the technology to make sailing greener is approaching faster than people might think.

"It is actually quite close," he explained. "My company supplies e-batteries for super yachts and, especially in Monaco and Italy, we are pushing this technology further."
"We have contacts with a lot of large boats who want to have a chip or full electric. Hybrid is really upcoming because if you have a super yacht, you also want to have a silent mode for eight hours, so you can go swimming without the diesel oil in the sea."

"We see that people want large batteries to achieve this. It's still not 100% green but the transition to being more electric is coming."
Focusing on this week's competitive action, van der Schaar is confident of ruling the waves in his green machine once again.
"Yes, our boat is in good condition (to win)," he says. "But, I must say, we are now also in close combat with another team. Normally we have a bigger difference, but now it is very close. "So in Monaco it will be really exciting."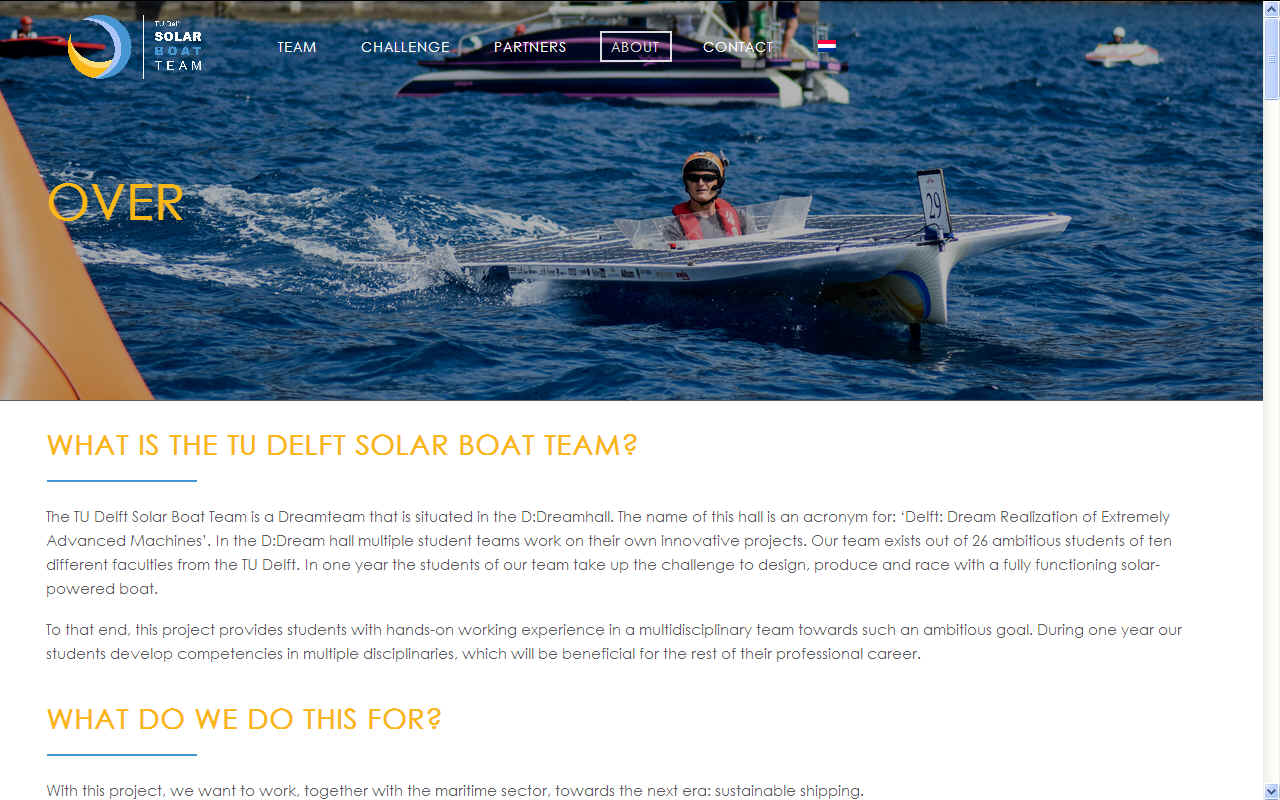 TU DELFT - The winners of the July 2019 offshore boat races was TU Delft, in a boat that sometimes reached 35kph.
The TU Delft Solar Boat Team is a Dreamteam that is situated in the D:Dreamhall. The name of this hall is an acronym for: 'Delft: Dream Realization of Extremely Advanced Machines'. In the D:Dream hall multiple student teams work on their own innovative projects. Our team exists out of 26 ambitious students of ten different faculties from the TU Delft. In one year the students of our team take up the challenge to design, produce and race with a fully functioning solar-powered boat.

To that end, this project provides students with hands-on working experience in a multidisciplinary team towards such an ambitious goal. During one year our students develop competencies in multiple disciplinaries, which will be beneficial for the rest of their professional career. In between July and August of 2019, the Delft Solar Boat Team are aiming to tackle the English Channel to see if they can break the record. Their team comprises 26 students and 89 partners, including the Damen Shipyards Group.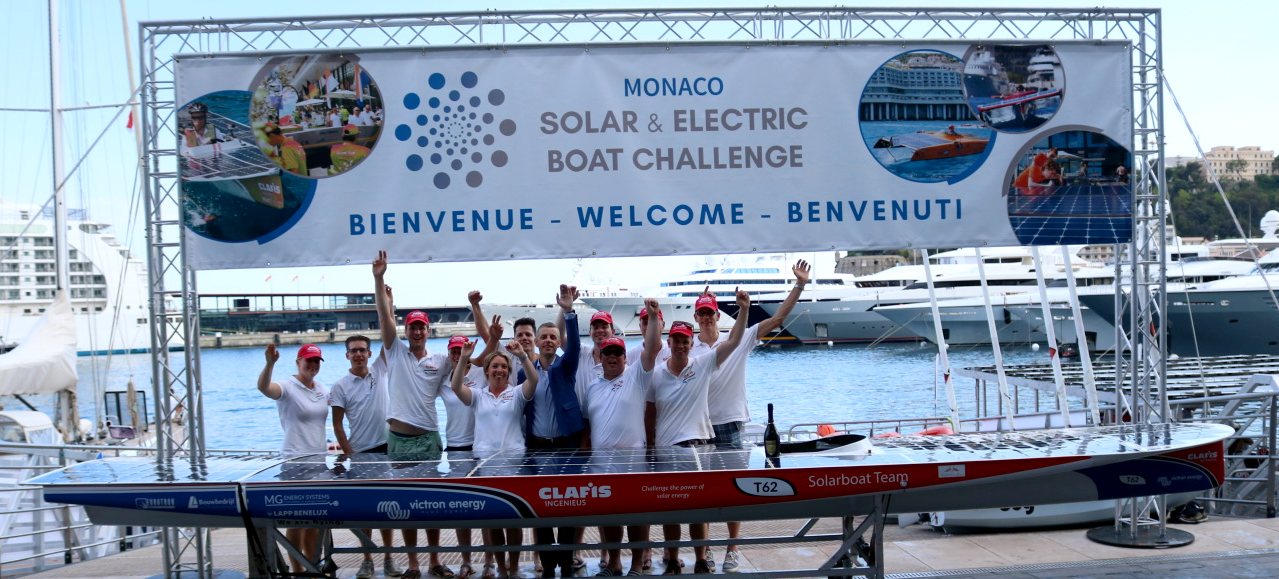 CLAFIS - The CLAFIS Victron Energy solar boat team returned to the water with their updated 2017 boat Furia III in the hope of continuing their winning ways.

The Eneco Solar Boat Race NK 2017 was held over two match day races. On Friday, May 26th, the Endurance race distance was 52km and on Saturday it was the 'round Akkrum' race, completing as many laps as possible in a given time. For the last element of the competition it was a sprint race which ended as it did in 2016 at the 'De Kolk' railway bridge in Akkrum. Taking these three different race elements into account they were then 'weighted', with all of them being counted toward the overall final result.

There are a number of race classes, the A class and the top class – a photo of the top class boat which you can see in the picture above, which in this instance is the Victron sponsored Furia III piloted by Gerard van der Schaar. An additional class, which debuted in 2016, is the Young Solar class where teams are aged between 14 and 17 years old, racing with their homemade boats.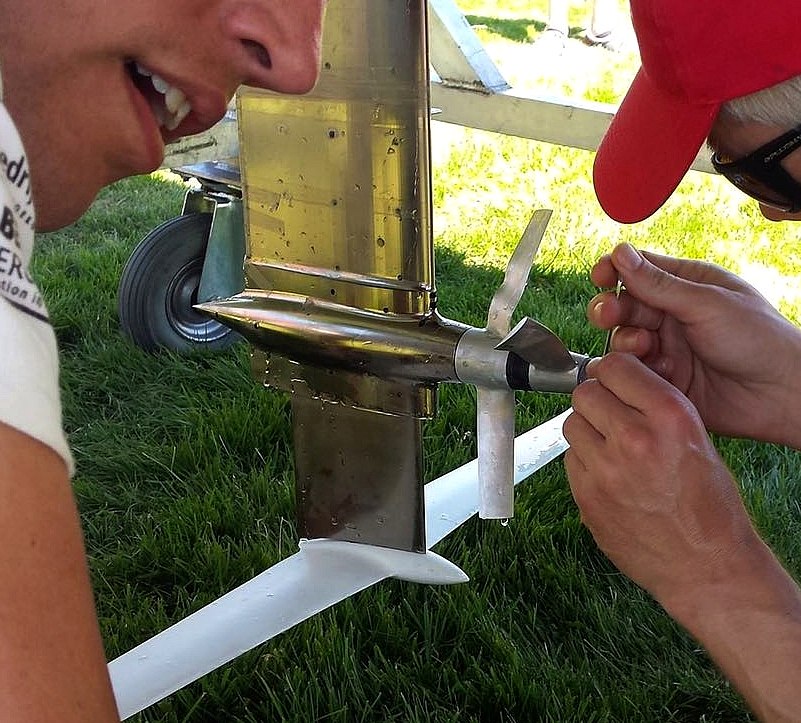 HYDROFOILS - The Furia III suffered damage to its contra-rotating propellers. This is torpedo technology adapted to fast surface craft. The 'T' strut is like that on the Boeing hydrofoil.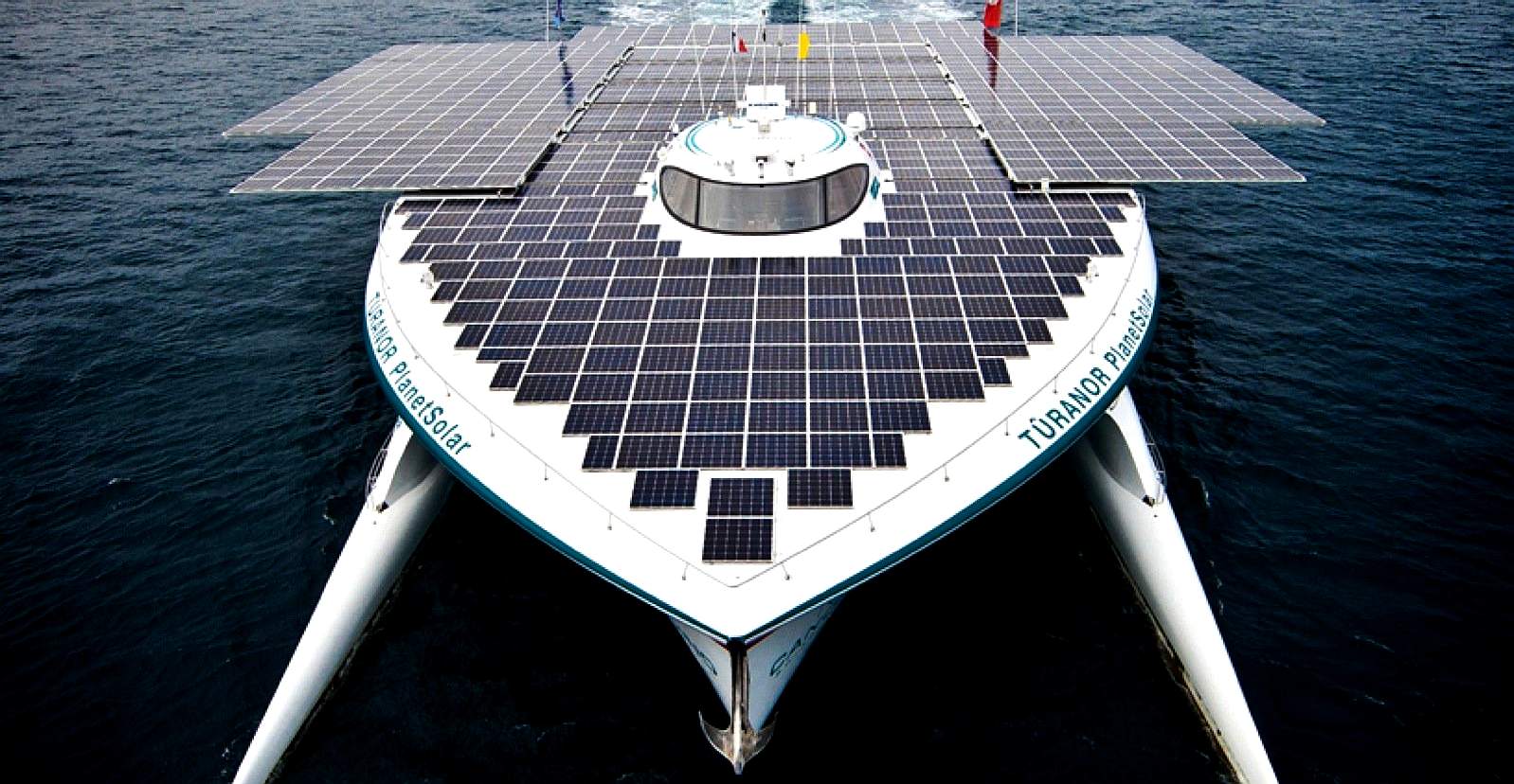 RECORD HOLDER - On the 4th of May 2012, the MS Tûranor PlanetSolar set a world record for the fastest solar powered circumnavigation of 584 days also going into the Guinness Book of World Records for other electric boat achievements. The expedition started and ended at Monaco.
THE ELIZABETH SWAN - The graceful lines of this beautiful solar powered boat complements the zero carbon cruising ideal that many designers and United Nations planners aspire to under SDG13. When built the Swan's hull will be the largest solar powered boat in the world at 43 meters (140ft). She could also prove to be the world's fastest blue water cruiser.
ENERCO NK ZONNEBOOTRACE - This is a video of various race boats and the surrounding area of the 52 km Eneco Solar Boat Race NK, held on Friday 26th May 2017. The video is courtesy of Jelte Van Der Meer.

LINKS & REFERENCE
https://www.nkzonnebootrace.nl/nk-zonnebootrace-2019/
http://sailorsforthesea.org/programs/green-boating-guide/carbon-footprint
https://www3.epa.gov/carbon-footprint-calculator/
https://www.facebook.com/kmtodenhelder
https://www.yacht-club-monaco.mc/en/regattas-events/2016-uk/monaco-solar-boat-challenge/
https://solarboatteam.nl/en/over/
https://www.victronenergy.com/blog/2017/06/01/fastest-boats-under-the-sun/
https://edition.cnn.com/2016/07/13/sport/monaco-solar-boat-challenge-monaco-yacht-club-sailing/index.html
This website is provided on a free basis as a public information service. Copyright © Cleaner Oceans Foundation Ltd (COFL) (Company No: 4674774) 2019. Solar Studios, BN271RF, United Kingdom. COFL is a charity without share capital.