HYDRAULICS
ABOUT - CIRCUMNAVIGATION - CLIMATE CHANGE - CONTACTS - CROWDFUNDING - DONATE - FOUNDATION - HOME - OCEAN CLEANUP - A-Z INDEX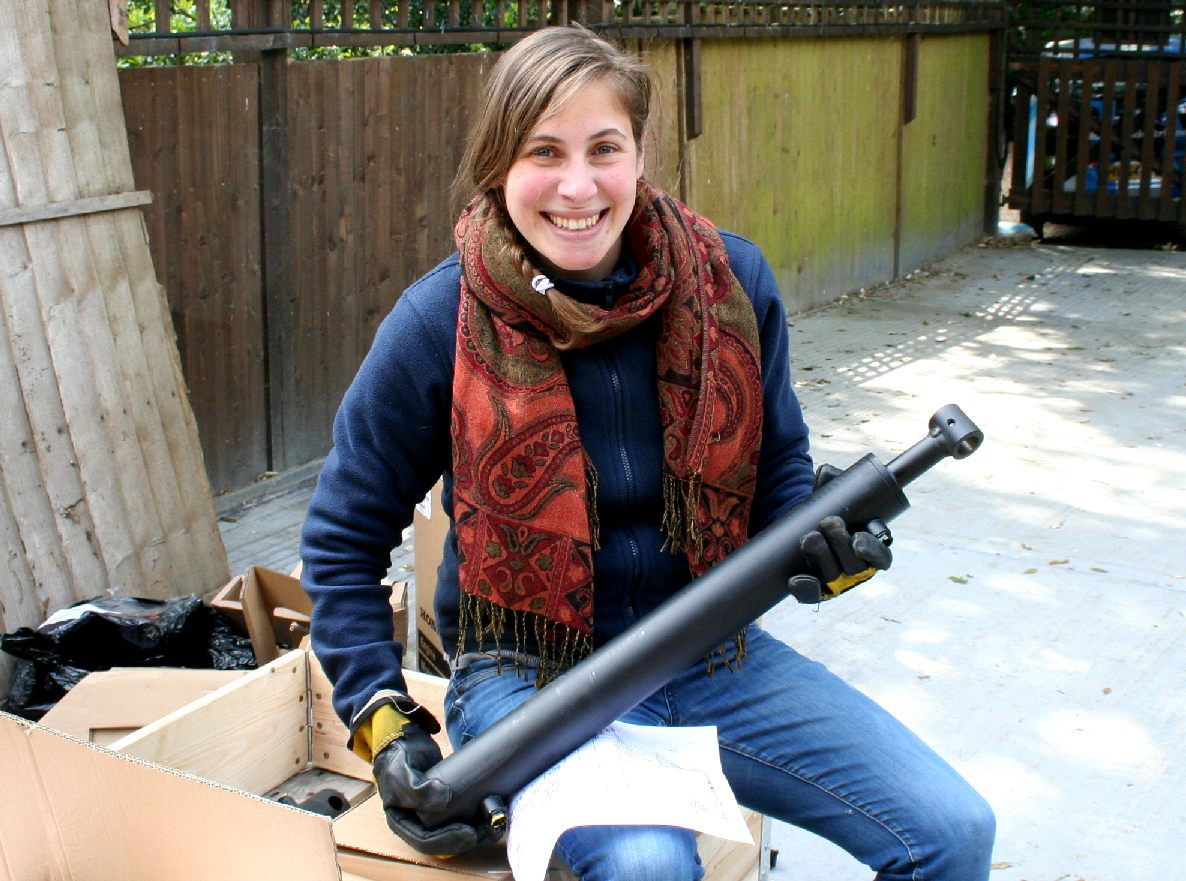 HAPPINESS - Is a remarkably speedy delivery of hydraulic cylinders and rams from Flowfitonline. Lolita D'Ortona is a final masters degree student from Liege University, Gembloux in Belgium studying Agro bio-tech. She is designing the robotic controls for the system in the diagram below. Copyright © diagram April 2019 Cleaner Ocean Foundation Ltd.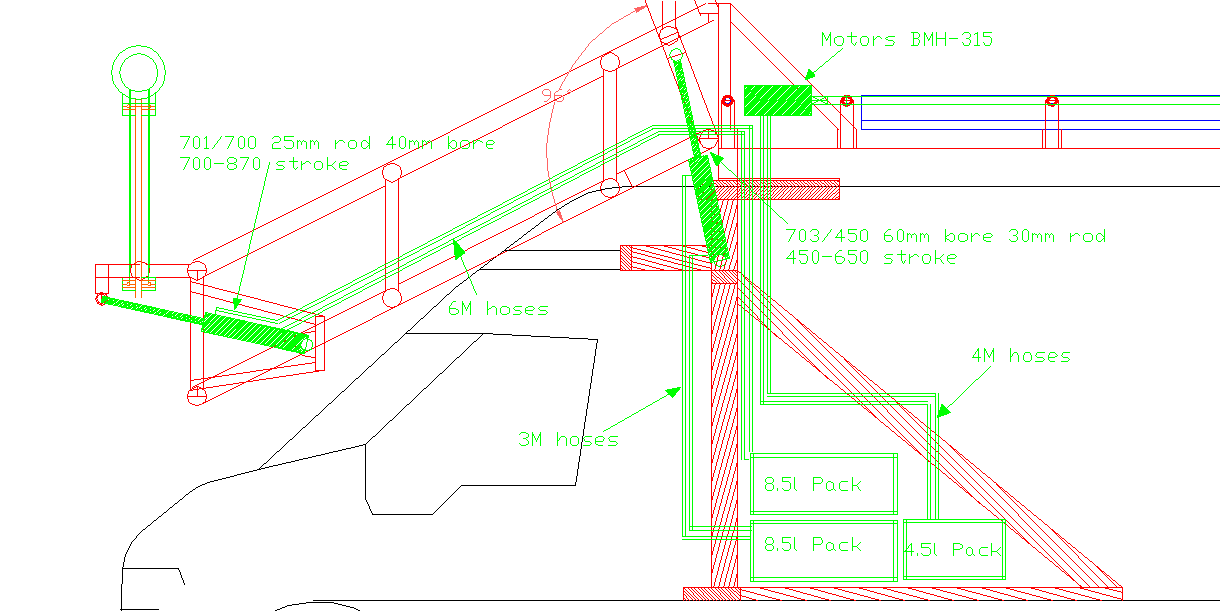 HYDRAULICS - The experimental rig above uses three double valve/solenoid dc power packs operating at 24 volts to supply four double acting rams and two revolving motors. The rams are to move the mast and tilt mechanism, operating in balanced pairs, while the motors are to turn two solar panel arrays to be able to track the sun. We got a great deal from Flowfit online, where the service was excellent and the technical support was very helpful. Copyright © diagram April 2019 Cleaner Ocean Foundation Ltd.
The popularity of hydraulic actuators is due to the very large amount of power that can be transferred through small tubes and flexible hoses, the high power density (10 x electric motors) and wide array of rams and motors that can make use of this power. The disadvantage is that a system may not be as energy efficient as a direct mechanical drive because of the frictional losses in the hoses, rams and pumps.
The price of hydraulic parts can seem expensive, but with companies like Flowfitonline offering such good deals, coupled with a friendly sales team and helpful technical staff, hydraulics may be considered as an option to other solutions. You will have to source hydraulic fluid locally, it not being suitable for most carriers. Europarts, the automotive motor factors carry ISO 32 grade oil.
Most agricultural and construction equipment such as combine harvesters and excavators are controlled by hand operated lever valves. By adding solenoid operated valves that are triggered by electrical relays, or even solid state switching, we might add computer controlled programs to any machine to automate functions based on environmental or other sensors to read the world and convert that into a machine operation such as lifting a wind turbine boom to search for more air speed. Combine more functions, such as steering on a boat, or tracking the sun for solar arrays and you can create an autonomous vessel.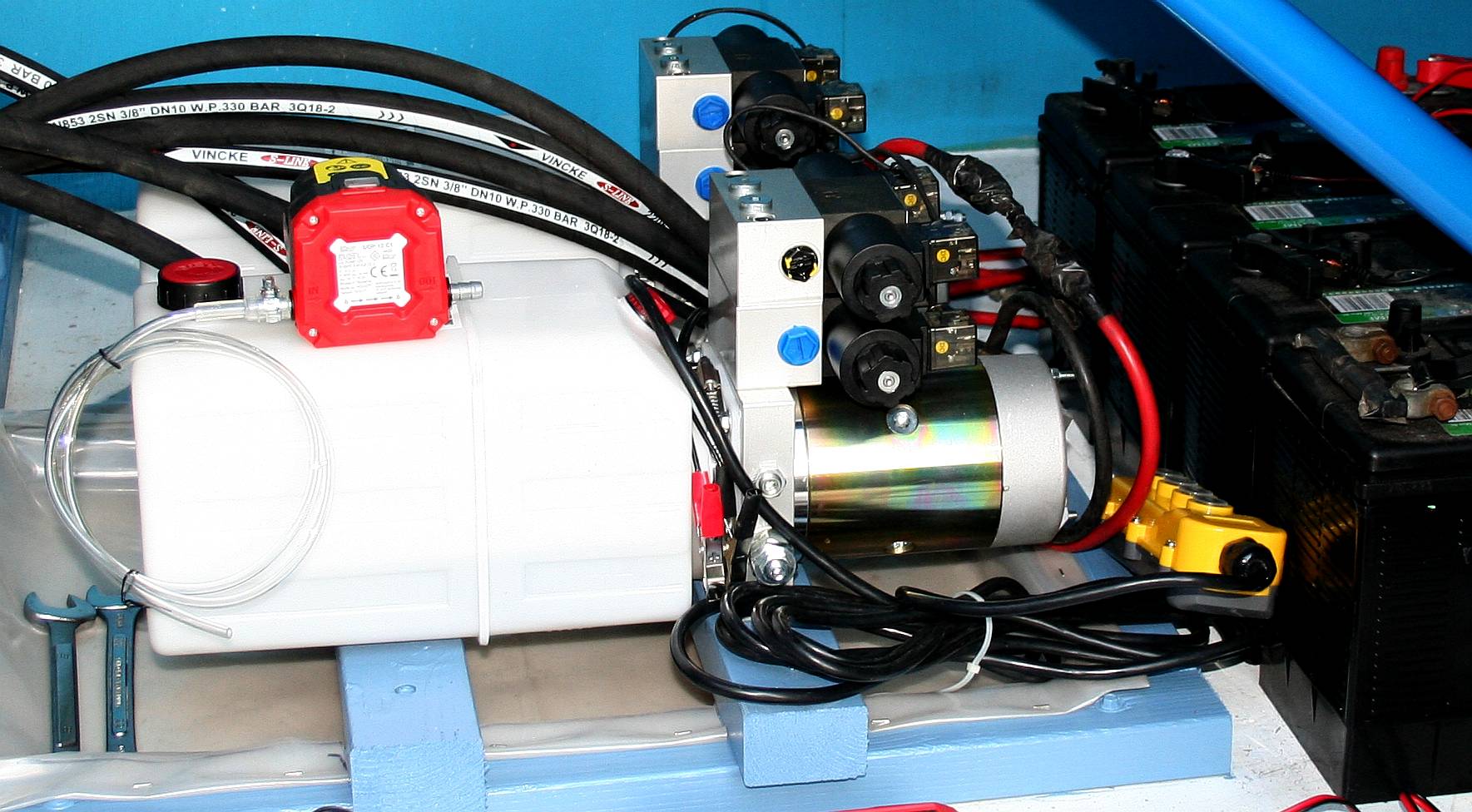 DRIP TRAY - The installation showing twin dual valve power packs fitted inside the Ford Transit van. Not the polythene drip tray fitted under the pumps and oil tanks in an attempt to keep the interior of the vehicle clean. Copyright © diagram June 20 2019 Cleaner Ocean Foundation Ltd.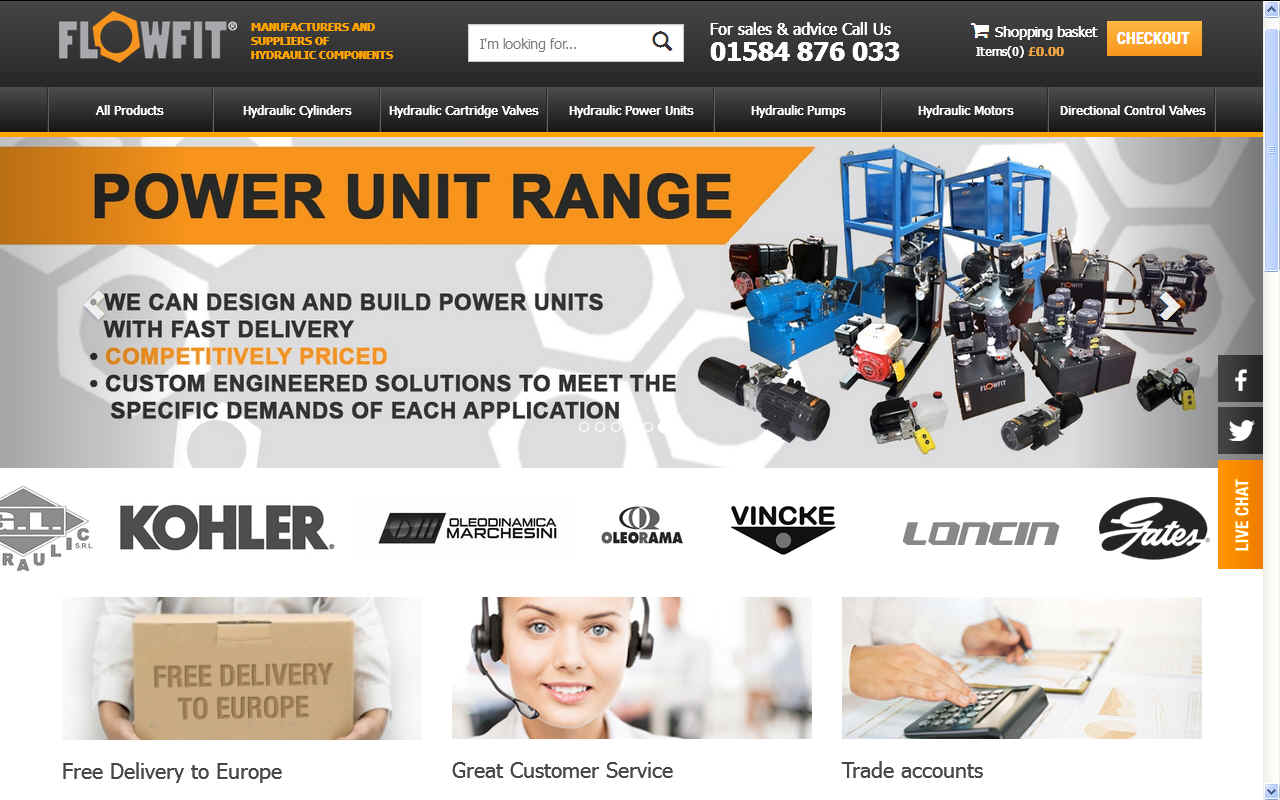 FLOWFIT - From Cylinders to Hand Pumps and Filtration components to Motors, Flowfit Hydraulics are one of the industry leaders in the provision of effective and reliable hydraulic components. Flowfit offers only the very best hydraulics products. They claim that each and every design of their hydraulic products has been rigorously tested and have left thousands of satisfied customers across the world.

Flowfit's first office was an old Miner's home in Cinderford, Gloucestershire, with one employee. Within 6 months Flowfit's operations moved to a 400 square foot unit in Ludlow. By 2015 Flowfit's facilities had expanded to its current 28500 square foot site, which comprises the head office, shop, engineering and warehouse facilities.

Free Advice - If you are not sure what you need, or you can't find a particular product, just call us. We're here to help you; we will also provide technical support and a free site visit to discuss your requirements.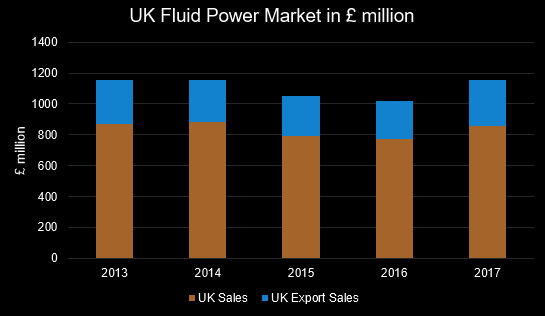 Peace of Mind Guarantee - Everything you buy from us is guaranteed for a minimum of 12 months. If, during this time, a fault develops, then we will either; replace it free of charge, repair it or refund your money in full. We are proud to be a QMS ISO 9002 Registered Firm.

They worke with many world-leading manufacturers, including: BUCHER, FILTREC, GALTECH, GATES, GL HYDRAULIC, HATZ, HONDA, LONCIN, MINTOR, M+S HYDRAULIC, OLEODINAMICA MARCHESINI, VINCKE, OLEORAMA, CICROSA, KOHLER

Flowfit
Parys Road, Ludlow Business Park
Ludlow, Shropshire
SY8 1XY United Kingdom

Telephone: 01584 876 033
Fax: 01584 876 044
E-mail: sales@flowfitonline.com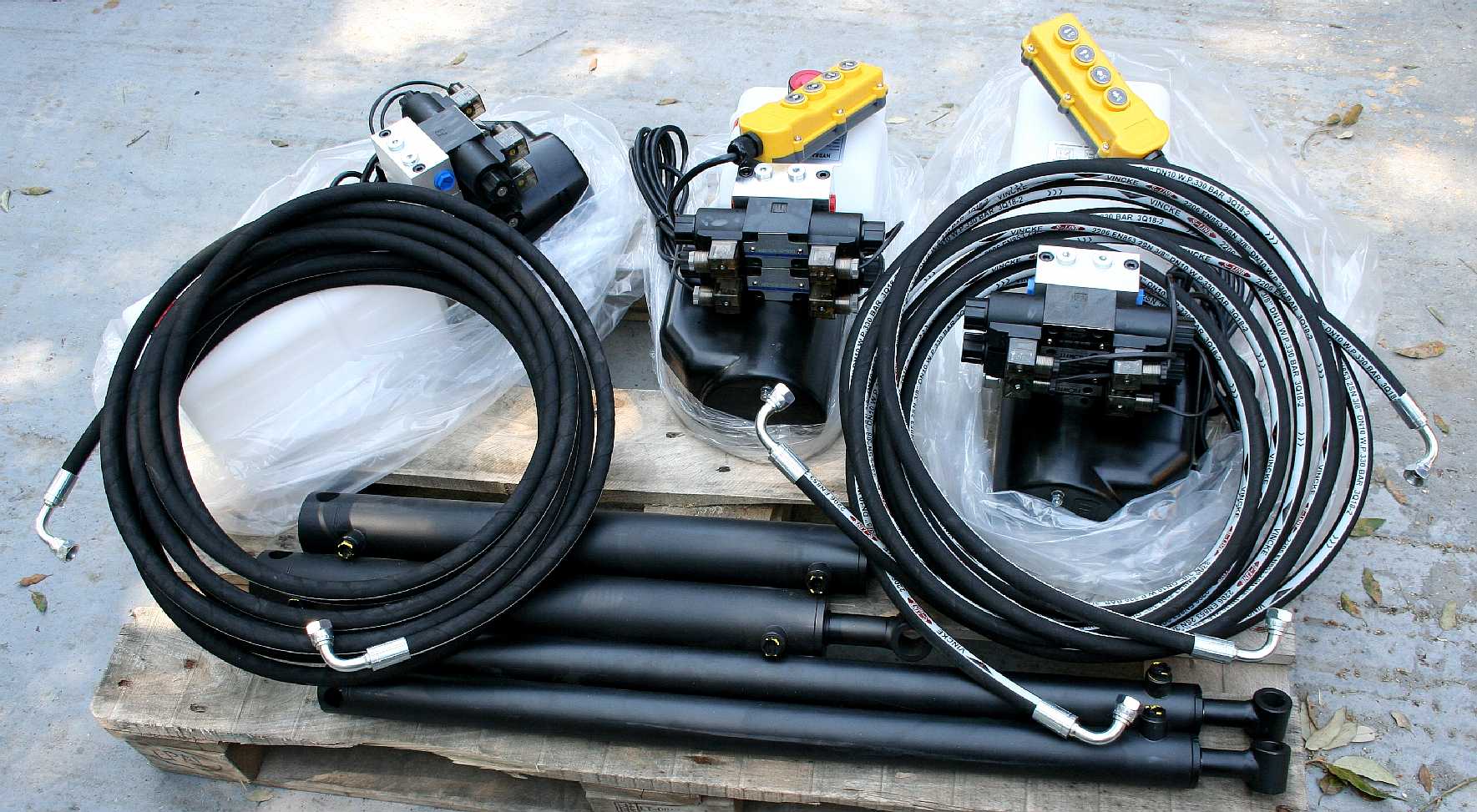 HYDRAULICS - 24V DC Double Acting, Double Solenoid Hydraulic Power Pack designed to operate two double acting cylinders independently on a variety of applications, complete with four button pendent on a 4 meter lead. This unit combines a 2.1cc/rev gear pump with a 1.6kw electric motor with relays and plastic motor cover. There are 4.5, 8.0, 11 or 13 Litre reservoirs with a drain plug. The reservoir feeds via a suction strainer, return oil conveyor and filler breather. The maximum working pressure of this unit is 200 bar with a relief valve set at 160 bar, adjustable from 40-200 bar. The maximum flow rate is 5 litres/minute, with a relief valve. The port size is 3/8" BSP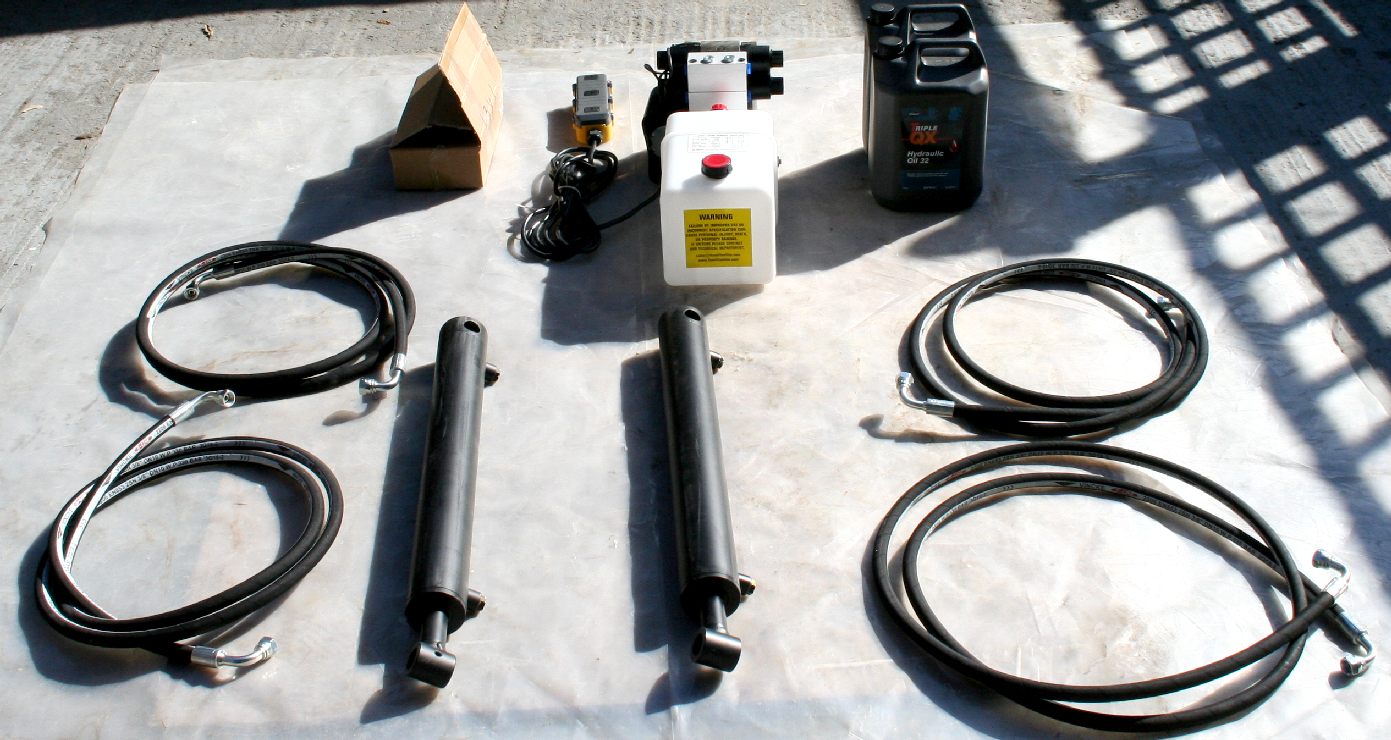 HYDRAULIC COMPONENTS - One double acting, twin solenoid power pack is to be connected to two double acting rams via four 3 meter long hydraulic hoses. We also needed some heavy duty electrical cable and battery terminals. Copyright photographs © 6-05-19 Cleaner Ocean Foundation Ltd, all rights reserved.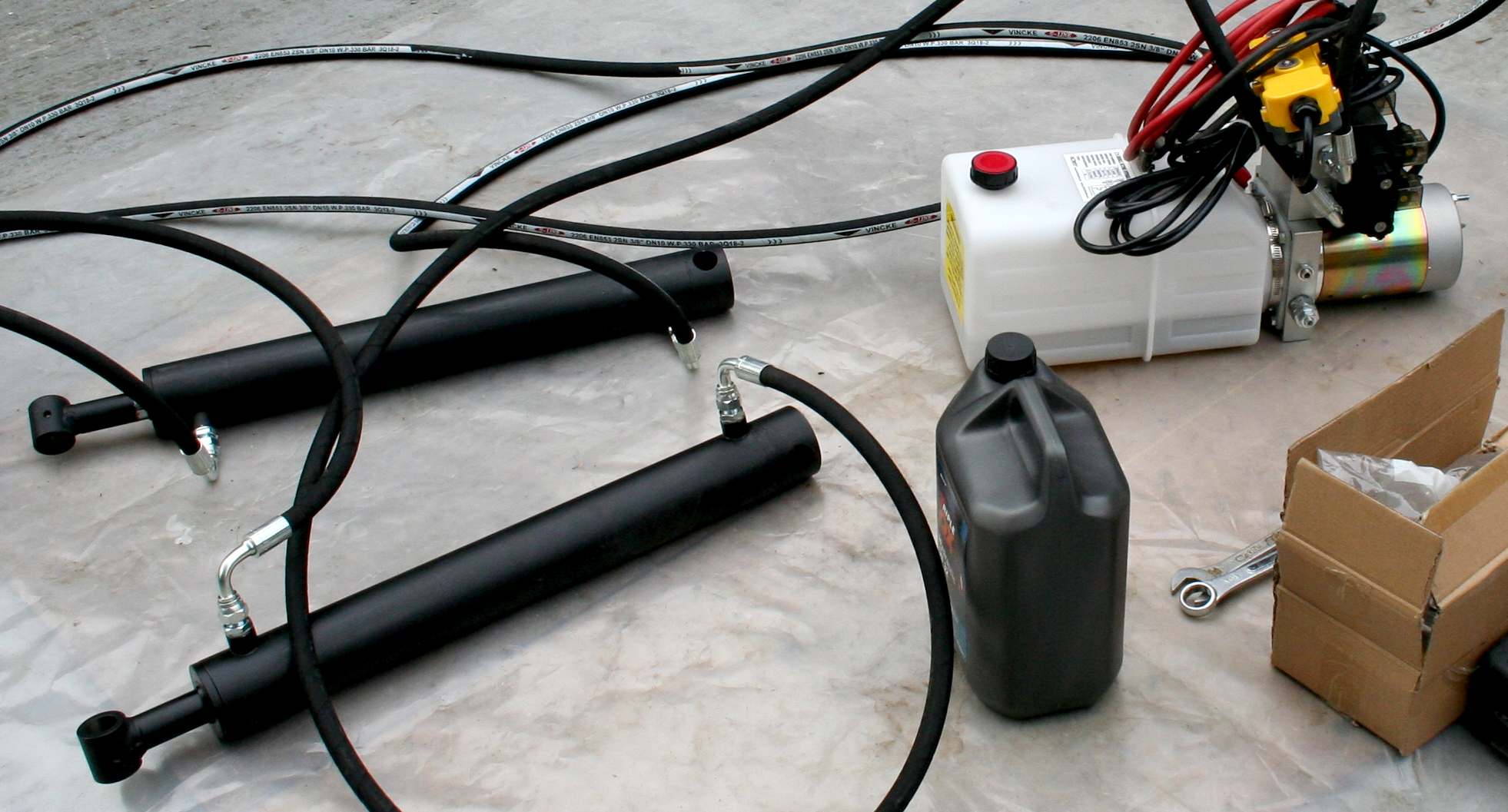 HYDRAULICS TEST - Lolita D'Ortona connected the power lifting rams to one of the hydraulic power packs to work out the wiring for the Raspberry pi micro computer and make sure that the system functioned. We used five liters of a quality ISO 32 grade oil. As you can see from the reservoir level, we will need to top this up with another five liters in operation for when the rams are fully extended. Power came from two heavy duty leisure batteries. The test went well with no leaks. Copyright photograph © 6-05-19 Cleaner Ocean Foundation Ltd, all rights reserved.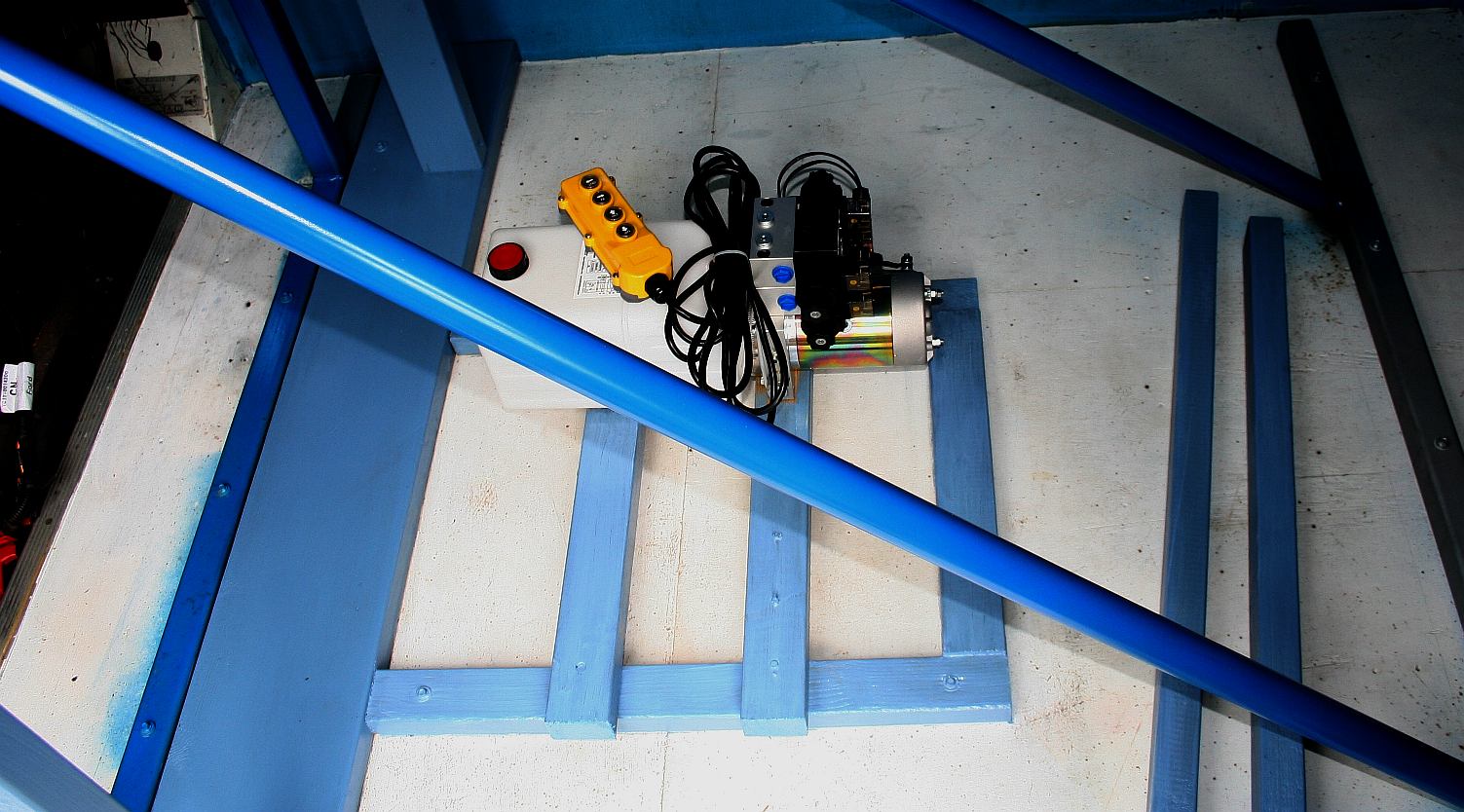 PUMPS - Combined wooden frame and drip tray. Two of these hydraulic power packs sit side by side with a third to be position overhead for other experiments. The pump units bolt neatly to the wooden beams from the underside. Copyright photograph © 16-06-19 Cleaner Ocean Foundation Ltd, all rights reserved.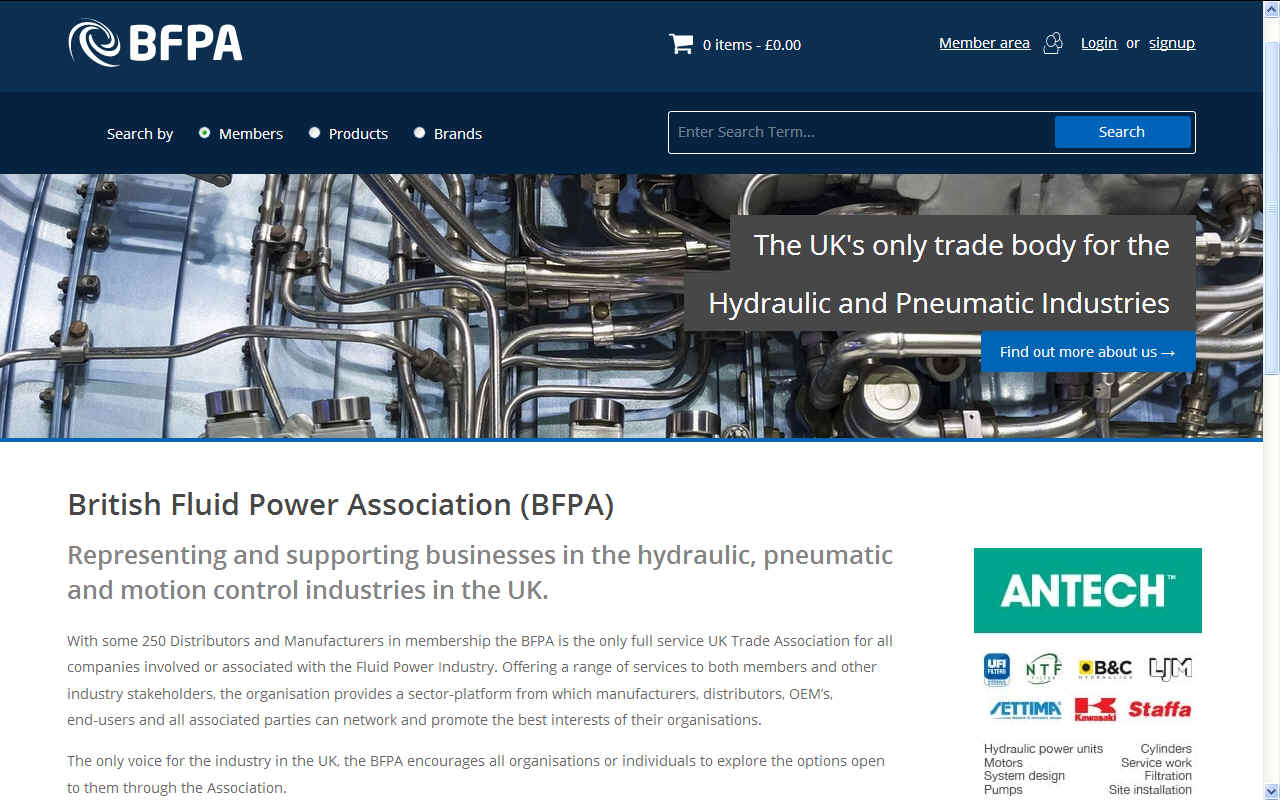 BFPA - The BFPA is a full service UK Trade Association for all companies involved or associated with the Fluid Power Industry. Offering a range of services to both members and other industry stakeholders, the organisation provides a sector-platform from which manufacturers, distributors, OEM's, end-users and all associated parties can network and promote the best interests of their organisations.
British Fluid Power Association
Cheriton House, Cromwell Park
Chipping Norton, Oxon
OX7 5SR, United Kingdom

Tel: +44 (0)1608 647900
Fax: +44 (0)1608 647919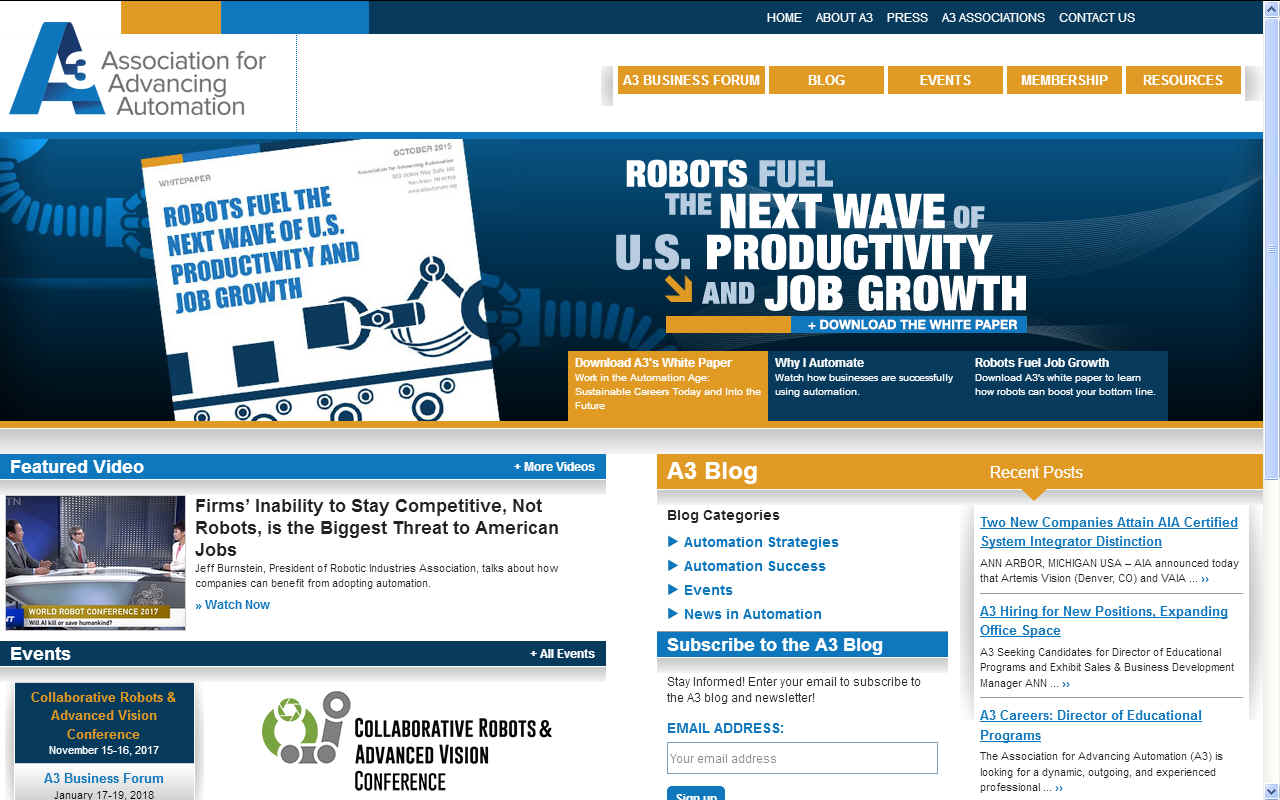 ROBOTICS ADVANCES AUTOMATION - To increase production and reduce costs, robot machines use pneumatic and hydraulics actuators for heavy industrial applications, whereas models and small robots use electric motors and geared servos for movement.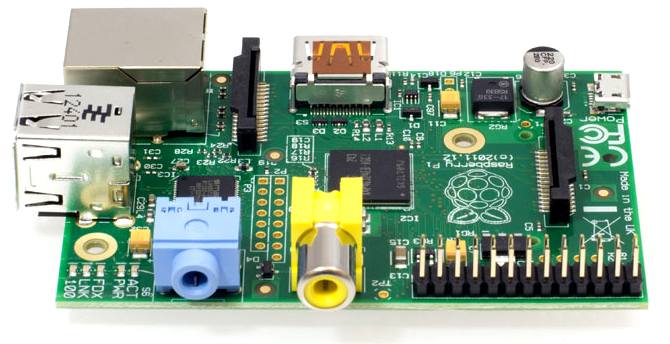 RASPBERRY - The Raspberry pi micro computer was originally designed in Cambridge and manufactured in Wales in the UK to encourage young engineers to learn how to code. Computers like this are ideal for controlling hydraulic actuators via solenoids or even solid state relays.
Hydraulic and pneumatic systems are used in a very wide range of engineering applications to control and power movement in mobile machines such as excavators, trucks and aircraft, and in industrial applications such as in factory automation and infrastructure projects. The total sales of fluid power equipment in 2017 in the UK (including exports) were over £1.1 billion. The industry employs over 10,000 people within the fluid power market in the UK, hydraulics accounts for around 80% and pneumatics about 20%.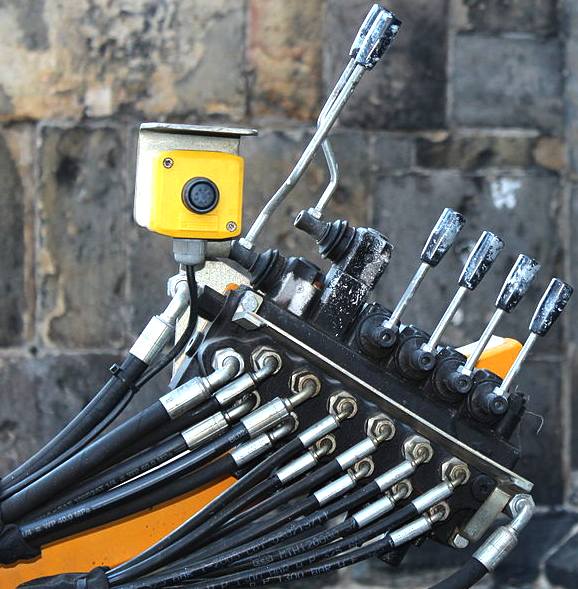 A manually operated lever control console. Not really applicable to robotics, save where the vessel may be controlled optionally by a crew. For a pre-production prototype this is a good developmental stage.
LEVERAGE - [LEFT] The most fundamental principle of hydraulics is the mechanical advantage obtained by multiplying the input pressure applied piston using a small bore piston (F1) by the output pressure load (F2) as applied to a larger bore piston. The mechanical analogy is a simple lever and fulcrum. CIRCUIT DIAGRAM - [RIGHT] This is a basic hydraulic flow diagram for a human operated valve system, not showing the motor that drives the pump. This is a two-way ram where pressure may be applied to either side of a piston using the lever controlled valve to direct the oil flow.
LINKS & REFERENCE
https://bfpa.co.uk/
https://www.flowfitonline.com/
www.bonfiglioli.com
https://www.a3automate.org/
https://www.robotics.org/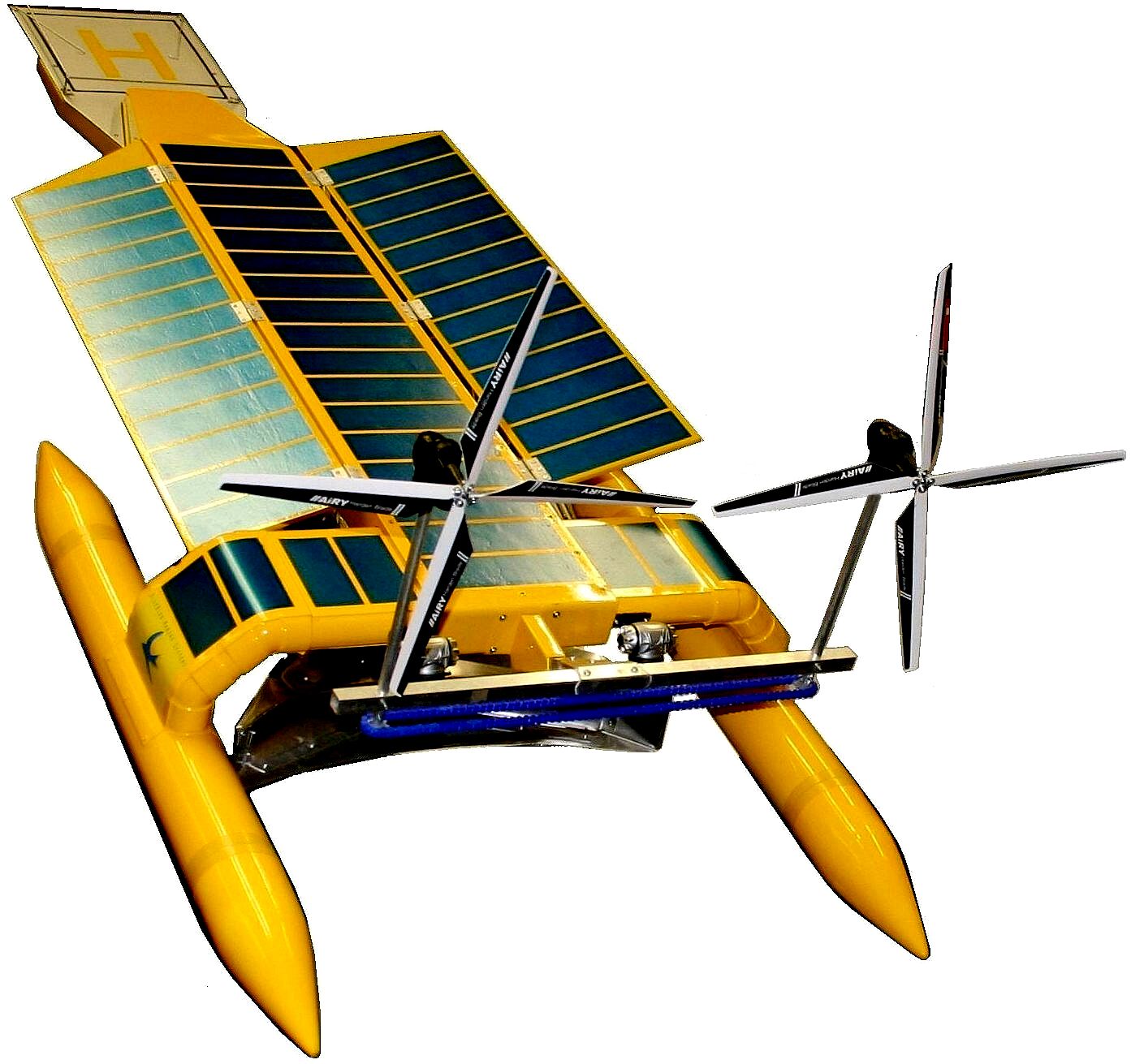 ROBOTIC OCEAN CONDITIONER - This vessel is designed to operate in fleets to target ocean waste before it settles on the ocean floor where nobody can recover it. There is nothing like it in existence today, though other ideas for trapping plastic waste are being developed, such as that of Boyan Slat and the Seabin. SeaVax is set to use a variety of hydraulic actuators where at the moment there is no cost effective alternative.
This website is provided on a free basis as a public information service. Copyright © Cleaner Oceans Foundation Ltd (COFL) (Company No: 4674774) 2019. Solar Studios, BN271RF, United Kingdom. COFL is a charity without share capital. The names Amphimax™ RiverVax™ and SeaVax™ are trademarks.