MUCKY MERMAIDS - BEACH CLEANS
ABOUT - CONTACTS - CROWDFUNDING - DONATE - FOUNDATION - HOME - A-Z INDEX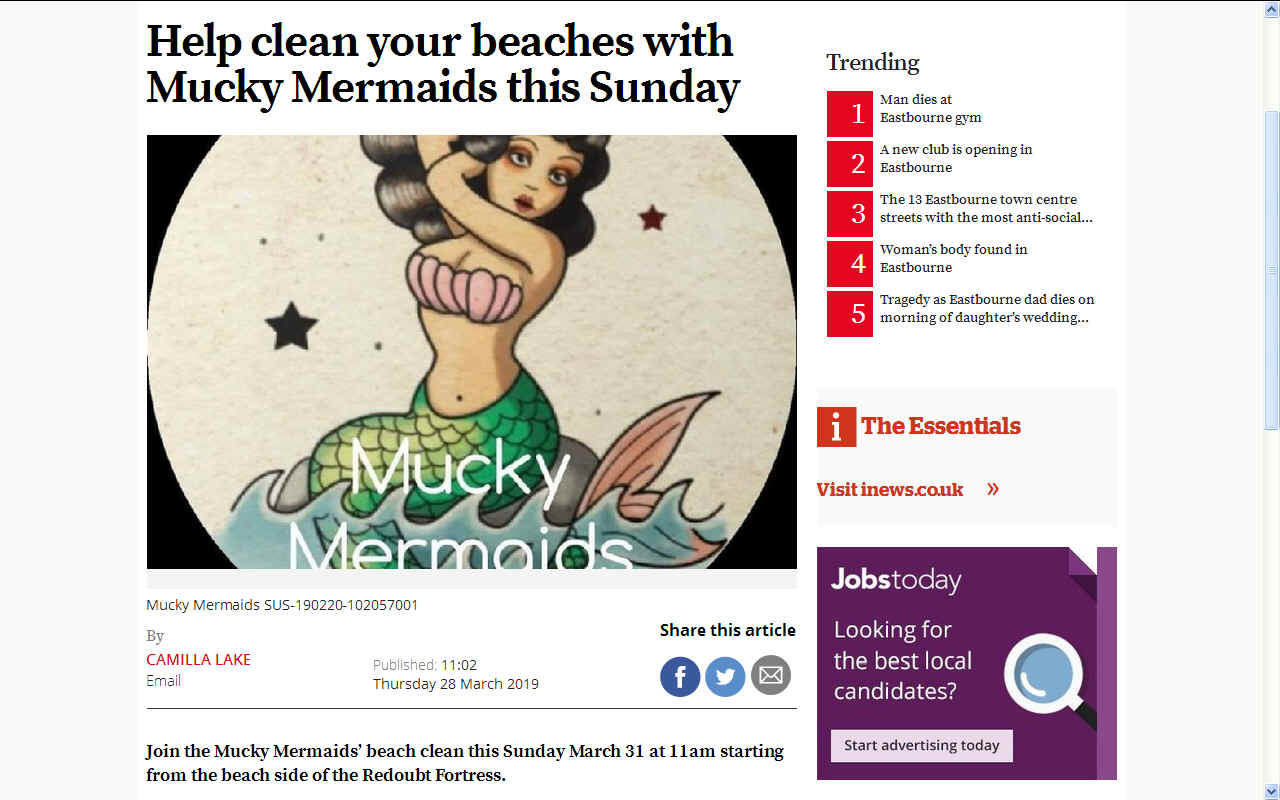 EVENT - FRIDAY-SUNDAY 31 MARCH 2019 - EASTBOURNE HERALD
Join the Mucky Mermaids' beach clean this Sunday March 31 at 11am starting from the beach side of the Redoubt Fortress.

Mucky Mermaids meets on the last Sunday of every month. The beach changes every time and is advertised on the group's FB page and event. There are 'beach spotter guides' for children to use and hidden painted pebbles for them to find during the beach cleans. There are grabbers and bag hoops to borrow or people can bring their own. Gardening or rubber gloves are advised.

Volunteers in wheelchairs/scooters or with reduced mobility are welcome as the group also cleans along the prom. By Camilla Lake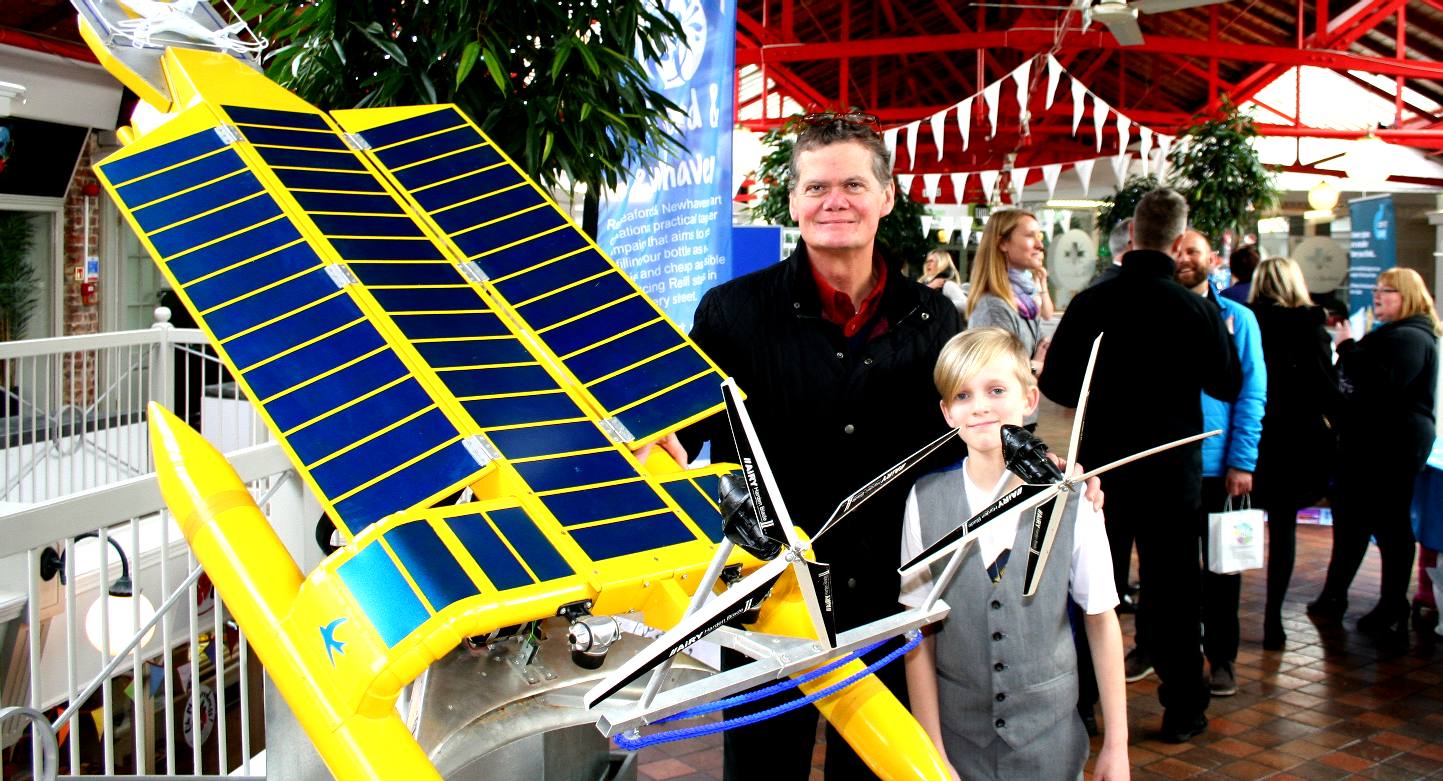 EASTBOURNE MP - Worried about the Liberal emptying of our plastic discards into the oceans, local MP Stephen Lloyd, was curious as to how machines like SeaVax might realistically be deployed in sufficient numbers to make a difference, given the scale of the problem. The secret is not a secret, the Cleaner Ocean Foundation are looking to develop a prototype and then give the design away to operators all over the world on a free basis, with technical support. The idea is to make ocean plastic recycling economically viable, where at the moment Governments all over the world are struggling to come up with solutions. Copyright photograph © 26-01-19 Cleaner Ocean Foundation Ltd, all rights reserved.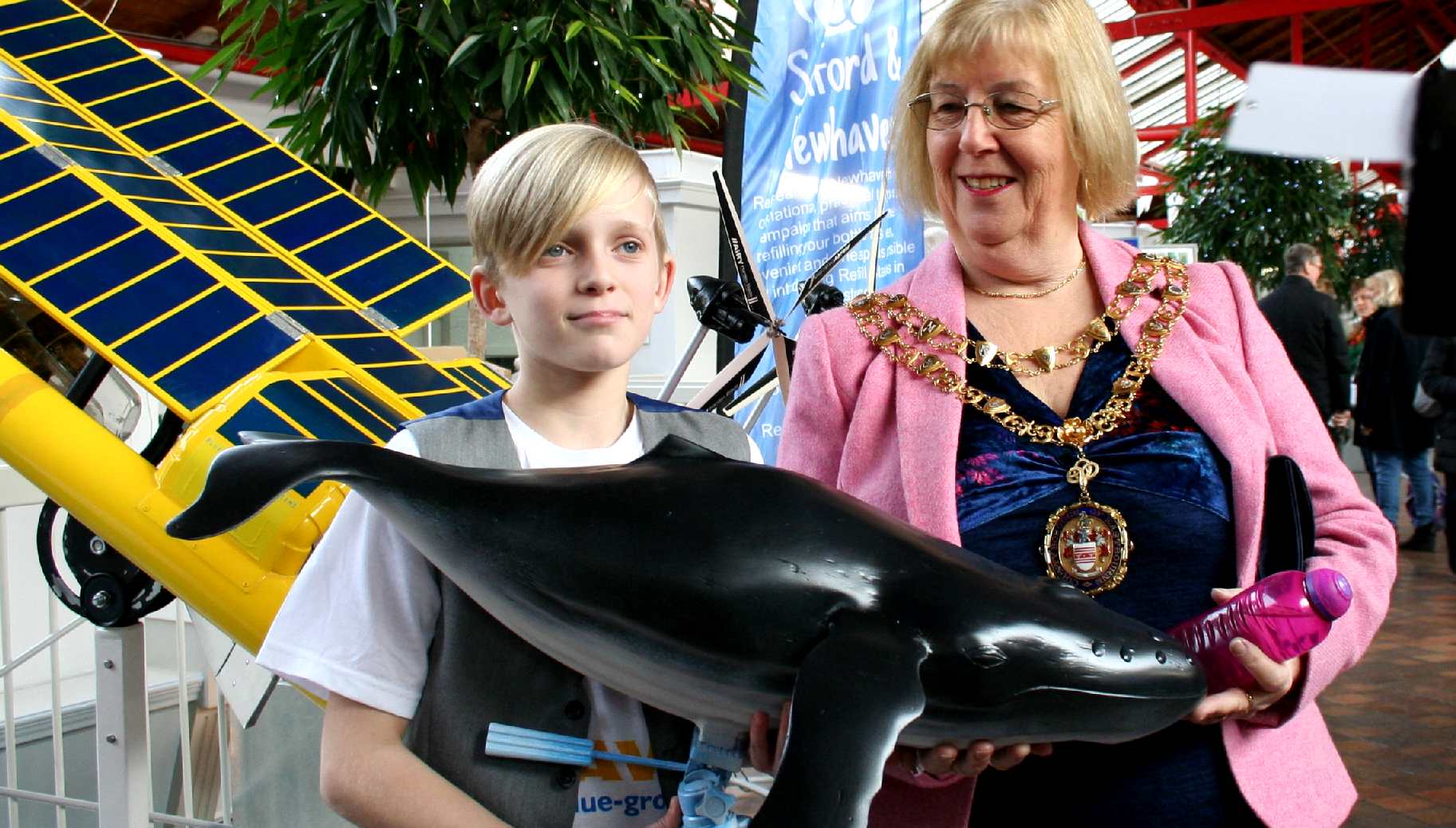 HUMPBACK WHALE - This whale is called Kulo Luna. She is one of the main characters of an ocean awareness story, seen here in 1/20th scale to complement the SeaVax and
Elizabeth Swan test tank models. Copyright photograph © 26-01-19 Cleaner Ocean Foundation Ltd, all rights reserved.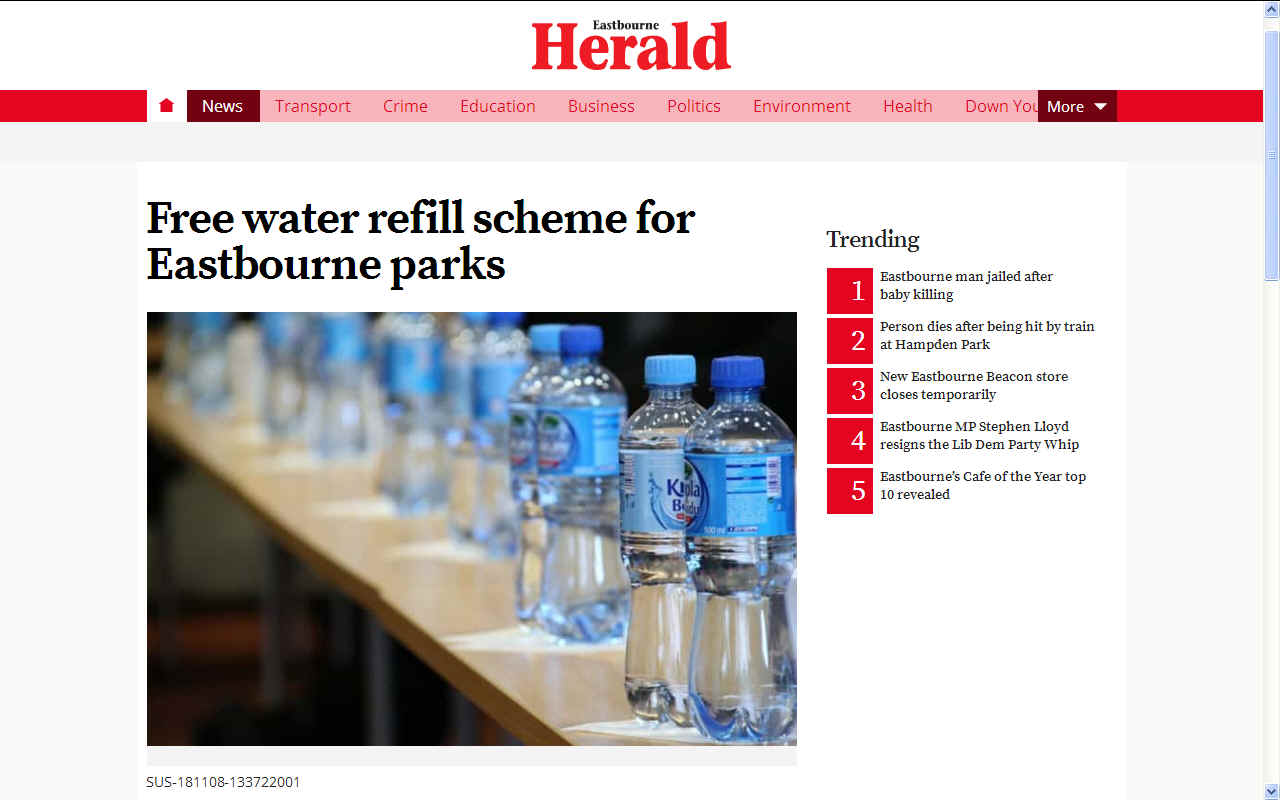 EASTBOURNE HERALD SEPTEMBER 5 2018

Free drinking water could be provided within parks and public places in Eastbourne.

The council is supporting the environmentalist group Refill scheme, which allows people to refill bottles with free tap water at businesses and says a scheme within the authority's own parks could become a reality as part of a bid to reduce single use plastic and prevent pollution in the sea.

Participating cafes, bars, banks, shops, galleries and other businesses put a sticker in their window alerting passers-by to the fact that they are welcome to come in and fill up their bottle for free.

A council spokesperson said, "The provision of more drinking water facilities within Eastbourne would help to provide free and accessible tap water to those who need it, whether or not they have a reusable bottle on them, reducing the need to purchase potentially less healthy drinks in single-use containers, on the go. This will support the aims of the council to reduce single-use plastics in our community.

"As a first step to this project officers will conduct a desk-based study to assess the potential for drinking water installations in parks and other locations where there is a council-owned and managed water source available, for example at public toilets.

"As a guide, a typical stainless steel water fountain retails at around £500 but a simple push tap would be even easier to install and maintain. A £3,000 budget is available for this project within the 2018/19 year.

The installations would need to be supported in parallel by the community-led national Refill campaign, which EBC can encourage and support. This work will be largely conducted and driven by volunteers alongside access to council owned refill points, such as putting drinking water facilities at the Bandstand toilets onto a Refill App." By Annemarie Field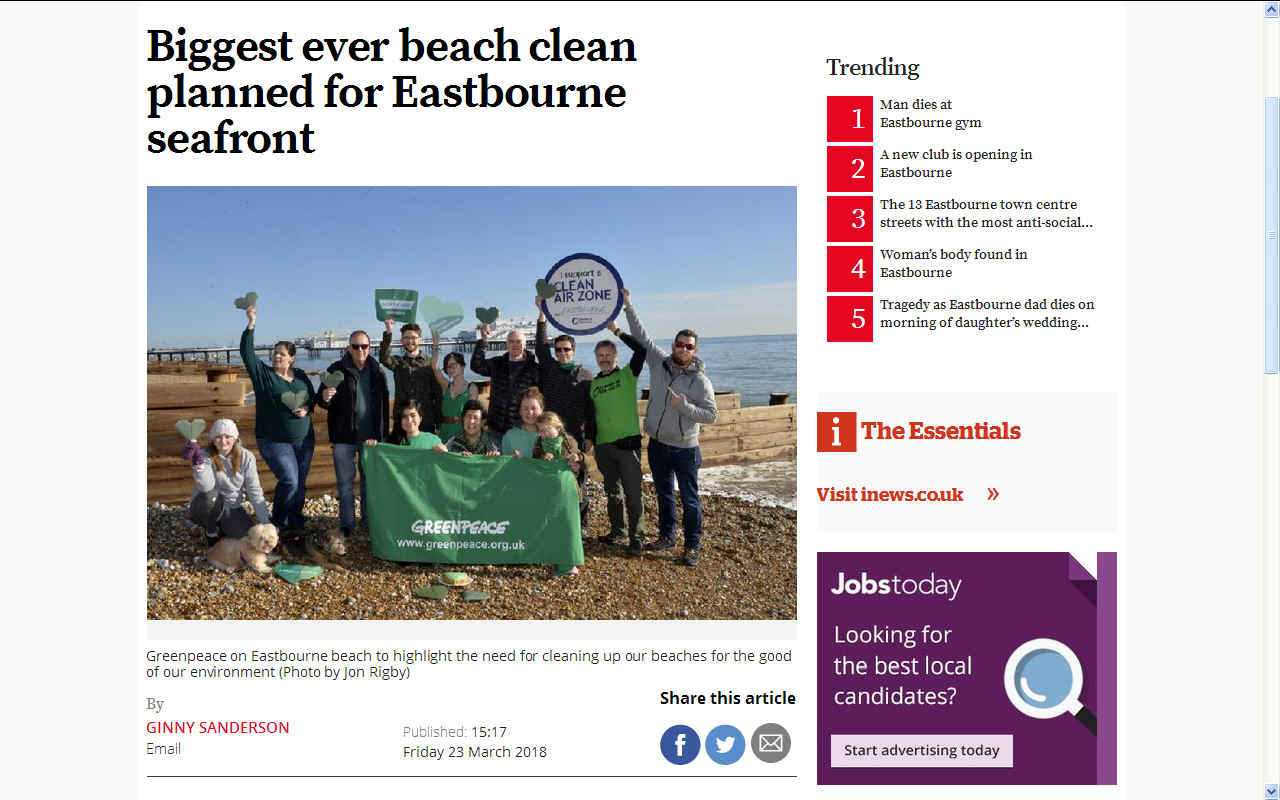 EASTBOURNE HERALD 23 MARCH 2018

Eastbourne's biggest ever spring beach clean is taking place this weekend.

A number of community groups – including Eastbourne Friends of the Earth, the Marine Conservation Society, Surfers Against Sewage, Sea Shepherd, Mucky Mermaids, and Survival Equals Action – have joined forces to organise the event and are calling for volunteers to get stuck in.

The event takes place from 10am on Saturday (March 24) and 11am on Sunday (March 25).

Anyone interested is encouraged to come along in an effort to attain the Plastic Free Eastbourne accreditation for the town.

Participants are asked to bring their own litter pickers and protective gloves if possible – but if not equipment will be provided.

The town's MP, Stephen Lloyd, will be taking part and so will a number of the town's councillors and the Mayor.

On Saturday volunteers should join in between Holywell Tea Chalet and the pier, and on Sunday between Sovereign Harbour and pier. By Ginny Anderson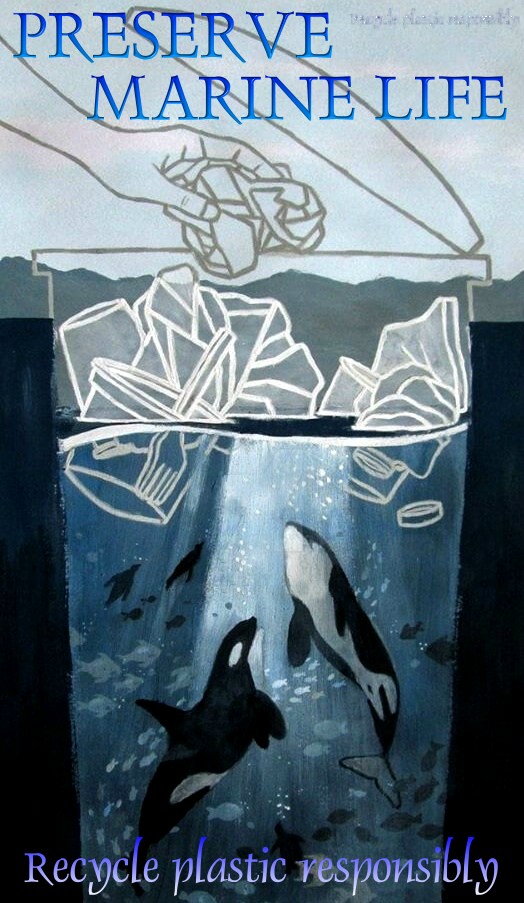 LINKS & REFERENCE
https://www.eastbourneherald.co.uk/news/biggest-ever-beach-clean-planned-for-eastbourne-seafront-1-8429741
https://www.eastbourneherald.co.uk/whats-on/help-clean-your-beaches-with-mucky-mermaids-this-sunday-1-8868084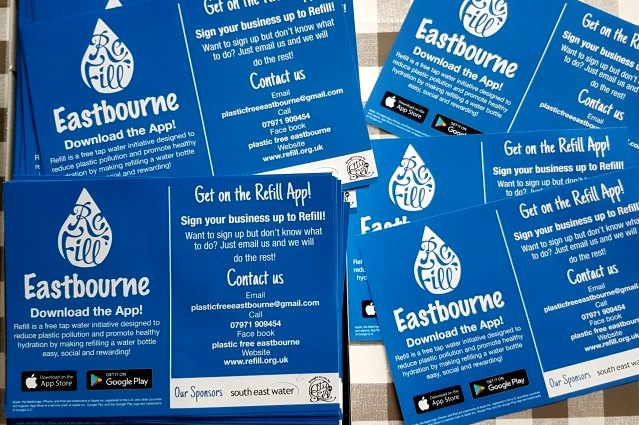 REFILL EASTBOURNE - The Refill app tells you where you can fill up your reusable water bottles, so saving single use PET bottles from entering the system.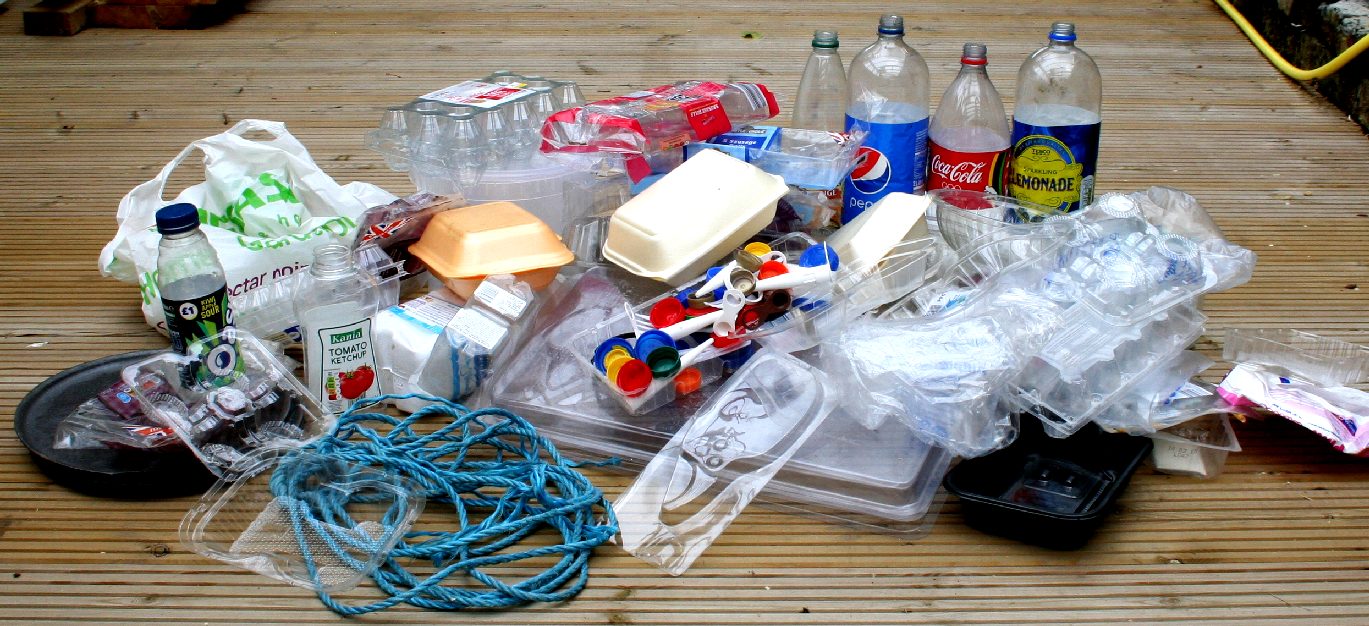 SINGLE USE PLASTICS - This is just a small sample of the plastic packaging that you will find in retails stores all over the world. A good proportion of this packaging - around 8 millions tons a year, will end up in our oceans, in the gut of the fish we eat, in the stomachs of seabirds and in the intestines of whales and other marine mammals. Copyright photograph © 22-7-17 Cleaner Ocean Foundation Ltd, all rights reserved.
FOAM & BOTTLES - Expanded polystyrene is used to package household electrical goods, while soft drinks and water is sold in PET plastic bottles by the billions every year. The numbers are staggering. It's no wonder then that some of this plastic will end up on our plate in one form or another, potentially as a toxin carrier. Copyright photograph © 22-7-17 Cleaner Ocean Foundation Ltd, all rights reserved. Animals do not recognize polystyrene foam as an artificial material and may even mistake it for food. Polystyrene foam blows in the wind and floats on water, due to its low specific gravity. It can have serious effects on the health of birds or marine animals that swallow significant quantities.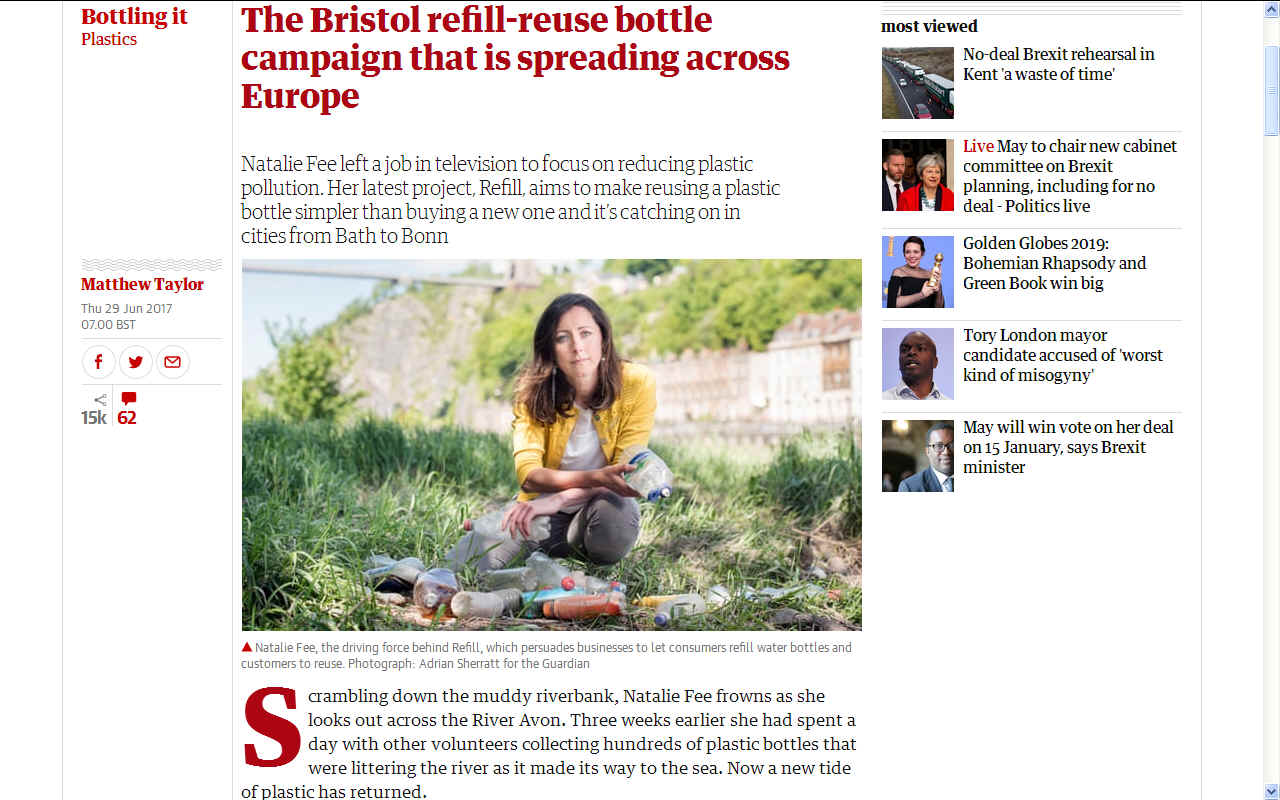 OUR OCEANS ARE IN DANGER - There are many ways that an organization can contribute to the health of our oceans. Helping people to reduce their plastic footprint and disposing of waste thoughtfully is vital awareness work.
The Cleaner Ocean Foundation assimilates the information that has been gathered by others and looks at alternatives to solutions that exist, in the hope of bringing something new to the table. SeaVax has been identified as a platform with potential for many uses aiming towards ocean salvation, including: 1. responsible fishing vessels, 2. plastic waste collection and 3. oil spills containment. Finally, the SeaVax is solar and wind powered and may help to pave the way for zero emission cargo and passenger vessels of the future.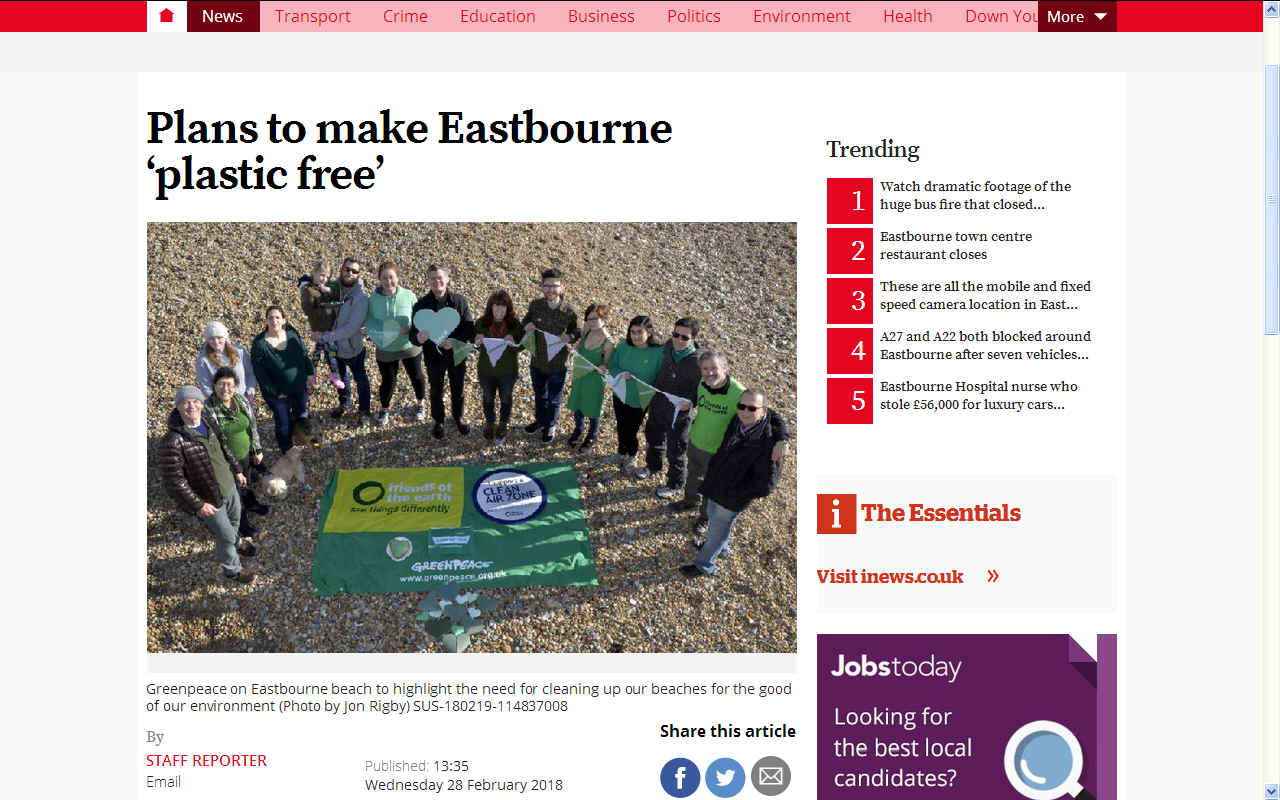 A-Z - ABS - BIOMAGNIFICATION - BP DEEPWATER - CANCER - CARRIER BAGS - CLOTHING - COTTON BUDS - DDT - FISHING NETS
FUKUSHIMA - HEAVY METALS - MARINE LITTER - MICROBEADS - MICRO PLASTICS - NYLON - OCEAN GYRES - OCEAN WASTE
PACKAGING - PCBS - PET - PLASTIC - PLASTICS - POLYCARBONATE - POLYSTYRENE - POLYPROPYLENE - POLYTHENE - POPS
PVC - SHOES - SINGLE USE - SOUP - STRAWS - WATER
This website is provided on a free basis as a public information service. copyright © Cleaner Oceans Foundation Ltd (COFL) (Company No: 4674774) 2019. Solar Studios, BN271RF, United Kingdom. COFL is a charity without share capital.