PVC
ABOUT - CONTACTS - FOUNDATION - HOME - A-Z INDEX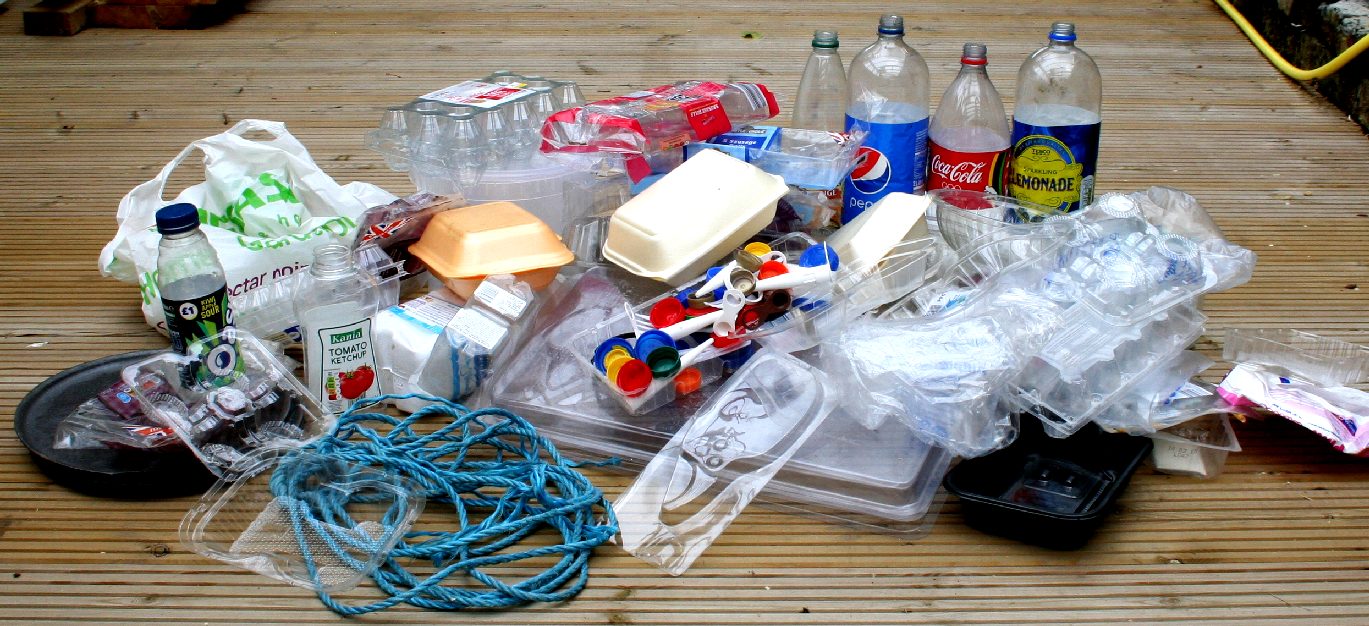 SINGLE USE PLASTICS - This is just a small sample of the plastic packaging that you will find in retails stores all over the world. A good proportion of this packaging - around 8 millions tons a year, will end up in our oceans, in the gut of the fish we eat, in the stomachs of seabirds and in the intestines of whales and other marine mammals. Copyright photograph © 22-7-17 Cleaner Ocean Foundation Ltd, all rights reserved.
Polyvinyl chloride, also known as polyvinyl or vinyl, commonly abbreviated PVC, is the world's third-most widely produced synthetic plastic polymer, after polyethylene and polypropylene.

Roughly half of the world's polyvinyl chloride resin manufactured annually is used for producing pipes for municipal and industrial applications. In the water distribution market, it accounts for 66% of the market in the U.S., and in sanitary sewer pipe applications, it accounts for 75%. Buried PVC pipes in both water and sanitary sewer applications that are 4 inches (100 mm) in diameter and larger are typically joined by means of a gasket-sealed joint.
The most common type of gasket utilized in North America is a metal reinforced elastomer, commonly referred to as a Rieber sealing system. Its light weight, low cost, and low maintenance make it attractive. However, it must be carefully installed and bedded to ensure longitudinal cracking and overbelling does not occur.
PVC pipes can be fused together using various solvent cements, or heat-fused (butt-fusion process, similar to joining high-density polyethylene (HDPE) pipe), creating permanent joints that are virtually impervious to leakage.

In February 2007 the California Building Standards Code was updated to approve the use of chlorinated polyvinyl chloride (CPVC) pipe for use in residential water supply piping systems.

PVC fabric is water-resistant, used for its weather-resistant qualities in coats, skiing equipment, shoes, jackets, aprons, and sports bags.

PVC fabric has a niche role in specialty clothing, to either create a artificial leather material or at times simply for its effect. PVC clothing is common in Goth, Punk, clothing fetish and alternative fashions. PVC is less expensive than rubber, leather, and latex which it is used to simulate.

PVC is made from petroleum. The production process also uses sodium chloride. Recycled PVC is broken down into small chips, impurities removed, and the product refined to make pure white PVC. It can be recycled roughly seven times and has a lifespan of around 140 years.

In the UK, approximately 400 tonnes of PVC are recycled every month. Property owners can recycle it through nationwide collection depots.


COMMODITY PLASTICS

PVC is a commodity plastic. Commodity plastics are plastics that are used in high volume and wide range of applications, such as film for packaging, photographic and magnetic tape, clothing, beverage and trash containers and a variety of household products where mechanical properties and service environments are not critical. Such plastics exhibit relatively low mechanical properties and are of low cost. The range of products includes Plates, Cups, Carrying Trays, Medical Trays, Containers, Seeding Trays, Printed Material and other disposable items.

LINKS & REFERENCE
https://
FOAM & BOTTLES - Expanded polystyrene is used to package household electrical goods, while soft drinks and water is sold in PET plastic bottles by the billions every year. The numbers are staggering. It's no wonder then that some of this plastic will end up on our plate in one form or another, potentially as a toxin carrier. Copyright photograph © 22-7-17 Cleaner Ocean Foundation Ltd, all rights reserved.
ABS - BIOMAGNIFICATION - BP DEEPWATER - CANCER - CARRIER BAGS - CLOTHING - COTTON BUDS - DDT - FISHING NETS
FUKUSHIMA - HEAVY METALS - MARINE LITTER - MICROBEADS - MICRO PLASTICS - NYLON - OCEAN GYRES - OCEAN WASTE
PACKAGING - PCBS - PET - PLASTIC - PLASTICS - POLYCARBONATE - POLYSTYRENE - POLYPROPYLENE - POLYTHENE - POPS
PVC - SHOES - SINGLE USE - SOUP - STRAWS - WATER
This website is provided on a free basis as a public information service. copyright © Cleaner Oceans Foundation Ltd (COFL) (Company No: 4674774) 2018. Solar Studios, BN271RF, United Kingdom. COFL is a charity without share capital.