ABOUT PLASTICS
ABOUT - CONTACTS - FOUNDATION - HOME - A-Z INDEX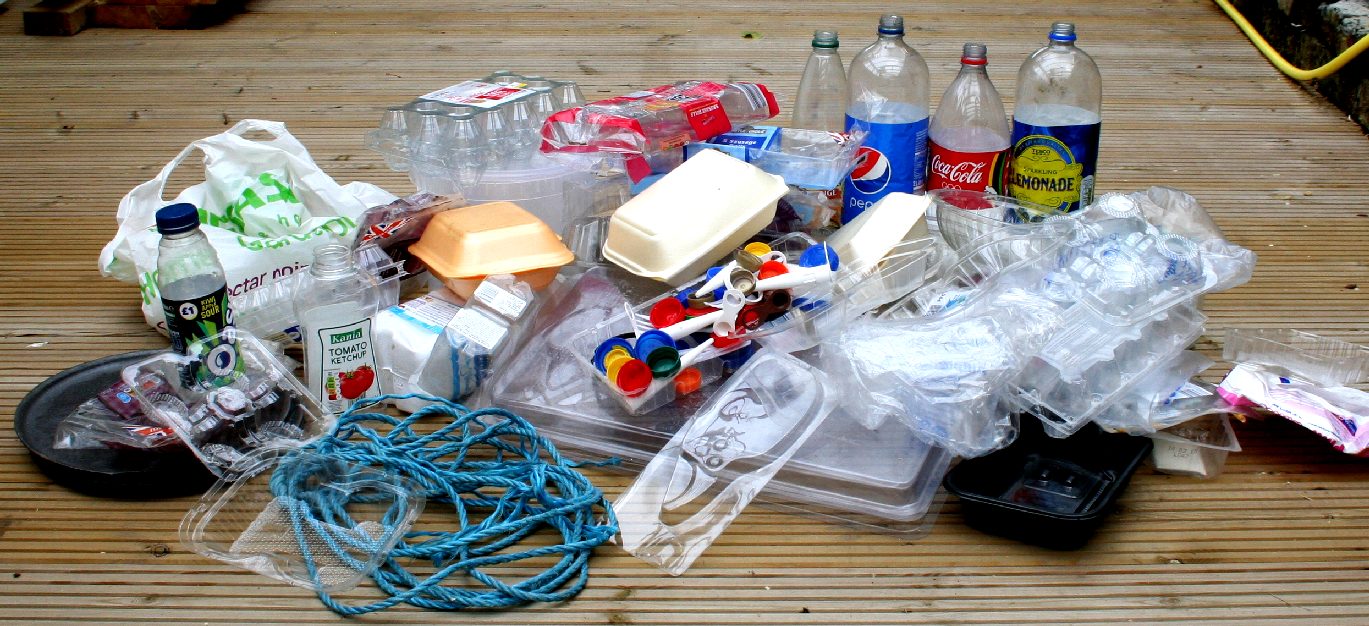 SINGLE USE PLASTICS - This is just a small sample of the plastic packaging that you will find in retails stores all over the world. A good proportion of this packaging - around 8 millions tons a year, will end up in our oceans, in the gut of the fish we eat, in the stomachs of seabirds and in the intestines of whales and other marine mammals. Copyright photograph © 22-7-17 Cleaner Ocean Foundation Ltd, all rights reserved.
We need plastics in our modern society. Plastics aid human development and support life in all kinds of ways, so that they are indispensable to us. What is not so wonderful is the over exploitation of single or disposable products that is not in keeping with our wish to conserve resources in the quest for a circular world economy.
There are three kinds of plastics and all have their place in a high tech world where we expect high standards of living at affordable prices, to include medical treatment and communications.
ENGINEERING PLASTICS

Engineering plastics are a group of plastic materials that have better mechanical and/or thermal properties than the more widely used commodity plastics (such as polystyrene, PVC, polypropylene and polyethylene).

Being more expensive, engineering plastics are produced in lower quantities and tend to be used for smaller objects or low-volume applications (such as mechanical parts), rather than for bulk and high-volume ends (like containers and packaging).

The term usually refers to thermoplastic materials rather than thermosetting ones. Examples of engineering plastics include acrylonitrile butadiene styrene (ABS), used for car bumpers, dashboard trim and Lego bricks; polycarbonates, used in motorcycle helmets; and polyamides (nylons), used for skis and ski boots.

Engineering plastics have gradually replaced traditional engineering materials such as wood or metal in many applications. Besides equalling or surpassing them in weight/strength and other properties, engineering plastics are much easier to manufacture, especially in complicated shapes.

The global engineering plastics market is valued at $57.2 billion in 2014 and is expected to reach $91.78 billion by 2020 at a compound annual growth rate of 8.2%

COMMODITY PLASTICS

Commodity plastics are plastics that are used in high volume and wide range of applications, such as film for packaging, photographic and magnetic tape, clothing, beverage and trash containers and a variety of household products where mechanical properties and service environments are not critical. Such plastics exhibit relatively low mechanical properties and are of low cost. The range of products includes Plates, Cups, Carrying Trays, Medical Trays, Containers, Seeding Trays, Printed Material and other disposable items.

Examples of commodity plastics are polyethylene, polypropylene, polystyrene, polyvinyl chloride, poly(methyl methacrylate).

HIGH PERFORMANCE PLASTICS

High performance plastics meet higher requirements than standard and engineering plastics because of their better mechanical properties, higher chemical and/or a higher heat stability. Especially the latter makes processing difficult, often special machines are required. Most high-performance plastics are, for example, specializes in a single property (e.g. the heat stability). Thus they stand in contrast to engineering plastics, covering a wide range of functions. Some of their diverse applications include: fluid flow tubing, electrical wire insulators, architecture, and fiber optics.

High performance plastics are relatively expensive: The price per kilogram may be between 5 (PA 46) and $ 100 (PEEK) per kilo. The average value is slightly less than 15 US-Dollar/kg. High-performance plastics are thus about 3 to 20 times as expensive as engineering plastics. Also in future there cannot be expected a significant price decline, since the investment costs for production equipment, the time-consuming development and the high distribution costs are going to remain constant.
LINKS & REFERENCE
https://
FOAM & BOTTLES - Expanded polystyrene is used to package household electrical goods, while soft drinks and water is sold in PET plastic bottles by the billions every year. The numbers are staggering. It's no wonder then that some of this plastic will end up on our plate in one form or another, potentially as a toxin carrier. Copyright photograph © 22-7-17 Cleaner Ocean Foundation Ltd, all rights reserved.
ABS - BIOMAGNIFICATION - BP DEEPWATER - CANCER - CARRIER BAGS - CLOTHING - COTTON BUDS - DDT - FISHING NETS
FUKUSHIMA - HEAVY METALS - MARINE LITTER - MICROBEADS - MICRO PLASTICS - NYLON - OCEAN GYRES - OCEAN WASTE
PACKAGING - PCBS - PET - PLASTIC - PLASTICS - POLYCARBONATE - POLYSTYRENE - POLYPROPYLENE - POLYTHENE - POPS
PVC - SHOES - SINGLE USE - SOUP - STRAWS - WATER
This website is provided on a free basis as a public information service. copyright © Cleaner Oceans Foundation Ltd (COFL) (Company No: 4674774) 2018. Solar Studios, BN271RF, United Kingdom. COFL is a charity without share capital.