PLASTIC FREE EASTBOURNE
ABOUT - CLIMATE CHANGE - CONTACTS - CROWDFUNDING - DONATE - FOUNDATION - OCEAN PLASTIC - HOME - A-Z INDEX
Hundreds of volunteers attend the park and beach cleans organised by Plastic Free Eastbourne, typically over a long weekend. The organisation exists to promote a lifestyle devoid of plastic, including not drinking water from plastic bottles because of the harm that ingesting micro plastic particles could mean on a cumulative basis.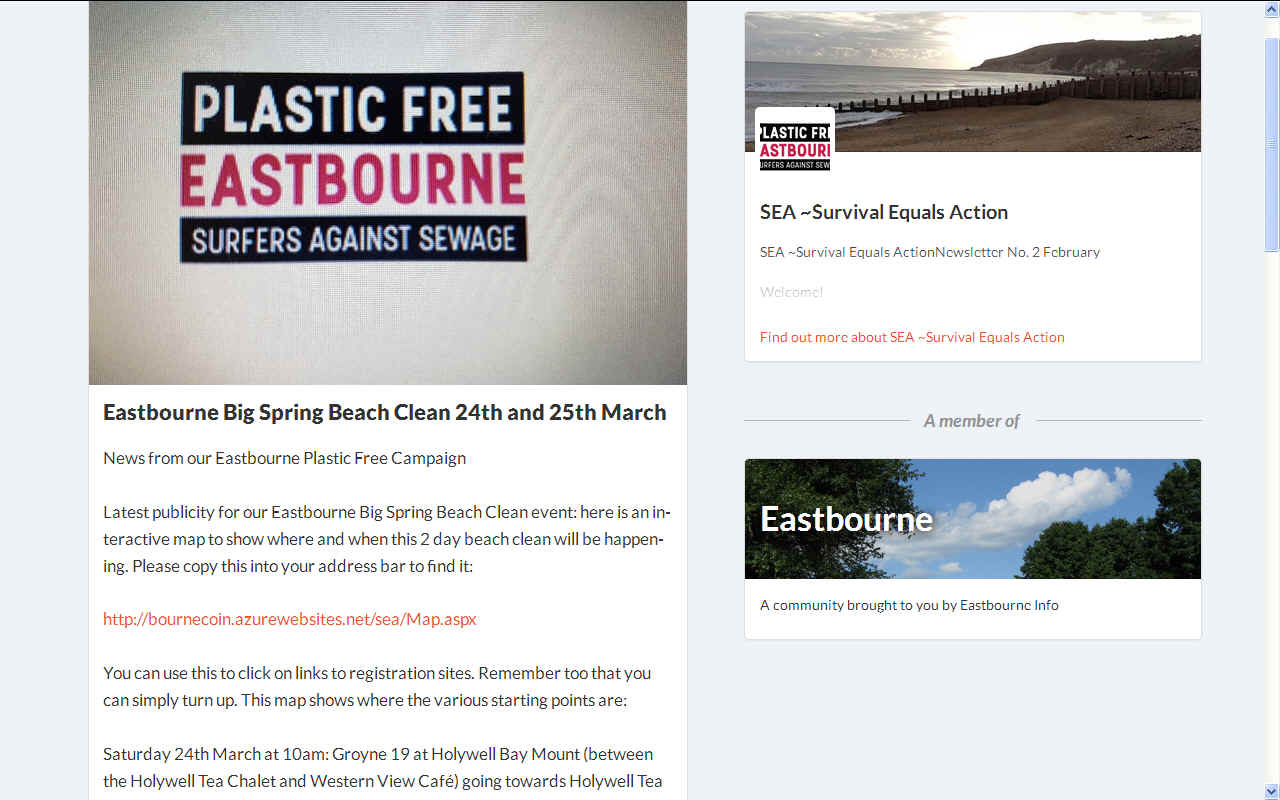 PLASTIC FREE EASTBOURNE 4 AUGUST 2019

At their monthly meeting in Eastbourne's Crown and Anchor public house, the guest speaker was Wayne Dixon, appearing with his trusty dog, Koda.
Wayne told the gathering about the variety and quantity of litter that he'd picked on his travels around the British coast. he is supported by Keep Britain Tidy and other who empty Wayne's bag when it gets full.
Wayne keeps a log of his travels and may one day write a book so that we can all read about his fantastic adventures. We hope so.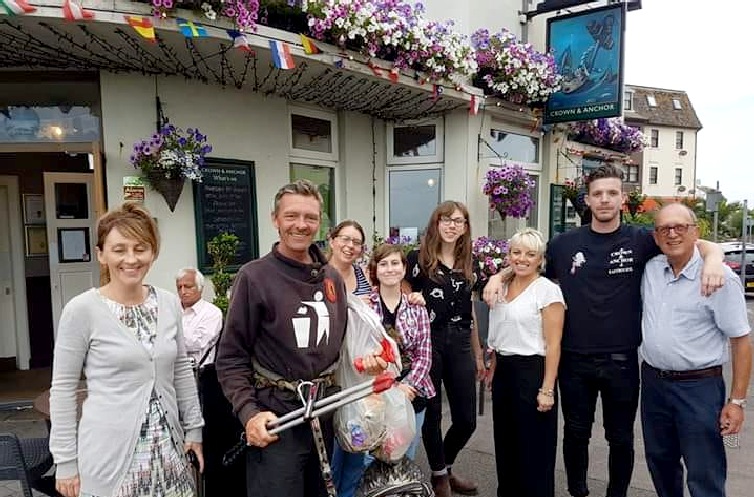 ARMY VETERAN - Wayne Dixon and his dog Koda have collected 50 tons of rubbish so far on an epic litter pick around Britain.

Wayne, 47, along with Koda, eight, has already filled 10,000 bin bags - and the pair are still only half way into their trip along the coastline. They set out from their home in Lancashire almost three years ago and have covered 3,500 miles so far after crossing off Scotland, Wales, Devon and Cornwall. They have now made their way along the South coast to Brighton where Wayne, who served with the Royal Army Medical Corps, joined a party of litter pickers for the Silent Disco Beach Clean to help remove thousands more discarded items. The pair's series of walks are in memory of Wayne's father John, who died in 2012. Funds are being raised for the mental health charity Mind. John suffered bipolar disorder for many years but was an avid walker and loved coastal paths.

Wayne, who is also backed by Keep Britain Tidy, said: "You would think the environmental message about the harm caused by littering would have hit home by now but people still discard rubbish on the beaches which then get washed out to sea causing marine pollution.
EVENT - FRIDAY-SUNDAY 26 JANUARY 2019 - EASTBOURNE BIG SPRING BEACH CLEAN
Plastic Free Eastbourne completed their 3 day event with about 300 volunteers participating. This included educational bodies, organisations and individuals. The Allchorn Marine Heritage Centre hosted the start of the Saturday event and provided complimentary refreshments on both days, as did the Crown and Anchor public house:
Saturday 24th March at 10am: Groyne 19 at Holywell Bay Mount (between the Holywell Tea Chalet and Western View Café) going towards Holywell Tea Chalet; Groyne 20 to Western View Café, Western View Café to the Pier. Sunday 25th March at 11am: Pier to Redoubt; Fort Fun to Redoubt and to Waterworks.

The Mayor of Eastbourne, Gill Mattock, opened each day's events and participated herself. MP for Eastbourne, Stephen Lloyd spoke on Sunday, while David Stopp sang his inspirational campaign song "Journey of Love" several times.
The organizers thanked everyone for publicizing the event with posters and flyers for customers to enjoy, thanks to Ashprint who contributed free printing. This included BBC South East Radio 93.9 fm, 95.9 Hailsham FM and various other news outlets.
Plastic Free Eastbourne linked in with WaterWeek Festival at Holywell where they were inspired by the events and performers. Jamie Bedwell, Eastbourne triathlete who hopes to compete in the Paris Olympics spoke about his campaign to make the biking industry single-use plastic free. The Eastbourne Triathlon in June is expecting to be a plastic free event.
Date for your diaries: Friday 6th April 10am in the Court Room, Eastbourne Town Hall ~ our first "Plastic Free Eastbourne" Steering Group. This meeting is open to the public and will determine our future strategies and policies for the coming year. Under 16 year olds must be accompanied by a "responsible adult".

BBC South East included an item @ 6.30 on the Plastic Free Eastbourne campaign. It was partly filmed at the iconic Groyne 19 between Holywell Tea Chalet and Western View Café.
The beach cleaning event by the school pupils during the morning was coordinated by Claire Sumners, also known as 'Zero Waste Maman' ~ regional co-ordinator for Surfers Against Sewage. This is the organisation which is behind this campaign to become Plastic Free Eastbourne. Also featured in the programme is another member Karen South, who runs Beach Clean Eastbourne as part of Marine Conservation Society.
The next event is the "Big Parks Spring Clean", set for 10th, 11th, 12th May 2019. The organizer's hope to clean every one of 34 parks in Eastbourne during this event. A schools competition will take place at the same time.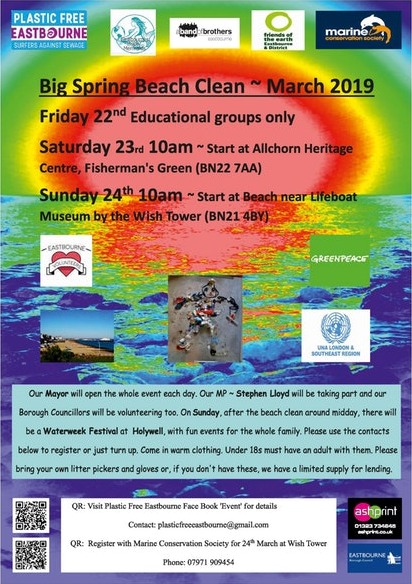 SPRING BEACH CLEAN MARCH 22-24 - For 2019 there are 3 beach cleaning events planned spanning Friday 22nd, Saturday 23rd and Sunday 24th of March 2019.
EASTBOURNE HERALD 28 FEB 2018 - Plans to turn Eastbourne plastic free are gaining momentum. Surfers Against Sewage is behind the push which will include a major beach clean over a weekend later this month. Eastbourne council last week unanimously supported the scheme and more than 1,000 people have joined the SEA – Survival Equals Action Facebook page.

Surfers Against Sewage community leader Oliver Sterno said Constant Clean Up, local groups of Friends of the Earth and Greenpeace, Bourne Coin, BeachClean Eastbourne, Zero Waste Maman, Eastbourne's Mucky Mermaids and A Band of Brothers will be out in action on Saturday and Sunday March 24 and 25.

It will start west of the pier at 10am on the beach at Holywell on the Saturday and east of the pier on the Sunday at 11am." Our efforts in beach cleaning are coming on apace," said Mr Sterno. "There are so many groups and events taking place that everyone should be able to participate if desired. Others are doing the same further inland too. It's fabulous. "This means we can progress as a town to gain the award of 'Plastic Free Eastbourne'."
ONGOING PROJECT - From the Grand Opening (see below) Plastic Free Eastbourne is gathering momentum. The general movement is now supported by park associations, schools and of course Eastbourne Borough Council. Individuals are also free to join and many have. The Cleaner Ocean Foundation joined in February of 2019. The Foundation is committed to keeping our shores and seas clear of plastic. This year the Foundation is working to prove a system of generating energy for ocean plastic cleaning vessels, commencing with quarter scale tests of a mast and boom for 2 x 400 watt wind turbines and solar panel arrays, to be fitted to a Ford Transit. This development work is dependent on donations, with Crowdfunding events now being planned for 2019 to finance early stages of SeaVax development - on a not for profit basis. Check out the Smartphone game that we hope to be able to release in late 2019 or early 2020.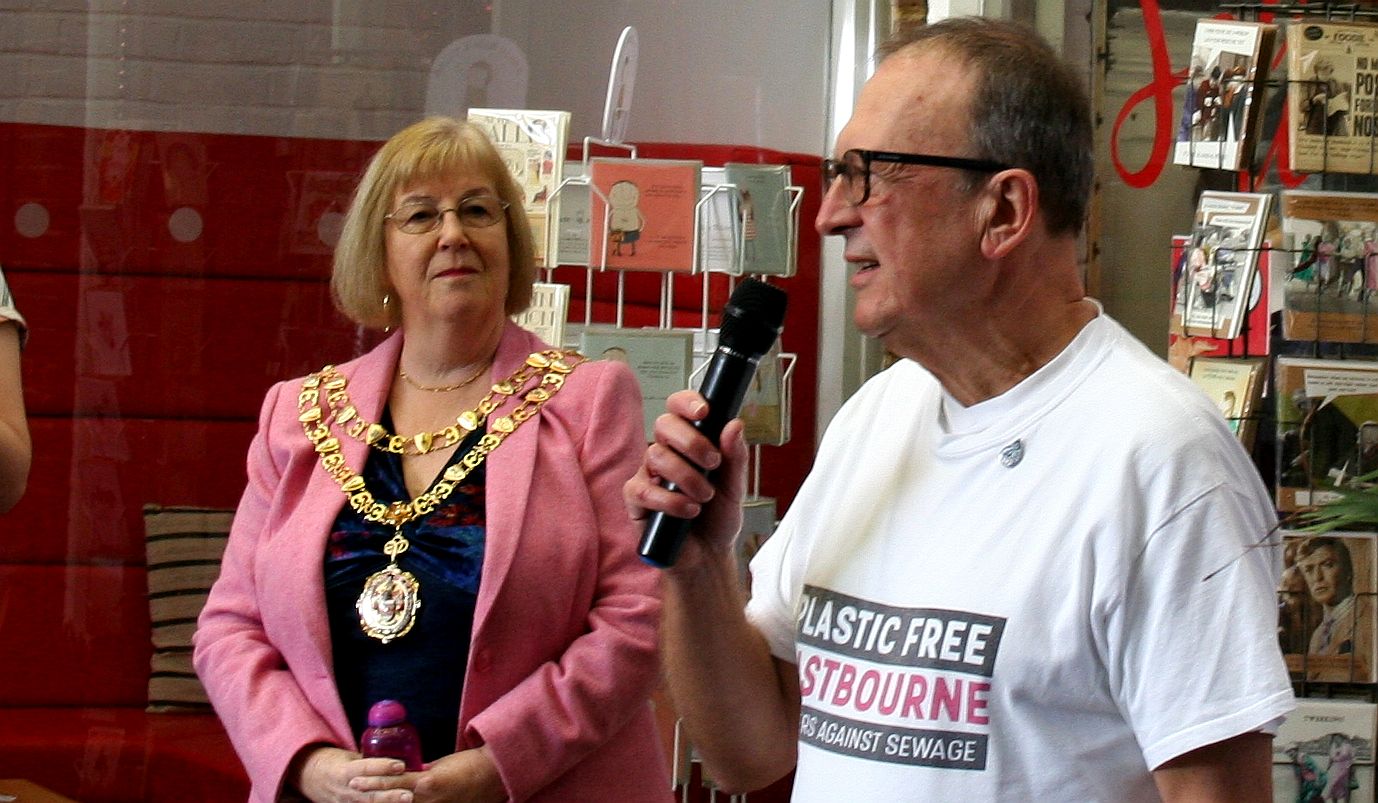 GRAND OPENING - Councillor Gill Mattock opened the Refill event to the applause of a crowd of visitors at the Enterprise Centre. Oliver Sterno is seen here introducing the Mayor of Eastbourne, a town that has pledged to clean their parks and beaches of plastic, if humanly possible. Mr Sterno is heading up a park cleaning campaign in addition to his work introducing the Refill scheme to the town, with help from businesses like the Enterprise Centre and cooperation between park managers and friends.
EVENT - SATURDAY 26 JANUARY 2019 - ENTERPRISE CENTRE, EASTBOURNE
This was a free to attend event on two levels at the Enterprise Centre in Eastbourne from 10:00am and all were welcome, though space was limited, hence it was cozy at peak times. The Mayor of Eastbourne, Councillor Gill Mattock kindly agreed to open this event with the official launch of 'Refill Eastbourne' @ 11:00am. The fun continued until around 13:00pm or a little later, with your host Oliver Sterno as the master of ceremonies and singer/songwriter David Stopp soothing us with his composition, the campaign song - "Journey of Love," yearning for a day when beaches will be clean again - if only we can all work together to make that happen.
There were displays from local artists and Southern Water. Marine biologist, Gonzalo Alvarez, from the United Nations Association of Bexhill, spoke about the problems of plastic in the ocean, telling of some projects to record data in the deep and the wonder of Blue Planet II and Sir David Attenborough bringing the problem to the public's attention. Local athlete Jamie Bednell, potential Triathlon competitor at the 2024 Paris Olympics, was at the event to speak on the subject. There was also a free to enter, guess the weight of plastic caps game, with 8 "Chilly's" refillable metal bottles each worth £20 won by visitors on the day.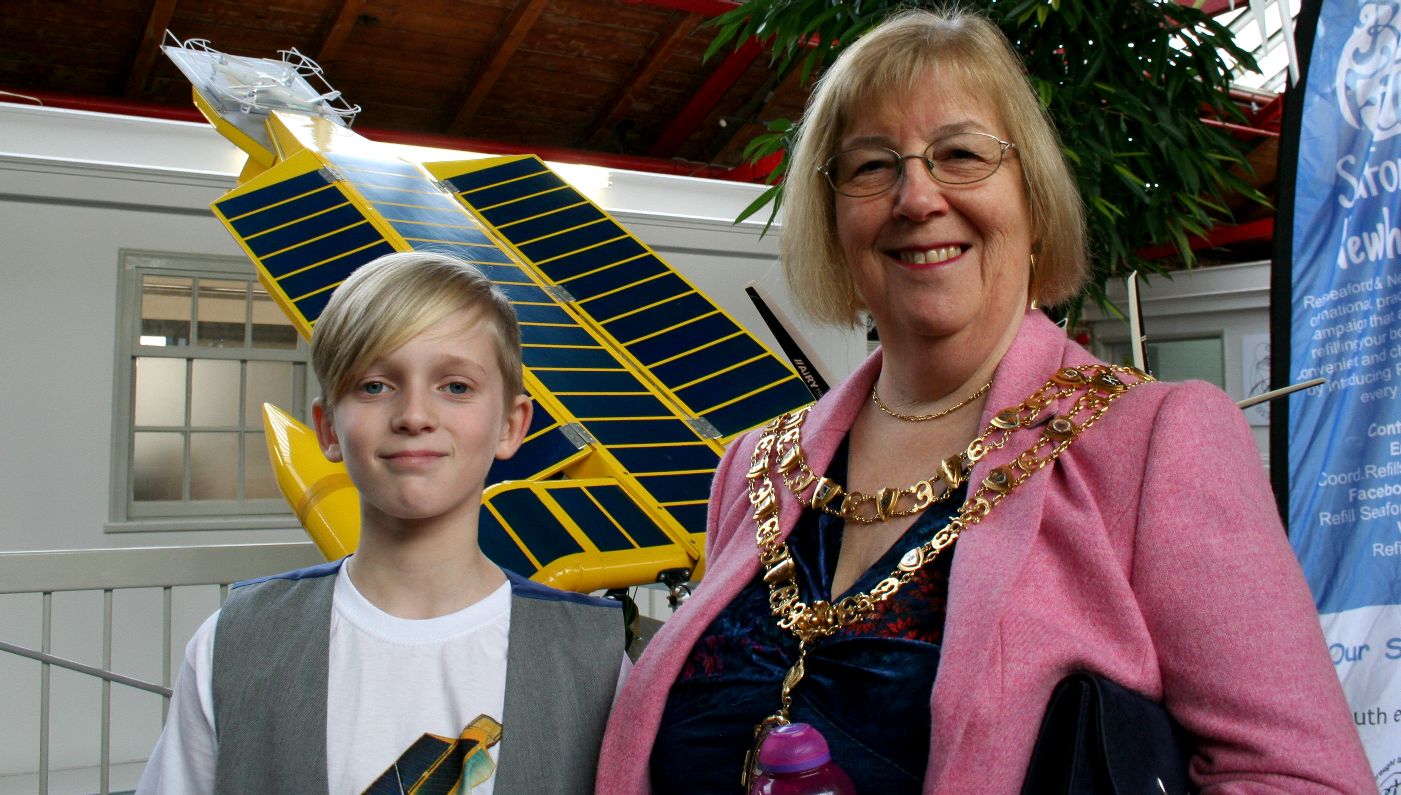 OCEAN PLASTIC CLEANER - Conservation is the name of the game in Eastbourne, the aim being to save our heritage for future generations. Councillor Gill Mattock, Mayor of Eastbourne, is pictured here with Ryan Dusart, at just 10 years old - the youngest member of the SeaVax team of volunteers. The SeaVax, seen in the background, is a giant solar and wind powered ocean going dustcart, designed to filter plastic from seawater without harming marine life. SeaVax is a robotic ship that works in fleets with satellite coordination to form an effective ocean plastic recovery system to stem the 8 to 12 million tons of waste that humans are pouring into the oceans every year. Being solar and wind powered, SeaVax is climate friendly. Global Warming is high on the agenda at Davos and is getting a lot of attention from protesting schoolchildren like Greta Thunberg.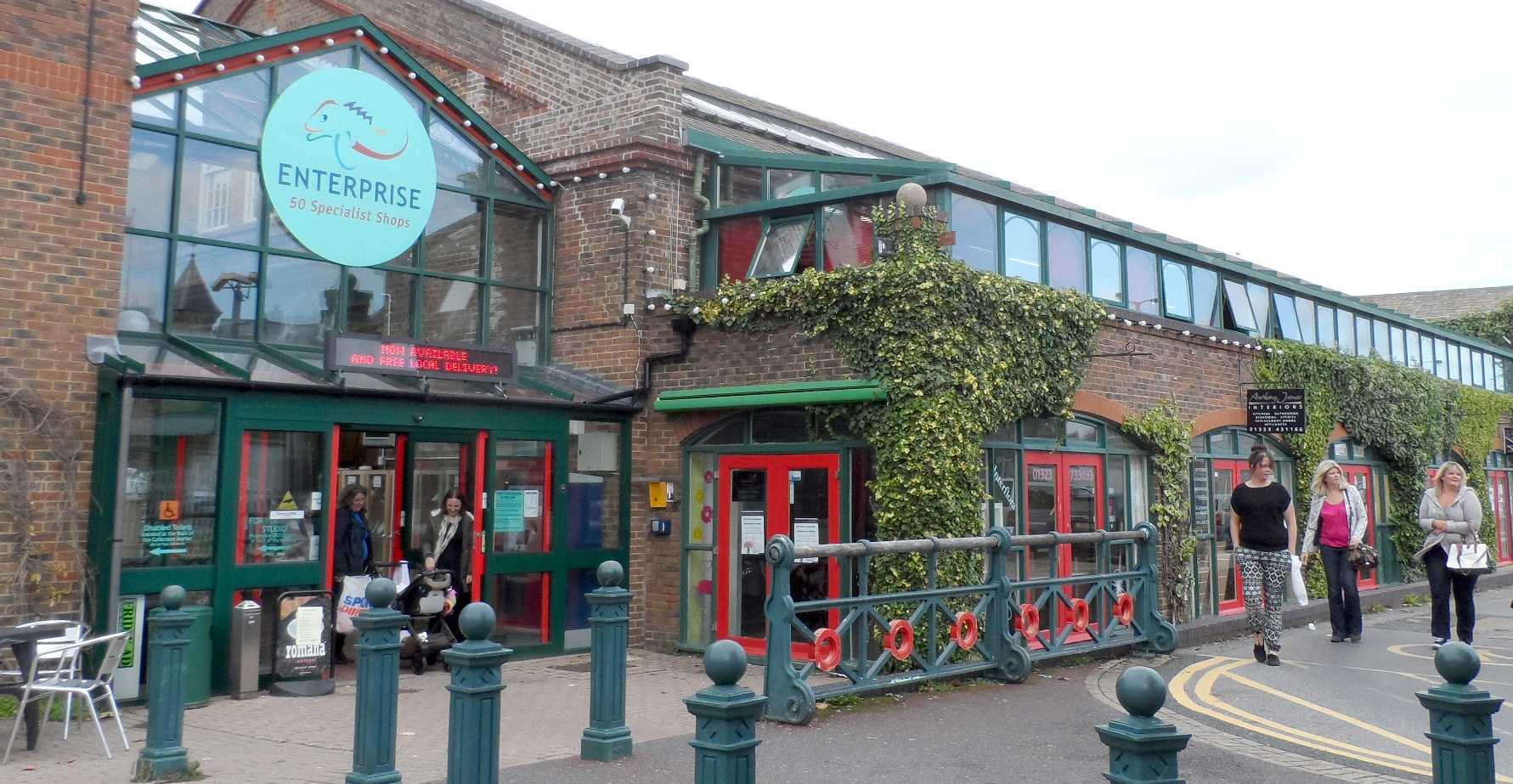 BOUTIQUE SHOPPING - The Enterprise Centre is situated next to the main railway station in Eastbourne, and directly off the main A22 road into Eastbourne. Enterprise Shopping Centre, Station Parade, Eastbourne, East Sussex, BN21 1BD. If you are looking for something out of the ordinary, this is a shoppers paradise, where good food will sustain you as you hunt for that something special.

Telephone: 01323 639504 Email: info@enterprise-centre.org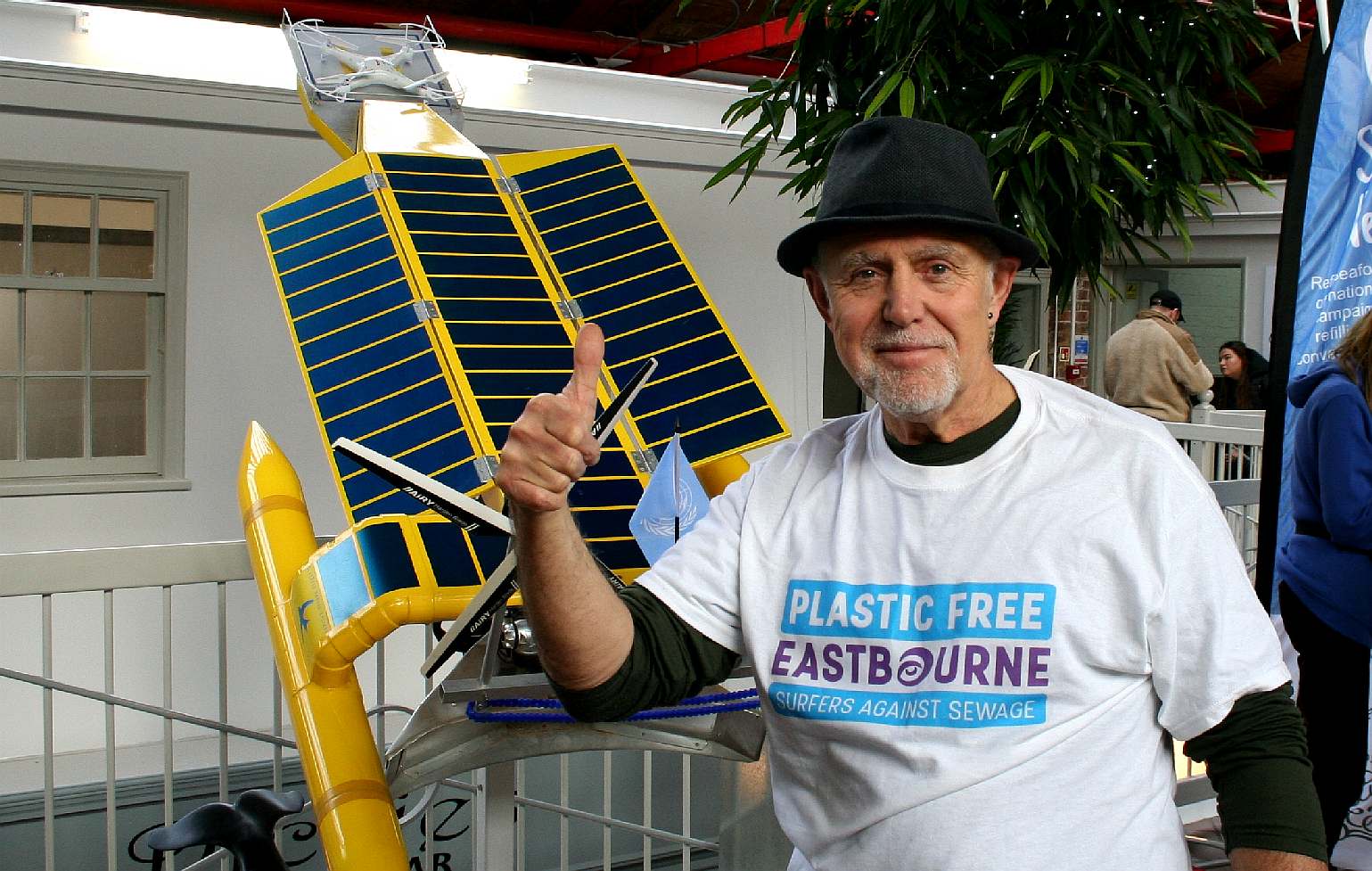 SINGER SONGWRITER - After entertaining the crowd with his poly-political message, composer David Stopp dropped in to the SeaVax stand to check out what an ocean cleaning machine looks like. He's usually a very cool dude, but mankind polluting the planet fired him to reach for his guitar and raise the air temperature just a little with his melodies. Nice one David, we loved "Journey Of Love." Copyright photograph © 26-01-19 Cleaner Ocean Foundation Ltd, all rights reserved.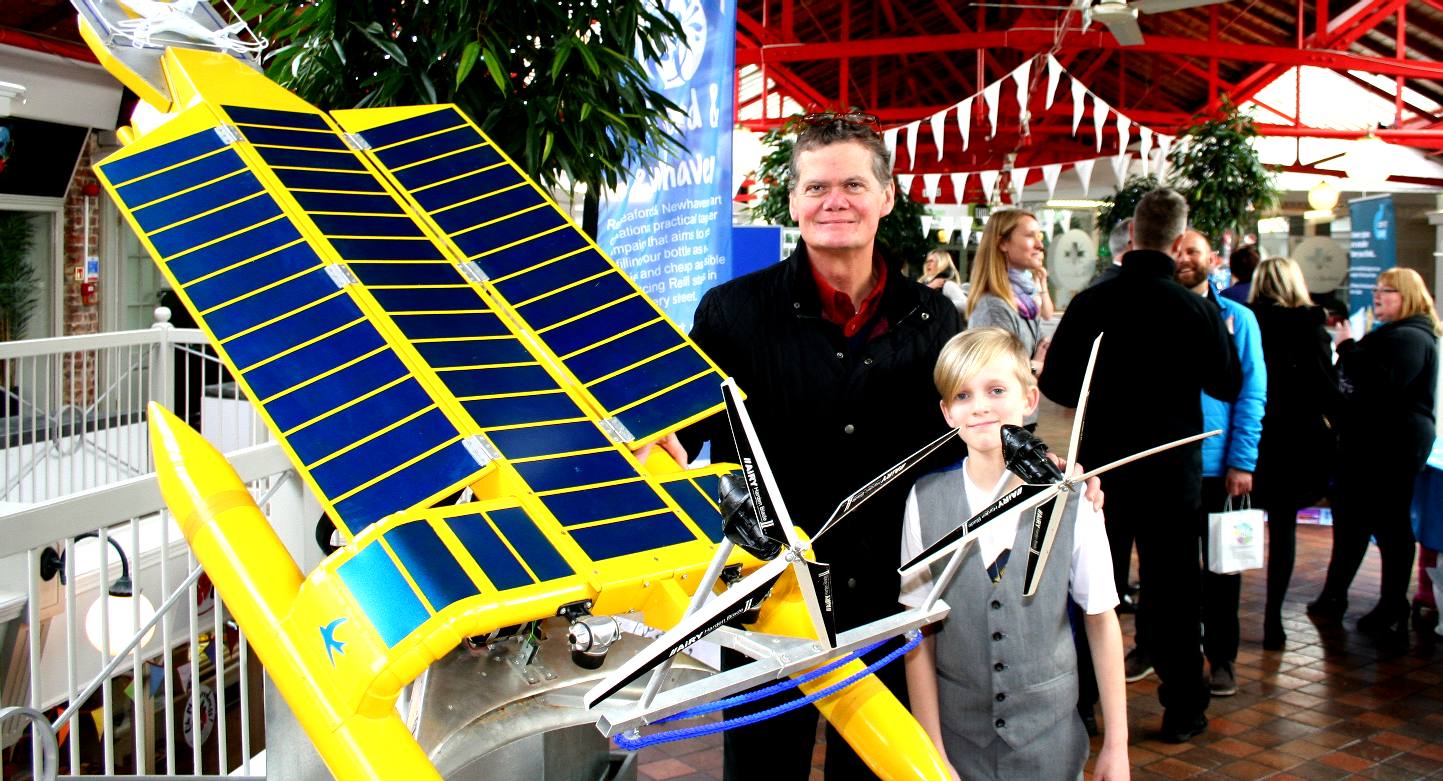 EASTBOURNE MP - Worried about the Liberal emptying of our plastic discards into the oceans, local MP Stephen Lloyd, was curious as to how machines like SeaVax might realistically be deployed in sufficient numbers to make a difference, given the scale of the problem. The secret is not a secret, the Cleaner Ocean Foundation are looking to develop a prototype and then give the design away to operators all over the world on a free basis, with technical support. The idea is to make ocean plastic recycling economically viable, where at the moment Governments all over the world are struggling to come up with solutions. Copyright photograph © 26-01-19 Cleaner Ocean Foundation Ltd, all rights reserved.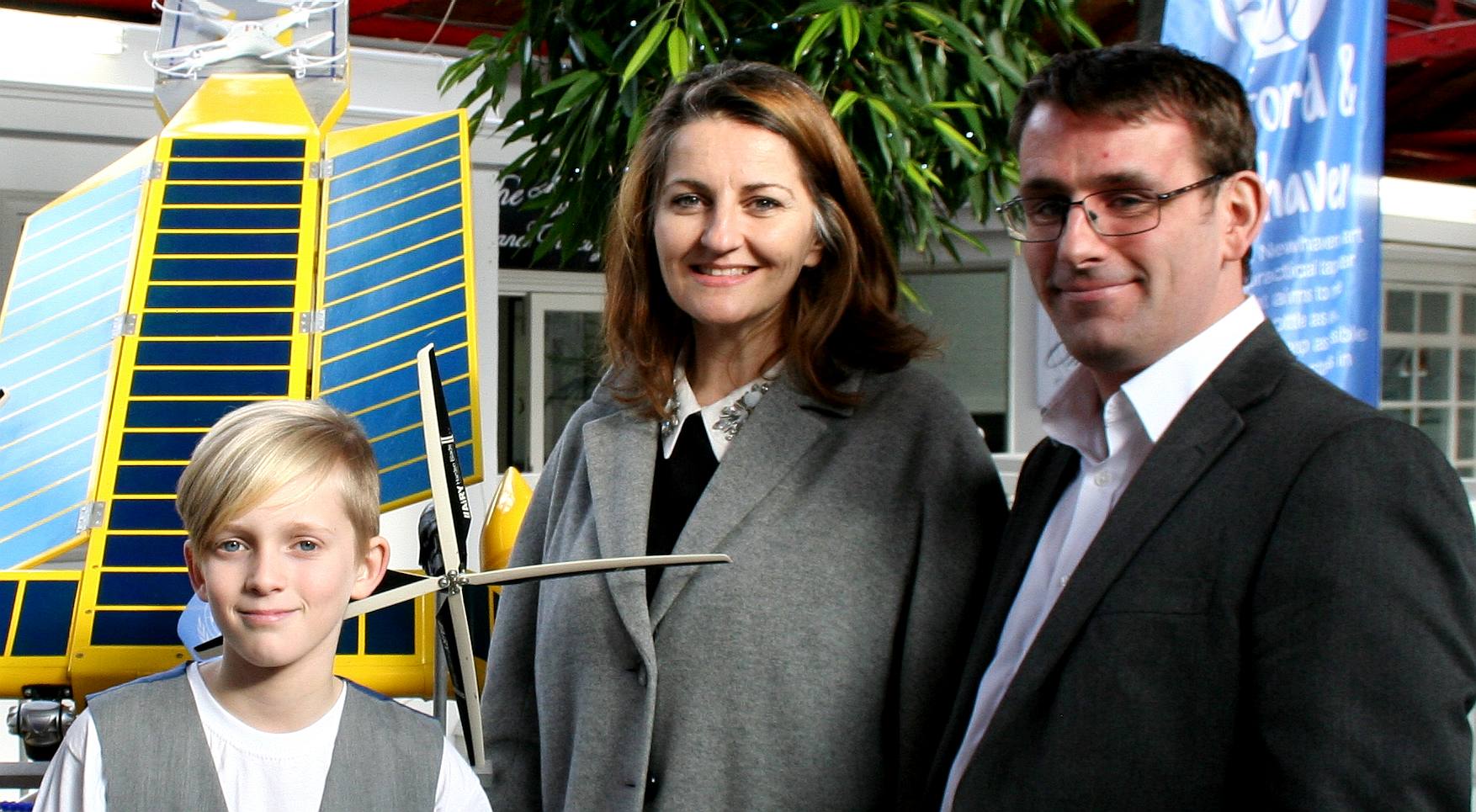 CAROLINE ANSELL - Plastic waste is an all-party problem, an issue that is so big in terms of food security and marine conservation that everyone agrees we must do something to stem the tide. In the UK, our Parliament has already banned single use plastic in the House of Commons. Caroline Ansell (centre) is a local politician and former Conservative MP for Eastbourne, also very concerned at the problems we are facing globally. The United Kingdom is nowhere near as bad as some overseas polluters, but even here we have beaches strew with plastic after each storm washes up another batch. Chris Close (SeaVax project director -right) spoke to ITV at this event about the difficulty obtaining funding for high tech research that is undertaken by not for profit organisations. Copyright photograph © 26-01-19 Cleaner Ocean Foundation Ltd, all rights reserved.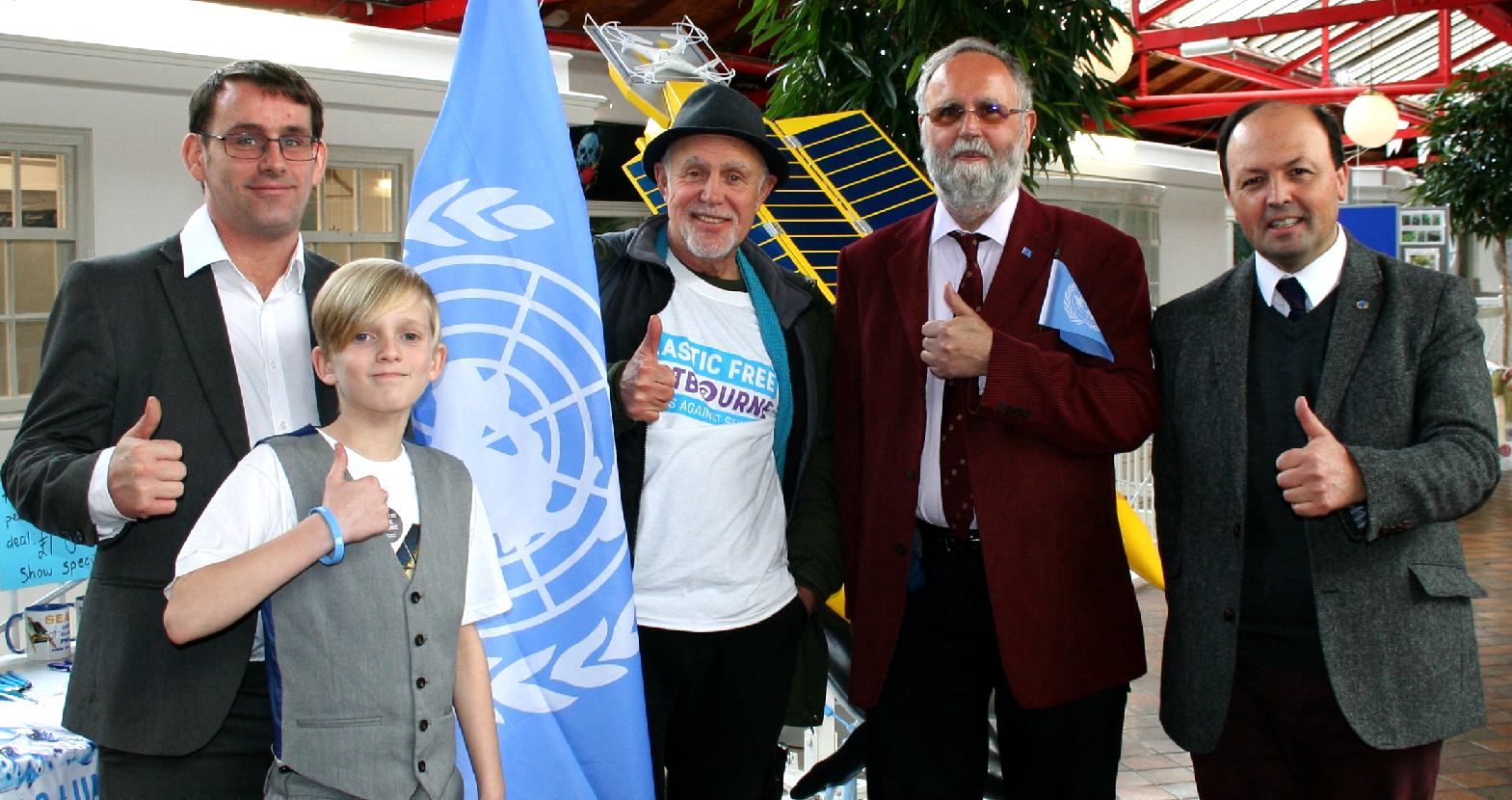 UNITED NATIONS UK - Representatives from the UK arm of the United Nations were present at the event, giving a big thumbs up for the concept of cleaning the oceans using technology to rescue man from his polluting habits. Copyright photograph © 26-01-19 Cleaner Ocean Foundation Ltd, all rights reserved.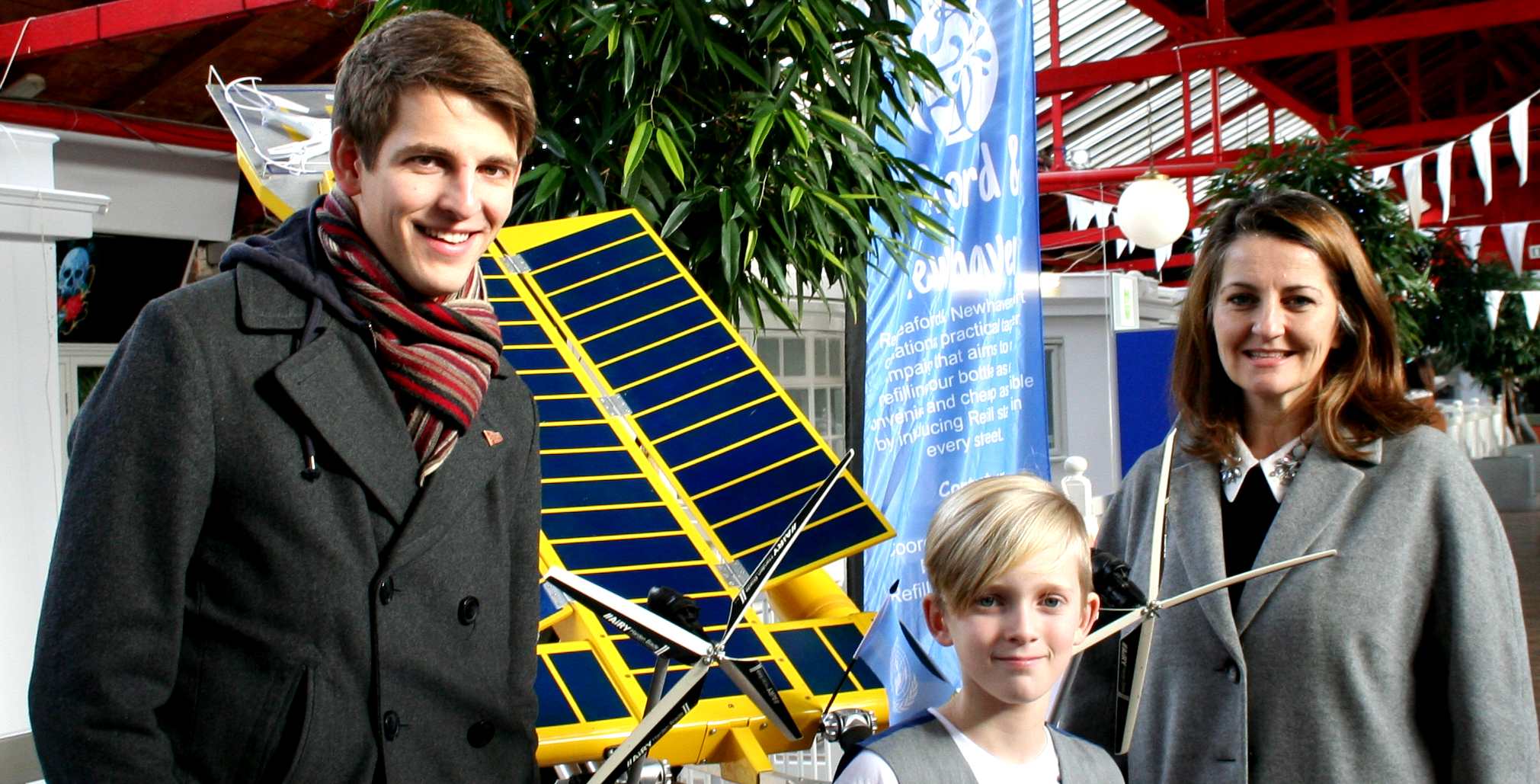 JAKE LAMBERT - Labour candidate Jake Lambert and Caroline Ansell with Ryan Dusart on the SeaVax stand. Jake was chair of the Eastbourne Labour Party from 2012 until 2017. He has served as president of East Sussex National Union of Teachers, and worked on the Save The DGH campaign. Mr Lambert is a teacher at a local secondary school and has previously worked in the local hospitality and retail sectors, as well as leading projects on an international peace project working in Israel and Palestine. Ryan was on hand to explain to visitors how SeaVax worked. Copyright photograph © 26-01-19 Cleaner Ocean Foundation Ltd, all rights reserved.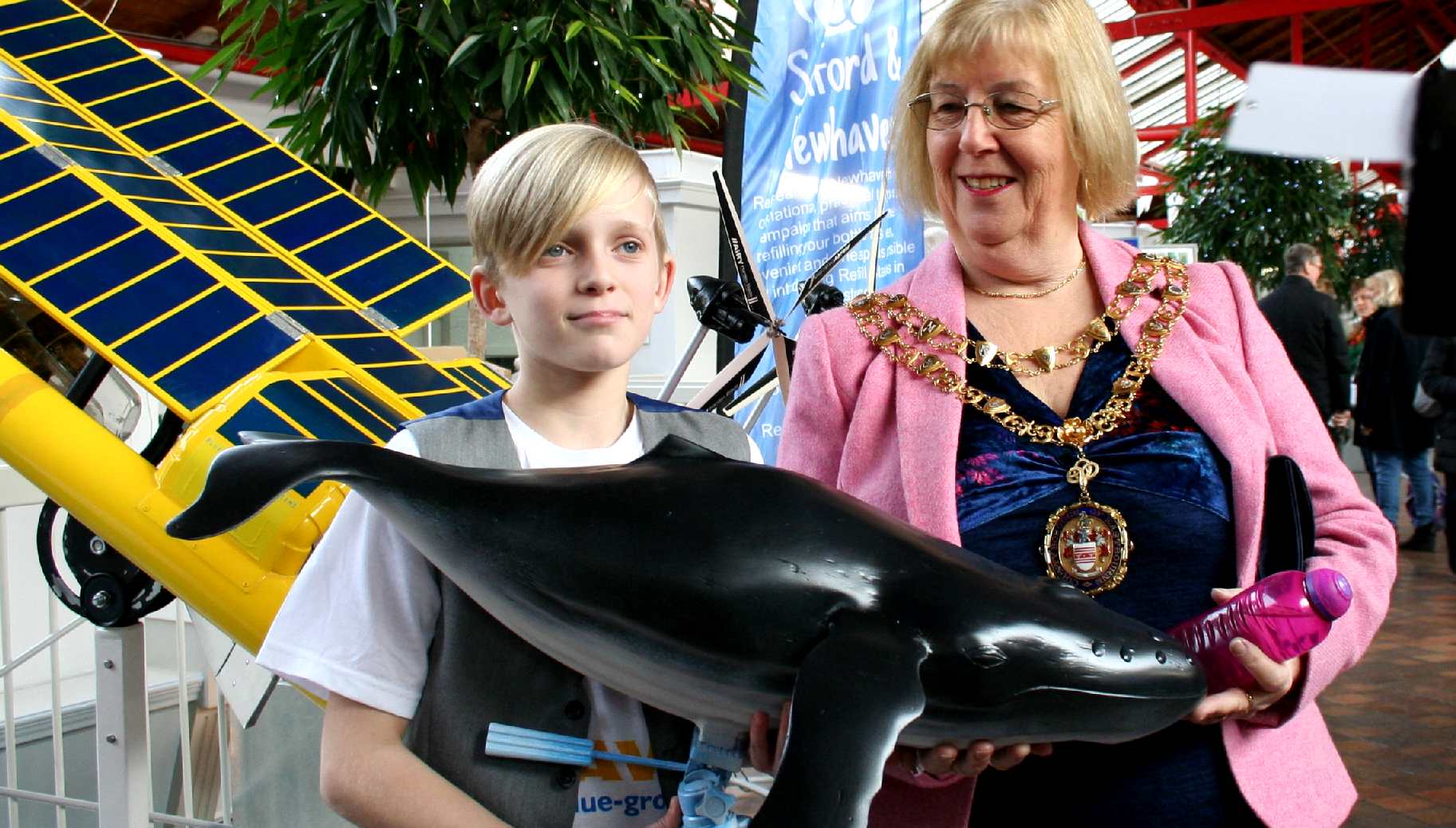 HUMPBACK WHALE - This whale is called Kulo Luna. She is one of the main characters of an ocean awareness story, seen here in 1/20th scale to complement the SeaVax and
Elizabeth Swan test tank models. Copyright photograph © 26-01-19 Cleaner Ocean Foundation Ltd, all rights reserved.
There were publicity stalls and the 1/20th scale (proof of concept) model of SeaVax was on display with a 1/20th scale model of Kulo Luna, a mature humpback whale (fictional) that loves solar boats. Local charity - Cleaner Ocean Foundation - is developing SeaVax to be able to remove debris from our oceans.
"Plastic ocean" ~ their art exhibition will be on display. There will be 8 "Chilly's" bottles ~ each worth £20 ~ as prizes for the winners of a guessing game.

REFILL is an award-winning campaign to prevent plastic pollution at source by making it easier to reuse and refill your bottle instead of buying a new one.
The campaign works by connecting people looking for water with thousands of Refill stations across the UK via a location-based app. Anyone can download the free app and find Refill Stations where they can refill for free on the go.

Participating cafes, bars, restaurants, banks, galleries, museums and other businesses simply sign up to the app and put a sticker in their window – alerting passers-by that they're welcome to come on in and fill up their bottle.

With more than 15,000 Refill Stations and over 80,000 app downloads, we've proven that Refill has the power to create a tipping point and normalise carrying a reusable bottle and reducing plastic pollution at source. If all our Refill stations are used just once a day, we're stopping around 5 million plastic bottles at source in a year.
City to Sea, a not-for-profit organisation headed by entrepreneur Natalie Fee, launched the award-winning Refill Scheme in 2015. She says: "We've seen a huge appetite for our Refill campaign across the UK, from individuals wanting to make a difference in their community to national chains keen to offer free refills to their customers. Our Refill app puts the power to stop plastic pollution in people's hands – and now thanks to the water industry we'll be able to help everyone, from local communities to airports, to provide free refills on the go."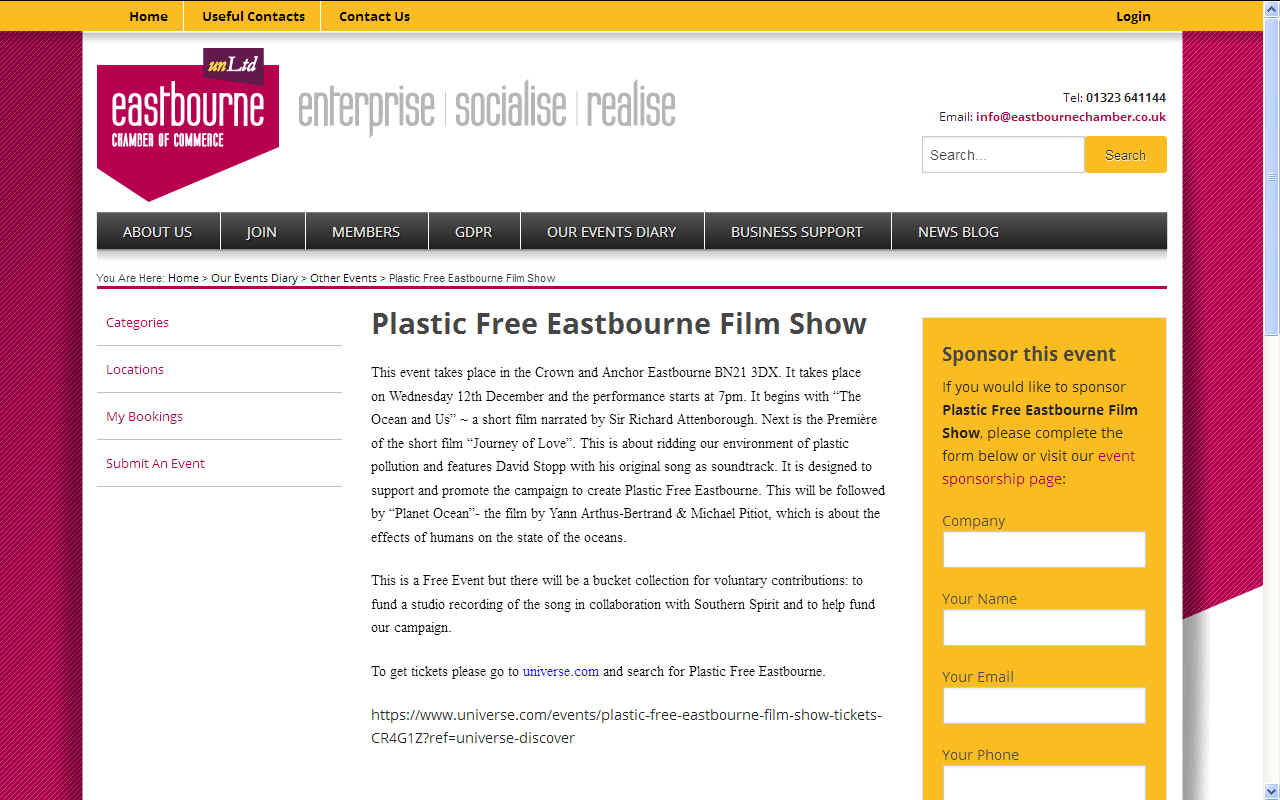 WEDNESDAY 12 DECEMBER 2018 - CROWN & ANCHOR PUBLIC HOUSE, EASTBOURNE
This event takes place in the Crown and Anchor Eastbourne BN21 3DX. It begins with "The Ocean and Us" ~ a short film narrated by Sir David Attenborough. Next is the Première of the short film "Journey of Love". This is about ridding our environment of plastic pollution and features David Stopp with his original song as soundtrack. It is designed to support and promote our campaign to create Plastic Free Eastbourne. This will be followed by "Planet Ocean"- the film by Yann Arthus-Bertrand & Michael Pitiot, which is about the effects of humans on the state of the oceans.

This is a Free Event but there will be a bucket collection for voluntary contributions: to fund a studio recording of the song in collaboration with Southern Spirit and to help fund our campaign.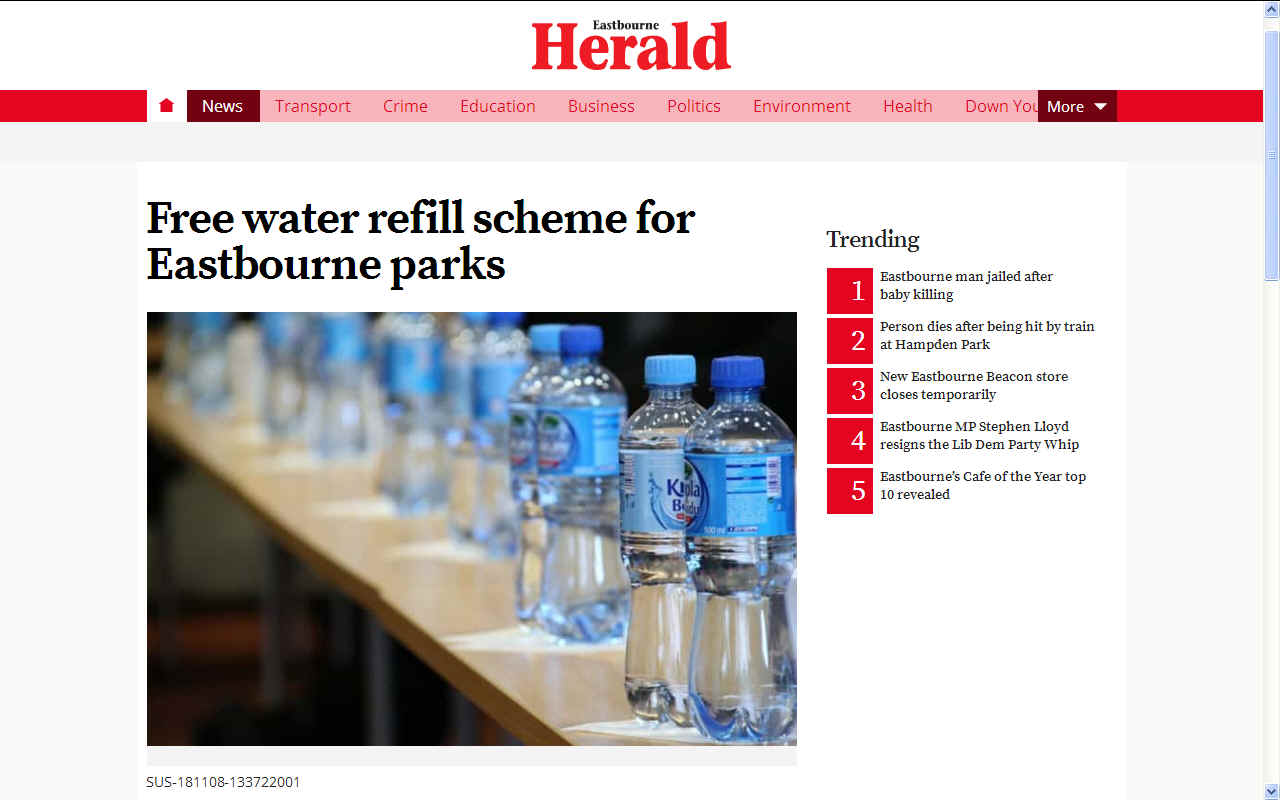 EASTBOURNE HERALD SEPTEMBER 5 2018

Free drinking water could be provided within parks and public places in Eastbourne.

The council is supporting the environmentalist group Refill scheme, which allows people to refill bottles with free tap water at businesses and says a scheme within the authority's own parks could become a reality as part of a bid to reduce single use plastic and prevent pollution in the sea.

Participating cafes, bars, banks, shops, galleries and other businesses put a sticker in their window alerting passers-by to the fact that they are welcome to come in and fill up their bottle for free.

A council spokesperson said, "The provision of more drinking water facilities within Eastbourne would help to provide free and accessible tap water to those who need it, whether or not they have a reusable bottle on them, reducing the need to purchase potentially less healthy drinks in single-use containers, on the go. This will support the aims of the council to reduce single-use plastics in our community.

"As a first step to this project officers will conduct a desk-based study to assess the potential for drinking water installations in parks and other locations where there is a council-owned and managed water source available, for example at public toilets.

"As a guide, a typical stainless steel water fountain retails at around £500 but a simple push tap would be even easier to install and maintain. A £3,000 budget is available for this project within the 2018/19 year.

The installations would need to be supported in parallel by the community-led national Refill campaign, which EBC can encourage and support. This work will be largely conducted and driven by volunteers alongside access to council owned refill points, such as putting drinking water facilities at the Bandstand toilets onto a Refill App." By Annemarie Field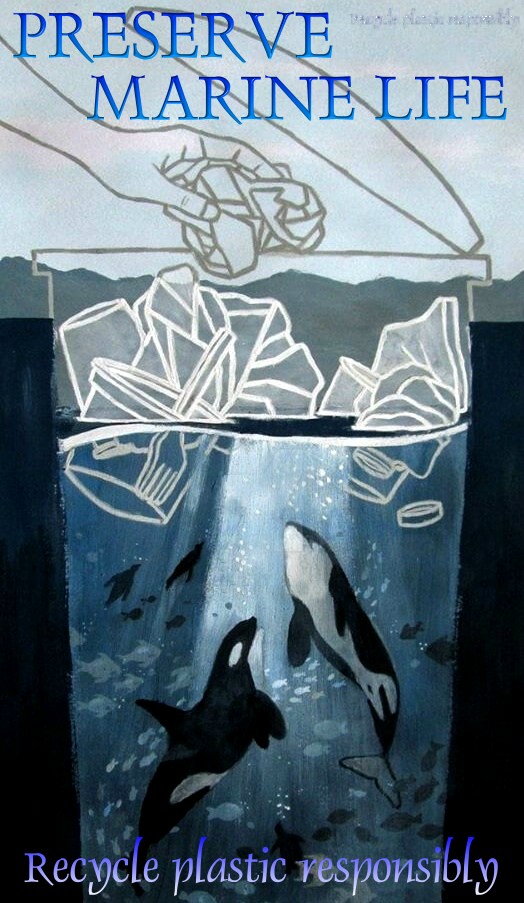 LINKS & REFERENCE
https://interests.me/org/PlasticFreeEastbourne/story/60467
https://www.eastbourneherald.co.uk/news/plans-to-make-eastbourne-plastic-free-1-8397002
https://plastic-free-eastbourne.mn.co/
https://www.eastbourneherald.co.uk/news/free-water-refill-scheme-for-eastbourne-parks-1-8625030
http://www.eastbourneunltd.co.uk/events/plastic-free-eastbourne-film-show/
https://www.universe.com/events/plastic-free-eastbourne-film-show-tickets-CR4G1Z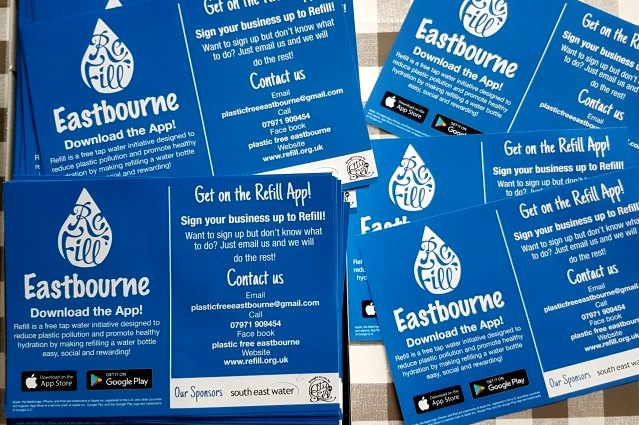 REFILL EASTBOURNE - The Refill app tells you where you can fill up your reusable water bottles, so saving single use PET bottles from entering the system.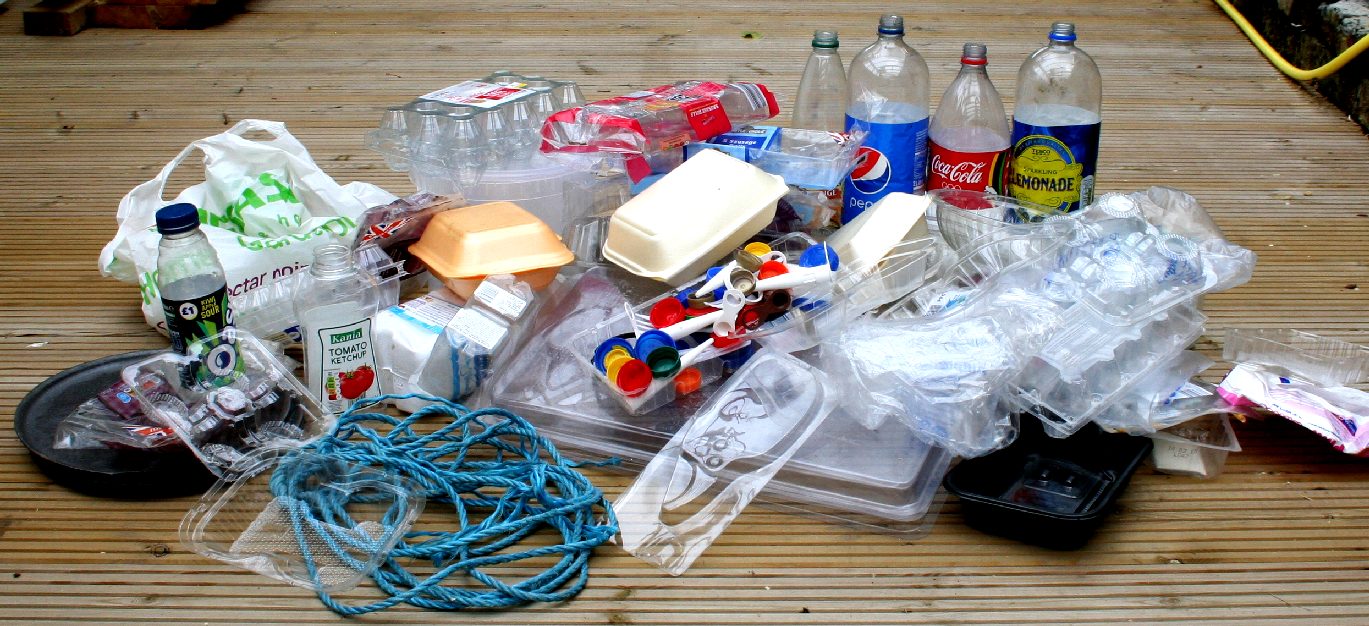 SINGLE USE PLASTICS - This is just a small sample of the plastic packaging that you will find in retails stores all over the world. A good proportion of this packaging - around 8 millions tons a year, will end up in our oceans, in the gut of the fish we eat, in the stomachs of seabirds and in the intestines of whales and other marine mammals. Copyright photograph © 22-7-17 Cleaner Ocean Foundation Ltd, all rights reserved.
FOAM & BOTTLES - Expanded polystyrene is used to package household electrical goods, while soft drinks and water is sold in PET plastic bottles by the billions every year. The numbers are staggering. It's no wonder then that some of this plastic will end up on our plate in one form or another, potentially as a toxin carrier. Copyright photograph © 22-7-17 Cleaner Ocean Foundation Ltd, all rights reserved. Animals do not recognize polystyrene foam as an artificial material and may even mistake it for food. Polystyrene foam blows in the wind and floats on water, due to its low specific gravity. It can have serious effects on the health of birds or marine animals that swallow significant quantities.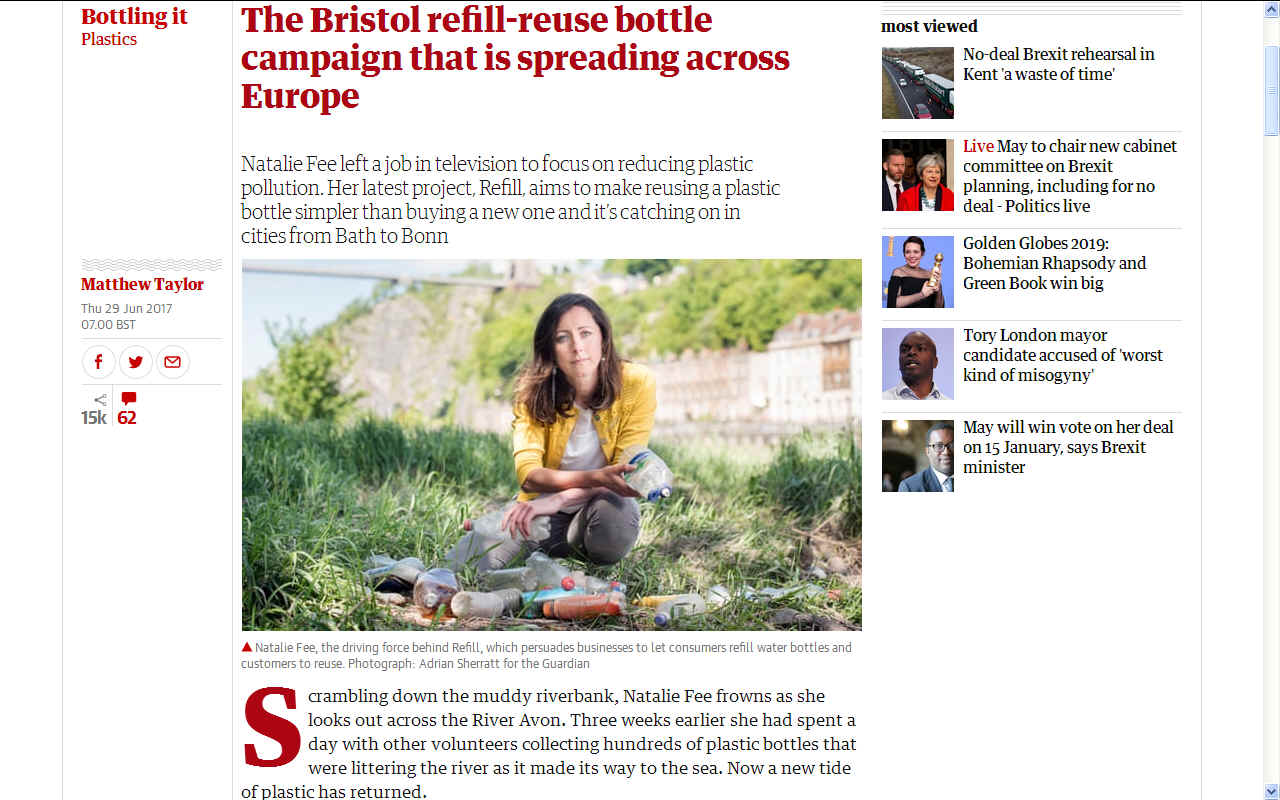 OUR OCEANS ARE IN DANGER - There are many ways that an organization can contribute to the health of our oceans. Helping people to reduce their plastic footprint and disposing of waste thoughtfully is vital awareness work.
The Cleaner Ocean Foundation assimilates the information that has been gathered by others and looks at alternatives to solutions that exist, in the hope of bringing something new to the table. SeaVax has been identified as a platform with potential for many uses aiming towards ocean salvation, including: 1. responsible fishing vessels, 2. plastic waste collection and 3. oil spills containment. Finally, the SeaVax is solar and wind powered and may help to pave the way for zero emission cargo and passenger vessels of the future.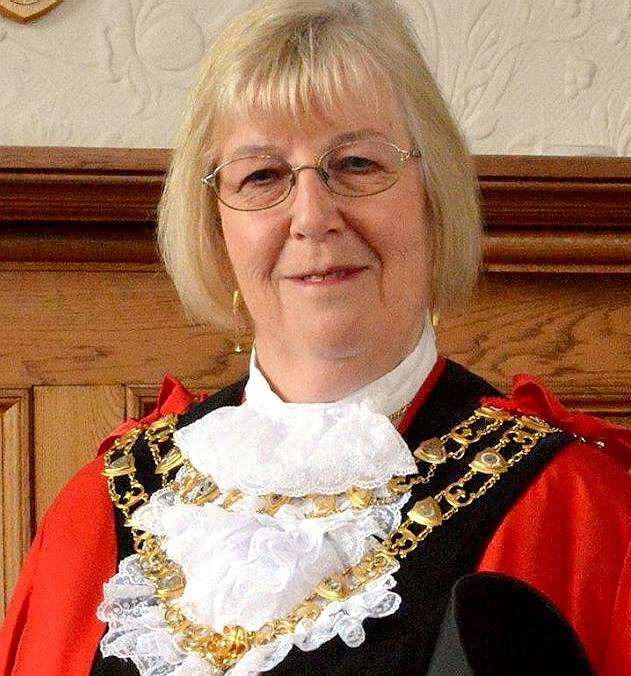 ABOUT COUNCILLOR GILL MATTOCK - Longstanding Liberal Democrat councillor Gill Mattock is the Mayor of Eastbourne. Gill is also the deputy leader of Eastbourne council and the lead for financial services. She has served as a councillor for St Anthony's ward since May 2007. Gill moved to Eastbourne in 1971 to study at the Eastbourne Teacher Training College where she qualified as a teacher and met husband Alan in her final year.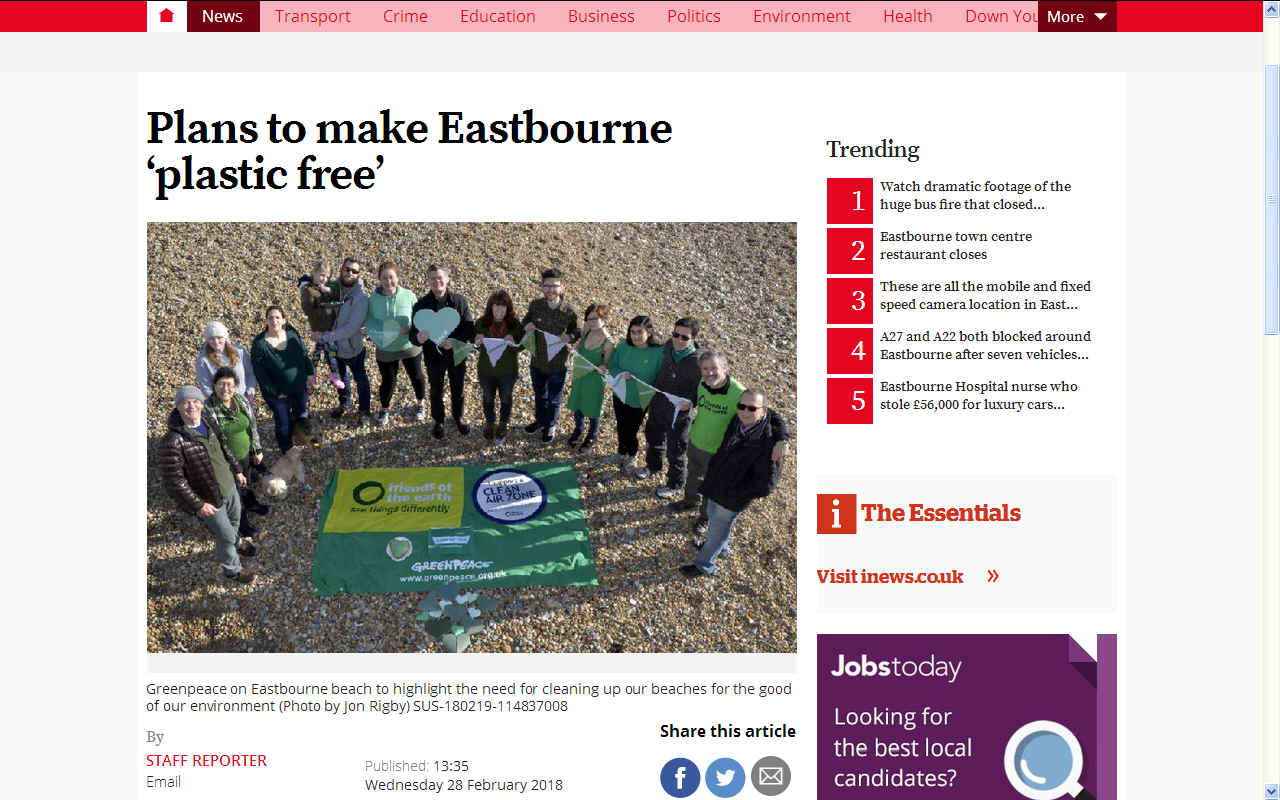 A-Z - ABS - BIOMAGNIFICATION - BP DEEPWATER - CANCER - CARRIER BAGS - CLOTHING - COTTON BUDS - DDT - FISHING NETS
FUKUSHIMA - HEAVY METALS - MARINE LITTER - MICROBEADS - MICRO PLASTICS - NYLON - OCEAN GYRES - OCEAN WASTE
PACKAGING - PCBS - PET - PLASTIC - PLASTICS - POLYCARBONATE - POLYSTYRENE - POLYPROPYLENE - POLYTHENE - POPS
PVC - SHOES - SINGLE USE - SOUP - STRAWS - WATER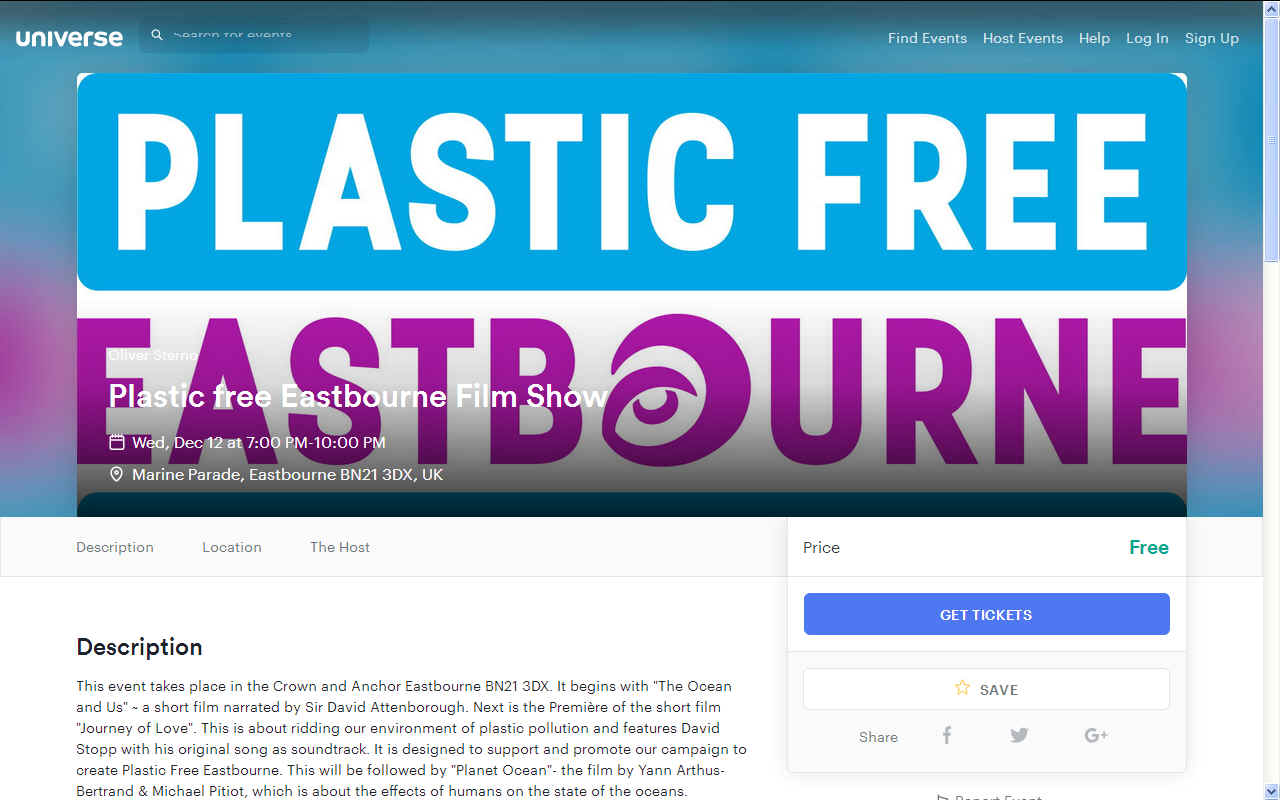 This website is provided on a free basis as a public information service. copyright © Cleaner Oceans Foundation Ltd (COFL) (Company No: 4674774) 2019. Solar Studios, BN271RF, United Kingdom. COFL is a charity without share capital.