ANDRUS ANSIP
ABOUT - CLIMATE CHANGE - FOUNDATION - HOME - OCEAN PLASTIC - UN
Please use our A-Z INDEX to navigate this site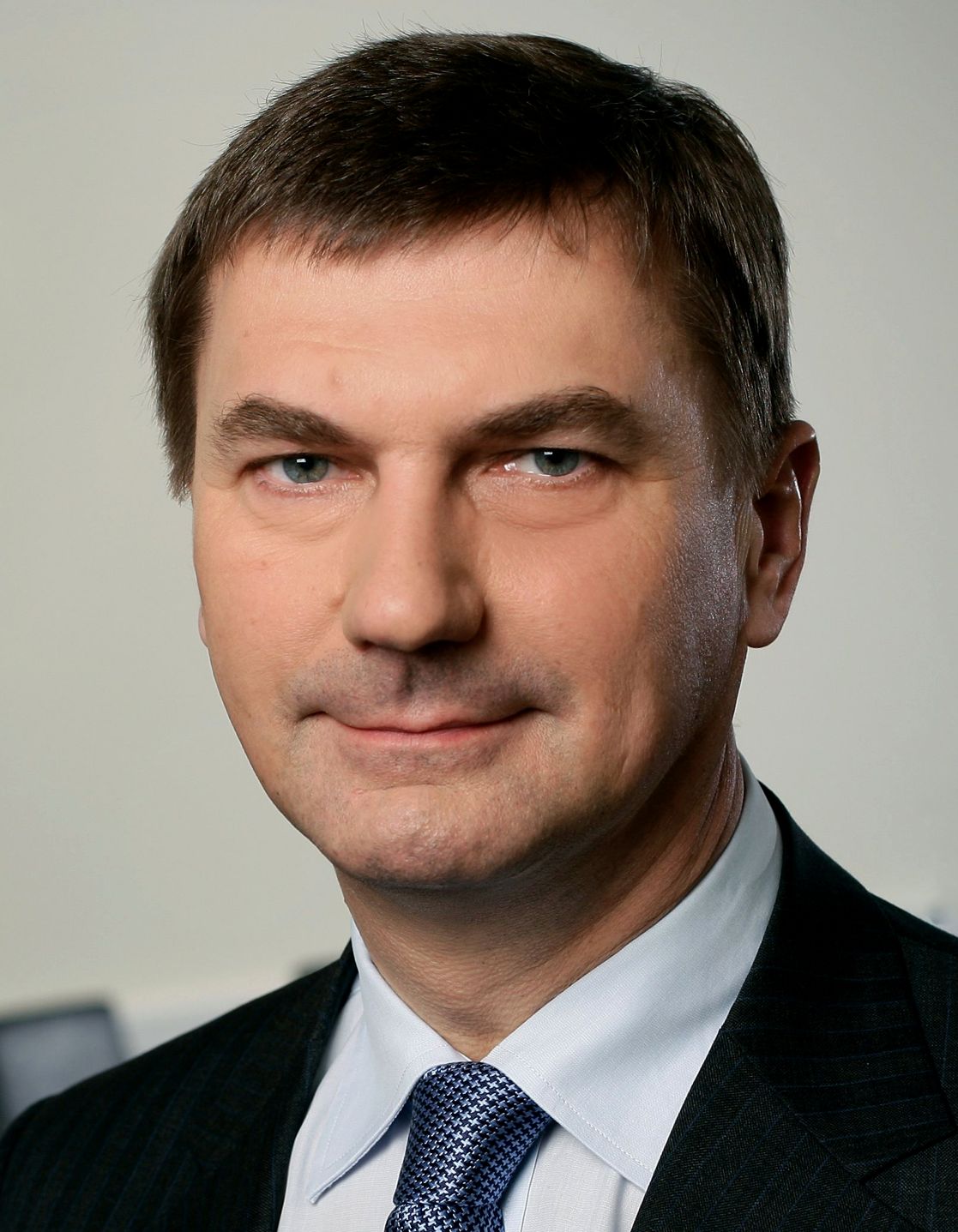 VICE PRESIDENT - Andrus Ansip was born on the 1st of October 1956. He is an Estonian politician, the current European Commissioner for Digital Single Market and Vice President of the European Commission, in office since 2014. Previously, he was Prime Minister of Estonia from 2005 to 2014 and chairman of the liberal Estonian Reform Party (Estonian: Reformierakond) from 2004 to 2014.

Before his entry into politics Ansip trained as a chemist, before working in banking and business. He entered Parliament in 2004, quickly becoming Minister of Economic Affairs, and subsequently Prime Minister in April 2005. On 1 November 2014, he was appointed to the European Commission.


In the 2014 European elections, Andrus Ansip was elected as an MEP receiving the largest number of preferential votes in Estonia. Shortly after, Prime Minister Taavi Roivas nominated him as the country's next European Commissioner.

On 10 September 2014 President-Elect Juncker of the European Commission announced that he proposed Andrus Ansip as Vice-President of the European Commission and the European Commissioner for the Digital Single Market. He was formally appointed by the European Council as Vice President with the consent of the European Parliament.
FT JANUARY 30 2017 - EU & FAKE NEWS
The EU's digital chief has warned Facebook and other social media companies they must take a stronger stance against fake news or face action from Brussels.

Andrus Ansip, the European commissioner who leads the portfolio, told the Financial Times that recent events could be a "turning point" for online platforms that risked losing trust unless they took greater responsibility.

"I am worried, as all people are worried, about fake news, especially after the elections in the United States," Mr Ansip said. "I really believe in self-regulatory measures but if some kind of clarifications are needed then we will be ready for that."

Mr Ansip's warning comes as Facebook is under growing pressure to act after fake news stories went viral during last year's US presidential elections, including one that claimed the Pope had endorsed Donald Trump.

The world's largest social network is testing several ways to try to limit the rapid proliferation of fake news stories, including a new system that will filter suspicious content flagged by users with the help of fact-checking organisations.

Facebook also this month announced a journalism project, which will work with news publishers and support a campaign to teach users how to distinguish between hoaxes and real stories.
A European Commission spokesperson said the commission would be "following closely" steps taken by social media companies and plans to issue "guidance on the different types of voluntary measures adopted by online platforms" later this year.

A Facebook spokesperson said it took its responsibility to tackle fake news "extremely seriously". Google and Twitter declined to comment.

"We want people to feel confident that what they see on Facebook is meaningful and authentic, and recently announced a series of measures designed to tackle hoax news on our platform," the spokesperson added. "We understand there is still more work to do and we are committed to working with others to do so."

Mr Ansip did not offer details of the measures Brussels could take if the European Commission was not satisfied, but he pointed to a code of conduct signed last May with tech companies including Facebook, Twitter and Google to combat illegal online hate speech as an example.

"They have to be more active," Mr Ansip added. "It was common to think that the role of quality media would decrease and the role of social media would increase, and be more important. If there will be fake news, you cannot trust those sources any more, then you will return back to quality media."

In a sign of the growing political pressure on social media platforms, the UK House of Commons culture, media and sport committee announced on Monday it will hold a parliamentary inquiry into fake news.


The German government, meanwhile, is discussing legislation that could impose fines of up to €500,000 on Facebook and other online platforms for distributing fake news amid mounting concern about the influence that internet hoaxes could have on this year's elections.

Facebook responded two weeks ago by announcing it would introduce its fake news filtering tools in Germany in the coming weeks.

In spite of his threats to step in, Mr Ansip, a former prime minister of Estonia, insisted it was not the job of the European Commission or governments to censor online content. "Fake news is bad but the ministry of truth is even worse," he said.

Mark Lewis, a media lawyer with Seddons, questioned whether self-regulation would ultimately work for global social media platforms which are subject to different legal systems around the world.

"At this time the regulation is impossible because social media companies do not undertake even basic tests that identify the [user posting the material]," he said. "Those who are banned on Twitter, for example, can set up the same day with a new account. The simple expedient of ID checks would avoid that."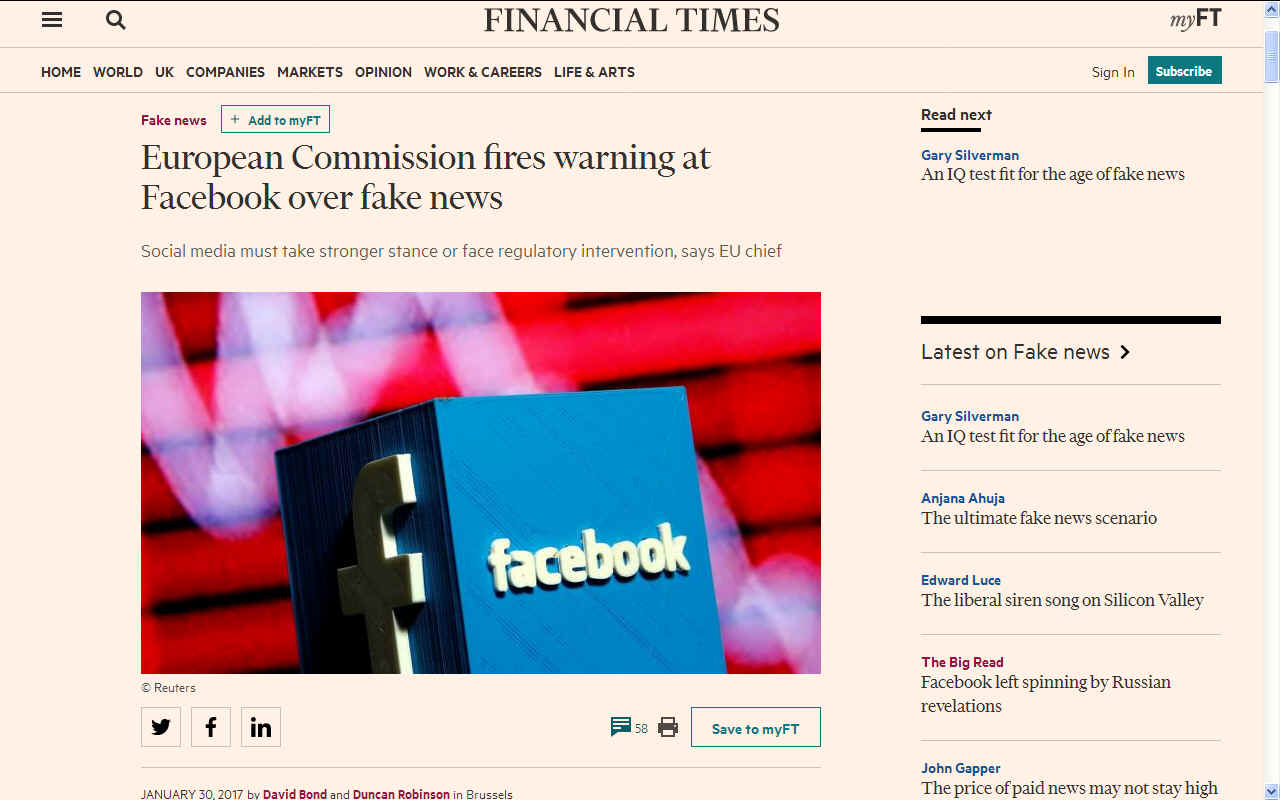 ABOUT THE EUROPEAN COMMISSION
The European Union established a Commission to act as their executive and to promote its general interests. The Commission is composed of the College of Commissioners comprised of 28 members, including the President and Vice-Presidents. The Commissioners, one from each EU country, are the Commission's political leadership during a 5-year term. Each Commissioner is assigned responsibility for specific policy areas by the President.
| | | | |
| --- | --- | --- | --- |
| | | | |
| - | - | - | - |
| President | 1st Vice President | High Representative, V. President | Vice President |
| - | - | - | - |
| | | | |
| - | - | - | - |
| Vice President | Vice President | Vice President | Commissioner |
| - | - | - | - |
| | | | |
| - | - | - | - |
| Commissioner | Commissioner | Commissioner | Commissioner |
| - | - | - | - |
| | | | |
| - | - | - | - |
| Commissioner | Commissioner | Commissioner | Commissioner |
| - | - | - | - |
| | | | |
| - | - | - | - |
| Commissioner | Commissioner | Commissioner | Commissioner |
| - | - | - | - |
| | | | |
| - | - | - | |
| Commissioner | Commissioner | Commissioner | Commissioner |
| - | - | - | - |
| | | | |
| - | - | - | - |
| Commissioner | Commissioner | Commissioner | Commissioner |

THE COMMISSION - Group photograph of the European Commissioners in 2017.
LINKS & REFERENCE
https://www.ft.com/content/85683e08-e4a9-11e6-9645-c9357a75844a
http://www.politico.eu/person/andrus-ansip/
https://twitter.com/Ansip_EU
https://en.wikipedia.org/wiki/Andrus_Ansip
http://ec.europa.eu/maritimeaffairs/maritimeday/
https://ec.europa.eu/commission/commissioners/2014-2019_en
This website is provided on a free basis as a public information service. copyright © Cleaner Oceans Foundation Ltd (COFL) (Company No: 4674774) 2022. Solar Studios, BN271RF, United Kingdom. COFL is a charity without share capital. The names AmphiMax™, RiverVax™ and SeaVax™ are trade names used under license by COF in connection with their 'Feed The World' ocean cleaning sustainability campaign.