OCEAN SAVIOUR - PLASTIC SKIMMER
ABOUT - CONTACTS - FOUNDATION - HOME - A-Z INDEX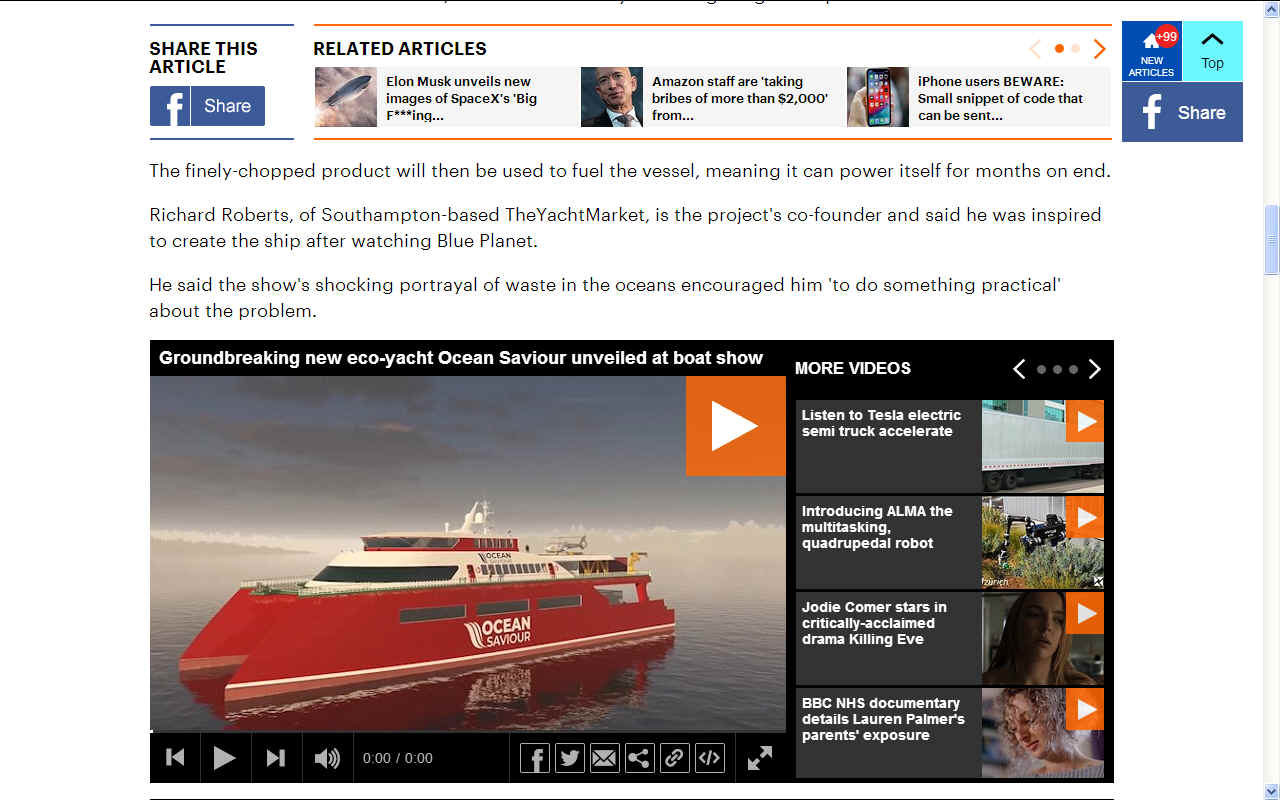 OCEAN SAVIOUR: Is a catamaran hulled yacht that skims the ocean for plastic that it then converts to fuel and burns, potentially adding to climate change, though the designers claim that this is negligible. The £40 million pound price tag might make operations uneconomical, but who knows what cleanup contracts the existence of such a vessel may generate from the G20, United Nations or other organization. Approximately 335 million tonnes of plastic are produced each year, five times what we produced 50 years ago, with 8 million tonnes of this ends up in our oceans. The Great Pacific Garbage Patch, located between California and Hawaii, contains an estimated 80,000 tonnes of plastic, equating to over 5 trillion pieces of plastic currently litter the ocean.
According to their website: "This pioneering project is the brainchild of Richard W. Roberts and Simon White, founders of TheYachtMarket.com who were, like so many of us, left devastated by the incredible BBC Blue Planet series presented by Sir David Attenborough and produced by James Honeyborne.

Compelled by the need to do something to tackle the extraordinary plight of our oceans, Richard and Simon began throwing around some ideas with some of the world's top naval architects and yacht designers, in an attempt to look at new ways to bring together existing technologies to tackle the problem. In a worldwide attack on plastics Ocean Saviour will directly commence the massive undertaking to ensure a cleaner legacy for future generations.

Ocean Saviour is a world-first, self-powering 70m tri-deck clean-up vessel, purposefully engineered to locate, retrieve and recycle plastic from the ocean to preserve one of our most valuable assets for future generations."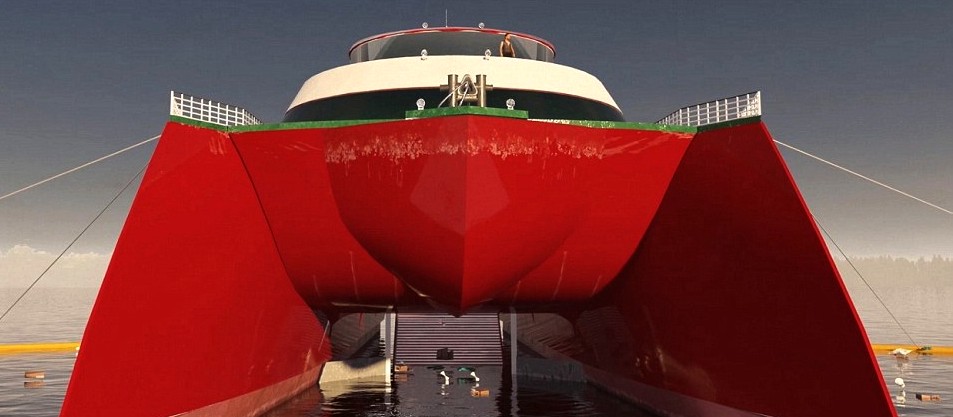 DAILY MAIL 17 SEPTEMBER 2018

New £40 million eco-yacht collects five TONNES of plastic from the ocean every day and recycles it to produce renewable fuel as it sails.

Designs for a £40 million ($52 million) new eco-yacht that will collect plastic from the ocean and recycle it as it sails have been unveiled in Southampton.

The 'Ocean Saviour' is designed to scoop up a staggering five tonnes of plastic pollution each day and will become the first vessel ever to power itself by recycling ocean waste into fuel.

Plastic will be chopped finely, milled and processed through onboard machinery which will destroy it completely with minimal atmospheric pollution.

The firm which designed the ship says it was inspired by the BBC's Blue Planet documentary, narrated by legendary naturalist Sir David Attenborough.

The finely-chopped product will then be used to fuel the vessel, meaning it can power itself for months on end.

Richard Roberts, of Southampton-based TheYachtMarket, is the project's co-founder and said he was inspired to create the ship after watching Blue Planet.

He said the show's shocking portrayal of waste in the oceans encouraged him 'to do something practical' about the problem.

Latest figures show eight million tonnes of plastic end up in our oceans each year.

We now produce 335 million tonnes every year - five times the amount generated 50 years ago - and over five trillion pieces of plastic currently litter the ocean.

Mr Roberts said: 'It's staggering to think there is currently over five trillion pieces of plastic in the ocean which is having a huge detrimental impact on our ecosystem and the ocean's biodiversity.

'It's essential we remove plastic before it breaks down into micro plastics and, through Ocean Saviour, we aim to help eradicate the ocean of this problem.

'They should be going up and down our coastlines all the time - they could be the combine harvesters of the seas.'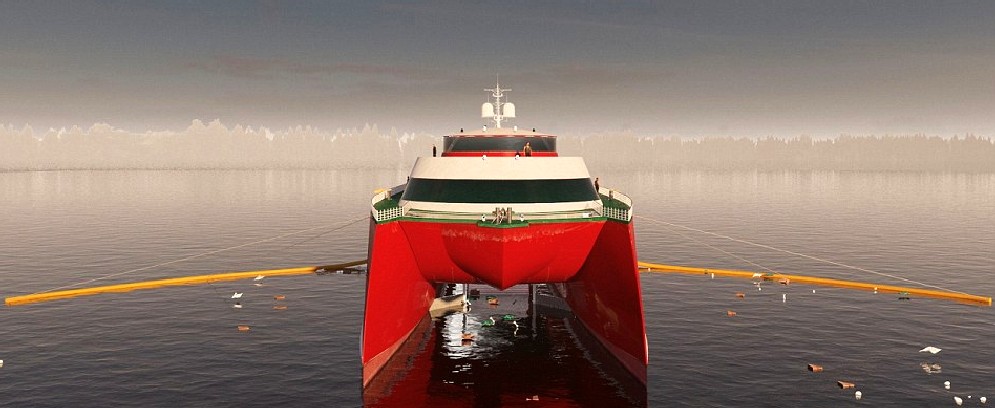 Mr Roberts co-founded the project with his colleague Simon White.

The catamaran was designed by naval architect Ricky Smith, who specialises in creating eco-friendly vessels, and will be deployed in the Pacific Ocean.

Mr Smith said: 'Ocean Saviour proposes an environmental revolution whereby we, as a community, undertake the immense and urgent task of physically collecting the plastics from the oceans and waterways.

'The Ocean Saviour project is vast and will require input on many levels.

'This is a crusade for the liberation of our oceans from the waste created by both our brilliant technology and our disregard of the oceans.'

Also working on the project is design expert Dr Andrew Baglin.

Dr Baglin said: 'There are several variables when calculating the amount of plastic that can be removed from the water per day.

'These include distance to ports, the operating area of the vessel and the size of the collector array that is installed, all of which are under careful development.'

This week the world's largest ocean cleanup got underway in the Pacific Ocean, aiming to tackle pollution in the Great Pacific Garbage Patch where it's estimated there is 1.8 trillion pieces of detritus and at least 87,000 of plastic.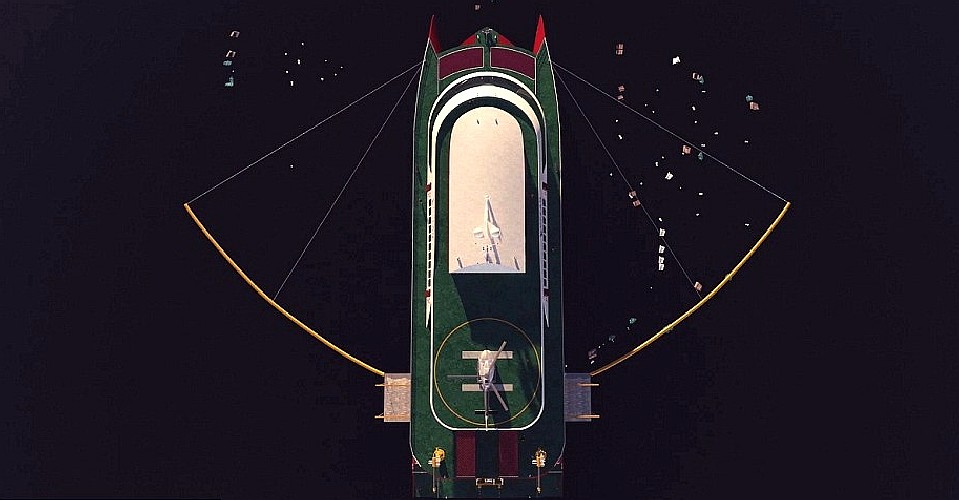 WHAT ARE THE LATEST PREDICTIONS FOR THE FUTURE IMPACT OF OCEAN WASTE?

The amount of plastic in the oceans is expected to triple in just ten years, a report issued by the UK government in March 2018 warned.

This key environmental problem risks being 'out of sight, out of mind' with more known about the surface of Mars and the Moon than the deep sea bed, it added.

The toll of plastic pollution in the sea could be 150million tonnes by 2025 – treble the 50million tonnes estimated in 2015.

Our oceans store carbon dioxide and heat while producing oxygen and food, the Foresight Future of the Sea Report stressed.

On the growing blight of plastic pollution, the document warned this will leave a physical presence, accumulating on coasts or in particular areas of ocean.

The report also warned plastic litter on coasts can increase the risk of dangerous bacteria in the water, such as E.coli.

It said efforts to reduce plastic pollution should focus on stopping it entering the sea, developing new biodegradable materials and public awareness campaigns. By Harry Pettit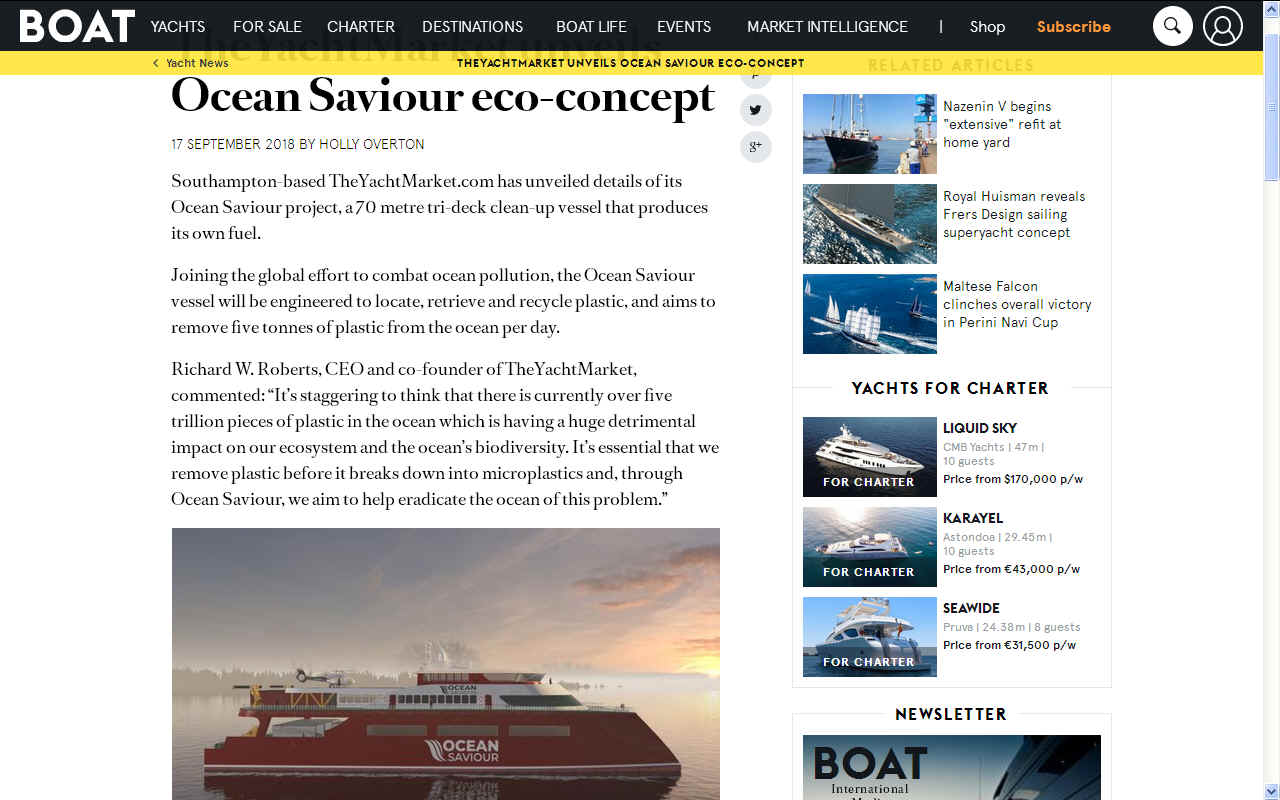 PLASMA POWER: Central to its design are Manta Collector Array collection systems at the side and front of the vessel which will deploy and draw in plastics. The plastics will then be fed into an onboard conveyor, chopped finely, milled and processed through an onboard plasma gasification facility which will destroy it completely with minimal atmospheric pollution. The product of this pioneering process will then be used to fuel the vessel, making it self-powering.

This compact waste destruction process was first implemented for marine use onboard the USS Gerald R. Ford Aircraft Carrier, by advanced plasma processing company, PyroGenesis. The US Navy specified the system for the ship in order to have a highly compact, sailor-friendly means of destroying waste out at sea, as an aircraft carrier can be out for many months without coming to port. The team behind Ocean Saviour is currently investigating several potential partners in relation to the provision of plasma technology.
SPECIFICATIONS
* Up to 64 crew
* 18 Cabins
* 5 Tonnes of plastic collected per day
* Length 70m
* Displacement ?
* Engines ?
* Range ?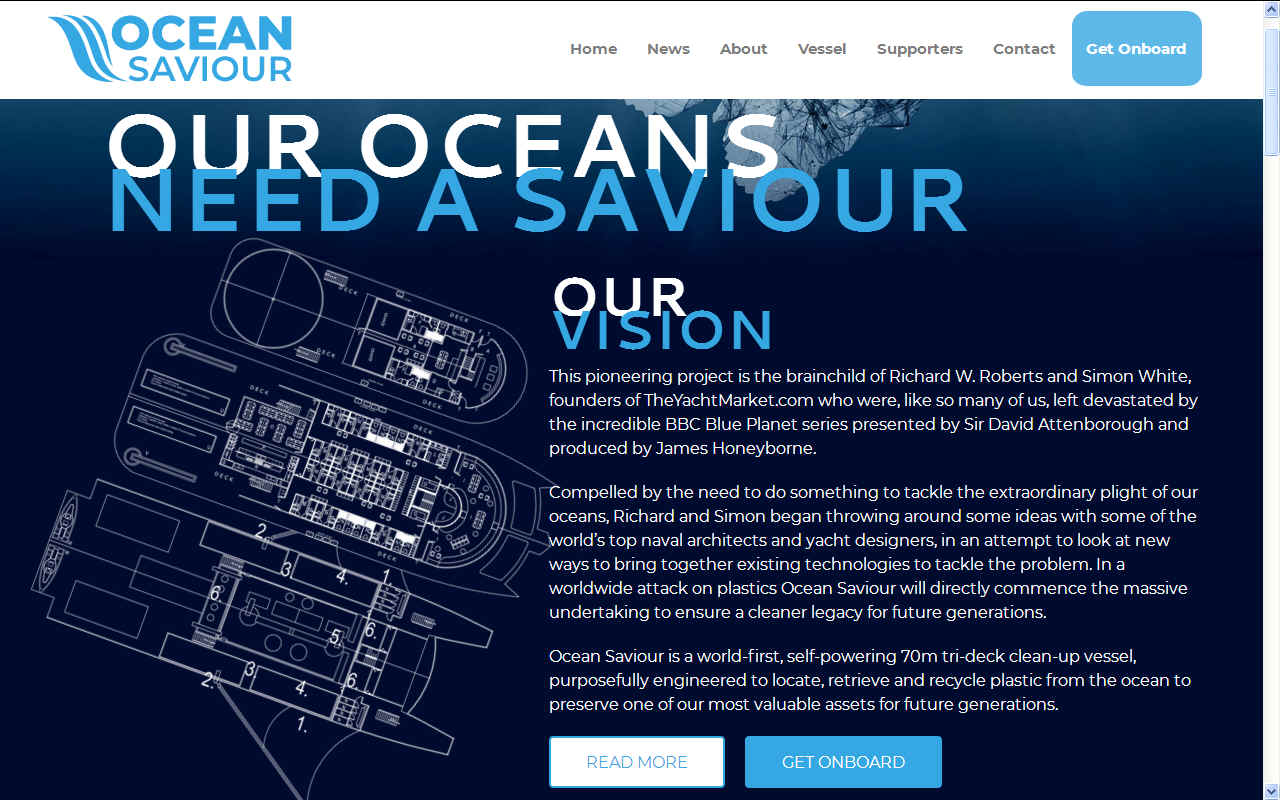 HOW IT WORKS

A forward facing deployable conveyor is located between the hulls. A front conveyor dips into the water and waste is taken directly onto the deck to be processed. Side mounted booms that face forward from a rear mounting, can be deployed to port and starboard which direct ocean borne plastic waste into an oversized mesh collector. This is called the: Manta Collector Array or MCA. The content of the MCA and side collectors are craned directly up to the main deck for processing.
Though not explained, the designers claim that provision has been made to repatriate any wildlife that could be picked up. Two plastic recycling processes are currently being investigated one of which is plasma gasification, the other being crush bailing. Gasification will produce syngas that may be used to power the vessel. Discarded 'ghost nets' can be navigated to the rear of the ship for recovery by deck hoists.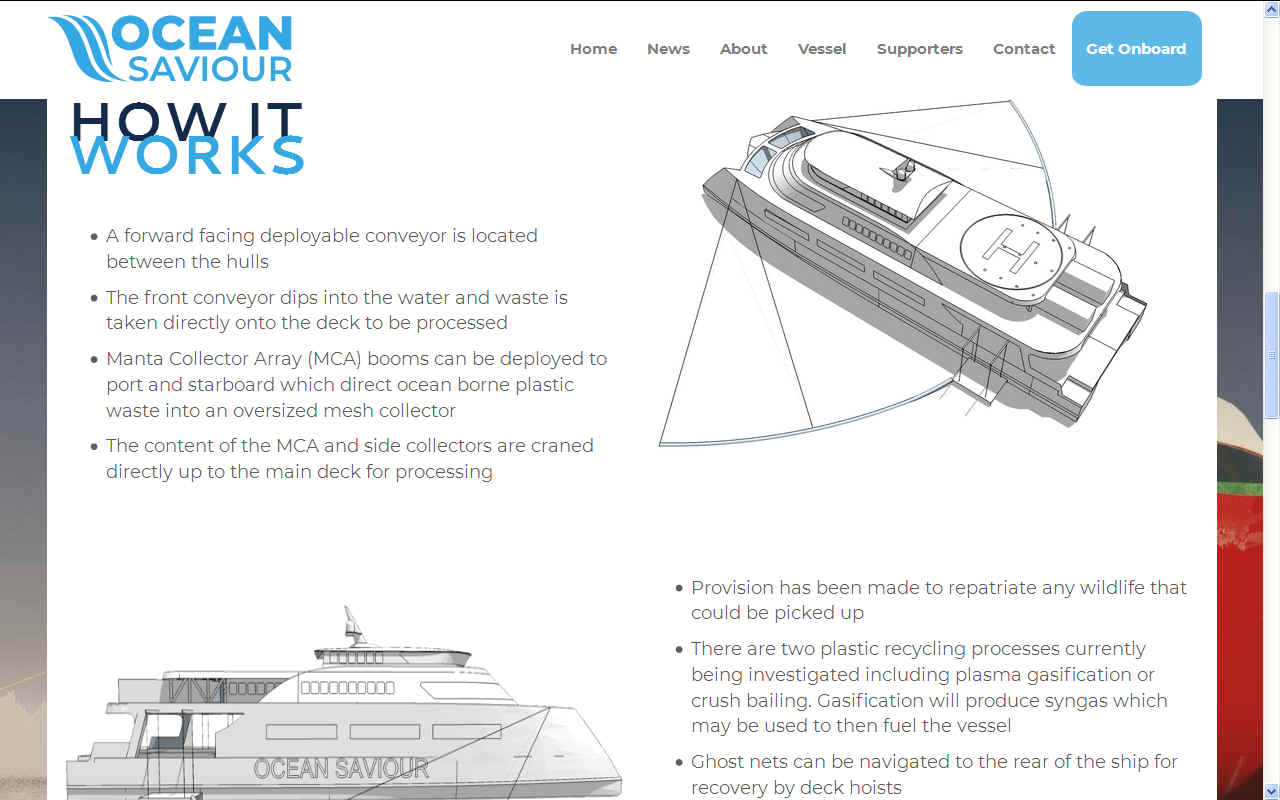 RENEWABLE ENERGY: Not yet shown in any of the diagrams so far, it is planned for solar power panels and multiple small wind generators to be incorporated into powering ancillary systems.
CONTACTS
Richard W. Roberts - Co-founder Ocean Saviour

Simon White - Co-founder Ocean Saviour

Ricky Smith - Interior Designer; Marine Specialist

Dr Andrew Baglin - Multiphase Design (B.Sc (Phys/Comp Sci), B.Eng (Nav Arch) Hons 1, PhD, AM Rina, SNAME)

Stuart Friezer - SFM Naval Architects (B.Sc (Maths, Comp Sci), B.Eng (Nav Arch))
Tel: +44 (0)1425 472330

Email: tym@mckennatownsend.com

LINKS & REFERENCE
http://www.theyachtmarket.com/OceanSaviour
https://www.boatinternational.com/yachts/news/theyachtmarket-unveils-ocean-saviour-eco-concept--38149
https://www.iol.co.za/travel/travel-news/watch-the-ship-that-saves-the-sea-by-eating-plastic-17125012
https://www.dailymail.co.uk/sciencetech/article-6176135/New-40-million-eco-yacht-collects-five-TONNES-plastic-ocean-day-recycles-it.html
http://www.theoffshorepartners.com/
https://www.oceanphoenixproject.com/mission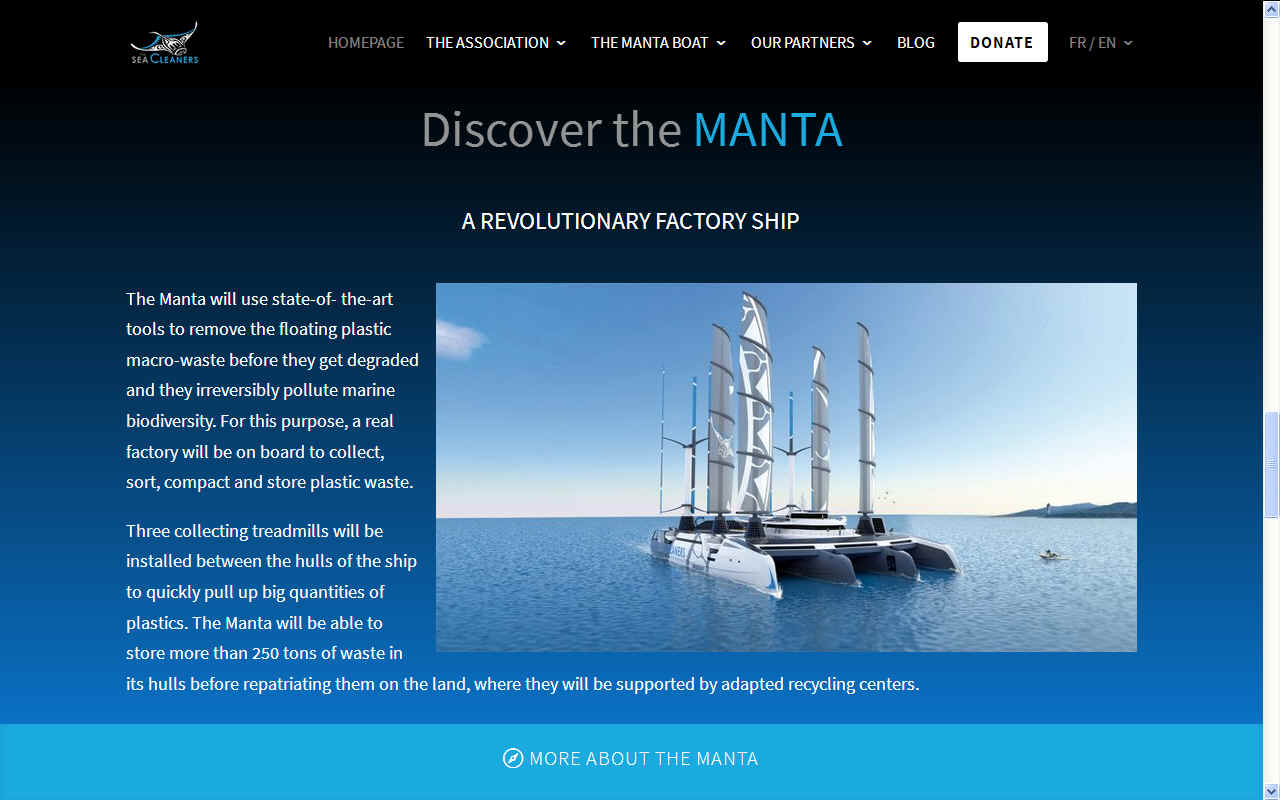 MANTA: Is a multihull designed to carry three conveyor belts to lift macro plastic into an onboard processing facility. Power comes from four wing sails, two darrieus wind turbines and two thousand square meters of solar panels.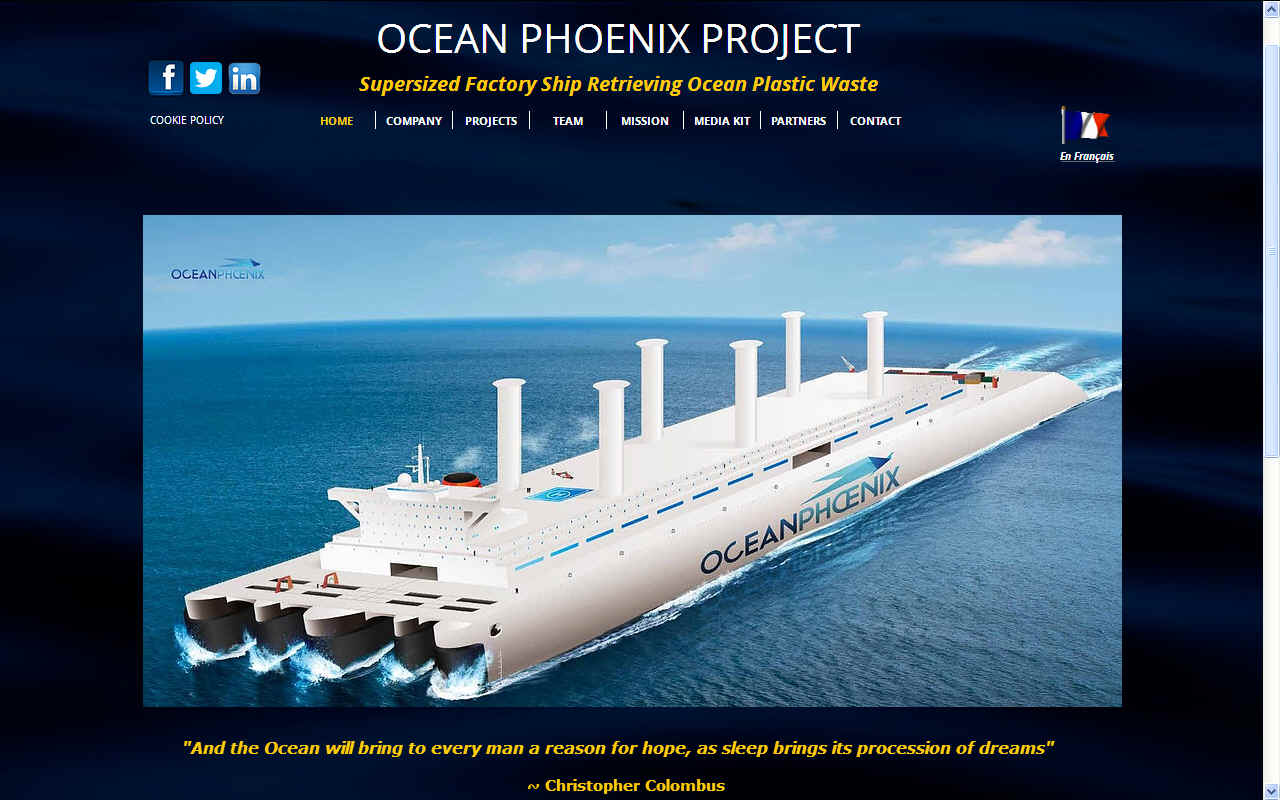 OCEAN PHOENIX 360: Is a trimaran or triple hulled leviathan that eats diesel or LNG to seek and suck up plastic waste from our oceans. Serge Menard suggests that 40 of these giant tankers might clean up the oceans. This is a larger version of Yvan Bourgon's Manta sea cleaners, save that the smaller ship is sail and wind turbine powered.
This website is provided on a free basis as a public information service. copyright © Cleaner Oceans Foundation Ltd (COFL) (Company No: 4674774) 2018. Solar Studios, BN271RF, United Kingdom. COFL is a charity without share capital. The names AmphiMax™, RiverVax™ and SeaVax™ are trade names used under license by COF in connection with their 'Feed The World' ocean cleaning sustainability campaign.