£61.4 MILLION POUND WARCHEST
ABOUT - CONTACTS - DONATE - FOUNDATION - HOME - A-Z INDEX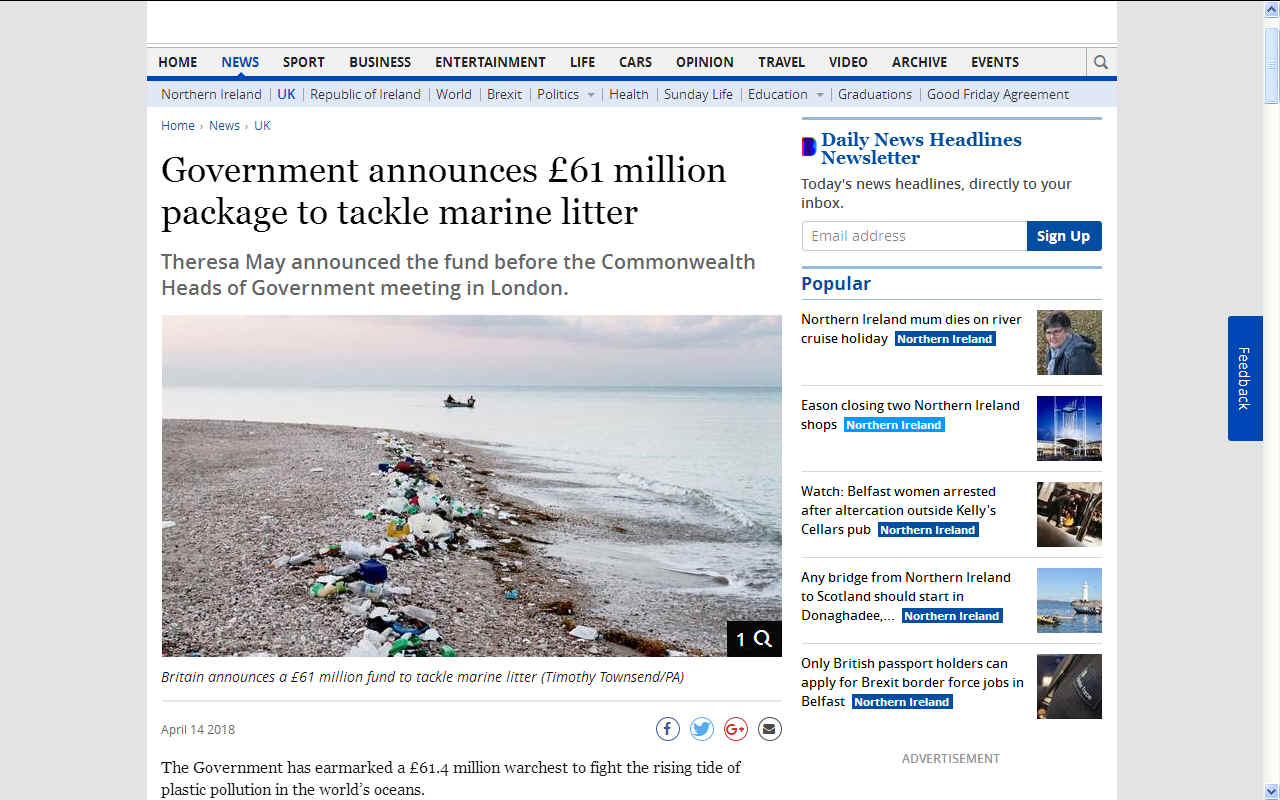 BELFAST TELEGRAPH APRIL 14 2018: The Government has earmarked a £61.4 million warchest to fight the rising tide of plastic pollution in the world's oceans.

Theresa May announced the fund ahead of the Commonwealth Heads of Government meeting in London next week.

She is due to call on all of the 52 leaders present to sign up to the Commonwealth Clean Oceans Alliance – a strategy to help developing Commonwealth nations research and improve and waste management.

Four Commonwealth countries have already joined the UK in the alliance – New Zealand, Sri Lanka, Vanuatu and Ghana.

Downing Street said £25 million of the fund will be used to help researchers investigate the issue of marine plastic from a scientific, economic and social perspective.

A further £20 million will be used to curb plastic and other environmental pollution generated by manufacturing in developing countries and prevent it entering the oceans.

The remaining £16.4 million will be devoted to improving waste management at a national and a city level to stop plastics entering the water.

Following vocal public support for the issue, the Government pledged to match pound-for-pound public donations to tackle the issue of plastic waste via the UK Aid Match up to a total of £5 million.

The issue of plastic waste caused public outcry after Blue Planet II, narrated by Sir David Attenborough, highlighted the scale of the problem.

Speaking in advance of the summit, the Prime Minister said: "This week we will look closely at how we can tackle the many threats to the health of the world's oceans, including the scourge of marine plastic pollution.

"As one of the most significant environmental challenges facing the world today it is vital that we tackle this issue, so that future generations can enjoy a natural environment that is healthier than we currently find it.

"The UK public has shown passion and energy in the fight against plastic waste, and I believe the Commonwealth is uniquely placed to further this transformative action.

"It is a unique organisation with the strength and the commitment to make a difference."

She added: "If we stand together, we have the opportunity to send not only a powerful message to the world, but also to effect real change."

Britain, who is co-chairing the event with Vanuatu, will call on commonwealth nations to follow the UK's lead in banning microbeads and cutting down on single use plastic bags.

Following the announcement, WWF chief executive Tanya Steele said: "This alliance, and the leadership the UK government is showing through the Commonwealth, demonstrates that we're committed to being part of a global solution.

"Two billion people around the world lack access to effective waste collection, so much of the plastic they use ends up in our oceans.

"Devoting UK international development money to help poor communities clean up and better manage their waste isn't just good for nature, it's good for people too."
The announcement by Theresa May is welcome news, but when looking at the division and the sum involved, most of what is on offer on a global basis will be soaked up by administrative costs. Although we will look into who is likely to get what from the Conservative warchest, on the surface it appears that when divided by the Commonwealth members that just a few £million pounds per geographical area will be spread, more as seed money to make people aware - and that may make all the difference - because now most COAA members will be doing something positive to make it happen.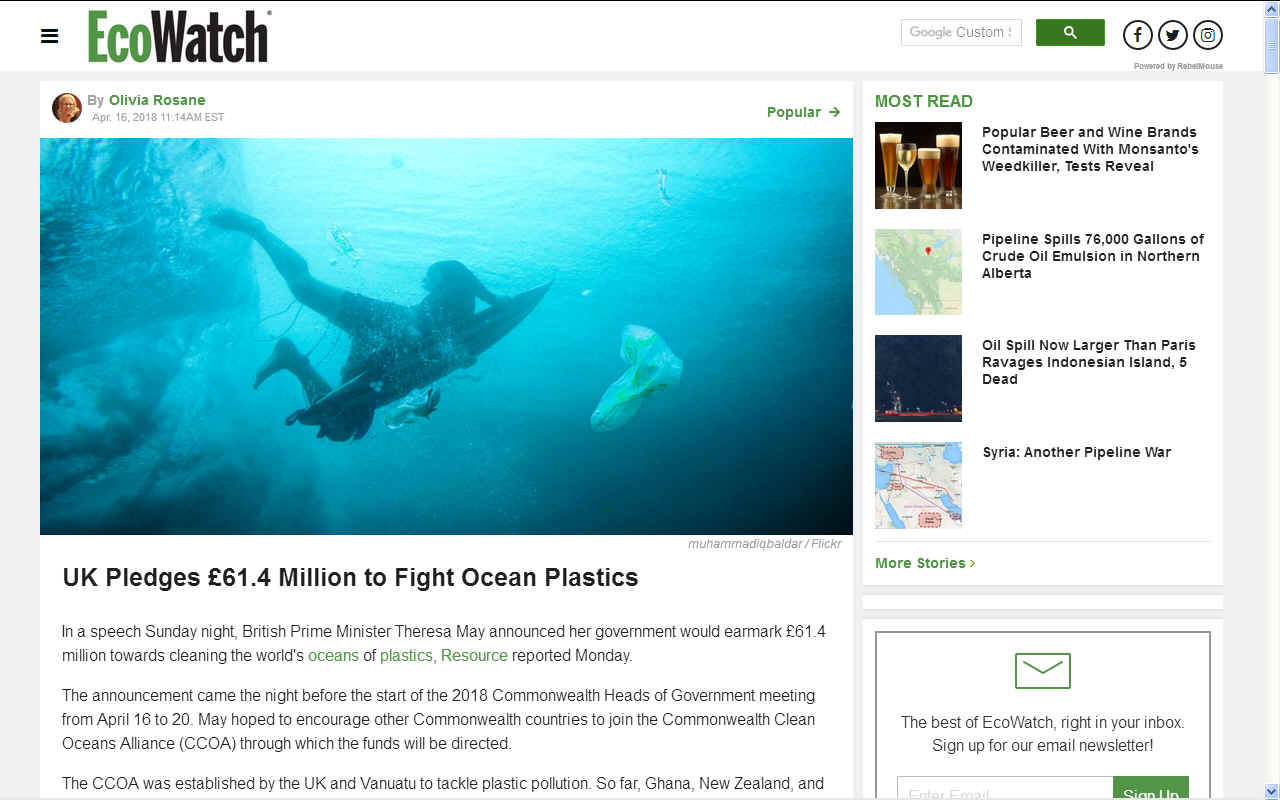 ECOWATCH APRIL 16 2018 - UK PLEDGES £61.4 MILLION TO FIGHT OCEAN PLASTICS
In a speech Sunday night, British Prime Minister Theresa May announced her government would earmark £61.4 million towards cleaning the world's oceans of plastics, Resource reported Monday.

The announcement came the night before the start of the 2018 Commonwealth Heads of Government meeting from April 16 to 20. May hoped to encourage other Commonwealth countries to join the Commonwealth Clean Oceans Alliance (CCOA) through which the funds will be directed.

The CCOA was established by the UK and Vanuatu to tackle plastic pollution. So far, Ghana, New Zealand, and Sri Lanka have also decided to join, May announced in Sunday's speech.

"This week we will look closely at how we can tackle the many threats to the health of the world's oceans, including the scourge of marine plastic pollution," May said, as the Independent reported.

May further called plastic pollution "one of the most significant environmental challenges facing the world today."

The fund will be divided in three parts: £25 million towards researching the science and economics of marine plastic pollution, £20 million to prevent plastic and other pollutants from industry in developing countries from reaching the ocean, and £16.4 million to improve waste management in the UK so that plastics don't enter the ocean through rivers.

May also hopes to encourage the 52 countries in the Commonwealth to join the UK in banning microbeads and restricting plastic bag use.

"The UK public has shown passion and energy in the fight against plastic waste, and I believe the Commonwealth is uniquely placed to further this transformative action," May said Sunday.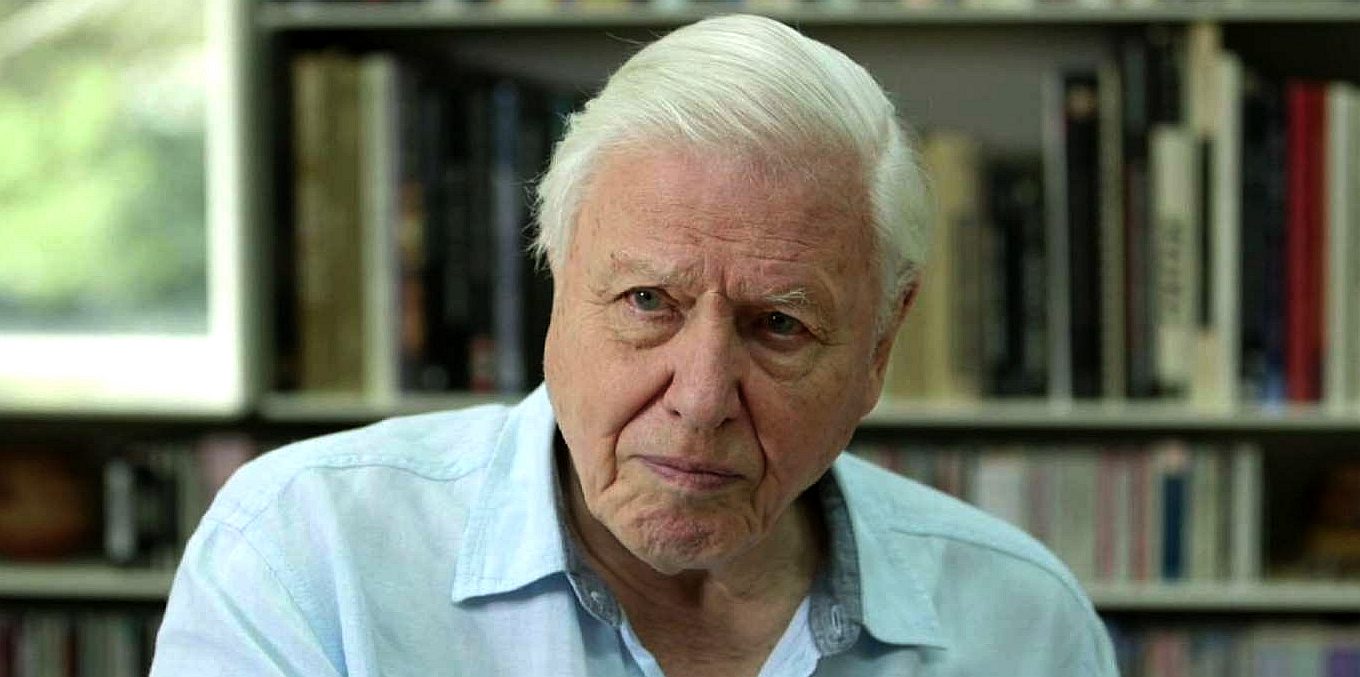 SIR DAVID: "Heartbreaking" sight of albatross mother feeding young plastic. Sir David Attenborough has spoken of the "heartbreaking" experience of seeing an albatross trying to feed her chicks with plastic.
The UK has taken a leadership role in the last year in raising awareness of the ocean plastic problem and taking action.

In January, famous British naturalist Sir David Attenborough won the Impact Award at the UK's National Television Awards for his 2017 BBC series Blue Planet II, which called particular attention to the issue of ocean plastics, the Independent reported.

In 2017, Attenborough described a particularly devastating scene of a young albatross being fed.

"There is a shot of the young being fed and what comes out of the beak of the adult? Not sand eels, not fish, and not squid, which is what they mostly eat, but plastic. It's heartbreaking. Heartbreaking," he said.

The series so moved Queen Elizabeth II that she moved in February to ban plastic straws and bottles on all royal properties, including public cafes.

But the UK isn't the only country mobilizing around the problem. The focus of Earth Day 2018 is ending plastic pollution by Earth Day of 2020, which will mark the day's 50th anniversary. By Olivia Rosane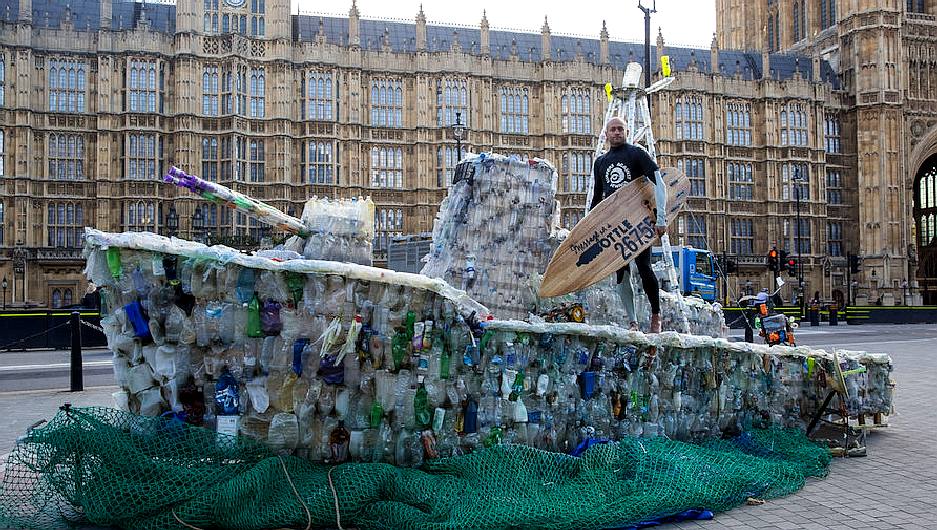 THE GUARDIAN 16 JAN 2018 - EU DECLARES WAR ON PLASTIC WASTE

Brussels targets single-use plastics in an urgent clean-up plan that aims to make all packaging reusable or recyclable by 2030

The EU is waging war against plastic waste as part of an urgent plan to clean up Europe's act and ensure that every piece of packaging on the continent is reusable or recyclable by 2030.

Following China's decision to ban imports of foreign recyclable material, Brussels on Tuesday launched a plastics strategy designed to change minds in Europe, potentially tax damaging behaviour, and modernise plastics production and collection by investing €350m (£310m) in research.

Speaking to the Guardian and four other European newspapers, the vice-president of the commission, Frans Timmermans, said Brussels' priority was to clamp down on "single-use plastics that take five seconds to produce, you use it for five minutes and it takes 500 years to break down again".

In the EU's sights, Timmermans said, were throw-away items such as drinking straws, "lively coloured" bottles that do not degrade, coffee cups, lids and stirrers, cutlery and takeaway packaging.

The former Dutch diplomat told the Guardian: "If we don't do anything about this, 50 years down the road we will have more plastic than fish in the oceans … we have all the seen the images, whether you watch [the BBC's] Blue Planet, whether you watch the beaches in Asian countries after storms.

"If children knew what the effects are of using single-use plastic straws for drinking sodas, or whatever, they might reconsider and use paper straws or no straws at all.

"We are going to choke on plastic if we don't do anything about this. How many millions of straws do we use every day across Europe? I would have people not use plastic straws any more. It only took me once to explain to my children. And now … they go looking for paper straws, or don't use straws at all. It is an issue of mentality."

He added: "[One] of the challenges we face is to explain to consumers that arguably some of the options in terms of the colour of bottles you can buy will be more limited than before. But I am sure that if people understand that you can't buy that lively green bottle, it will have a different colour, but it can be recycled, people will buy into this."

As part of its strategy, the EU will carry out an impact assessment on a variety of ways to tax the use of single use plastics, although details on potential models were notably lacking from the published strategy documents.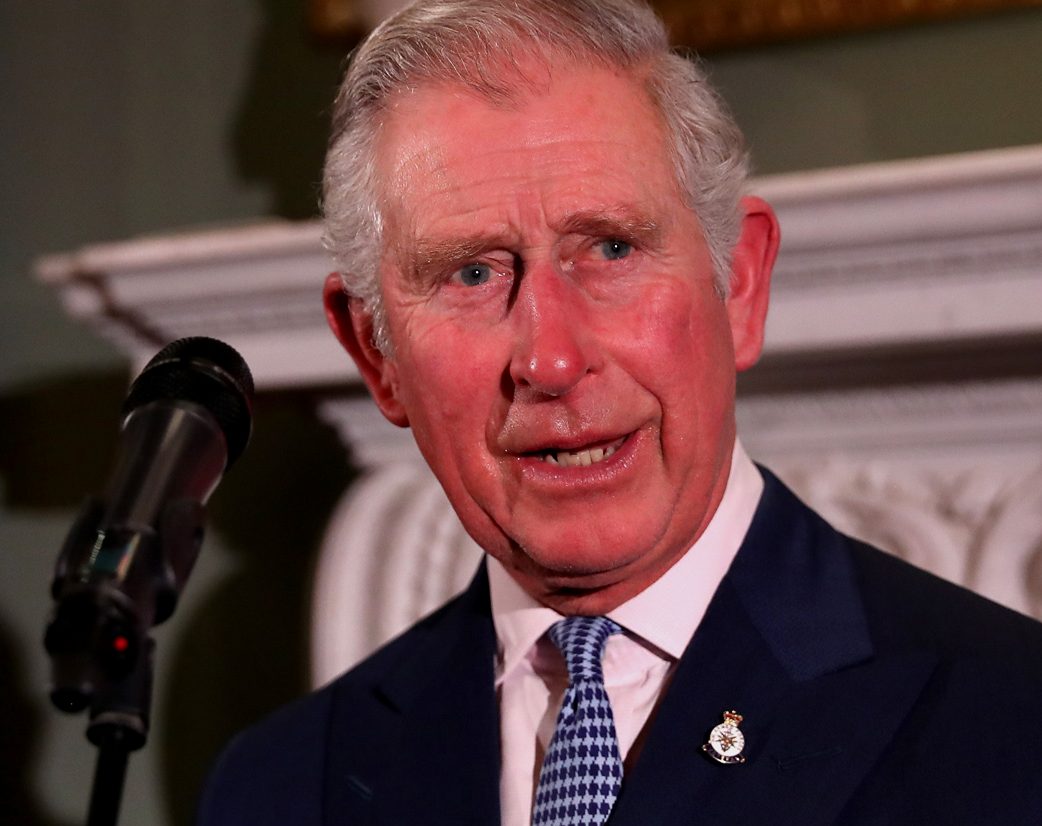 PRINCE CHARLES: Conservationist Royal, the Prince of Wales has long been outspoken on environmental issues, sometime taking a lot of flak for his efforts.
Last week, the budget commissioner, Günther Oettinger, claimed that a levy on plastics could be one way in which Brussels could fill the €13bn hole in its budget left by the UK's withdrawal from the EU.

"Let's study this," Timmermans said. "In a perfect world the revenues of this tax will decrease very rapidly, we have to check in an impact assessment whether this is a sustainable form of income also for the EU's finances. I think there is a lot of support out there."

The EU wants 55% of all plastic to be recycled by 2030 and for member states to reduce the use of bags per person from 90 a year to 40 by 2026.

An additional €100m is being made available on top of current spending to research better designs, durability and recyclability and EU member states will be put under an obligation to "monitor and reduce their marine litter".

The commission said it will promote easy access to tap water on the streets of Europe to reduce demand for bottled water, and they will provide member states with additional guidance on how to improve the sorting and collection of recyclable plastic by consumers.

The EU's executive is also to propose new clearer labelling for plastic packaging so consumers are clear about their recyclability, and there are plans to ban the addition of microplastics to cosmetics and personal care products, a move that has already been taken by the UK government.

New port reception facilities will seek to streamline waste management to ensure less gets dumped in the oceans under a directive already published.

"More and more it is becoming a health problem because it is degrading, going to little chips, fish are eating it and it is coming back to our dinner table," said European Commission vice president Jyrki Katainen on Tuesday.

While the EU's initiative was thick on pledges, and short on detail on how to force member states to act, Timmermans insisted the bloc was serious about the challenge facing them.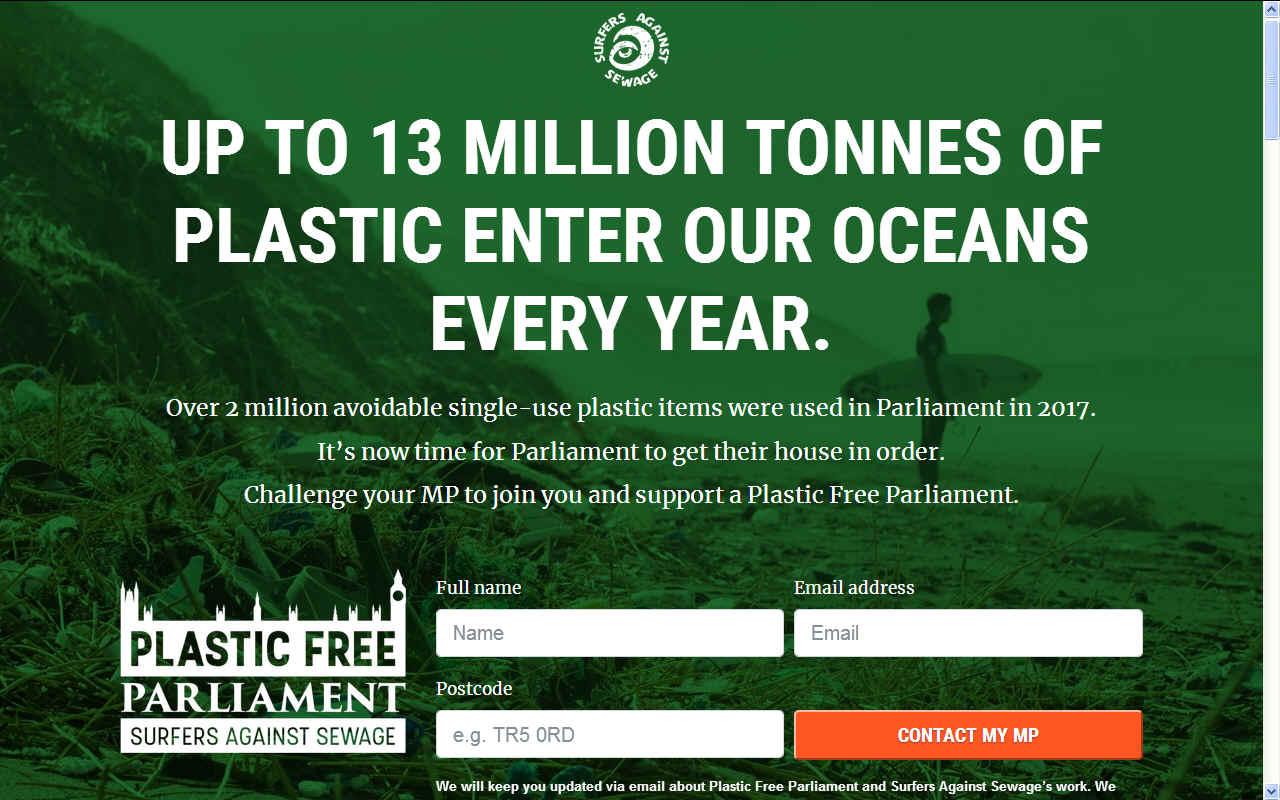 Every year, Europeans generate 25m tonnes of plastic waste, but less than 30% is collected for recycling. Across the world, plastics make up 85% of beach litter.

Timmermans praised Theresa May for her recent strategy on plastics, despite criticism elsewhere that it lacked teeth. He noted, however, that charges on plastic bags, while "presented as a national measure" were "based on a European directive". A spokesman for the Department for Environment Food and Rural Affairs responded that the UK had proposed the charges on bags before a EU directive had been proposed.

Catherine Bearder, a Liberal Democrat member of the environment committee, said: "The EU strategy is far from perfect, but it's better than what the UK government is offering. Theresa May would have you think she is the fairy godmother of plastics – but she isn't. I will be long dead before the end of Mrs May's strategy. I hope the oceans won't be too."

Timmermans nevertheless said he believed that the UK's attitude on plastic was ahead of many member states, and that he was confident that the UK would not undercut any Brussels initiatives after Brexit.

He said: "If you saw the impact that Blue Planet had on the public opinion in the United Kingdom, immediately leading to a reaction by the British government, I think this can happen in most of our member states

"It's urgent because of the change in the Chinese position. We can't export these plastics any more to China. The knee-jerk reaction is that we will have to burn or bury it here. Let's use this opportunity to show we can also recycle it here." By Daniel Boffey in Brussels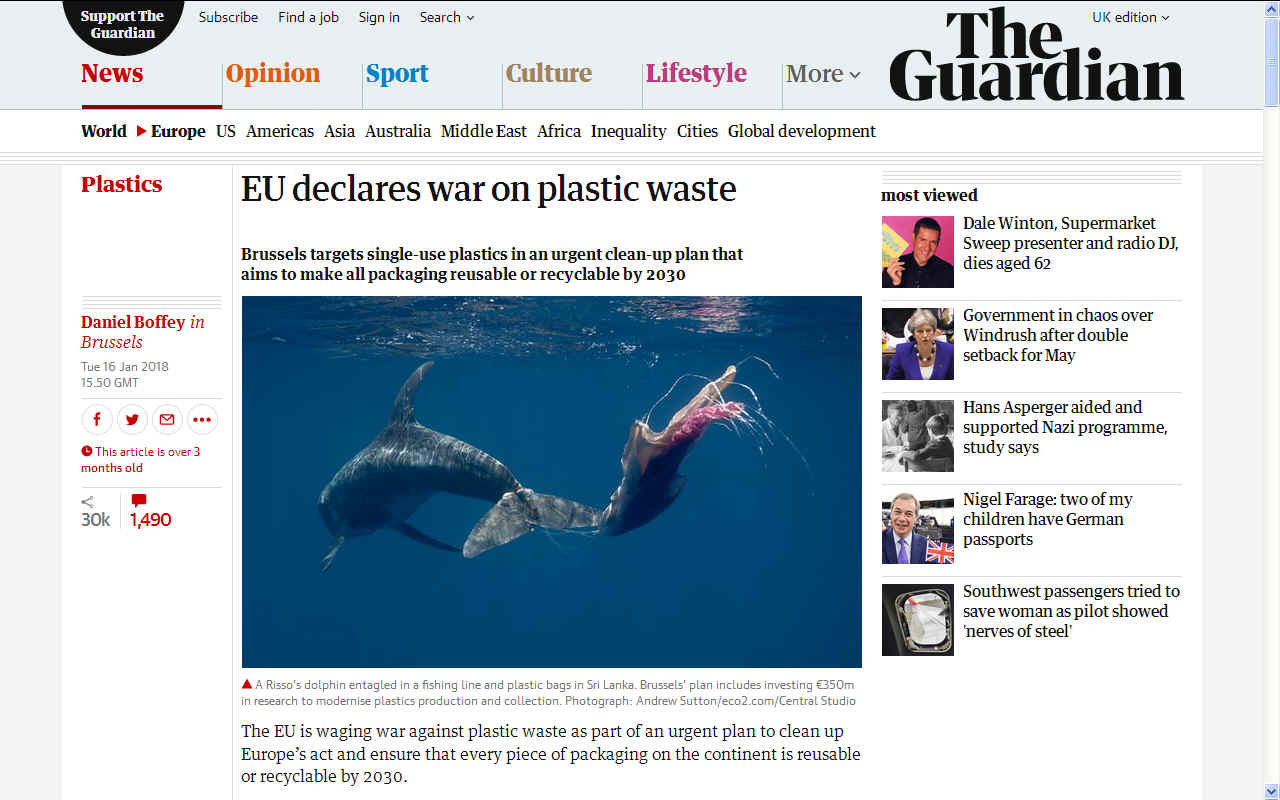 LINKS & REFERENCE
https://www.theguardian.com/environment/2018/apr/18/single-use-plastics-could-be-banned-in-england-next-year
https://www.theguardian.com/environment/2018/jan/16/eu-declares-war-on-plastic-waste-2030
https://www.ecowatch.com/uk-plastic-waste-oceans-2560593488.html
https://www.telegraph.co.uk/news/2018/04/09/prince-albert-monaco-warns-irreversible-tragedies-facing-worlds/
https://www.theguardian.com/environment/2018/jan/16/eu-declares-war-on-plastic-waste-2030
https://www.belfasttelegraph.co.uk/news/uk/government-announces-61-million-package-to-tackle-marine-litter-36808176.html
http://www.bbc.co.uk/news/science-environment-42239895
https://uk.news.yahoo.com/michael-gove-eyes-overseas-aid-budget-ocean-plastic-095100123.html
This website is provided on a free basis as a public information service. copyright © Cleaner Oceans Foundation Ltd (COFL) (Company No: 4674774) April 2018. Solar Studios, BN271RF, United Kingdom. COFL is a charity without share capital.