UK RESEARCH & INNOVATION
ABOUT - CONTACTS - DONATE - FOUNDATION - HOME - A-Z INDEX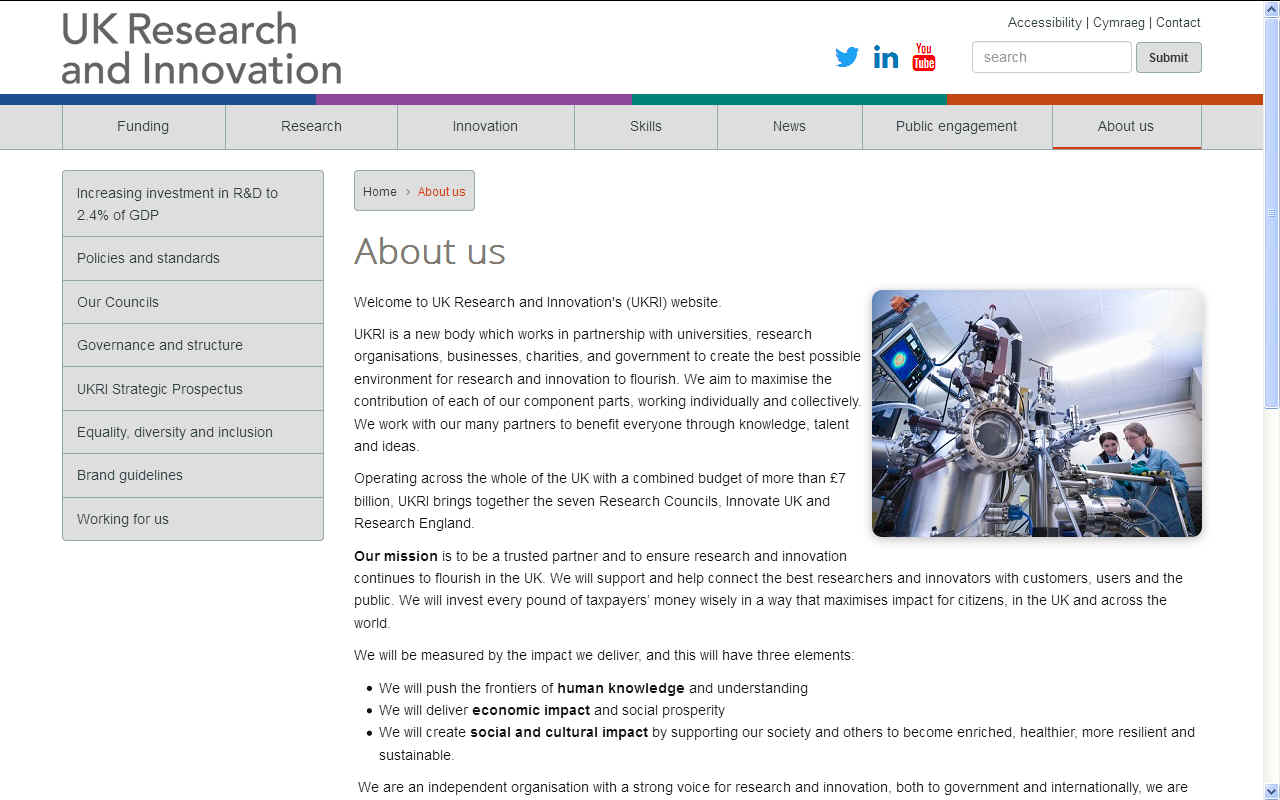 UKRI is a new body which works in partnership with universities, research organisations, businesses, charities, and government to create the best possible environment for research and innovation to flourish. We aim to maximise the contribution of each of our component parts, working individually and collectively. We work with our many partners to benefit everyone through knowledge, talent and ideas.
Operating across the whole of the UK with a combined budget of more than £7 billion, UKRI brings together the seven Research Councils, Innovate UK and Research England.
Their mission is to be a trusted partner and to ensure research and innovation continues to flourish in the UK. We will support and help connect the best researchers and innovators with customers, users and the public. We will invest every pound of taxpayers' money wisely in a way that maximises impact for citizens, in the UK and across the world.

They claim that they will be measured by the impact they deliver, and this will have three elements:

* They will push the frontiers of human knowledge and understanding
* They will deliver economic impact and social prosperity
* They will create social and cultural impact by supporting our society and others to become enriched, healthier, more resilient and sustainable.

They claim to be an independent organisation with a strong voice for research and innovation, both to government and internationally. They are supported and challenged by an independent chair and board. They are principally funded through the Science Budget by the Department for Business, Energy and Industrial Strategy (BEIS).

* Their Councils - Bringing together the seven Research Councils, Innovate UK and Research England

* Governance and structure - Find out about their organisational structure and how we are governed

* Strategic Prospectus: Building the UKRI Strategy - UKRI strategy will ensure everyone in society benefits from world-leading research and innovation

* Policies and standards - Their policies on issues such as equality, research integrity and freedom of information

* Brand guidelines - How to use UKRI branding for promotional material, publications and websites

* Working for UKRI - Find out about employment opportunities
GLOBAL CHALLENGES RESEARCH FUND
The Global Challenges Research Fund (GCRF) is a £1.5 billion fund announced by the UK Government in late 2015 to support cutting-edge research that addresses the challenges faced by developing countries. Alongside the other GCRF delivery partners we are creating complementary programmes that:

* promote challenge-led disciplinary and interdisciplinary research, including the participation of researchers who may not previously have considered the applicability of their work to development issues
* strengthen capacity for research, innovation and knowledge exchange in the UK and developing countries through partnership with excellent UK research and researchers
* provide an agile response to emergencies where there is an urgent research need.

GCRF forms part of the UK's Official Development Assistance (ODA) commitment, which is monitored by the Organisation for Economic Cooperation and Development (OECD).

The GCRF delivery partners are: UK Research and Innovation, Scottish Funding Council, Higher Education Funding Council for Wales, Higher Education Division Northern Ireland, Academy of Medical Sciences, Royal Society, British Academy, Royal Academy of Engineering and UK Space Agency.

The Fund is advised by a Strategic Advisory Group and a UKRI International Development Peer Review College forms part of the GCRF global engagement strategy for Official Development Assistance (ODA) research.

Strategy and challenge areas

The delivery partners have recently launched the UK Strategy for the Global Challenges Research Fund (PDF, 336KB). The strategy outlines the Delivery Partners' vision for GCRF over the lifetime of the fund.

GCRF has three challenge areas, which are a vision for change and not intended to constrain innovative approaches in other areas that also address these aims.
Equitable Access to Sustainable Development

Our vision is to create new knowledge and drive innovation that helps to ensure that everyone across the globe has access to:

* secure and resilient food systems supported by sustainable marine resources and agriculture
* sustainable health and well being
* inclusive and equitable quality education
* clean air, water and sanitation
* affordable, reliable, sustainable energy.
Sustainable Economies and Societies

The pace, nature and patterns of economic growth are threatening the future of our climate and eco-systems and are placing a major burden on the Earth's resources. At the same time populations are increasingly shifting from rural to urban areas. Each of the five challenge areas listed above must be placed in the context of the need to create prosperous economies and societies. There is also a need to understand and address the local and global challenges of population growth and pressure on the environment and climate, as well as new socio-economic models based on enabling technologies such as digital technologies. The GCRF will also encourage research and innovation that in the longer-term, builds:

* sustainable livelihoods supported by strong foundations for inclusive economic growth and innovation
* resilience and action on short-term environmental shocks and long-term environmental change
* sustainable cities and communities
* sustainable production and consumption of materials and other resources.
Human Rights, Good Governance and Social Justice

It is increasingly recognised that development, human rights, good governance and social justice are indivisible. Developing an understanding of the institutions that embed and promote human rights, good governance and social justice - and the means to strengthen these - is paramount. Progress against the pursuit of the Sustainable Development Goals (SDGs) has been particularly challenging in fragile and conflict-affected states, while multiple refugee crises are applying mounting pressure in countries of origin, transit and destination. The GCRF will also support research and innovation that enables us to:
* understand and respond effectively to forced displacement and multiple refugee crises
* reduce conflict and promote peace, justice and humanitarian action
* reduce poverty and inequality, including gender inequalities.

UKRI claim that they will support excellent research that addresses a significant problem or development challenge, directly contributing to the sustainable and inclusive prosperity of people in developing countries. However, the challenges facing societies and individuals across the globe are often complex, protracted and multi-faceted and cut across the three areas above. The Fund is well placed to address these complex issues given the size of the fund, its challenge led approach and broad remit.
OPEN CALLS
Due Diligence guidance for UK Research Organisations
Due Diligence guidance is available to provide guidance on requirements when undertaking research in partnership with overseas research organisations. It is not intended to set rigid rules, but to enable Research Organisations to develop their own policies and processes which are commensurate with their risk appetite and the type of research being undertaken.
Developing a broader pool of academics
We are keen to develop and expand engagement between developing countries and UK researchers. We have been running various events including: a series of large Global Engagement Meetings in different regions of the world; smaller scale capacity building events; and hosting GCRF sessions at other events.
Just over 100 experts, researchers and practitioners have attended each of the events from a variety of disciplines and different countries and from a mix of academic and non-academic organisations (e.g. non-governmental organisations; charities; policy makers; international funders).
If you would like to know more about the events please contact gcrfgems@rcuk.ac.uk
PRINCE CHARLES: Conservationist Royal, the Prince of Wales has long been outspoken on environmental issues, sometime taking a lot of flak for his efforts.
SIR DAVID: "Heartbreaking" sight of albatross mother feeding young plastic. Sir David Attenborough has spoken of the "heartbreaking" experience of seeing an albatross trying to feed her chicks with plastic.
KNOWLEDGE TRANSFER NETWORK
The Knowledge Transfer Network's Sustainability & Circular Economy team can help you or your business with funding, expertise and connecting with innovators from other sectors.

Please contact our Sustainability & Circular Economy Team:

Ben Peace – Head of Manufacturing

Jonathan Abra – KTM Water

Jenni McDonnell – KTM More Sustainable Energy

Subscribe to get updates by email here.

You can also keep up to date with news, funding and events across the Sustainability & Circular Economy sector by connecting with the KTN Sustainability & Circular Economy group on LinkedIn or following KTN Sustainability & Circular Economy on Twitter.

KTN is also involved in European sustainability projects: these include CRMRecovery (Critical Raw Material Recovery), and SCRREEN (Solutions for CRitical Raw materials – a European Expert Network).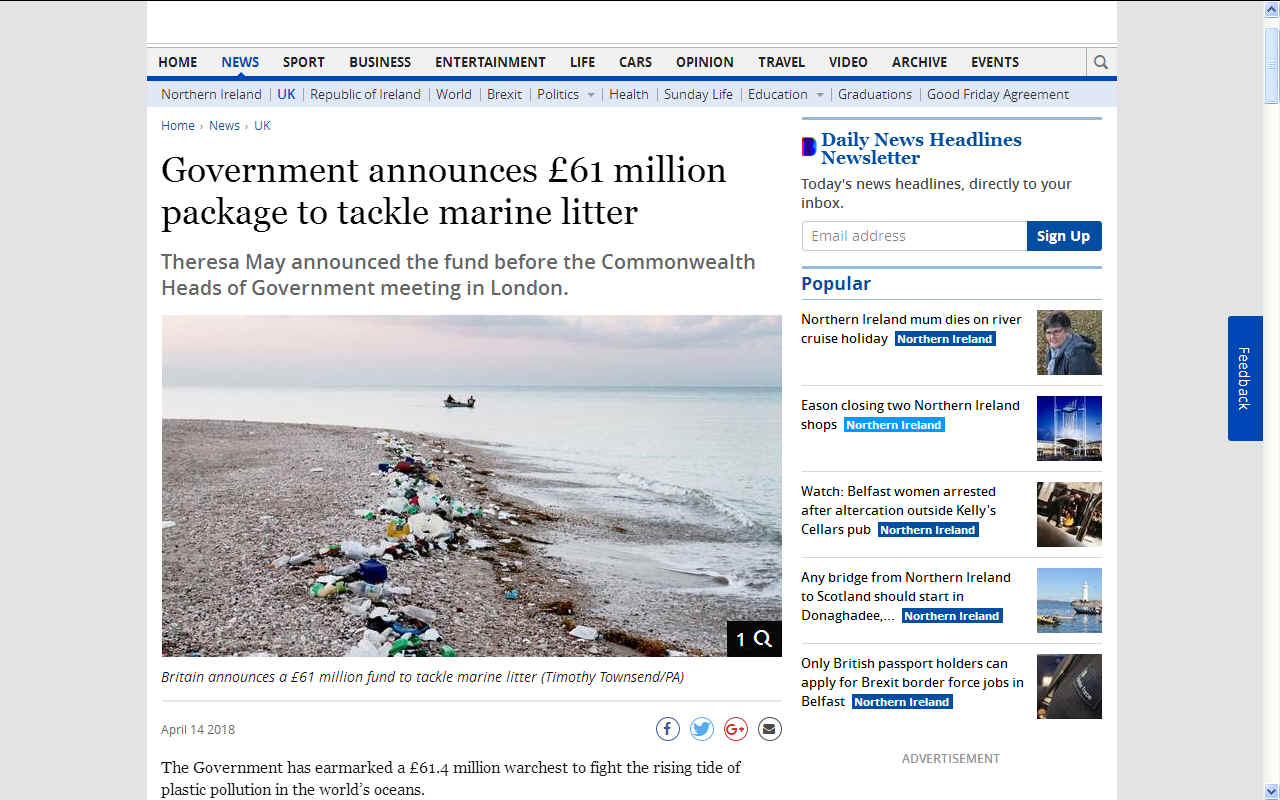 APRIL 14 2018: The Government has earmarked a £61.4 million warchest to fight the rising tide of plastic pollution in the world's oceans. Theresa May announced the fund ahead of the Commonwealth Heads of Government meeting in London. She is due to call on all of the 52 leaders present to sign up to the Commonwealth Clean Oceans Alliance – a strategy to help developing Commonwealth nations research and improve and waste management.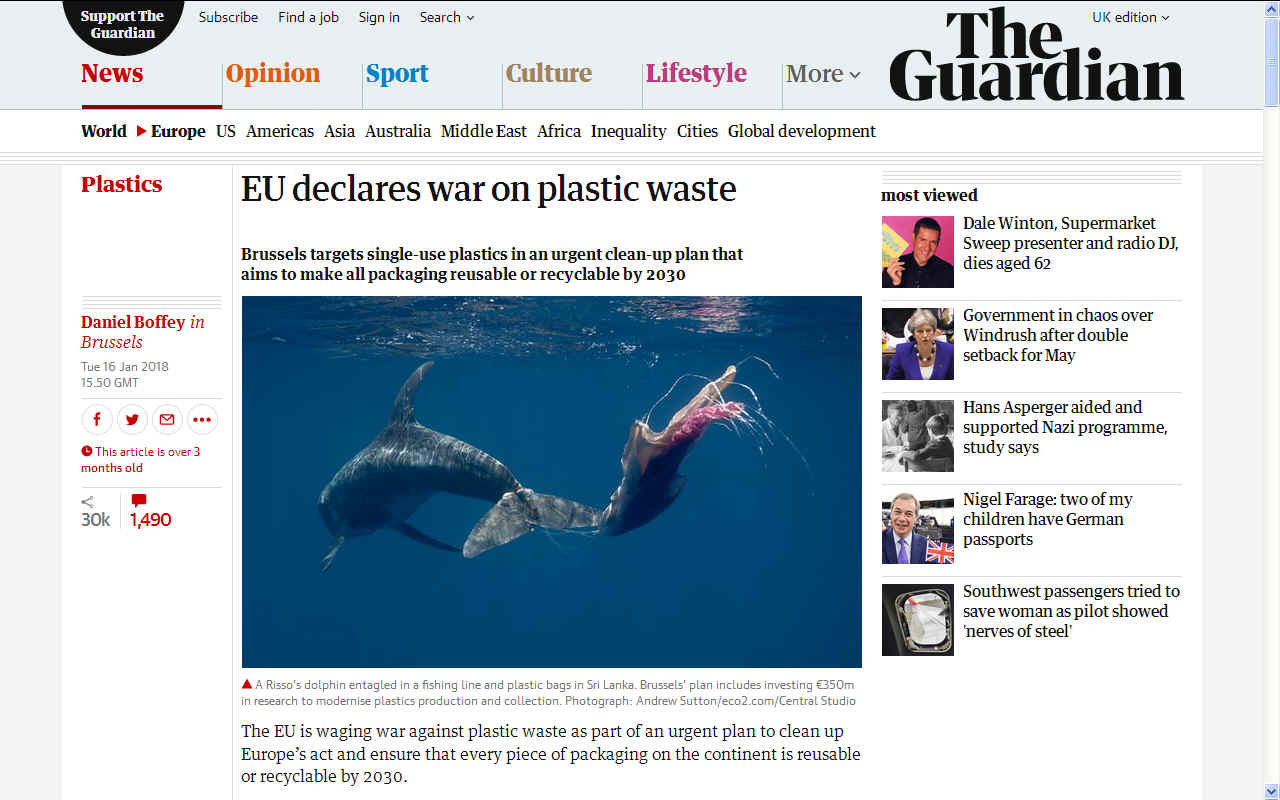 LINKS & REFERENCE
https://ktn-uk.co.uk/interests/sustainability-circular-economy
ttps://www.ukri.org/about-us/
This website is provided on a free basis as a public information service. copyright © Cleaner Oceans Foundation Ltd (COFL) (Company No: 4674774) March 2019. Solar Studios, BN271RF, United Kingdom. COFL is a charity without share capital.