TANK TESTING FACILITIES
ABOUT - CONTACTS - FOUNDATION - HOME - A-Z INDEX
BRICKWORK - CARRIAGE - DRAINAGE - FACILITIES - FILTRATION - GLASS & PAINT - GANTRY - GIMBALS - HATCHES
HYDRODYNAMICS HISTORY - INSTRUMENTS - LABORATORY - LAMINATING - LOGISTICS - OUR TEST TANK - PROOFING - REVIEWS - SCREED
SEALING - SEAVAX TEST VIDEOS - SLUICE GATE - SLUICE MOTOR - SOLAR BATTERIES - WAVE MAKING - WINCH - WIND MACHINE - MOUNTINGS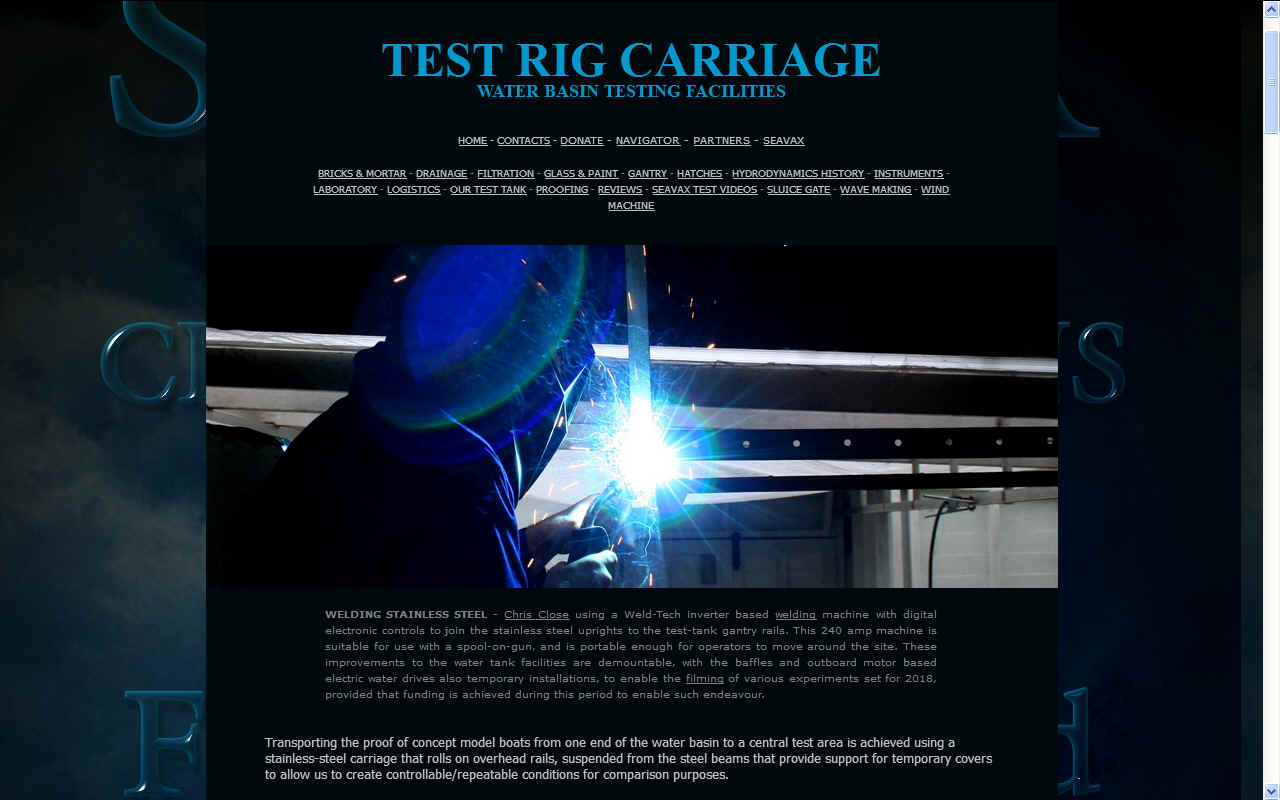 PROGRESS - Work continues to develop the testing facilities that we need to develop SeaVax and AmphiMax into an effective ocean cleaning system.
The world is facing food insecurity brought on by accumulated marine litter the by-product of modern living. Pollution takes many forms causing climate change and disease. This needs to be tackled in various ways about which our Foundation is a leading research facility dedicated to plastics in water, based on our robotics laboratory and test tank facilities.
WHY IS OUR TEST TANK DIFFERENT TO OTHER FACILITIES?
Most water testing facilities are general purpose tanks for towing model boats or ships in smooth or rough wave conditions. Other facilities are for testing underwater craft. Our tank is designed for speedy turnaround to test different plastic particle sizes on different ocean cleaning heads.
We can empty and refill our tank quickly using a two tank system to flush and filter the water in between exchanges, to take out any residual plastic particles from the previous tests. Our tank is specially designed for the 1/20th scale models of SeaVax and AmphiMax, such that it is cost effective. If it had been any bigger the expenses would rise to exceed our limited budget, where we are a charity. The facilities are though adequate. We can also test full size pumps and filters before they are put into the sea for full size trials.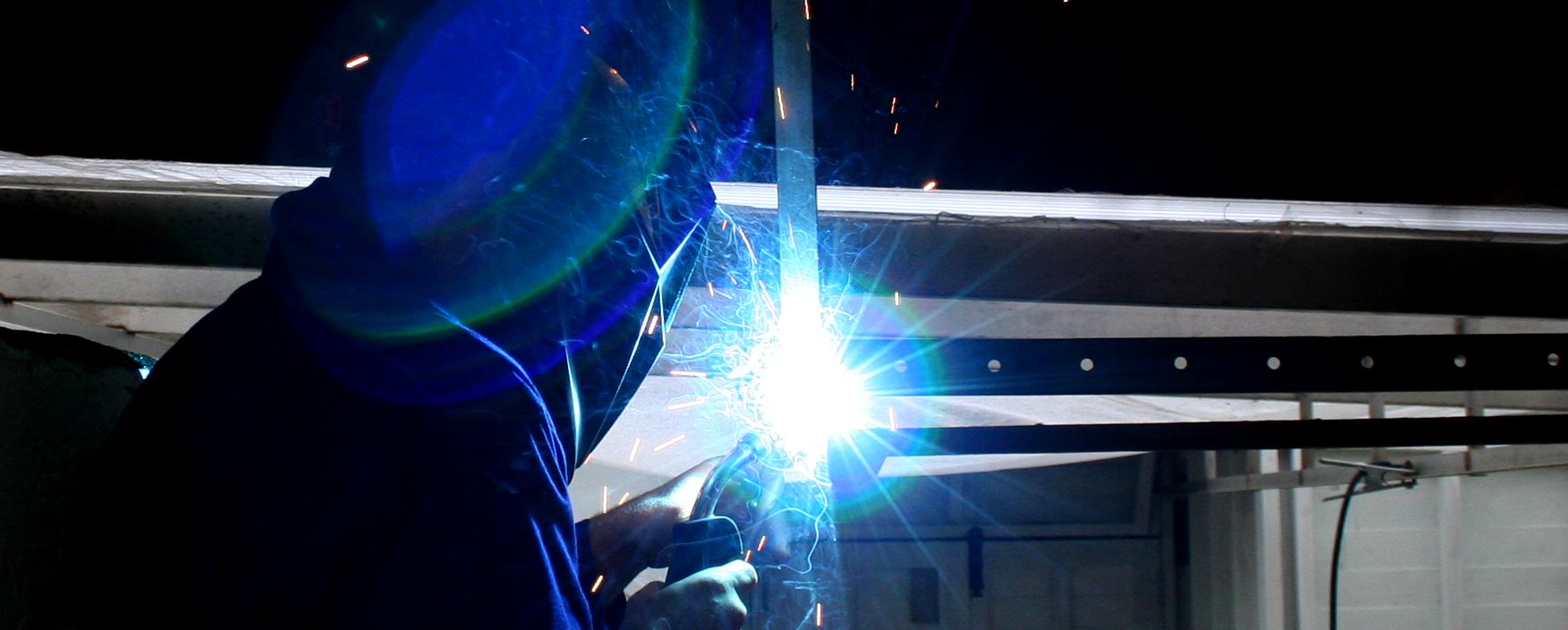 CONSTRUCTION - Welding rolled stainless angle steel sections to form an overhead gantry. A carriage rolls on nylon wheels to deliver the SeaVax from the dry loading area, into the middle of the test tank.
SPONSORS & FUNDING REQUIREMENT
The speed of development of any concept depends on the amount of money that is available for such a project. We need to raise sufficient monies each year to keep development going. We are not at this time funded by any Government or supported by any other charity. We are a stand alone organization, though we are willing to work with other groups to conquer marine litter, or to help businesses reduce their plastic footprints. They can do this by supporting our research and awareness campaigns.
PLEASE HELP US IF YOU CAN
If you or your organization can help us with this important research please get in touch. We would welcome the opportunity to work with those involved in the plastics industry or those who use plastic in their packaging and might like to offset any negatives from their activities with positive research that is likely to offer stability in the future and greater confidence from their customers, suppliers and/or shareholders.
All communications will be treated in strict confidence unless by prior arrangement.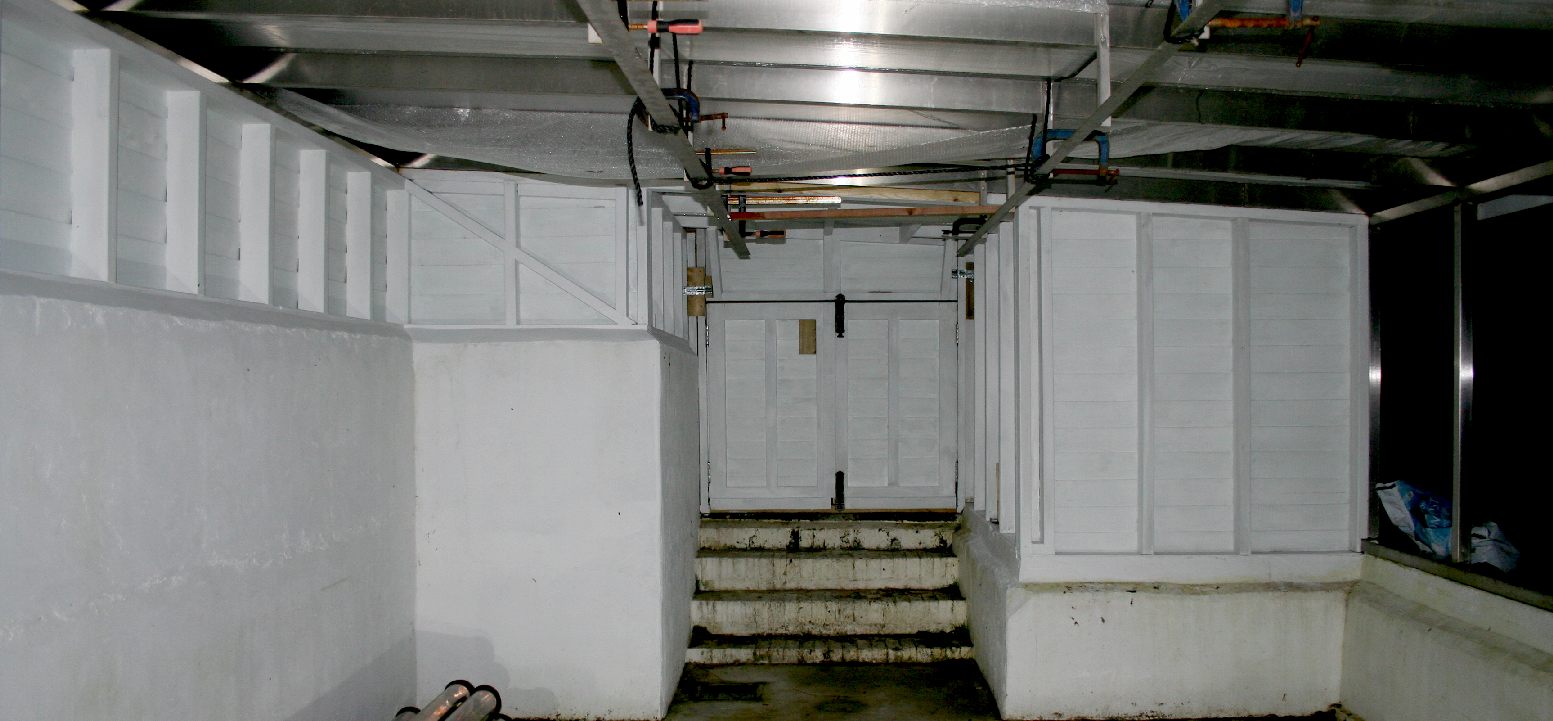 PROGRESS - Last year this was an open tank that could not provide the controlled weather simulations that we need to run in order to test SeaVax in operation in high winds.
STANDBY MODE SEPT 2017 >>>>>>> 2018
Until such time as fresh funding allows for the acceleration of the SeaVax project, the Cleaner Ocean Foundation (via its volunteers and associates) will continue to work on the project as far as is possible by carrying out AmphiMax launch simulations and other robotic development.
Standby, means networking and explaining the possibilities at various events that are planned for 2018, such as Oceanology 2018 in March and the European Maritime Day in Bulgaria in May 2018.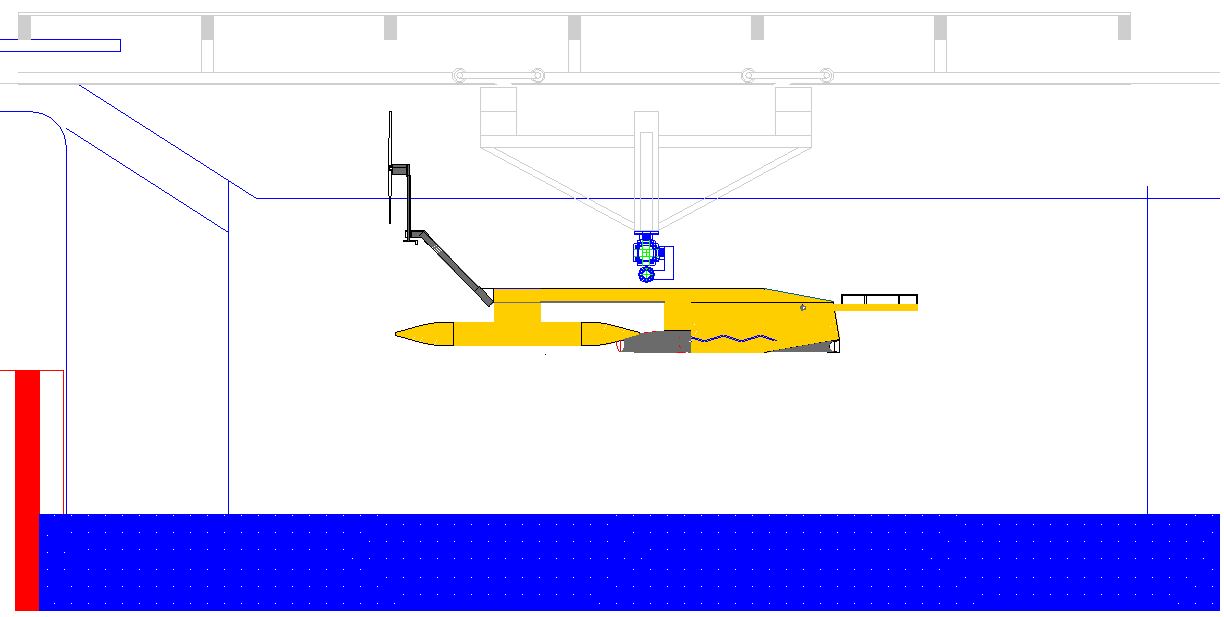 LOADING & DELIVERY - The overhead gantry rolls out from the dry loading area the other side of the sluice gate seen here in red on the left. From this position, a scissor-lift crane lowers the test model down into the water using a wireless remote and a heavy duty electric drive. This arrangement can handle around 450kg (1,000 lbs) of model and other test and measuring equipment in tethered mode. The model can be also be tested free-floating. A three-axis gimbal allows test vessels to move freely in the tank as it is lashed by wind and waves. The model can also move up and down independently of the 3 axis head. Measurements of wind speed, wave velocity or water flow are independent of the forces measured on the hull via strain gauges and accelerometers.
ASSOCIATES & SPONSORS
Our existing associates have agreed to continue to support the SeaVax project for at least another two years, or until funding is secured for the build of the prototype mobile dockyard and SeaVax.
Our associates include:
1. Bluebird Marine Systems Ltd. (R&D and fabrication)
2. Blueplanet Universal Holdings Ltd. (IP licensing, issue, transfers and negotiations)
3. Solar Cola Ltd. (Internet marketing)
Our sponsors include:
1. Our volunteers
2. L. P. H. Trust (Facilities)
LOCATION
COF continues to scout and negotiate for suitable assembly/launch sites where there are some areas in the UK now offering incentives for marine development.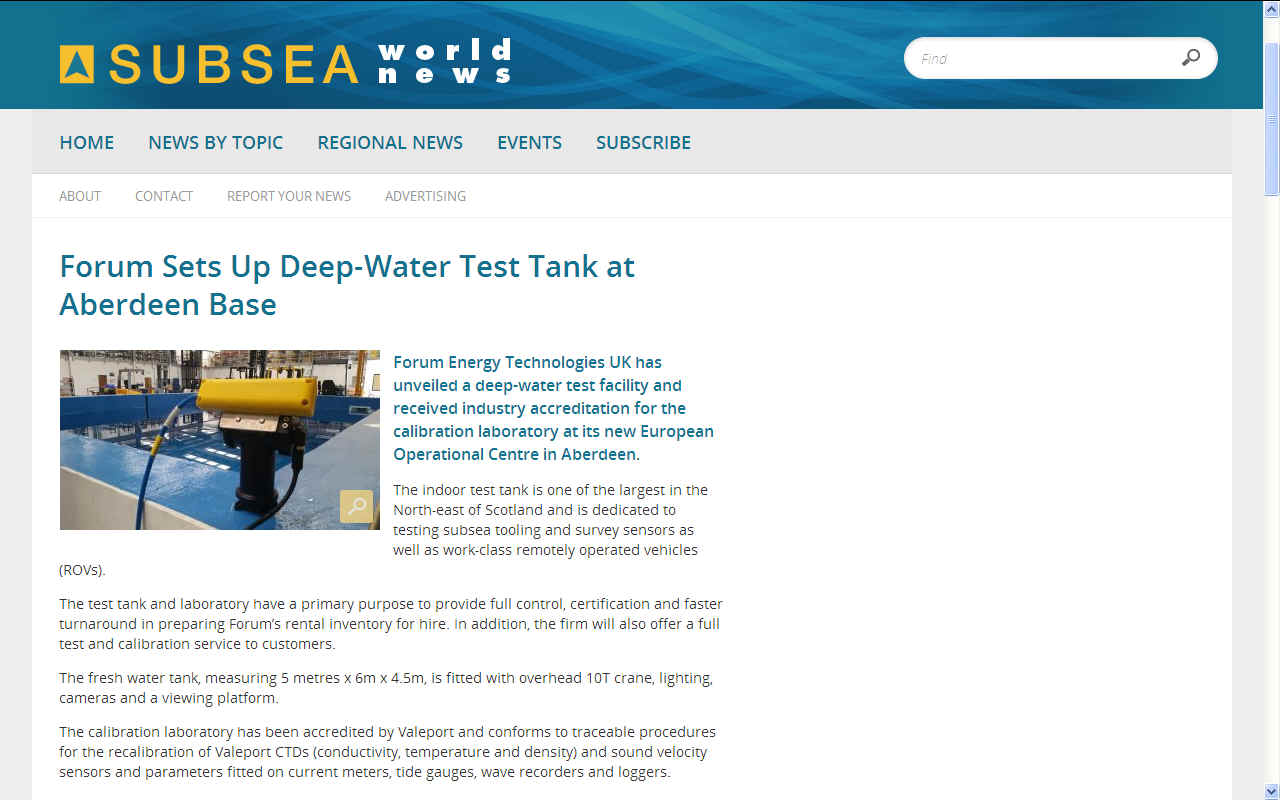 OTHER RESEARCH NEWS - JUNE 2016 SUBSEA FORUM
Forum Energy Technologies UK has unveiled a deep-water test facility and received industry accreditation for the calibration laboratory at its new European Operational Centre in Aberdeen.

The indoor test tank is one of the largest in the North-east of Scotland and is dedicated to testing subsea tooling and survey sensors as well as work-class remotely operated vehicles (ROVs).

The test tank and laboratory have a primary purpose to provide full control, certification and faster turnaround in preparing Forum's rental inventory for hire. In addition, the firm will also offer a full test and calibration service to customers.

The fresh water tank, measuring 5 metres x 6m x 4.5m, is fitted with overhead 10T crane, lighting, cameras and a viewing platform.

The calibration laboratory has been accredited by Valeport and conforms to traceable procedures for the recalibration of Valeport CTDs (conductivity, temperature and density) and sound velocity sensors and parameters fitted on current meters, tide gauges, wave recorders and loggers.

In addition, seven of Forum Subsea Rentals' (FSR) engineers have undergone extensive training at Valeport on all aspects of the calibration of CTD and Sound Velocity parameters.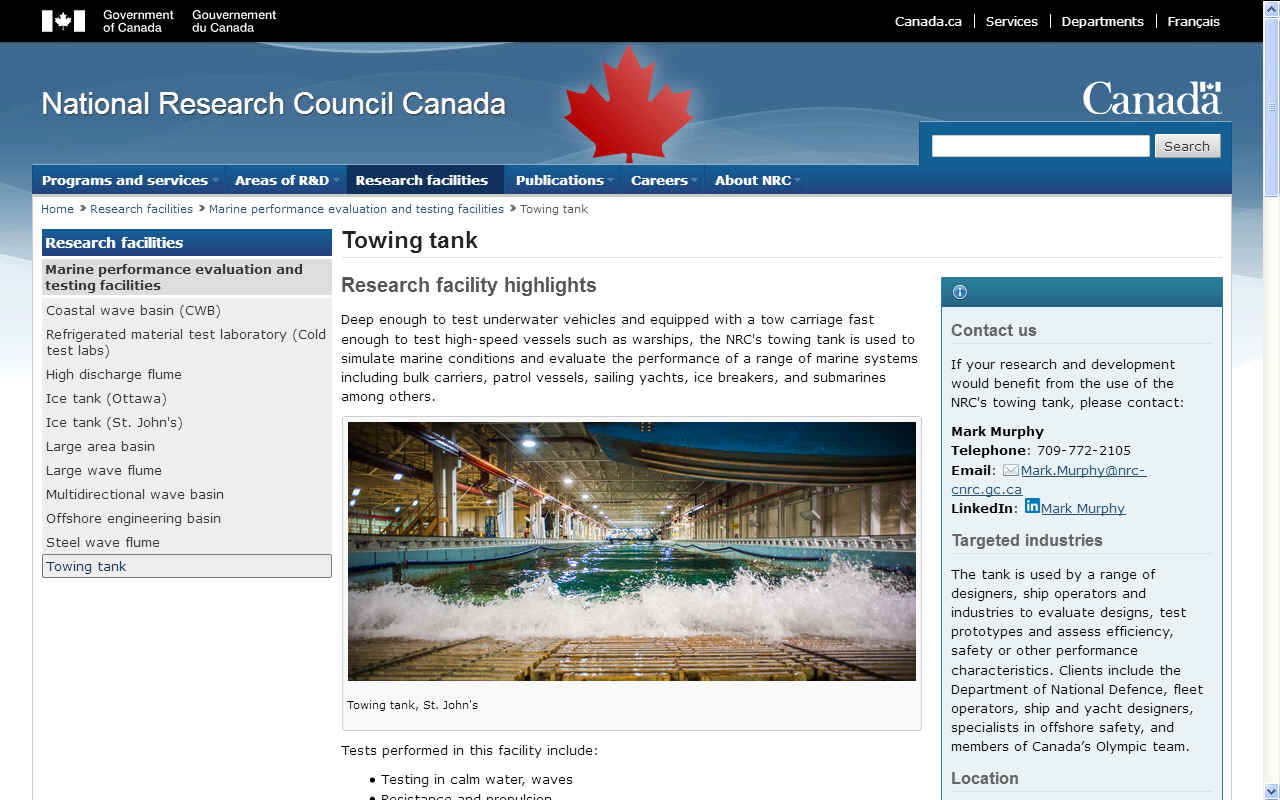 OTHER RESEARCH NEWS - TOWING TANK FACILITIES IN CANADA: RESEARCH FACILITY HIGHLIGHTS
Deep enough to test underwater vehicles and equipped with a tow carriage fast enough to test high-speed vessels such as warships, the NRC's towing tank is used to simulate marine conditions and evaluate the performance of a range of marine systems including bulk carriers, patrol vessels, sailing yachts, ice breakers, and submarines among others.

Tests performed in this facility include:

Testing in calm water, waves
Resistance and propulsion
Seakeeping
Manoeuvering
Propeller open water
Hydrodynamic force measurement
Motion studies of moored and floating structures
Life-saving appliances and human factors testing

What they offer

At 200 m long, 7 m deep and 12 m wide, this tank is capable of testing ship models up to 10 m long and can also produce regular waves up to 1 m high and irregular waves up to a height of 0.75 m. The tank's carriage is a precision-controlled mobile laboratory that is used to follow self-propelled free-running models or tow rigidly-connected models at a maximum speed of 10 m/s. Wave absorption is provided by a parabolic beach and wind generation by a bank of eight fans.
The capabilities of the towing tank are supplemented by unique pieces of equipment including a large amplitude planar motion mechanism for studying manoeuvring characteristics, a marine dynamic test facility capable of evaluating underwater vehicles in six degrees of freedom of motion and a sailing yacht dynamometer. Wake survey equipment and propulsion dynamometers are also offered, as well as flow visualization equipment and HD video.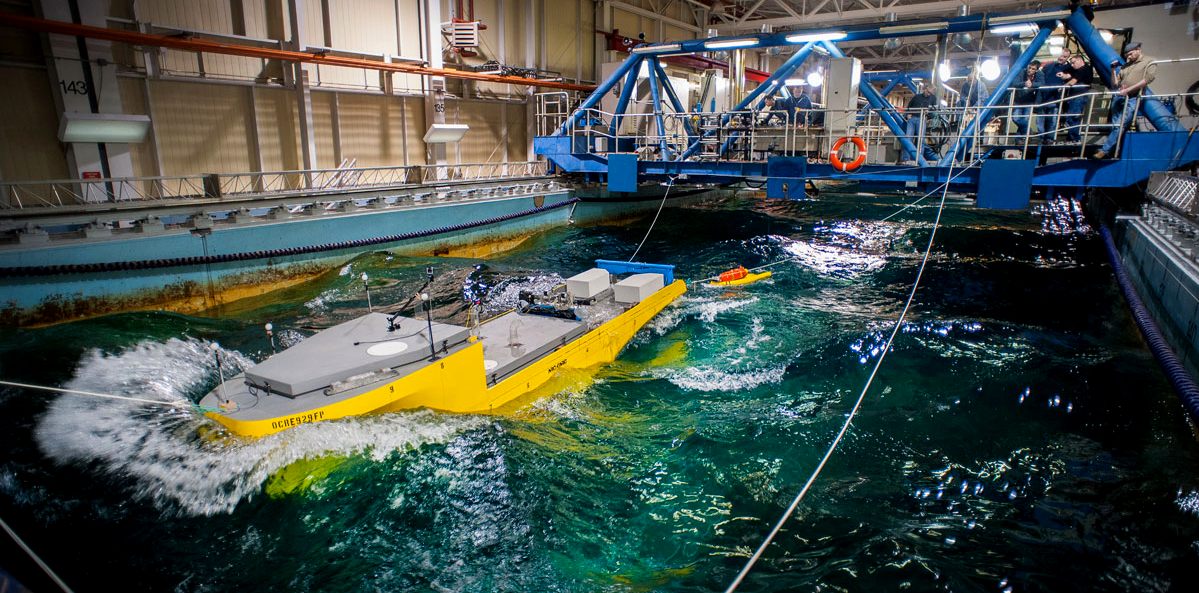 Other test equipment includes:

* Capacitance and sonic wave probes
* Qualisys optical tracking
* Precision gimballed towing dynamometers
* Inertial measurement systems and propulsion control systems for free-running models
* High-definition video that is synchronized with all digitally-recorded sensor data

Why work with then

In working with industry to bridge the gap between innovation and commercialization, the NRC plays a critical role in de-risking and demonstrating technologies in order to support industry bringing them to market. Working with the NRC offers you the competitive advantage of world class, customizable testing facilities combined with the broad knowledge and experience of our in-house research staff. The NRC capitalizes on our professional employees who have extensive experience in advanced engineering for complex water environments.
NRCC FEES

According to their website fees vary depending on project requirements. For further information contact their Business Advisor: Mark Murphy, at 709-772-2105, or email: Mark.Murphy@nrc-cnrc.gc.ca.

Talk to one of their experts. Including NRCC early in your research and development efforts can reduce your overall risk and cost to market. Their unique expertise, comprehensive tools and facilities combined with customizable service options make them a partner worth considering to support your vision and bring your products and processes to market.
LINKS & REFERENCE
https://www.nrc-cnrc.gc.ca/eng/solutions/facilities/marine_performance/towing_tank.html
https://subseaworldnews.com/2016/06/15/forum-sets-up-deep-water-test-tank-at-aberdeen-base/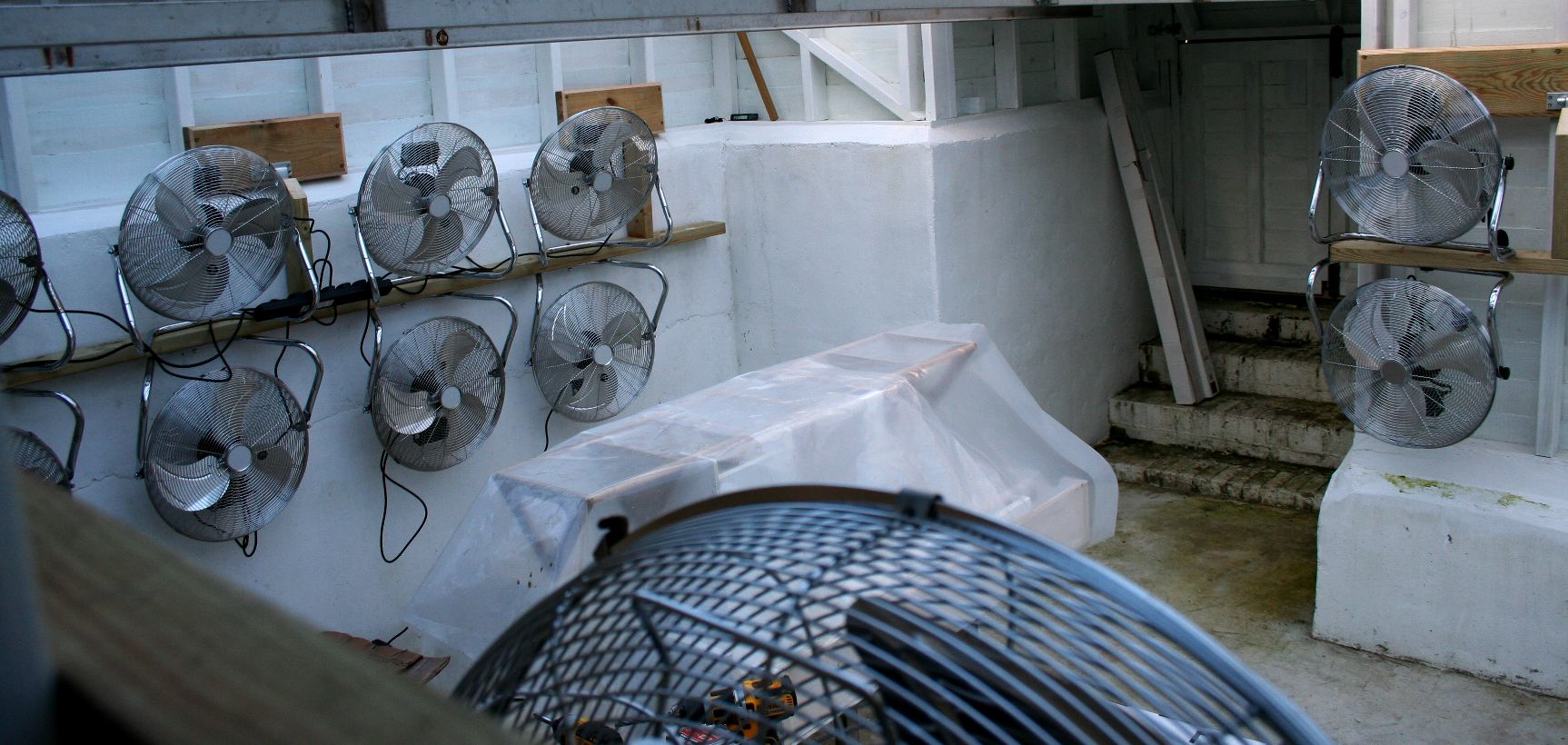 WIND MACHINES - These fans can be tilted up away from the wall as a bank. Each individual fan can also be revolved and tilted separately to the others. By this means we can create a revolving storm in the test tank with the appropriate guides. Two more fans are to be added to this bank. Copyright © photographs February 23 2018. You will need the permission of the Cleaner Ocean Foundation to reproduce these pictures except for educational use or private research.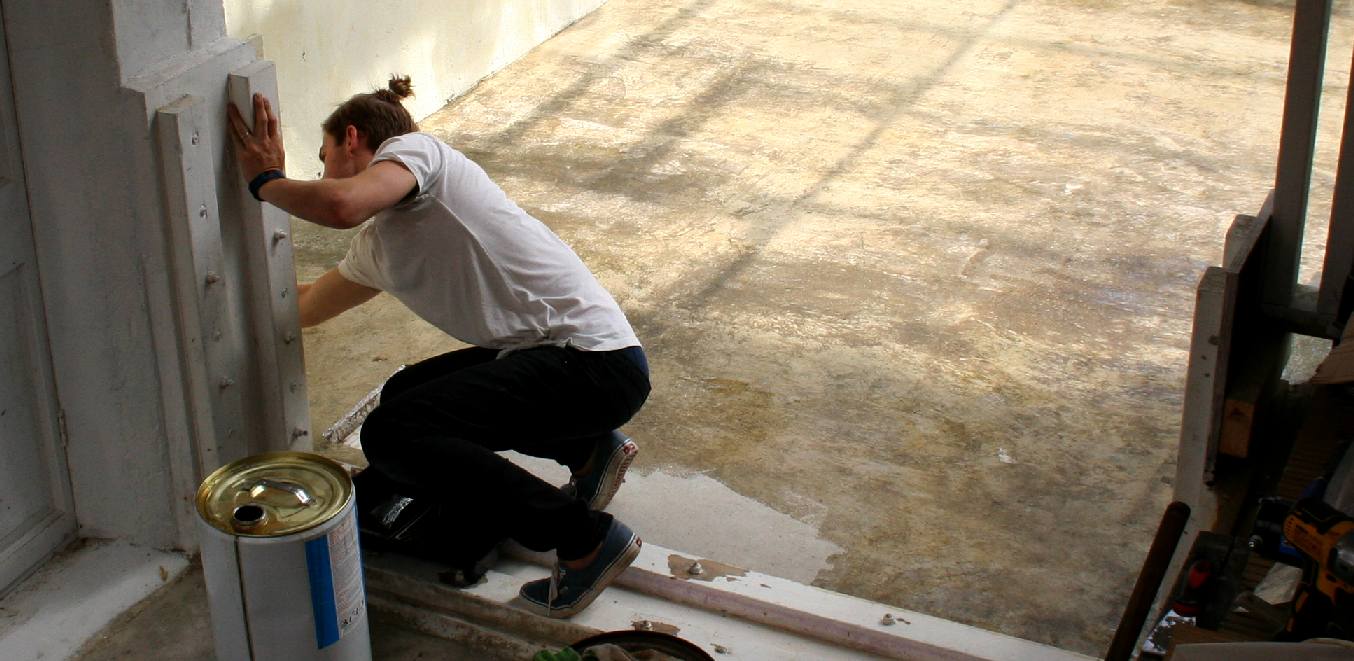 SEALING - Before painting in epoxy 2-pack our test tank was sealed with G4 polyurethane. The second coat went on much easier and was applied thickly, but not so thick that we had runs, although you will get some flow, especially on a floor like ours where there is a slope to the circulating pump intake in one corner. Copyright © photographs June 28 2018. All rights reserved. You will need the permission of the Cleaner Ocean Foundation to reproduce these pictures except for educational use or private research.
BRICKWORK - CARRIAGE - DRAINAGE - FACILITIES - FILTRATION - GLASS & PAINT - GANTRY - GIMBALS - HATCHES
HYDRODYNAMICS HISTORY - INSTRUMENTS - LABORATORY - LAMINATING - LOGISTICS - OUR TEST TANK - PROOFING - REVIEWS - SCREED
SEALING - SEAVAX TEST VIDEOS - SLUICE GATE - SLUICE MOTOR - SOLAR BATTERIES - WAVE MAKING - WINCH - WIND MACHINE - MOUNTINGS
This website is provided on a free basis as a public information service. Copyright © Cleaner Oceans Foundation Ltd (COFL) (Company No: 4674774) 2018. Solar Studios, BN271RF, United Kingdom. COFL is a charity without share capital. The names Amphimax™ RiverVax™ and SeaVax™ are trademarks.