INNOVATION FUNDING SERVICE
ABOUT - CONTACTS - DONATE - FOUNDATION - HOME - A-Z INDEX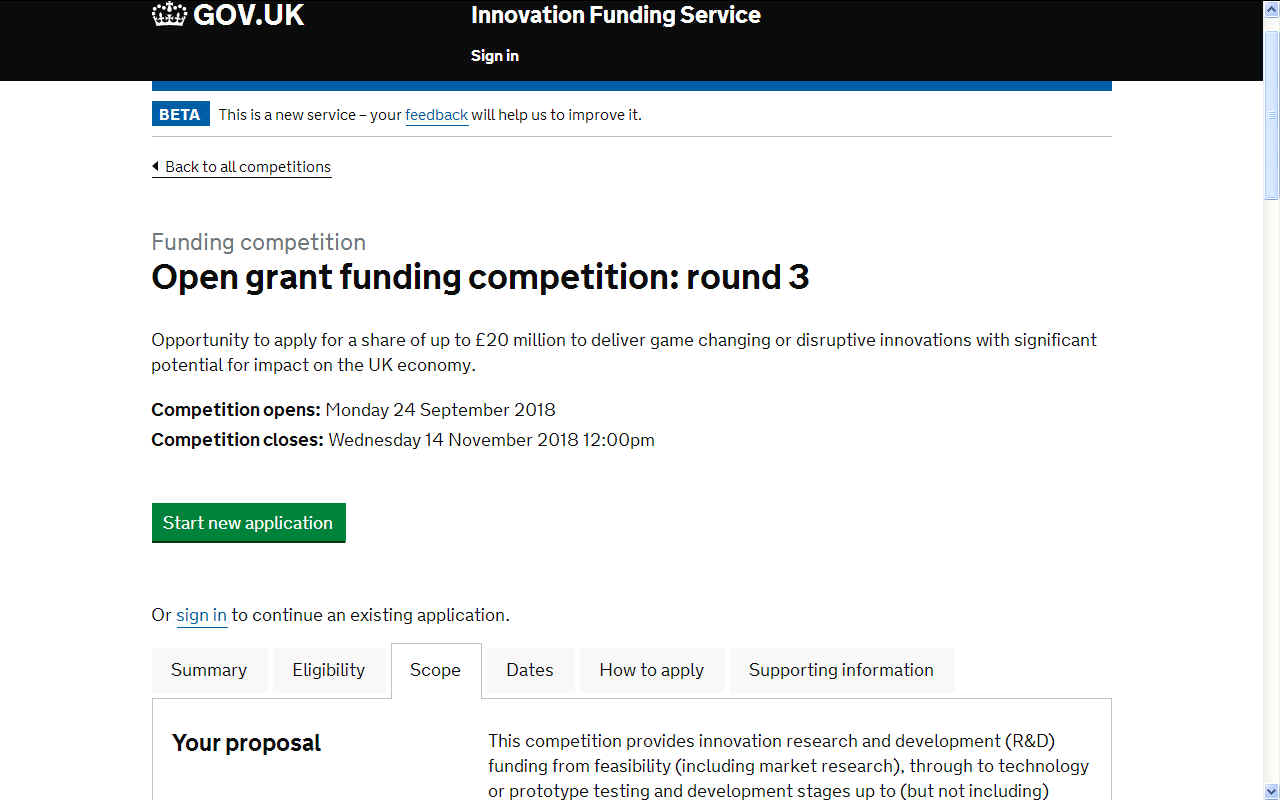 WARNING: APPLYING FOR UK GRANTS IS AN EXTREMELY COMPLEX AND TIME CONSUMING, HENCE EXPENSIVE, EXERCISE THAT IS NOT SUITABLE FOR START UPS - WHERE THE GOVERNMENT WANT VOLUME APPLICATIONS THAT GIVE THEM A WIDE CHOICE. THERE IS NO MECHANISM FOR TESTING POTENTIAL IDEAS FOR ACCEPTANCE, OTHER THAN APPLYING UNDER ONE OF THEIR GENERAL HEADINGS. UNLESS A CALL IS 100% ON POINT AND YOU HAVE THE FUNDS TO PUT TOGETHER WHAT AMOUNTS TO AN INTRICATE BUSINESS PROPOSAL - WHY RISK WHAT RESOURCES YOU HAVE - CONSIDER INSTEAD, CROWD FUNDING OR COMMERCIAL SPONSORSHIP. THE ADVERTISED H2020 CALLS HAVE SIMILAR PROBLEMS.
The Cleaner Ocean Foundation is too small an entity to realistically lead a bid and does not have the resources to fail and so lose wasted effort and the money that goes with it. Being a charity, the Foundation is barred from leading applications.
We might though propose technology development to bigger entities and then join their consortium as perhaps being vital to the success of the need for ocean cleaning proposals in such areas as Robotics for onboard functions and Satellites to help our autonomous vessels hunt down the elusive plastic carrying currents and where that plastic is coming from.
National grant schemes such as the Open Grant Funding Competition must be led by an SME and funding is limited to 70%. Clearly then, projects such as SeaVax that are not for profit, hence cannot attract conventional business backing to cover the remaining 30% that is not covered, would rule us out. These calls are designed to leverage funding from the private sector, in that once the applicants are on the hook from the initial bite of the carrot, they will spend more on the technology, even if they can ill afford that and ultimately fail.
RULES OF ENGAGEMENT
This competition provides innovation research and development (R&D) funding from feasibility (including market research), through to technology or prototype testing and development stages up to (but not including) commercialisation.
Your proposal must demonstrate:

* a clearly game-changing and/or disruptive innovative idea leading to new products, processes or services

* an idea that is significantly ahead of others in the field, set for rapid commercialisation

* a strong and deliverable business plan that addresses (and documents) market potential and needs

* a team, business arrangement or working structure with the necessary skills and experience to run and complete the project successfully and on time

* awareness of all the main risks the project will face (including contractor or equipment failure, recruitment delays and so on) with realistic management, mitigation and impact minimisation plans for each

* sound, practical financial plans and timelines

* good value for money which will always be a consideration in Innovate UK funding decisions

* a clear, evidence based plan to deliver significant economic impact, return on investment (ROI) and growth through commercialisation, as soon as possible after project completion

* clear, considerable potential to significantly impact the UK economy and/or productivity in a positive way
Specific themes

Preference will be given to applications that demonstrate realistic, significant potential for global markets.

We particularly welcome proposals from innovation-based businesses with significant ambition and potential for growth or scale-up.

Where possible, projects should take customer and user needs into account to deliver more desirable and useful solutions.

We are looking to fund a portfolio of projects, across a variety of technologies, markets and technological maturities. These may include feasibility studies, industrial research projects or experimental development projects.
PROJECT TYPES
Projects can focus on:

* feasibility studies, which may include market research
* industrial research
* experimental development, if appropriate for the challenge identified and proposed solution
Please see the general guidance to help you decide which category your project fits in.
For feasibility studies and industrial research, you could get funding for your eligible project costs of:
up to 70% if you are a small business
up to 60% if you are a medium-sized business
up to 50% if you are a large business
For experimental development projects which are nearer to market, you could get funding for your eligible project costs of:

up to 45% if you are a small business
up to 35% if you are a medium-sized business
up to 25% if you are a large business
PROJECTS WE WILL NOT FUND
We will not fund proposals that:
* do not meet the competition scope
* do not address the size, potential and access to market for the innovation
* do not evidence the potential for their idea or concept leading to significant return on investment (ROI), positive economic impact, growth and scale-up of the business
KNOWLEDGE TRANSFER PARTNERSHIP

Separate applications can be submitted for Knowledge Transfer Partnerships (KTPs). KTPs link companies with an academic or research organisation and a graduate. Please note that this is completely separate from the Open application and therefore has separate open and close dates.
KTP applications must follow the specific guidance for KTPs.
COMPETITION OVERVIEW
Who can apply

To lead a project you must:

* be a UK-based business of any size or a research and technology organisation (RTO) not a charity
* carry out your project in the UK
* intend to exploit the results from the UK
* be an SME if you want to work alone
* include an SME if you want to collaborate with others (businesses, research base and/or third sector)

Single applicants must claim funding. If the project is collaborative, the lead and at least one other organisation must claim funding.

A UK business must be eligible to receive state aid. If you are unsure please take legal advice. For further information please see our general guidance.

Partners with no funding

Projects can include partners that do not receive any funding (for example, non-UK businesses). Their costs will count towards the total project costs but they will not count as collaborators.
Multiple applications
Any business or RTO can only lead one project application per competition round. If more than one application is submitted with the same lead, only the first application will be considered for assessment.

Applicants may partner in as many applications as they wish.

An academic institution cannot lead on an application but can be a collaborator in any number of applications.
Research and technology organisations
If you are an RTO then the following rules apply:

To lead on an application RTOs must have 2 or more business collaborators (one SME, and one other business of any size). There must be a credible route to market for the output of the project, and since the purpose of RTOs is to speed up the progress of those using their services, this is expected to be through the partners, rather than through the RTO itself.
Where RTOs are project partners, they can participate as either knowledge providers, and receive 100% grant, or as business entities, and be reimbursed a percentage of their eligible costs, depending upon their size and the nature of the work.

If participating as a business, they must show that the match funding they are providing comes from entirely private sector sources, across all projects they are involved in. They must also be able to show how they will exploit the results of the project to grow the wider sector.

The research organisations in your consortium can share up to 30% of the total eligible project costs. If your consortium contains more than one research organisation, this maximum will be shared between them.

Failure to exploit

If you applied to a previous competition as the lead or sole company and were awarded funding by Innovate UK, but did not make a substantial effort to exploit that award, we reserve the right to award no more funding to you, in this or any other competition. You will not be able to contest our decision. We will:

* assess your efforts in the previous competition against your exploitation plan for that project
* review the monitoring officers' reports and any other relevant sources for evidence
* document our decision, which will be made by 3 team members
* communicate our decision to you in writing

Previous projects
Under the terms of Innovate UK funding, you are required to submit an independent accountant's report (IAR) with your final claim. If you or any organisation in your consortium failed to submit an IAR on a previous project, we will not award funding to you in this or any other competition until the documents have been received.
Resubmissions

If Innovate UK judges that your proposal is not materially different from your previous proposal, it will be classed as a resubmission.

If your application is unsuccessful, you can reapply with the same proposal once more, taking into account the feedback received from the assessors. You can reapply into another round of this competition or another competition. In other words, you can make a maximum of 2 applications in total to Innovate UK with any given proposal.
Funding

We have allocated up to £20 million to fund innovation projects in this competition.

If your project has total eligible costs or duration outside the specified range it will be deemed out of scope and ineligible.

Total eligible project costs must be within the following ranges:

* Project duration between 6 and 18 months: total costs must be between £25,000 and £500,000 and may be either single company or collaborative applications.

* Project duration between 19 and 36 months: total costs must be between £25,000 and £2,000,000 and must be collaborative.

* If you wish to submit a project between £2 million and £3 million as a permitted exception, you must email customer services with full justification at least 10 days before applying.

* Project costs below £25,000 will be deemed ineligible.

The research organisations in your consortium can share up to 30% of the total eligible project costs. If your consortium contains more than one research organisation, this maximum will be shared between them.

This competition provides state aid funding under the General Block Exemption Regulation. It is your responsibility to make sure that your organisation is eligible to receive state aid.
DATES & CONTACTS
24 September 2018 - Competition opens
5 October 2018 - Online briefing event.
12 October 2018 - Briefing event recording.
14 November 2018 12:00pm - Competition closes
1 February 2019 - Applicants notified


If you want help to find a project collaborator, contact the Knowledge Transfer Network.

If you need more information, call the competition helpline on 0300 321 4357 or email us at support@innovateuk.gov.uk.
HORIZON 2020 CALL ISSUES
One of the problems with any UK innovation call is that the rules and assessment process do not favour applications from small entities that may spend a disproportionate amount of money and time pursuing an application that will ultimately be consigned to the bin in favour of larger corporations that do not need the money.
OTHER DECISION MAKING CONSIDERATIONS
Calls are decided by academics looking to solve a particular niche problem without any thought for the viability or survival of applicants from such commitment, and that usually means a lack of vision when it comes to larger projects - indeed, forward thinking projects with such scope are generally ruled out automatically.
We do not say this lightly, we speak from real life experiences and a reading of actual documents relating to actual applications from some of those who are contributing to this project. Big thanks to them for sharing that information and heading off time wasting efforts.
For these reasons, although we have looked at the process, we were leaning towards a mix of accepting charitable donations and corporate (philanthropic) associations. By inviting such participation we hope to be able to top up the already generous donations from Avaaz members (thank you everyone) from when Bluebird Marine Systems were running their SeaVax programme.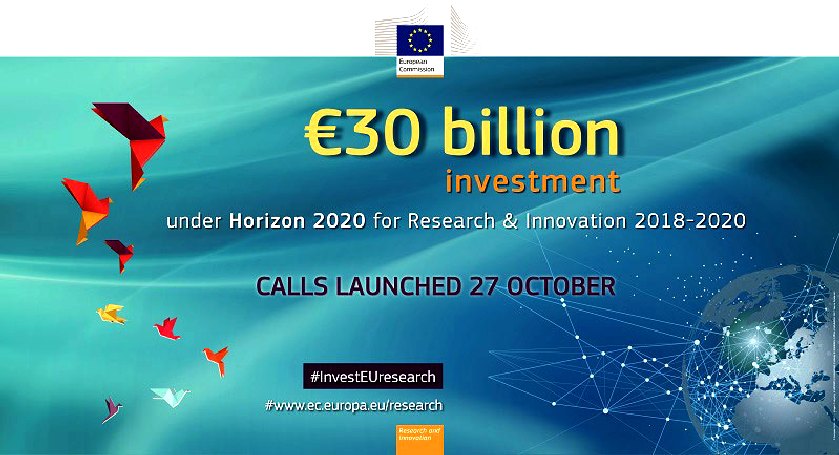 IT'S NOT WHAT IT SEEMS - It's actually a trap to lure unsuspecting entrepreneurs and researchers into spending time on an application where not only do you not have a chance of success, but you'll be giving your ideas away for nothing.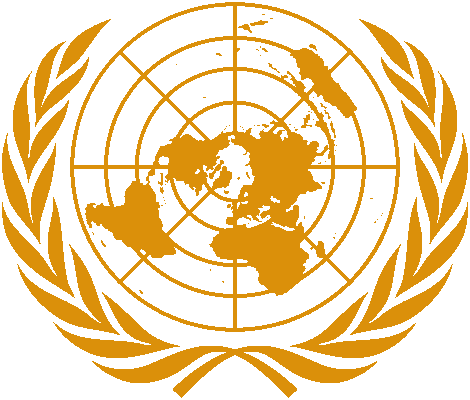 LINKS & REFERENCE
https://ec.europa.eu/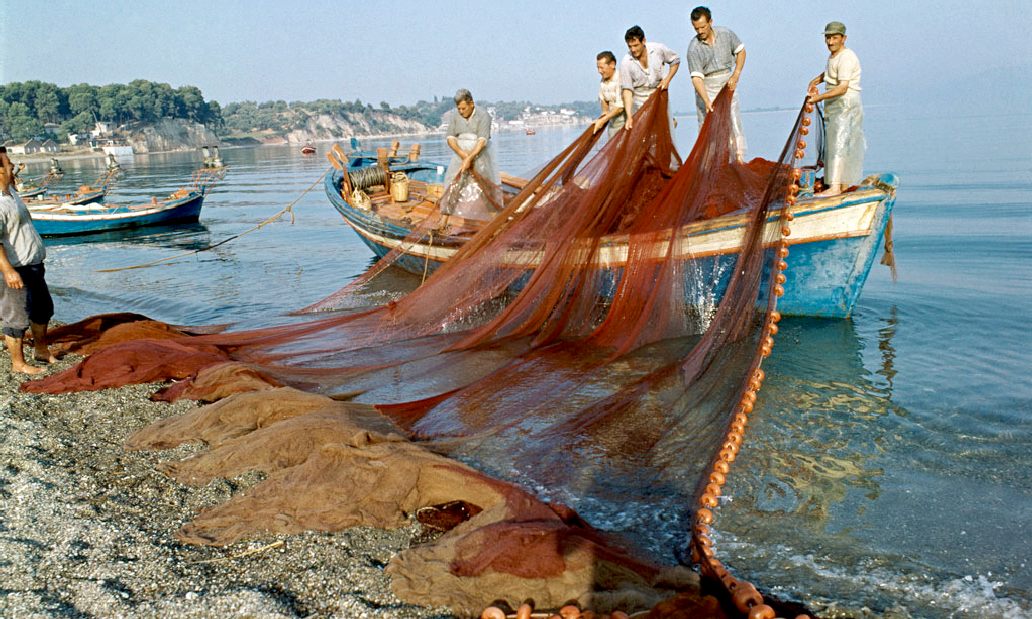 SUSTAINABLE FISHING: UN picture of fishermen in Evia, Greece fishing using nets from small boats as they have for hundreds of years without destroying our fisheries. Marine capture fisheries are a critical component for food security. Their production is close to the maximum ecosystem productivity (NRC 2006), cannot be increased substantially in the future and could decline if not properly managed, leaving the world to solve a significant new food deficit.
This website is provided on a free basis as a public information service. copyright © Cleaner Oceans Foundation Ltd (COFL) (Company No: 4674774) November 2018. Solar Studios, BN271RF, United Kingdom. COFL is a charity without share capital. The names AmphiMax™, RiverVax™ and SeaVax™ are trade names used under license by COF in connection with their 'Feed The World' ocean cleaning sustainability campaign.