PLUGBOAT - VENICE, ITALY, OCTOBER 2018
ABOUT - CONTACTS - DONATE - FOUNDATION - HOME - A-Z INDEX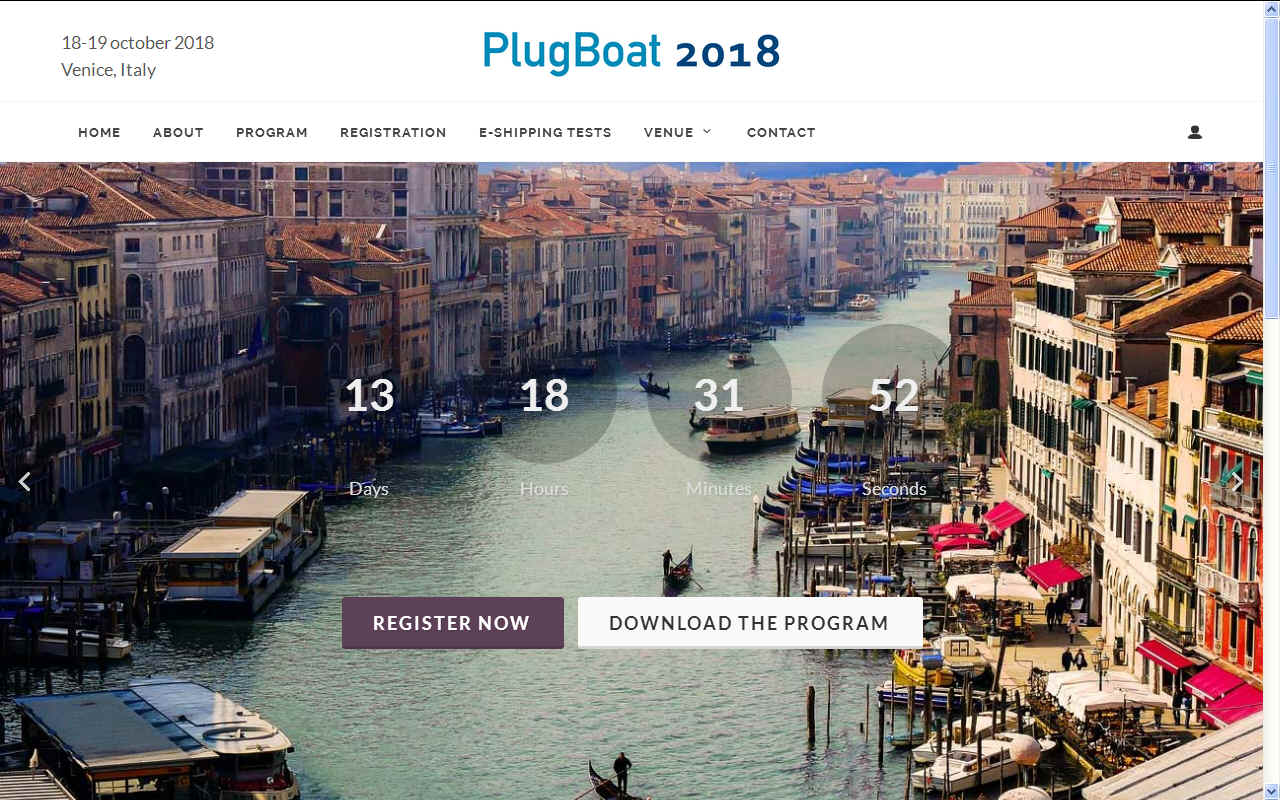 PROGRAM - 18th OCTOBER

08.00 REGISTRATION & WELCOME COFFEE

09.00 OPENING SESSION
Welcome & Worldwide Context
PlugBoat's Mission and Goals
Frédéric Vergels, Electri-city.mobi, BE
Why Venice ? Insights about Electric Propulsion in Italy

Electric Boats as a Solution to Urban Congestion
Indira Khara , UITP - International Association of Public Transport, BE
European Commission: Legal Framework and Tools
10.30 COFFEE BREAK
11.00 TECHNOLOGY OVERVIEW
State of the Art, Challenges, Point of View and Vision

Triple Innovation
Hans Thornell, Green City Ferries, NO

Motor boating of the future
Janne Kjellman, Oceanvolt & Q Yachts, UK

Aluminum-air Batteries for Marine Applications
Udi Erell, MatysOnBoard, UK

Easy-to-install High Voltage E-propulsion for Yachts and Smaller Commercial Vessels
Gerhard Hesse, Fischer Panda, DE

Solar Electric Naval Architecture - an Integral Design Approach Showcased by the SoelCat 12
David Czap, Soel Yachts, NL

Electric-Hybrid Hydrofoiled Watertaxi for Venice
Martin Mai, AQUAcon, AT
13.00 LUNCH
14.00 MARKET REVIEW
Feed-back of Existing Actions, Perspectives for the Future

Paradigm Shift for Urban Transportation with Electric, Hybrid and Solar Ferries and Watertaxis
Ivonne Hagena, Torqeedo, DE

Evaporetto
Mike Tommasi, 3NERGY, IT
The Innovative and Versatile "Valentino" Full-electric Boat Class
Antonino Capillo, University of Rome "La Sapienza", IT
Cost-benefit Analysis of a Shore Side Electricity Investment Project
Gatto Marco, TRT Trasporti e Territorio, IT
IbizaRespira
Iñaki Calvo Ponte, Smart Eco Driving, ES
15.40 COFFEE BREAK
16.00 INTRODUCTION SCENARIO
Best Practices & Lessons Learned, Outlook
Accelerating Transition to Sustainable Marine Transport with Financial Solutions
Kanne Ulf, Transport Transformation, CH
Fuel Cell Solution for Marine Application
Yane Laperche-Riteau, Ballard Power Systems Europe, FR

Multi-motor Concept for Watercraft Drivetrain Applications
Johannes Gerold, FEAAM, DE

Parallel Hybrid Transmission
Bart van der Helst, Esco Power, BE
17.20 POSTER SESSIONS
With networking drink
Living Boats Aarhus
Jørn Grønkjær, Living Boats Aarhus, DK

Biocomposite: an Opportunity for more Sustainable Electric Boats
Aline Rogeon, VESO Concept, FR

Solar Electric & Hybrid Living on Water
Martin Mai, AQUAcon, AT

Water Tight Li-Ion Battery Module for Maritime Applications
Oliver Urem, Fiberdraft, AT

Automatisation of Battery Cell Production Based on Laser Welding
Johannes Kaar, Nordfels, AT

GALA DINER
Please note that separate registration is requested to attend the study tour
PROGRAM - 19th OCTOBER

09.00 REGISTRATION & WELCOME COFFEE

09.30 WHAT'S HAPPENING ? WHERE ?
Projects and Ongoing Realisations
Recent Experiences in Modular Offshore Battery Solutions
Willums Jan-Olaf, Zero Emission Marine, NO
Have you Ever Thought about Cutting the Cord? Inductive Charging a Reliable and Powerful Alternative
Steffen Bittler, IPT Technology, DE
Sustainable Public Transportation in Venice
Emanuele Ferro, Alilaguna, IT
Electric Marine Vessels: an Unstoppable Transition?
Gear Luke, IDTechEx, UK
A Report on Plug-in Hybrid Boat Activities in Japan: The Usefulness and the Remarkable CO2 Reduction
Shigeyuki Minami, Osaka City University, JP
French Market Status, Trends and Challenges
Xavier de Montgros, French Association for Electric Boats
11.30 COFFEE BREAK

11.50 DESIGN & ENERGY STORAGE

Using high Efficiency PM Motor to Increase Efficiency in Boat Powertrain
Rambaldi Simone, italianvolt, IT
YeloH2 : 75PAX Hydrogen Powered E-boat used for Maritime Public Transportation
Philippe Pallu de La Barriere, Alternative Energies, FR
Volvo Penta Parallel Hybrid Marine Propulsion Concept
Andrea Piccione, Volvo Penta, IT
Technical Multi-drive Hybrid Electric Boat in Venice
Massimo Guarnieri, University of Padua, IT

13.10 LUNCH

14.30 EUROPEAN BOATING INDUSTRY ROUND TABLE ON RECREATIONAL ELECTRIC BOATS
Towards a Greener Blue in Europe - Could E-boats be the Solution?
A Framework of European Fegislations Favourable to Electric Boats
Representative from the European Commission, DG Environment
Presentation of the Marine Strategy Framework Directive and EU legislative
framework favourable to the development of Electric Boats in Europe.
Sail electric
Xavier de Montgros, Association Française du Bateau Electrique, FR
Lighter, with no fuel emission, reduced underwater noise: how electric sea going
boats are perfectly suitable for very sensitive marine areas.
Recreational ports of tomorrow
Representative from marina fully equipped with electric plug
Good and best practices from a marina that invested in infrastructure for electric
boats.
Discussion Panel with :
Xavier de Montgros, Association Française du Bateau Electrique, FR
Christoph Ballin, Torqeedo, DE
Béranger Laurent, Eco Sailing Project, FR
Moderated by :
Sandrine Devos, European Boating Industry, BE

15.30 CLOSING SESSION
Wrap-up - Strategies for the Future
Feedback from the Different Sessions
Open Debate
What's Next?
Frédéric Vergels, electri-city.mobi, FR
EVENT CONTACTS

Electri-city.mobi
Hubac de la Malière
Route de Bormes
83610 Collobrières, France

www.electri-city.mobi
Tel : +33 7 60 17 86 35
Mail : info@electri-city.mobi

VAT n°: FR 48 831 869 102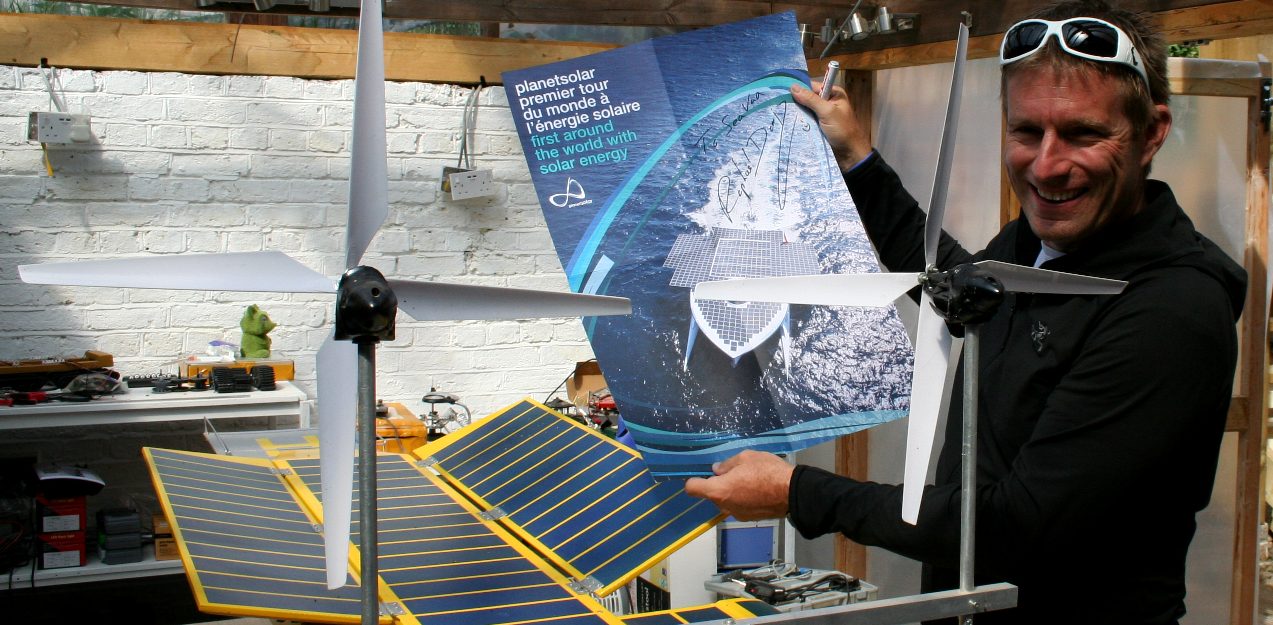 SOLAR POWERED - Raphaël Domjan has long been an advocate of renewable energy, finally realising his dream in 2005, when he set up an association with people able to help him develop the PlanetSolar project. Five years later, a catamaran 35 metres long, 23 metres wide, with solar panels covering a surface of 537 m2 was launched.
With a crew of three, Raphaël set sail at the helm of 'his' solar boat on 27 September 2010, heading west in search of the sun. PlanetSolar returned with its Swiss skipper to 'le Rocher' on 4 May 2012 to complete the first solar-powered voyage around the world. This was a stunning world a record first and a milestone for solar powered marine transport.
Raphaël is pictured here in the recently built robotics laboratory in Sussex, England where SeaVax, also a solar (and wind) powered vessel, is being developed as an ocean cleaning workboat. Copyright photograph © Cleaner Ocean Foundation August 25 2017.
SUBMIT YOUR PAPER

https://www.plugboat.com/page/abstract_form/
LINKS & REFERENCE
https://www.plugboat.com/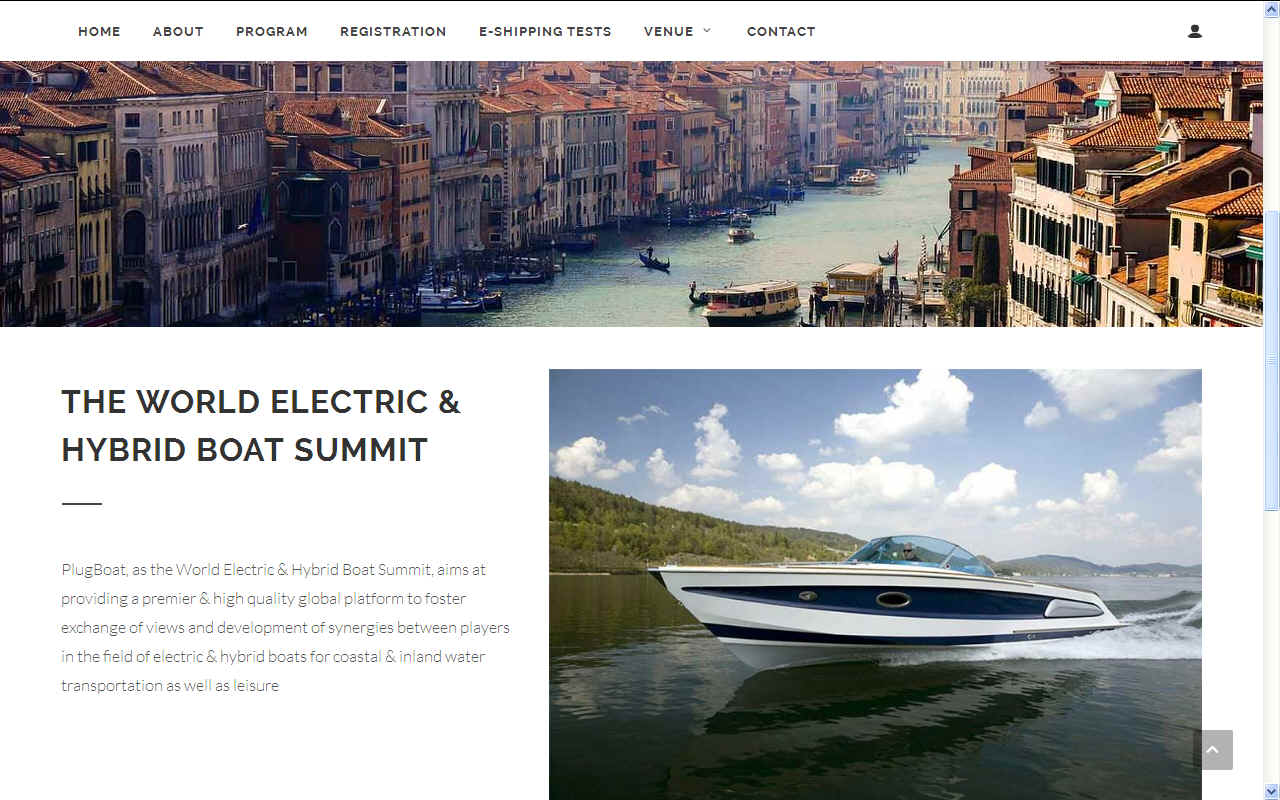 This website is provided on a free basis as a public information service. copyright © Cleaner Oceans Foundation Ltd (COFL) (Company No: 4674774) 2018. Solar Studios, BN271RF, United Kingdom. COFL is a charity without share capital. The names AmphiMax™, RiverVax™ and SeaVax™ are trade names used under license by COF in connection with their 'Feed The World' ocean cleaning sustainability campaign.