PETROLEUM - OIL COMPANIES
ABOUT - CLIMATE CHANGE - CROWDFUNDING - CONTACTS - DONATE - FOUNDATION - OCEAN CLEANUP - HOME - A-Z INDEX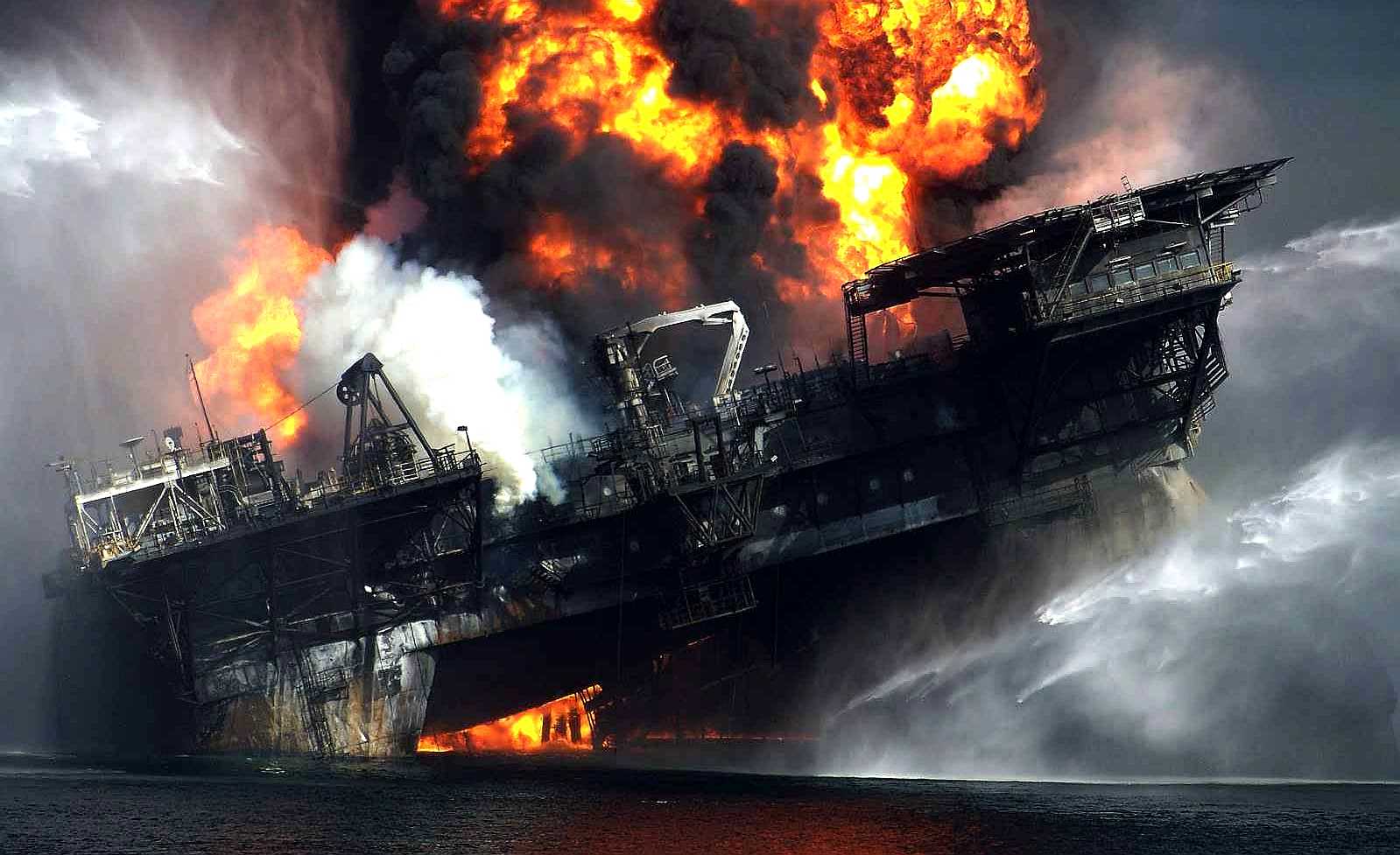 PETROLEUM - Without oil we would not have plastic such as we have now in our oceans. We are extremely thankful that most oil companies now have responsible policies in operation, or are formulating sustainable policies such as to create a circular economy. They need to adapt in the face of climate change and global warming.
At the present time and for many years to come we need petroleum and the efforts of our international oil companies to keep us alive while we develop more sustainable energy sources.
It is possible for us to use oil products in such a way that we do not add to climate change and ocean pollution, provided that we are prepared to adapt and offset.
We are in a transitional stage in the evolution of mankind where we discovered that we could be masters of the universe, but only after we started throwing our weight around did we realise the damage we were doing.
With the realization, oil producers have now employed armies of researchers to look at sustainability and how we might achieve a circular economy without collapse of society in the interim.
The problem is that international policies have been based on constant growth and expansion, where once the tipping point was reached we should have been looking at containment and conservation. We must value what we have and not look to gain more, where we are extremely lucky to be living on a planet that is capable of sustaining life. We must protect our wonderful blue paradise for future generations. Or, what was it all for?
Oil giants are in a unique position, in that politicians effectively bow to them where they need the energy to keep their countries going. The political muscle they yield spotlights their role as responsible corporations and they in turn bow to the will of their shareholders.
In days gone by it was all about profits and returns, but in a society laced with philanthropic good will, the ratio of returns to environmental damage is tipping in favour of sustainable ethics and doing good as well as turning a penny or two.
Many oil concerns now have a voluntary code of practice that is aimed at creating a circular economy, curbing global warming and dealing with plastic waste - as far as it within their power to do so.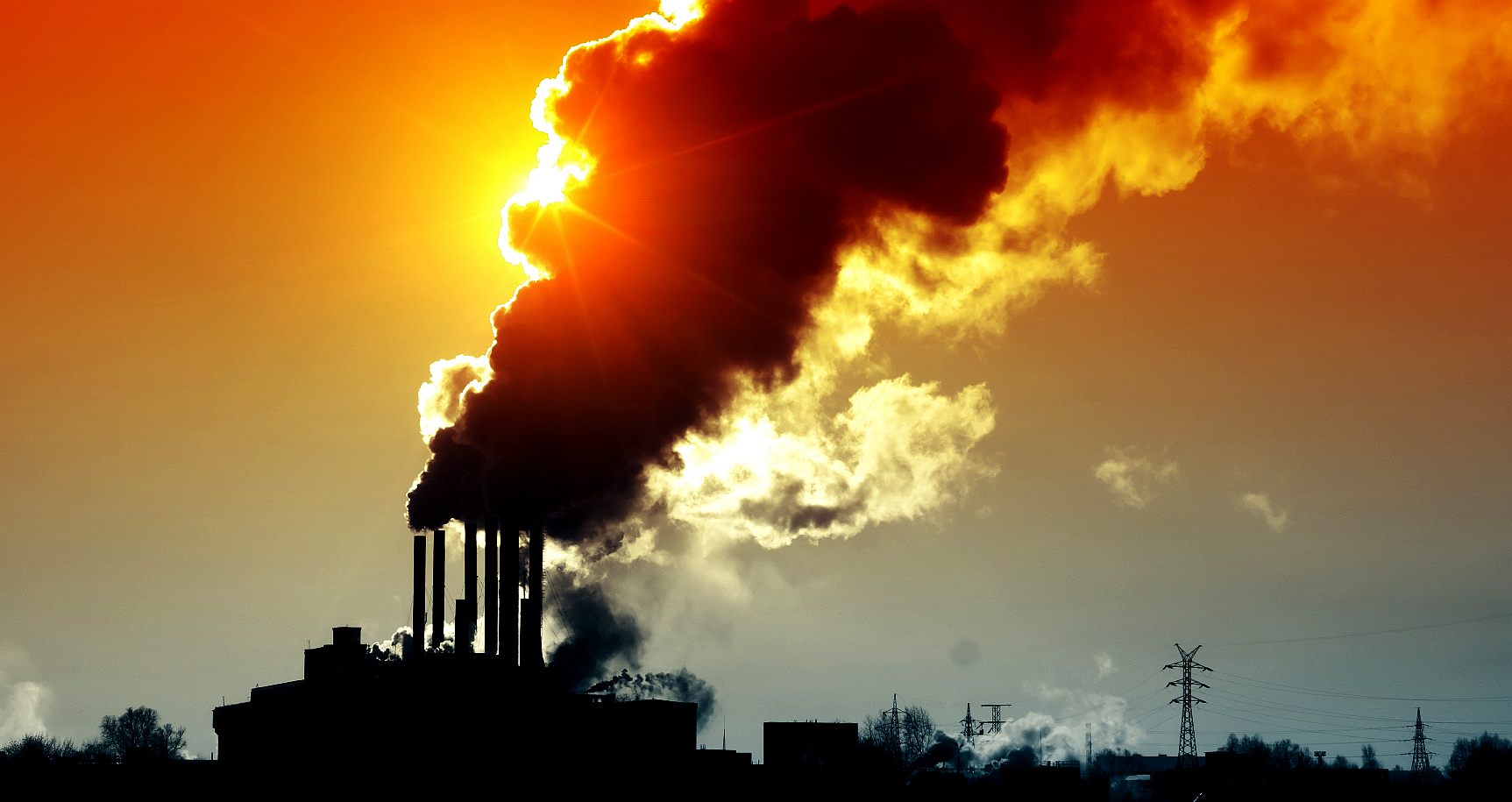 A BIT OF OIL HISTORY
The first oil wells were drilled in China in the 4th century or earlier. They had depth of up to 243 meters and were drilled using bits attached to bamboo poles. The oil was burned to evaporate brine and produce salt. By the 10th century, extensive bamboo pipelines connected oil wells with salt springs. Ancient Persian tablets indicate the medicinal and lighting uses of petroleum in the upper echelons of their society.
In the 8th century, the streets of the newly-constructed Baghdad were paved with tar, derived from easily-accessible petroleum from natural fields in the region. In the 9th century, oil fields were exploited in Baku, Azerbaijan, to produce naphtha. These fields were described by the geographer Masudi in the 10th century, and by Marco Polo in the 13th century, who described the output of those wells as hundreds of shiploads.
The modern history of petroleum began in 1846, with the discovery of the process of refining kerosene from coal by Atlantic Canada's Abraham Pineo Gesner. Poland's Ignacy Łukasiewicz discovered a means of refining kerosene from the more readily available "rock oil" ("petr-oleum") in 1852 and the first rock oil mine was built in Bobrka, near Krosno in southern Poland in the following year. These discoveries rapidly spread around the world, and Meerzoeff built the first Russian refinery in the mature oil fields at Baku in 1861. At that time Baku produced about 90% of the world's oil. The battle of Stalingrad was fought over Baku (now the capital of the Azerbaijan Republic).
The first commercial oil well drilled in North America was in Oil Springs, Ontario, Canada in 1858, dug by James Miller Williams. The American petroleum industry began with Edwin Drake's discovery of oil in 1859, near Titusville, Pennsylvania. The industry grew slowly in the 1800s, driven by the demand for kerosene and oil lamps. It became a major national concern in the early part of the 20th century; the introduction of the internal combustion engine provided a demand that has largely sustained the industry to this day. Early "local" finds like those in Pennsylvania and Ontario were quickly exhausted, leading to "oil booms" in Texas, Oklahoma, and California.
By 1910, significant oil fields had been discovered in Canada (specifically, in the province of Alberta), the Dutch East Indies (1885, in Sumatra), Persia (1908, in Masjed Soleiman), Peru, Venezuela, and Mexico, and were being developed at an industrial level.
Even until the mid-(1950s), coal was still the world's foremost fuel, but oil quickly took over. Following the 1973 energy crisis and the 1979 energy crisis, there was significant media coverage of oil supply levels. This brought to light the concern that oil is a limited resource that will eventually run out, at least as an economically viable energy source. At the time, the most common and popular predictions were always quite dire, and when they did not come true, many dismissed all such discussion. The future of petroleum as a fuel remains somewhat controversial. USA Today news (2004) reports that there are 40 years of petroleum left in the ground. Some would argue that because the total amount of petroleum is finite, the dire predictions of the 1970s have merely been postponed. Others argue that technology will continue to allow for the production of cheap hydrocarbons and that the earth has vast sources of unconventional petroleum reserves in the form of tar sands, bitumen fields and oil shale that will allow for petroleum use to continue in the future, with both the Canadian tar sands and United States shale oil deposits representing potential reserves matching existing liquid petroleum deposits worldwide.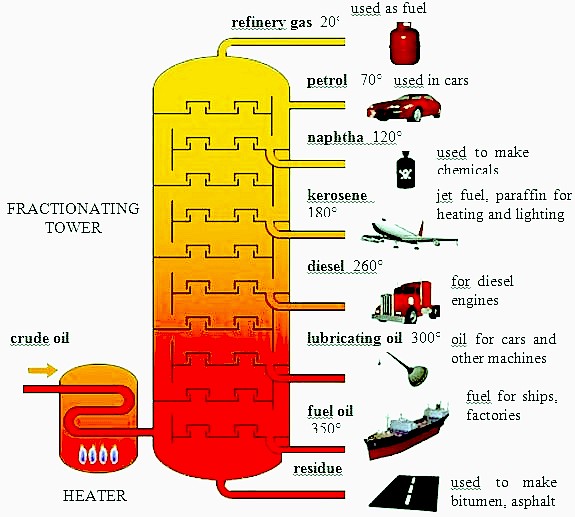 YIELD - The oil refining process starts with a fractional distillation column. Fractional distillation is used for the distillation of crude oil by the petrochemical industry. 42 gallons per barrel makes about 19½ gallons of gasoline, 9 gallons of fuel oil, 4 gallons of jet fuel, and 11 gallons of other products, including lubricants, kerosene, asphalt, and petrochemical feedstocks to make plastics. That adds up to more than 42 gallons because of something called "refinery gain" - the processing and chemical changes increase the volume.
TODAY
Today, about 90% of vehicular fuel needs are met by oil. Petroleum also makes up 40% of total energy consumption in the United States, but is responsible for only 2% of electricity generation. Petroleum's worth as a portable, dense energy source powering the vast majority of vehicles and as the base of many industrial chemicals makes it one of the world's most important commodities.
Access to it was a major factor in several military conflicts, including World War II and the Persian Gulf War. About 80% of the world's readily accessible reserves are located in the Middle East, with 62.5% coming from the Arab 5: Saudi Arabia (12.5%), UAE, Iraq, Qatar and Kuwait. The USA has less than 3%.
SOME TOP PRODUCERS OF PLASTICS
| | | |
| --- | --- | --- |
| COMPANY A - Z | EMPLOYEES | $ BILLIONS |
| - | - | - |
| | 17,300 | 3.3 |
| | - | - |
| BASF: | 39,000 | 63.7 |
| Borealis AG: | - | - |
| Borouge (Abu Dhabi Polymers Co Ltd): | 6,500 | 7.2 |
| Braskem SA: | - | - |
| ChevronPhillips Chemical: | 5,000 | 13.4 |
| CNPC:( China National Petroleum Corp): | 1,470,190 | 326.0 |
| | 14,000 | 49.0 |
| | - | - |
| | 75,600 | 290.0 |
| ENI S.p.A. Ente Nazionale Idrocarburi: | 33,000 | 61.6 |
| | 2,800 | 5.0 |
| INEOS (Ineos Group AG): | 19,000 | 60.0 |
| | 16,700 | 7.9 |
| | 14,000 | 17.8 |
| | 13,000 | 33.0 |
| Polyone Corp: | - | - |
| Reliance Industries Ltd: | - | - |
| | - | - |
| Sasol Ltd | - | - |
| SABIC: (Saudi Arabia Basic Industries Corp) | 40,000 | 35.4 |
| | 249,000 | 314.4 |
| | - | - |
| | - | - |
LINKS & REFERENCE
https://www.sciencedirect.com/topics/materials-science/polyolefin
https://www.britannica.com/science/polyolefin
https://www.materials-talks.com/blog/2017/03/26/what-are-polyolefins/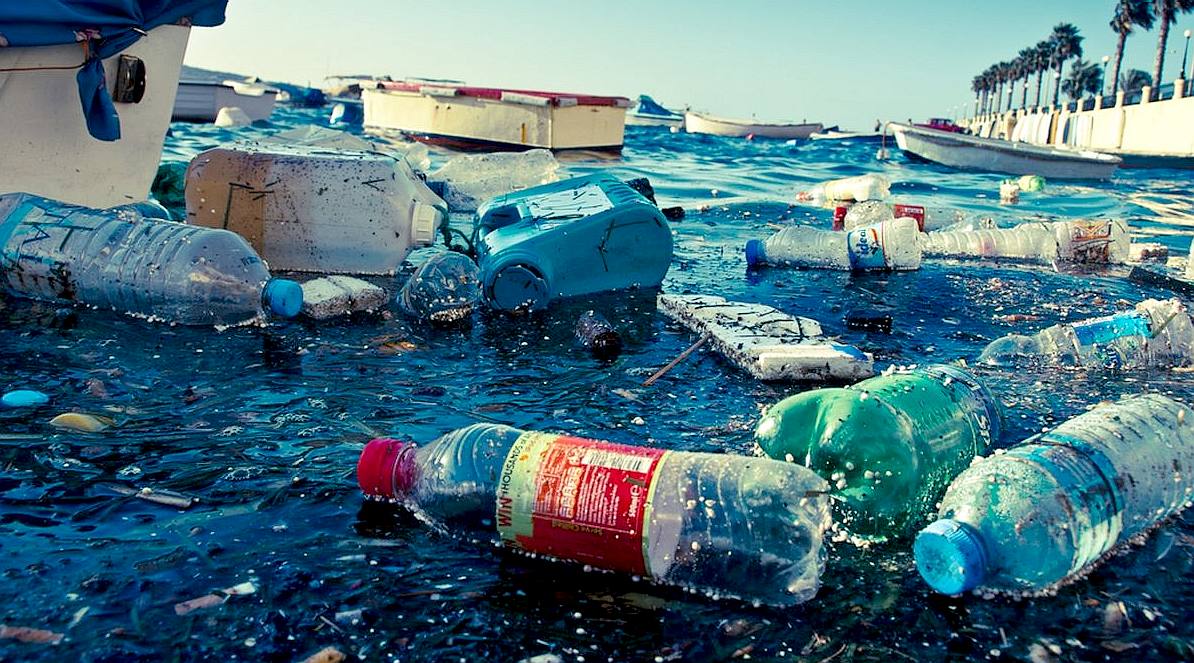 ABS - BIOMAGNIFICATION - BP - CANCER - CARRIER BAGS - CLOTHING - COTTON BUDS - DDT - FISHING NETS
FUKUSHIMA - HEAVY METALS - MARINE LITTER - MICROBEADS - MICRO PLASTICS - NYLON - OCEAN GYRES - OCEAN WASTE
PACKAGING - PCBS - PET - PETROLEUM - PLASTIC - PLASTICS - POLYCARBONATE - POLYOLEFINS - POLYSTYRENE POLYPROPYLENE - POLYTHENE - POPS - PVC - SHOES - SINGLE USE - SOUP - STRAWS - WATER
This website is provided on a free basis as a public information service. copyright © Cleaner Oceans Foundation Ltd (COFL) (Company No: 4674774) 2019. Solar Studios, BN271RF, United Kingdom. COFL is a charity without share capital.