EBAY TRADER: C BURY SALES LTD
ABOUT - CONTACTS - FOUNDATION - HOME - A-Z INDEX
HIRE - Having had a bad experience like ours you may want to consider hiring a vibrator from your local builders merchants.
We were in the middle of a concreting job where it seemed we'd need a vibrating unit for more than just this pour or the next, when it seemed more economical to have our own equipment. One of our chaps looked online and were soon on the page belonging to Chris Bury at Blackburn in Lancashire.
Christopher Bury
C BURY SALES LTD
Chadwick Street Mill
Blackburn
Lancashire
BB2 4AA
United Kingdom
Company No. 05661649
VAT number: GB 738433714

Tel: 01254 697886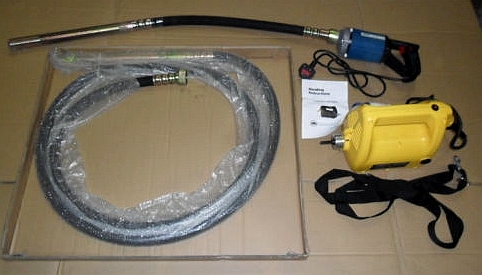 EBAY NO DEAL - This is the concrete vibrating unit that we attempted to purchase for £240 all in that comes with a smaller unit, useful for footings and posts. Useful if you ever get the unit - and only if it arrives on time. If you have arranged for men to be on site and concrete deliveries you'll be in real trouble if you believe the sales team at C Bury Sales Ltd and they let you down.
EBAY ADVERTISEMENT: VIBRATING COMPACTOR
We found what looked like being a good value unit that was described as: Electric Vibrator HF.
The other specifications included: Voltage/Frequency240V/50Hz,
Power: 1600w and no-load speed of 18,000 rpm with a shaft diameter of 40mm and a flexible hose 4 meters long. This CE approved unit came with a shoulder harness and a free 240 volt poker with a 1 metre flex operating at 500 watts. Not a bad deal delivered at £240, meaning our other concreting jobs will not be quite so fraught.
That is what you'd think anyway. That is until we placed the order. We were online looking at their internet posting and were not quite sure what the package included. So, we telephoned to ask Mr Christopher Bury what was included. His sales assistant, a lady answered the phone. She confirmed that what was included (as shown in the picture) was a motor unit in yellow, a four meter flex and vibrator head. A smaller hand held motor and one meter poker with vibrating head.
Lovely. She asked if we wanted to place the order. We said if the goods and delivery time was as advertised. She said the goods would most likely be with us on Thursday. Then of Friday the 25th May a TNT truck arrived with two packages. Our workshop manager asked if there was a third. The driver said he only had two packages. Maybe a third would follow.
We telephoned to speak with Chris Bury on Saturday the 26th May, when Chris said that the 4 meter hose had not been delivered. We assume this was to them, but we were told at the outset that the goods would be with us in three days and the advert said 31st May latest.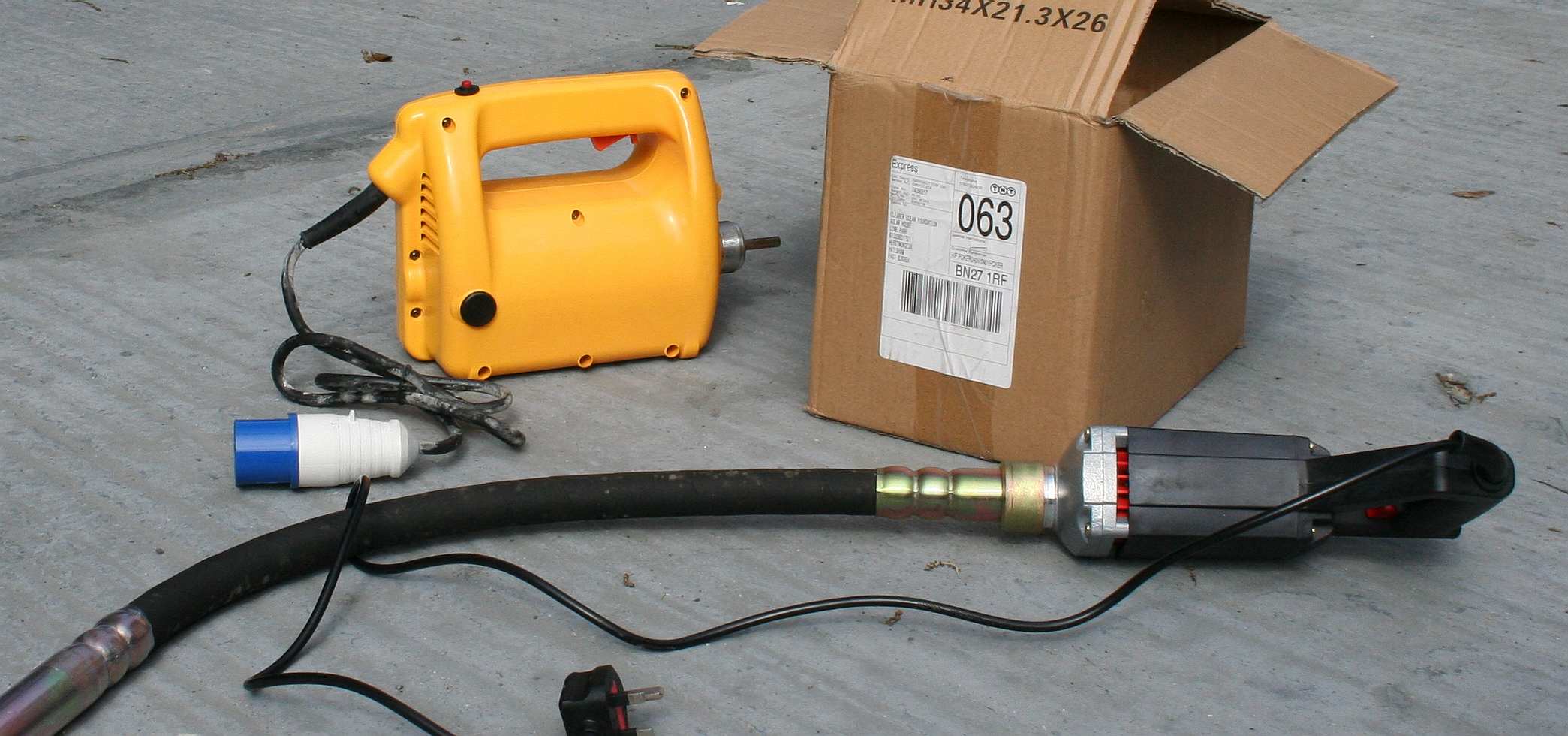 TNT - Two out of Three = Nothing. If TNT have mislaid the 003 0f 003 package, there will be some explaining to do, but then Chris Bury is in the clear. However, from the records relating to this purchase we anticipate a complex explanation from Mr Bury's staff - whatever happens.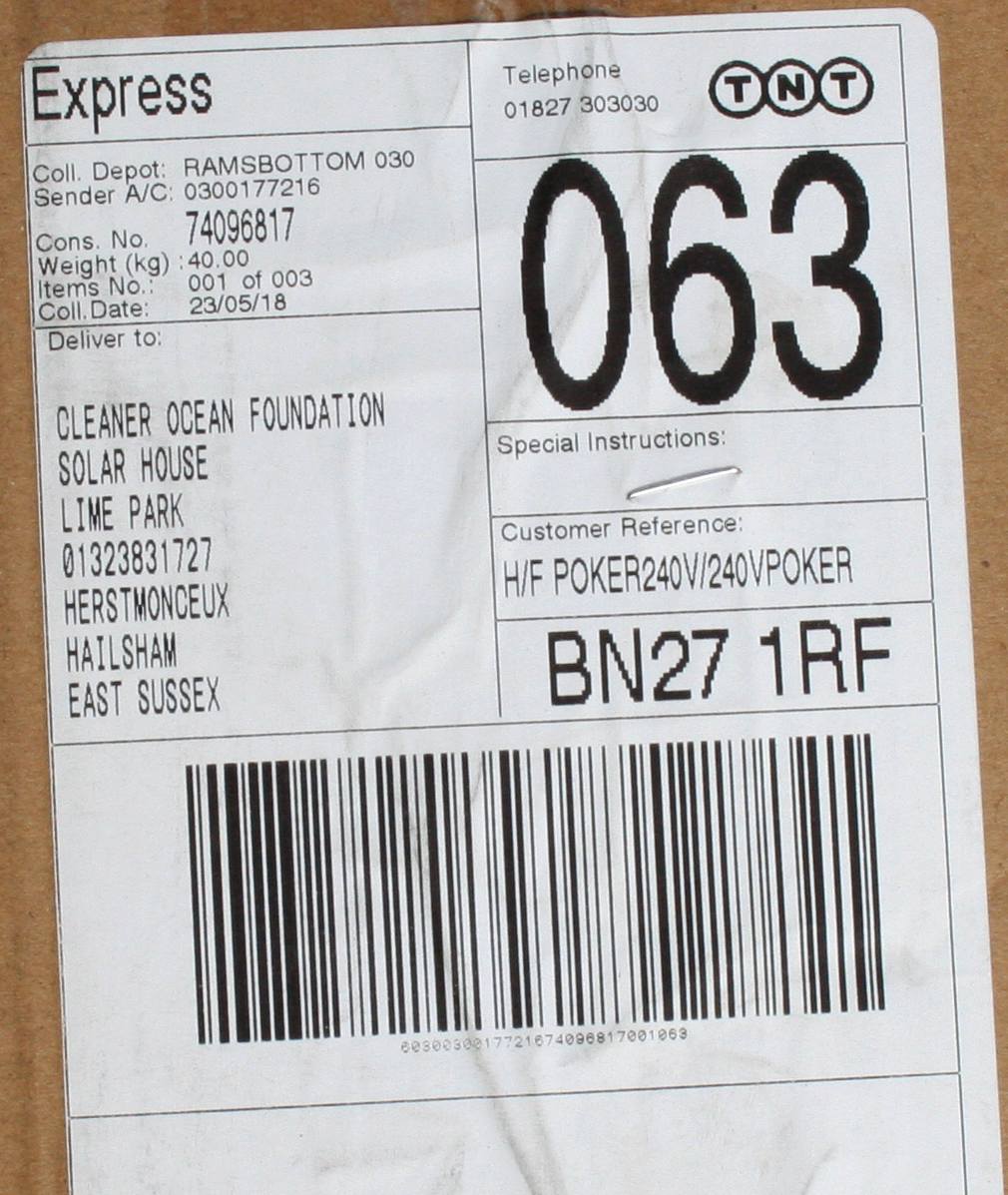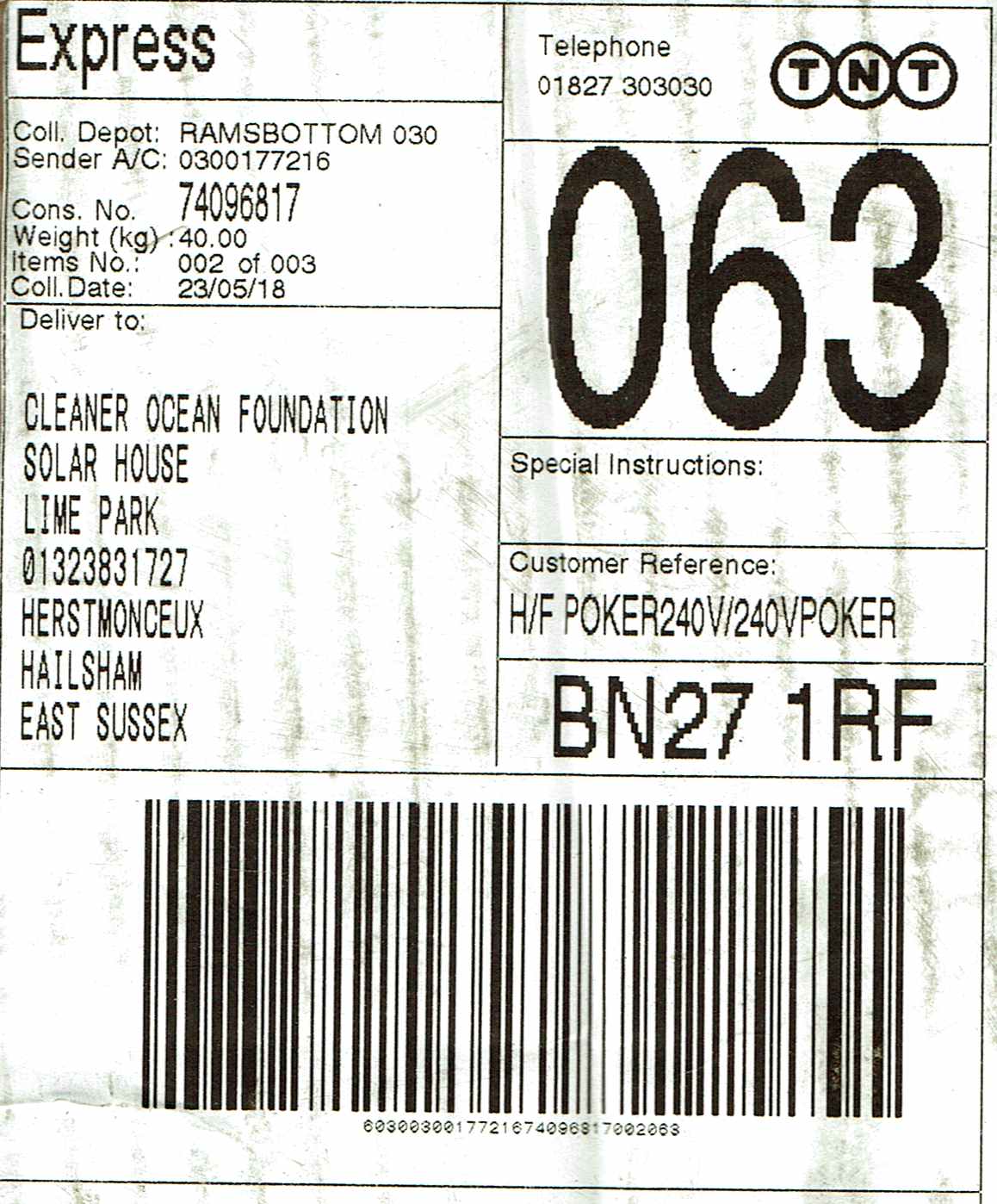 In cases where a seller says they will do something and the purchaser acts on the level of performance expected, the seller must at least have the goods at their disposal - or they are offering a service that they cannot provide. If that is the case the vendor is in Breach of Contract and may lose brownie points on Ebay. Why? Because offering a service that you cannot provide is potentially not only a civil tort, but also a criminal offence if the vendor causes his customer loss, or even puts the customer at risk as to loss by being unable to perform. See the Fraud Act 2006.
Nothing turned up next Monday. We telephoned again on Tuesday the 28th when Kelsy said Kay has signed for three parcels. We assured her that was not the case and some days later on the 7th of June TNT assured us that they had not scanned in a third parcel and that we'd signed for just two as per our experience. So, we were not going mad, but we were being given conflicting information by the seller, allegedly, depending on who you spoke to, as to an Ebay advertised item as you can see from the screen print above.
With costs and delays mounting, the Foundation just want their money back to hire a machine locally. We also need some kind of offer of compensation for all the promises that do not appear to have been made in good faith - in that this trader, presumably, did not have the 4 meter hoses in stock as it seemed from the promised delivery date, and may then have been stalling or one wonders at what possible reason for not fulfilling what is after all a small order..
It looks like a Breach of Contract situation to us, but we are waiting to hear from Mr Bury in writing before anyone takes any action. There may be a perfectly simple explanation (or indeed an extremely complicated one) and all that is needed is an apology, as offer of just satisfaction in respect of lost opportunity and our money back. Maybe Mr Bury will come down and lay the concrete for the Foundation to make up for the delays in supply? Doubtful, but you never know. Someone should compensate the Foundation and the chaps who got all revved up with nowhere to go.
Any remaining fight is likely to be between Chris Bury, Kelsy and TNT. TNT say they have not scanned in a third parcel, Mr Bury says they had sent or will send a replacement. Whatever, a package must first be scanned in for a delivery to be effected, either that or TNT's system is faulty. We'll sit back and watch them slug it out.
The losers though, are the Foundation and the marine life that could do with our ocean cleaning development sooner, rather than later.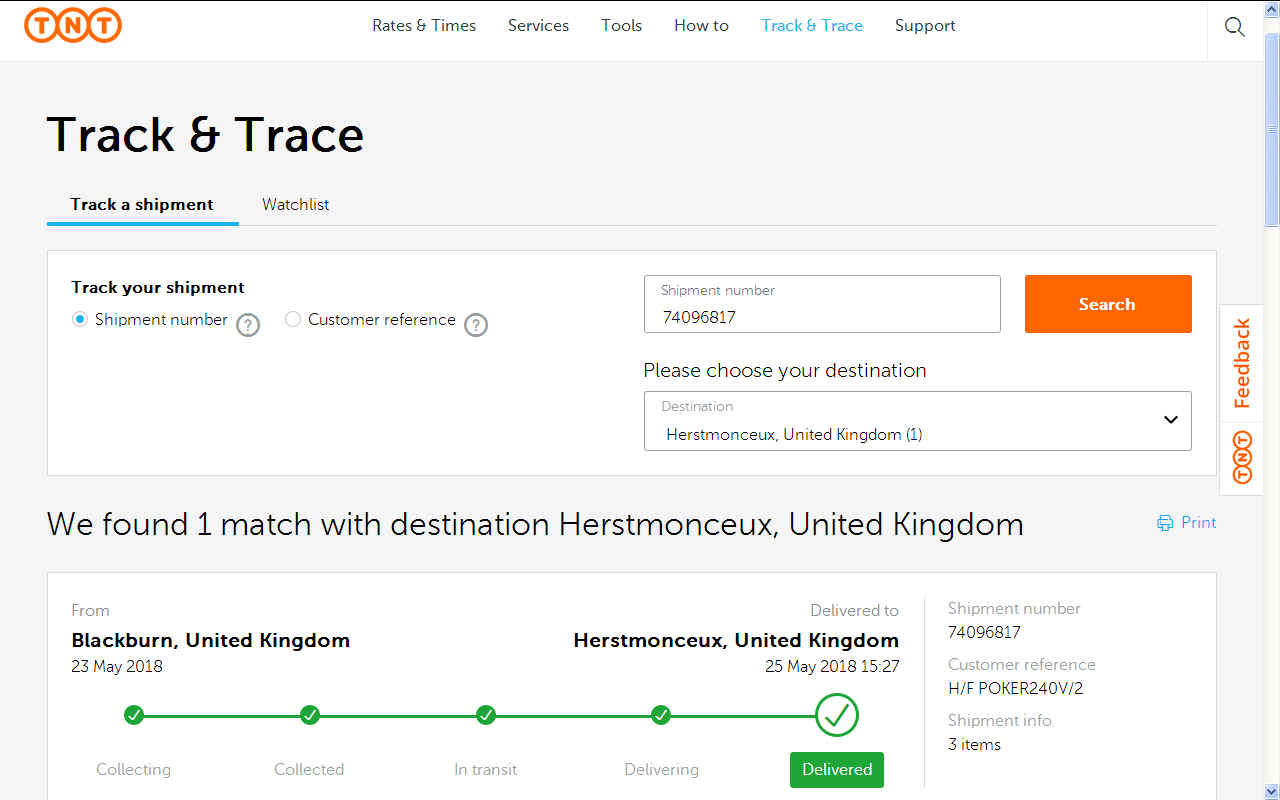 TNT - Blackburn, United Kingdom
23 May 2018
Delivered to
Herstmonceux, United Kingdom
25 May 2018 15:27

Shipment number
74096817
Customer reference
H/F POKER240V/2
Shipment info
3 items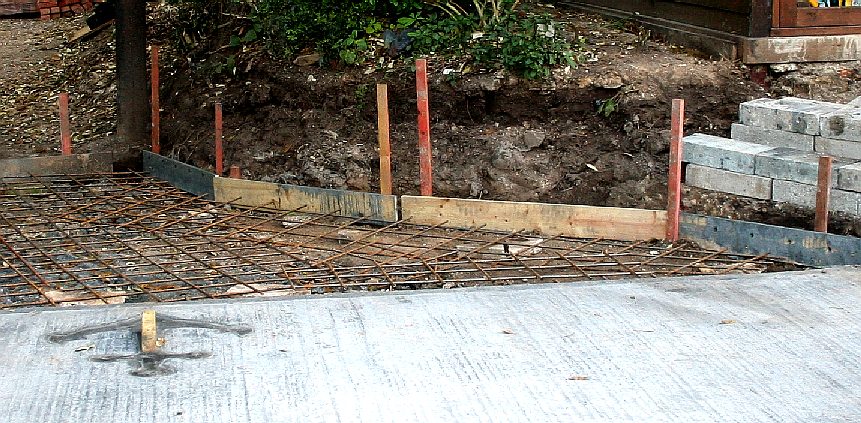 WAITING & WAITING - Our concreting has been put on hold because of delays with the delivery of a high frequency poker from C Bury Sales Ltd. The order was placed on the 22nd May, and part fulfilled on the 25th, but no 4 meter hose was supplied, the essential ingredient when vibrating concrete as you are tamping.
TERMS

"We [C Bury] warrantee and represent that the goods are as described in the above listing. We specifically disclaim any implied warranties merchantability, fitness for a particular purpose and non-infringement. Customers should satisfy themselves that any item choice made is suitable for their intended purpose or use. We pride ourselves on our customer service. In the rare event that you have a problem with your item please contact us and we'll be happy to help. tel 01254 697886"

DELIVERY

"All delivery prices unless otherwise stated are for mainland uk for all offshore islands, highlands ni, eire tel for a price on delivery"

RETURNS

"Items can be returned within 7 days for a refund. Items must be returned to us unused and boxed as new in the original packaging. Please include your invoice and a note stating wether you require a refund or exchange for another item.

Please note postage costs will not be refunded.

If an item is faulty within the warranty period offered then please return it to us with your invoice. If found to be a manufacturers fault we will repair, replace or refund. Please note postage costs will not be refunded.

Please also note we are unable to arrange collections for returns of any items from offshore islands highlands ireland inc northern ireland any country except uk for any reason please dont bid if you dont agree with these terms."
NOTE - NO WAY IS THIS A BIDDING PROCESS. THAT BEING THE CASE BE VERY CAREFUL TO LISTEN TO WHAT THEY TELL YOU ON THE PHONE. ANY SELLER WHO SUGGESTS THIS IS AN AUCTION WHEN IN FACT THE GOODS ARE BRAND NEW AND OFFERED FOR IMMEDIATE PURCHASE, IS SAILING PRETTY CLOSE TO THE WIND IN THE OPINION OF MANY CUSTOMERS. THE TERMS ARE THUS VOID AND NORMAL TRADING LAWS APPLY. THE GOODS MUST BE OF MERCHANTABLE QUALITY AND FIT FOR THE PURPOSE SUPPLIED.
| Local time | Location | Action |
| --- | --- | --- |
| 25 May 2018 15:27 | Herstmonceux | Shipment delivered in good condition |
| 25 May 2018 8:15 | Crawley | Out for delivery |
| 24 May 2018 19:32 | Crawley | Time constraint prevented delivery. Delivery at first opportunity |
| 24 May 2018 8:17 | Crawley | Out for delivery |
| 24 May 2018 7:16 | Crawley | Out for delivery |
| 24 May 2018 6:29 | Crawley | Out for delivery |
| 23 May 2018 16:04 | Blackburn | Shipment collected from collection address |
LINKS & REFERENCE
https://www.tnt.com/express/en_gb/site/shipping-tools/tracking.html
https://www.ebay.co.uk/itm/HIGH-FREQUENCY-CONCRETE-VIBRATING-POKER-240-VOLT-new-INCS-FREE-240-V-POKER/163063322825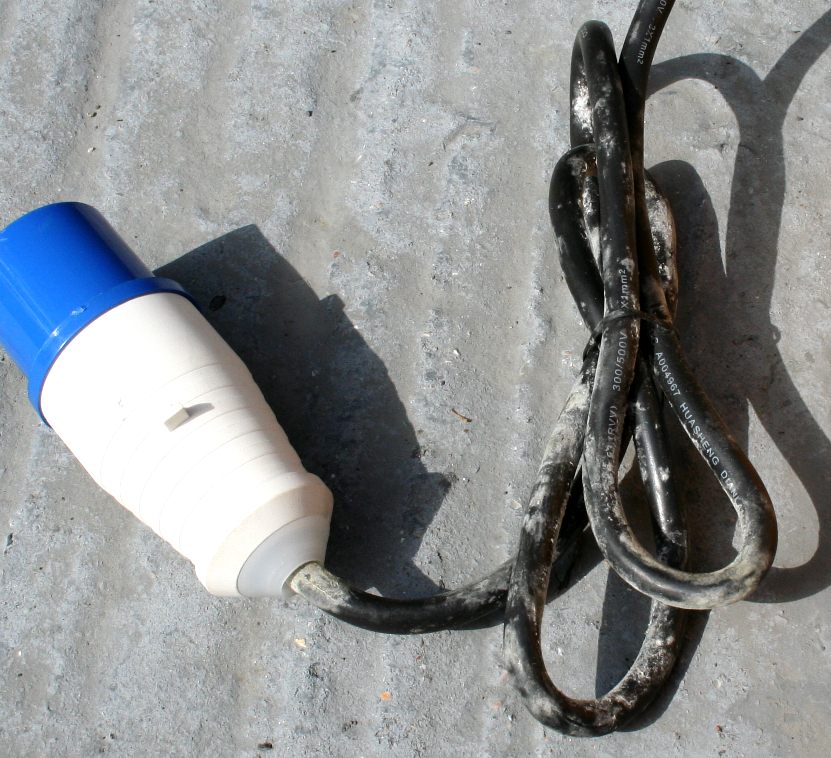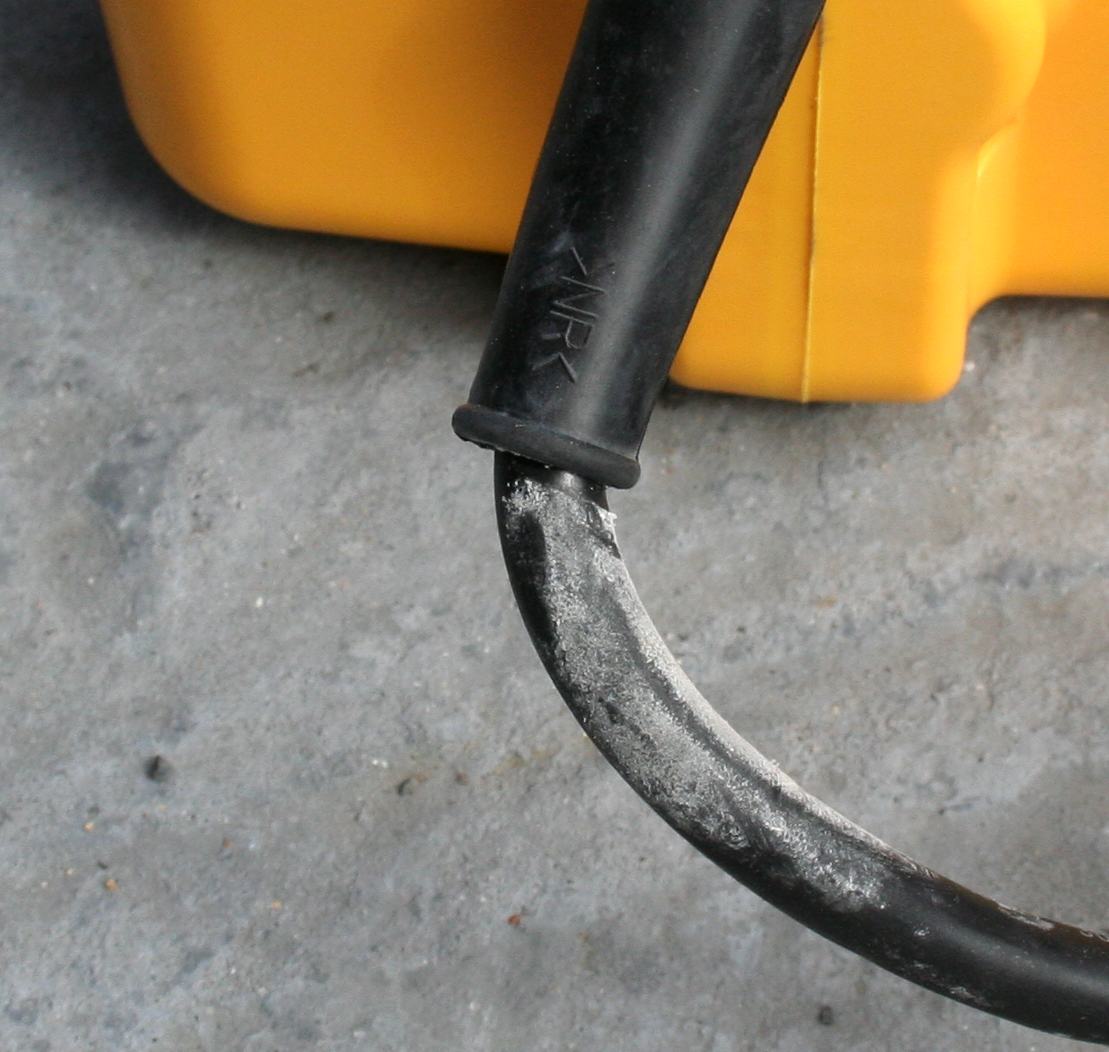 GOODS NOT AS DESCRIBED - These goods were advertised as being new and unused. Yet here is the lead of the machine apparently covered in cement. It looks as though someone has used the machine and then tried to wipe clean the flex, none too carefully. Once again, there may be a perfectly innocent explanation for this and we await hearing more.
AMPHIBIOUS LAUNCH - AMPHIMAX - CAB - CHASSIS - COSTINGS - CRANE - DIESELS - DRIVE - FLOATATION - GENERATORS - HILL CLIMBING
HYDRAULICS - LAUNCH SITE SX - MODEL 1/20 - MOTORS - SUSPENSION - TIMETABLE - TRACKS - TRAILER - THRUSTERS - VIBRATOR - WHEELS
This website is provided on a free basis as a public information service. Copyright © Cleaner Oceans Foundation Ltd (COFL) (Company No: 4674774) 2018. Solar Studios, BN271RF, United Kingdom. COFL is a charity without share capital. The names Amphimax™, RiverVax™ and SeaVax™ are trademarks.