ABOUT - CLIMATE - CONTACTS - DONATE - FOUNDATION - HOME - OCEAN PLASTICS
PLEASE USE OUR A-Z INDEX TO NAVIGATE THIS SITE
Brett Phaneuf - Keynote Speaker - Founder & Chief Executive, Submergence Group LLC (USA) / M Subs Ltd (UK)

Brett Phaneuf is the Founder and Chief Executive of Submergence Group LLC (USA) / M Subs Ltd (UK) and through his office in the United Kingdom overseas the design and production of manned and unmanned, underwater vehicle systems.

A serial entrepreneur, Mr Phaneuf has recently turned his attention to machine learning and artificial intelligence; a new company (Marine Ai) has been spun out from M Subs Ltd with the goal of creating cognitive AI to enhance maritime capabilities by drawing on decades of experience in manned and unmanned marine vehicle design, manufacture and operations, coupled with vast experience in automation and autonomous systems software architecture, and computer vision expertise. Brett is also one of three founding board members of ProMare, a non-profit (501c3) public charity founded in 2001 to promote marine exploration throughout the world.

Through the confluence of these varied and interrelated fields of endeavour, Brett is leading the development of the Mayflower Autonomous Ship, which will sail from Plymouth UK to Plymouth US, in commemoration of the 400th anniversary for the original Mayflower sailing in September 1620. The Mayflower Autonomous Ship is a ProMare project but will draw on the expertise resident in Submergence Group, M Subs Ltd, Marine Ai, ProMare, and many other private and corporate sponsors.

Prior to a career in the marine technology and exploration world, Brett studied Physics before switching to Archaeology, and then worked as a classical archaeologist on ancient sites in North Africa. His love of physics, technology and history led him to marine archaeology and the founding of ProMare, through which numerous underwater archaeological research programs have been carried out in the past two decades.
...
10th June 2020 – Morning Session : USV Conference
The theme of the 2020 conference will be 'USV's growing role in the Commercial Marine Market'. This half day Conference session will focus on Unmanned Surface Vessels and how their roles are developing in the Survey, Oceanographic, Renewable Energy, Oil & Gas, Transport and Defence sectors. The USV market was estimated at $534m in 2018 and with significant investment in the manufacture and development of advanced technology, is projected to reach $1,020 million by 2023. This session will highlight how the role of USV's is making a positive impact in these sectors and how they can benefit future business. The 2020 Conference will be chaired by Peter Collinson, Senior Subsea and Environmental Specialist, BP International Limited.
| | | | |
| --- | --- | --- | --- |
| Peter Collinson | Brett Phaneuf | Dan Hook | Neil Tinmouth |
| James Williams | Alex Langley | Dr Katrina Kemp | Simon Cheeseman |
11 June 2020 – Morning Session - Hybrid Propulsion Conference
The theme of the 2020 conference will be 'Real World Implementation of Hybrid Propulsion Solutions'. With Government legislation and environmental considerations key to reducing emission levels, this half day Conference session will explore the progress being made with hybrid propulsion in the commercial marine and workboat markets. Gain insight into case studies which demonstrate where hybrid propulsion is successfully making a difference – review the benefits to business and engage in the discussions on the challenges faced by the industry. The 2020 Conference will be chaired by Alan Cartwright, Director of Blabey Engineering Limited - a maritime consultancy.
PILOT SEAVAX - Our love affair with polymers is causing enormous damage to the marine environment, with microplastics now found in zooplankton, shellfish and the stomachs of most seabirds. This vessel is designed to use the latest technology to sample marine debris at different depths and store marine debris at different depths, allied to a database to help formulate effective fleet cleaning operations of the future. This vessel is solar and wind powered, so does not contribute to global warming. A consortium of programmers and specialist engineers are seeking funding to build a 17 meter prototype in 2021. Copyright © diagrams Cleaner Ocean Foundation Ltd. January 18 2020.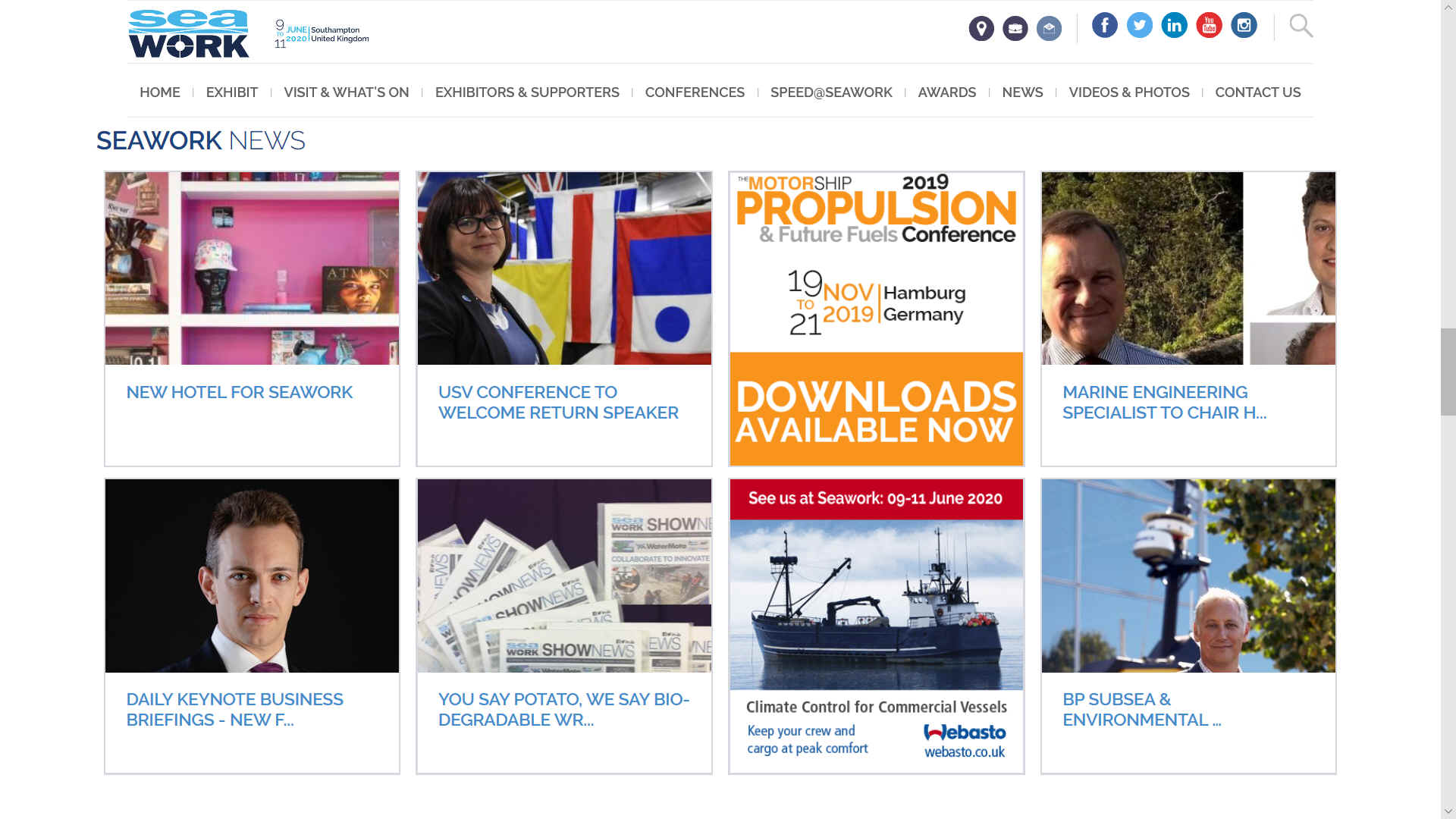 CLIMATE CHANGE - A barge using batteries to power electric drives for a 40% reduction in CO2 emissions.
The Seawork Conferences are a must for all involved in the commercial marine industry who wish to explore the challenges, changes and emerging opportunities in today's and tomorrow's commercial marine and workboat sector.
Returning for 2020, the Seawork Commercial Marine Conferences will deliver updates and insights in the fast moving Unmanned Surface Vessel and Hybrid propulsion markets.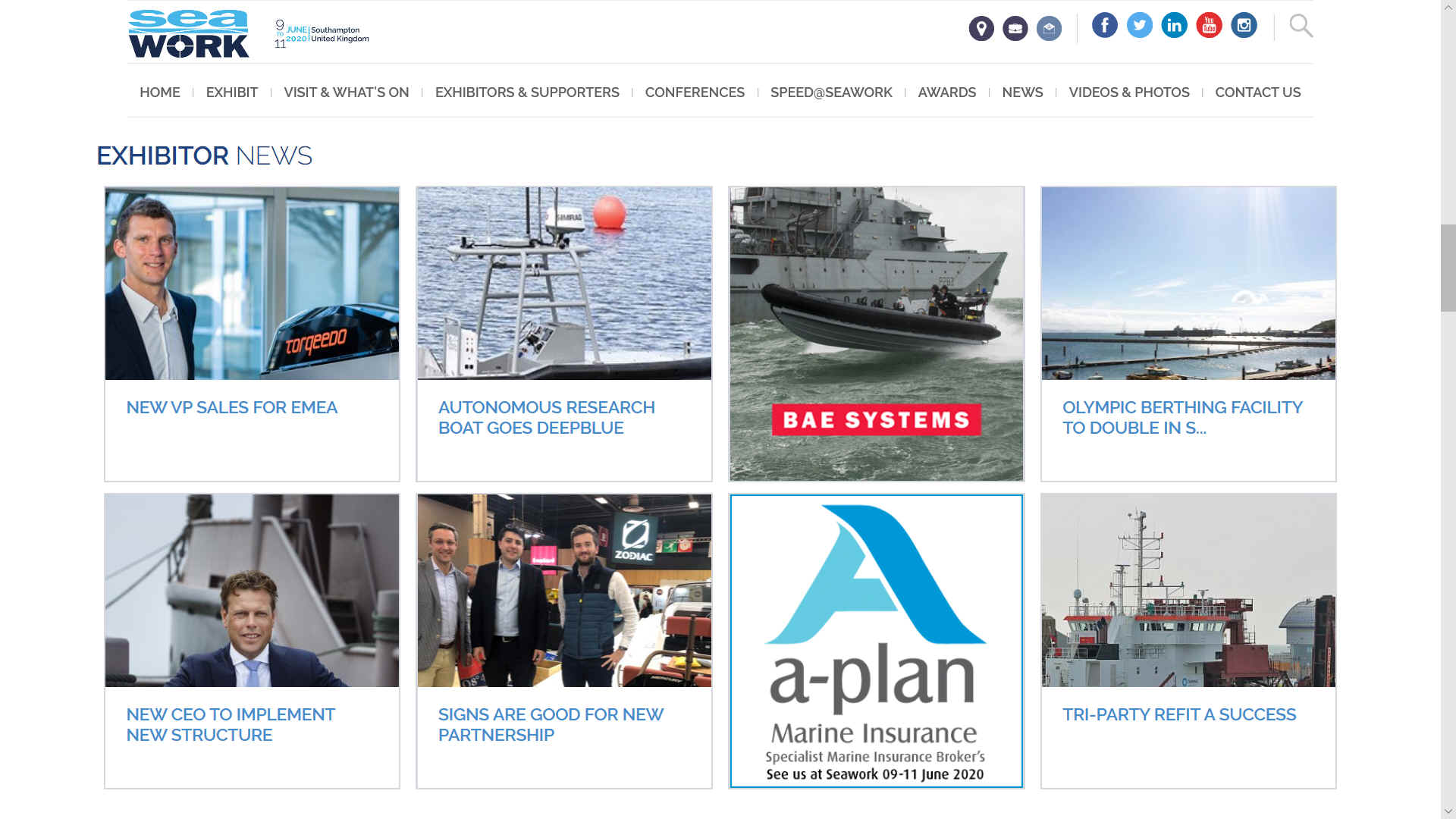 LINKS & REFERENCE
https://www.seawork.com/seawork-conference/commercial-marine-conference/hybrid-conference-speakers
https://www.seawork.com/seawork-conference/commercial-marine-conference/usv-speakers
https://www.maritimeindustries.org/Events/Seawork-International-2020/70286
https://www.seawork.com/
This website is provided on a free basis as a public information service. copyright © Cleaner Oceans Foundation Ltd (COFL) (Company No: 4674774) 2020. Solar Studios, BN271RF, United Kingdom. COFL is a charity without share capital. The names AmphiMax™, RiverVax™ and SeaVax™ are trade names used under license by COF in connection with their 'Feed The World' ocean cleaning sustainability campaign.