SEAWORK INTERNATI0NAL 2020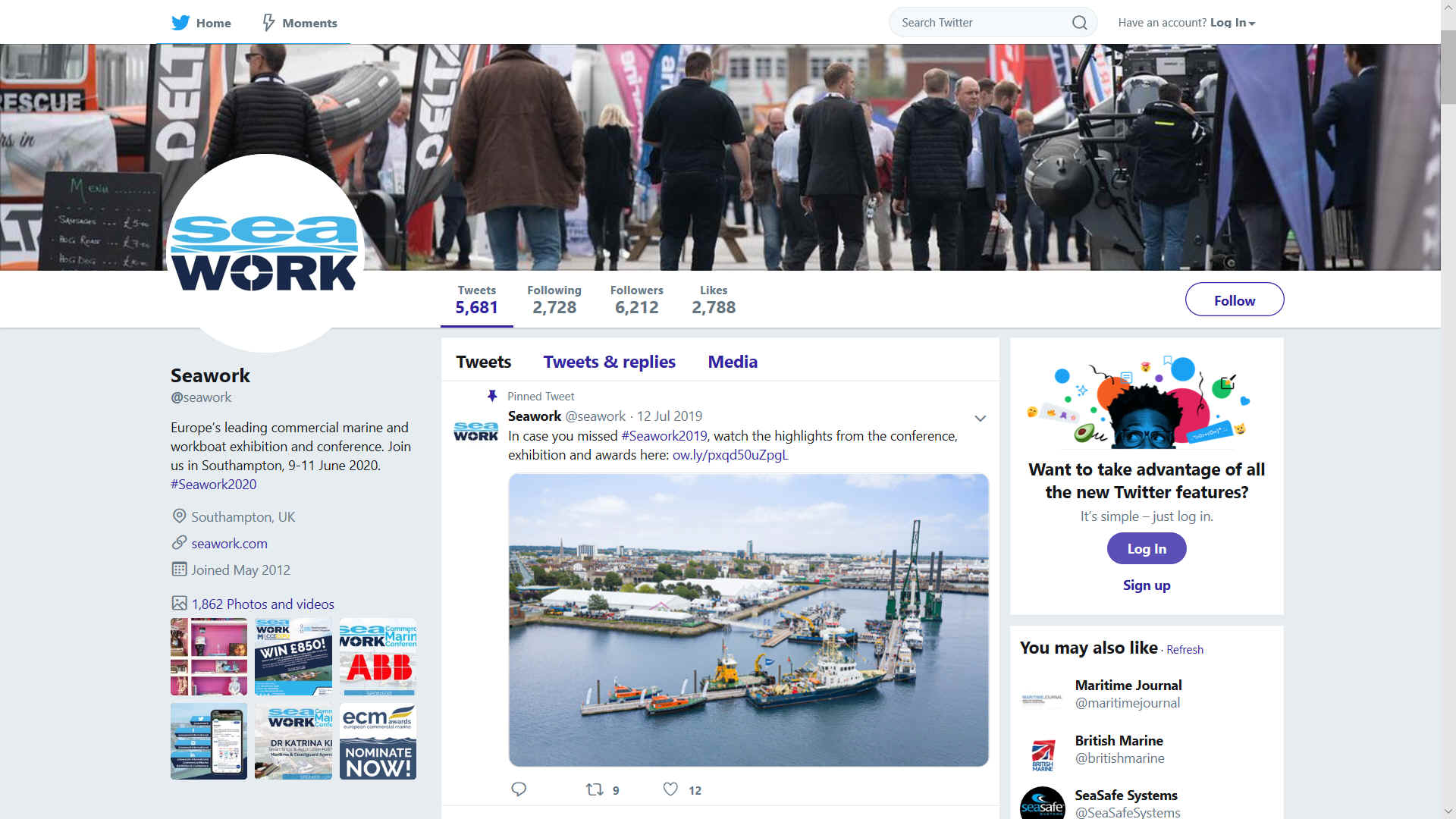 ABOUT - CLIMATE - CONTACTS - DONATE - FOUNDATION - HOME - OCEAN PLASTICS
PLEASE USE OUR A-Z INDEX TO NAVIGATE THIS SITE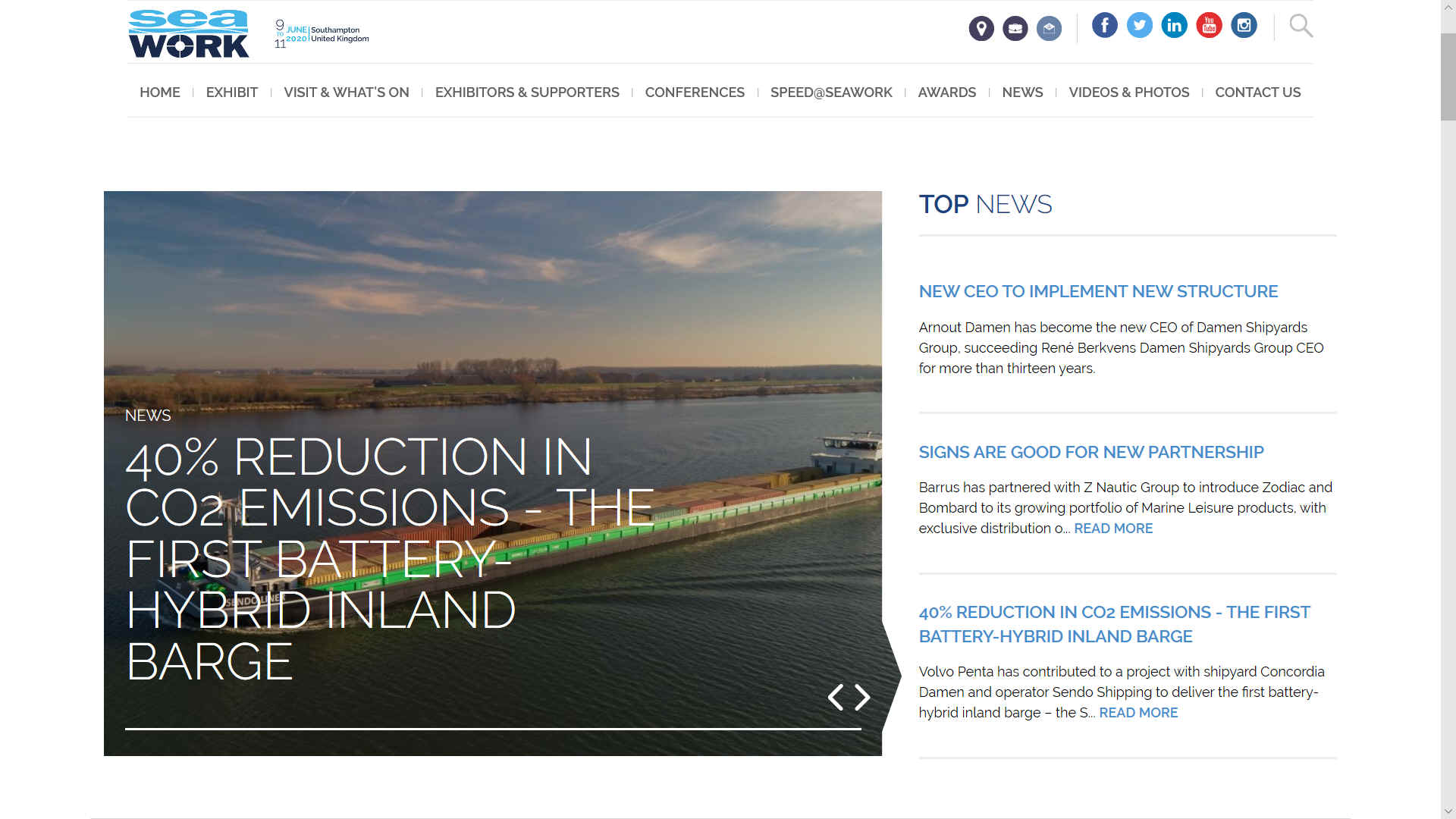 CLIMATE CHANGE - A barge using batteries to power electric drives for a 40% reduction in CO2 emissions.
CONFERENCES
Estimated at $US470m, the unmanned surface vessel market is expected to reach around $US1billion by 2022. USVs can augment and even replace divers in salvage, port security, fish farms surveillance, bridge and dam monitoring, research and education. This session will benefit any business that serves these sectors by helping them keep on top of the latest developments. In 2018 the session focused on USVs and included discussions from Dr Katrina Kemp - Smart Ships & Automation Policy Officer at the MCA around the government's emerging vision for smart shipping. Paul Grehan, Plus, plus research outcomes from Southampton Solent University and Rolls-Royce.
Seawork is a 'one stop shop' for buyers, providing access to the commercial marine and workboat markets. It is the largest European commercial marine exhibition held at the prestigious Mayflower Park venue in Southampton, SO14 2AN, United Kingdom.
Now in its 23rd year, Seawork offers a unique combination of undercover exhibition space, open air demonstrations and floating displays.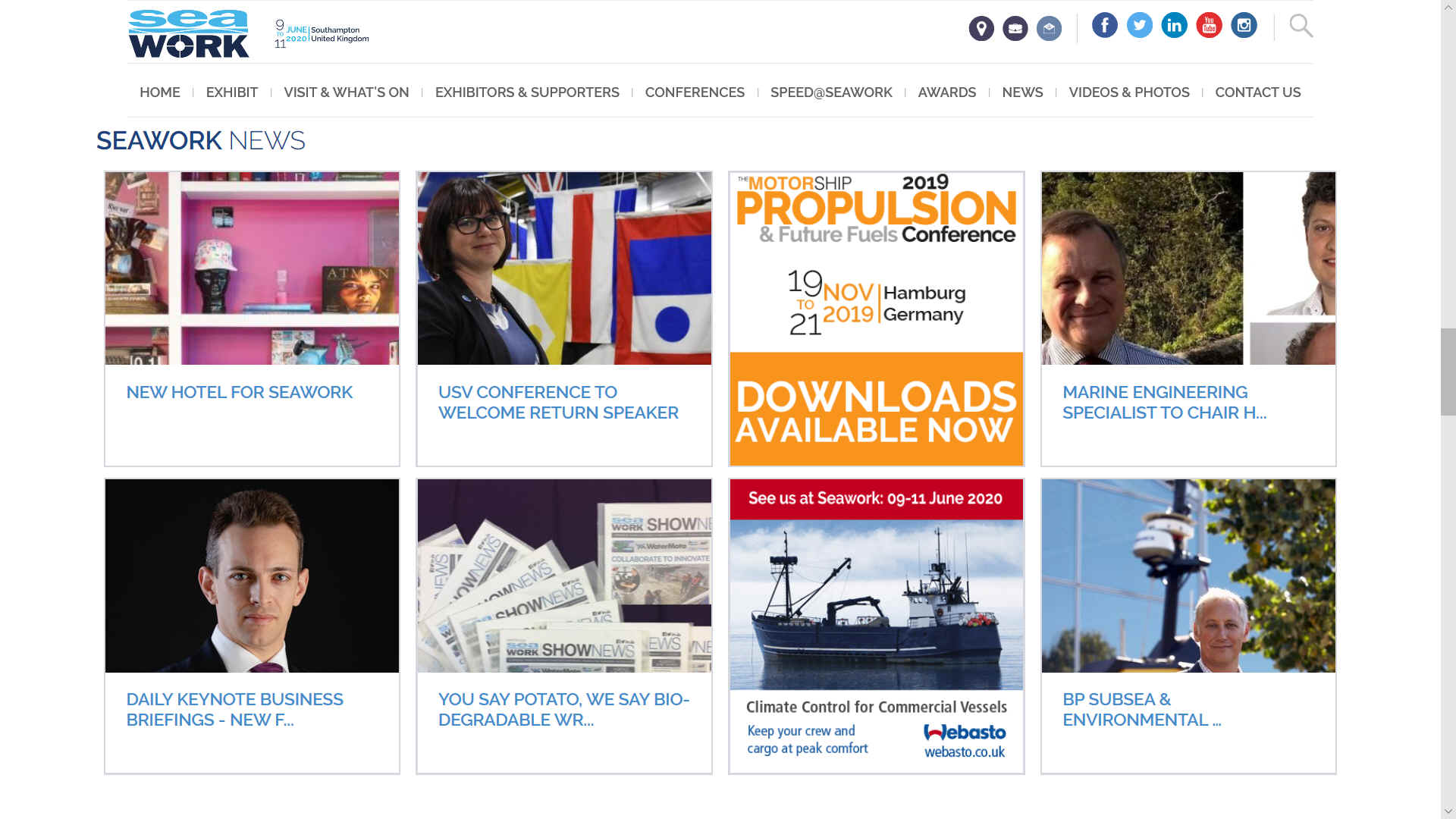 The exhibition encompasses:

- 18,000m² of undercover space spread over two purpose built exhibition halls
- Purpose built pontoons for more than 70 vessels and floating exhibits
- Demonstrations out on the water
- Quayside area for trailers, large exhibits and outdoor demonstrations
- Excellent conference and meeting facilities

Here are four good reasons to attend:

1. Walk away with a head full of new ideas and concepts to help you in your job.
2. See in-depth examples of how money can be saved in workboat operations. Our packed programme of conferences, events, demos and competitions provide a productive background buzz throughout Seawork's fully occupied exhibition and display areas.
3. Make new contacts and catch up with people you already know in the supply chain - Seawork attracts over 600 exhibitors and 7700 attendees from all over the world.
4. Have a great day out - there is no other event like it! It is the largest international commercial maritime exhibition and business forum held at the prestigious Mayflower Park venue in Southampton.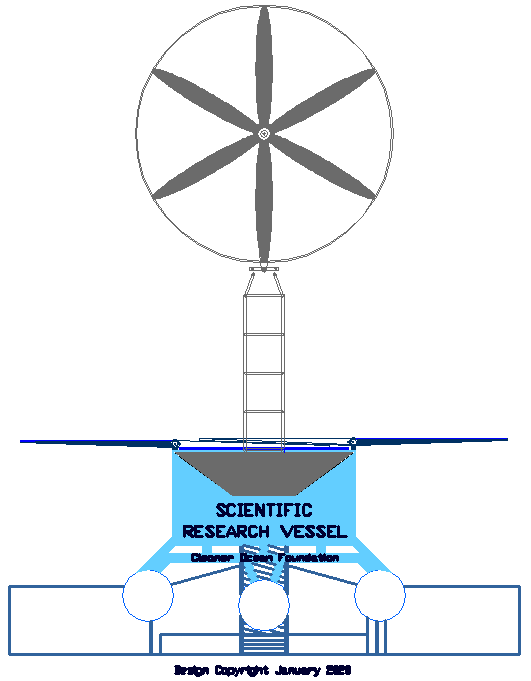 PILOT SEAVAX - Wind and solar power could replace diesel and LNG, and avoid the need for hydrogen infrastructure and potentially dangerous cryogenic high pressure containers at ports around the world. Copyright © diagram Cleaner Ocean Foundation Ltd. January 2020.
2020 dates and times

0930 - 1730 Tuesday 9 June 2020
0930 - 1730 Wednesday 10 June 2020
0930 - 1600 Thursday 11 June 2020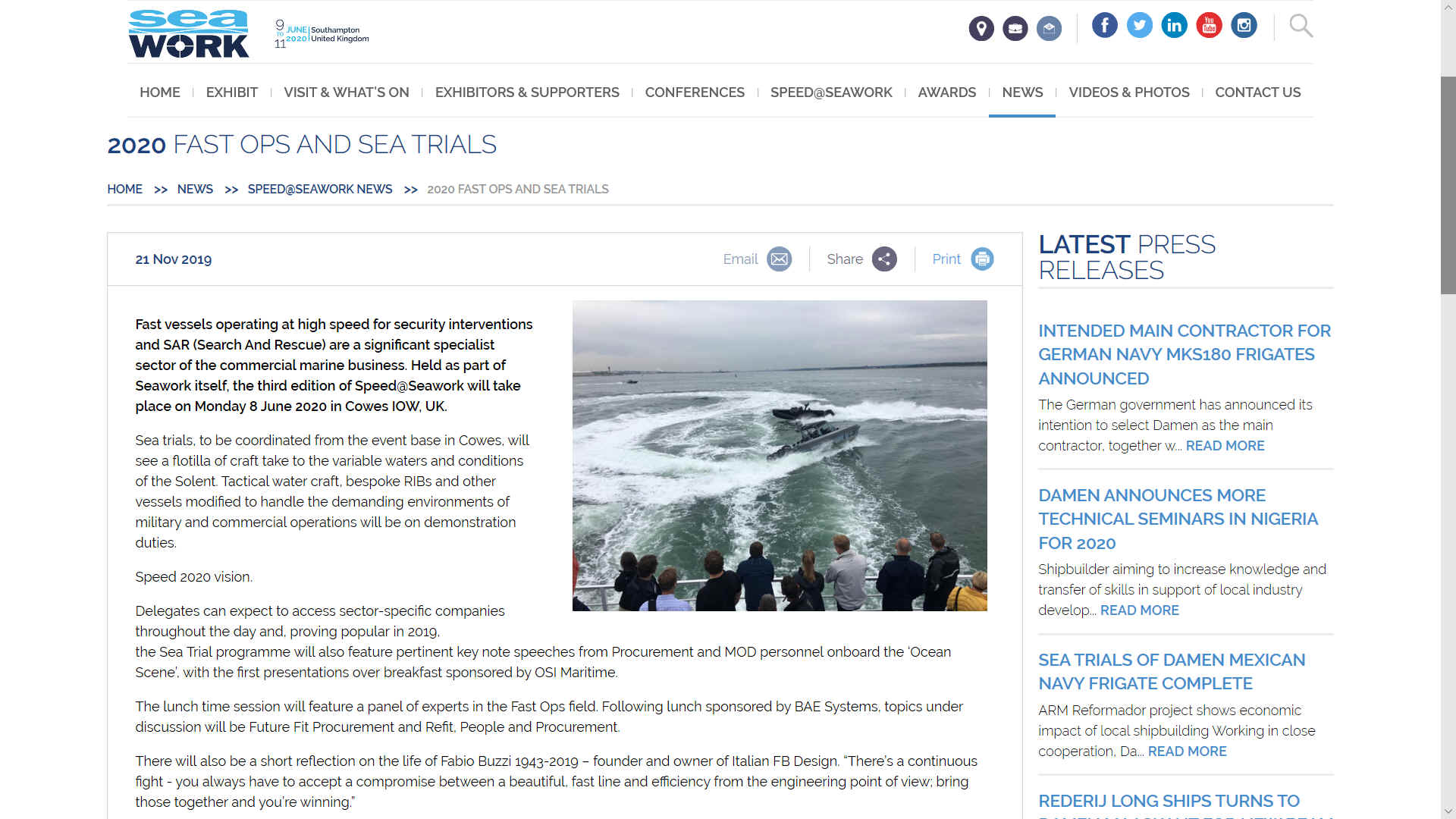 Seawork Commercial Marine Conferences
The Seawork Conferences are a must for all involved in the commercial marine industry who wish to explore the challenges, changes and emerging opportunities in today's and tomorrow's commercial marine and workboat sector.
Returning for 2020, the Seawork Commercial Marine Conferences will deliver updates and insights in the fast moving Unmanned Surface Vessel and Hybrid propulsion markets.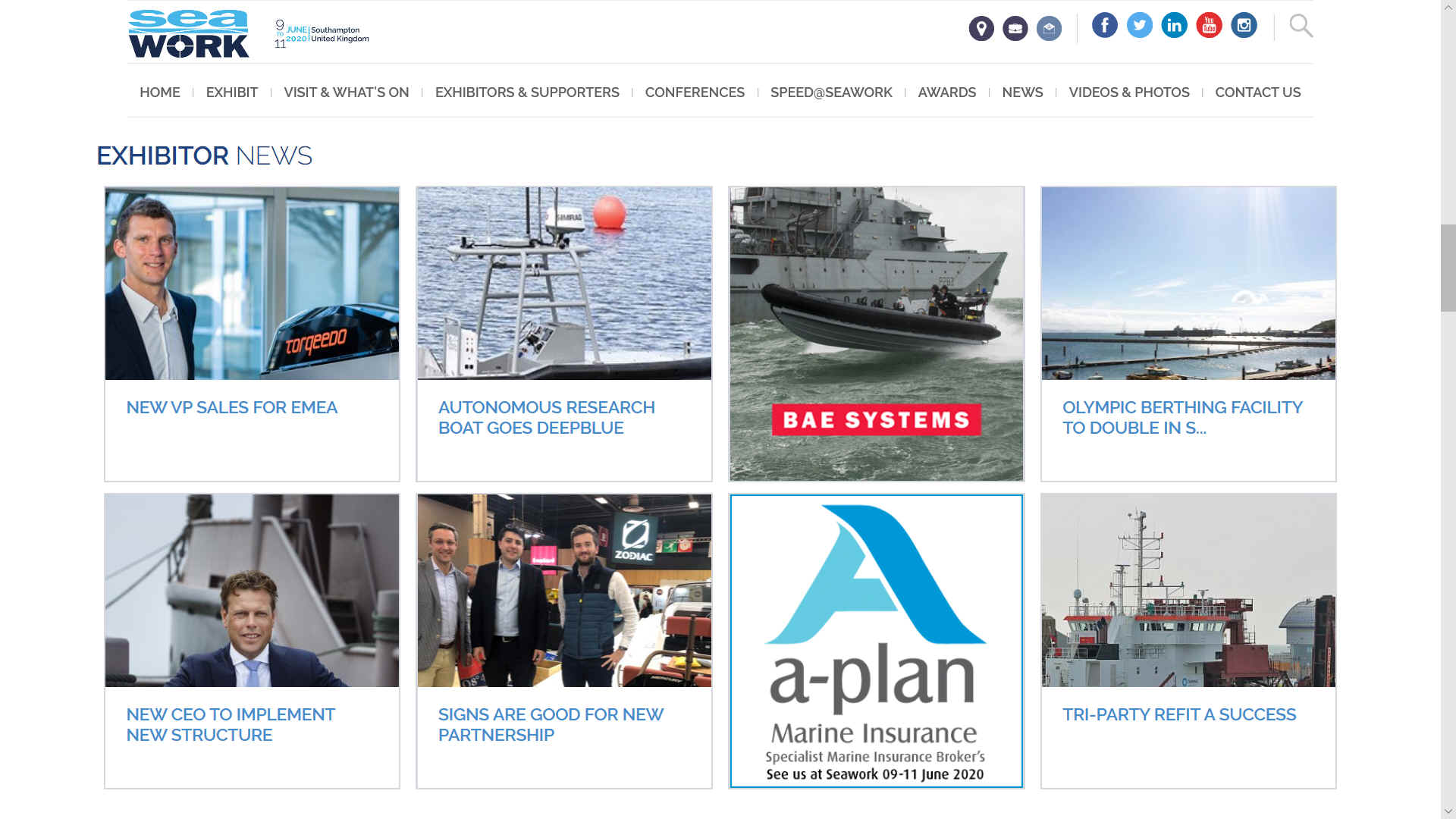 10th June 2020 – Morning Session : USV Conference
The theme of the 2020 conference will be 'USV's growing role in the Commercial Marine Market'. This half day Conference session will focus on Unmanned Surface Vessels and how their roles are developing in the Survey, Oceanographic, Renewable Energy, Oil & Gas, Transport and Defence sectors. The USV market was estimated at $534m in 2018 and with significant investment in the manufacture and development of advanced technology, is projected to reach $1,020 million by 2023. This session will highlight how the role of USV's is making a positive impact in these sectors and how they can benefit future business. The 2020 Conference will be chaired by Peter Collinson, Senior Subsea and Environmental Specialist, BP International Limited.
| | | | |
| --- | --- | --- | --- |
| Peter Collinson | Brett Phaneuf | Dan Hook | Neil Tinmouth |
| James Williams | Alex Langley | Dr Katrina Kemp | Simon Cheeseman |
11 June 2020 – Morning Session - Hybrid Propulsion Conference
The theme of the 2020 conference will be 'Real World Implementation of Hybrid Propulsion Solutions'. With Government legislation and environmental considerations key to reducing emission levels, this half day Conference session will explore the progress being made with hybrid propulsion in the commercial marine and workboat markets. Gain insight into case studies which demonstrate where hybrid propulsion is successfully making a difference – review the benefits to business and engage in the discussions on the challenges faced by the industry. The 2020 Conference will be chaired by Alan Cartwright, Director of Blabey Engineering Limited - a maritime consultancy.
The 2020 Conference Programme will be released in the New Year.
Delegates are encouraged to join in the discussion opportunities and to share ideas and experiences with fellow commercial marine professionals. Maximise on the opportunity to network with key industry stakeholders and view the services and products offered by our circa 610 exhibitors who represent workboat businesses from around the world.
ECMA
The prestigious European Commercial Marine Awards (ECMAs) recognise excellence across the commercial marine business. Judged by a panel of industry experts and chaired by the editor of Maritime Journal, the awards are presented on the evening of the opening day of Seawork.
Pavilions & Trails
A series of sector-specific pavilions and trails run through the exhibition halls, allowing exhibitors to benefit from a targeted approach to promotion and helping visitors to find what they want faster.
Small Business Enterprise Zone

A great entry-to-market opportunity, the SBEZ zone is a turnkey, low-cost way for up-and-coming companies and small businesses to network with the Seawork audience.
FILM COMPETITION
If you know or are a young person between 16 – 25 years of age, currently studying to work or begin a career in the maritime Industry, enter the European Commercial Marine Young Person's Development Award and win £850!

Don't miss your opportunity - enter now!

You could achieve instant industry recognition and a bursary worth up to £850 (or equivalent value in relevant currency) to help further your career!

All you need to do is make a short informal video showing why you should win the award and bursary. The video could showcase projects you have completed or are currently working on, or that demonstrate your passion for the industry. It doesn't need to be long, anywhere between 1 minute and 3 minutes long is fine and accompanied by a few words to explain what you would spend the bursary on, and how it would help you in your career.

This is open to apprentices, students, employees or any young professional looking to further their career within the marine industry. To enter complete the online form.

Your video will only be showed to the judges and it does not have to be perfect. We just want to get an idea of your future plans, passions and aspirations.!
It's worth it! Each winner will receive coverage via the Seawork, M&CCE Expo and Maritime Journal channels - in print to 20,787 magazine readers, online to 20,183 web visitors and via eNews sent directly to 20,169 Maritime Journal, 4,521 M&CCE and 29,953 Seawork subscribers.
For any further questions please: email awards@seawork.com or call +44 1329 825 335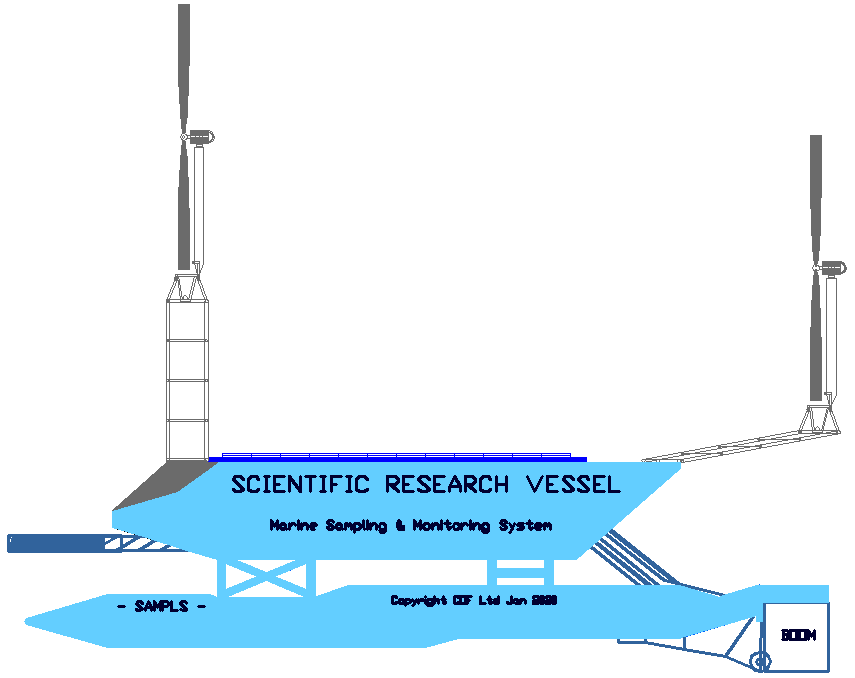 PILOT SEAVAX - Man's litter is causing enormous damage to marine ecology, with microplastics now found in zooplankton, shellfish and the stomachs of most seabirds. This vessel is designed to use the latest technology to sample and store marine debris at different depths, allied to a database to help formulate effective fleet cleaning operations of the future. This vessel is solar and wind powered, so does not contribute to global warming. Copyright © diagram Cleaner Ocean Foundation Ltd. January 18 2020.
LINKS & REFERENCE
https://www.linkedin.com/company/seawork-international
https://www.eventseye.com/fairs/f-seawork-6110-1.html
https://www.seaworkasia.com/
https://www.maritimejournal.com/news101/seawork
https://www.seaworks.net/
https://www.facebook.com/whk.seawork/
https://twitter.com/seawork
https://www.maritimeindustries.org/Events/Seawork-International-2020/70286
https://www.seawork.com/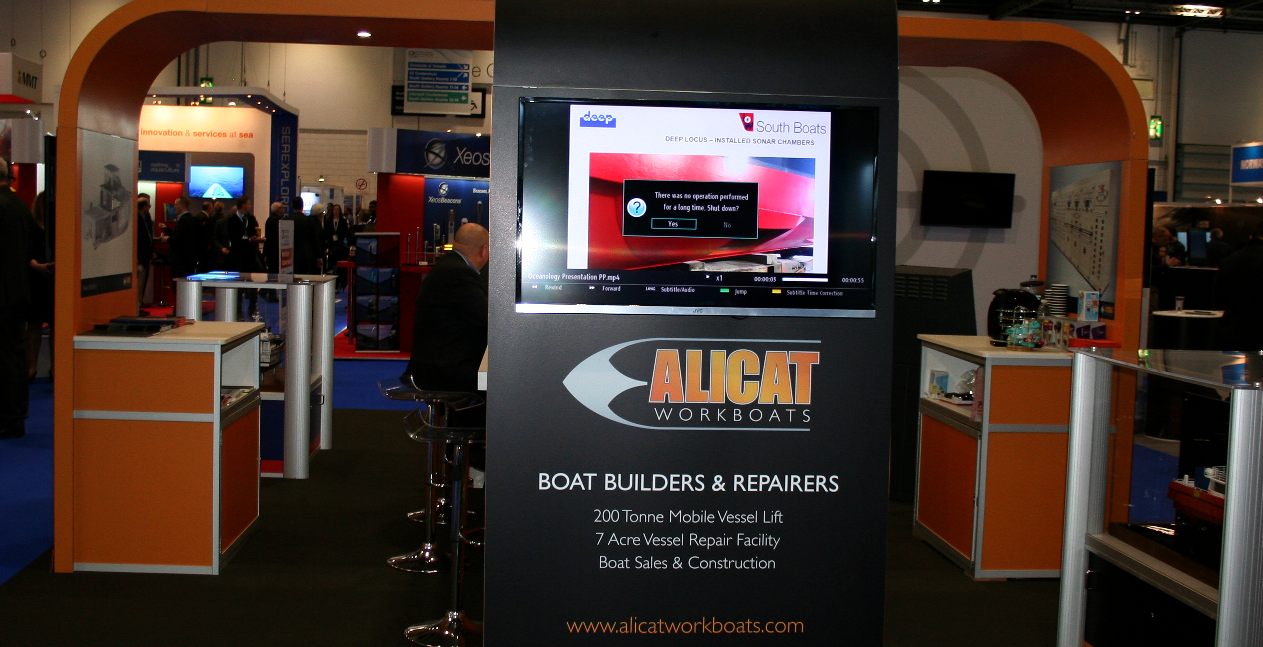 ALICAT - A well know builder of boats in the UK in aluminium and steel. They also repair and fit out vessels on their 7 acre facilities. Copyright Photograph © March 14 2018 Cleaner Ocean Foundation Ltd. All rights reserved. You will need the permission of the COF to use this photograph except for educational purposes or private study.
This website is provided on a free basis as a public information service. copyright © Cleaner Oceans Foundation Ltd (COFL) (Company No: 4674774) 2020. Solar Studios, BN271RF, United Kingdom. COFL is a charity without share capital. The names AmphiMax™, RiverVax™ and SeaVax™ are trade names used under license by COF in connection with their 'Feed The World' ocean cleaning sustainability campaign.