SPEEDWEEK 2020 MOD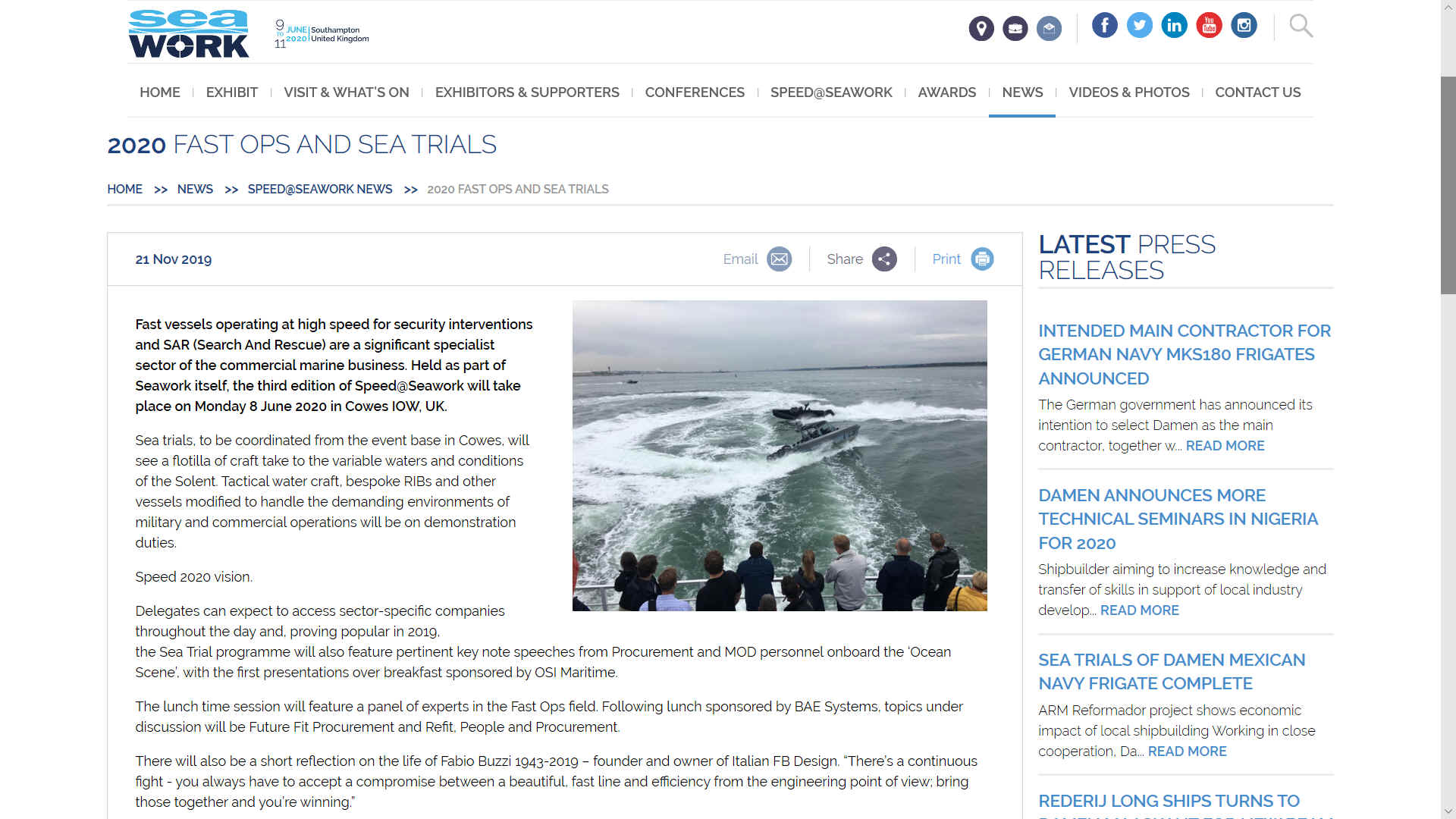 ABOUT - CLIMATE - CONTACTS - DONATE - FOUNDATION - HOME - OCEAN PLASTICS
PLEASE USE OUR A-Z INDEX TO NAVIGATE THIS SITE
Much as it goes against the grain, we need fast response vessels for emergencies. We also need a peacekeeping force that these days must be heading toward zero carbon vessels. Hence, all this dashing about is warranted, but we hope one day that warships become a thing of the past.
We will always need emergency services for when accidents happen. But we should also be looking at preventing accidents. Medical care is another area that we are making great strides with. Such improvements should be made available to everyone at sea, howsoever that may be achieved. SpeedWeek is thus important for knowledge sharing to generate new ideas and for others to catch up with ideas that need to be implemented.
The military is almost always on a trailing edge when it comes to implementing change. The only time that is not the case is in times of war. It is about time that change became part of the strategy to prevent wars and put the Navy on a par with other cleaner shipping, to reduce the tax burden (carbon footprint) and to save mother earth.
SPEED WEEK
Speed@Seawork will be held on Monday 8 June 2020 at Cowes Yacht Haven, Cowes, Isle of Wight, UK. Speed@Seawork is designed as a focus for all those involved in high speed, SAR, security, border force and fast transfer vessels.

Sea trials, coordinated from Cowes Yacht Haven, will see a flotilla of craft demonstrate their capabilities in the varied sea states of the Solent. Tactical water craft, bespoke RIBs and other vessels modified to handle the demanding environments of military and commercial operations will be fully equipped and available for demonstration.

Delegates can expect to access sector-specific organisations throughout the day, starting with pertinent key note speeches from Procurement and MOD personnel onboard the Ocean Scene on the journey from Southampton to Cowes, with the first presentations over breakfast, sponsored by OSI Maritime.

The lunchtime session will feature a panel of experts from the Fast Ops field. Following lunch, sponsored by BAE Systems, the panel will discuss 'Fit for Future' and' Refit versus New Build', focusing on design, power plant, legislation, people and equipment.

There will also be a short reflection on the life of Fabio Buzzi 1943-2019 – founder and owner of Italian FB Design. "There's a continuous fight - you always have to accept a compromise between a beautiful, fast line and efficiency from the engineering point of view; bring those together and you're winning."

The day will end with networking drinks and canapes, sponsored by Ocean Safety, during the return journey to Southampton onboard the Ocean Scene. There will also be a demonstration of the DAME award winning U Safe on the journey home.

10th June 2020 – Morning Session : USV Conference
The theme of the 2020 conference will be 'USV's growing role in the Commercial Marine Market'. This half day Conference session will focus on Unmanned Surface Vessels and how their roles are developing in the Survey, Oceanographic, Renewable Energy, Oil & Gas, Transport and Defence sectors.
| | | | |
| --- | --- | --- | --- |
| Peter Collinson | Brett Phaneuf | Dan Hook | Neil Tinmouth |
| James Williams | Alex Langley | Dr Katrina Kemp | Simon Cheeseman |
11 June 2020 – Morning Session - Hybrid Propulsion Conference
The theme of the 2020 conference will be 'Real World Implementation of Hybrid Propulsion Solutions'. With Government legislation and environmental considerations key to reducing emission levels, this half day Conference session will explore the progress being made with hybrid propulsion in the commercial marine and workboat markets.
..
..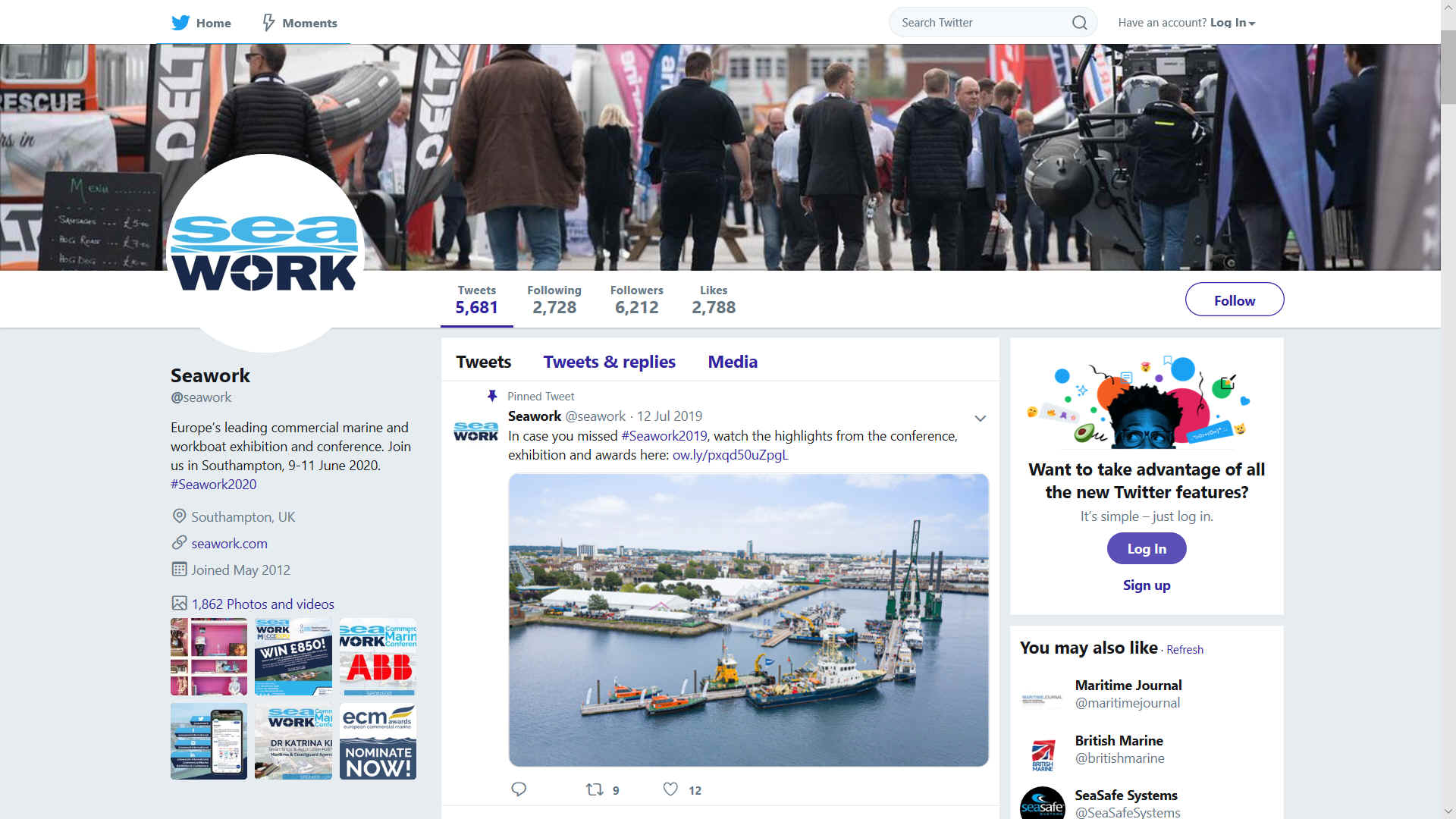 ...
LINKS & REFERENCE
https://www.seawork.com/
This website is provided on a free basis as a public information service. copyright © Cleaner Oceans Foundation Ltd (COFL) (Company No: 4674774) 2020. Solar Studios, BN271RF, United Kingdom. COFL is a charity without share capital. The names AmphiMax™, RiverVax™ and SeaVax™ are trade names used under license by COF in connection with their 'Feed The World' ocean cleaning sustainability campaign.