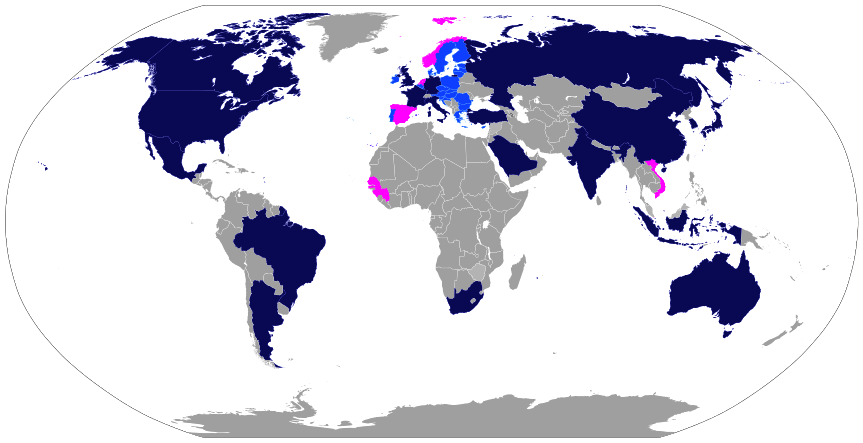 ONE WORLD ONE OCEAN - In the role of guardians of your geographical regions, there is also a responsibility to develop the blue economy for the international circular economies that a sustainable society requires if we are not to burn planet earth out.
India is one of the top twenty countries of the world that could benefit from joining an Ocean Plastic Alliance. We are shortly to invite India's Prime Minister, Narendra Modi, to view the benefits of membership of a World Ocean Anti-Plastic Alliance (WOAA).
We believe that as a nation that enjoys seafood and is a supporter of United Nations SDG14, also part of the G20's marine policy, that India might be inclined to a harmonious push to combat this enormous international challenge.
The aims of WOAA are to investigate, formulate and pursue a system of ocean cleaning, where the interests of each member state is included in a Sea-Net designed to make the oceans a cleaner place for healthier fish, happier marine mammals and seabirds.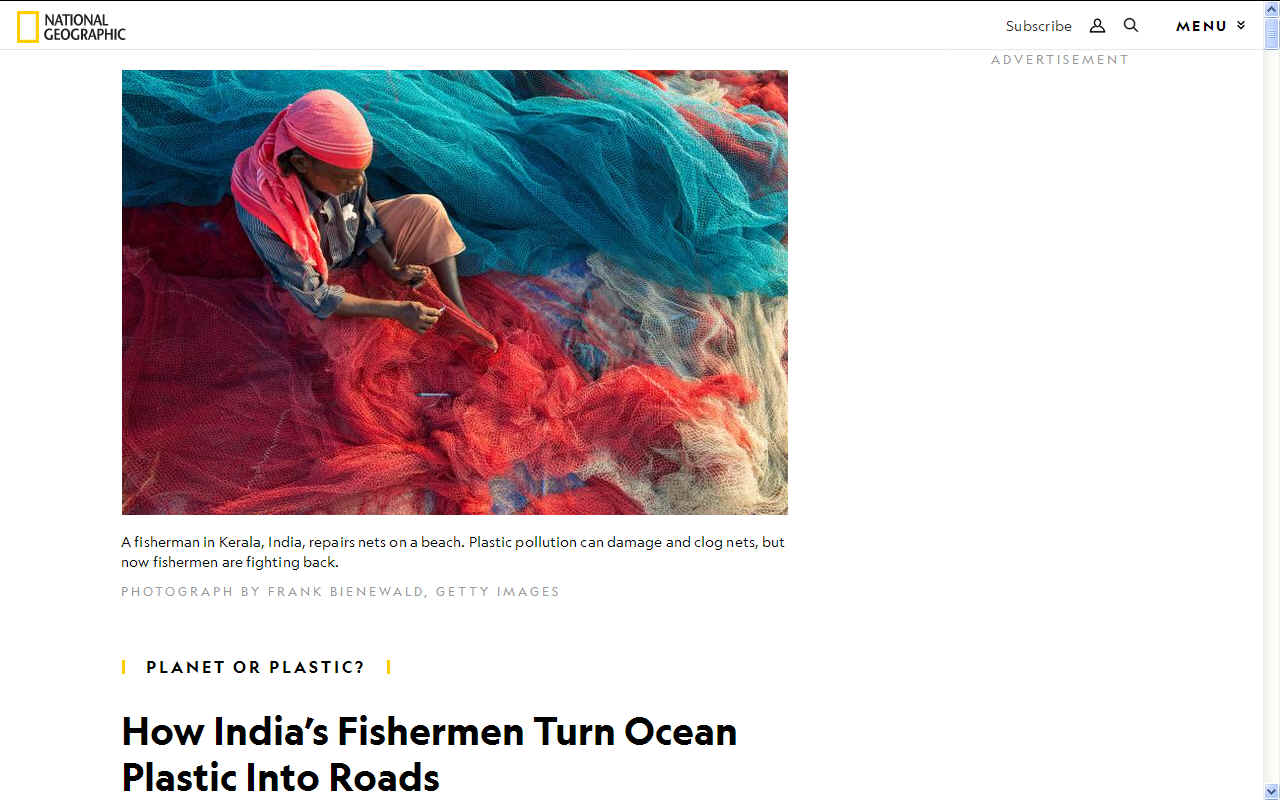 NATIONAL GEOGRAPHIC MAY 23 2018 - FISHERMAN ADAPT TO CATCH PLASTIC
Kollam, India Kadalamma - Mother Sea - that's what Xavier Peter calls the Arabian Sea. Xavier has been trawling for shrimp and fish off India's southwestern coast for more than three decades, his whole adult life. But lately, when he casts out his nets, he often comes up with more plastic than fish.

"Pulling the nets out of the water is extra effort, with all this plastic tangled in them," he says. "It's a bit like trying to draw water from a well - your bucket is somehow being weighed back down."

He and his crew of six then spend hours separating the garbage from their catch.

For Xavier, the whole ordeal is a regular reminder that Kadalamma is sick, and that he and his community have made her so. "This is India's greatest failure," he says. He used to just sigh and chuck the plastic back overboard. Not anymore.

Since August last year, he and nearly 5,000 other fishermen and boat owners in Kollam - a fishing town of 400,000 in India's southernmost state, Kerala - have been hauling back to land all the plastic that they find while they're out at sea. With help from several government agencies, they've also set up the first-ever recycling center in the region, to clean, sort, and process all the sea-tossed plastic bags, bottles, straws, flip-flops, and drowned Barbies that they fish out. So far, they've collected about 65 metric tons (71 short tons) of plastic waste.

Fishermen were dredging up plastic without even meaning to; asking them to do so on purpose was an obvious next step. The problem was, their region had no system for municipal waste collection, let alone a recycling program. When a nearby village of clam divers in Kerala tried to start a similar program to clean up Kerala's backwaters, they realized they had no way to dispose of all the garbage they scooped up. They were effectively just transferring litter from lake and riverbeds back to land.

Mathias approached J. Mercykutty Amma, the state minister of fisheries, and a fellow Kollam native, for help. "I said, if we take it upon ourselves to collect plastic from the sea and bring it back to land, can you help us do something with it?" he says.

She said sure, but she probably couldn't make it happen on her own. So, about a month later, she roped in five other government agencies, including the department of civil engineers, who agreed to help build a recycling facility, and the department for women's empowerment. That agency is tasked with improving employment opportunities for women, in an area where many fields, like fishing, had long been dominated by men. So the agency helped hire an all-female crew to work there.

a group of 30 women have been working full time to painstakingly wash and sort plastic that the fishermen collect. Most of it is too damaged and eroded to recycle in traditional ways. Instead, it's shredded into a fine confetti and sold to local construction crews who use it to strengthen asphalt for paving roads. The proceeds - along with government grant money - cover the women's salaries, about 350 rupees ($5) per day. The system isn't completely self sufficient, but it will be by next year, Mathias hopes.

They've already helped a couple of nearby fishing communities, including the aforementioned clam collectors, procure funding to start up their own plastic collection and recycling programs. Soon, he says, fishermen "through all of Kerala, all of India, and all of the world will join us."

That's exactly what they're doing. Many of the fishermen at Kollam harbour say that nine months into the program, the amount of debris that gets caught in their nets has markedly reduced. But ultimately, they're hoping to altogether stop the flow of plastic into the ocean. To that end, all 5,000 of them have pledged to reduce their personal use of plastic, or at the very least make sure it ends up at the recycling plant rather than in the ocean. Mathias and Xavier say they also aren't opposed to strategically using guilt to stop people from littering.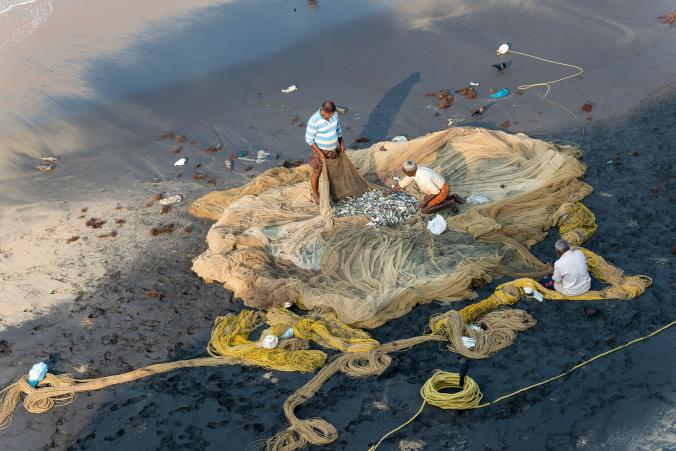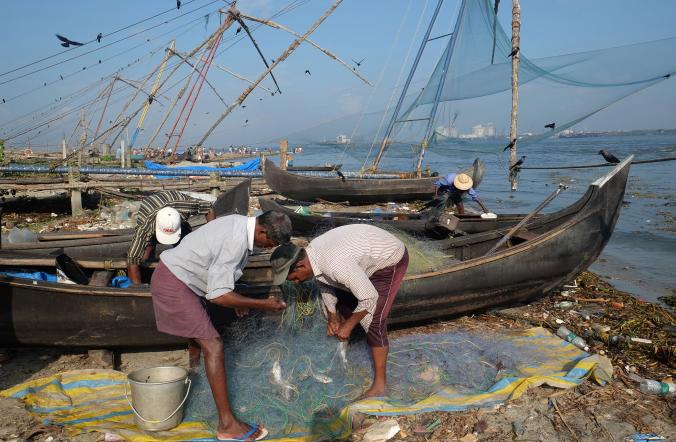 We share one ocean and one planet. We may care to think otherwise, but in the greatest technical challenge we have yet faced as brothers and sisters of planet earth there are no borders. What neighbor countries trash today is your pollution problem tomorrow, and what we fail to clean up today as responsible parents is our children's legacy for generations to come.
With plastic being a toxin carrier and bioamplifier in the food chain, we can expect that people ingesting fish exposed to marine plastic will be that much more likely to suffer cancer related problems in life, with follow on costs to the health services of contributor nations.
The unique quality of humans is our ability to reason and be reasonable. Provided that the main industrial players in the world accept that plastic production and usage is linked to Gross Domestic Product in proportion to wealth creation, it is reasonable to expect that those with most to gain from ocean research and regeneration might want to contribute what they can afford to removing what is possible to remove to compensate for their part in creating the problem, unwittingly though that may have been in the past.
What we are suggesting is an alliance between the top performing nations dedicated to cleaning the seas up. We invite those nations (and any others that want to fight) to join in the Big Clean by contributing to the cause.
We know that world leaders will consider it unfair if they are asked to contribute more than other nations, but would also expect that each nations should match fund any coordinated efforts of this nature. Funding need only continue until SeaVax reaches break even point, at which stage members might expect to benefit from ongoing operations without any cost of membership attaching.
Plastic Oceans Alliance (POA)
Cleaner Ocean Foundation Ltd
Solar Studios (Solar House)
BN271RF
United Kingdom.
Tel/Fax: 0044 1323 831727
Email: growth @ blue-growth . org
| Rank | Country | GDP (billions of US$) | % of World GDP | $M contribution |
| --- | --- | --- | --- | --- |
| . | . | . | . | . |
| 1 | European Union | $18,399 | 23.7% | 1.840 |
| 2 | United States | $17,416 | 22.4% | 1.742 |
| 3 | China | $10,355 | 13.3% | 1.036 |
| 4 | Japan | $4,770 | 6.1% | 0.477 |
| 5 | Germany | $3,820 | 4.9% | - |
| 6 | France | $2,902 | 3.7% | - |
| 7 | United Kingdom | $2,848 | 3.7% | 0.285 |
| 8 | Brazil | $2,244 | 2.9% | 0.224 |
| 9 | Italy | $2,129 | 2.7% | 0.212 |
| 10 | Russia | $2,057 | 2.7% | 0.206 |
| 11 | India | $2,048 | 2.6% | 0.205 |
| 12 | Canada | $1,839 | 2.33% | 0.184 |
| 13 | Australia | $1,531 | 1.94% | 0.153 |
| 14 | Saudi Arabia | $1,358 | 1.72% | 0.136 |
| 15 | South Korea | $1,305 | 1.66% | 0.130 |
| 16 | Mexico | $1,259 | 1.60% | 0.126 |
| 17 | Indonesia | $868 | 1.10% | 0.087 |
| 18 | Netherlands | $853 | 1.08% | - |
| 19 | Argentina | $637 | 0.80% | 0.063 |
| 20 | South Africa | $349 | 0.40% | 0.035 |
| . | . | . | . | . |
| | | | 76.59% | $7,181,000 |
The World needs an Ocean Action Plan to coordinate the efforts of member nations that in turn will benefit each other as the oceans move from one shoreline to the shores of a neighbor country. To help us develop an international strategy we need to generate sufficient funds effectively make headway, estimated to be in the region of $10 million dollars to develop a SeaVax prototype. Follow on expenses, or pledges of ongoing support should be included to cover the cost of helping contributing nations to set up fleets of ocean cleaning boats - and running them in a network or pattern that stands the best chance of regenerating our oceans.
THE ACTION PLAN IN BRIEF
An Action Plan will involve coordinated research, communications and operations designed to tackle marine plastic, working with other organizations and academics to make people aware of the dangers of plastic pollution and the need to review packaging policies.
An Action Plan will involve developing ocean cleaning vessels and a central hub to coordinate plastic recovery missions and recycling.
Collecting grants, accounting for and end of year reporting on progress to Ocean Alliance members.
THE G20 HEADS OF STATE A - Z
| | | | | |
| --- | --- | --- | --- | --- |
| ARGENTINA | AUSTRALIA | BRAZIL | CANADA | CHINA |
| EUROPEAN UNION | FRANCE | GERMANY | INDIA | INDONESIA |
| ITALY | JAPAN | MEXICO | RUSSIA | SAUDI ARABIA |
| SOUTH AFRICA | SOUTH KOREA | TURKEY | UNITED KINGDOM | UNITED STATES |
The G20 (or G-20 or Group of Twenty) is an international forum for governments and central bank governors from:
Argentina
Australia
Brazil
Canada
China
European Union
France
Germany
India
Indonesia
Italy
Japan
Mexico
Russia
Saudi Arabia
South Africa
South Korea
Turkey
United Kingdom
United States 
Founded in 1999, the G20 aims to discuss policy pertaining to the promotion of international financial stability. It seeks to address issues that go beyond the responsibilities of any one organization.
The G20's membership does not reflect exactly the 19 largest national economies of the world in any given year. The organization states:

"In a forum such as the G20, it is particularly important for the number of countries involved to be restricted and fixed to ensure the effectiveness and continuity of its activity. There are no formal criteria for G20 membership and the composition of the group has remained unchanged since it was established. In view of the objectives of the G20, it was considered important that countries and regions of systemic significance for the international financial system be included. Aspects such as geographical balance and population representation also played a major part."
ABOUT GROSS DOMESTIC PRODUCT
Gross domestic product (GDP) is the market value of all final goods and services from a nation in a given year. Countries are sorted by nominal GDP estimates from financial and statistical institutions, which are calculated at market or government official exchange rates. Nominal GDP does not take into account differences in the cost of living in different countries, and the results can vary greatly from one year to another based on fluctuations in the exchange rates of the country's currency. Such fluctuations may change a country's ranking from one year to the next, even though they often make little or no difference in the standard of living of its population. The figures quoted here are only a guide.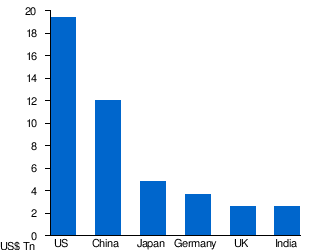 STATE LEADERS
Mauricio Macri
Malcolm Turnbull
Michel Temer
Justin Trudeau
Xi Jinping
Emmanuel Macron
Angela Merkel
Narendra Modi
Joko Widodo
Giuseppe Conte
Shinzō Abe
Enrique Peña Nieto
Vladimir Putin
Salman
Cyril Ramaphosa
Moon Jae-in
Recep Tayyip Erdoğan
Theresa May
Donald Trump
Donald Tusk
https://news.nationalgeographic.com/2018/05/fishermen-kerala-india-recycle-plastic-pollution-culture/