EUROPEAN YOUTH PARLIAMENT
ABOUT - CONTACTS - CROWDFUNDING - DONATE - FOUNDATION - HOME - A-Z INDEX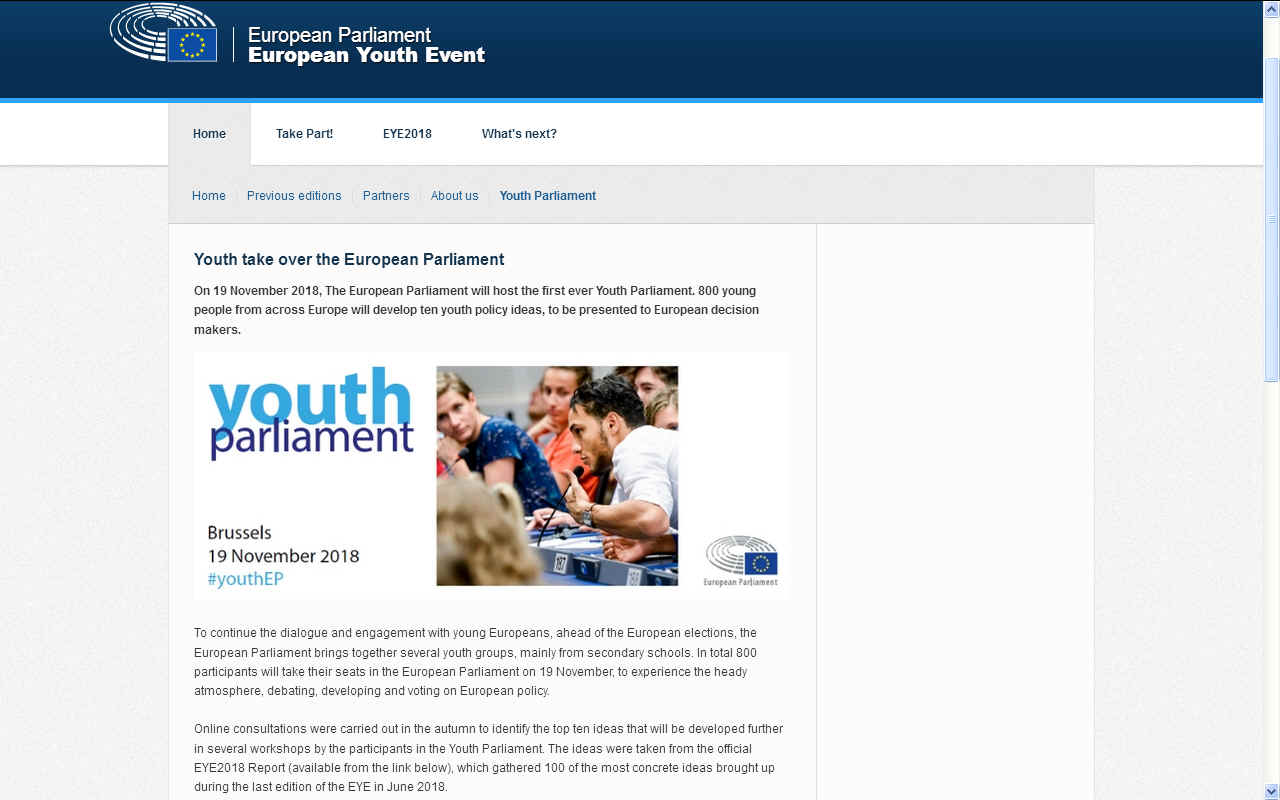 On 19 November 2018, The European Parliament hosted the first ever Youth Parliament. 800 young people from across Europe will develop ten youth policy ideas, that were presented to European decision makers.

To continue the dialogue and engagement with young Europeans, ahead of the European elections, the European Parliament brings together several youth groups, mainly from secondary schools. In total 800 participants will take their seats in the European Parliament on 19 November, to experience the heady atmosphere, debating, developing and voting on European policy.

Online consultations were carried out in the autumn to identify the top ten ideas that will be developed further in several workshops by the participants in the Youth Parliament. The ideas were taken from the official EYE2018 Report (available from the link below), which gathered 100 of the most concrete ideas brought up during the last edition of the EYE in June 2018.

Though this process is now completed, the participating youth are still consulting with fellow students in their home towns to ensure the policies cover local as well as national issues. They will bring these findings with them to the Youth Parliament.

It is still possible to join the consultations online from the link below. At the end of the working sessions, participants will come back together in plenary to vote on the final ideas and findings that will be handed over to President Tajani ahead of the European Council in December 2018.
For the third time, the European Parliament opened its doors to thousands of young people from across the continent for the European Youth Event 2018. In this unique get-together, more than 8.000 young citizens engaged in an open debate on the future of Europe, nurturing the work of our institution with their ideas.

It was a true inspiration for all of us. As roles were reversed, young people led the conversation and MEPs listened - a reminder that the youth are our present and future.
The two-day event saw a wide range of stimulating discussions and debates. At their core was a strong desire among young people to be agents for change and actively involved in shaping their future.

These exchanges are critical at a time when Europe is facing many challenges: the refugee and migration crisis, consolidating the recovery from the economic crisis and the ever-present threat of terrorism. The response to these challenges is not to fall back to national borders. On the contrary, the solution is to enhance cooperation and trust, to reinforce solidarity and our European values, and to assert European interests on the global stage, based on multilateralism.

It was clear from the EYE that young people are keen to take on these challenges and work for a better future.
Young people can make a difference, and I am sure their contribution will lead to an increasingly vibrant European democracy. The European elections of 23-26 May 2019 will be a great opportunity for all citizens to determine the political course of our Union, ensuring that the prosperity, stability and peace we have been able to guarantee for more than 60 years continues. Indeed, it is within this framework that European citizens have been able to exercise their freedoms.
As MEPs, we will continue this important dialogue with you, the young people of Europe, and work to ensure that your future rests in a better and stronger EU. Antonio Tanjani President EP
100 IDEAS LISTED BY THEME

1. YOUNG AND OLD: Keeping up with the digital revolution

1 Embrace e-portfolios to revolutionise recruiting
2 Support VET and implement a dual training system
3 Create dedicated youth departments in institutions
4 Portable system for worker benefits
5 Reform the youth guarantee
6 Create an intergenerational workforce charter
7 European skills mismatch scheme
8 Create a European robotics agency and robotics compliance seal
9 Regulate military use of AI
10 Create a European crowdfunding platform
11 Invest in technology for culture and heritage
12 Create a European robot assessment
13 Create a pan-European media
14 Entrepreneurial programmes and soft skills
15 Use Erasmus to help tackle depopulation
16 Life skills classes
17 Promote curiosity, self-development and responsibility
18 Introduce "challenge" lessons to encourage more creative students
19 Inter-school collaboration for projects
20 Tools against digital exclusion and for mental health

2. RICH AND POOR: Calling for a fair share

21 Pursue universal basic income to tackle inequality
22 Promote lifelong learning
23 Basic income, except not universal
24 Unified tax and labour rights within the EU
25 Healthcare access for transgender people
26 End the pink tax
27 Promote human rights in textiles trade
28 Provide accessible courses across Europe
29 Support a more inclusive EYE
30 Tax robots!
31 Prevent tax evasion
32 Equal representation in the European Parliament
33 Make us happier, stop using GDP as the only measure of progress
34 Make rural areas more attractive for the youth
35 Empower and integrate refugees by including them in the national education system
36 Comprehensive sexual education
37 Support for social entrepreneurship and sharing economy
38 National protection mechanisms for journalists in Europe
39 Promote sign language
40 Create transitional housing

3. APART AND TOGETHER: Working out for a stronger Europe

41 Ensure educational opportunities in the UK after Brexit
42 Create a European refugee day
43 Invest in foreign aid
44 Encourage more exchanges between Europe and Turkey
45 Set up a voluntary system to link migrants with Europeans
46 Strengthen external borders and data sharing
47 Encourage young people to stand in elections
48 Use social media to inform young people about voting
49 Create an annual Q&A between EU leaders and young people
50 Create a uniform age for young people to stand for election
51 Advance e-voting to encourage turnout
52 Introduce votes at 16 for European elections
53 Utilise companies and apps to spread the word about voting
54 Link Europe with national platforms to encourage engagement
55 Develop a European Citizensí Initiative
56 Promote classical languages and European history
57 Create a platform for qualified refugees to fill educational roles
58 Introduce politics into civic classes
59 Fund a youth ID to allow discounts to cultural sites
60 Create a mobile headmasters initiative

4. SAFE AND DANGEROUS: Staying alive in turbulent times

61 Lead by implementing UNSCR 2250 for youth
62 Prioritise human rights in trade agreements
63 Move justice to a European dimension
64 Battle exclusion to stop extremism
65 Make social media a public utility
66 Promote greater military cooperation
67 Create humanitarian corridors for refugees
68 Create a pan-European transparency database
69 Protect whistleblowers
70 Train police to tackle online hate crimes
71 Create a young candidates fund
72 Online rights declaration
73 Compulsory first aid training
74 Ensure transparency in sports
75 Mainstream and align cyber security
76 Make cybersecurity education a standard practice
77 Promote EU intelligence cooperation
78 Promote education on molecular and cellular biology
79 Invest in gene editing technology
80 Create a free anti-virus software for EU citizens

5. LOCAL AND GLOBAL: Protecting our planet

81 Create a European green rooftop programme
82 Use green diplomacy to negotiate with the climate in mind
83 Feminism in the battle against climate change
84 Support to young farmers and new technologies
85 Fewer meat subsidies
86 Promote biodiversity and higher standards for farm animals
87 Support sustainable households to sell energy back to the grid
88 Set a timetable for ending the use of fossil fuels and limit job losses
89 Promote a European energy community and market
90 Empower European-scale infrastructures and a common policy for transport
91 Smart cities and public transport
92 Sustain eco-friendly entrepreneurship and projects
93 Promote recycling of electronic devices
94 Promote a plastic-free approach
95 Fund the removal of plastic from the oceans
96 A new culture for food stores and taxation
97 Make reducing food waste legal and mandatory
98 Simplify the process for food donations
99 Sustainability education at school
100 Develop a system of using rainwater for plumbing
What is the European Youth Event (EYE2018)? The EYE2018 took place on 1-2 June 2018 in the European Parliament's seat in Strasbourg. It is a unique opportunity for young Europeans to make their voices heard. During the event, 9,000 participants came up and discussed ideas for the future of Europe with decision makers.

What's next? A report featuring the most concrete ideas discussed during the event was distributed to all Members of the European Parliament (MEPs). In the next months participants will present and debate with MEPs the ideas showcased in the report in various parliamentary committees.
POLITICS
Submitted by Richard Odomako... on 9 February, 2018 - 09:58

The high abstention rate at the election often represents the voters' growing disillusionment with politics. Discredited ideologies, unfulfilled promises and policies that habitually fail to meet the needs of the youth discourage involvement in voting. Aspiring political candidates should align their messages and policies to address the growing needs of the youth to stimulate their interest in politics. In addition, heightened education via traditional, social and digital media should be utilized to stressed voting as a civic responsibility of the youth. Massing up at voting centers often discourages participation in voting. E-voting should therefore, be prioritized to make voting easily accessible. Votes: 282


Submitted by Andrei Sasu on 19 October, 2017 - 21:28

Well, who are the people running for the EU Parliament within the country members? I don't know about other regions; however, in Romania there are the same unscrupulous, populists, shady and with long history of being above and on top of the national law. Moreover, the process of selecting the EP candidates it a non-transparent procedure, within the political parties. Don't need to remind you that we have selected George Becali as EP in 2012, until it's official conviction in 2013. The guy is one of the wealthiest man in Romania, as well as one of the poorest educated ones, please do all a favor and check him out on Google if you don't know him yet. Therefore, how do we expect youngsters who are absent from the national (and local) elections to be eager to participate in the EU Parliamentarian elections, when we see the same faces, coming from the same dirty, shady political 'gangs'? Yes, the lack of EU institutions and their effect on each life it's also a issue, which I see that the EU is tackling through multimedia and digital marketing, and hats off to that! But this is coming as a counteroffensive to the nationalism and fake 'patriotic' growing state of mine among EU citizens. So, yes I encourage active, participatory democracy among youngsters and I always promote it within my network, but general population's (and especially among youngsters) confidence in political class is all time law... Votes: 278
Submitted by Anssi Eboreime on 23 October, 2017 - 08:17

The most pressing problems from my point of view are the following: 1) The lack of knowledge and understanding of the EU, and of political structures in general - this problem is caused by two things: lack of interest (which is hard to affect) and lack of education and easily available knowledge. I think EU has recently been doing a good job at spreading knowledge about its structures with videos etc. But EU should try to make such informative videos even more interesting, maybe even fund cartoons for smaller children to teach about the EU. Then spread knowledge on as many platforms as possible. From Facebook to twitter to tumblr to reddit to myspace to google etc... 2) ease of access to electoral information - in National Elections in some countries it is hard to get information on the policies of candidates or their parties. In EU elections it is hard to find the Euro parliament party of candidates. There should be more platforms for debates. Not just the tv debates but also onlin interviews and debates. Platforms where we can easily see he national and euro party of each candidate and what are the policies of each. The backgrounds of each candidate should also be available. Elections are essentially an elaborate job interviews so we ahould be able to review who are our best candidates... 3) ease of voting - we need a secure digital voting system accross The EU and we must protect it from hacking. This will make voting very easy. Votes: 269

Submitted by Andreas Piperides on 6 April, 2018 - 15:11

This phenomenon is not European but universal and it's due to the lack of Democracy (from demos "people" + kratos "rule'', thus the ''Rule of the People". Our political system is basically an under representative system, especially in the EU, where the only directly elected institution can not really adapt legislation on its own. But do not be mistaken, by giving power to the parliament we are not going to solve the problem , we are just a step closer. The way to make citizens and especially young citizens to vote, is to make their vote matter.This could happen only by Direct Democracy, a form of which is the European Citizens Initiative. Ofcourse the trap in the European Citizens Initiative concept is that it isn't binding upon the EU institutions . So my suggestion is that we should start from that . To sum up , in my point of view the only reason why there is a turnout gap between young and old is just that in our not democratic system of governence it takes too long for citizens to be convinced that their vote can change anything. And eventually even an older voter ends up voting the lesser evil because there isn't someone which really represents him/her. The truth is , Democracy isn't in crisis, our political under representative system is. Votes: 177
WHAT ABOUT OUR PLANET ?
What can the European Union do to protect our planet? There is an urgency to tackle climate change, but many people still donít see it as a priority. The last Eurobarometer showed that, in the opinion of EU citizensí, climate change is only the seventh most important issue currently facing the EU, while environment and energy supply ranked tenth and eleventh39. However, the danger is real, and we must act now if we want to avoid the destruction of our ecosystem and the endangerment of human existence itself. This includes not only the fight against climate change, but a path towards a more sustainable, healthy and fair lifestyle for all, in line with the UN Sustainable Development Goals for 2030.
The EYE 2018 agenda set a vision for these goals, from global to local, from Earth to space and everything in between. It made clear that to solve these problems, the inclusion and participation of all actors is necessary: global organisations, European institutions, nation states, regions and municipalities, companies, farms, research institutes, schools, NGOs and private citizens. Young participants take climate change and environment to heart; many have already adopted a more sustainable lifestyle than their parents or are willing to make the switch for themselves and their future generations.
The solutions to climate change are as diverse as the challenges themselves. Raising awareness about the problem is the very first step, but concrete actions should then follow. A turning point seemed to be reached when 195 countries adopted the Paris Agreement at the COP21 in Paris, on 12 December 2015. The agreement entered into force less than one year later. The countries who are party to the agreement committed themselves to limiting global temperature rises to well below two-degrees Celsius, and given the grave risks, to strive for 1.5 degrees Celsius in the near future. Fighting climate change becomes even more urgent in times of outspoken deniers. The EYE demonstrated that young people want to make their voice heard: climate change is a global challenge that does not respect national borders. Emissions and other consequences affect people everywhere.
The pressure on political institutions increases with every centimetre that we lose from the polar ice caps. This section will present 20 ideas that include lessons from outer space, new diplomatic actions, and the impact of women in this battle. It discusses farming in the 21st century and new laws that could help prevent deforestation of the rainforest in non-European countries. The EU managed to decrease greenhouse gas emissions by almost one quarter since 199040. Due to recent technical innovations, less energy is being consumed and the use of carbon intensive fuels has reduced. But there is more to be done. Young people need to raise their voices, demand concrete actions, and come up with creative approaches to show that we must act now, before itís too late.
RENEWABLE ENERGIES, SMART CITIES AND SUSTAINABLE ENTREPRENEURSHIP
Should the European Union become a green energy superpower? Energy costs take their toll on European industry and households. So how can we create a sustainable transition in the energy sector? We need to stop consuming polluting fossil fuels and greenhouse gases and seek to develop clean renewable energies.
The EU wants 32% of its energy consumption to come from renewable sources by 2030, a new target included in the renewable energy directive, as part of its clean energy package47. A good transition should also create new jobs, to make up for the ones lost in declining industries. The problem is that renewable energies are still costly and current technologies donít yet guarantee the full coverage of worldwide energy needs. Some smart cities and urban areas that use data to improve efficiency and resource management, however, are already leading by example, helping us to imagine a different life. For this reason, since 2010, the European Commission has awarded some cities the title of "European Green Capitals".
However, at the EYE 2018, it was found that the key to success is making "green" technologies profitable for industries. We need to avoid a clash between the environment and industry. Finding eco-sustainable solutions does not mean destroying industry, but instead, building a sustainable industry. Young people are capable and want to lead the change, but they need to be empowered in order to do this.

FOOD WASTE, NO PLASTIC, CLEAN WATER AND SANITATION: CHANGING CONSUMER HABITS

Almost one-third of all food produced is lost or wasted each year, according to the Food and Agriculture Organisation (FAO)51. Around 88 million tons of food are wasted annually in the EU, with associated costs estimated at Ä143 billion52. In the EU, households are the number-one producers of food waste, while agriculture is second. Besides being unethical, food waste has a negative impact on the environment and economy because water and energy have already been wasted producing the food that is then discarded. Most food waste is unnecessary and caused by bad storage methods, exacerbated by a lack of quality education on food waste.
At the same time, Europeans produce 25 million tons of plastic waste annually53. Plastic is polluting our rivers, oceans and soils. The UN is running a campaign for clean seas and the European Union has this year launched a European Strategy for Plastics in a Circular Economy, with the aim of transforming the way plastic products are produced, used and recycled, and eliminating major sources of marine litter. In addition, access to clean water and sanitation is a human right and the risks linked to its shortage range from expanding deserts, to deadly diseases and conflicts.
Young people are asking for a change of mentality, starting from specific education on sustainability in schools and new rules to shape our lifestyle and save the environment.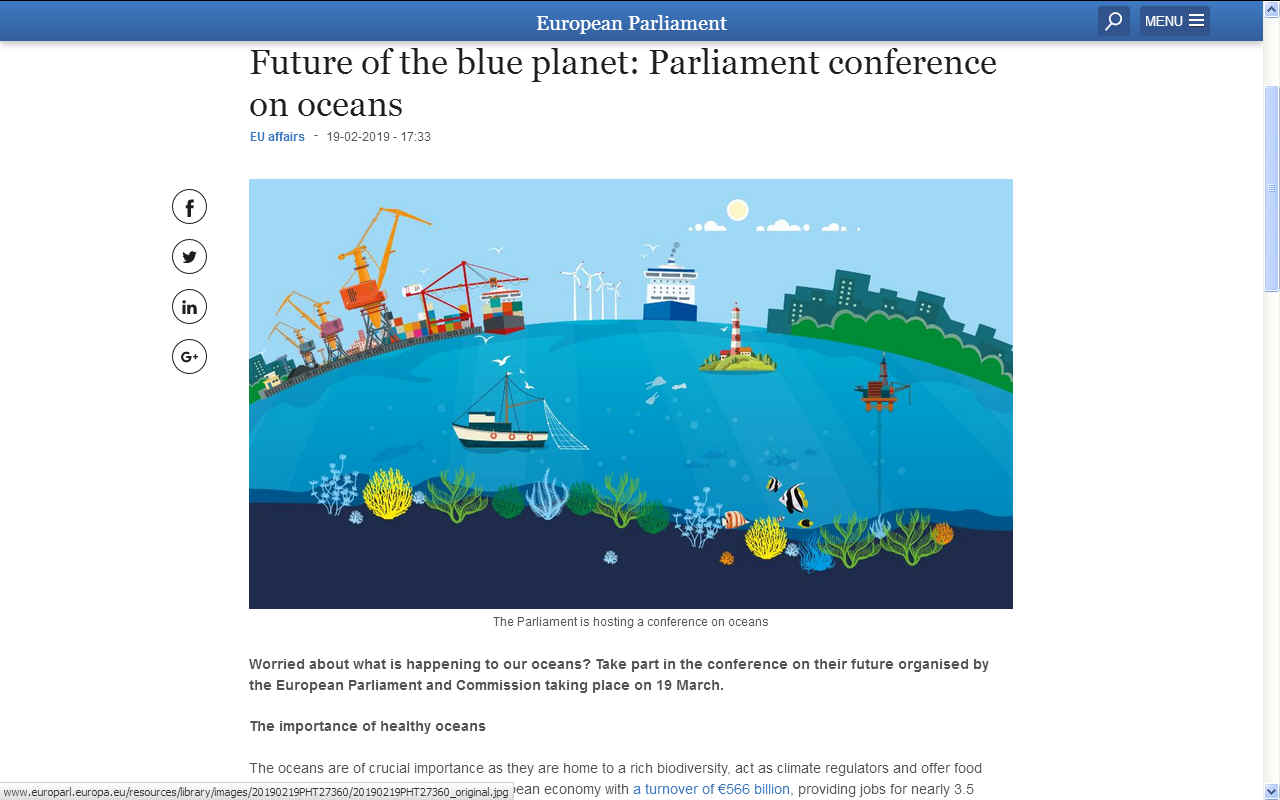 What is the European Union doing about our oceans ?
Although oceans are essential to us in many ways, the state of marine biodiversity remains little known. What we do know, however, is that human activities create a number of pressures such as (over-) exploitation, carbon emissions, and pollution, including marine litter. The European Union (EU) has been active in promoting the sustainable use of the seas. In early 2018, the European Commission presented a strategy to address the issue of plastics pollution, including microplastics in our seas.

Oceans under pressure
Oceans provide essential benefits, not only environmentally, in terms of unique and beautiful natural
ecosystems, but also in terms of jobs and economic stability for many Europeans. In the EU, industries
whose activities rely on the seas and coasts are estimated to employ close to 7 million people. While some maritime sectors (such as fisheries and aquaculture) are stagnating, others are growing, in particular offshore energy production, shipping, and coastal tourism and recreation.
Yet our knowledge about oceans, especially on the state of marine biodiversity, remains limited. We still
have no information on 80 % of marine species and habitats that need to be assessed under EU legislation.
We do know, however, that oceans are impacted by past and present human activities. The situation is
improving in some respects, but European seas are not yet in good shape. One pressure is over-exploitation of living resources: although fishing pressure on commercial stocks has considerably decreased in the past decade, many stocks are still being over-fished above their maximum sustainable yield.
Other pressures include climate change (affecting sea surface temperature); coastal eutrophication;
pollution by known contaminants (such as lead or mercury), emerging pollutants (such as pharmaceutical
products or endocrine disruptors) and marine litter (mainly plastics); ocean acidification as a result of carbon emissions; and the introduction of non-indigenous species, mostly through shipping and the Suez Canal.
It is estimated that there are over 150 million tonnes of plastic in the world's seas and that, without significant action, there may be more plastic than fish (by weight) in the sea by 2050. Some marine litter consists of microplastics; these originate from the breaking down of larger plastic pieces or are released directly into the environment. Directly released microplastics come mostly from the laundering of synthetic textiles (35 %) and the abrasion of tyres while driving (28 %), while microplastics in personal care products account for 2 %.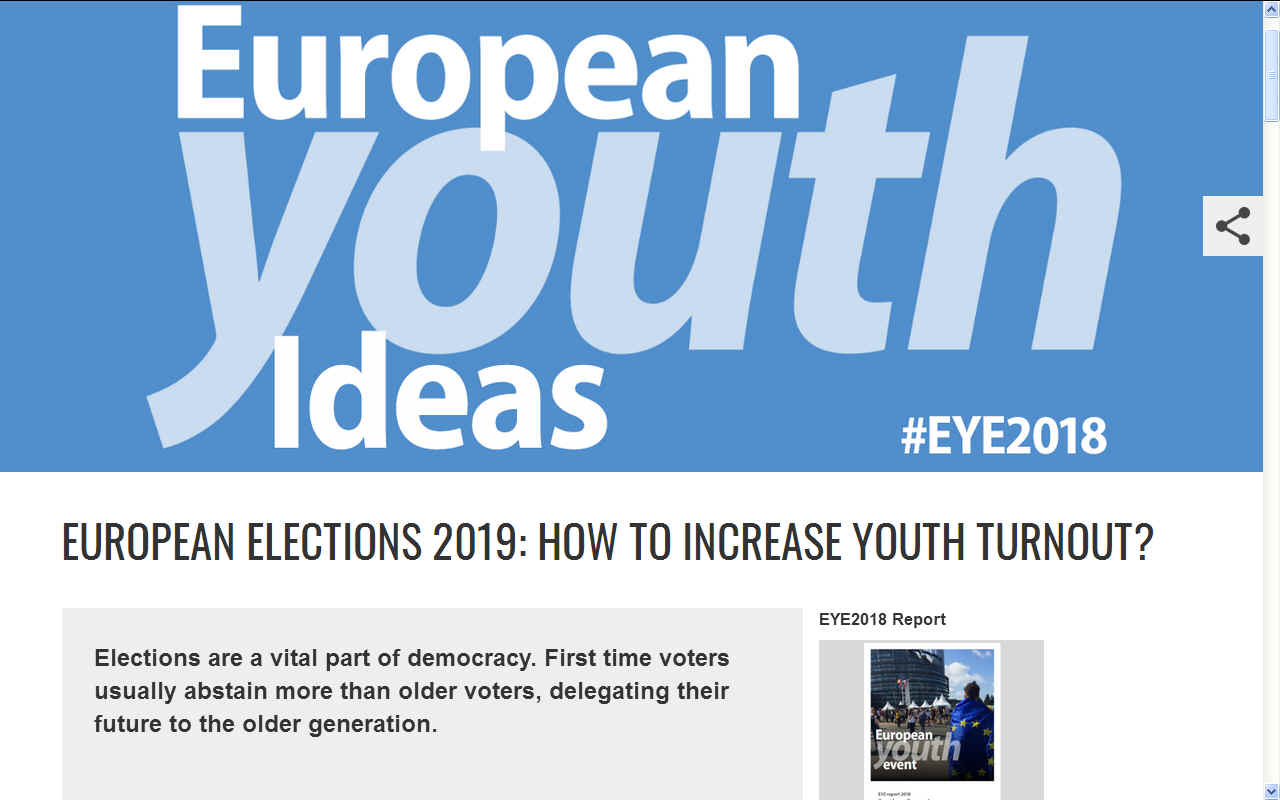 What is the European Union doing about over fishing ?
A common European policy on fisheries was first introduced in the 1970s and went through successive
updates. In 2008, the EU adopted legislation aiming to achieve good environmental status of European
marine waters by 2020, to promote the sustainable use of the seas, and to conserve marine ecosystems.
In 2013, the common fisheries policy was given a new direction. In particular, it requires the exploitation of fish stocks to be based on the maximum sustainable yield, by 2020 at the latest. Also, in order to put an end to the practice of discarding unwanted catches at sea, all catches of species subject to catch limits or, in the Mediterranean, to rules on size, now have to be landed. On the issue of plastics, the European Commission presented a strategy in early 2018, which aims to tackle sources of marine litter and microplastics.
There are signs of improvements in a number of cases: in the Baltic Sea, the state of predators such as grey seals and white-tailed sea eagles has been improving over recent decades. The number of over-exploited fish stocks in the North-East Atlantic has been steadily decreasing, and encouraging trends have been observed for estuary fish diversity, as well as for the health of seabird colonies in areas that are now protected from species such as rats.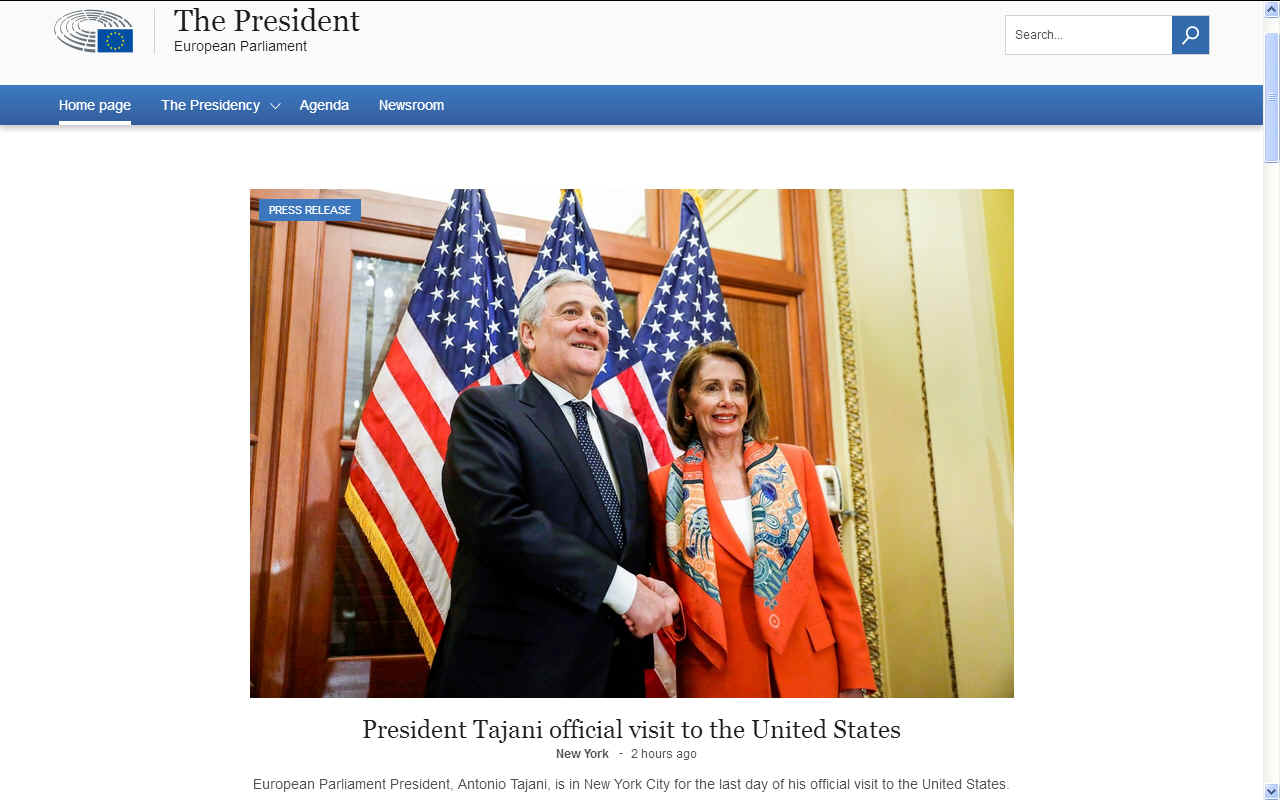 Antonio Tajani - President of the European Parliament
Rue Wiertz 60
1047 Bruxelles
Belgium

Phone number: +32 (0) 228 46974 (BXL)
Phone number: +33 (0) 3 88 1 74860 (STR)
Phone number: +352 4300 24842 (LUX)
E-mail: president@ep.europa.eu
1995 COP 1, BERLIN, GERMANY
1996 COP 2, GENEVA, SWITZERLAND
1997 COP 3, KYOTO, JAPAN
1998 COP 4, BUENOS AIRES, ARGENTINA
1999 COP 5, BONN, GERMANY
2000:COP 6, THE HAGUE, NETHERLANDS
2001 COP 7, MARRAKECH, MOROCCO
2002 COP 8, NEW DELHI, INDIA
2003 COP 9, MILAN, ITALY
2004 COP 10, BUENOS AIRES, ARGENTINA
2005 COP 11/CMP 1, MONTREAL, CANADA
2006 COP 12/CMP 2, NAIROBI, KENYA
2007 COP 13/CMP 3, BALI, INDONESIA
2008 COP 14/CMP 4, POZNAN, POLAND
2009 COP 15/CMP 5, COPENHAGEN, DENMARK
2010 COP 16/CMP 6, CANCUN, MEXICO
2011 COP 17/CMP 7, DURBAN, SOUTH AFRICA
2012 COP 18/CMP 8, DOHA, QATAR
2013 COP 19/CMP 9, WARSAW, POLAND
2014 COP 20/CMP 10, LIMA, PERU
2015 COP 21/CMP 11, PARIS, FRANCE
2016 COP 22/CMP 12/CMA 1, MARRAKECH, MOROCCO
2017 COP 23/CMP 13/CMA 2, BONN, GERMANY
2018 COP 24/CMP 14/CMA 3, KATOWICE, POLAND
2019 COP 25/CMP 15/CMA 4 TBA
LINKS & REFERENCE
http://www.europarl.europa.eu/european-youth-event/en/home/youth-parliament.html
www.eye2018.eu
https://www.europeanyouthideas.eu/european-elections-2019-how-increase-youth-turnout
http://www.europarl.europa.eu/the-president/en/
www.europarl.europa.eu/european-youth-event/en/home/home.html
https://www.europarl.europa.eu/committees/en/envi/home.html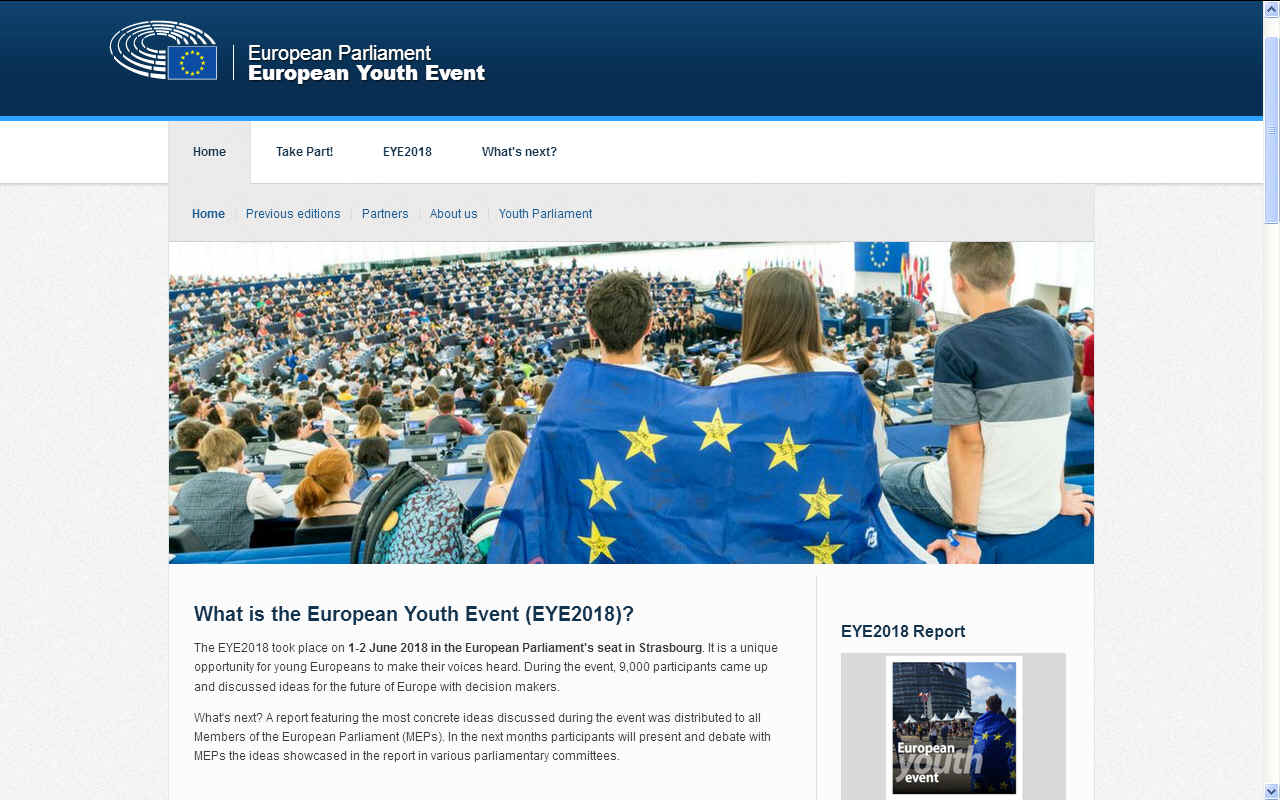 The EYE2018 served as a platform for dialogue between young citizens and European decision makers. But the dialogue doesn't stop there: 100 most concrete ideas and proposals are now available in the EYE Report which will be distributed to all Member of the European Parliament (MEPs) in September.

The aim of the report is to provide the MEPs with a clear view of young people's concerns, dreams and expectations for the future. The ideas in the report touch hot topics such as the introduction of a basic income, the reform of the youth guarantee, a stronger European identity, as well as improvement of recycling actions, increasing cybersecurity and fighting food waste.

A team of young reporters, coordinated by the European Youth Press, put together the report, which includes interviews with speakers, MEPs and participants, enriched by a series of infographics and graphs, plus a political commentary from the European Youth Forum.

In the foreword of the report, Antonio Tajani, President of the European Parliament, says: "Young people can make a difference, and I am sure their contribution will lead to an increasingly vibrant European democracy."
This website is provided on a free basis as a public information service. Copyright © Cleaner Oceans Foundation Ltd (COFL) (Company No: 4674774) 2019. Solar Studios, BN271RF, United Kingdom. COFL is a charity without share capital.