HASTINGS ONLINE - OCEAN SYMPOSIUM
ABOUT - CONTACTS - DONATE - FOUNDATION - HOME - A-Z INDEX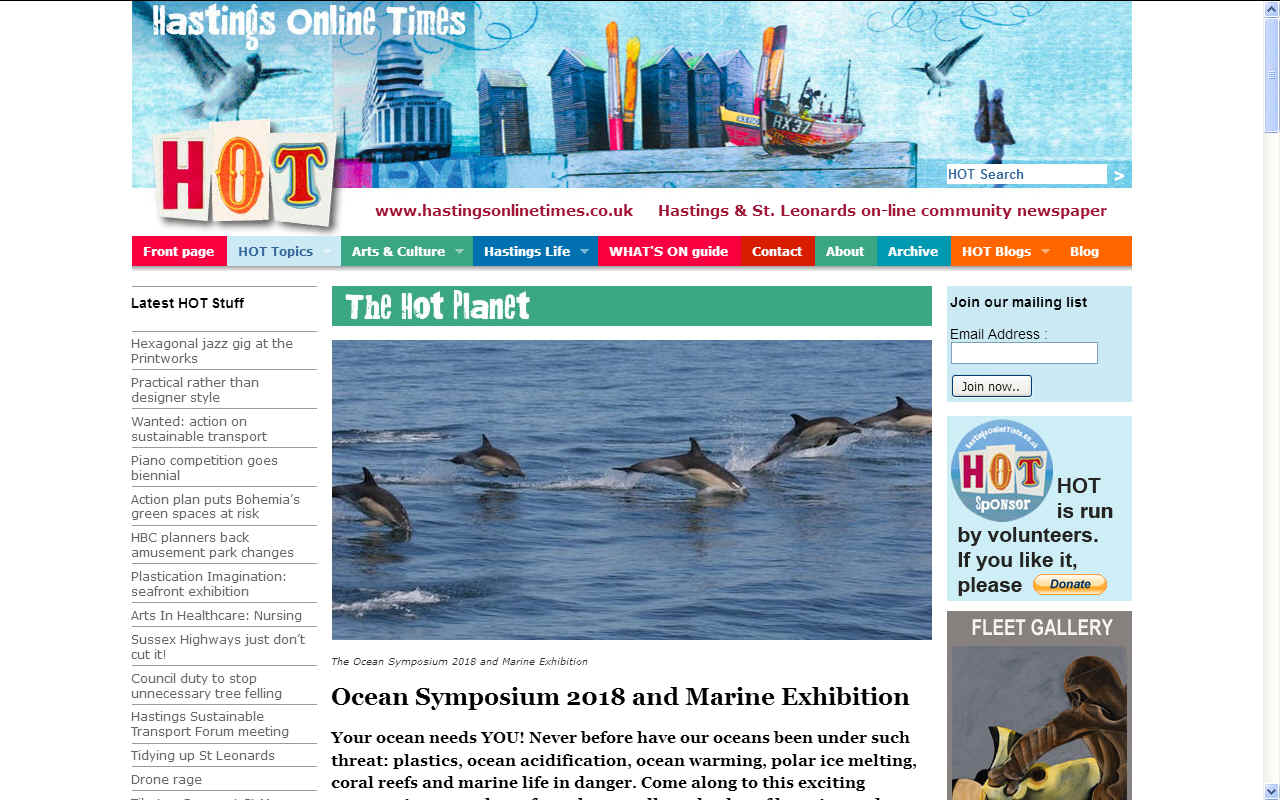 ONLINE TIMES HASTINGS - Would you like to get involved in writing for HOT, helping with admin, promotion and IT, or contributing photos or illustrations? Send them your email address if you wish to receive updates and news from HOT and any comments news, events and ideas.

* Enquiries, press releases etc to hot@hastingsonlinetimes.co.uk
* Send listings info for your event to listings@hastingsonlinetimes.co.uk
* Advertising enquiries ads@hastingsonlinetimes.co.uk


HASTINGS ONLINE TIMES 1 AUGUST 2018 - Ocean Symposium 2018 and Marine Exhibition

Your ocean needs YOU! Never before have our oceans been under such threat: plastics, ocean acidification, ocean warming, polar ice melting, coral reefs and marine life in danger. Come along to this exciting community event: lots of speakers, stalls and a day of learning and networking.

Watch the BBC Earth short film about the oceans, narrated by Sir David Attenborough and listen to experts about new projects in the fields of Marine Conservation, Global Oceans, Climate Change, Marine Resources and Marine Wildlife. Tea and coffee provided by the organisers, United Nations Association, Bexhill and Hastings in partnership with Sussex Wildlife Trust, Hampshire and Isle of Wight Wildlife Trust, Rother Voluntary Action, Surfers Against Sewage, Southern Water and Hastings Voluntary Action.

Ocean Symposium 2018 and Marine Exhibition on Saturday 22 September 2018 from 9:30am to 4.30pm at St Mary In The Castle, 7 Pelham Crescent, Hastings, TN34 3AF. Buy tickets here. Please bring your own packed lunch. Cafe and Restaurant will be open too if you prefer to buy your lunch at the venue.

Any questions? Contact: unaukhandb@gmail.com or 07552 690519 or St Mary in the Castle on 10424 715880.


PROGRAMME

09:30am Doors open. Registration.

10.00am Welcome by Co-Chairs of Symposium.

10:05am Official Opening by Jamie Bedwell, Triathlete and 2024 Olympic hopeful

10:15am Welcome of Delegates by The Mayor of Hastings

10:20am Film, BBC Earth, narrated by Sir David Attenborough
OCEANS AND GLOBAL ISSUES

10:25am "UN Global Sustainable Goals; implications for our communities" by Natalie Samarasinghe, Executive Director, United Nations Association, UK.

10:45am "Oceans, Marine Resources and Commonwealth Nations" by Dr Nicholas Watts, Institute of Commonwealth Studies, University of London.

11:05am Discussion chaired by John Fowler, Chairman of the United Nations Association, Bexhill and Hastings. Panelists: Natalie Samarasinghe and Dr Nicholas Watts.

11:35 Coffee break – Marine Exhibition (stalls)


MARINE CONSERVATION

12:05pm Wildlife Trust Video 1

12:10pm "Ocean pollution, microplastics and effects of climate change" by Dr Tim Ferrero, Senior Specialist for Marine Advocacy, Hampshire and Isle of Wight Wildlife Trust.

12:20pm "Marine Conservation Zones" by Dr Sean Ashworth, Deputy Chief Fisheries and Conservation Officer, Sussex Inshore Fisheries and Conservation Authority.

12:30pm Discussion chaired by Tim Dapling, Chief Fisheries and Conservation Officer, Sussex Inshore Fisheries and Conservation Authority). Panelists: Dr Tim Ferrero, Dr Sean Ashworth; Dr Corina Ciocan, Lecturer in Environmental Sciences and Marine Biology, University of Brighton – and Paul Linwood (Chairman of the Sussex Marine and Coastal Forum and Sewage Policy Manager, Southern Water)

13:00pm Lunch break – Marine Exhibition

13:45pm Wildlife Trust Film 2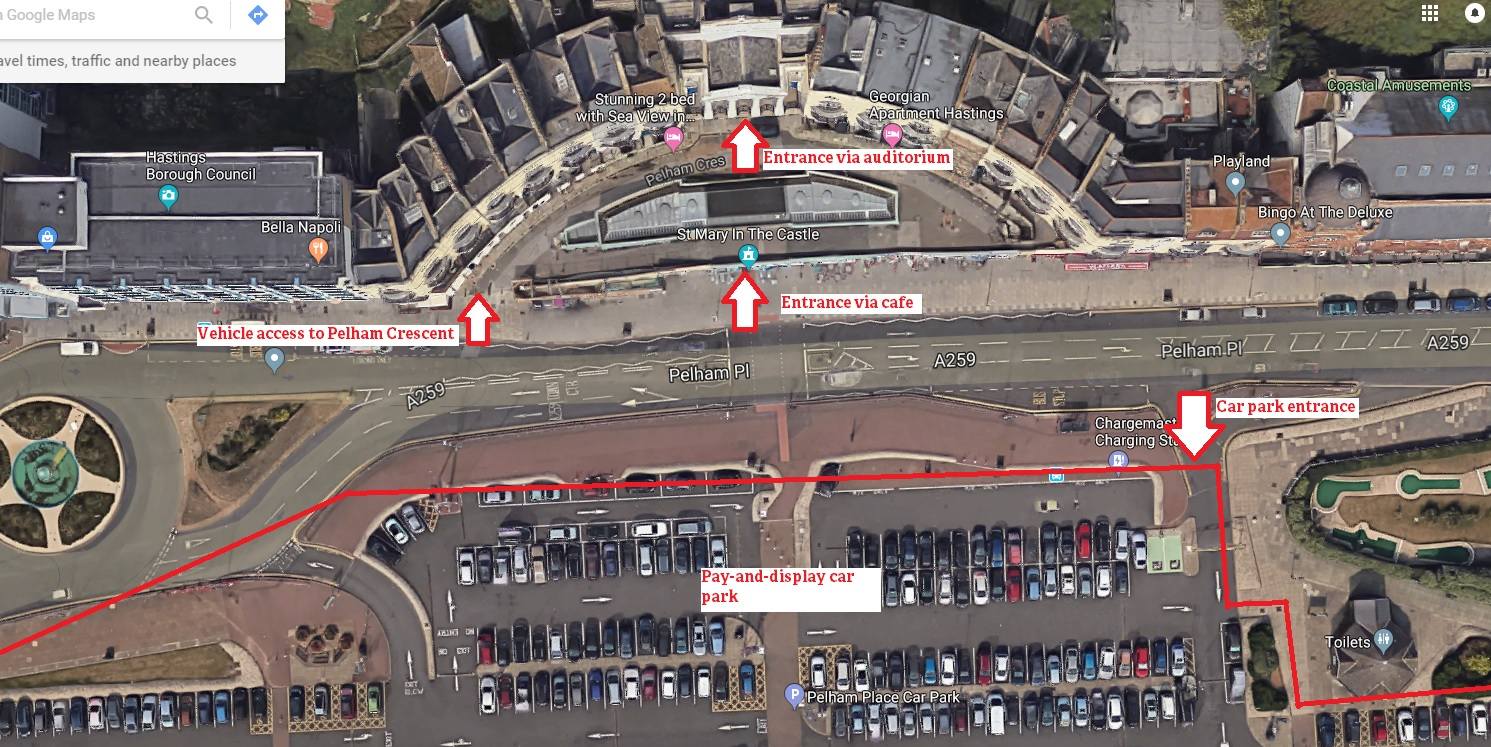 PARKING - This is a map showing Pelham Place (A259) in Hastings. St Mary In The Castle is seen top centre, to the right of the Borough Council buildings. There is ample parking in front of the venue at the seafront car park - pay and display. It will cost you about £10 for the whole day.
FISHERIES AND REGIONAL MARINE PROJECTS

13: 50 "Blue Economy and fisheries" Dr Adriana Ford, Coordinator of the Greenwich Maritime Centre, University of Greenwich.

14: 10 Blue Marine Foundation – Morven Robertson – UK Project Manager

14: 30 Hastings Fisheries Local Action Group (FLAG) and LIFE - Jeremy Percy – Executive Director, Low Impact Fishers of Europe (LIFE)

14: 45 BREAK - Marine Exhibition

15: 00 Announcements (new projects, partnerships, policies and initiatives)

15: 10 Surfers against Sewage – Colin Darbyshire

15: 15 Cleaner Ocean Foundation (Blue Growth) – SeaVax innovation Project – Nelson Kay – Project Manager

15 : 20 Final Round Table (Chair: Dr Sean Ashworth)

Panelists: Dr Adriana Ford, Dr Nicholas Watts, Natalie Samarasinghe, Dr Tim Ferrero, Dr Corina Ciocan and Jeremy Percy.

15: 50 The Ocean Charter, Symposium Declaration, UN SDG Targets, and Future Strategy.

16: 00 Final Audio Visual presentation (including a short film about the Oceans)

16 : 20 Closing Words, John Fowler, Chairman of the United Nations Association, Bexhill and Hastings

Also in: The HOT Planet

Vote for our marine conservation zone! »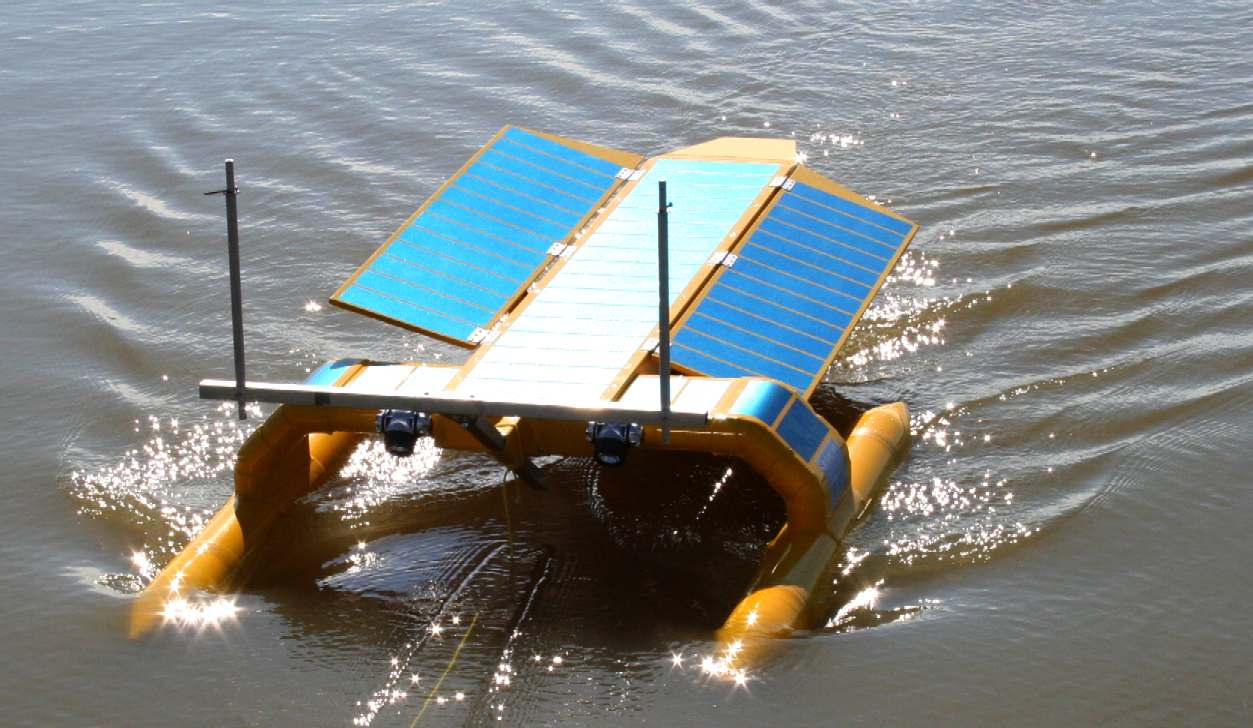 OCEAN DUSTCART - SeaVax is seen here during open water floatation trials. Please note that this is a small (proof of concept) version of any ocean or river portable dustcart that we hope will be tested on the south coast of England as the project progresses. SeaVax is a selective filtration machine that will be configured to target solid plastics and particles. The machine could also be used in oil spill emergencies, or as a selective fishing vessel for harvesting of alternative marine produce. The platform could thus be useful in many ways, leaving traditional fishermen to catch their quotas in a move to more efficient use of our ocean resources.
SeaVax will be on display at The Ocean Symposium, Hastings on the 22nd September.
VENUE
St Mary In The Castle
7 Pelham Crescent
Hastings
TN34 3AF
Sarah Ward - Living Seas Officer
Mobile: 07717 835 039
Direct line: 01273 497 572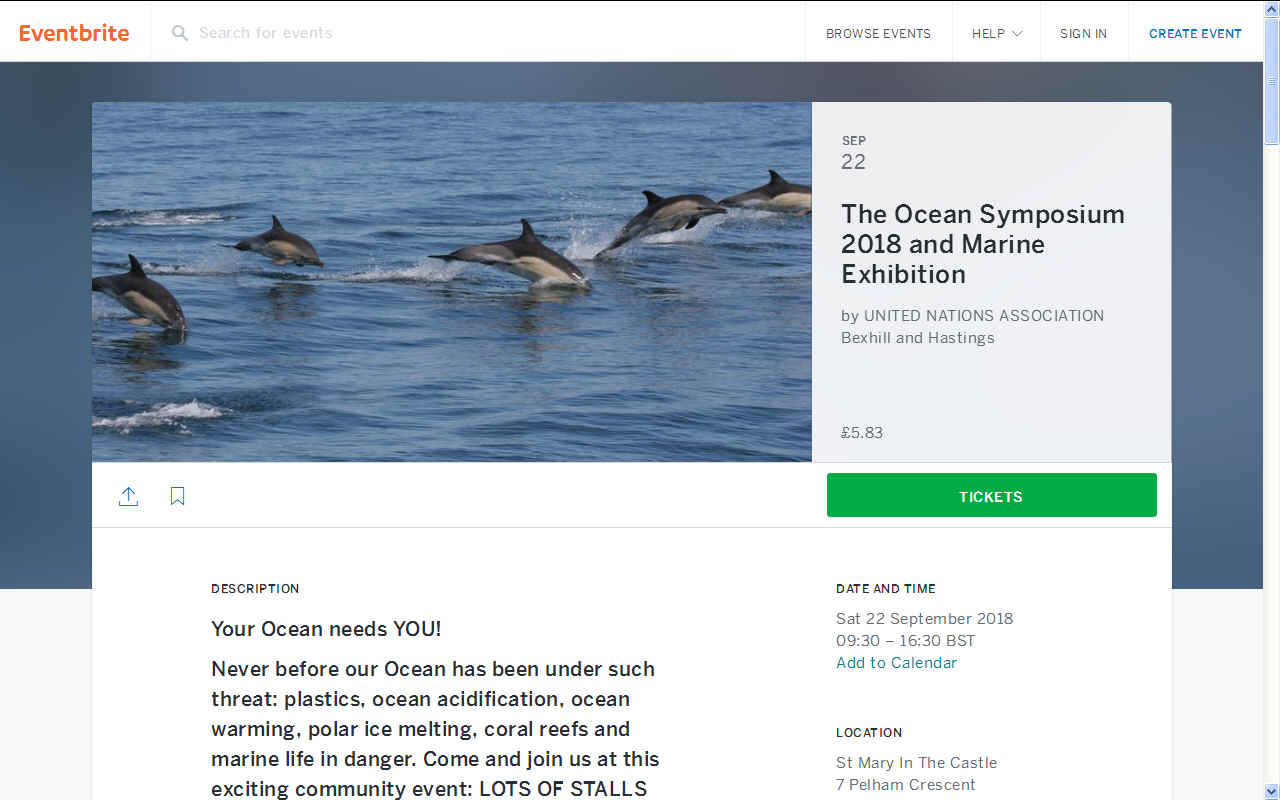 STALL DISPLAYS:
There are two areas for stalls: the Crypt and the Balcony. The crypt is the area through which visitors will arrive and the balcony overlooks the main auditorium.

Crypt stalls are:

- Hastings Fishermen's Protection Society
- Transition Town Hastings
- Guardians of the Deep
- Blue Growth / Sea Vax
- University of Brighton students
Balcony stalls are:

- Plastic Free Pledge 0800
- Strandline Stories 0800
- Natural England 0800
- Marine Conservation Society 0810
- Southern Water 0810
- Rother Voluntary Action 0810
- Sussex Wildlife Trust 0820
- UNA Bexhill & Hastings 0820
- No Plastics Shop 0820
- Sussex IFCA 0830
- Surfers Against Sewage 0830
- Brighton Dolphin Project (awaiting confirmation)
THE OCEAN SYMPOSIUM STEERING GROUP

- Gonzalo J. Alvarez – Marine Biologist - United Nations Association (Co-Chair of the Ocean Symposium)

- Sarah Ward – Marine Biologist - Living Seas Officer, Sussex Wildlife Trust (Co-Chair of the Ocean Symposium)

- Martin Fisher – CEO Rother Voluntary Action

- Dr Tim Ferrero – Senior Specialist for Marine Advocacy, Hampshire and Isle of Wight Wildlife Trust.

- Jan Cutting – Active Communities Lead, Rother Voluntary Action
PARTNERS

United Nations Association Bexhill and Hastings
Sussex Wildlife Trust
Hampshire and Isle of Wight Wildlife Trust
Rother Voluntary Action
Hastings Voluntary Action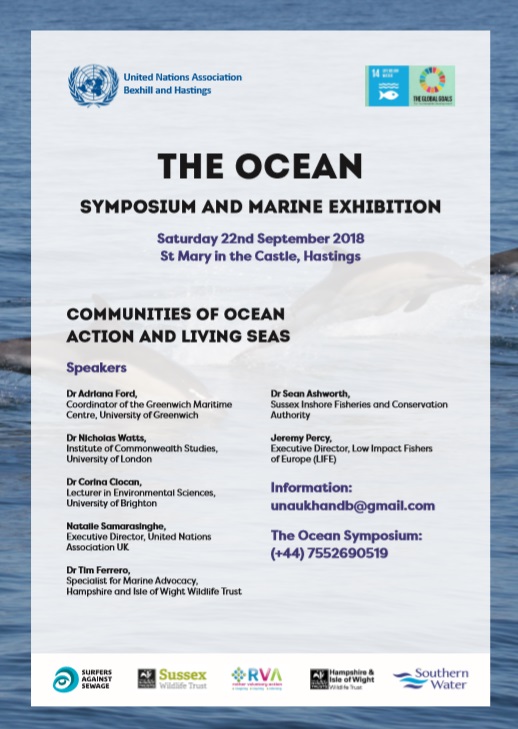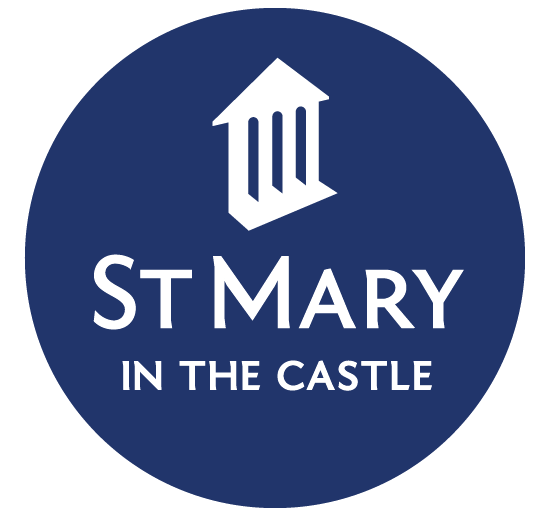 ST MARY IN THE CASTLE CHARITABLE TRUST
7 Pelham Crescent
Hastings
East Sussex
TN34 3AF

Tel: 01424 715880
Email: enquiries@stmaryinthecastle.co.uk
Web: http://stmaryinthecastle.co.uk/
Venue Manager: Sean Berkley
Registered Charity No. 1152523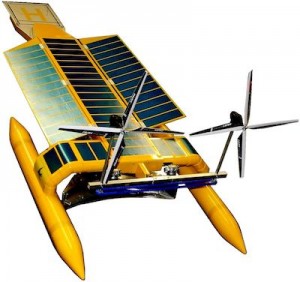 EUROPEAN MARITIME DAY
* Brussels 2008: "A regional approach to the implementation of Maritime Policy"
* Rome 2009: "Integrated Maritime Policy and the contribution of maritime clusters"
* Gijón 2010: "How to foster innovation?"
* Gdansk 2011: "Maritime Policy: Putting People First"
* Gothenburg 2012: "Sustainable Growth from the Oceans, Seas and Coasts"
* Valletta 2013: "Coastal Development and Sustainable Maritime Tourism"
* Bremen 2014: "Innovation driving Blue Growth"
* Piraeus 2015: "Ports and Coasts, Gateways to Maritime Growth"
* Turku 2016: "Investing in blue growth – smart and sustainable solutions"
* Poole 2017: "The Future of our Seas"
* Burgas 2018: Bulgaria "TBA"
* Lisbon 2019: Portugal "TBA"
* Cork 2020: Ireland "TBA"
* Den Helder 2021: The Netherlands "TBA"
* Ravenna 2022: Italy "TBA"
* Brest 2023: France "TBA"
* Svendborg 2024: Denmark "TBA"
LINKS & REFERENCE
http://hastingsonlinetimes.co.uk/hot-topics/the-hot-planet/ocean-symposium-2018-and-marine-exhibition
https://www.eventbrite.co.uk/e/the-ocean-symposium-2018-and-marine-exhibition-tickets-46801977976
http://stmaryinthecastle.co.uk/
http://www.hiwwt.org.uk/
http://hastingsonlinetimes.co.uk/hot-topics/home-ground/facelift-for-st-mary-in-the-castle-shops
http://www.bluemarinefoundation.com/
http://www.un.org/climatechange/
This website is provided on a free basis as a public information service. copyright © Cleaner Oceans Foundation Ltd (COFL) (Company No: 4674774) 2018. Solar Studios, BN271RF, United Kingdom. COFL is a charity without share capital. The names AmphiMax™, RiverVax™ and SeaVax™ are trade names used under license by COF in connection with their 'Feed The World' ocean cleaning sustainability campaign.