KULO LUNA 1/20th SCALE MODEL
ABOUT - AGENTS - CHAPTERS - CHARACTERS - CONTACTS - DONATE - FOUNDATION - FUNDING - HOME - SCRIPTING - WHALING - A-Z INDEX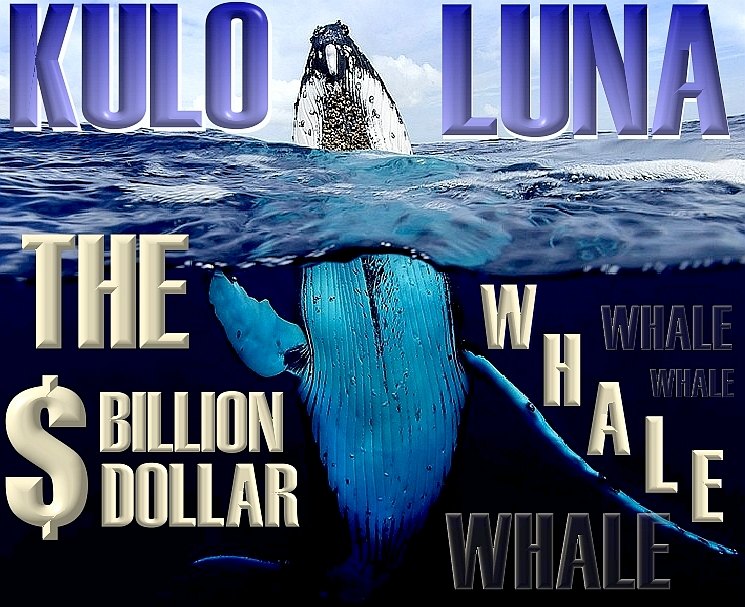 We decided to make a 1/20th scale model of Kulo Luna for use with the Elizabeth Swan at public displays and exhibitions. We used the original artwork, a model to 1/80th scale, to produce a 75cm (30 inch) representation of the leading marine mammal character in the story. And she is a character.
This was a Christmas project to give our crew some much needed light relief after a hard year improving the facilities and further developing the SeaVax ocean cleaning project. This model will be useful for our artists in developing the story
boards and graphic novels featuring a humpback whale.

PRIMER - The 1/20th scale Kulo Luna model is seen here in white and grey primers. Once these have hardened, the whale details will be hand painted. Copyright © Jameson Hunter December 22 2018.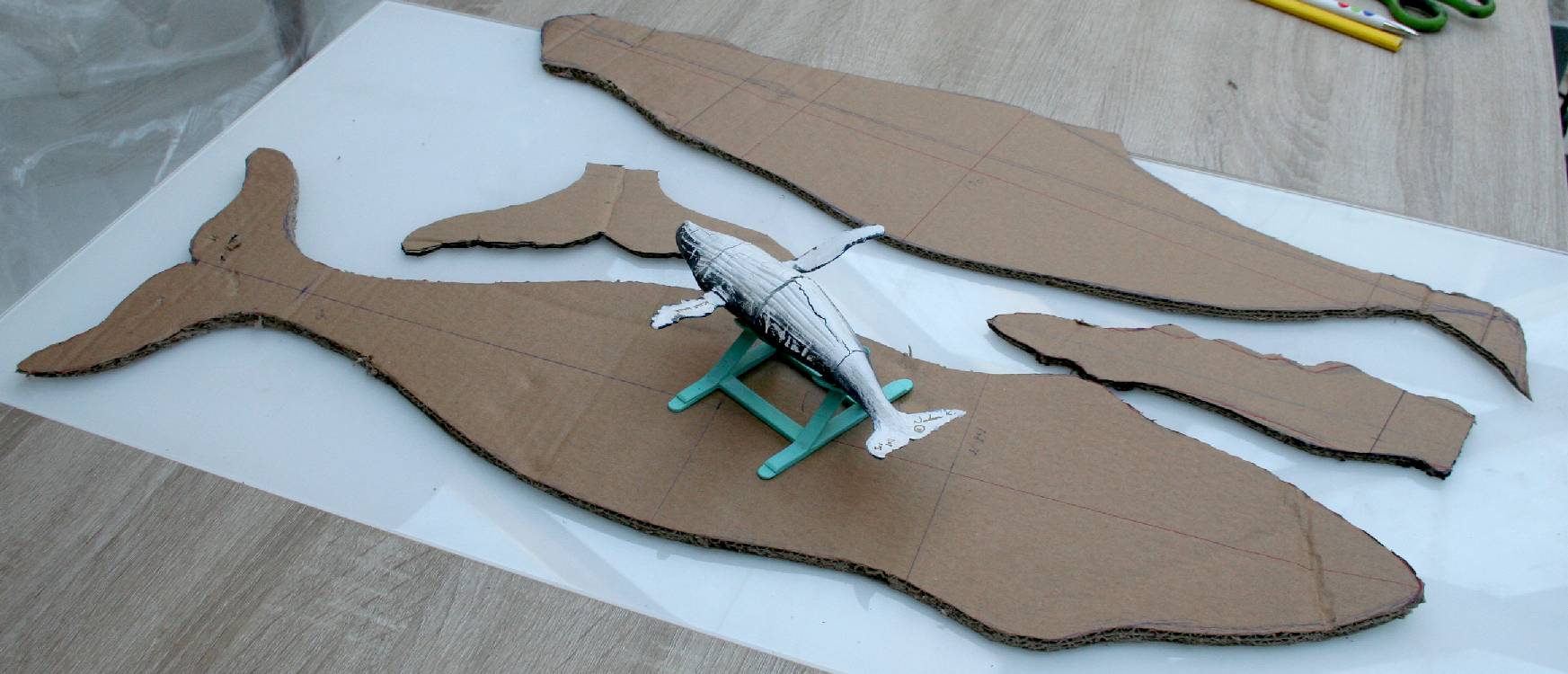 The starting point is an old cardboard box and the original artwork for Kulo Luna, that as you can see has suffered the ravages of time in drying out. The original was made with flour and water mixed with PVA adhesive as an experiment, over cardboard guides. We'd recommend a modelling clay like DAS or FIMO to anyone so as to avoid this phenomenon. The artist had no idea this study would survive for so long or be used as a reference some nine years later. Some commercial clays today can be fired to stabilize them. DAS is air drying while FIMO needs to be oven baked. Copyright © Jameson Hunter November 30 2018.

The cardboard templates are converted to plywood, cut so as to slot together to give plan and side elevations relative to each other. The same construction method was used for the Ocean Angel, except that the Angel was much larger, meaning that there had to be structural mounting points built in. At this scale we do not have those worries. Copyright © Jameson Hunter November 30 2018.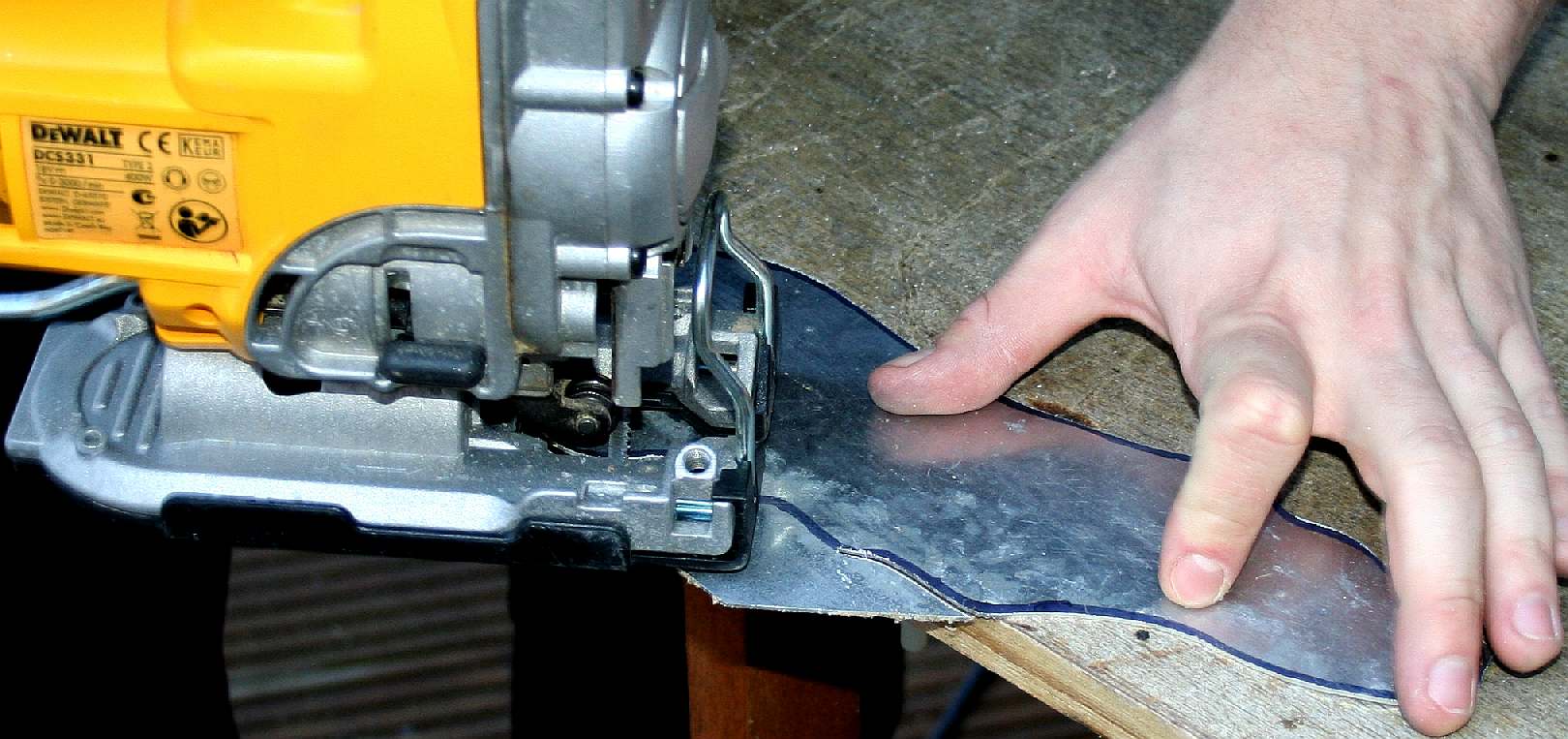 A DeWalt jigsaw made light work of cutting the aluminium sheet metal to be used for the whale's fins. A junior conservationist was learning how to use hand tools, though more used to dealing with poachers in Africa, than helping with ocean awareness in the UK. Copyright © Jameson Hunter November 30 2018.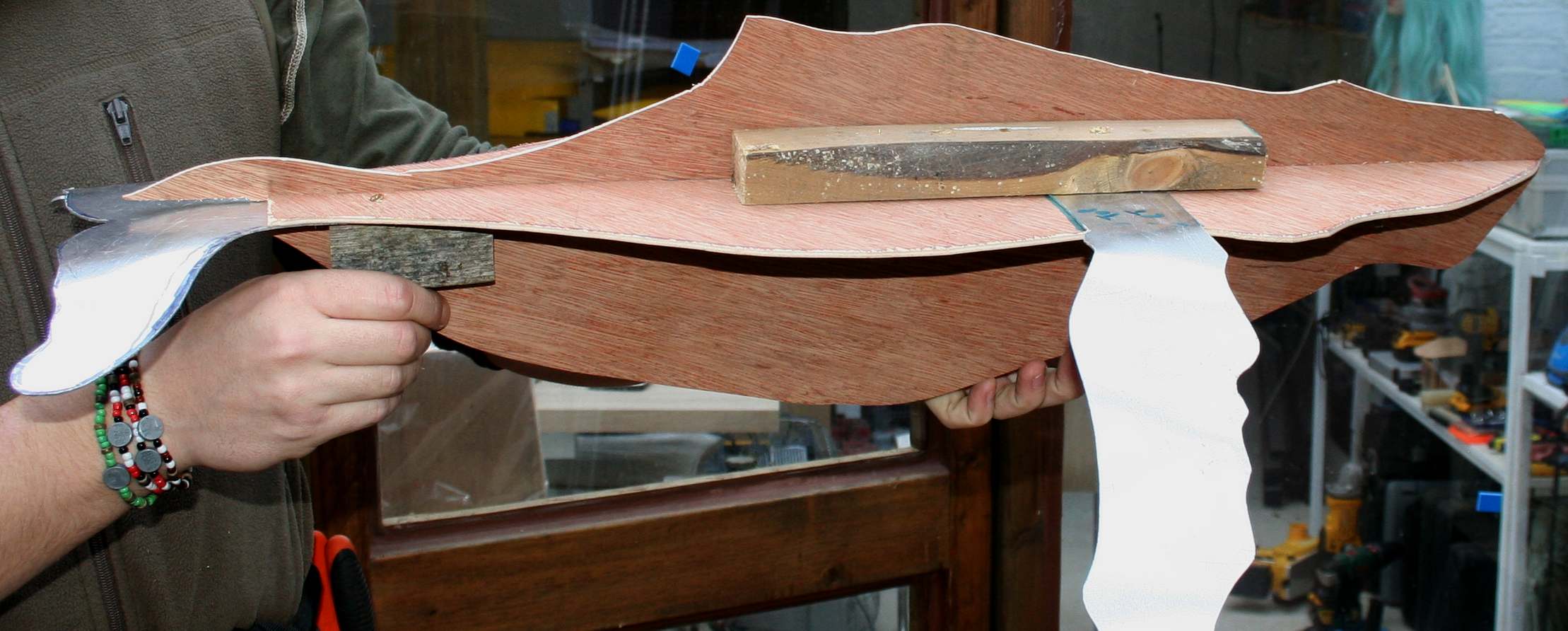 The assembly is screwed together with timber to lock the templates at ninety degrees to one another. It would be a simple matter to motorize and radio control this static model. We won't have the time for that. Copyright © Jameson Hunter November 30 2018.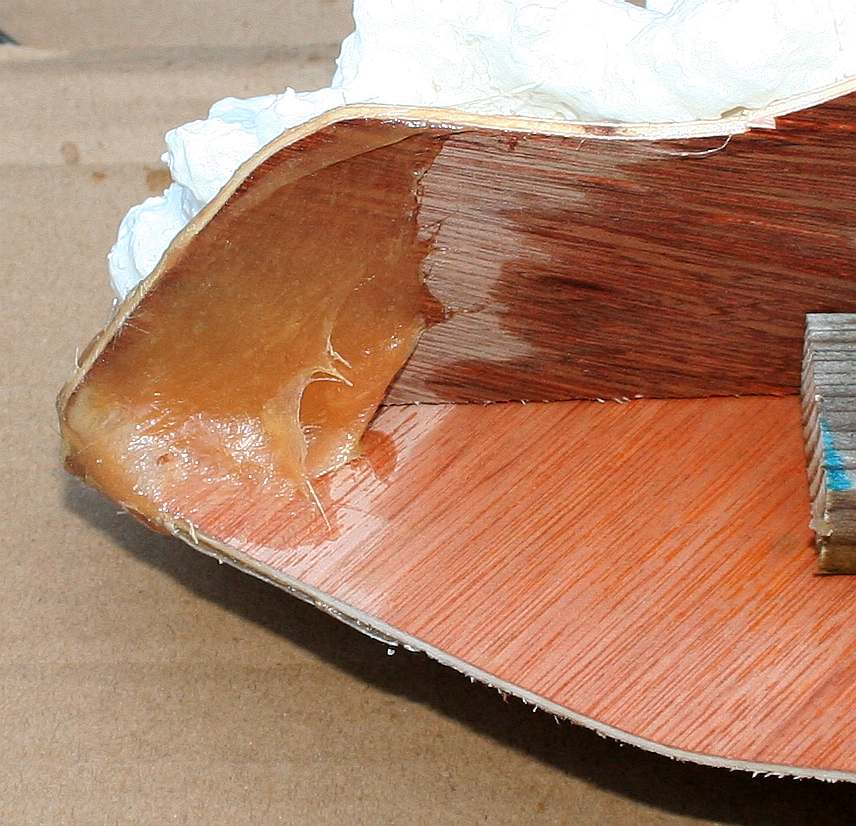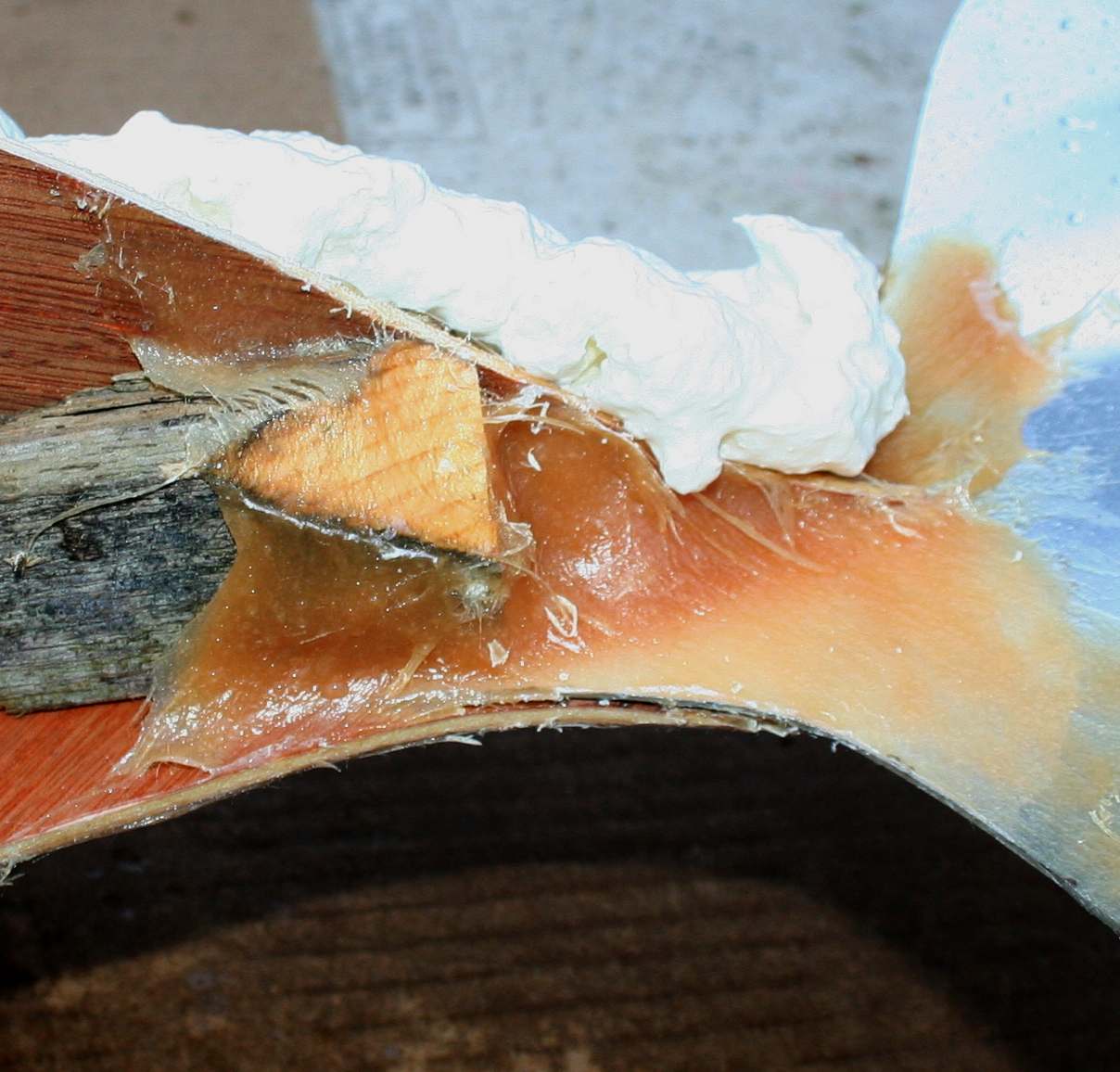 The plywood was reinforced at the nose and tail ends with fibreglass paste to be able to absorb impacts, should the whale be dropped or handled roughly. GRP paste is quick setting and strong. You can carve and sand after about 15 minutes. Copyright © Jameson Hunter November 30 2018.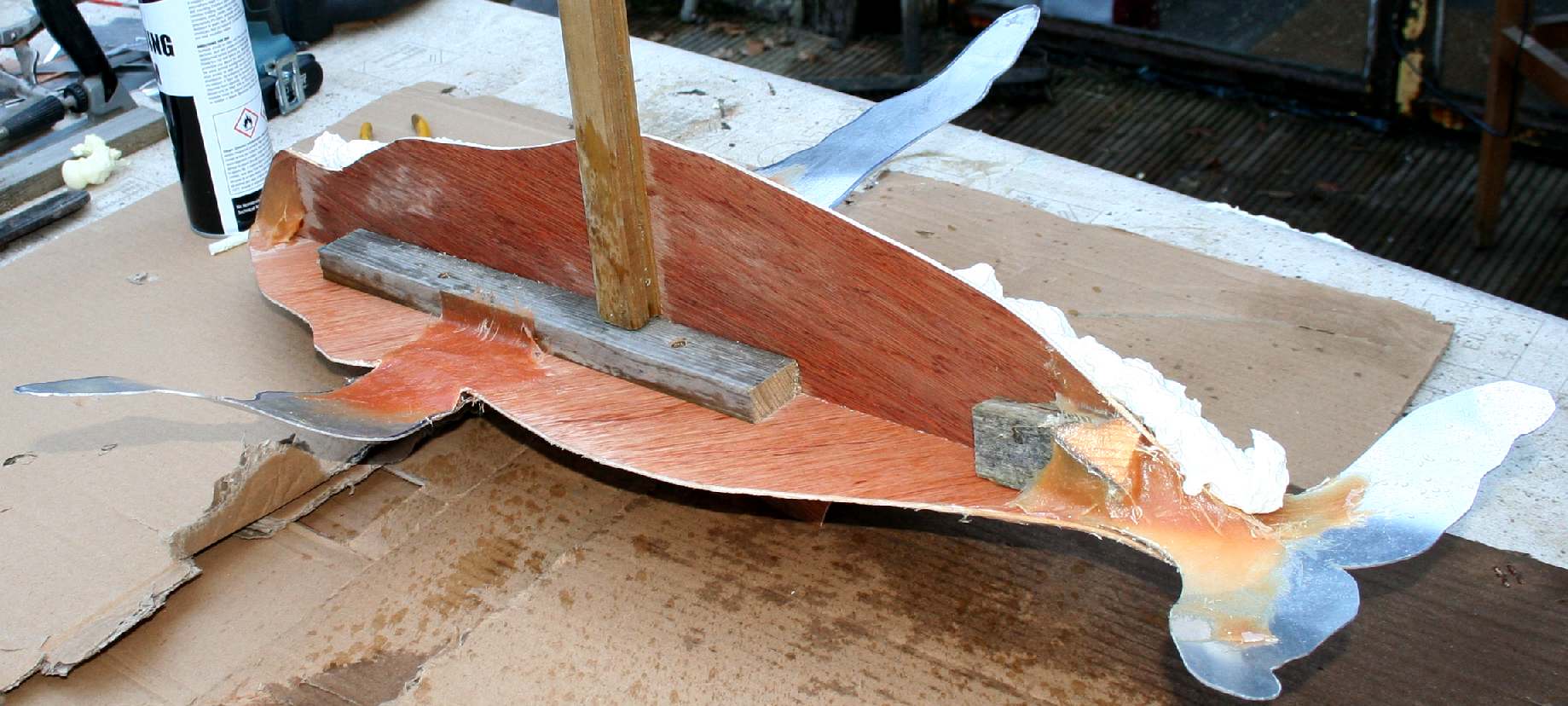 The whale's fins are reinforced with GRP paste and polyurethane foam applied that will be shaped, before being coated in glass matt and polyester resin to form a permanent skin that is very tough. Copyright © Jameson Hunter November 30 2018.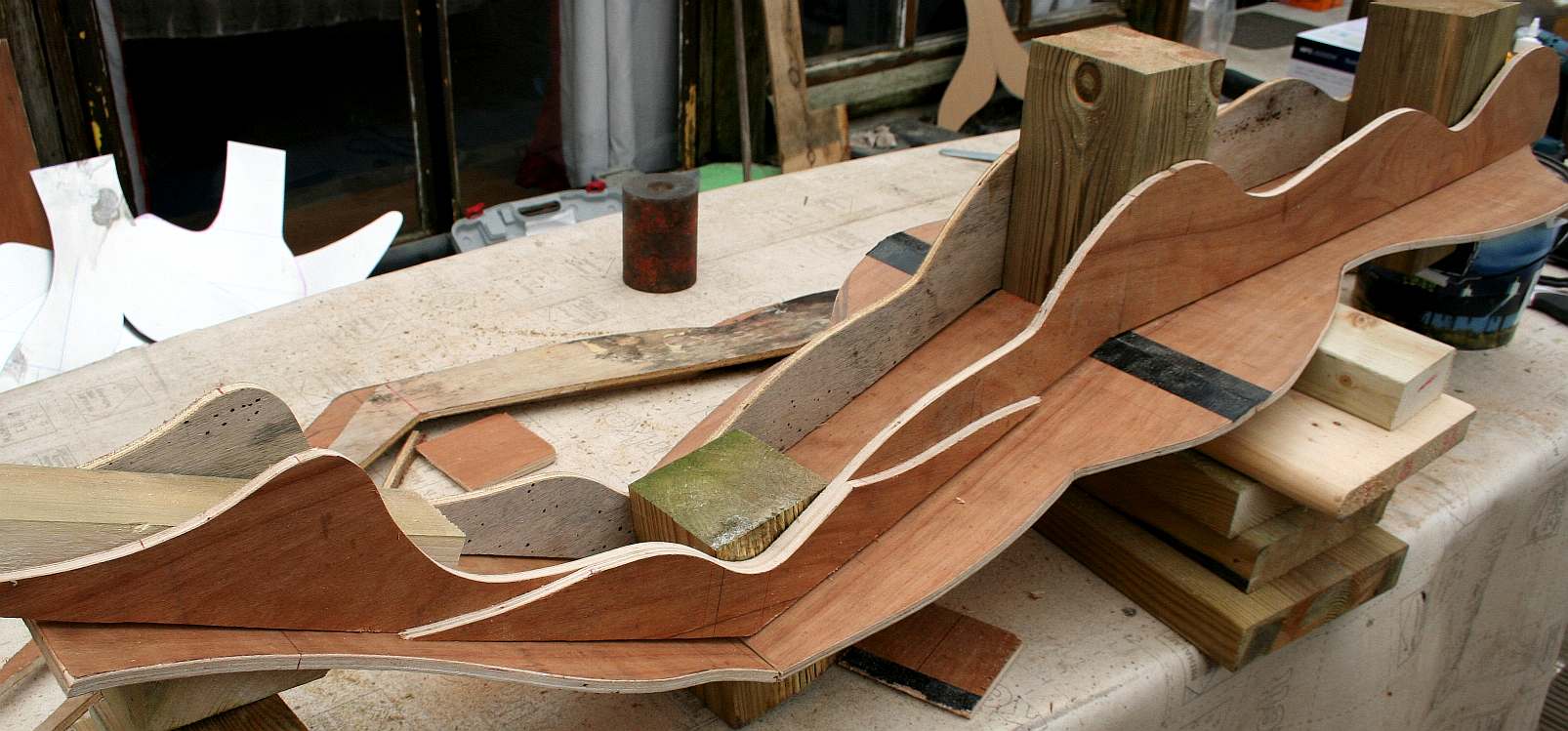 FIGUREHEAD - Using the same construction method, a 3 meter statue was made to double as a water feature and the figurehead of the Foundation's vessel projects, such as SeaVax and the Elizabeth Swan. We could build in flexible joints for moving displays, known as animatronics. Animatronics is a branch of robotics that breathes life into static displays such as moving dinosaurs in theme parks.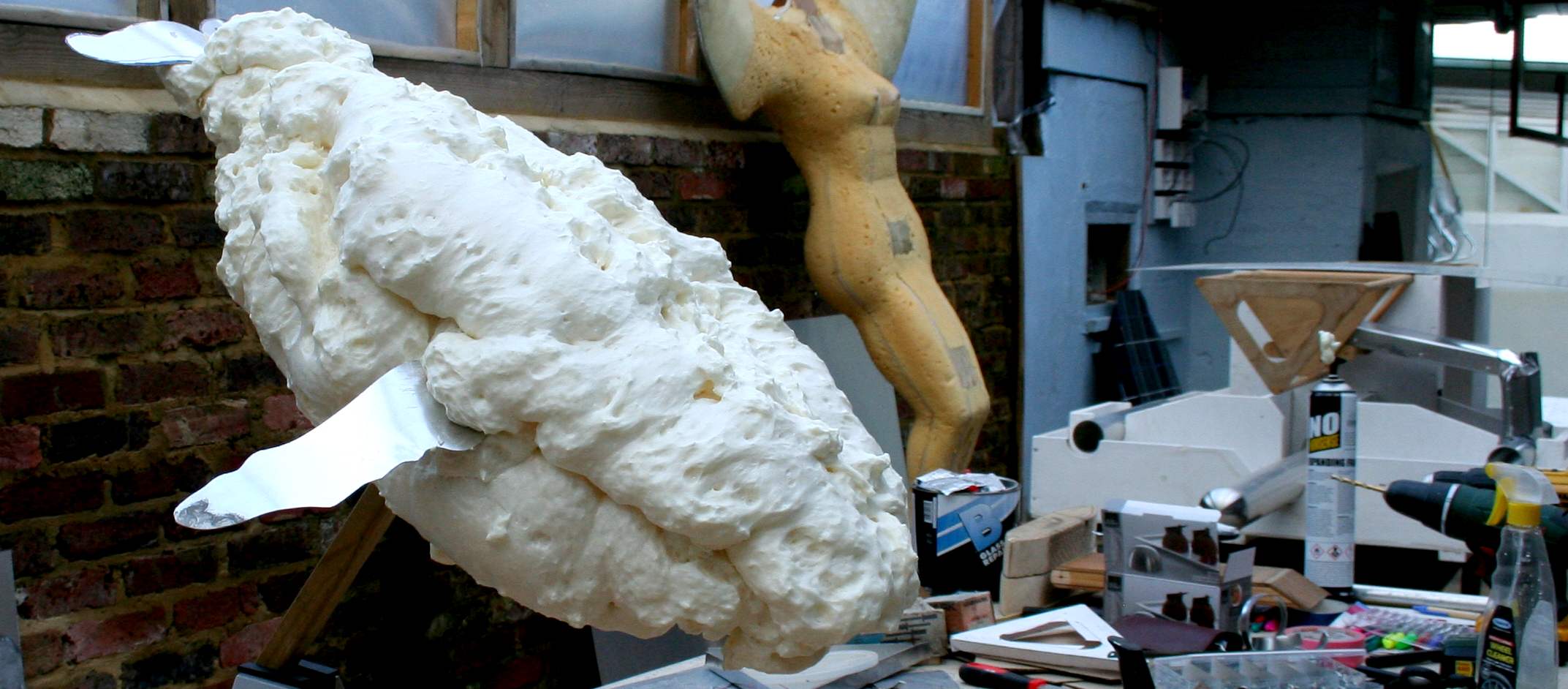 This is what Kulo Luna looked like with the polyurethane foam fully expanded before sculpting. In the background you can see the Ocean Angel and the Elizabeth Swann model boat under construction. The Ocean Angel is full size, crafted to be a water feature at Solar House, and to double as the figurehead for the Swann. The Swann model is also 1/20th scale. Copyright © Jameson Hunter November 30 2018.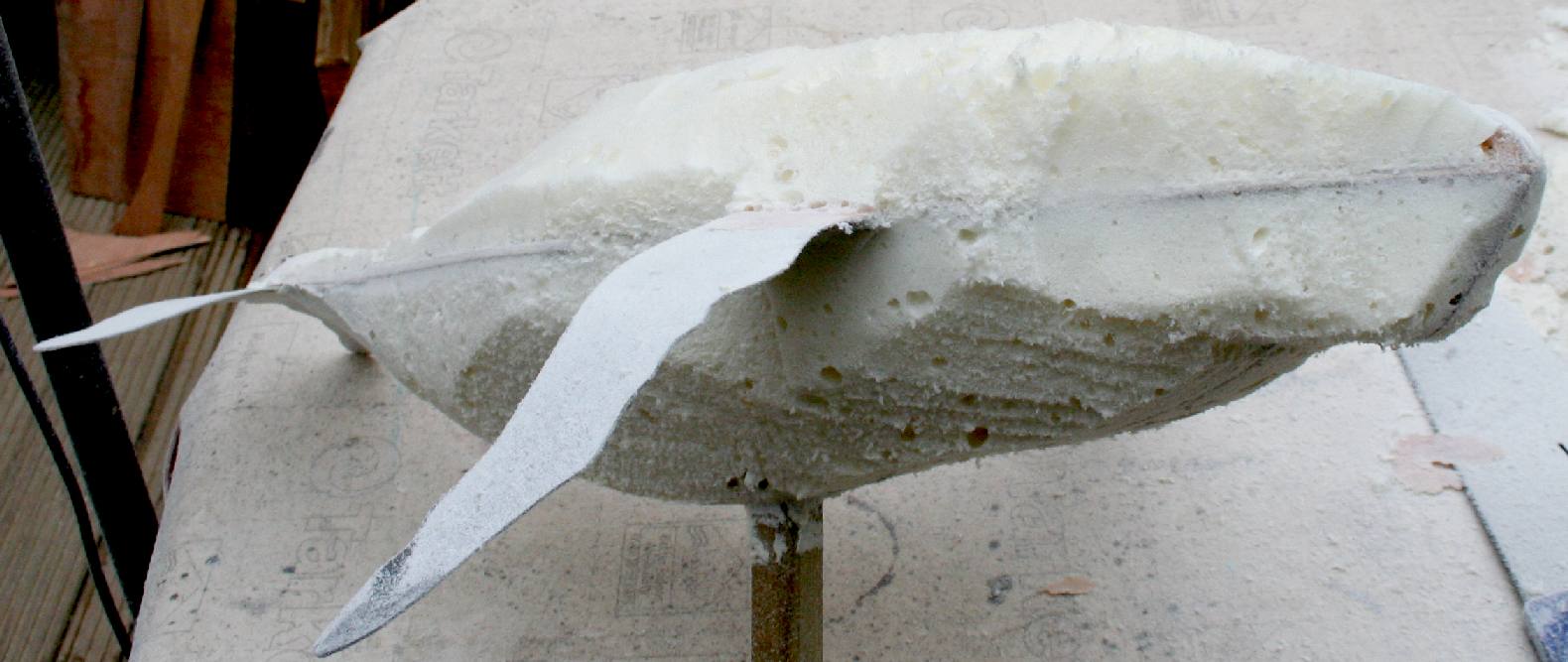 An ordinary wood saw makes light work of the initial shaping from the cured foam block. Copyright © Jameson Hunter December 1 2018.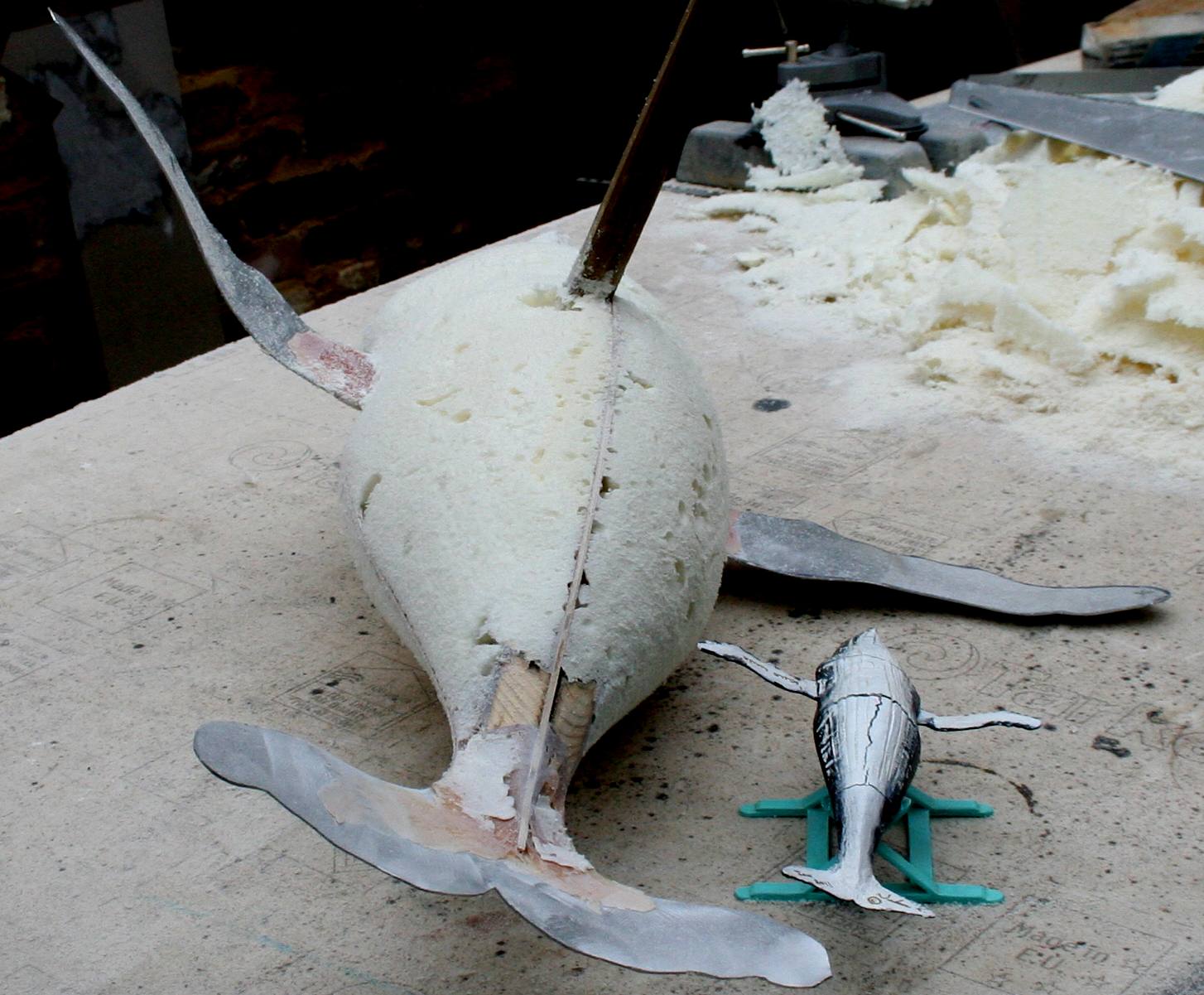 Using sharp 40 grit paper over wooden blocks, this is what the foam core looked like on the run up to Christmas. Copyright © Jameson Hunter December 1 2018.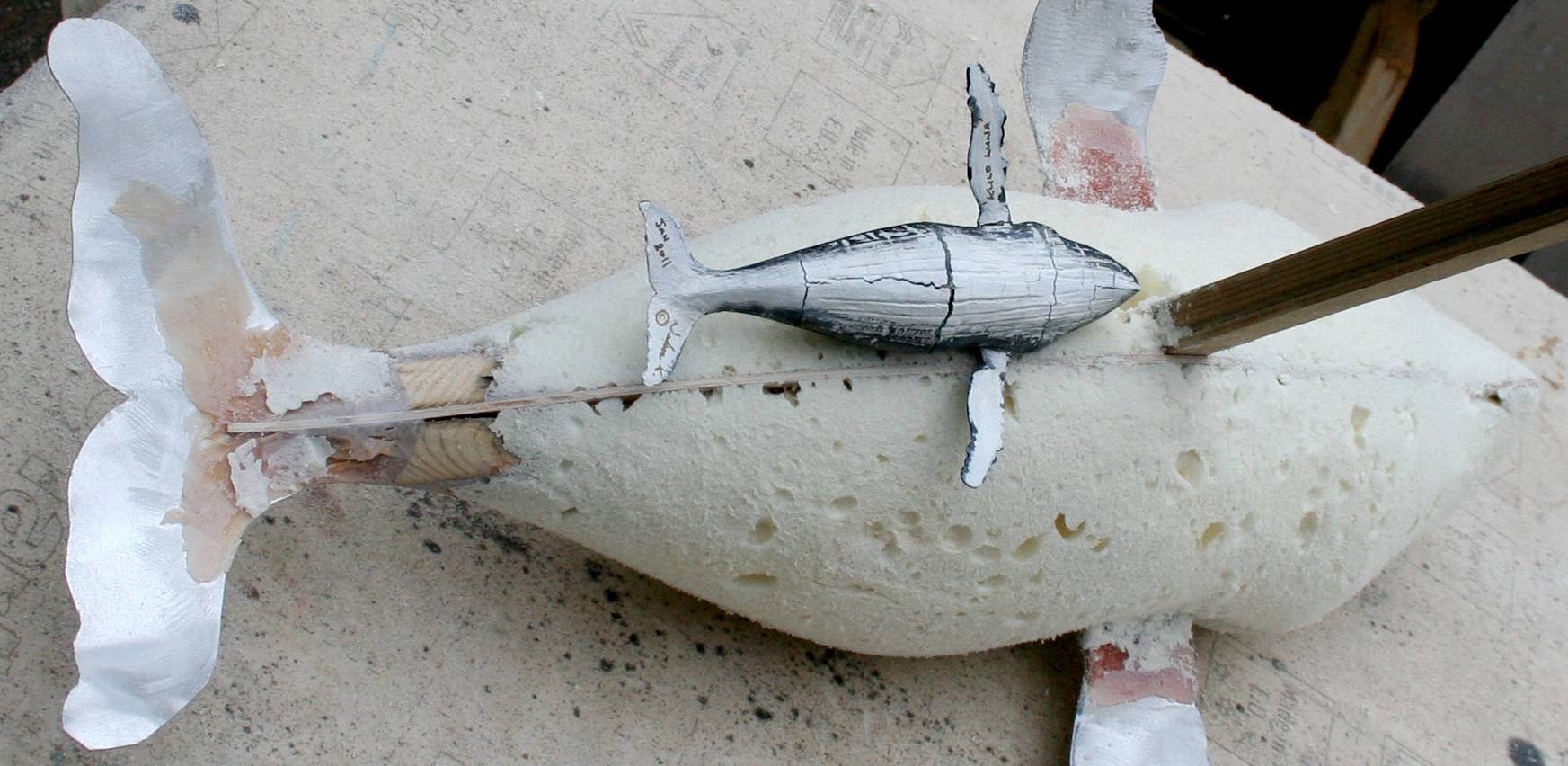 Mum and baby, the two artworks could be representative of a whale calf and its mother. Copyright © Jameson Hunter December 1 2018.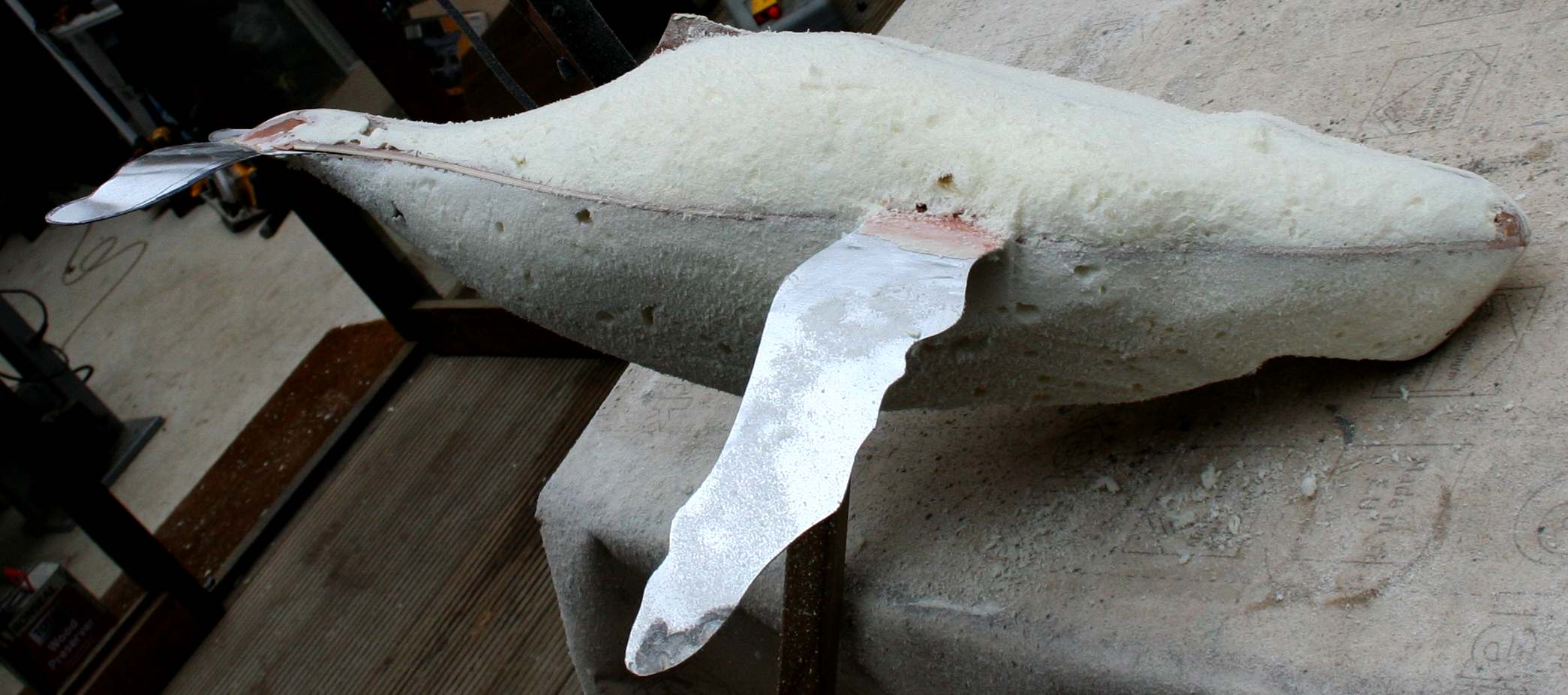 Still in need of more shaping, but you can see the whale coming to life. The alloy fins need more shape before reinforcing with fibreglass. The foam core will be covered in GRP and modelling putty or polyester filler paste to get the ridges on the underside of the giant cetacean looking authentic. Copyright © Jameson Hunter December 1 2018.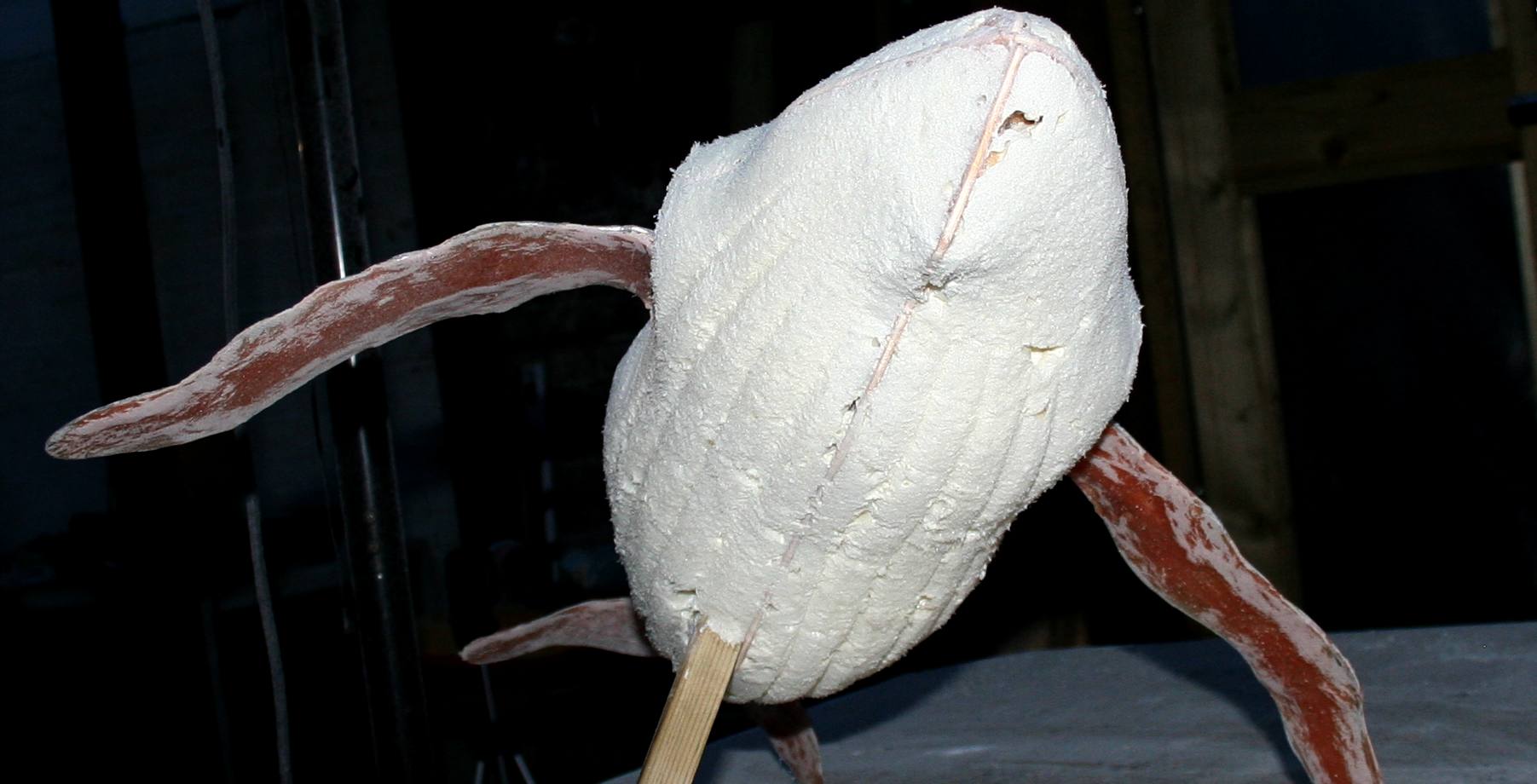 RIBS - As with some other whales, humpbacks have distinctive ridges on their undersides. These are included in the foam in rough for later detailing after the outer GRP skin is applied. We are using ADX40 resin for this procedure just in case we decide to use the whale in tank tests - and also because we had some on the premises. Copyright © Jameson Hunter December 3 2018.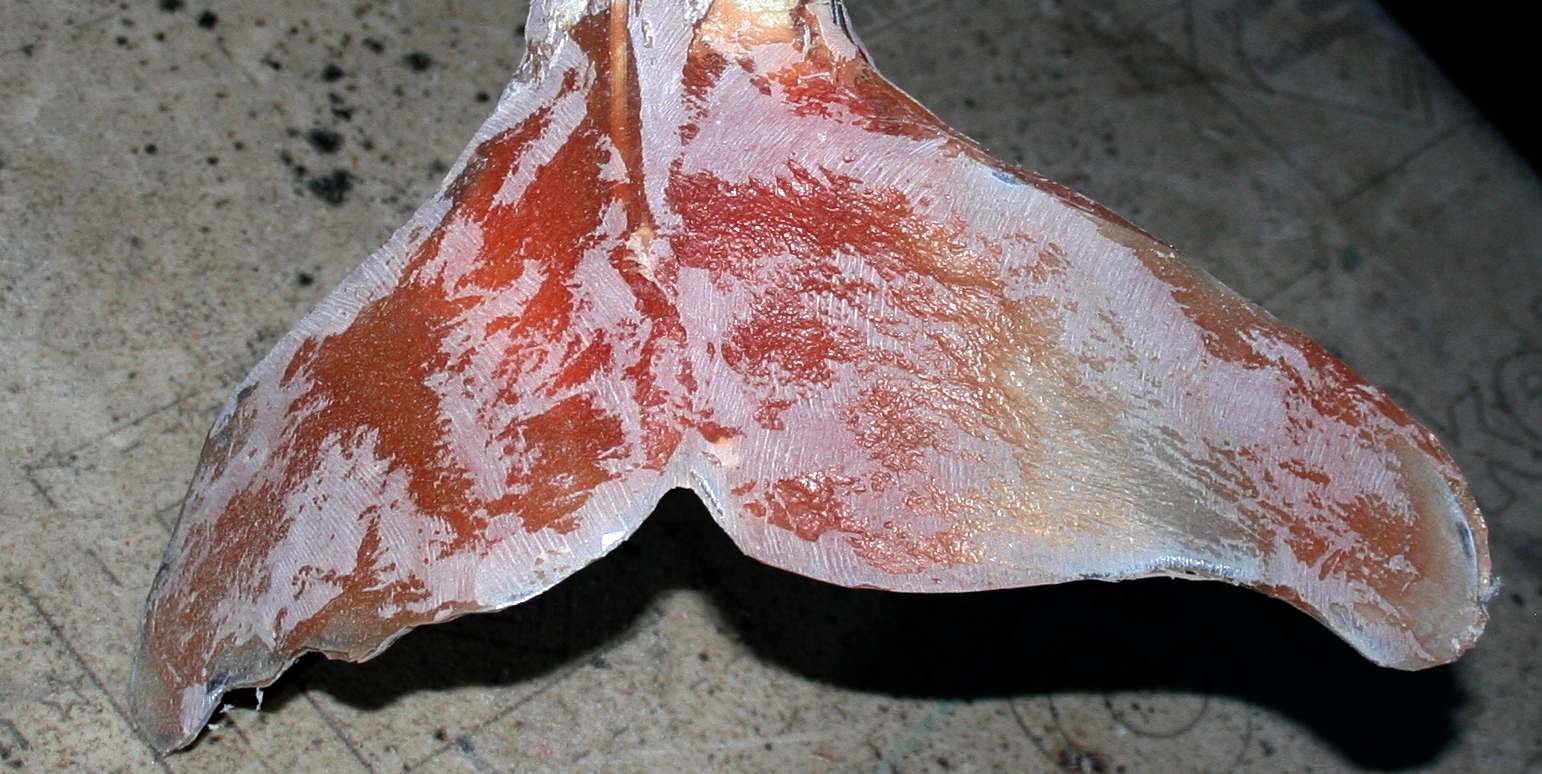 FLUKES - The tailfins or flukes of the whale are reinforced with fibreglass filler paste. Before laminating preparations like this, be sure to key the aluminium or the GRP will not adhere properly. The flukes will receive another layer of polyester resin and glass matt for final shaping and then painting. See below. We may try out a modelers airbrush for this task. Copyright © Jameson Hunter December 3 2018.

Kulo Luna is beginning to take shape. Polyurethane foam is not fine enough to carve small details, it is though more than adequate as the former for larger works and once coated with a structural shell, you can use modelling clays or polyester paste to carve details like eyes and blowholes. Copyright © Jameson Hunter December 3 2018.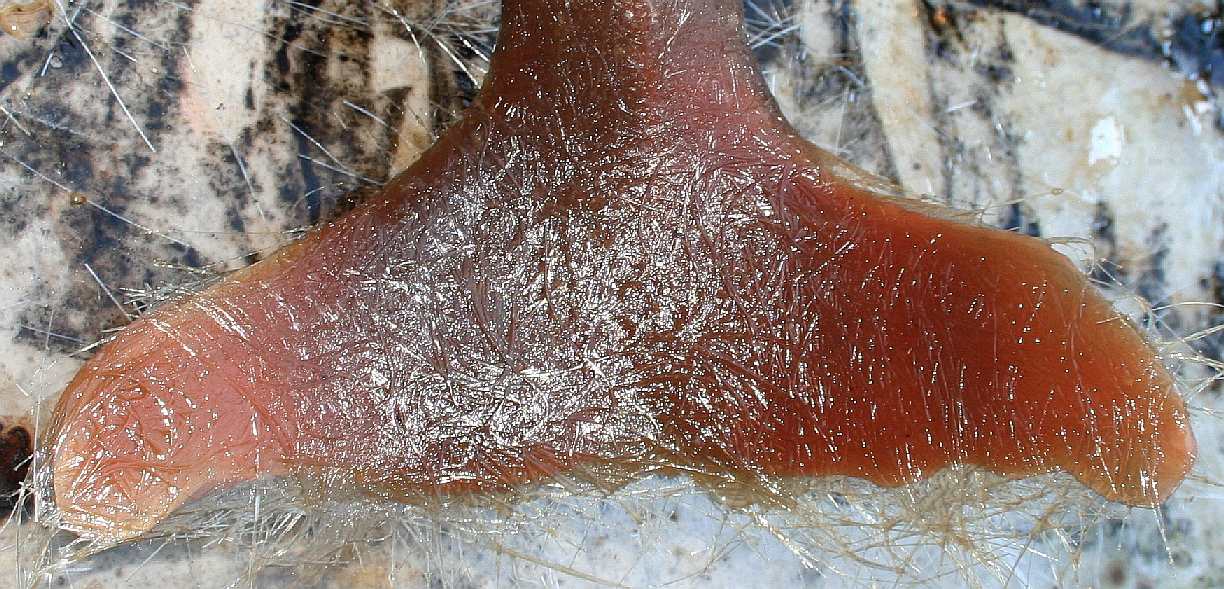 Coarse chopped strand matt of 600 grams weight per square meter was used. A little on the heavy side for this size model, but weight is not an issue. It's an insurance against being dropped and roughly handled during exhibitions. Copyright © Jameson Hunter December 9 2018.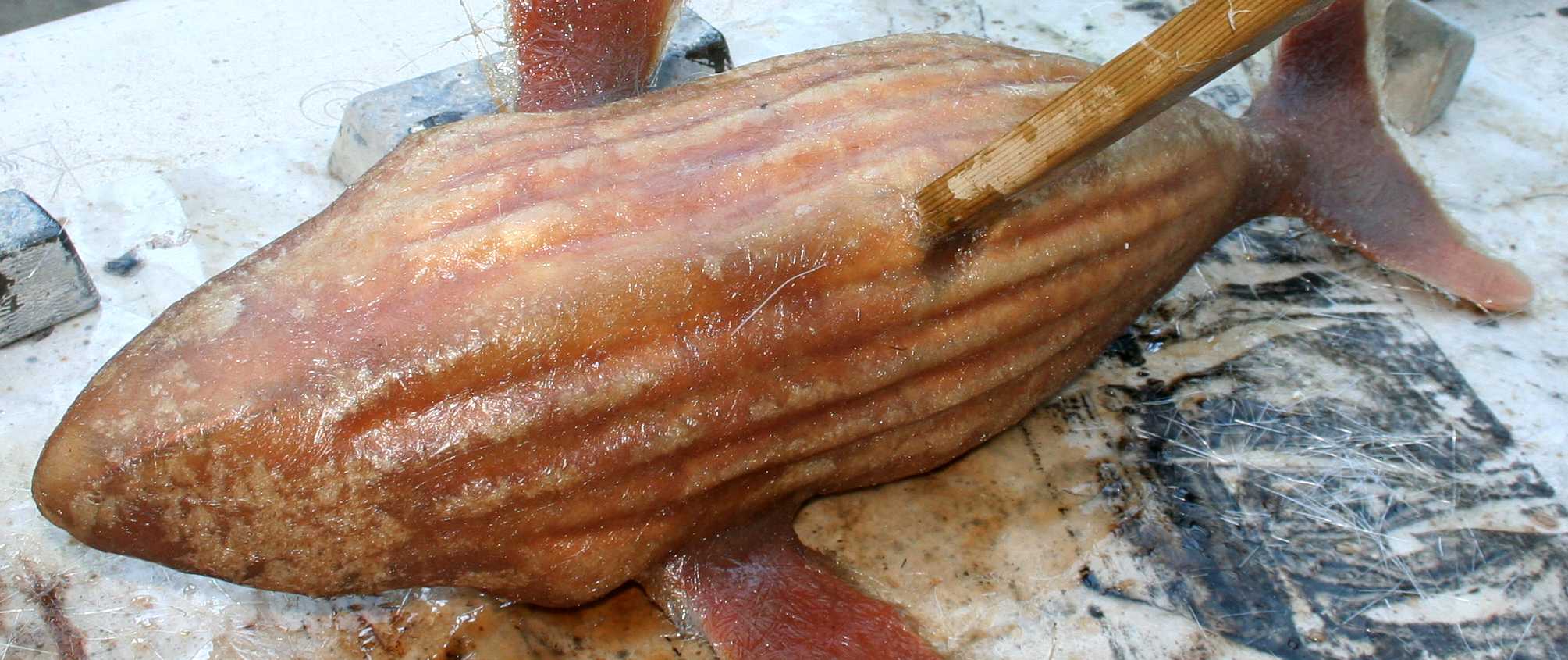 RIBS - Working over a polyurethane honeycomb with multiple air spaces is not easy. The procedure was to wet out the polyurethane, apply the chopped matt and wet again, then roll out and deep roll into the grooves. It would never be perfect, but that is where the surface finishing comes in. This is after all artwork, rather than an engineering mould. The artist can carve and grind out anything that does not look right. For that we'd be using polyester resin based paste, as used for car body repairs. A good brand is Upol's 'Fantastic.' Make sure you have a fresh batch and thin to be able to brush it on, rather than apply with a spatula. When making the famous Jaws shark, nicknamed 'Bruce,' the Universal film company special effects department mixed paint with chopped walnuts, sand and dust to simulate shark skin. You have to experiment to get what you are looking for. Copyright © Jameson Hunter December 9 2018.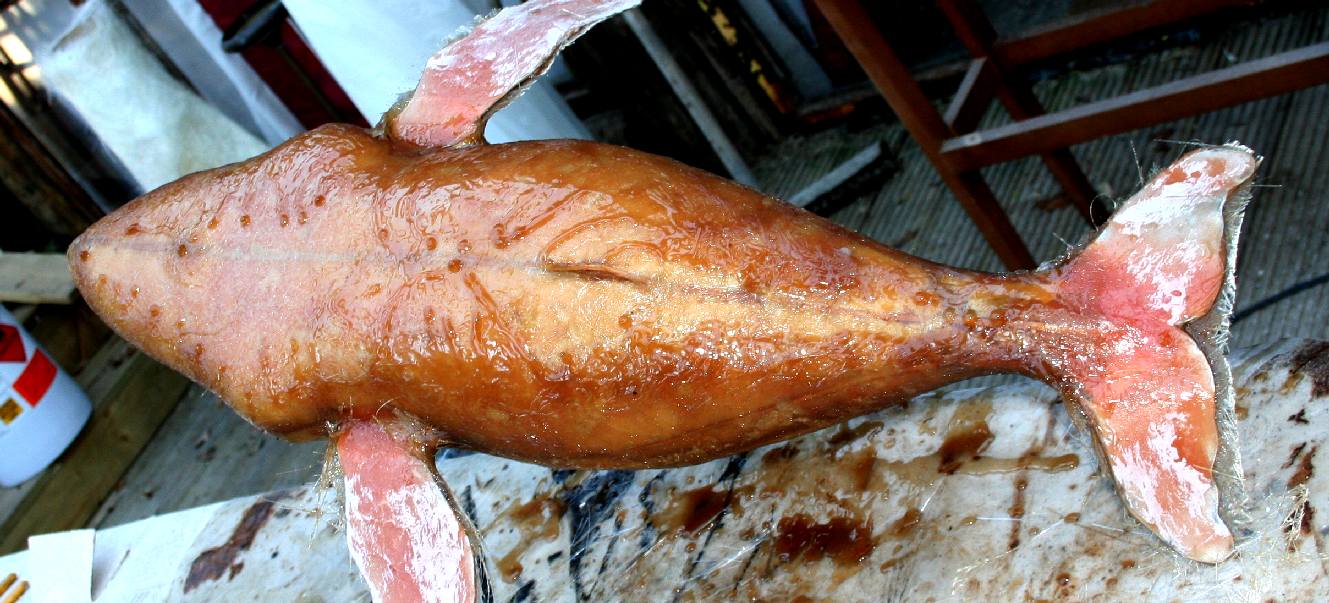 Encapsulation is almost complete in this photograph. Kulo Luna is a very large and athletic humpback whale. That is why she is able to sink a small whaling vessel. That coupled with the poor state of repair of the Japanese boat, makes her impossible victory happen. In real life a large sperm whale managed to sink a whaling boat at the height of the whaling bonanza that almost brought the whale population to extinction. Kulo Luna is the story of a whale that fights back, making a lot of human friends in the process and starting an whale awareness betting spree the likes of not seen, even in the days of Seabiscuit. Copyright © Jameson Hunter December 9 2018.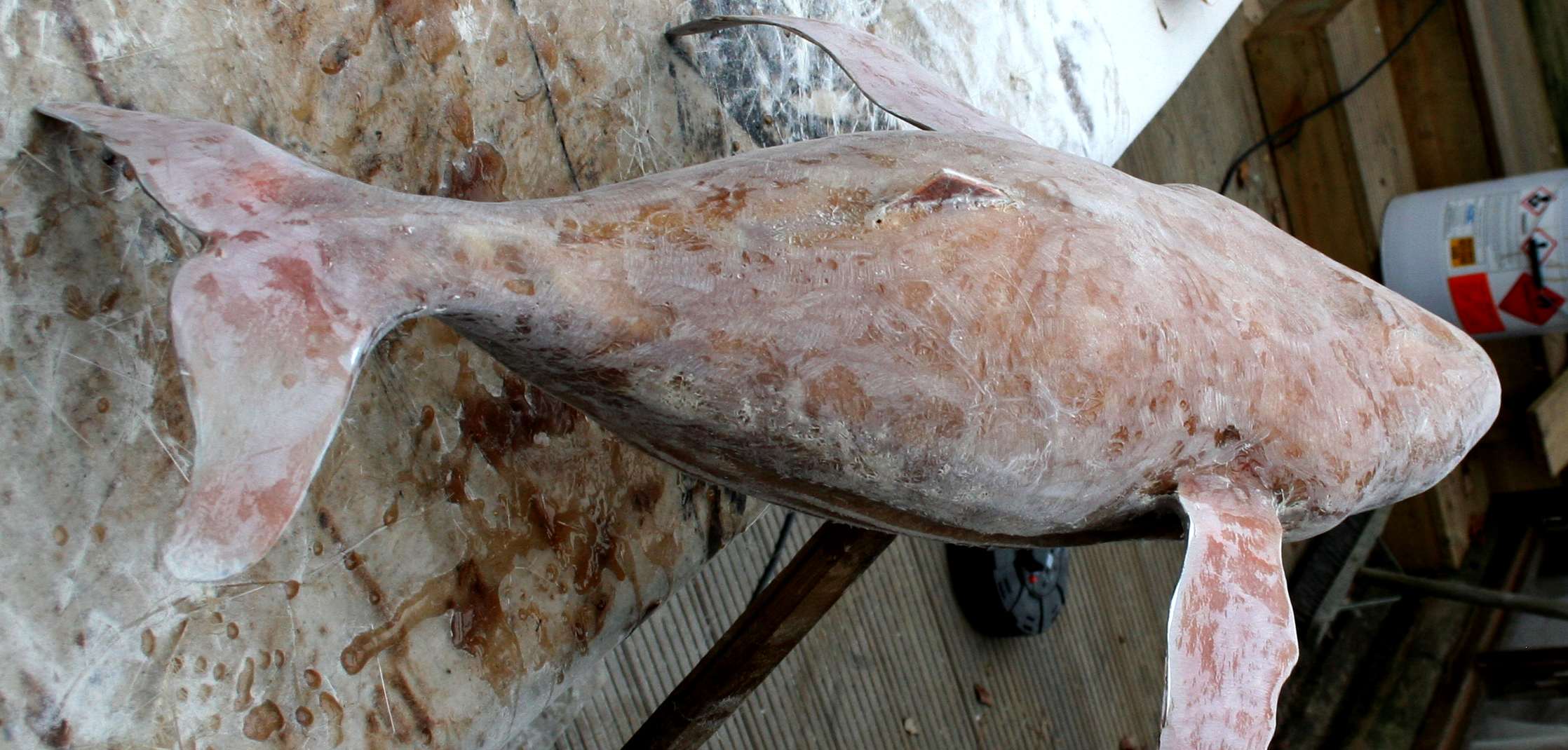 The fibreglass is sanded down to remove resin drips and glass fibres that protrude over the edges of the fins. The best way to do this safely is to use an angle grinder with a zirconium flap-disc. But, you have to be careful, this combination cuts through resin like a knife through butter. For the less feint hearted, use production paper on a sanding block. Copyright © Jameson Hunter December 11 2018.

The ridges on the underside of the whale model will need to be filled with a suitable compound to cover the glass strands sufficiently to be able to obtain a smooth surface for painting. All the rough edges were also smoothed by hand with 60 and 120 grit production paper. 240 grit will follow priming with polyester putty, that you have to make yourself. There is nothing like this on the market. The details will need to be shaped by hand. Copyright © Jameson Hunter December 11 2018.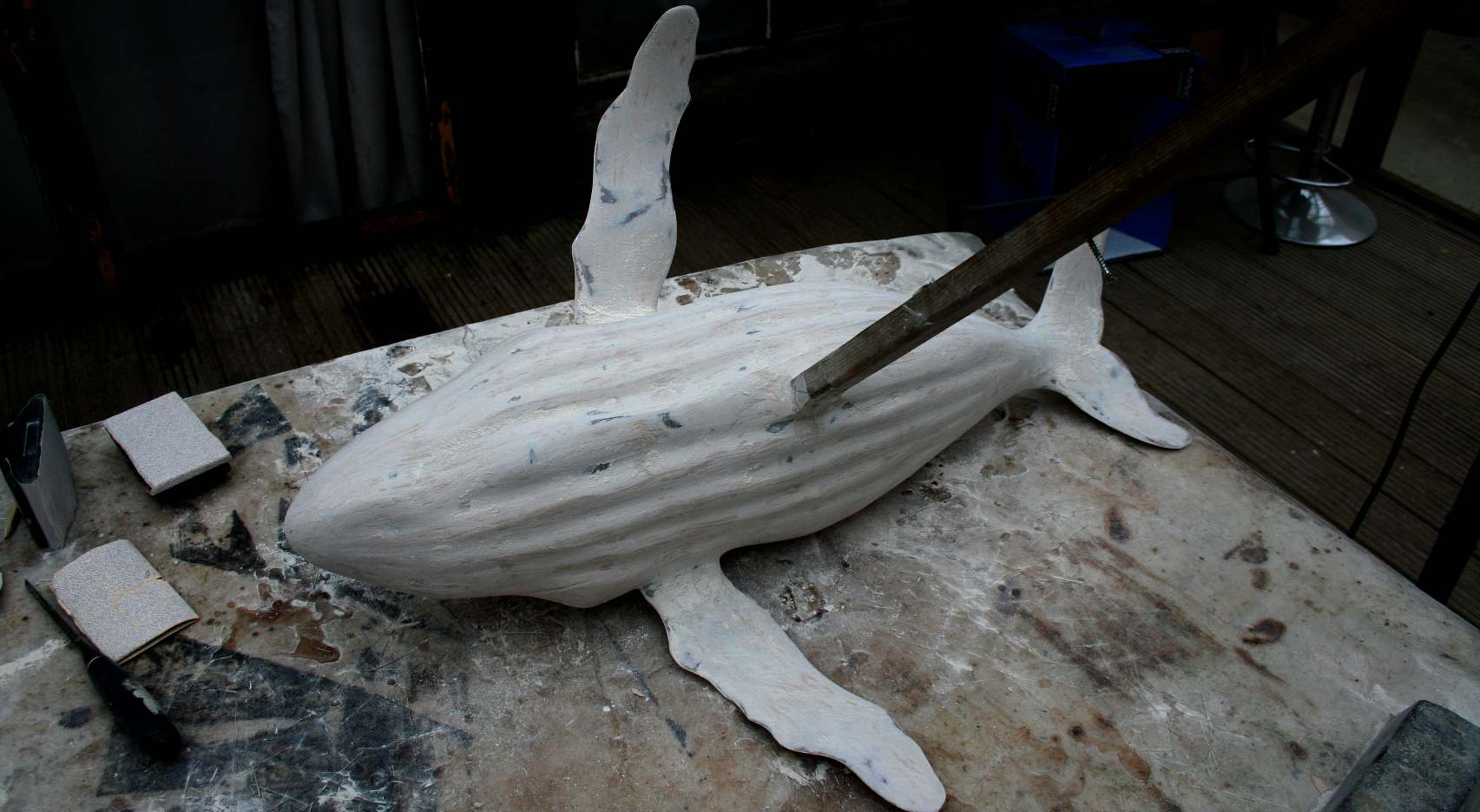 We found that epoxy putty was too difficult to shape over such a large area. The cure for this was to make our own version based on polyester resin that can be made to cure much quicker and to be flexible. We made this putty/primer of a suitable consistency to be brush applied and loved the results. We could use such a system when making larger models for our ocean awareness campaigns. We are thinking of a great white shark, dolphins and more. Copyright © Jameson Hunter December 16 2018.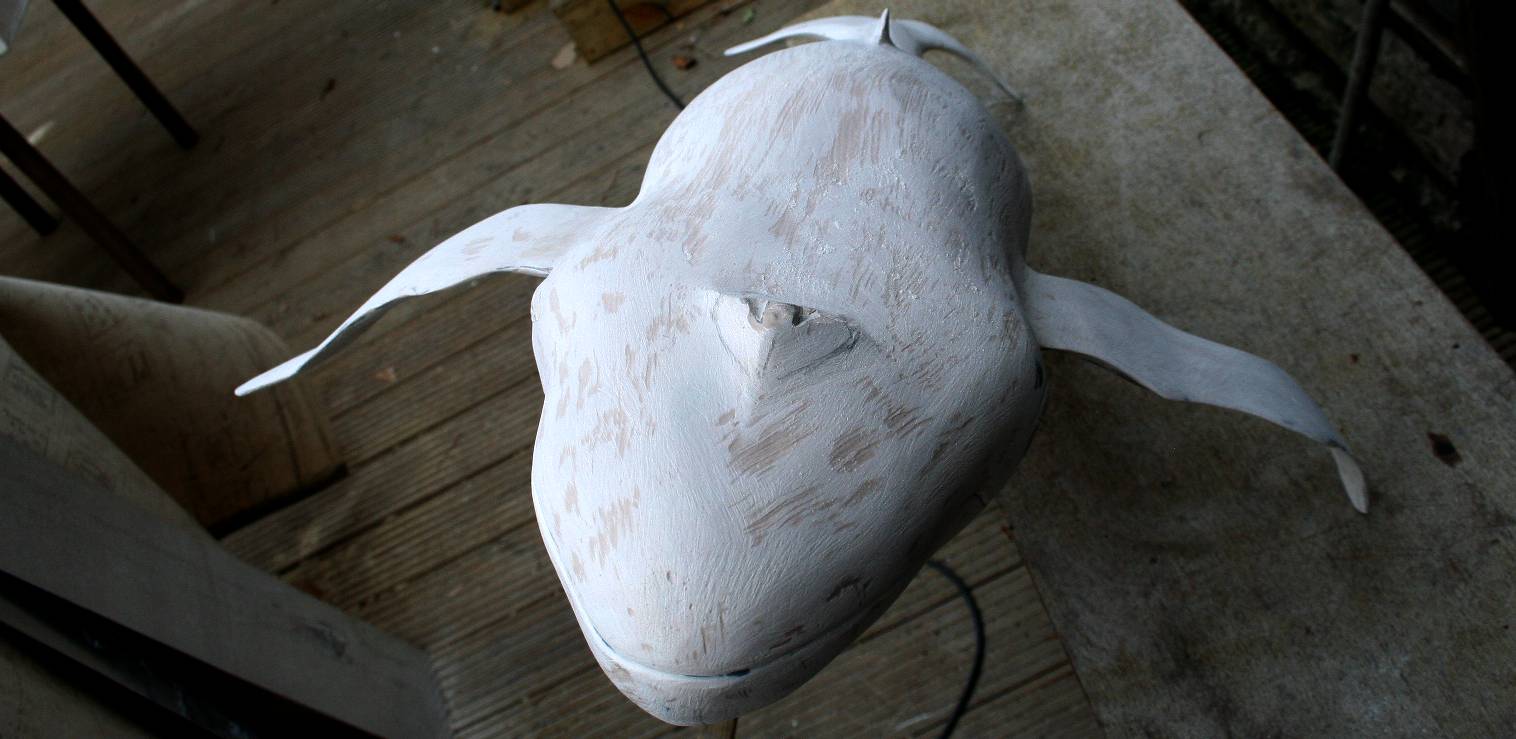 Start of the blowhole or nose of the whale. The evolutionary process has moved the nostrils of this mammal to a more suitable location for effortless ocean cruising. Other examples of fish evolving to move body parts are bottom feeders such as sole and plaice where the eye from the other side of the head has migrated to meet its opposite, thus enabling the fish to swim flat on the seabed and maintain stereoscopic vision. Copyright © Jameson Hunter December 16 2018.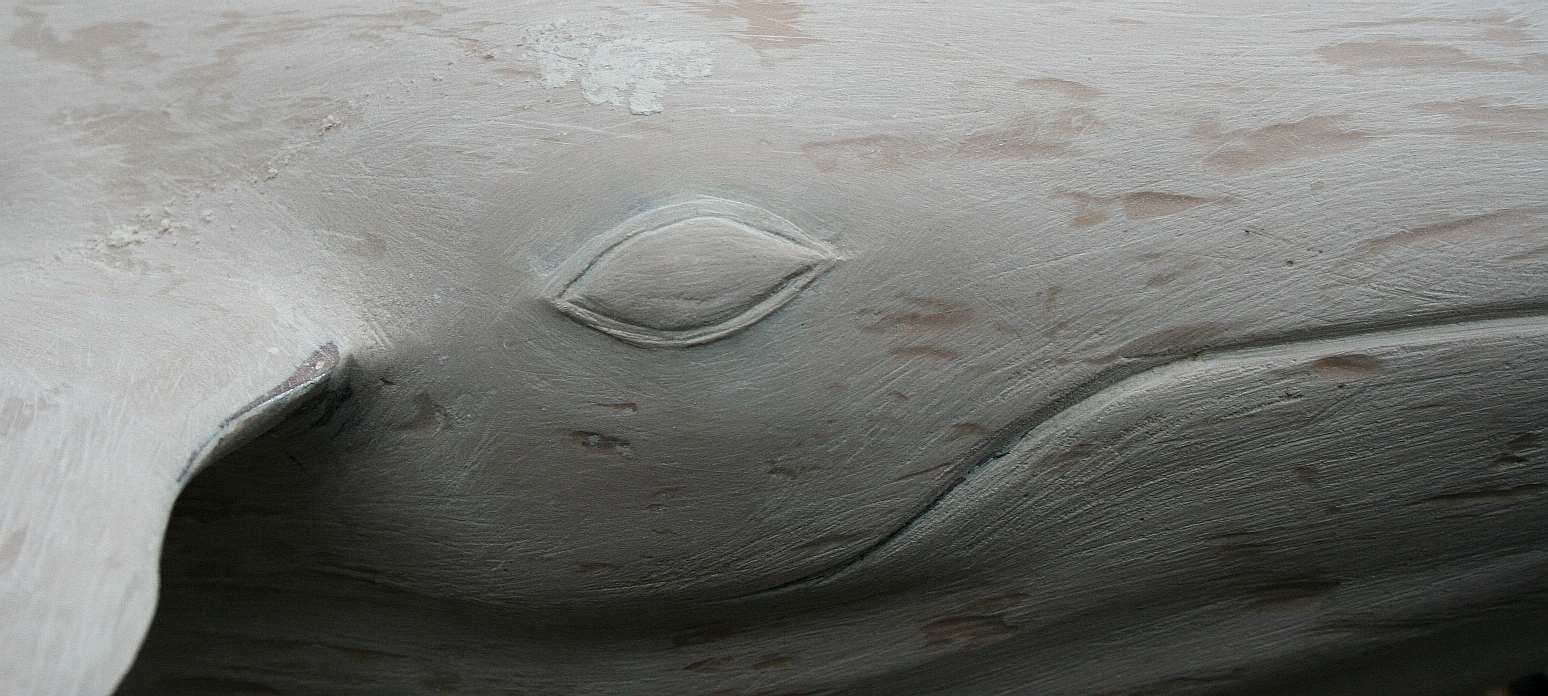 The start of the eye detailing. Whales have eyes but also use echo location. Baleen feeders like humpbacks work in teams to capture small fish in bubble curtains as they rise up to scoop a mouthful of food. Copyright © Jameson Hunter December 16 2018.

Humpback whale pens with a built in LED torch and a soft tip for your smartphone. These beautiful writing instruments are to complement our ocean awareness efforts and help us raise funds to get a well written script for a Kulo Luna film proposal. They will be available in royal navy and ocean blue colours as per these samples. Copyright © Jameson Hunter December 16 2018.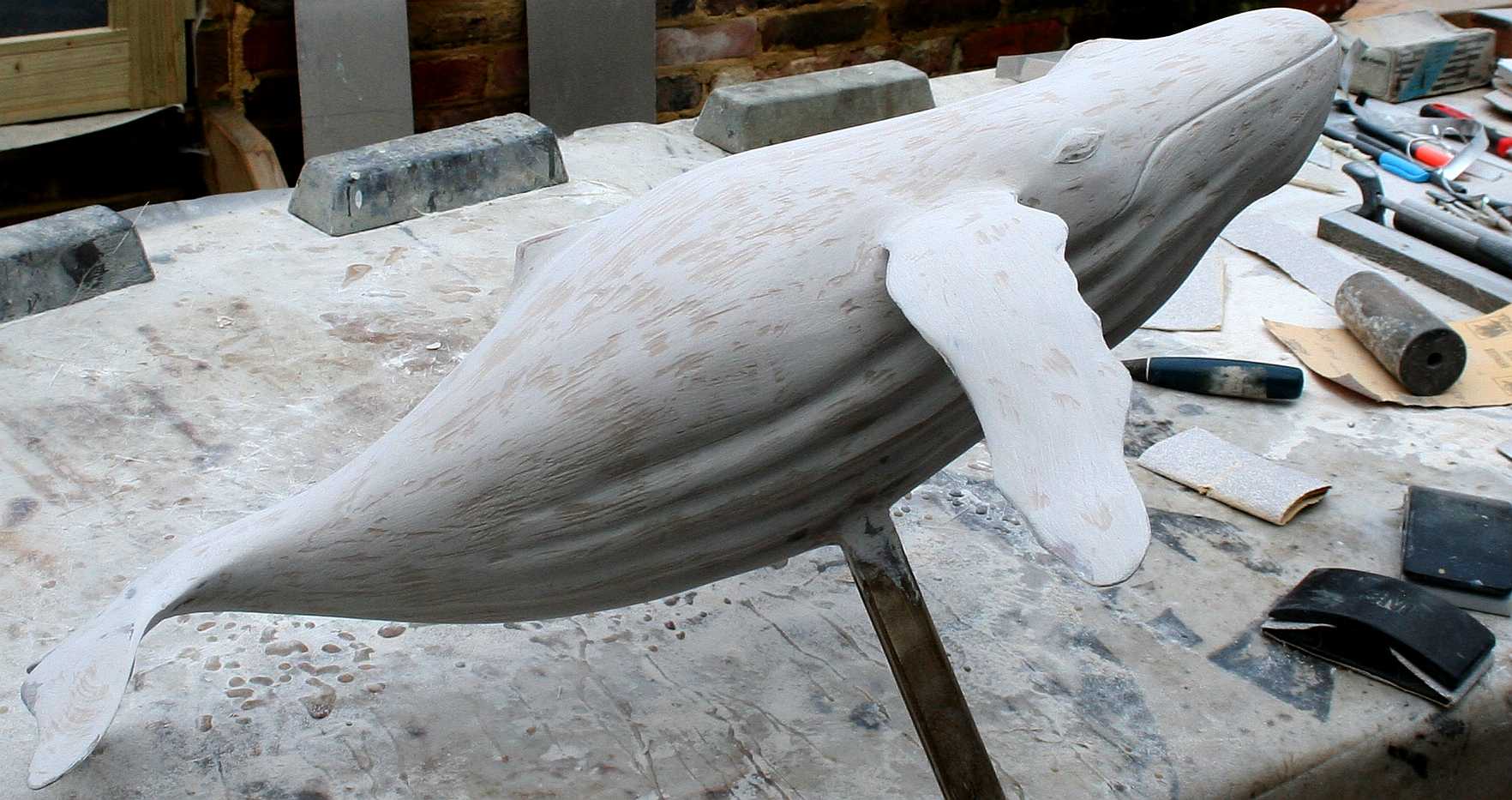 Kulo Luna is seen here in her primer coat. Can you guess why she is so large and protective of Kana, the young whale who is killed by pirate whalers? This model is not 100% anatomically accurate being more of an art piece. Copyright © Jameson Hunter December 16 2018.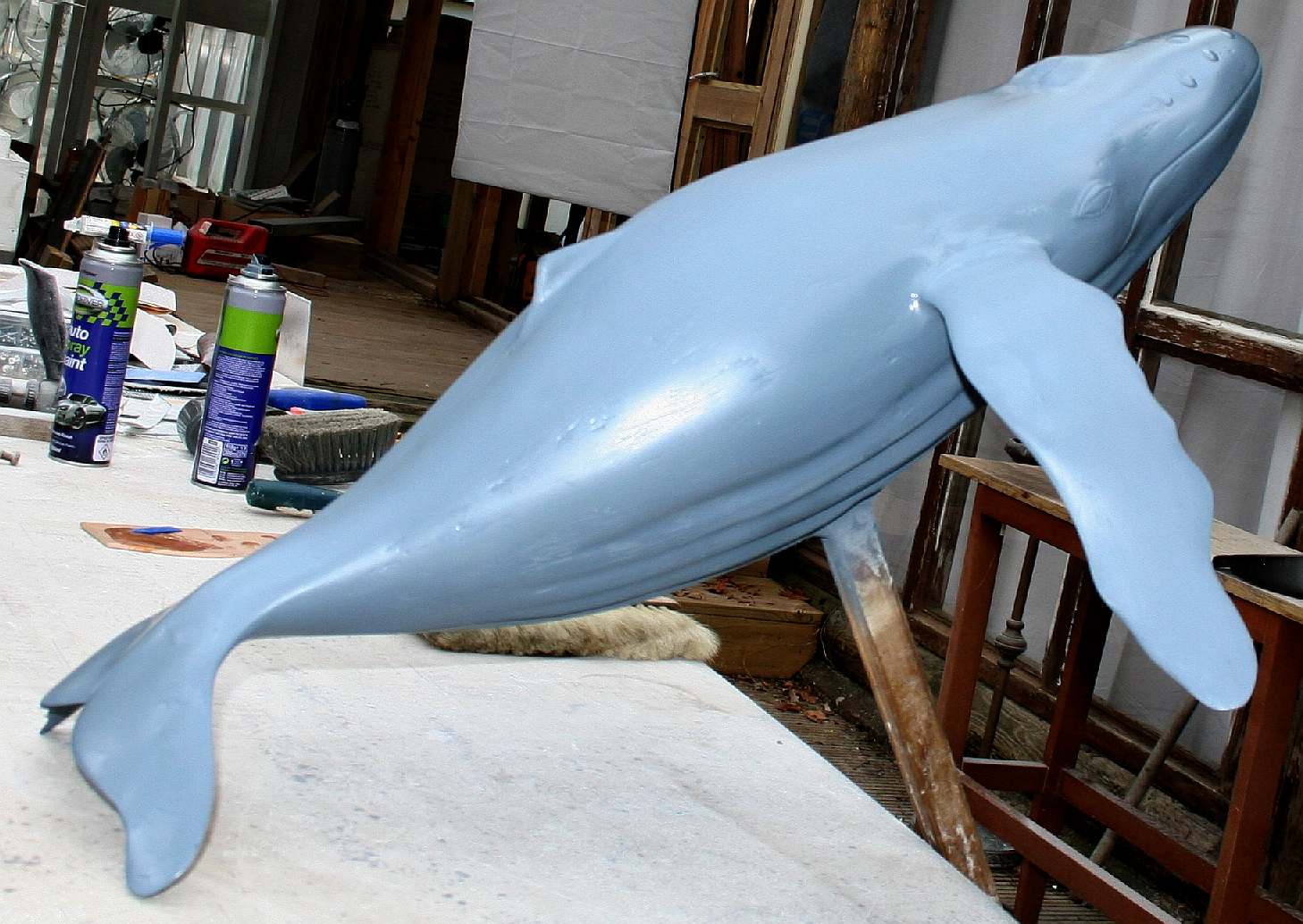 GREY PRIMER - The 1/20th scale Kulo Luna model is seen here in cellulose grey primer and we like the look. It's very grey whale. Cellulose is a paint used on cars. The primer seals the polyester putty ready to accept several topcoats and final detail painting by hand. Copyright © Jameson Hunter December 22 2018.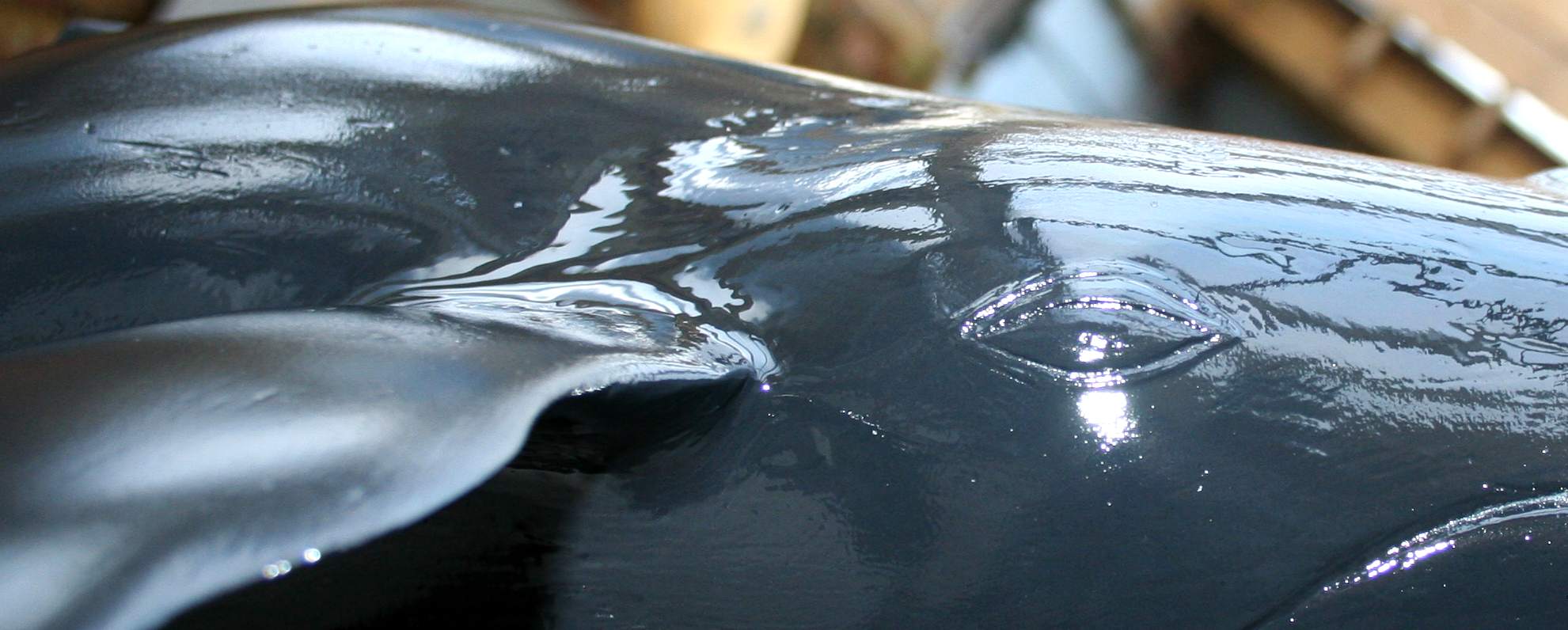 EYES - This is the whale's right eye before any topcoat or hand detailing. Copyright © Jameson Hunter December 22 2018.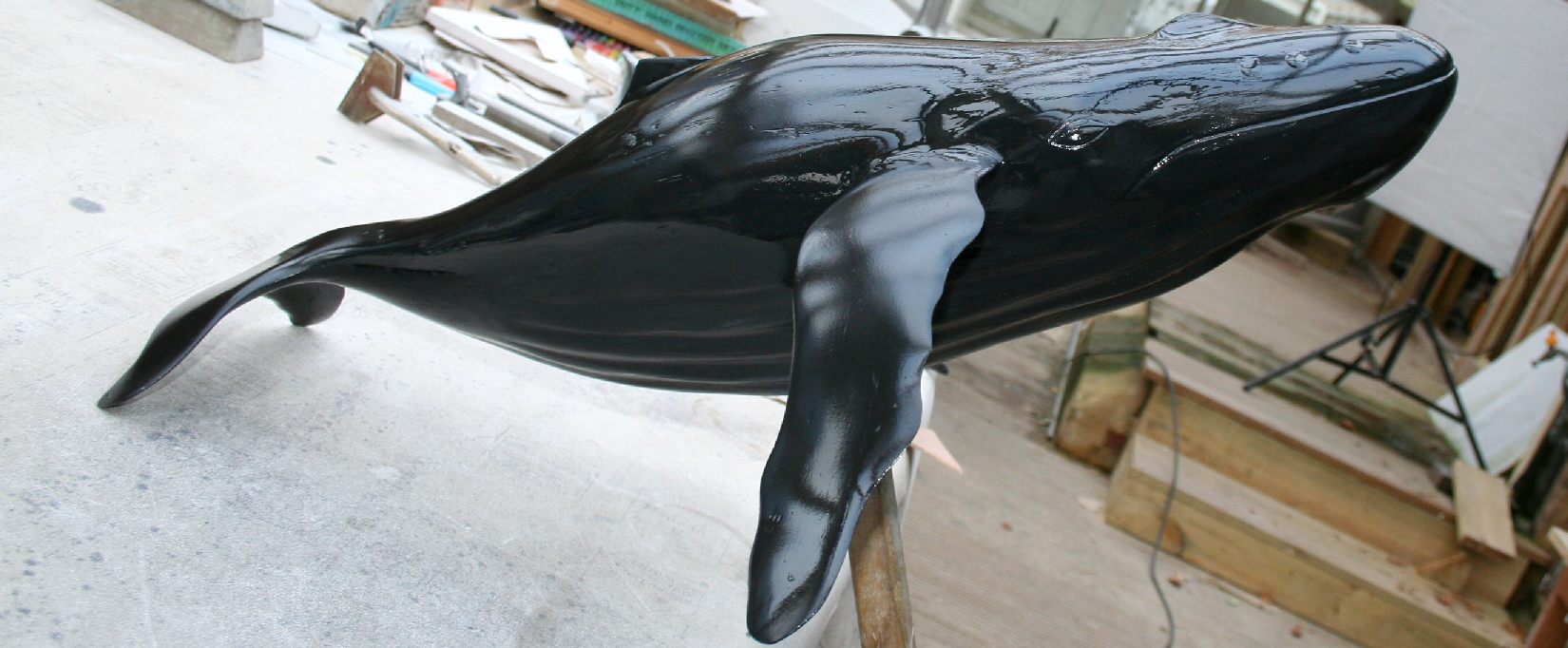 BLACK UNDERCOAT - As a basecoat for the final grey topcoat and subsequent hand detailing. The skills we have might be needed for larger exhibits in connection with our ocean awareness campaigns, such as a giant great white shark, dolphins or even a full size humpback whale. Copyright © Jameson Hunter December 22 2018.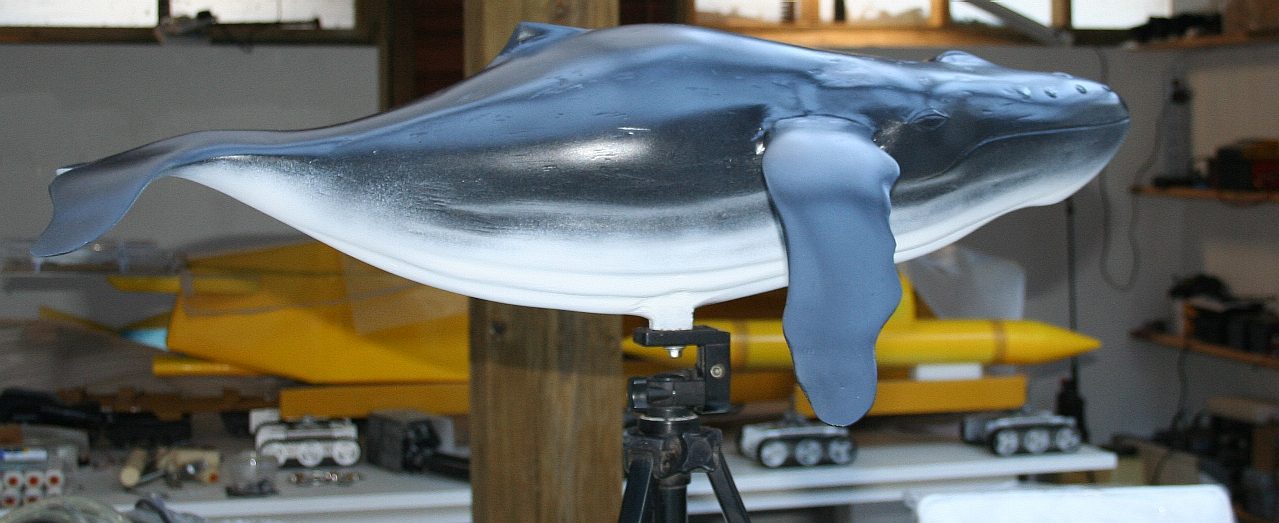 TRIPOD - Kulo Luna is seen here mounted on a tripod that will be painted white for exhibitions - and needs reinforcing to bolster the plastic 'U' with a steel box section to take the loads of people touching the exhibit. You can see the SeaVax in the background stored in the robot laboratory. They are crafted to the same scale to give visitors to shows an idea of the size of the ocean cleaning workhorse. Copyright © Jameson Hunter December 24 2018.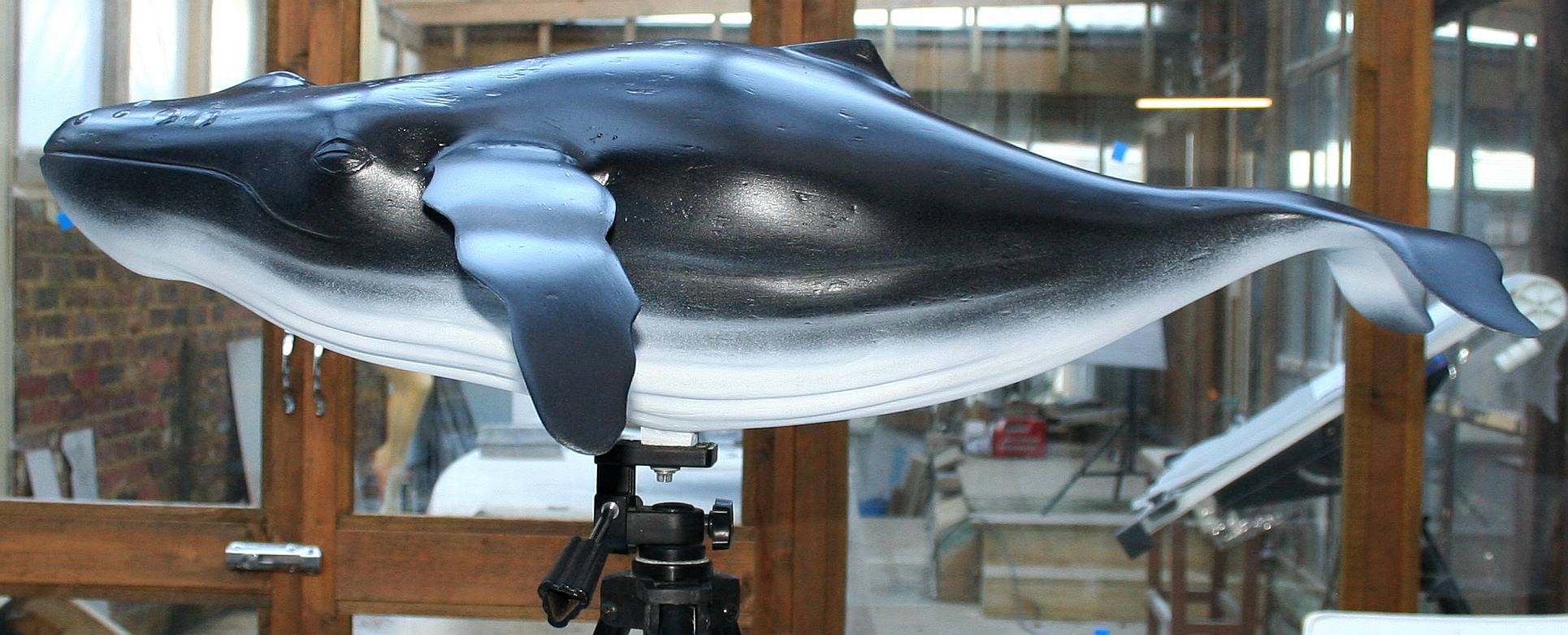 MOUNTED - This is just a primer coat of paint (black and white). The detailing is to follow after the Refill event in Eastbourne on January the 26th 2019. Copyright © Jameson Hunter December 24 2018.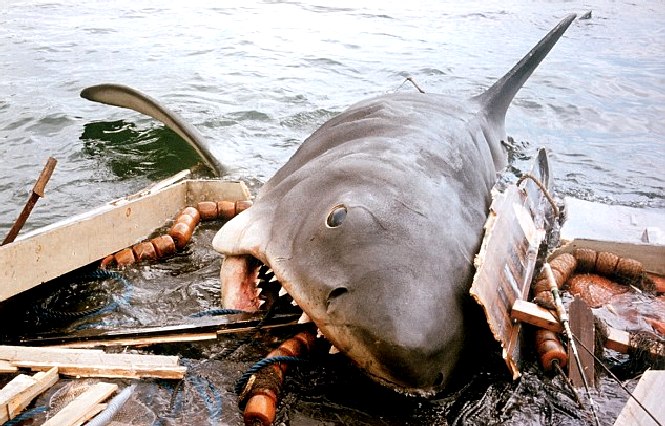 MUSEUM DONATION JANUARY 2016 - "You're gonna need a bigger museum." The last surviving prop shark from the 1975 classic movie, Jaws, has been donated to the Academy Museum of Motion Pictures in Los Angeles.
The 25-foot prop, dubbed 'Junkyard Bruce', had been suspended over the entrance of Aalden Brothers Auto Wrecking, a 26-acre junkyard in San Fernando Valley, California, since 1990.
The business closed on January 1, so Nathan Alden donated the relic to the museum as the largest object to enter the Academy's collection to date. The museum where it will be featured will open in 2018, and until then, the Academy will hold on to the historical relic.
Jaws was a major hit for Universal Pictures, and made a name for director Steven Spielberg. It was the highest-grossing movie in North America until Star Wars passed it when it hit theaters in 1977. The film based on Peter Benchley's 1974 novel, was selected by the Library of Congress in 2001 for preservation in the United States National Film Registry as a work of utmost cultural, historical and aesthetic significance.

'Obviously, it was this great blockbuster that really put Steven on the map as a filmmaker,' Spielberg's spokesman, Marvin Levy, is quoted as saying to the Wall Street Journal. He noted that the director supports efforts to preserve Bruce for posterity, saying 'We are never far away from 'Jaws,' and it is part of all our lives'.
The film's mechanical shark, known as Bruce after Spielberg's lawyer, Bruce Ramer, was created by art director Joe Alves. He then used the 25-foot-long, 400-pound and nearly five-foot-wide creature he made to form three latex and rubber casts that were used in production. A fourth, made of fiberglass, was used for promotion.
The sharks were known for malfunctioning during the film's production, which put Jaws behind schedule and over budget. After filming finished, they were practically forgotten about.
Compressors for airbrushing come in many capacities, the best include a storage chamber to smooth air delivery. A single cylinder piston compressors is shown here with an air tank of 3.0 litres and a 1/6 HP motor operating at 1450/1700 r.p.m. The air output per min./liters: 20~23L/min. These units inclue auto stop, start at 3bar (43 psi), stop at 4bar (57 psi) with a working pressure of 0~4 bar. The weight is 5.2KG and dimension: 329X150X330mm. These are suitable for airbrush with nozzle 0.2MM~1.0MM for makeup and model work. This is an oil free design for continuous operation, thermally protected and low noise, 47db.
The Paasche VL is an excellent airbrush to learn with and use as a professional artist. The Paasche VL is a double action, meaning the trigger works two ways. Press down to activate air flow and pull back to deliver paint. Double action allows you to spray a lighter mist of paint and to make finner lines. This is an excellent airbrush for painting t-shirts, Fine art, Automotive murals and graphics and touch-up ceramics, stencil art, nail art, airbrush makeup and temporary tattoos. The Paasche VL-SET includes everything you need, except paint. It includes 3 sizes of needles and tips to give a greater range of spray pattern and allow for the spraying of thin inks to thicker paints. Perfect for students, craters and professionals.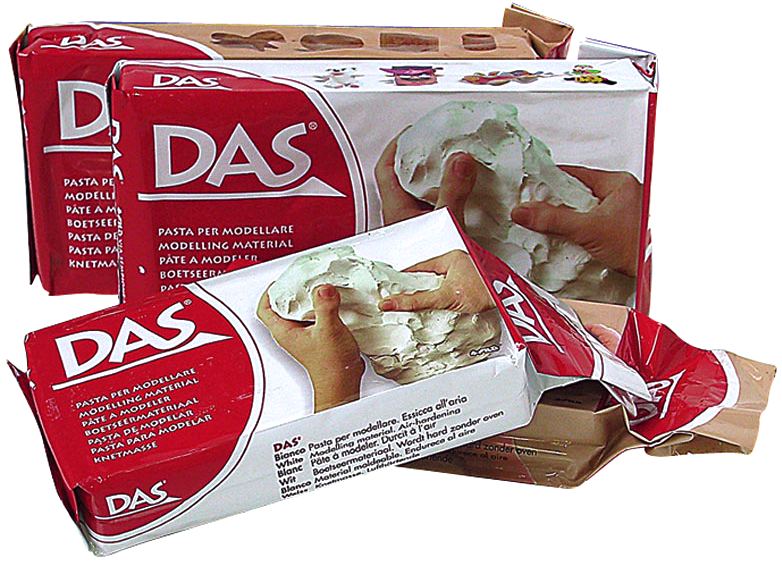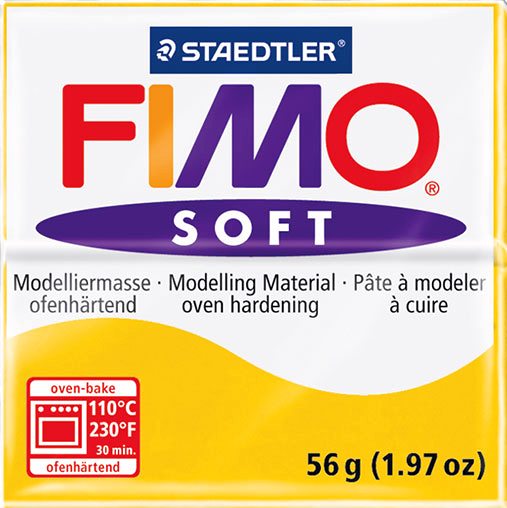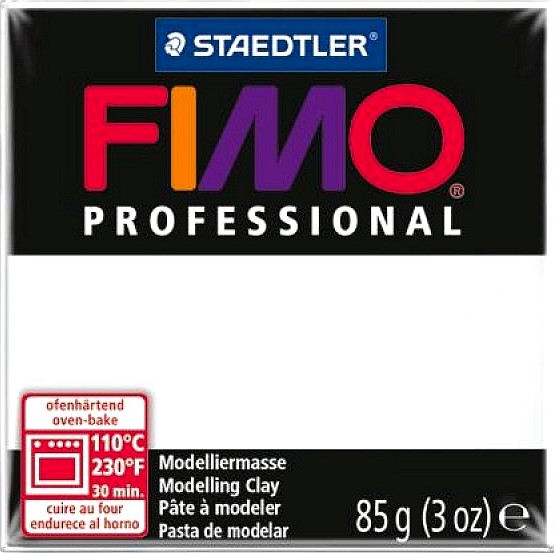 DAS is an air drying modelling clay that will help you create a range of designs easily, without the need for an oven or kiln. This clay moulds easily and dries to a firm and strong finish. There is no baking required; simply design your model and then allow for 24 hours per centimetre to dry. It is easy to smooth and will set strongly once air-dried, and then you can start decorating with poster paints, acrylics and varnish to add bold colours and a professional finish to your projects. The clay comes in 1kg packs in white and terracotta. It is PVC free and contains no softeners, only vegetable binders.
FIMO is a name for a brand of polymer clay made by German company Staedtler (STAEDTLER Mars GmbH & Co. KG). Fimo is sold worldwide. Its main U.S. competitor is the American brand Sculpey. The material comes in many different colors; there are many finishes to choose from, and even a softener to use with it because it can be hard to work. It is used for making many things, including jewelry, accessories, and small trinkets. Once shaped, Fimo is baked in a standard or toaster oven for about 30 minutes at 130 °C (265 °F) to harden it. Once baked, it can be cut, drilled, painted, sanded, and sliced thinly. According to information from Staedtler, Fimo contains polyvinyl chloride (PVC), but has not contained any phthalates since 2006.
KULO LUNA - Is the story of a giant humpback whale and her young friend Kana who is killed by pirate whalers in the south pacific ocean. Enraged by the death of Kana, Kulo attacks the pirate ship, finally sinking it, but getting herself wounded in the process. Copyright book cover and clothing © Jameson Hunter November 30 2018. All rights reserved.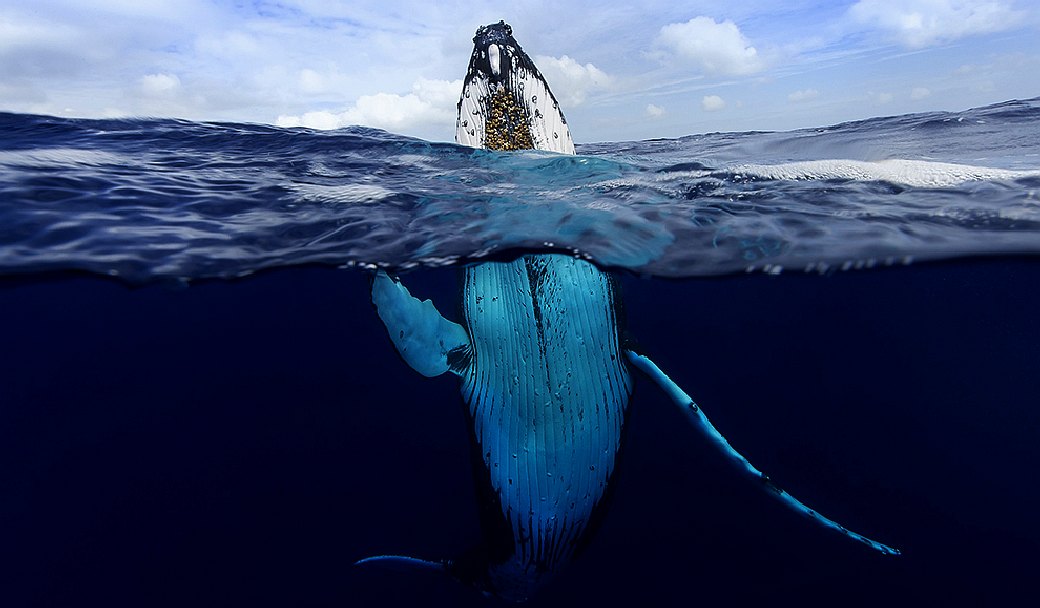 MARINE LIFE - This humpback whale is one example of a magnificent animal that is at the mercy of human activity. Humans are for the most part unaware of the harm their fast-lane lifestyles are causing. We aim to change that by doing all we can to promote ocean literacy. The Kulo Luna story is one of our initiatives to promote ocean issues.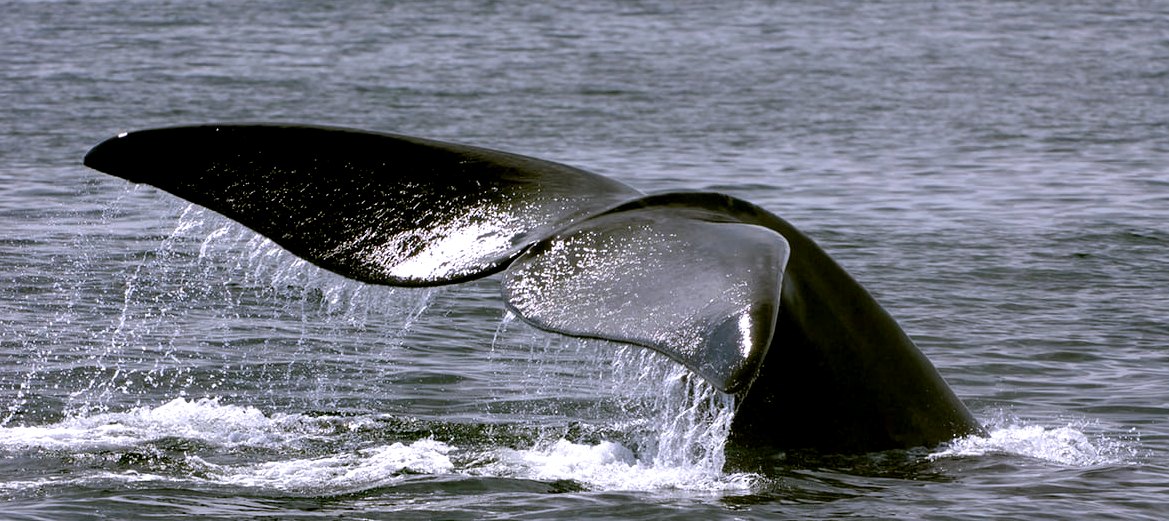 KULO LUNA - Grace and beauty, these giant fins propel the whale at considerable speed over thousands of miles from feeding to breeding grounds. Whales are at risk from toxic plastic waste in our oceans.
This website is provided on a free basis as a public information service. Copyright © Cleaner Oceans Foundation Ltd (COFL) (Company No: 4674774) 2019. Solar Studios, BN271RF, United Kingdom. COFL is a charity without share capital.