A-Z - ZERO CARBON CLASSIFICATION
ABOUT - CLIMATE CHANGE A TO Z - CONTACTS - DONATE - FOUNDATION - HOME - OCEAN PLASTIC A TO Z
Please use our A-Z INDEX to navigate this site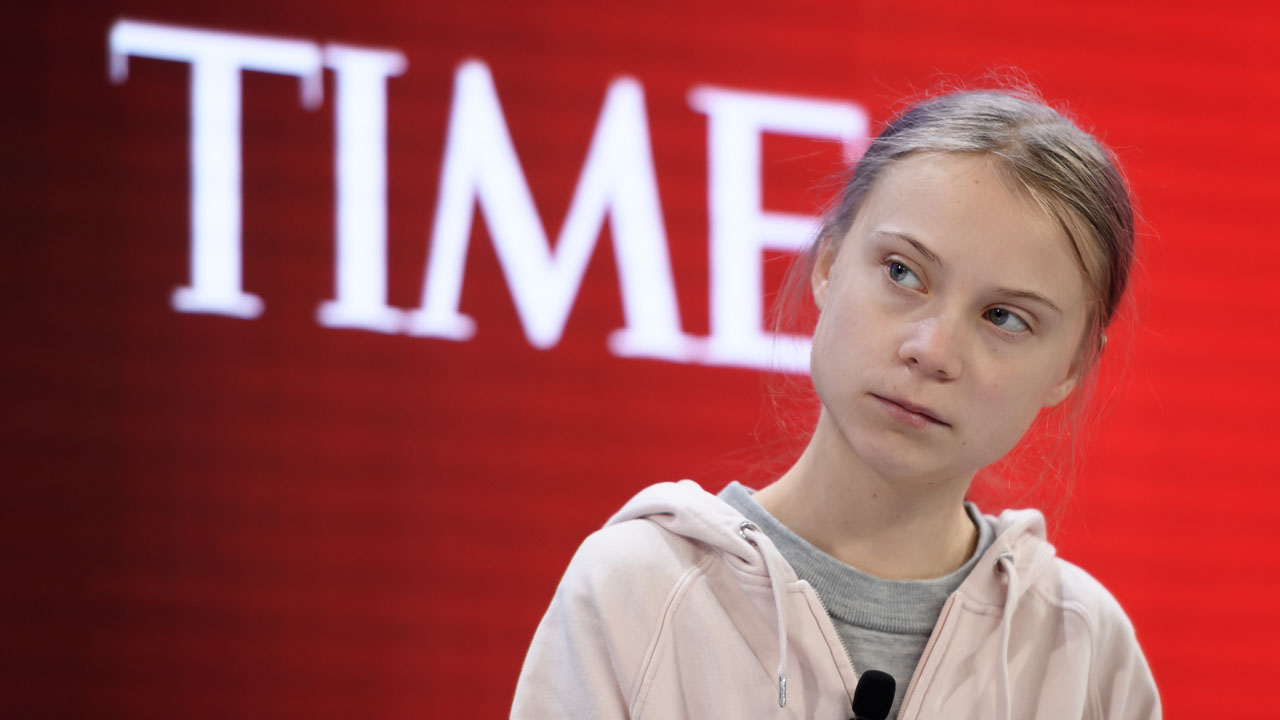 DAVOS 2020 - Swedish teen activist Greta Thunberg on Tuesday slammed the business elite for doing "basically nothing" on climate change, as the Davos forum braced for an address from US President Donald Trump hours before his impeachment trial begins.

The 50th meeting of the World Economic Forum (WEF) in the Swiss Alps resort got underway seeking to thrash out dangers to both the environment and economy from the heating of the planet.
Trump, who has repeatedly expressed scepticism about climate change, is set to give the first keynote address of Davos 2020, on the same day as his impeachment trial opens at the Senate in Washington. Before his appearance, Thunberg underlined the message that has inspired millions around the world, saying "basically nothing has been done" to fight climate change.
This is new and uncharted territory for nearly all classification societies but the very brave. Despite the fact that zero carbon shipping has been in the pipeline for umpteen years, it appears that very few are prepared for the shake up that disruptive technology is sure to make as new and unfamiliar designs come into the frame and the competition heats up between the hydrogen faction and more direct applications of renewable energy.
The big names are likely to struggle to shrug off their existing classifications, than the smaller more lithe organizations that are willing to embrace change. That is what climate change is all about: change!
It is not just boats and ships, but all manner of transport, cars and even aircraft are getting a makeover, as electric motors and batteries begin to make their mark. Even so, motor manufacturers are unprepared as are energy companies, some of which will go to the wall kicking and screaming, refusing to embrace renewables, as the cling to oil for all they are worth.
But if we are going to make it, classification and certification authorities are going to have to lend a hand. If that proves too difficult for them, we might need new Statute to to help them along, rather than rely on good will and voluntary adjustment. Voluntary codes rarely work. They are taken by many to be just another ministerial code for bribery accepted at very high levels - and don't rock the boat - but we are in the middle of a climate emergency, as Greta Thunberg is at pains to point out..
TOP TWENTY
Name

Abbreviation

Date

Head office

-

-

-

-

LR

1760

London

BV

1828

Paris

Croatian Register of Shipping/ Austrian Veritas
(Hrvatski Registar Brodova)

CRS

1858/ 1949

Split

Registro Italiano Navale

RINA

1861

Genoa

ABS

1862

Houston

DNV GL

1864

Oslo

Nippon Kaiji Kyokai (ClassNK)

NK

1899

Tokyo

Russian Maritime Register of Shipping
(Российский морской регистр судоходства)

RS

1913

Saint Petersburg

Hellenic Register of Shipping

HR

1919

Piraeus

Polish Register of Shipping
(Polski Rejestr Statków)

PRS

1936

Gdańsk

Bulgarian Register of Shipping
(Български Корабен Регистър)

BRS (БКР)

1950

Varna

Dromon Bureau of Shipping

DBS

2003

Piraeus

China Classification Society

CCS

1956

Beijing

Korean Register of Shipping

KR

1960

Busan

Registro Internacional Naval

RINAVE

1973

Lisbon

Indian Register of Shipping

IRCLASS(IRS)

1975

Mumbai

International Register of Shipping

IRS

1993

Miami

Shipping Register of Ukraine
(Регістр судноплавства України)

RU (РУ)

1998

Kiev

Maritime Bureau of Africa

MBA

2014

Cape Town

Overseas Marine Certification Services

OMCS

-

-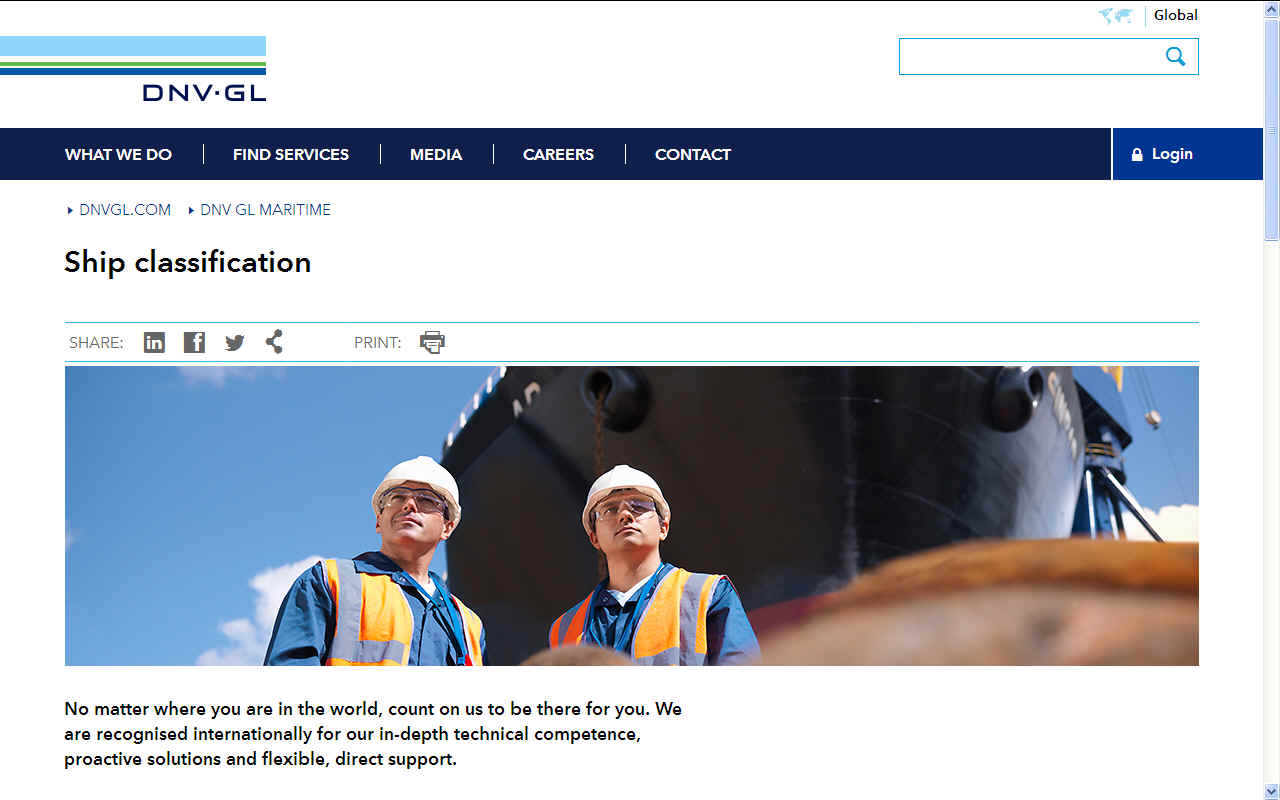 DNV-GL - Claim to be proactive and flexible. They have in the past encouraged innovation in terms of clean energy for shipping.
TEMPORARY CLASSIFICATION
In naval terms, vessels are sometimes launched with a temporary designation and reclassified once their capability is determined. Hull classification varies from country to country. There is no international agreement as to class.
A heavily modified or re-purposed ship may receive new symbols and classification, and either retain the hull number or receive a new one. The system of naval symbols has changed a number of times since it was introduced in 1907, and for this reason ships' symbols sometimes change without any physical alterations to a ship.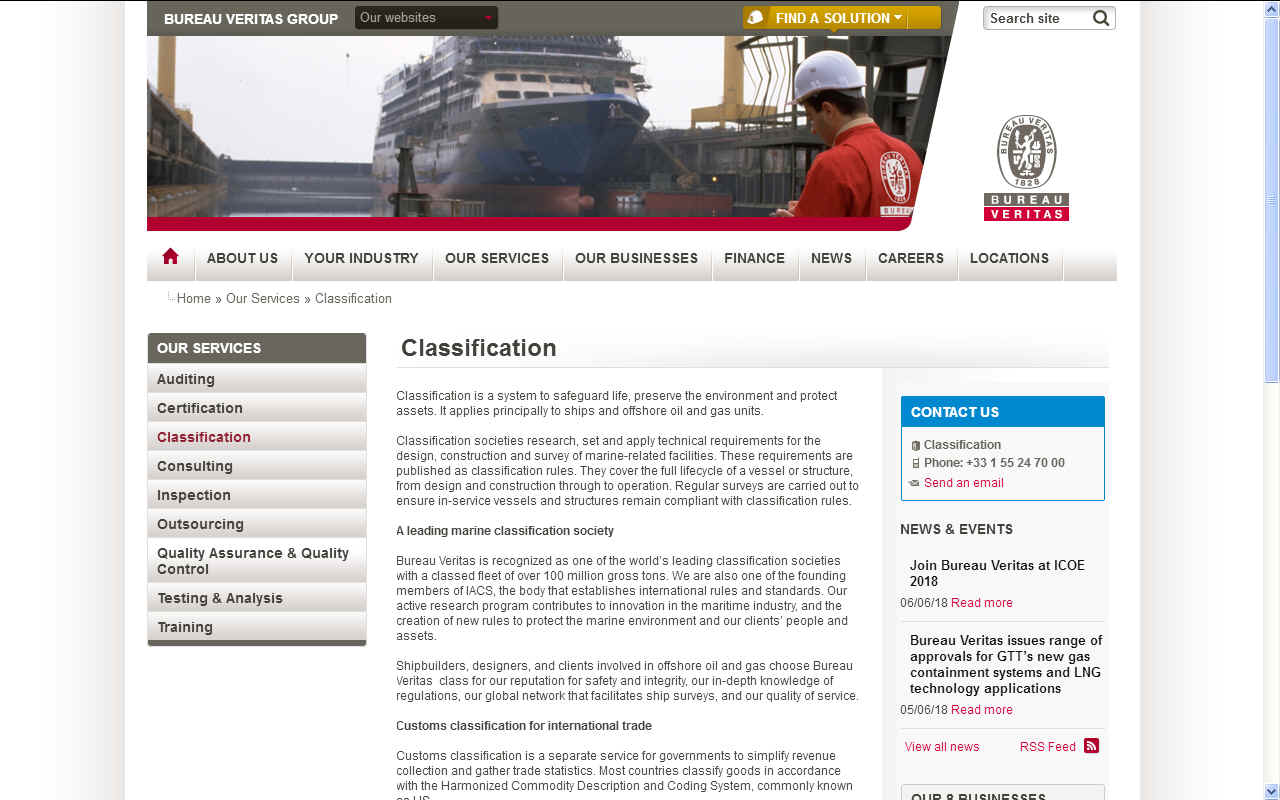 BUREAU VERITAS - Classification is a system to safeguard life, preserve the environment and protect assets. It applies principally to ships and offshore oil and gas units.

Classification societies research, set and apply technical requirements for the design, construction and survey of marine-related facilities. These requirements are published as classification rules. They cover the full lifecycle of a vessel or structure, from design and construction through to operation. Regular surveys are carried out to ensure in-service vessels and structures remain compliant with classification rules.
NOAA: NATIONAL OCEANIC & ATMOSPHERIC ADMINISTRATION HULL CODES

R: Research ships, including oceanographic and fisheries research ships
S: Survey ships, including hydrographic survey ships
O: Oceanographic
AGE: General Purpose Experimental Ship (AGE = Auxiliary General Experimental)
AGOR: Oceanographic Research Ship
AGOS: Ocean Surveillance Ship
LCP: Landing Craft, Personnel

A Research Vessel (RV or R/V) is a ship or boat designed, modified, or equipped to carry out research at sea. Research vessels carry out a number of roles. Some of these roles can be combined into a single vessel but others require a dedicated vessel.
Prototype SeaVax vessels will be experimental, conducting oceanographic research and surveillance generally. The object is to refine and prove the ocean cleaning concept, that also involves avoiding plankton, fish and marine mammals selectively. it may then be appropriate to assign such craft the AGE or RV code to include: O, where the vessel is a blue water, endurance machine. Hence: ORV. But where solar and wind power is a factor in the experimental stages: AGE. Clearly, the classification will change once the experimental stages are passed and ocean cleaning operations begin.

Hull code letters may be paired with a three-digit number. The first digit of the number is determined by the ship's "power tonnage," defined as the sum of its shaft horsepower and gross international tonnage, as follows:

If the power tonnage is 5,501 through 9,000, the first digit is "1".
If the power tonnage 3,501 through 5,500, the first digit is "2."
If the power tonnage is 2,001 through 3,500, the first digit is "3."
If the power tonnage is 1,001 through 2,000, the first digit is "4."
If the power tonnage is 501 through 1,000, the first digit is "5."
If the power tonnage is 500 or less and the ship is at least 65 feet (19.8 meters) long, the first digit is "6."

The second and third digits are assigned to create a unique three-digit hull number. Where SeaVax is significantly less than 500 in power/tonnage terms and may be more than 19.8 meters on the waterline, a "6" may be assigned. Where the prototype envisaged is less than 19 meters, hence no number would be included.
VESSEL CLASSIFICATION 100-A-1 LLOYDS REGISTER

Classification, is the endorsement by a classification society which is awarded once a ship meets a minimum standard in design, quality of construction. A vessel is classed in this way for a definite period of years, and on its expiry it must be resurveyed if its owners wish it to retain its original classification.
Classification is then time related, it expiring, regardless of the fact that the vessel has not changed physically.
After any accident such as a fire, a ship has to be resurveyed to establish its classification. The advantages for a ship owner to have their vessels classified and to keep them 'in class' are numerous, as the construction and maintenance of a ship up to the standard required is mandatory for almost all insurance, chartering, financing, and so on, and also for the issue of statutory certificates required by international conventions such as SOLAS.
In view of the specialist function of SeaVax and the not-for-profit motives, it may benefit any international alliance to provide specialist surveys and insurance to reduce the operational overheads and streamline missions.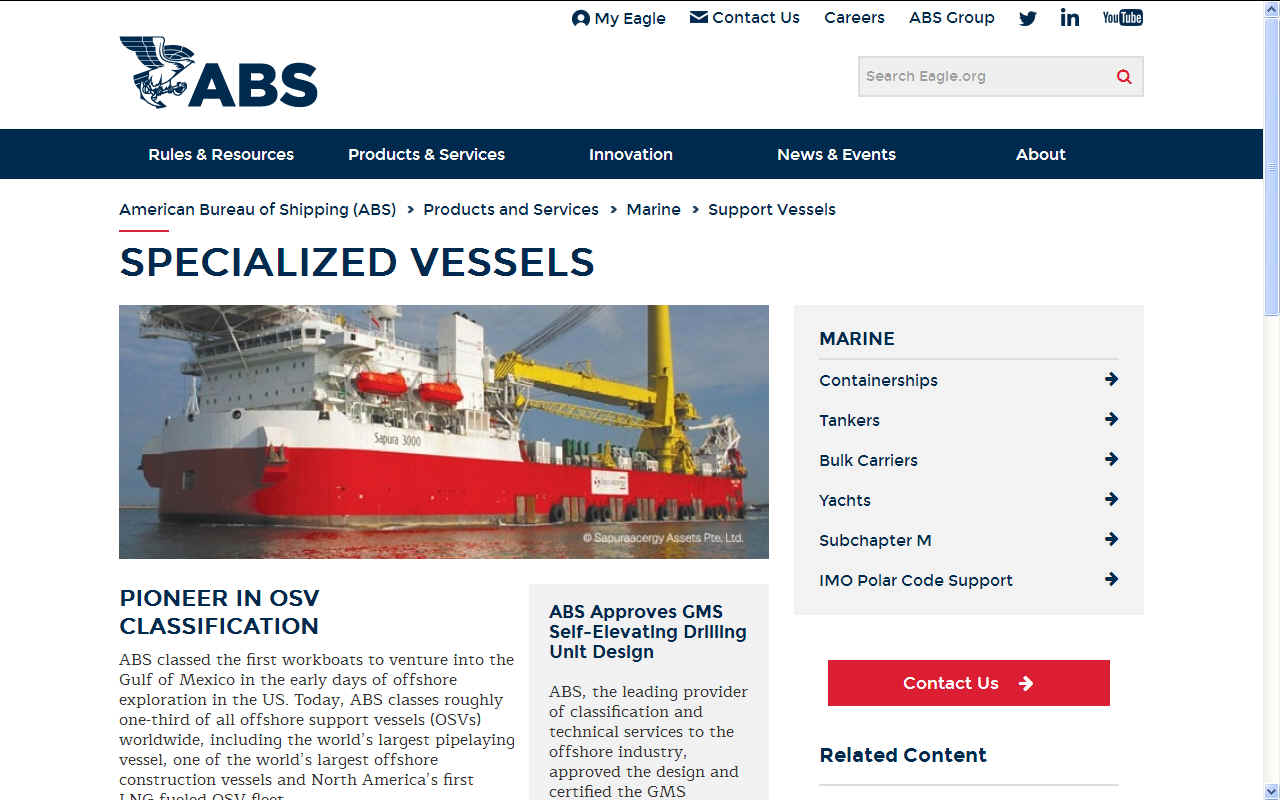 AMERICAN BUREAU SHIIPING - The heart of their classification organization, ABS Rules & Guides are derived from principles of naval architecture, marine engineering and related disciplines.

Currently, ABS has more than 200 Rules, Guides and Guidance Notes available for download or purchase through the online catalog. You can search the complete current collection of ABS Rules & Guides in their database, or for older publications, search their archived database of ABS Rules & Guides.
CLASSIFICATION SOCIETIES
Currently, more than 50 organizations worldwide describe their activities as including marine classification, some of which are listed below. Twelve of these are members of the International Association of Classification Societies. The largest are DNV GL, the American Bureau of Shipping, Nippon Kaiji Kyokai (ClassNK) and Lloyd's Register. Classification societies employ ship surveyors, material engineers, piping engineers, mechanical engineers and electrical engineers, often located at ports and office buildings around the world.

Marine vessels and structures are classified according to the soundness of their structure and design for the purpose of the vessel. The classification rules are designed to ensure an acceptable degree of stability, safety, environmental impact, etc.

100 = suitable for seagoing service,
A = constructed or accepted into Lloyd's Register class and maintained in good and efficient condition, and
1 = good and efficient anchoring and mooring equipment.

ZERO EMISSIONS - Before you get too comfortable at the thought of the uphill climb for acceptance of zero emission ships, there are already designs on the drawing board for solar and wind powered cargo vessels for the Pacific and Caribbean Island routes. With a fair wind we hope it will not be too long before the EU and other concerned groups of nations are willing to put research monies on their agendas.
INSURANCE
Classification societies exist in the shipping industry for insurance purposes to provide a uniform worldwide standard, but why is this needed in yachts where a normal surveyor could provide much the same service at far lower cost? For one thing, yachts have become small ships with all the myriad systems and complexities that would be beyond the grasp of any single surveyor and, second, with the growing variety of materials and techniques, the societies provide an information service that shares the success of certain methods and remembers the failures of others.
ABS - AMERICAN BUREAU OF SHIPPING
LINKS & REFERENCES
https://www.bureauveritas.com/
https://www.lr.org/en/classification/
This website is provided on a free basis as a public information service. Copyright © Cleaner Oceans Foundation Ltd (COFL) (Company No: 4674774) 2020. Solar Studios, BN271RF, United Kingdom. COFL is a charity without share capital. The names Amphimax™, RiverVax™ and SeaVax™ are trademarks.