PACIFIC ISLANDS COALITION 2019
ABOUT - CLIMATE CHANGE A-Z - CONTACTS - DONATE - FOUNDATION - OCEAN PLASTIC A-Z - HOME
Please use our A-Z INDEX to navigate this site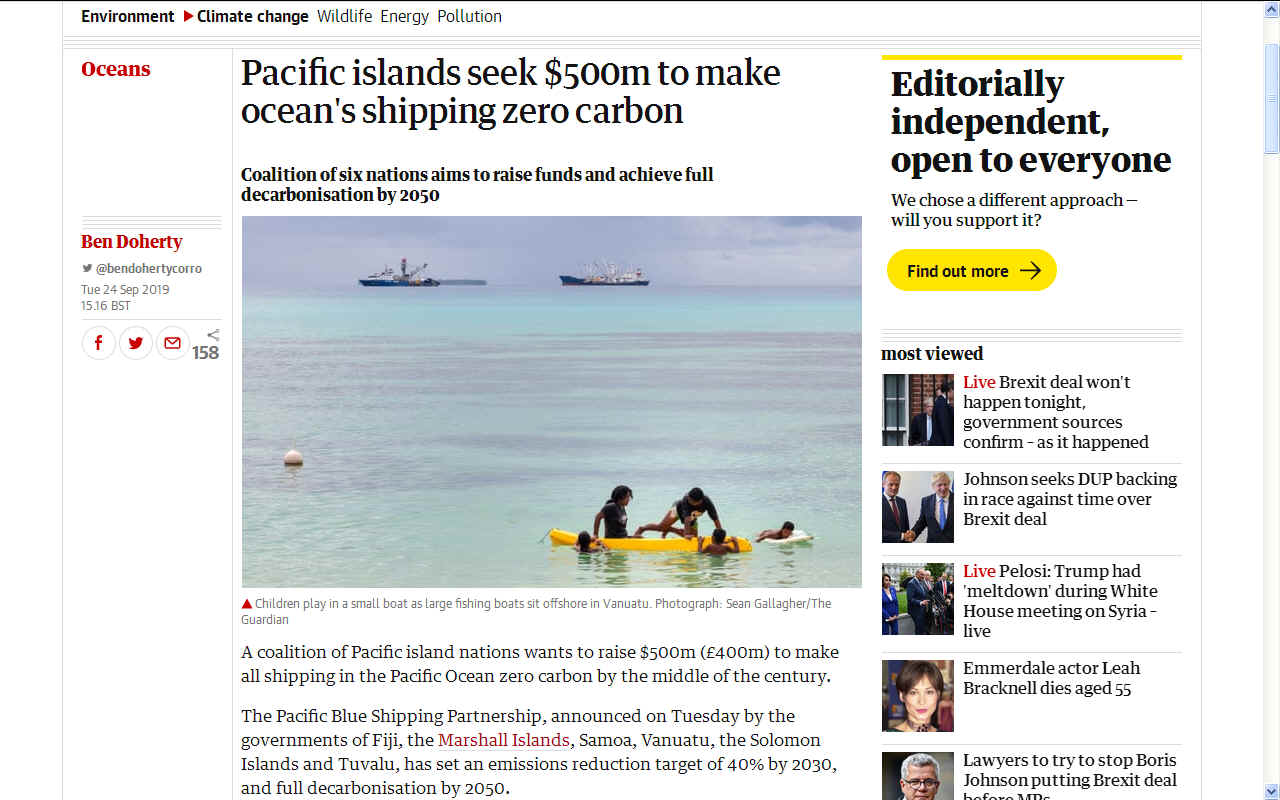 Ferries and fishing boats could be a zero carbon reality with the right backing
THE GUARDIAN 24 SEPTEMBER 2019 - Pacific islands seek $500m to make ocean's shipping zero carbon

Coalition of six nations aims to raise funds and achieve full decarbonisation by 2050.
A coalition of Pacific island nations wants to raise $500m (£400m) to make all shipping in the Pacific Ocean zero carbon by the middle of the century.
The Pacific Blue Shipping Partnership, announced on Tuesday by the governments of Fiji, the Marshall Islands, Samoa, Vanuatu, the Solomon Islands and Tuvalu, has set an emissions reduction target of 40% by 2030, and full decarbonisation by 2050.

The partnership intends to raise money through grants from multinational institutions, concessional loans, direct private sector investment and through issuing regional "blue bonds".

The money would be used to retrofit existing passenger and cargo ferries with low-carbon technologies, and to buy new zero-emissions vessels. Pacific island populations are dependent on shipping for travel, medicines, their livelihoods and connection to the outside world.

Such countries are precariously dependent on imported fossil fuels and acutely vulnerable to price shocks or supply disruptions. The region imports 95% of its fuels. Imported petroleum accounts for an average of 40% of GDP in Pacific island countries, with the transport sector the largest fuel user.

In archipelago states of small island populations spread over vast ocean distances, sea travel is vital for linking communities and for economic development. The lack of regular connectivity between islands is a major constraint on domestic, social and economic development and on international trade.

The climate crisis is making travel significantly more difficult and disrupted. Rising sea levels and the increased frequency of dangerous weather are making sea journeys more difficult and slower, leading to more frequent cancellations of journeys and damaging ageing transport infrastructure such as ports and refuelling facilities.

A joint Fiji-Marshall Islands government briefing paper said that compared with other major economic sectors, "investment in the sustainable development of sea transport for Pacific island countries has been extremely limited to date".

"A transition to sustainable, resilient and decarbonised sea transport at this scale will require substantial investment, including at least $500m to support implementation of the 10-year work programme."

The Marshall Islands environment minister, David Paul, told a forum at the UN climate action summit in New York that securing funding would spark a "rapid transformation of our … shipping sector".

The Pacific is estimated to contribute just 0.03% of global emissions, but in many instances is feeling the impacts of climate change first and most acutely. Sea levels have risen at nearly four times the global average rate in some parts of the western Pacific, and the increased frequency of natural disasters has weakened island nations' ability to recover from repeated, worsening catasrophes.

Fiji's prime minister, Frank Bainimarama, said in May that the globe's major emitters and largest economies were not contributing enough to help the Pacific adapt to climate change.

"We need major economies to strengthen their climate finance investments, including their replenishment of adaptation and green climate funds. It is the defining crisis of our time. And if we do not take action, that crisis will soon escalate into chaos that will consume the entire world."

He said Pacific dependence on shipping "demands a transformation of our maritime sectors which will require new kinds of financial partnerships with bilateral and multilateral assistance and, potentially, a regional blue shipping bond".

A blue bond is a debt instrument issued by governments, development banks or others to raise capital to finance marine- and ocean-based projects that have positive environmental, economic and climate benefits.

The Seychelles last year launched the world's first sovereign blue bond, a $15m 10-year bond to protect marine environments and safeguard fisheries.

Dr Peter Nuttall, a scientific and technical adviser for the Micronesian Center for Sustainable Transport at the University of the South Pacific, told the Guardian that shipping was the "absolute lifeline" of any Pacific community.

"Without shipping, our economies die, our people can't survive. In places like the Solomon Islands or the Marshall Islands, 80% to 90% of all goods arrive by ship. We have the most expensive shipping in the world, the longest transport routes, and the worst ships."

He said the Pacific was acutely vulnerable to oil shocks, citing examples from remote Pacific islands where critical services, such as visits by health professionals, had to be abandoned because fuel prices were too high.

Nuttall said the Pacific "cannot wait for the rest of the world. We have to bespoke design a Pacific solution if it is going to work, not leave the Pacific to languish.

"We're running the biggest risk. The Pacific did nothing to cause climate change, but we're about to get smashed by it. What is it we can practically do to make people's lives better now? We know the answers, and we don't have time to wait."
...
CLIMATE CHANGE, the reality we face: Global warming, Arctic and Antarctic ice melting, Glaciers melting, rising sea levels, Ocean acidification, coral bleaching, Climate Refugees and mass Migrations, eroding soils and land Desertification, food security, poorer communities and water shortages, extreme weather, flooding and droughts.
CLIMATE CHANGE CHALLENGER - This is a solar and wind powered boat waiting to be built as part of an experiment to demonstrate that cargo and cruise liners might be zero carbon to meet with the International Maritime Organization's (IMO) targets for 2030, 2050 an 2100 by which time they hope to see 100% zero carbon shipping in action. The Cleaner Ocean Foundation also have a zero carbon Ferry project on the drawing board for cross Channel hops. These concepts differ from the current rash of hydrogen fuel cell ZEV projects such as that in San Francisco Bay and Norway, in the renewable energy is harvested directly for propulsion, rather than for use to electrolyze water and liquefy the hydrogen for storage in cryogenic tanks. Hence, is a far more sustainable solution in the quest for a circular economy.
TRANSFERABLE TECHNOLOGY - The design of the Climate Change Challenger might be adapted to Cargo, Container, Cruise and Ferry designs, without needing to radically alter port facilities. The designs above are not representative of adaptations of the concept, but serve to illustrate the thinking of other design houses.
CLIMATE CHANGE - There has been a Climate Conference every year since the founding assembly at which many important Agreements as to targets and issues were raised and resolved for a better world. A better world is a place that is sustainable for future generations.
1995 COP 1, BERLIN, GERMANY
1996 COP 2, GENEVA, SWITZERLAND
1997 COP 3, KYOTO, JAPAN
1998 COP 4, BUENOS AIRES, ARGENTINA
1999 COP 5, BONN, GERMANY
2000:COP 6, THE HAGUE, NETHERLANDS
2001 COP 7, MARRAKECH, MOROCCO
2002 COP 8, NEW DELHI, INDIA
2003 COP 9, MILAN, ITALY
2004 COP 10, BUENOS AIRES, ARGENTINA
2005 COP 11/CMP 1, MONTREAL, CANADA
2006 COP 12/CMP 2, NAIROBI, KENYA
2007 COP 13/CMP 3, BALI, INDONESIA
2008 COP 14/CMP 4, POZNAN, POLAND
2009 COP 15/CMP 5, COPENHAGEN, DENMARK
2010 COP 16/CMP 6, CANCUN, MEXICO
2011 COP 17/CMP 7, DURBAN, SOUTH AFRICA
2012 COP 18/CMP 8, DOHA, QATAR
2013 COP 19/CMP 9, WARSAW, POLAND
2014 COP 20/CMP 10, LIMA, PERU
2015 COP 21/CMP 11, PARIS, FRANCE
2016 COP 22/CMP 12/CMA 1, MARRAKECH, MOROCCO
2017 COP 23/CMP 13/CMA 2, BONN, GERMANY
2018 COP 24/CMP 14/CMA 3, KATOWICE, POLAND
2019 COP 25/CMP 15/CMA 4 TBA, SANTIAGO, CHILE
DESERTIFICATION COP HISTORY
| | |
| --- | --- |
| COP 1: Rome, Italy, 29 Sept to 10 Oct 1997 | COP 9: Buenos Aires, Argentina, 21 Sept to 2 Oct 2009 |
| COP 2: Dakar, Senegal, 30 Nov to 11 Dec 1998 | COP 10: Changwon, South Korea, 10 to 20 Oct 2011 |
| COP 3: Recife, Brazil, 15 to 26 Nov 1999 | COP 11: Windhoek, Namibia, 16 to 27 Sept 2013 |
| COP 4: Bonn, Germany, 11 to 22 Dec 2000 | COP 12: Ankara, Turkey, 12 to 23 Oct 2015 |
| COP 5: Geneva, Switzerland, 1 to 12 Oct 2001 | COP 13: Ordos City, China, 6 to 16 Sept 2017 |
| COP 6: Havana, Cuba, 25 August to 5 Sept 2003 | COP 14: New Delhi, India, 2 to 13 Sept 2019 |
| COP 7: Nairobi, Kenya, 17 to 28 Oct 2005 | COP 15: 2020 |
| COP 8: Madrid, Spain, 3 to 14 Sept 2007 | COP 16: 2021 |
BIODIVERSITY COP HISTORY
| | |
| --- | --- |
| COP 1: 1994 Nassau, Bahamas, Nov & Dec | COP 8: 2006 Curitiba, Brazil, 8 Mar |
| COP 2: 1995 Jakarta, Indonesia, Nov | COP 9: 2008 Bonn, Germany, May |
| COP 3: 1996 Buenos Aires, Argentina, Nov | COP 10: 2010 Nagoya, Japan, Oct |
| COP 4: 1998 Bratislava, Slovakia, May | COP 11: 2012 Hyderabad, India |
| EXCOP: 1999 Cartagena, Colombia, Feb | COP 12: 2014 Pyeongchang, Republic of Korea, Oct |
| COP 5: 2000 Nairobi, Kenya, May | COP 13: 2016 Cancun, Mexico, 2 to 17 Dec |
| COP 6: 2002 The Hague, Netherlands, April | COP 14: 2018 Sharm El-Sheikh, Egypt, 17 to 29 Nov |
| COP 7: 2004 Kuala Lumpur, Malaysia, Feb | COP 15: 2020 Kunming, Yunnan, China |
LINKS & REFERENCE
https:/
This website is provided on a free basis as a public information service. copyright © Cleaner Oceans Foundation Ltd (COFL) (Company No: 4674774) 2019. Solar Studios, BN271RF, United Kingdom. COFL is a charity without share capital. The names AmphiMax™, RiverVax™ and SeaVax™ are trade names used under license by COF in connection with their 'Feed The World' ocean cleaning sustainability campaign.