SF BREEZE - H2 FERRY SAN FRANCISCO
ABOUT - CLIMATE CHANGE - CONTACTS - FERRY OPERATORS - HOME - OCEAN PLASTIC
PLEASE USE OUR A-Z INDEX TO NAVIGATE THIS SITE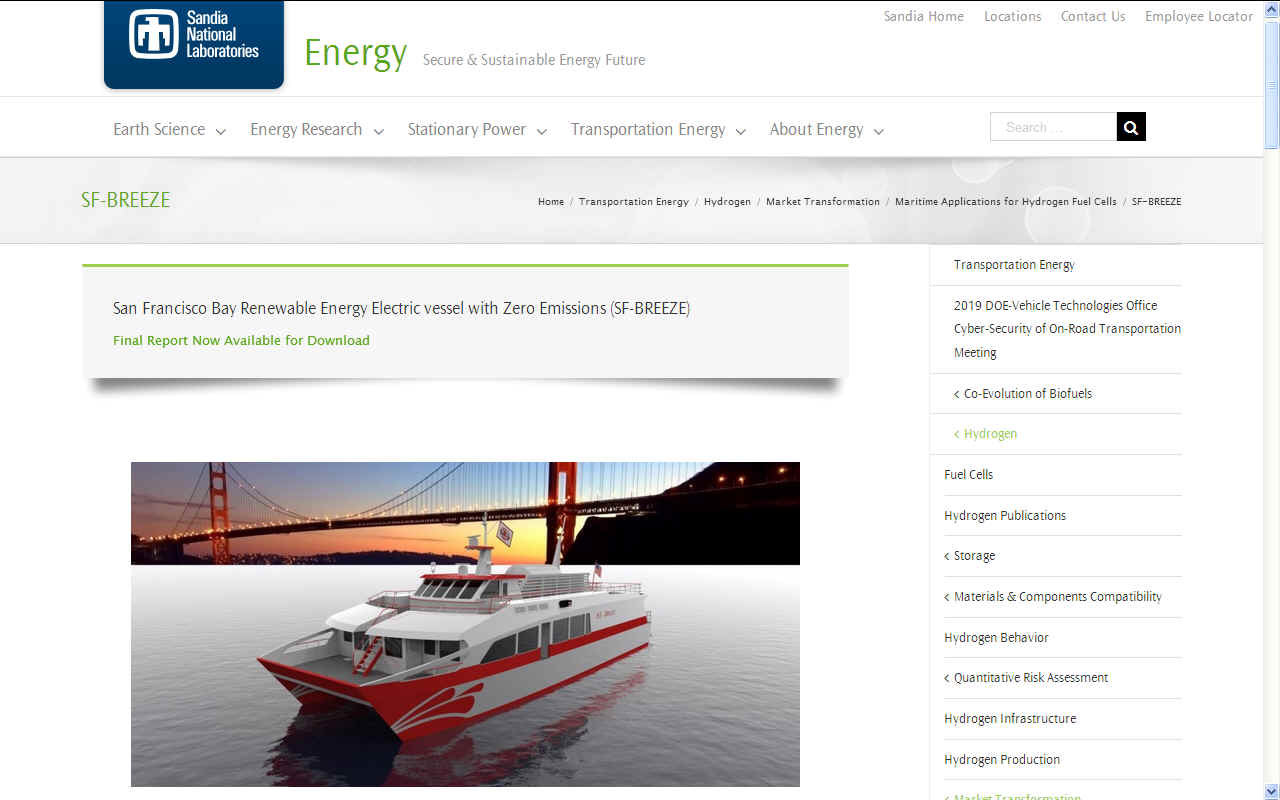 2018 - The SF BREEZE will consume an estimated 1,000 kilograms (2,204 pounds) of hydrogen per day, and will be supported by a station that can dispense 1,500 kilograms (3,306 pounds) per day. That will make this station about twice the size of the current largest hydrogen fueling station in the world, officials say. It will also be the first of its kind to support both land and marine use.

Program backers hope the economy of scale from dispensing such large amounts of hydrogen will lower overall prices on the local market, too. Once an initial feasibility study is completed, design and construction of the ferry boat and fueling station will start.
In its San Francisco Bay Renewable Energy Electric Vessel with Zero Emissions study, known as SF-BREEZE, researchers at Sandia National Laboratories concluded liquid hydrogen fuel cells are feasible on technical, regulatory and economic bases. Now, researchers are taking the work to the next level in a second study that focuses on the optimal combination of vessel design, speed and passenger capacity, which, once determined, could reduce uncertainty in the industry; and the technical evidence to support new safety codes for hydrogen fuel-cell vessels.
The work is funded by the U.S. Department of Transportation's Maritime Administration's Maritime Environmental and Technical Assistance program.
"The Maritime Administration sees immense potential in the use of hydrogen fuel cells to provide efficient, clean, domestically produced power for the maritime sector. The current effort to improve the economic viability using fuel cells in a commercial vessel will bring this vision one step closer to reality," said John Quinn, Maritime Administration associate administrator for environment and compliance.

Optimizing how renewable hydrogen can best reduce carbon emissions

The initial feasibility study focused on a 150-passenger ferry traveling at 35 knots per hour. Now, mechanical engineer and project lead Joe Pratt is asking whether it makes sense to design ferries that are faster or slower, larger or smaller.

Sandia Labs started by plotting typical speeds and passenger capacities of about 600 passenger ferries in the U.S., and found that the ferry studied in the SF-BREEZE project was actually an outlier, being faster and having fewer passengers than most.

"Although previous work on the SF-BREEZE project demonstrated the feasibility of utilizing hydrogen fuel cells for propulsion power on a high-speed passenger vessel, it became apparent that there may be better economic returns when applied to slower speed vessels," said Curt Leffers, project manager at Elliott Bay Design Group, who is leading the naval architecture work in the new study. "The next logical step in the process is to examine the effect of speed and passenger count on the overall cost and per-passenger emissions for hydrogen fuel cell-powered passenger vessels, which is why the optimization study is important."

Pratt added, "How do you achieve the best economics compared to conventional diesel technology and the best gain in environmental impact? Answering these questions is how we'll be quantifying the merit of different designs."

The study seeks to make the trade-offs for the shipbuilding and ferry industries clear. The heavier and faster the vessel, the more power is required. To obtain more power, fuel cells - the most expensive part on a hydrogen-powered ferry - must be added, which drives up the cost, Pratt said.

"You get a double benefit by going slower: you reduce the power required by the fuel cells and the cost of the fuel cells, and you reduce the fuel consumption, so you reduce your operating expense," Pratt said. "That's an example of why we're thinking about this and looking at other designs."

Sandia hopes to produce a half dozen ferry concepts to demonstrate which are most economical and which will make the most impact on protecting the environment, he said.

Tom Escher is president of a San Francisco Bay operator, the Red and White Fleet, which was a partner in the initial study. He said he looks forward to moving ahead with new ferry designs.

"The maritime industry needs to move to zero emissions for the sake of our globally shared environment," Escher said. "This study is tremendously helpful by pointing out how to do that in the smartest way possible, and we look forward to using the results to build the first zero emission hydrogen passenger vessel in the U.S."
Updated regulations could clarify path forward for industry

Sandia is reviewing International Maritime Organization codes for liquid natural gas-powered vessels and developing a technical basis for codes that could be created for hydrogen fuel-cell vessels. Currently, liquid natural gas codes are the closest regulations that can be applied to hydrogen-powered vessels, but they may not accurately represent the properties of hydrogen.
For example, the LNG code requires LNG vessels to have a clearance of 30 feet around all sides of their vents. Hydrogen is lighter than natural gas and much lighter than air, so it does not sink in air like LNG does. Thus, a 30-foot clearance underneath a vent might not be a necessary requirement for a hydrogen ferry, said Sandia Labs mechanical engineer Myra Blaylock, technical lead for the project.
Labs researchers are using computer simulation to explore and analyze four common vent and leak scenarios in which hydrogen could be released on-board vessels to show actual hydrogen behavior. The computational simulations have underlying physics models that have been validated through experiments and allow researchers to confidently explore various scenarios in a quicker and less-expensive way than conducting experimental work for each individual case. The results can be used by the International Maritime Organization to ensure the accuracy of the codes when applied to hydrogen vessels.
The possibility of extending the applications of hydrogen fuel cells, showing the industry the best path forward and providing the technical basis for new hydrogen regulations, all have "the potential for impact across the entire maritime sector," Pratt said. "A lot of these vessels can travel in ecologically sensitive areas where there is an extra motivation for making them clean. So it's about localized as well as global emissions benefits."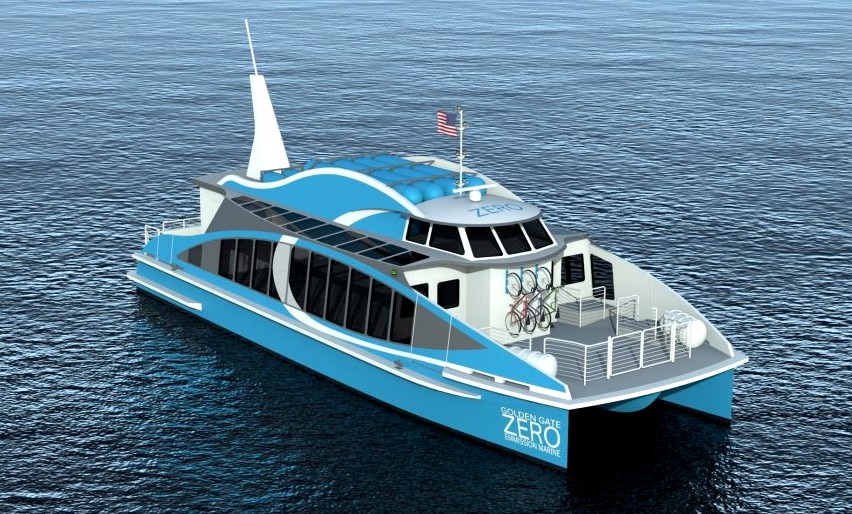 The SF BREEZE is constructed of marine grade aluminium alloy, and is to be powered by two 400 horsepower electric motors. The potentially dangerous hydrogen storage cylinders are located on the roof of the vessel. Trucks will pull up alongside a jetty to pump liquid hydrogen onboard. That means that hydrogen trucks with cryogenic cylinders will be traveling along public roads, so must be extra safe in operation.
JUNE 25 2018 - The California Air Resources Board (CARB) announced a $3 million grant to help build a hydrogen fuel cell ferry to operate in San Francisco Bay. Once built, it would be be the first of its kind in the United States, and the first commercial hydrogen fuel cell ferry in the world. The planned vessel, named Water-Go-Round, would carry 84 passengers and stretch 70 feet long. Construction is expected to start early in the fall in Alameda, California, and the vessel is slated to hit the water in 2019.
The planned vessel, named Water-Go-Round, would carry 84 passengers and stretch 70 feet long. Construction is expected to start early this fall in Alameda, California, and the vessel is slated to hit the water a year later.

The project is one of myriad efforts by cities in the U.S. and globally to clean up their passenger ships. While ferries contribute a relatively small slice of total maritime air pollution and carbon emissions, they typically operate around densely populated areas, where emissions are known to pose the biggest health threats.

Ferries, tug boats, and other harbor craft can be particularly dirty because they often use the same inefficient engines for decades, said Christina Wolfe, who manages the Environmental Defense Fund's air quality program for ports. "They're old, high-horsepower, and high-usage, and that just makes a recipe for very high emissions," she said of ferry engines.

Some local officials are considering more straightforward solutions, like installing efficient Tier 4 diesel engines or adding onshore electricity supplies, so boats can turn off their engines while at port. Other places are taking a more ambitious tack: In rural Alabama, the Gee's Bend Ferry operators are replacing John Deere engines with a battery-electric propulsion system, which will make it the first zero-emissions ferry of its kind in the United States. A ferry in Skagit County, Washington, may soon follow suit.

The Water-Go-Round hydrogen ferry is also representative of a larger push by the global shipping industry to clean up dirty fuel-burning ships. In April, the International Maritime Organization adopted a landmark deal to reduce greenhouse gas emissions from ships, a policy that will require a massive uptake of zero-emissions vessels.

The idea to build Water-Go-Round came from an extensive 2016 study by Sandia National Labs. Researchers established that a high-speed passenger ferry powered by hydrogen fuel cells was feasible from a technical, regulatory, and economic perspective. Around two dozen early ship projects already deploy the technology, primarily in Europe.

Joseph Pratt, who co-authored the Sandia study, is now the CEO of Golden Gate Zero Emission Marine, one of several partners in the CARB grant project.

"We're at the point where we've studied it enough, we've figured out how you can do it," Pratt said from San Francisco. "Now we just have to do it."

The plan is for Escher's company, Red and White Fleet, to operate the vessel for the first three months — and eventually buy it to add to its fleet. Meanwhile, scientists at Sandia and CARB are expected to collect data on the ship's operations, performance, and maintenance.

The $3 million CARB grant is part of California's larger $20 million investment in zero-emissions off-road demonstration projects. The funding comes from revenues raised by the state's cap-and-trade program. Water-Go-Round's partners have committed another $2.5 million to help launch the vessel.

The planned ferry would carry onboard storage tanks with enough hydrogen to last about two days before a truck refuels them at port. Lithium-ion batteries and electric motors will round out the ship's power system. Pratt said the goal is to use green hydrogen supplies when possible.

Marine fuel cells face several hurdles to wider adoption. The technology is still relatively expensive, and shipbuilders and maritime officials in many places may be less familiar with hydrogen than, say, batteries. If successful, a project like Water-Go-Round could nevertheless drive interest in fuel cells and hydrogen - particularly where officials or companies are seeking to curb maritime pollution, said Alan Lloyd, the former secretary of California's Environmental Protection Agency.

"People are going to want to follow that lead," said Lloyd, a senior research fellow at the University of Texas at Austin's Energy Institute.
A similar narrative is already playing out with battery-powered ferries, after Norway launched a fully electric car ferry in 2015.
Dan Berentson, the director of public works in Skagit County, in northwest Washington, said his team is closely following developments in Scandinavia, where more electric ferries are expected to ply the fjords. Skagit County officials are now hoping to build their own electric boat to replace their county's clunky 39-year-old ferry. If all goes to plan, it could launch in 2020.
"Our hope is that the industry will embrace this," Berentson said.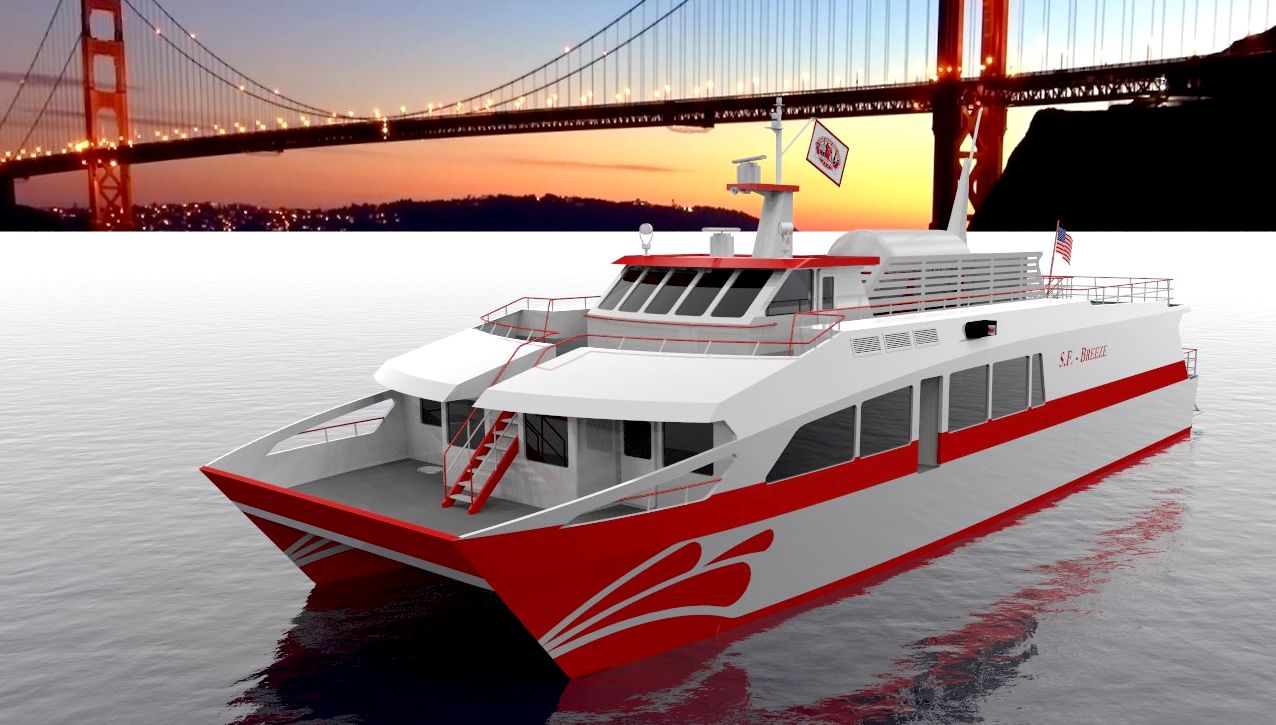 The group drew up conceptual specifications: a 150-passenger commuter ferry that would travel four 50-mile round-trip routes each day at a top speed of 35 knots (roughly 39 miles per hour) about 60 percent of the time. The ferry could refuel midday, between the morning and afternoon commutes.

"This kind of boat has never been built before," says mechanical engineer Curt Leffers, the project manager for Elliott Bay Design Group. "Hydrogen fuel cells are heavier than diesel engines for a given power output, so achieving the right power-to-weight ratio for the vessel was tricky."

The need for speed drove the design to a slightly longer catamaran. The engineers were able to save weight by consolidating the support equipment for the fuel cells.

To achieve the necessary safety standoffs from the fuel cells, the designers placed fuel cells on the main deck of the vessel in a separate compartment. Leffers explains that this provides physical separation between the fuel cells and passengers.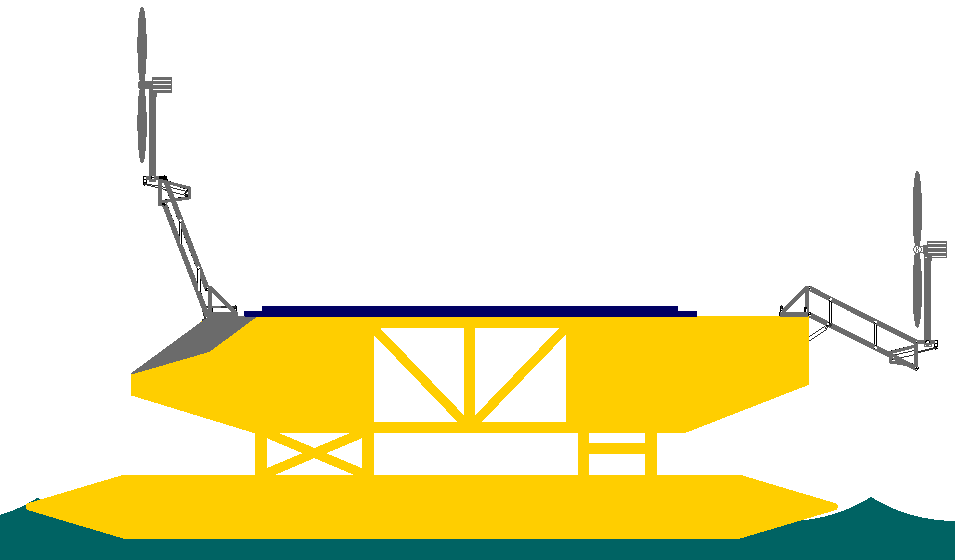 -
SOLAR & WIND POWERED FERRY - The Cross Channel Challenger (CCC) was a project on the drawing board in 2019 looking for backing to develop a coastal cruiser that is zero carbon just like the hydrogen projects, but where the vessel converts energy from nature onboard for propulsion without risk of hydrogen leaks or fires.
This is a toe-in-the-water project using budget off the shelf equipment to keep the costs down. Hence, the theoretical performance is lower than might be achieved but higher than the current benchmark. It is a useful stepping stone to medium range ferries and eventually bigger ships with longer ranges. Solar combined with wind power could be the winning combination. Comparing the two technologies will be interesting. For sure, the solar powered ferries will be safer and cheaper.
Solar and wind powered vessels do not need big hydrogen tanks next to docks for ships to fill up from. They do not need trucks to deliver the hydrogen from the conversion plants and last but not least, hydrogen is potentially dangerous, as the Zeppelin 'Hindenburg' demonstrated in 1937 when a spark ignited the fated airship, destroying it in minutes.
Since 2019, a study in July 2021 has shown that the hull design in basic, could be adapted to cross the Atlantic on hydrogen power alone, with solar assistance, as a top up power source. Food for thought for Waterborne and Zero Emission Waterborne Transport (ZEWT) advocates in Europe. The aim would be to adapt the concept to practical ZESTA ferries, especially for island nations who depend on shipping for their economies. The proposed design is also safer, leak wise.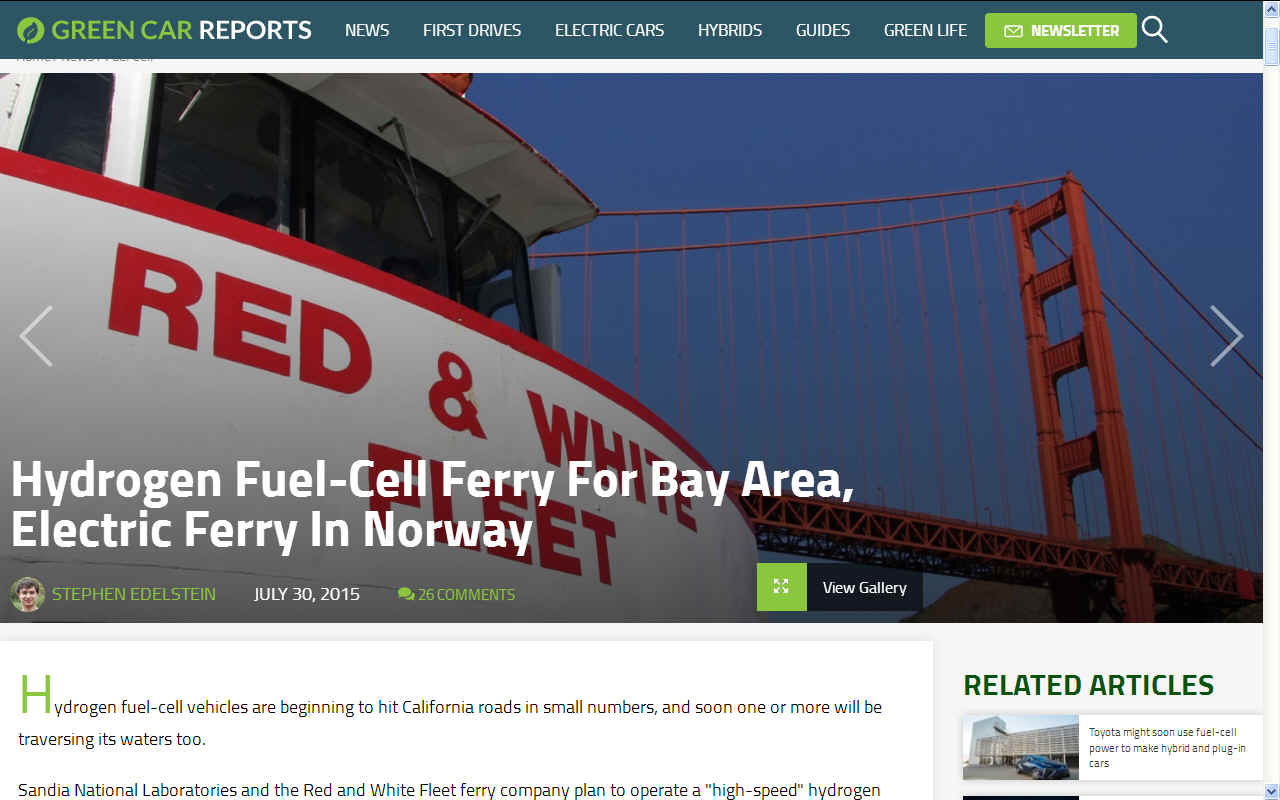 Maritime transportation has emerged as one solution to the traffic gridlock that plagues coastal cities. But with urban passenger ferries operating in sensitive environments and tourist areas, hydrogen fuel cell-powered passenger ferries potentially offer a quiet, zero-emission alternative to conventional diesel vessels.

Red and White Fleet President Escher sees SF-BREEZE as the start of a revolution in marine transportation. "When this boat is launched, it will be a seed. When you add a seed to water, it grows," he says. "This seed could grow into a 40-meter tugboat, a 70-meter supply boat or a 300-meter oceangoing ship trading between the West Coast and Hawaii. And all at zero pollution."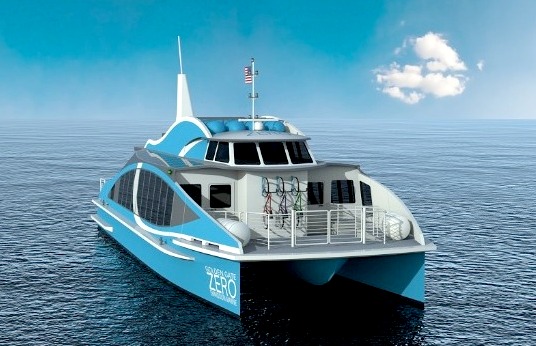 ...
CONVERSION, CONVERSION, CONVERSION - It is the number of additional stages of splitting water using electricity, storing as a gas and then recombining it to extract the electricity that was put in at the beginning at a huge net energy loss. Elon Musk has a point don't you think?
Hydrogen is recognised as a fuel with the potential to deliver 100% zero-carbon operation in marine transport, but the systems proposed so far are expensive and complicated, where the first rule of engineering is to Keep It Simple Stupid: KISS.
The allure of the hydrogen economy is plain, splitting ordinary water using electrolysis to obtain oxygen and hydrogen gas is like a schoolboy chemist dream come true, especially if we can generate what appears to be free electricity using solar cells and wind turbines to split the water. Then the hydrogen is free right?
No, not really.
There is a cost, including the cost of manufacturing the solar panels or wind turbines and the transmission line installation and maintenance. The inefficiencies in the conversion and handling chain make hydrogen expensive to produce and so potentially un-competitive - as compared to using the electricity needed to convert water, directly.
In addition, hydrogen is dangerous unless stored very carefully. Space rockets powered by hydrogen and oxygen sometimes explode, with the Hindenburg zeppelin explosion being signs of things to come in a world fraught with human error. We'd be courting disaster. If something can happen, it will happen. Passengers would be traveling in potential time bombs.
CONTACTS
....
A-Z INDEX OF H2 POWERED FUEL CELL SHIPS

BOREAL SJO
FERRY OPERATORS & ISLAND SERVICES
DFDS -
LINKS & REFERENCE
https://energy.sandia.gov/transportation-energy/hydrogen/market-transformation/maritime-fuel-cells/sf-breeze/
https://grist.org/article/a-ferry-that-runs-on-hydrogen-fuel-cells-is-coming-to-san-francisco/
https://www.shell.com/energy-and-innovation/natural-gas/lng-for-transport.html
http://www.cheetahmarine.co.uk/en/deliveries/worlds-first-hydrogen-powered-boat-smashes-targets
https://www.scottish-enterprise-mediacentre.com/news/ferguson-marine-to-develop-world-first-renewables-powered-hydrogen-ferry
https://www.electrive.com/2018/06/20/hyseas-iii-scotland-to-build-first-sea-going-hydrogen-ferry/
https://www.cruiseandferry.net/articles/scotland-explores-feasibility-of-hydrogen-powered-ferries
http://www.pointandsandwick.co.uk/news/publication-of-hydrogen-ferry-report/
ADRIATIC SEA - ARCTIC OCEAN - ATLANTIC OCEAN - BALTIC SEA - BAY OF BENGAL - BERING SEA - CARIBBEAN SEA
CORAL SEA - EAST CHINA SEA - ENGLISH CHANNEL - GULF OF GUINEA - GULF OF MEXICO - INDIAN OCEAN - IRISH SEA
MEDITERRANEAN SEA - NORTH SEA - PACIFIC OCEAN - PERSIAN GULF - SEA OF JAPAN - SOUTH CHINA SEA - SOUTHERN OCEAN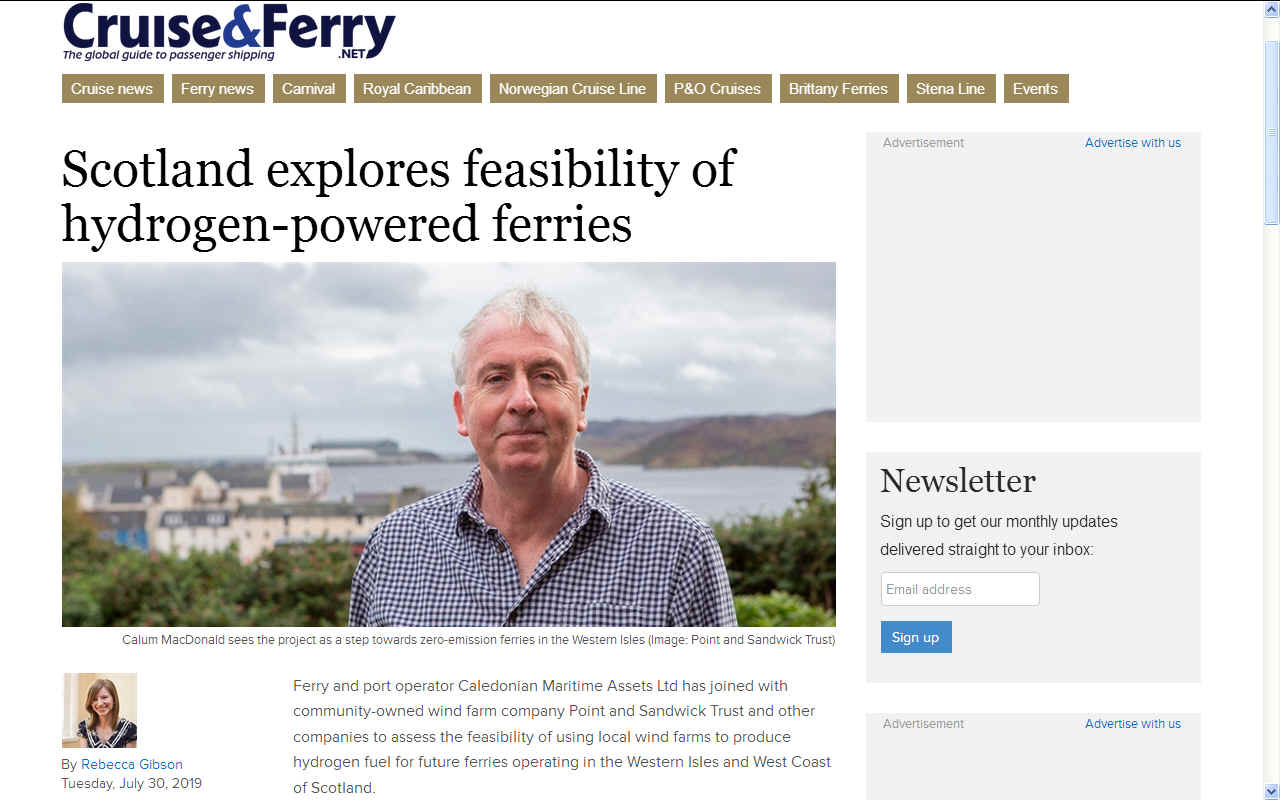 STUDY PUBLISHED - Point and Sandwick Trust, in collaboration with a number of industry partners (Wood, Siemens-Gamesa, Engie, ITM, CMAL, Johnston Carmichael and Ferguson Marine), have published a feasibility study to assess the suitability of using hydrogen produced from local wind farms to power future ferry services operating in the Western Isles and West Coast of Scotland.

The study was part-funded by the Scottish Government's Low Carbon Infrastructure Transition Programme. Read the full report here.

The project looked at the practical and economic feasibility of using new island wind farms to produce zero-carbon "green" hydrogen fuel for future types of clean emission ferries operating on the established Caledonian MacBrayne routes.
This website is provided on a free basis as a public information service. Copyright © Cleaner Oceans Foundation Ltd (COFL) (Company No: 4674774) 2019. Solar Studios, BN271RF, United Kingdom. COFL is a charity without share capital.