HYDROGEN - POWERED ELECTRIC FERRIES
ABOUT - CLIMATE CHANGE - CONTACTS - FERRY OPERATORS - HOME - OCEAN PLASTIC
PLEASE USE OUR A-Z INDEX TO NAVIGATE THIS SITE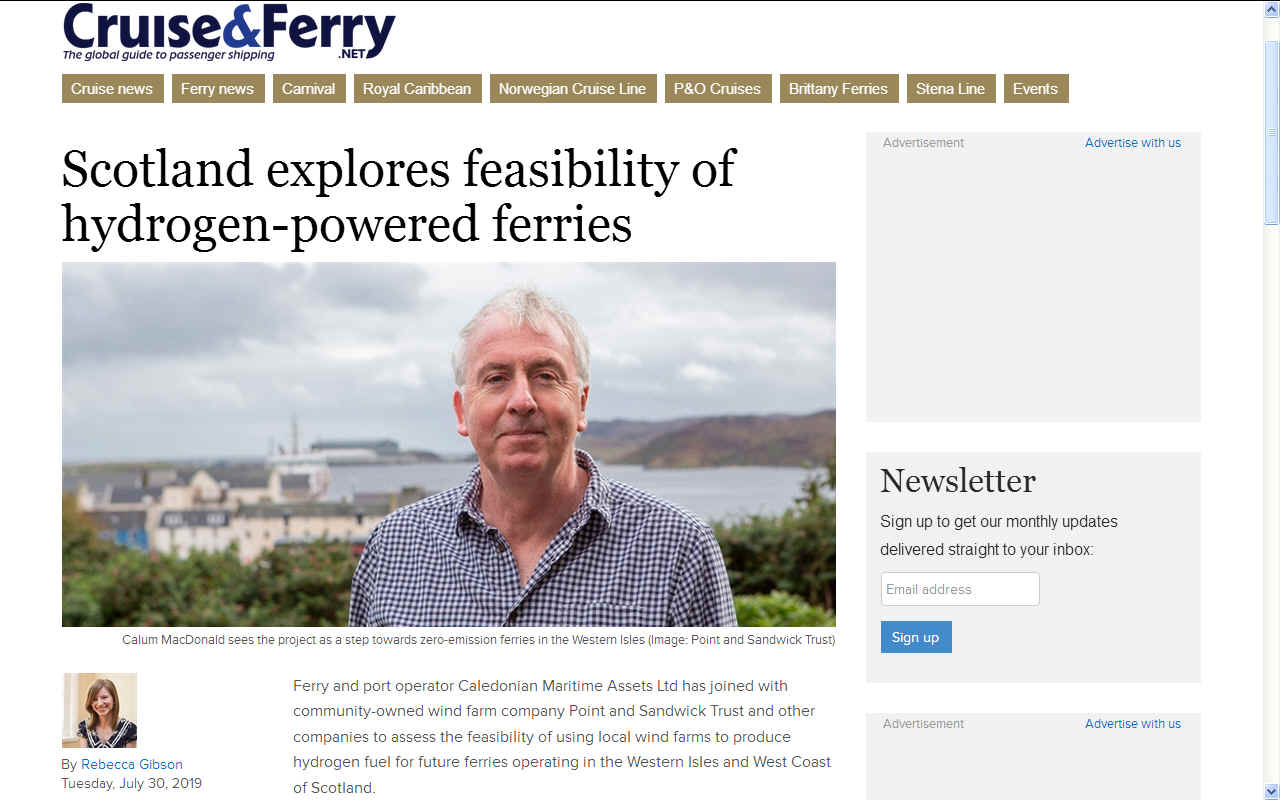 STUDY PUBLISHED - Point and Sandwick Trust, in collaboration with a number of industry partners (Wood, Siemens-Gamesa, Engie, ITM, CMAL, Johnston Carmichael and Ferguson Marine), have published a feasibility study to assess the suitability of using hydrogen produced from local wind farms to power future ferry services operating in the Western Isles and West Coast of Scotland.

The study was part-funded by the Scottish Government's Low Carbon Infrastructure Transition Programme. Read the full report here.

The project looked at the practical and economic feasibility of using new island wind farms to produce zero-carbon "green" hydrogen fuel for future types of clean emission ferries operating on the established Caledonian MacBrayne routes.
Hydrogen is recognised as a fuel with the potential to deliver 100% zero-carbon operation in marine transport. There are a number of initiatives around the world attempting to make operation ready, hydrogen for marine transport, including the HySeas project in Orkney which is supported by the Scottish Government and the European Commission.
ROSE COLOURED SPECTACLES
The allure of the hydrogen economy is plain, splitting ordinary water using electrolysis to obtain oxygen and hydrogen gas is like a dream come true, especially if we can generate what appears to be free electricity using solar cells and wind turbines to split the water. Then the hydrogen is free right?
No, not really.
There is a cost, including the cost of manufacturing the solar panels or wind turbines and the transmission line installation and maintenance. The inefficiencies in the conversion and handling chain make hydrogen expensive to produce and so potentially un-competitive - as compared to using the electricity needed to convert water, directly.
Utopians rarely see the wood for the trees. It's a bit like the VHS versus BetaMax video tape formats. BetaMax had all the theoretical quality advantages, but VHS won though on price and market saturation - then along came DVDs and BlueRay.
Where there is a cost, then we have to consider payback time and working life. If we can use most of the solar and wind energy directly to power vehicles (homes & factories), we make the best of the working life of our energy harvesting apparatus. And that means reduced greenhouse gases, so a reduced carbon footprint for the human race in an anthropogenic fight against climate change.
WEST COAST FERRY ROUTES HYDROGEN BUNKERING & COSTS
The project team assessed the most practical locations and likely output and cost of island wind farms; how to overcome challenges associated with handling, transporting and storing the hydrogen on local piers; and the bunkering requirements of nine West Coast ferry routes.

Assessments found that the highest scoring route for a large ferry was the vessel operating on the long crossing from Stornoway to Ullapool, which would require 3,767 tonnes of hydrogen produced by 15 wind turbines. Estimates suggest this could save 21,815 tonnes of carbon dioxide equivalent per year, the equivalent of removing 4,742 cars off the road annually.

Meanwhile, the highest scoring route using a small ferry was on the short crossing from Barra to Eriskay, which would require 219 tonnes of hydrogen produced by a single 4.3-megawatt wind turbine generator. This could reduce carbon dioxide emissions by 676 tonnes every year – equal to taking 147 cars off the road in the same period.

"The richness of the Outer Hebrides renewable energy resource will allow the islands to make a significant contribution to the UK and Scotland's green energy targets," said Uisdean Robertson, councillor and chairman of Comhairle Nan Eilean Siar's Transportation and Infrastructure Committee. "In addition to energy generation, however, it is essential that we look to new and innovative methodologies to decarbonise our transport infrastructure. The potential of fuelling Calmac ferries using hydrogen offers real potential and, as such, I welcome these studies and look forward to seeing the next stage of activity on the two West Coast routes progressing."

Prices of hydrogen would range between £3.70 and £5.60 (US$4.50 and US$6.82 per kilogram), which equates to between £0.11 and £0.17 (US$0.13 and US$0.21) per kilowatt-hour. Current marine diesel fuel is £0.05 (US$0.06) per kilowatt-hour.

If hydrogen produced from renewable resources for marine transport was to be included in the UK government's Renewable Transport Fuel Obligation mechanism, it was calculated that the price would fall to between £2.90 and £4.00 (US$3.53 and US$4.87) per kilogram, or £0.09 and £0.12 (US$0.11 and US$0.15) per kilowatt-hour.

Findings suggest that the price gap between using imported oil and local renewables is smaller than initially expected. However, to close the gap, the study found that Scotland needs to make further progress with designing and building more energy-efficient ships, and improve the economics of wind farm and hydrogen production.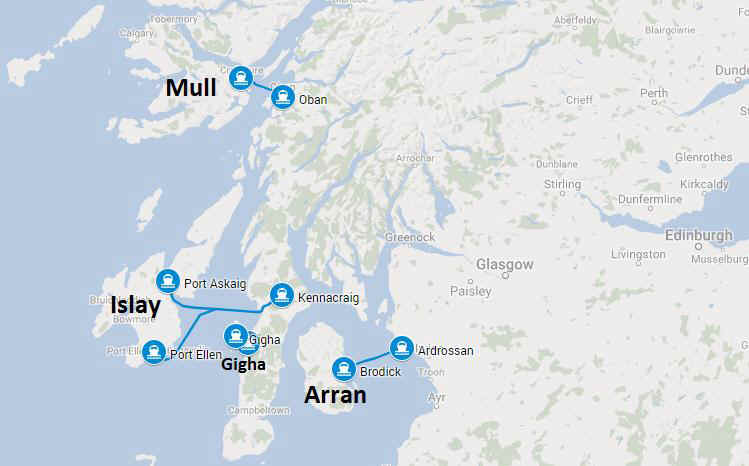 RECENT HYDROGEN FUEL CELL SHIP PROJECTS
• HySeas III project: A consortium to build the world's first sea-going car and passenger ferry fuelled by hydrogen fuel cell propulsion secured EU funding in 2018. The vessel is planned to operate in and around Orkney by 2021, which is already producing hydrogen from constrained renewable energy. The project is being led by Ferguson Marine Engineering Ltd (which is also involved in SWIFTH2) and St. Andrews University.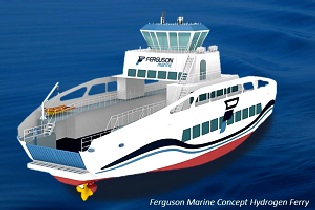 • FellowSHIP (Fuel Cells for Low Emissions Ships) project: FellowSHIP is a joint industry project managed by Det Norske Veritas (DNV). The project was among the first commercial fuel cell projects in the marine industry in 2009. The
hybrid ship project involves a 330 kW fuel cell which has been successfully installed onboard the offshore supply vessel OSV Viking Lady for power around shores and ecologically sensitive areas. It has been reported to have operated for more than 18,500 hours, powered by both LNG fuel and the onboard fuel cell.
• RCL cruise liner 'hotel' load: Royal Caribbean (RCL) is set to install hydrogen fuel cells in their new Icon class ships to take up the vessels' hotel loads when docked at port, with a longer term goal of evaluating their suitability for main
propulsion applications. The Icon class ships are due to be delivered in the second quarter of 2022 and 2024. Meanwhile, RCL are reported to have tested fuel cell technology on an existing Oasis class ship in 2017, and will run progressively
larger fuel cell projects on new Quantum class vessels in the next several years.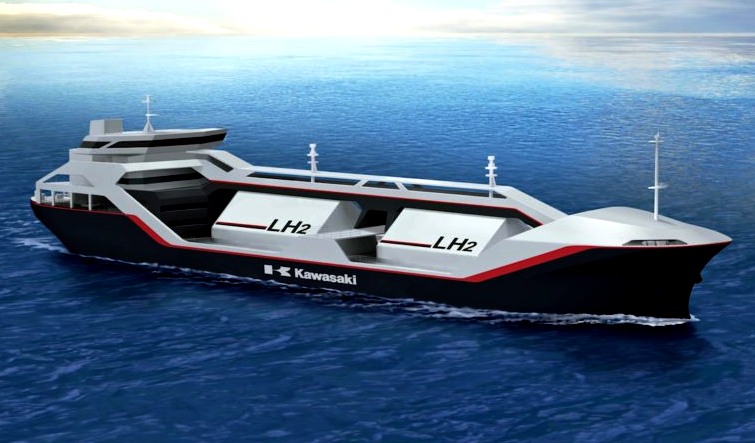 • Liquid hydrogen cruise liner: Viking Cruises announced in 2017 their intention to build the world's first liquid hydrogen cruise liner capable of powering both propulsion and electrical loads from a hydrogen supply. The ship will be
approximately 230 metres long and will accommodate more than 900 passengers and a crew of 500. Viking Cruises is in dialogue with Equinor (formerly Statoil) to develop a sufficiently large source of liquid hydrogen based on a Norwegian refinery.

• Nemo H2 passenger ship: Developed by Fuel Cell Boat for 88 people, the 22 metre long canal boat generates power for its electric motor from a 60 kW hydrogen fuel cell. The Nemo H2 was launched in Amsterdam in December 2009.

• FCS Alsterwasser ZemShip (Zero Emission Ship): The 100 person hydrogen power passenger ship is power-assisted by an electric motor and generates its electricity from a hydrogen fuel cell. In August 2008, the Alsterwasser was reported to be the first inland passenger ship in the world to set sail under fuel cell propulsion. The 25 metre long boat is run by ATG, and makes regular trips on the Alster, the inland lake at the heart of Hamburg.
• Cheetah Marine hydrogen catamaran: In 2016, Cheetah Marine launched a 9.95 long metre catamaran from the Isle of Wight, powered by a hydrogen internal combustion engine. The catamaran was developed as part of the Isle of Wight's
now-defunct Ecoisland project, which aimed to make the island energy selfsufficient by 2020. ITM Power (which is also involved in SWIFTH2) has built a marine refuelling station at Cheetah Marine's base in Ventnor, which produces the
required hydrogen. The station was part of a £4m UK government-funded project.

• PILOT E project: Norway's Fiskerstrand Holding is working on a hydrogen powered ferry as part of the wider HYBRIDShips programme. The project was formally launched in January 2017 and Fiskerstrand has set an ambitious goal of having the ferry ready by 2020.

• Hydrogenesis passenger boat: Believed to be the first commercial fuel cell boat in the UK, the 12-seater Hydrogenesis was ordered by Bristol City Council in 2010 and initially ran for only six months in 2013. The boat was relaunched in 2016 after
a refit and is now operated by Bristol Packet as a private hire passenger vessel.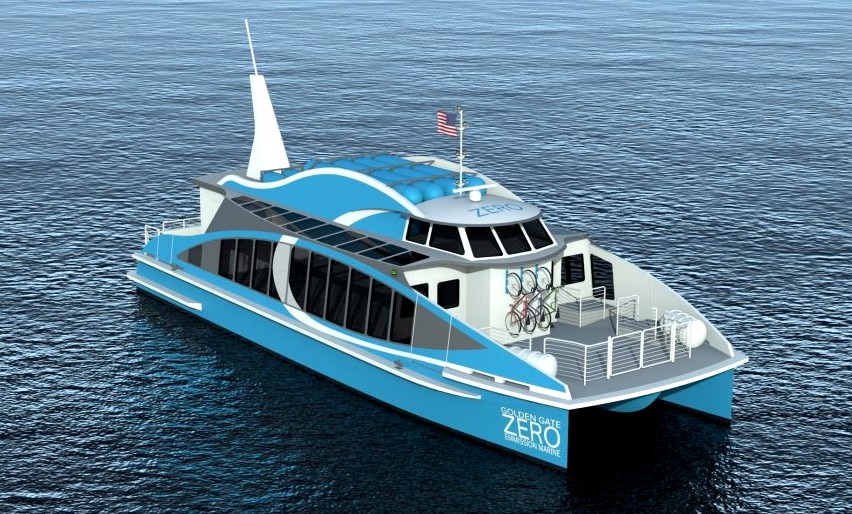 • JUNE 25 2018 - The California Air Resources Board (CARB) announced a $3 million grant to help build a hydrogen fuel cell ferry to operate in San Francisco Bay. Once built, it would be be the first of its kind in the United States, and the first commercial hydrogen fuel cell ferry in the world. The planned vessel, named Water-Go-Round, would carry 84 passengers and stretch 70 feet long. Construction is expected to start early in the fall in Alameda, California, and the vessel is slated to hit the water in 2019.
NORWAY & FRANCE - CAD impression of the proposed NORLED zero carbon hydrogen powered ferry.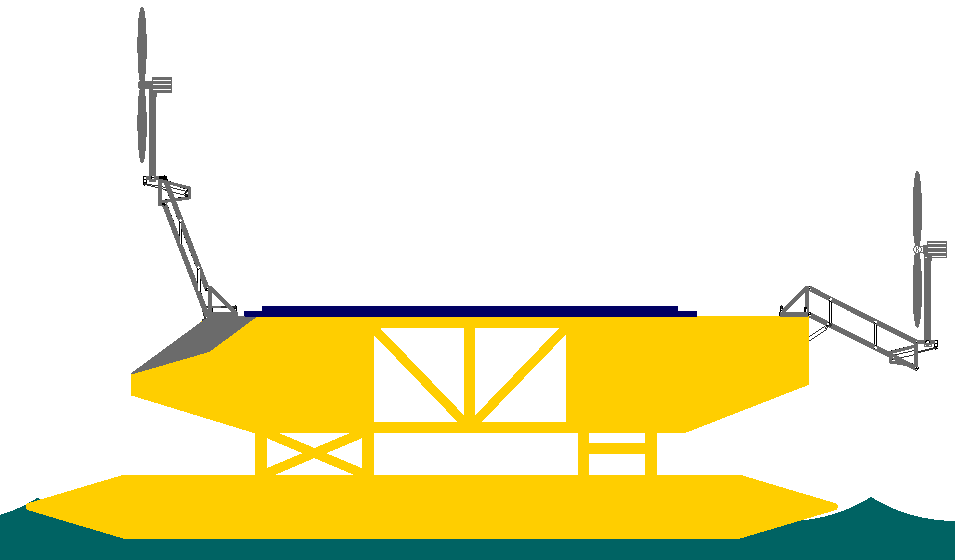 -
SOLAR & WIND POWERED FERRY - The Cross Channel Challenger (CCC) is a project currently on the drawing board looking for backing to develop a coastal cruiser that is zero carbon just like the hydrogen projects, but where the vessel converts energy from nature onboard for propulsion, taking hydrogen leaks and inefficiencies out of the equation..
This is a toe-in-the-water project using budget off the shelf equipment to keep the costs down. Hence, the theoretical performance is lower than might be achieved but higher than the current benchmark. It is a useful stepping stone to medium range ferries and eventually bigger ships with longer ranges. Solar combined with wind power could be the winning combination. Comparing the two technologies will be interesting. For sure, the solar powered ferries will be safer and cheaper.
Solar and wind powered vessels do not need big hydrogen tanks next to docks for ships to fill up from. They do not need trucks to deliver the hydrogen from the conversion plants and last but not least, hydrogen is potentially dangerous, as the Zeppelin 'Hindenburg' demonstrated in 1937 when a spark ignited the fated airship, destroying it in minutes.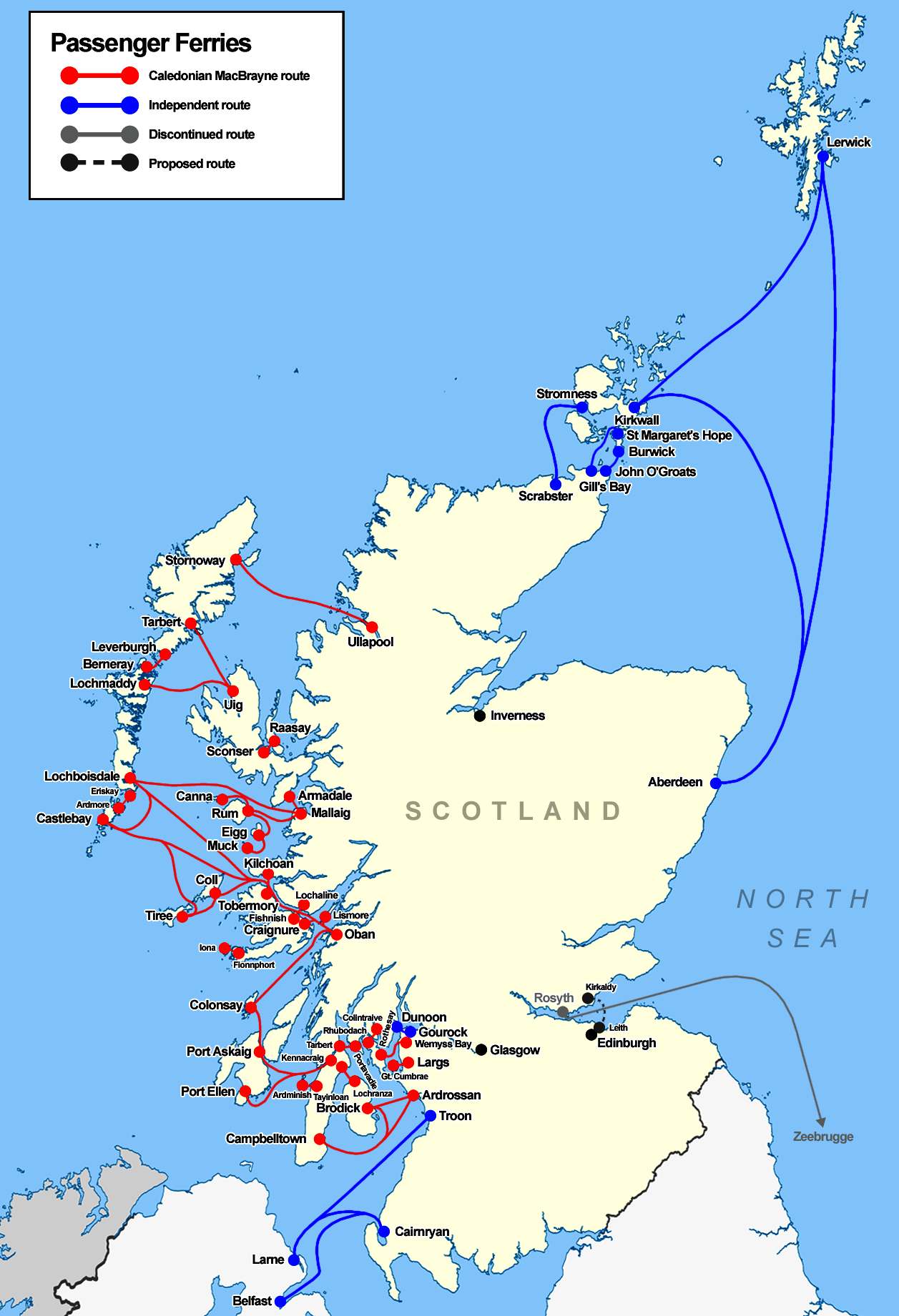 FERRY ROUTES - From Scotland to Ireland and to the Scottish Isles, there are a multitude of routes that can only survive with support, where profitability is in issue. Where sustainability and the elusive circular economy are major United Nations issues, could hydrogen compete with more efficient systems? Yes, it is clean, and yes it is wonderful chemistry, but will ferry services using hydrogen be able to compete with ferries that use cheaper renewable energy systems.
PARTICIPANTS IN THE STUDY:

• Point and Sandwick Trust (PST): a community trust which owns the UK's largest community-owned wind farm, renewable energy company which owns the award-winning Beinn Ghrideag wind farm on the Isle of Lewis. All the profit from the wind farm is reinvested in community projects across the Western Isles. Point and Sandwick Trust is the lead partner of the SWIFTH2 project.

• Caledonian Maritime Assets Ltd. (CMAL): Wholly owned public corporation of the Scottish Government. CMAL own the ferries, ports, harbours and infrastructure for services in the West Coast of Scotland and the Firth of Clyde and the Northern Isles. CMAL along with Dr. Martin Smith from the University of St Andrews initiated the HySeas I and II Hydrogen Ferry Programmes. CMAL developed the concept design for world's first seagoing passenger and vehicle roll-on roll-off ferries incorporating a low-carbon hybrid system of diesel electric and lithium ion battery power built at Ferguson Shipbuilders. They have provided the Consortium with high level technical data for a representative fleet of vessels to be modelled and have supported the study with technical advice.

• Wood: A global leader in the delivery of project, engineering and technical services in energy, industry, and the built environment. Wood provides performance-driven solutions throughout the asset life cycle, from concept to decommissioning across a broad range of industrial markets, including the upstream, midstream and downstream oil & gas; power & process; environment and infrastructure; clean energy; mining; nuclear and general industrial sectors. www.woodplc.com
Wood's clean energy team is responsible for coordinating the SWIFTH2 consortium, undertaking the feasibility assessments, and compiling the feasibility study report.

• Siemens Gamesa Renewable Energy (SGRE): A leading supplier of wind turbines and related services to the UK and overseas. SGRE have supported the project with detailed wind turbine technical information and advice.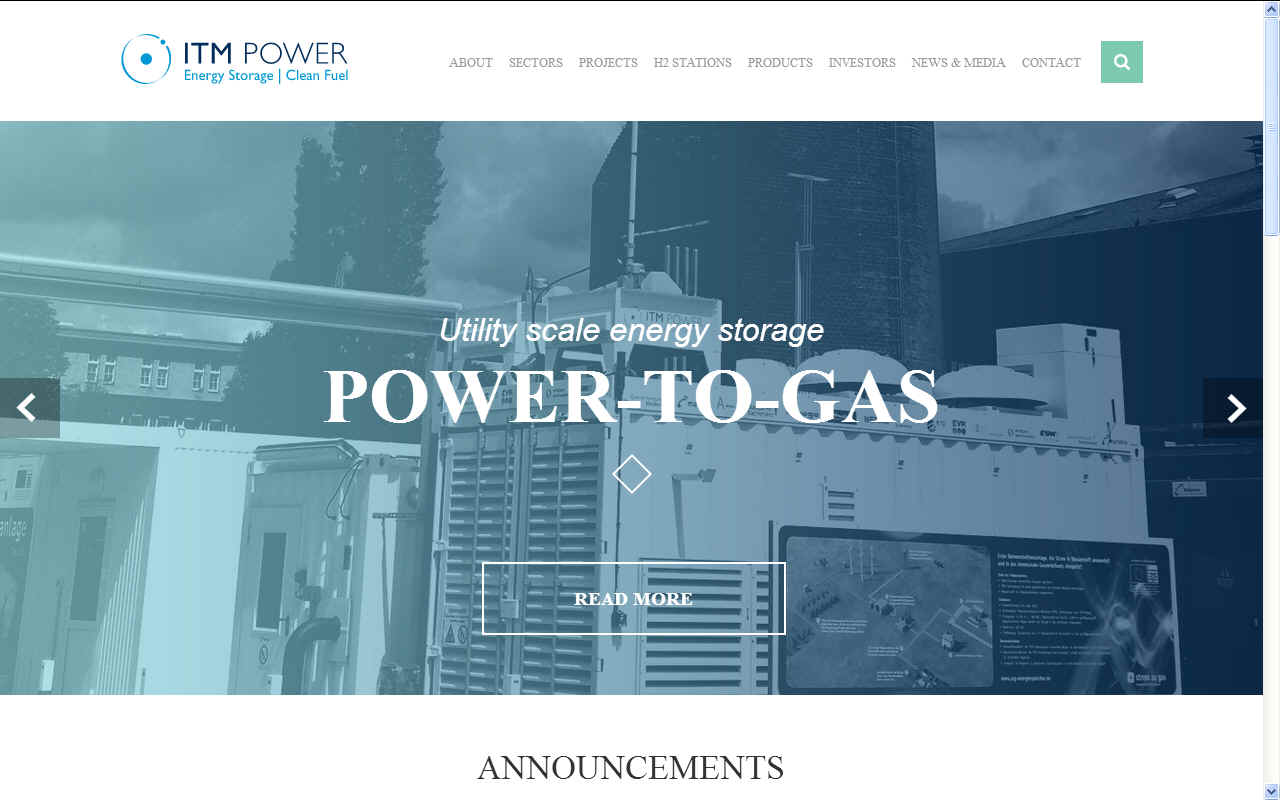 • ITM Power: ITM Power is a global leader in the design and manufacture of integrated hydrogen energy solutions that are rapid response, for grid balancing, energy storage and the production of green hydrogen for transport, renewable heat and chemicals. The Company has a forecourt siting agreement with Shell for hydrogen refueling stations and is deploying a 10MW electrolyser system at Shell's Rhineland refinery, with offices in North America, Germany, France and Australia. ITM Power have provided technical data and advice relating to the hydrogen production process and electrolyser units for SWIFTH2. www.itm-power.com

• ENGIE: A leading energy and services company, focused on renewable power production, energy supply and services and regeneration. ENGIE is an active founding member of the Hydrogen Council and is developing renewable hydrogen projects around the world. ENGIE have undertaken detailed technical modelling of hydrogen storage, distribution and refuelling scenarios.

• Johnston Carmichael: Scotland's largest independent firm of chartered accountants and business advisers, and specialists in renewable energy finance. Johnston Carmichael has developed the financial model for this study.

• Ferguson Marine Engineering Limited (FMEL): The redeveloped Port Glasgow shipyard which launched the World's first battery hybrid ferry in 2012, has contributed technical advice at an early stage of the study. FMEL is also is leading two complementary Hydrogen projects: HyDIME – developing the technology to convert existing marine diesel engines to run on Hydrogen ; and HySeas III, a Europe-wide consortium aiming to launch the world's first sea-going, Hydrogen RoRo ferry by 2021.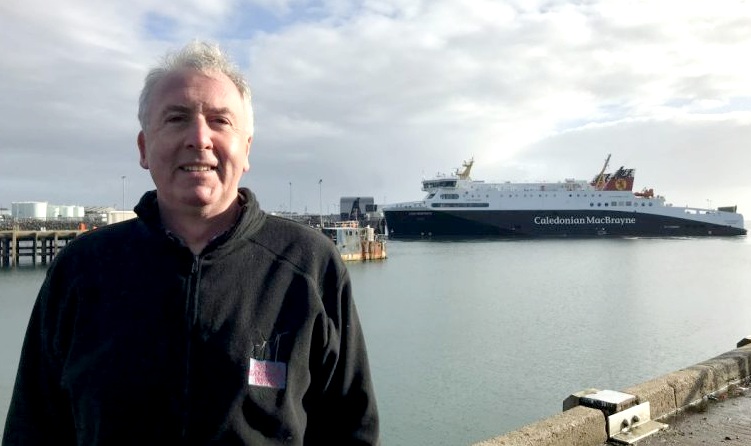 "This is an exciting first step towards a future where zero-emission ferries are serving the Western Isles using hydrogen sourced from local and renewable wind power," said Calum MacDonald, project manager at Point and Sandwick Trust. "We need to make our ferries zero-carbon to protect the planet, but at the same time, we need to use our local, renewable resources to fuel those ferries to protect and strengthen our communities. When we have the best renewable resources in Europe on these islands, it would be crazy to replace the import of marine oil with the import of hydrogen. By sourcing the power locally, we can create a virtuous and sustainable cycle that benefits both the nation and local communities."
CONVERSION, CONVERSION, CONVERSION - It is the number of additional stages of splitting water using electricity, storing as a gas and then recombining it to extract the electricity that was put in at the beginning at a huge net energy loss. Elon Musk has a point don't you think?
FERRY OPERATORS & ROUTE OPTIONS
Sometimes the shortest route isn't the most convenient for accessing much of Scotland or France from England. What you save in cheaper ferry fares you might pay for in diesel and petrol fuels for conventional ICE cars, and tolls because of a longer land journey. The heralding in of electric vehicles with supporting infrastructure will change that, as will the 2030 targets set by the IMO for lower shipping emissions begin to take effect as they are gradually implemented.
Assuming that these targets are met, more local coastal tourism will be far more sustainable than global tourism reliant on flying to exotic destinations, no matter how alluring the thought of white sandy beaches and clear blue tropical seas.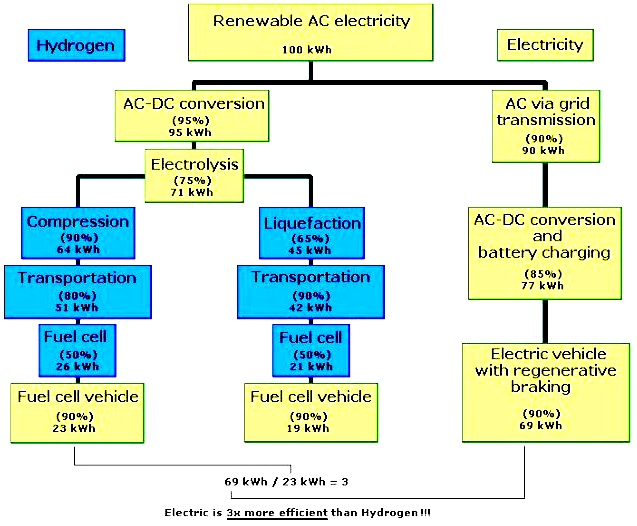 CONTACTS
Point and Sandwick Trust
The Old School
Knock
Point, HS2 0BW
Tel: 01851 871286
A-Z INDEX OF H2 POWERED FUEL CELL SHIPS

BARILLEC MARINE
CROSS (ENGLISH) CHANNEL FERRY OPERATORS & ISLAND SERVICES
DFDS -
LINKS & REFERENCE
https://grist.org/article/a-ferry-that-runs-on-hydrogen-fuel-cells-is-coming-to-san-francisco/
https://www.shell.com/energy-and-innovation/natural-gas/lng-for-transport.html
http://www.pointandsandwick.co.uk/
http://www.cheetahmarine.co.uk/en/deliveries/worlds-first-hydrogen-powered-boat-smashes-targets
https://www.scottish-enterprise-mediacentre.com/news/ferguson-marine-to-develop-world-first-renewables-powered-hydrogen-ferry
https://www.electrive.com/2018/06/20/hyseas-iii-scotland-to-build-first-sea-going-hydrogen-ferry/
www.woodplc.com
www.itm-power.com
https://www.cruiseandferry.net/articles/scotland-explores-feasibility-of-hydrogen-powered-ferries
http://www.pointandsandwick.co.uk/news/publication-of-hydrogen-ferry-report/
ADRIATIC SEA - ARCTIC OCEAN - ATLANTIC OCEAN - BALTIC SEA - BAY OF BENGAL - BERING SEA - CARIBBEAN SEA
CORAL SEA - EAST CHINA SEA - ENGLISH CHANNEL - GULF OF GUINEA - GULF OF MEXICO - INDIAN OCEAN - IRISH SEA
MEDITERRANEAN SEA - NORTH SEA - PACIFIC OCEAN - PERSIAN GULF - SEA OF JAPAN - SOUTH CHINA SEA - SOUTHERN OCEAN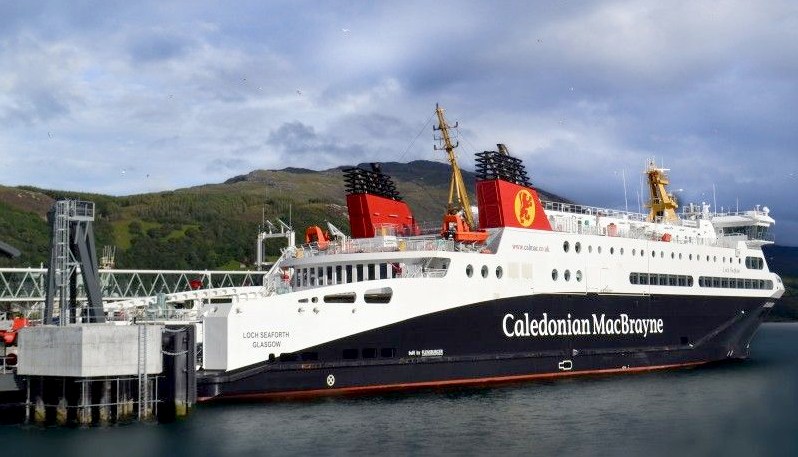 ...
This website is provided on a free basis as a public information service. Copyright © Cleaner Oceans Foundation Ltd (COFL) (Company No: 4674774) 2019. Solar Studios, BN271RF, United Kingdom. COFL is a charity without share capital.