VINCI BARILLEC - OUESSANT ISLAND
ABOUT - CLIMATE CHANGE - CONTACTS - FERRY OPERATORS - HOME - OCEAN PLASTIC
PLEASE USE OUR A-Z INDEX TO NAVIGATE THIS SITE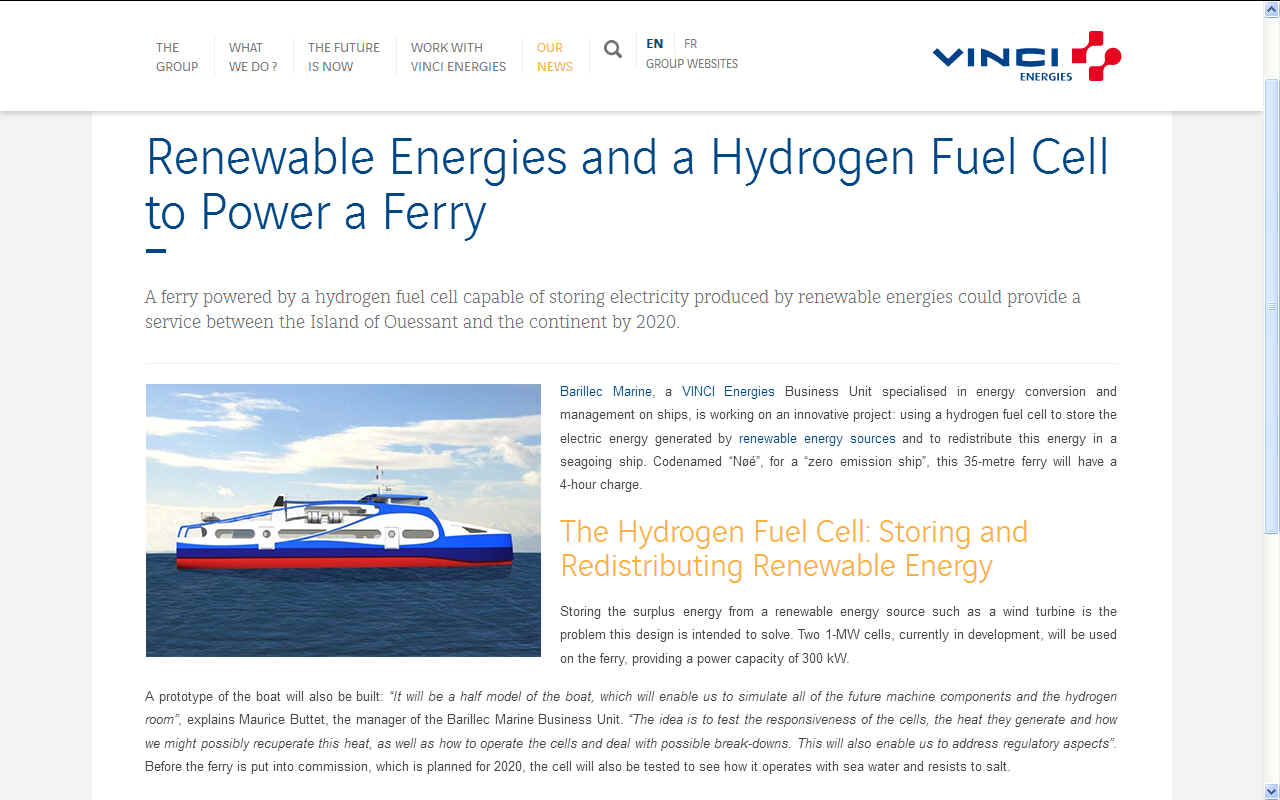 OUESSANT ISLAND - CAD impression of the Barillec Marine ferry planned for Ouessant Island.
In a world undergoing constant change, VINCI Energies focuses on connections, performance, energy efficiency and data to fast-track the rollout of new technologies and support two major changes: the digital transformation and the energy transition. VINCI Energies applies a multi-local business model based on entrepreneurship and networking of all its expertise, working closely with its customers to create value day-to-day.

Operating in 53 countries worldwide, our 1,800 business units intervene in infrastructure, industry, Building Solutions and information and communications technology (ICT). They are organised around five international brands – Omexom, Citeos, Actemium, VINCI Facilities and Axians – in addition to brands with a more regional identity.

JULY 20 2015 - VINCI RENEWABLE ENERGIES HYDROGEN FUEL CELLS TO POWER A FERRY

A ferry powered by a hydrogen fuel cell capable of storing electricity produced by renewable energies could provide a service between the Island of Ouessant and the continent by 2020.

The Hydrogen Fuel Cell: Storing and Redistributing Renewable Energy

Storing the surplus energy from a renewable energy source such as a wind turbine is the problem this design is intended to solve. Two 1-MW cells, currently in development, will be used on the ferry, providing a power capacity of 300 kW.

A prototype of the boat will also be built: "It will be a half model of the boat, which will enable us to simulate all of the future machine components and the hydrogen room", explains Maurice Buttet, the manager of the Barillec Marine Business Unit. "The idea is to test the responsiveness of the cells, the heat they generate and how we might possibly recuperate this heat, as well as how to operate the cells and deal with possible break-downs. This will also enable us to address regulatory aspects". Before the ferry is put into commission, which is planned for 2020, the cell will also be tested to see how it operates with sea water and resists to salt.

On this project, Barillec Marine is working in partnership with the other companies: Coprexma, Piriou, Symbio FCELL, l'Ecole Nationale Supérieure Maritime and Pen Ar Bed. "We are not builders but rather solution designers. We assemble "bricks", that is to say equipment provided by suppliers which we choose with great care and adapt to create the optimal system, by relying a great deal on the software, the mastery of which is one of the mains keys to success for energy savings on a ship", explains Maurice Buttet. The Business Unit belongs to the Actemium network, the VINCI Energies brand dedicated to the industry sector.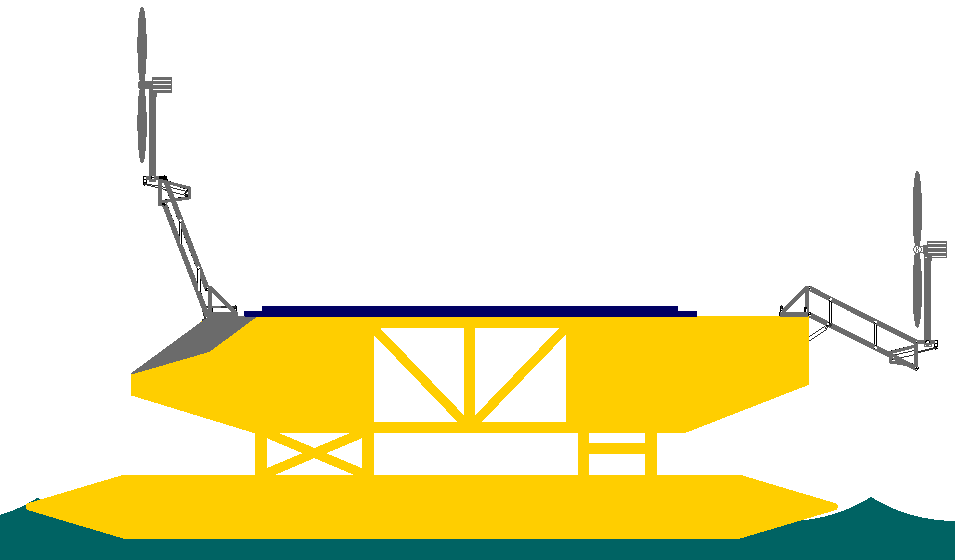 -
SOLAR & WIND POWERED FERRY - The Cross Channel Challenger (CCC) was a project on the drawing board in 2019 looking for backing to develop a coastal cruiser that is zero carbon just like the hydrogen projects, but where the vessel converts energy from nature onboard for propulsion without risk of hydrogen leaks or fires.
This is a toe-in-the-water project using budget off the shelf equipment to keep the costs down. Hence, the theoretical performance is lower than might be achieved but higher than the current benchmark. It is a useful stepping stone to medium range ferries and eventually bigger ships with longer ranges. Solar combined with wind power could be the winning combination. Comparing the two technologies will be interesting. For sure, the solar powered ferries will be safer and cheaper.
Solar and wind powered vessels do not need big hydrogen tanks next to docks for ships to fill up from. They do not need trucks to deliver the hydrogen from the conversion plants and last but not least, hydrogen is potentially dangerous, as the Zeppelin 'Hindenburg' demonstrated in 1937 when a spark ignited the fated airship, destroying it in minutes.
Since 2019, a study in July 2021 has shown that the hull design in basic, could be adapted to cross the Atlantic on hydrogen power alone, with solar assistance, as a top up power source. Food for thought for Waterborne and Zero Emission Waterborne Transport (ZEWT) advocates in Europe. The aim would be to adapt the concept to practical ZESTA ferries, especially for island nations who depend on shipping for their economies. The proposed design is also safer, leak wise.
CONVERSION, CONVERSION, CONVERSION - It is the number of additional stages of splitting water using electricity, storing as a gas and then recombining it to extract the electricity that was put in at the beginning at a huge net energy loss. Elon Musk has a point don't you think?
Hydrogen is recognised as a fuel with the potential to deliver 100% zero-carbon operation in marine transport, but the systems proposed so far are expensive and complicated, where the first rule of engineering is to Keep It Simple Stupid: KISS.
The allure of the hydrogen economy is plain, splitting ordinary water using electrolysis to obtain oxygen and hydrogen gas is like a schoolboy chemist dream come true, especially if we can generate what appears to be free electricity using solar cells and wind turbines to split the water. Then the hydrogen is free right?
No, not really.
There is a cost, including the cost of manufacturing the solar panels or wind turbines and the transmission line installation and maintenance. The inefficiencies in the conversion and handling chain make hydrogen expensive to produce and so potentially un-competitive - as compared to using the electricity needed to convert water, directly.
In addition, hydrogen is dangerous unless stored very carefully. Space rockets powered by hydrogen and oxygen sometimes explode, with the Hindenburg zeppelin explosion being signs of things to come in a world fraught with human error. We'd be courting disaster. If something can happen, it will happen. Passengers would be traveling in potential time bombs.
CONTACTS
VINCI Energies
Direction de la Communication
280, rue du 8 mai 1945
78368 Montesson
France.
Tél. : +33 (0)1 30 86 70 00 Fax : +33 (0)1 30 86 70 10
VINCI Energies, a French public limited company ("société anonyme") registered in the Versailles Trade and Companies Register.
A-Z INDEX OF H2 POWERED FUEL CELL SHIPS

BARILLEC MARINE
FERRY OPERATORS & ISLAND SERVICES
DFDS -
LINKS & REFERENCE
https://www.vinci-energies.com/en/our-news/newscenter/renewable-energies-and-a-hydrogen-fuel-cell-to-power-a-ferry/
http://www.cheetahmarine.co.uk/en/deliveries/worlds-first-hydrogen-powered-boat-smashes-targets
https://www.scottish-enterprise-mediacentre.com/news/ferguson-marine-to-develop-world-first-renewables-powered-hydrogen-ferry
https://www.electrive.com/2018/06/20/hyseas-iii-scotland-to-build-first-sea-going-hydrogen-ferry/
https://www.cruiseandferry.net/articles/scotland-explores-feasibility-of-hydrogen-powered-ferries
http://www.pointandsandwick.co.uk/news/publication-of-hydrogen-ferry-report/
ADRIATIC SEA - ARCTIC OCEAN - ATLANTIC OCEAN - BALTIC SEA - BAY OF BENGAL - BERING SEA - CARIBBEAN SEA
CORAL SEA - EAST CHINA SEA - ENGLISH CHANNEL - GULF OF GUINEA - GULF OF MEXICO - INDIAN OCEAN - IRISH SEA
MEDITERRANEAN SEA - NORTH SEA - PACIFIC OCEAN - PERSIAN GULF - SEA OF JAPAN - SOUTH CHINA SEA - SOUTHERN OCEAN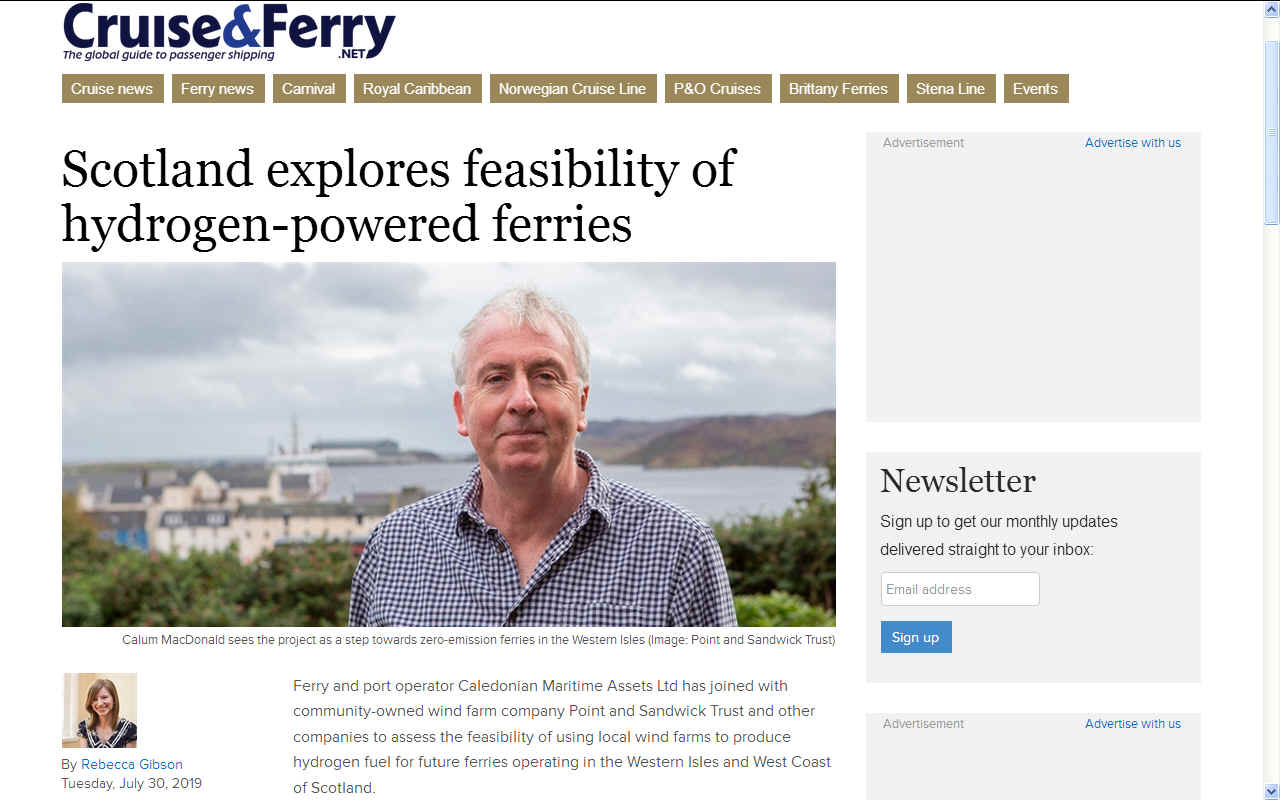 STUDY PUBLISHED - Point and Sandwick Trust, in collaboration with a number of industry partners (Wood, Siemens-Gamesa, Engie, ITM, CMAL, Johnston Carmichael and Ferguson Marine), have published a feasibility study to assess the suitability of using hydrogen produced from local wind farms to power future ferry services operating in the Western Isles and West Coast of Scotland.

The study was part-funded by the Scottish Government's Low Carbon Infrastructure Transition Programme. Read the full report here.

The project looked at the practical and economic feasibility of using new island wind farms to produce zero-carbon "green" hydrogen fuel for future types of clean emission ferries operating on the established Caledonian MacBrayne routes.
This website is provided on a free basis as a public information service. Copyright © Cleaner Oceans Foundation Ltd (COFL) (Company No: 4674774) 2019. Solar Studios, BN271RF, United Kingdom. COFL is a charity without share capital.