FCS ALTSERWASSER - RIVERBOAT, HAMBURG
ABOUT - CLIMATE CHANGE - CONTACTS - FERRY OPERATORS - HOME - OCEAN PLASTIC
PLEASE USE OUR A-Z INDEX TO NAVIGATE THIS SITE
HZWEI 30 SEPTEMBER 2014 - Während sich Hamburg mitunter gerne als Wasserstoff-Hochburg feiert, gibt es auch hier – ebenso wie anderswo – Probleme mit der H2-Infrastruktur: Wie im Umfeld der H2Expo bekannt wurde, liegt das brennstoffzellenbetriebene Fahrgastschiff FCS Alsterwasser seit geraumer Zeit still, weil keine Betankungsmöglichkeit mehr besteht. Heinrich Klingenberg von hySolutions bestätigte gegenüber HZwei, dass das Schiff bereits seit Herbst 2013 nicht mehr betriebsbereit ist; es sei jedoch "technisch in Schuss". Der Betreiber, die ATG Alster-Touristik GmbH, ist zwar durchaus noch an einem weiteren Betrieb interessiert, nicht jedoch das Gaseunternehmen Linde an einem weiteren Betrieb seiner Tankstelle am Anleger Hellbrookstraße im Barmbeker Stichkanal. Wie ein Unternehmenssprecher HZwei erklärte, wurde die an der Außenalster gelegene Betankungsstation, die im Rahmen eines europäischen Fördervorhabens (s. HZwei-Heft Okt. 2008) für die Erprobung technischer Komponenten errichtet worden war, im Frühjahr 2014 abgebaut. Als Grund dafür nannte er, "dass der Betrieb nicht wirtschaftlich sein kann", wenn das Schiff zum Teil mit dem Strom aus den an Bord befindlichen Batterien fährt und "nur alle drei Tage zum Tanken vorbeikommt". Weiter hieß es von Linde: "Wir sehen mehr Potential auf der Straße als auf dem Wasser."

Ob es eine neue Betankungsmöglichkeit für die Alsterwasser geben wird, sei es von einem anderen Anbieter oder an anderer Stelle, ist derzeit noch offen. Eine mögliche Alternative könnte ein Umbau der H2-Tankstelle in der HafenCity sein, berichtete Klingenberg. Gespräche seien diesbezüglich im Gange, allerdings müsste das Schiff dann jeweils zum Tanken von der Alster durch die Rathausschleuse in die Elbe fahren und sich dabei nach der Tide richten. Zudem wären wegen der Gezeitenunterschiede flexible Verbindungen und für die Befahrbarkeit der Wasserstraße regelmäßige Aushubarbeiten notwendig. Dieses Jahr wird das wohl nichts mehr.

Hinsichtlich einer Lösungsfindung zur nächsten Saison zeigte sich Klingenberg jedoch zuversichtlich.

Nein, es geht nicht darum, dass "mal alle 3 Tage mit einem Drucktank voll Wasserstoff zu dem Schiff fährt" – denn dies ist technisch schlecht möglich. Die notwendigen Drucktanks wären so groß, dass man entweder mehrmals fahren müsste, oder immer nur Teilbetankungen (dafür täglich?) vornehmen müsste. Beides kostet (mehr) Geld.

Warum wohl war die Wasserstoff-Tankstelle mit einem 17qm (17.000l) fassenden Speicher für Flüssigwasserstoff (-253°C) ausgestattet)? Weil nur flüssiger Wasserstoff ohne Rohrsystem einigermaßen rentabel transportiert werden kann. Er ist zwar immer noch so leicht wie Styropur, hat aber zumindest eine höhere Volumendichte als selbst die heutigen 700bar Drucktanks!

Dumm nur, dass sich der Flüssigwasserstoff bei fehlender (kontinuierlicher) Abnahme trotz Isolation verflüchtigt (ausblasen) – oder eben energieintensiv ständig gekühlt werden muss. Das kostst halt (dauerhaft) Geld, wird aber von den Befürwortern der H2-Technologie wie einige andere Fakten auch nicht gern erwähnt …

Seit spätestens 2003 ("Wasserstoff löst keine Energieprobleme") ist dies bekannt. Aber die öffentlichen Darstellungen zum Wasserstoff ignorieren gern auch nachvollziehbare, durch allgemeine Naturgesetze begründete Fakten. Wasserstoff ist nun einmal kein Energierohstoff sindern nur ein Energieträger, der immer erst aufwendig produziert werden muss!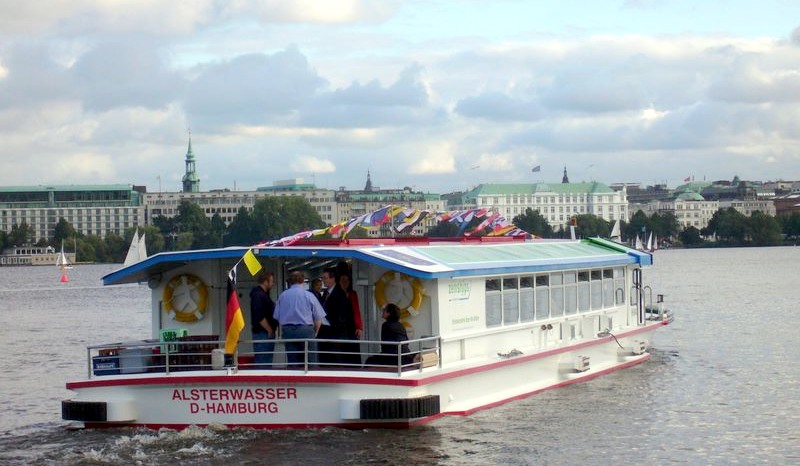 HZWEI SEPTEMBER 30 2014 - The fuel cell ship Alsterwasser is still

While Hamburg sometimes enjoys celebrating as a hydrogen hub, here as well as elsewhere, there are problems with the H2 infrastructure: As was known in the H2Expo environment, the fuel cell-operated passenger ship FCS Alsterwasser has been quiet for quite some time, because there is no possibility of refueling it. Heinrich Klingenberg of hySolutions confirmed to HZwei that the ship has not been operational since autumn 2013; However, it was "technically in good shape".
Although the operator, ATG Alster-Touristik GmbH, is still interested in another operation, it is not the gas company Linde that is involved in another operation of its filling station at the Hellbrookstraße in the Barmbeker Stichkanal. As a company spokesman HZwei explained, the refueling station at the Außenalster, which was built as part of a European funding project (see HZwei-Brosch, Oct. 2008) for the testing of technical components, was dismantled in the spring of 2014. The reason for this he said, "that the operation can not be economical", when the ship runs partly with the power from the on-board batteries and "only comes by every three days for refueling". It was also said by Linde: "We see more potential on the road than on the water."
Whether there will be a new fueling option for the Alsterwasser, whether from another provider or elsewhere, is currently still open. A possible alternative could be a conversion of the H2 filling station in HafenCity, reported Klingenberg. Talks are in progress in this regard, however, the ship then would have to go to the refueling of the Alster through the town hall lock in the Elbe and thereby to the Tide judge. In addition, because of the tidal differences flexible connections and for the traffic ability of the waterway regular excavation work would be necessary. This year will probably be nothing more. However, Klingenberg was confident about finding a solution for the next season.

No, it's not about "driving to the ship every 3 days with a pressurized tank full of hydrogen" - because this is not technically possible. The necessary pressure tanks would be so big that one would have to either drive several times, or always only partial refueling (for it daily?) Would have to make. Both costs (more) money.
Why was the hydrogen filling station equipped with a 17qm (17,000 l) storage tank for liquid hydrogen (-253 ° C)?
Because only liquid hydrogen without pipe system can be transported reasonably profitable. It is still as light as Styropur but has at least a higher volume density than even today's 700bar pressure tanks!
Dumb only that the liquid hydrogen volatilizes in case of missing (continuous) decrease despite isolation (blow out) - or energy-intensive constantly must be cooled. That costs (permanently) money, but is not liked by the advocates of the H2 technology like some other facts.
This is known since 2003 at the latest ("Hydrogen does not solve energy problems"). But the public accounts of hydrogen like to ignore also comprehensible, founded by general laws of nature facts. Hydrogen is simply not an energy source, only an energy source that always has to be produced with great effort!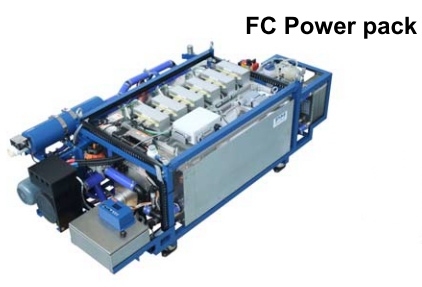 MARITIME PROPULSION OCTOBER 17 2012

The ZemShip (Zero Emission Ship) "FCS Alsterwasser", based in Hamburg's port, transports up to 100 passengers at a time, without producing any emissions. The ships owner, ATG (Alster-Touristik GmbH) has developed in 2009 a so called mono-hull-ship with an engine power of 100kW and a passenger capacity of 100. The ship operates in regular service on the river Alster and its inner-city waterways. The passenger ship has up to now around 1.900 hours on its clock = 11.300 km, since its commissioning and runs absolutely without any problems according to the ships-owner ATG. This year, 2012, the hydrogen consumption has been recorded by 1.400 kg. With this the CO2-saving is around 13.300 kg.
Company Proton Motor Fuel Cell GmbH, Puchheim, Germany, developed the 48-kW PM Basic A 50 maritime fuel cell system for the zero-emission drive and integrated two such systems, along with a lead gel battery, into the ship as a hybrid system. The systems were certified for maritime operations by Germanischer Lloyd. An intelligent energy management system coordinates the division of work between fuel cells and battery. Up to 50 kg of gaseous hydrogen is stored onboard in 350-bar pressurized tanks in order to provide sufficient fuel for around three days of use. This hybrid-combination ensures highest functionality and durability. Hydrogen and oxygen conjoins inside the fuel-cell to water. At this process, which is also called "cold combustion", power is generated.

Linde Group has built and operates now also the FCS Alsterwasser hydrogen filling station. This station provides the Zemship with gaseous hydrogen every 2 to 3 days. The filling takes around 12 minutes. "The FCS Alsterwasser" is a prime example of innovation and we are very proud of it," said Anno Mertens, Zemships Project Manager at Proton Motor, when asked about the ZemShip, which is nearly twice as efficient as a standard diesel ship. "It proves that we can make use of future technology in everyday applications which now, after more than three years in operation, has proved its reliabilty. Thanks to our further development of fuel cell technology, a non-polluting and virtually silent drive is reliably working on a passenger ship".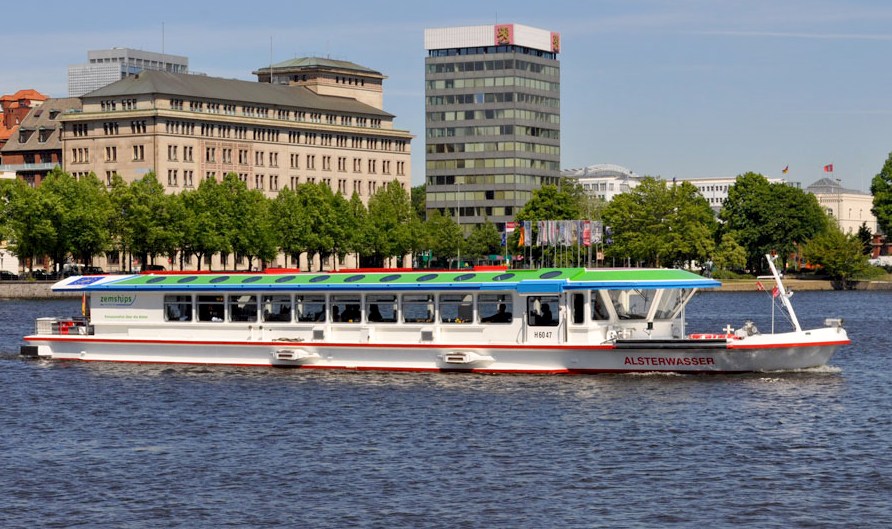 OCTOBER 24 2012 - FCS Alsterwasser: The First Ship Powered by Hydrogen Fuel Cells

FCS Alsterwasser, the first ship entirely powered by hydrogen fuel cells developed by Alster-Touristik GmbH in 2009, has been operating on inner city waterways in Hamburg Germany. It can hold up to 100 passengers and has worked for more than 1,900 hours. The hydrogen fuel cells generate approximately 100 kilowatts of electricity and have proven to be an extremely reliable energy source.

Since the shipping industry is considered one of the biggest consumers of fossil fuels, and therefore the largest producer of greenhouse emissions, integrating hydrogen fuel cells might just be the best energy source for the transportation vehicles. Moreover, the raising prices of oil together with the governmental regulations on emissions, urge the shipping industry to look for alternative energy sources, and more particularly hydrogen power.

FCS Alsterwasser has two hydrogen fuel cell systems with 12 hydrogen fuel tanks to power the ship. In addition, it has a lead-gel battery that serves as a back-up option if the hydrogen cells fail. Although most of the times the ship receives its energy from the hydrogen fuel cells, an energy management system is there to determine whether the batteries should be put into use.

The makers of FCS Alsterwasser are proud to state that the ship has demonstrated how hydrogen fuel cells are perfectly reliable source of alternative clean energy. Considering that the vessel has not reported major problems to date, mainly due to the high performance of the cells, it can serve as a great example for all ship manufacturing companies.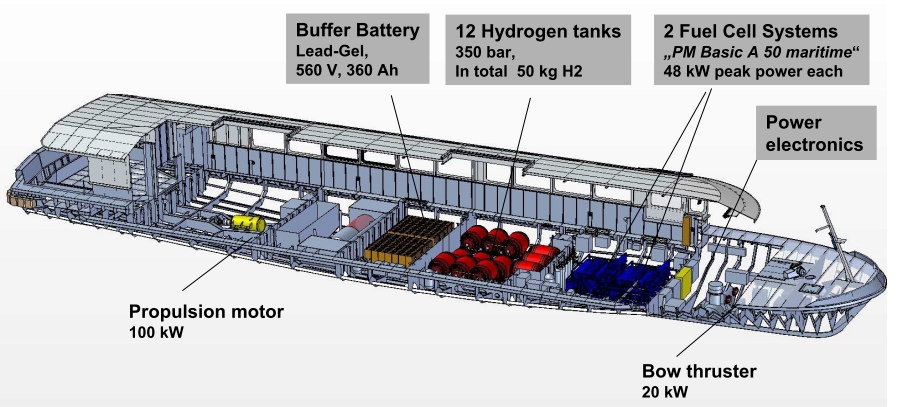 FUEL CELL TODAY 01 SEPTEMBER 2008 - Naming of the Fuel Cell "FCS Alsterwasser" ZemShip

Proton Motor supplies hybrid fuel cell drive for the world's first fuel cell-driven passenger ship Hamburg/Puchheim, 29 August 2008 – Today, Hamburg celebrates a world first. In the presence of Wolfgang Tiefensee, Federal Minister of Transport, Building and Urban Affairs, Hamburg's senator Anja Hajduk names the FCS Alsterwasser, a passenger ship driven by fuel cells.

The innovative hybrid fuel cell drive which lies at the heart of the new Alster steamship was produced by Proton Motor, experts in fuel cell and hybrid systems. The ZemShip (Zero Emission Ship), based in Hamburg's port, will transport up to 100 passengers at a time and will do so without producing any emissions.

The ZemShip project is taking Proton Motor into totally new waters in fuel cell ship drive technology. To date, fuel cell
systems for marine applications of this performance level have only been developed for submarines used by the military.
This makes the ZemShip the world's first project resulting in a fuel cell-driven passenger ship. Proton Motor developed the 48-kW PM Basic A 50 maritime fuel cell system for the zero-emission drive and integrated two such systems, along with a lead gel battery, into the ship as a hybrid system. The systems were certified for maritime operations by Germanischer Lloyd. An intelligent energy management system coordinates the division of work between fuel cells and battery. Up to 50 kg of gaseous hydrogen is stored onboard in 350-bar pressurised tanks in order to provide sufficient fuel for around three days of use.

The European Union is funding the ship's line operations on the Alster until 2010. The EU is investing a total of €2.4 million in the project. Now that the ship has gone into actual use, development staff aim to test the zero-emission drive in real operations and to analyse the technology for possible areas of improvements.

"The FCS Alsterwasser is a prime example of innovation and we are very proud of it," says Felix Heidelberg, CTO of Proton
Motor, when asked about the ZemShip, which is nearly twice as efficient as a standard diesel ship. "It proves that even today we can make use of future technology in everyday applications. Thanks to our further development of fuel cell technology, a non-polluting and virtually silent drive can now be used on a passenger ship. We are delighted that Alster Touristik GmbH, the operator of the ship, once again has a genuine Alster steamboat up and running and that it's an environmentally friendly one where passengers can enjoy a quiet journey with zero emissions."

The project has received the support of eight other partners alongside Proton Motor. For example, Linde AG has built a
hydrogen fuelling station in a side channel of the Alster where the ship can refuel. The project is being coordinated by the city of Hamburg and was launched in November 2006.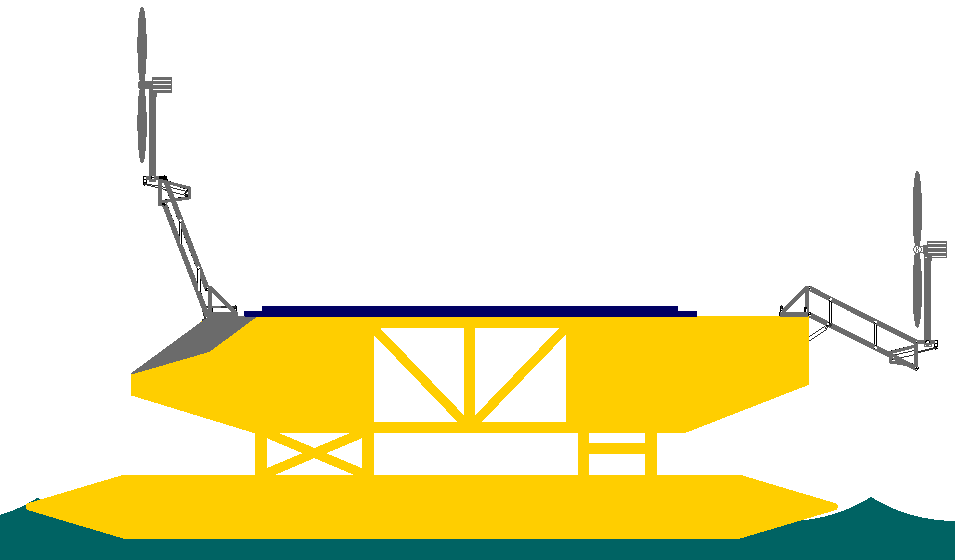 -
SOLAR & WIND POWERED FERRY - The Cross Channel Challenger (CCC) was a project on the drawing board in 2019 looking for backing to develop a coastal cruiser that is zero carbon just like the hydrogen projects, but where the vessel converts energy from nature onboard for propulsion without risk of hydrogen leaks or fires.
This is a toe-in-the-water project using budget off the shelf equipment to keep the costs down. Hence, the theoretical performance is lower than might be achieved but higher than the current benchmark. It is a useful stepping stone to medium range ferries and eventually bigger ships with longer ranges. Solar combined with wind power could be the winning combination. Comparing the two technologies will be interesting. For sure, the solar powered ferries will be safer and cheaper.
Solar and wind powered vessels do not need big hydrogen tanks next to docks for ships to fill up from. They do not need trucks to deliver the hydrogen from the conversion plants and last but not least, hydrogen is potentially dangerous, as the Zeppelin 'Hindenburg' demonstrated in 1937 when a spark ignited the fated airship, destroying it in minutes.
Since 2019, a study in July 2021 has shown that the hull design in basic, could be adapted to cross the Atlantic on hydrogen power alone, with solar assistance, as a top up power source. Food for thought for Waterborne and Zero Emission Waterborne Transport (ZEWT) advocates in Europe. The aim would be to adapt the concept to practical ZESTA ferries, especially for island nations who depend on shipping for their economies. The proposed design is also safer, leak wise.
CONVERSION, CONVERSION, CONVERSION - It is the number of additional stages of splitting water using electricity, storing as a gas and then recombining it to extract the electricity that was put in at the beginning at a huge net energy loss. Elon Musk has a point don't you think?
Hydrogen is recognised as a fuel with the potential to deliver 100% zero-carbon operation in marine transport, but the systems proposed so far are expensive and complicated, where the first rule of engineering is to Keep It Simple Stupid: KISS.
The allure of the hydrogen economy is plain, splitting ordinary water using electrolysis to obtain oxygen and hydrogen gas is like a schoolboy chemist dream come true, especially if we can generate what appears to be free electricity using solar cells and wind turbines to split the water. Then the hydrogen is free right?
No, not really.
There is a cost, including the cost of manufacturing the solar panels or wind turbines and the transmission line installation and maintenance. The inefficiencies in the conversion and handling chain make hydrogen expensive to produce and so potentially un-competitive - as compared to using the electricity needed to convert water, directly.
In addition, hydrogen is dangerous unless stored very carefully. Space rockets powered by hydrogen and oxygen sometimes explode, with the Hindenburg zeppelin explosion being signs of things to come in a world fraught with human error. We'd be courting disaster. If something can happen, it will happen. Passengers would be traveling in potential time bombs.
CONTACTS
....
A-Z INDEX OF H2 POWERED FUEL CELL SHIPS

BOREAL SJO
FERRY OPERATORS & ISLAND SERVICES
DFDS -

LINKS & REFERENCE
http://www.fuelcelltoday.com/news-archive/2008/september/naming-of-the-fuel-cell--alsterwasser-zemship
http://articles.maritimepropulsion.com/article/Worlds-first-fuel-cell-ship-FCS-ALSTERWASSER-proves-its-reliability
https://www.hzwei.info/blog/2014/09/30/das-brennstoffzellen-schiff-alsterwasser-liegt-still/
http://www.fuelcelltoday.com/news-archive/2012/october/futureship-designs-zero-emission-fuel-cell-ferry-for-scandlines
https://worldmaritimenews.com/archives/243089/boreal-wartsila-join-forces-on-hydrogen-powered-ferries/
https://maritime-executive.com/article/hydrogen-fuel-cell-vessels-destined-for-france-and-norway
https://energy.sandia.gov/transportation-energy/hydrogen/market-transformation/maritime-fuel-cells/sf-breeze/
https://grist.org/article/a-ferry-that-runs-on-hydrogen-fuel-cells-is-coming-to-san-francisco/
ADRIATIC SEA - ARCTIC OCEAN - ATLANTIC OCEAN - BALTIC SEA - BAY OF BENGAL - BERING SEA - CARIBBEAN SEA
CORAL SEA - EAST CHINA SEA - ENGLISH CHANNEL - GULF OF GUINEA - GULF OF MEXICO - INDIAN OCEAN - IRISH SEA
MEDITERRANEAN SEA - NORTH SEA - PACIFIC OCEAN - PERSIAN GULF - SEA OF JAPAN - SOUTH CHINA SEA - SOUTHERN OCEAN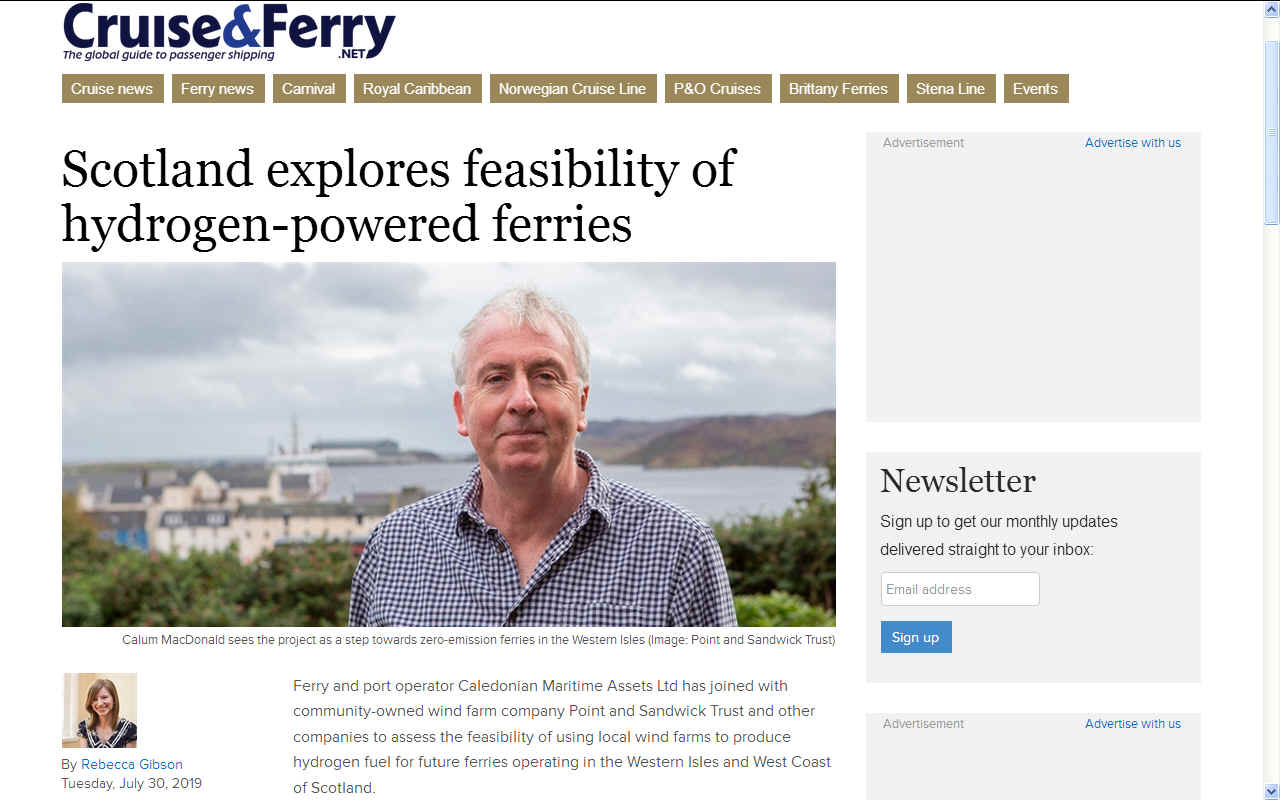 STUDY PUBLISHED - Point and Sandwick Trust, in collaboration with a number of industry partners (Wood, Siemens-Gamesa, Engie, ITM, CMAL, Johnston Carmichael and Ferguson Marine), have published a feasibility study to assess the suitability of using hydrogen produced from local wind farms to power future ferry services operating in the Western Isles and West Coast of Scotland.

The study was part-funded by the Scottish Government's Low Carbon Infrastructure Transition Programme. Read the full report here.

The project looked at the practical and economic feasibility of using new island wind farms to produce zero-carbon "green" hydrogen fuel for future types of clean emission ferries operating on the established Caledonian MacBrayne routes.
This website is provided on a free basis as a public information service. Copyright © Cleaner Oceans Foundation Ltd (COFL) (Company No: 4674774) 2019. Solar Studios, BN271RF, United Kingdom. COFL is a charity without share capital.