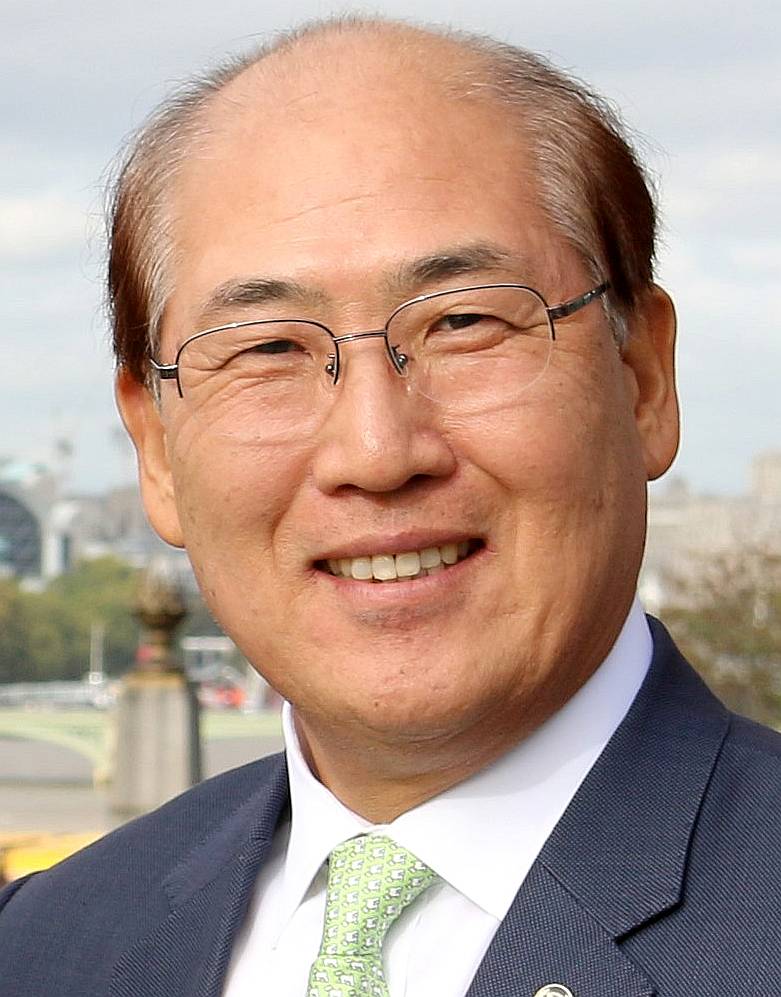 A PERCEIVED LACK OF TRANSPARENCY - Despite statements like this on their website: "So that the maritime community and the wider public can be kept informed of the work that IMO is doing to promote a safe, clean and secure maritime environment, the Organization is keen to ensure that its business is conducted in a spirit of openness and transparency," in fact there are no contact or other staff details on their website.
Kitack Lim began attending IMO meetings as part of the South Korean delegation in 1986, actively participating in maritime safety and environmental protection issues.

He was elected Secretary-General of the Organization by the 114th session of the IMO Council in June 2015 for a four-year period beginning 1 January 2016. The election was endorsed by the IMO's Assembly at its 29th session in November 2015.

At its 31st session (November-December 2019), the Assembly approved the renewal of Kitack Lim's appointment as Secretary-General, for a second and final term of four years (1 January 2020 to 31 December 2023).

Mr Lim (Republic of Korea) is the eighth elected Secretary-General of the International Maritime Organization.
At the World Economic Forum in Davos last week, the International Maritime Organisation (IMO) Secretary-General Kitack Lim called for renewed cooperation from all stakeholders to tackle the urgent issues of air pollution and greenhouse gas emissions from shipping.
"When temperature records are routinely broken, icecaps are melting and some parts of the world are flooding while others are burning, there can be little doubt that addressing climate change must be humankind's major priority," he said.
IMO's strategy is to reduce sector-wide emissions by at least 50% by 2050. To deliver this, significant numbers of zero-carbon ships, or ships that can be easily adapted to use low or zero carbon fuels later in their life, will have to enter the fleet as early as the 2030s, Mr Lim said.
Stressing the vital role of IMO's as the shipping industry's global regulator, he said, "Ambitious regulatory targets will act as the catalyst for technology, triggering research, development and innovation," adding "now is the time to start developing the vessels, the fuels, the delivery mechanisms and all the other necessary infrastructure to support zero-emission shipping."
Turning specifically to the need for a collective approach throughout the entire global supply chain, he said, "Collaboration in this area is likely to include developing and testing low or zero-carbon fuels; better communication and planning over berth availability to help with speed-optimization and just-in-time arrival; and supplying cleaner on-shore power for ships in port."
The IMO Marine Environment Protection Committee (MEPC) has previously announced that member state delegates have agreed on a target to cut the shipping sector's overall CO2 output by 50 percent by 2050, to begin emissions reductions as soon as possible, and to pursue efforts to phase out carbon emissions entirely. The agreement includes a reference to bringing shipping in line with the Paris Climate Agreement's temperature goal, which seeks to limit global warming to "well below" two degrees Celcius.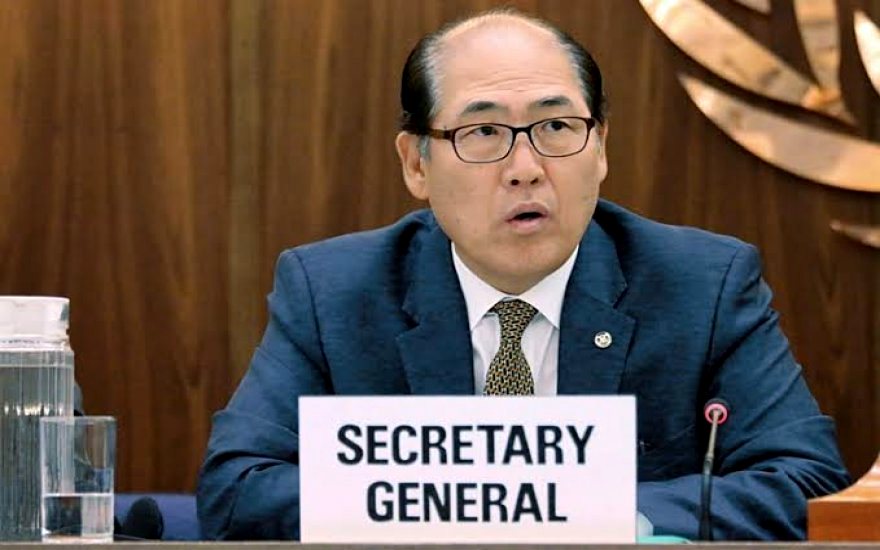 The 50 percent CO2 reduction goal is roughly in line with the proposal endorsed by the International Chamber of Shipping. In addition to the percentage target, the initial strategy also includes strengthening the EEDI efficiency requirements for new ships and reducing shipping's carbon intensity – that is, the amount of CO2 emitted for each unit of transport work completed.
While it creates goals for future action, the MEPC's "initial strategy" does not give a timetable for rolling out legal restrictions on CO2 output. Rather, it is a "framework for member states" that sets out "levels of ambition to reduce GHG emissions and guiding principles," the IMO said in a statement.
The IMO says that the agreement will be revised by 2023, in accordance with a "roadmap" passed in 2016. The "roadmap" calls for a fourth and fifth round of IMO greenhouse gas studies from 2019-2022, which would be carried out before creating any regulations.
The "initial strategy" was not easily to reach. MEPC had previously deferred a decision on a reduction plan for carbon emissions. A group of nine states had called for MEPC to take no action on CO2.
But progress seems to be happening officially, even if reluctantly and slowly. That also includes the cruise shipping industry.
It has been estimated that 25.3 million passengers worldwide would travel on cruise ships in 2017, up from just 15.8 million a decade ago, according to most recent data from the Cruise Lines International Association.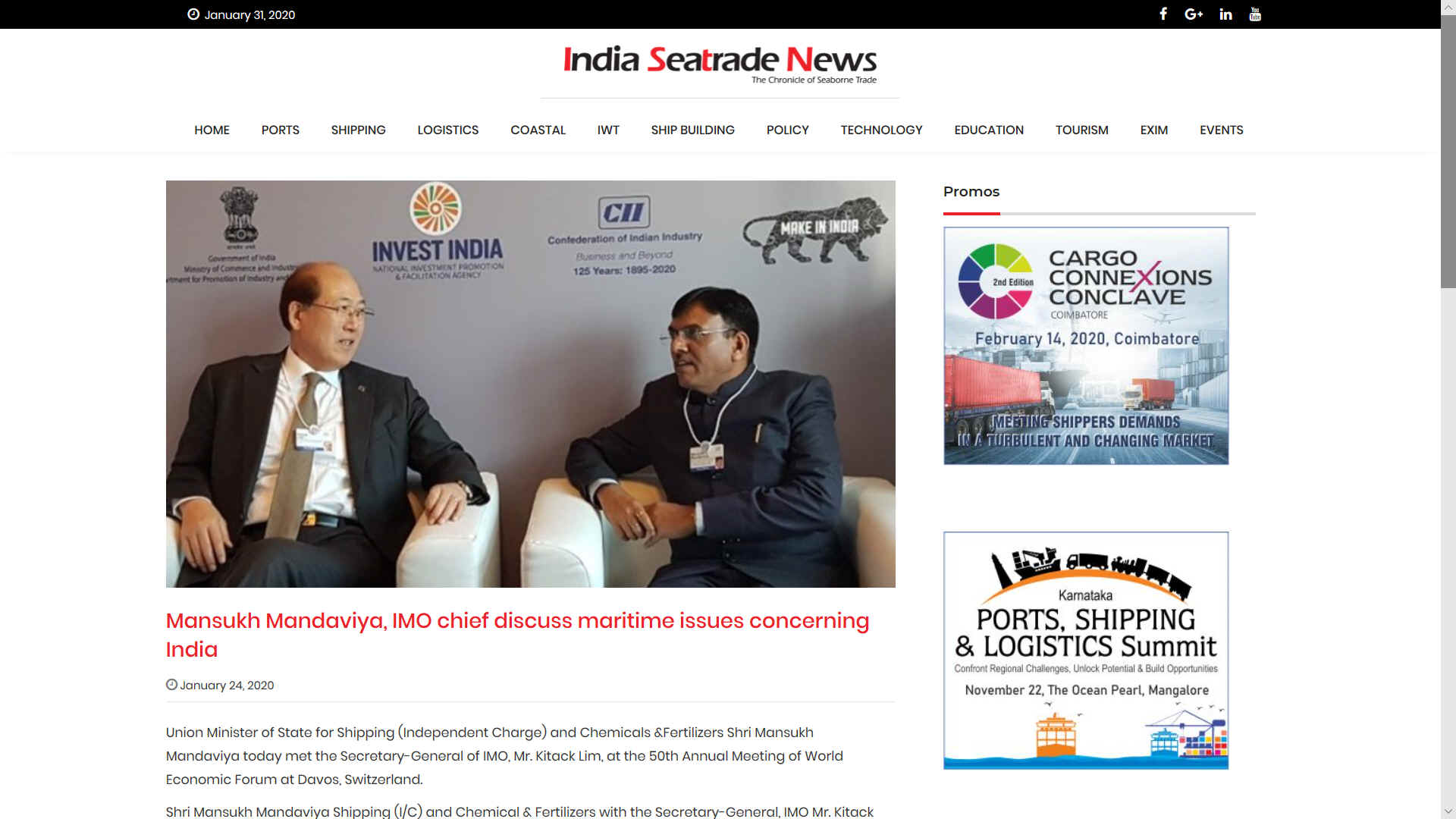 IMO @ DAVOS - Union Minister of State for Shipping (Independent Charge) and Chemicals & Fertilizers Shri Mansukh Mandaviya today met the Secretary General of IMO Mr. Kitack Lim at the 50th Annual Meeting of World Economic Forum at Davos, Switzerland.
INDIA SEA TRADE NEWS January 24, 2020 - Mansukh Mandaviya, IMO chief discuss maritime issues concerning India
Union Minister of State for Shipping (Independent Charge) and Chemicals & Fertilizers Shri Mansukh Mandaviya today met the Secretary-General of IMO, Mr. Kitack Lim, at the 50th Annual Meeting of World Economic Forum at Davos, Switzerland.
Shri Mansukh Mandaviya Shipping (I/C) and Chemical & Fertilizers with the Secretary-General, IMO Mr. Kitack Lim in meeting at the 50th Annual Meeting of World Economic Forum at Davos, Switzerland.
In this meeting, mutual discussions were held regarding various Global Maritime issues concerning India like Ban on Single-Use Plastic by India for reducing Marine Pollution, Availability of low Sulphur fuel complying to IMO 2020 Convention and installation of Mahatma Gandhi Bust at IMO Headquarter, London.
As India is celebrating the 150th birth anniversary of Mahatma Gandhi, Shri Mandaviya impressed upon setting up of the 'Mahatma Gandhi Bust' at the IMO Headquarters, as a mark of respect to the great global leader. Secretary-General, Mr. Kitack Lim consented for setting up the bust at IMO headquarters, London. "This will be one of the prominent busts of Mahatma Gandhi at UN headquarters in the world. It is indeed a matter of great honor and proud moment for India", Shri Mansukh Mandaviya stated there during a media briefing.
Further, India's engagement with IMO and its role with the International Community in the global maritime scenario was applauded by the Secretary-General, IMO. India's recent initiatives for accession to the Hong Kong Convention and enactment of the Recycling Act 2019 were also greatly acknowledged and appreciated. Mr. Kitack Lim has assured to extend his full co-operation for the Indian Seafarers in jail/custody in different countries.
Shri Mansukh Mandaviya is presently on his four-day official visit to Davos to attend the Annual World Economic Forum Meeting 2020 and having one-on-one meetings with all-important World leaders and CEOs of the global companies.
VIRHABER
Davos'taki Dünya Ekonomik Forumu, Paris Anlaşmasına ve Sürdürülebilir Kalkınma Hedeflerine yönelik ilerlemeyi tartışmak için dünya liderleri bir araya geldi.
Foruma katılan Uluslararası Denizcilik Örgütü (International Maritime Organization) (IMO) Genel Sekreteri Kitack Lim açıklamalarda bulundu.IMO'nun stratejisinin, 2050 yılına kadar sektör çapında emisyonları en az %50 oranında azaltmak olduğuna değinen Lim, bunu sağlamak için önemli sayıda sıfır karbonlu gemi ve sıfır karbon yakıtların kolayca uyarlanabilen gemilerin, filoya 2030'lu yılların başlarında katılacaklarını belirtti.İklim krizinin en öncelikli konu olması gerektiğine değinen Lim, iklim kriziyle ilgili olarak şunları söyledi:
"Sıcaklık kayıtları rutin olarak kırıldığında, buzullar eriyor ve dünyanın bazı kısımları su basıyor, diğer kısmı yanarken, iklim değişikliğini ele almanın insanlığın en büyük önceliği olması gerektiğinden şüphe duyuluyor"Ayrıca sıfır karbonlu bir denizcilik endüstrisi planlamasının tek başına yapılamayacağını vurgulayan genel sekreter "Altyapı gelişmeleri ve yatırım kararlarının da birlikte alınması, araştırma ve geliştirme girişimlerinin sektörler arası olması ve yeni teknolojilerin aktarılabilir ile ölçeklenebilir olması gerekiyor.
"dedi.IMO'nun denizcilik endüstrisinin küresel düzenleyicisi olarak hayati rolünü vurgulayan Lim, "iddialı düzenleyici hedefler teknoloji için katalizör görevi görecek, araştırma, geliştirme ve yeniliği tetikleyecektir. Şimdi gemileri, yakıtları, teslimat mekanizmalarını ve sıfır emisyonlu nakliyeyi desteklemek için gerekli tüm altyapıyı geliştirmeye başlama zamanı" dedi. Kaynak: IMO Genel Sekreteri denizcilere iş birliği çağrısında bulundu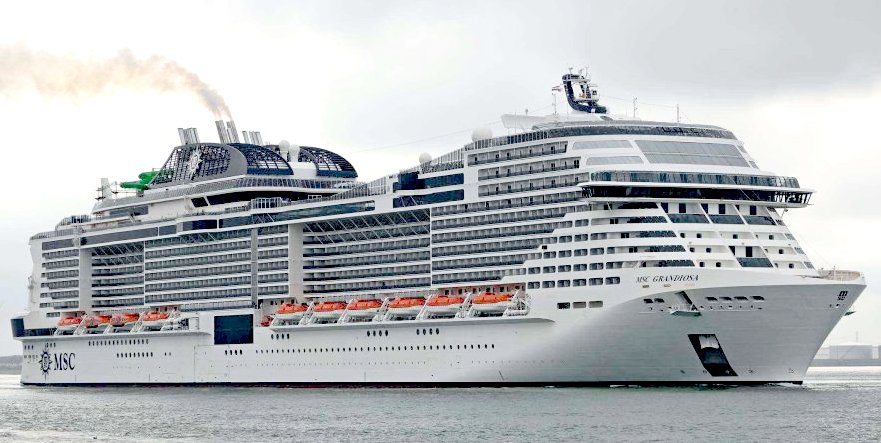 CRUISE SHIPS - Griffith University, Queensland, researchers have taken time to estimate CO2 emissions from cruise ships alone. To estimate carbon emissions from the cruise ship industry, self-reported emissions from the two main companies were used by the Griffith researchers. Both Royal Caribbean Cruises Ltd and Carnival Corporation & PLC publish sustainability reports that detail annual emissions. The third largest company, Norwegian Cruise Line Holdings Ltd, does not report carbon emissions. Using the two existing sustainability reports, and in combination with the known market share reported on Cruise Market Watch, the remaining 28.8% of the global cruise activity were extrapolated.
Here is what Griffith researchers concluded – Royal Caribbean Cruises Ltd and Carnival Corporation & PLC make up about three quarters of global cruise activity measured in passenger numbers.
The latest available data are from 2017. Carnival reported emission totals of 10,690 kilo-tonnes of carbon dioxide equivalent, a slight increase (1.4%) compared with 2016 where emissions were 10,539.
Royal Caribbean Cruises Ltd emitted a total of 4,230 kt in 2017 (compared with 4,465 kilo-tonnes of carbon dioxide equivalent).
The third largest company, Norwegian Cruise Line Holdings Ltd do not publicly report total carbon emissions, and all other companies have very small market shares. A total carbon footprint for these remaining companies is estimated based on market share.
Based on an estimated total number of about 25.8 million cruise ship passengers in 2017, it can be estimated that the average cruise ship passenger emits 0.82 tonnes of carbon dioxide-equivalent for their cruise. This is equivalent to a return air trip from London to Tokyo in economy class.
CruiseMarket Watch reports an annual growth rate of 6.6%.
Cruise ship emissions make up 0.2% of all global carbon dioxide emissions from fossil fuel combustion and cement production. Note that tourist water transport is much larger than the specific segment of cruise ship tourism analysed here.
When examining the cruise ship company reports it emerges that every company uses slightly different metrics. This poses major problems in comparing and compiling data, for example some indicators use resource use per kilometre and others refer to person-day or berth.
Last year, the UK's Channel 4 television program Dispatches sent undercover investigators onto a P&O Cruises ship that carries more than 2,000 passengers.
They were particularly concerned with the emission of ultra-fine particles in the air around the vessel that could affect the health of passengers and the climate more generally. They reported that just one ship can emit the same amount of particulate matter in one day as one million motor vehicles.
The reporters also found that the air on the upper deck of the ship downwind from the boat's funnels, had 84,000 ultra-fine particulates per cubic centimetre. Right next to the funnels the number was 226,000.
The program compared those statistics with the air quality in London's Piccadilly Circus, using the same recording devices, where it found that the numbers were just 38,400 per cubic centimetre.
P&O responded to the program's findings by highlighting that it had reduced its fuel consumption by 28% since 2005 and that the company slashed CO2 emissions by 20% in 2014 alone.
The company also said its ships would be fitted with "exhaust gas cleaning systems" in an effort to reduce emissions further.
Other cruise lines are also responding to the climate challenge.
MSC – Mediterranean Shipping Company – for example, recently announced their cruise line will soon operate in a carbon neutral way through an off-set scheme.
The company did not say exactly how much C02 its ships produce, nor how much it would cost to offset the emissions, but said that it would become the first carbon-neutral cruise line, starting in January 2020.
"MSC Cruises will offset all direct carbon dioxide emissions from its fleet marine operations through a blend of carbon offset projects developed according to the highest standards by leading international entities that take immediate action on greenhouse gas emissions," MSC executive chairman Pierfrancesco Vago said in a statement.
"All costs for the offsets as well as any other associated items will be covered directly and in full by the company," he said.
MSC announced its emissions offset plans in Hamburg at the christening ceremony for its latest ship, the MSC Grandiosa (pictured).

ABOUT THE IMO
The International Maritime Organization (IMO), is a specialised agency of the United Nations responsible for regulating shipping. The IMO was established following agreement at a UN conference held in Geneva in 1948. Headquartered in London, United Kingdom, the IMO currently has 174 Member States and three Associate Members.

The IMO does not list or provide contact details for any of its key staff, contrary to SDG 16 objectives aiming at strong, transparent institutions. This is an indicator of a weak institution that is susceptible to corruption by virtue of not being answerable to the nations that are considering signing up to their initiatives.
The IMO is behind the marine technology curve, when it should have planned ahead of advances like autonomous vessels and hybrid propulsion systems, in the fight to combat climate change.
The IMO is selective in replying to correspondence, especially concerning incentives to modernizing commercial fleets. This is an indicator of Red Flag Politics, designed to perpetuate outdated assets and prevent a level playing field for leading edge technology to fairly compete, such as zero emission ships.
IMO'S SENIOR MANAGEMENT COMMITTEE @ JANUARY 2020
​The Senior Management Committee is composed of:

Mr. Kitack Lim, Secretary-General of the International Maritime Organization;
Mr. Lawrence Barchue, Assistant Secretary-General and Director, Department for Member State Audit and Implementation Support;
Ms. Heike Deggim, Director, Maritime Safety Division;
Mr. Hiroyuki Yamada, Director, Marine Environment Division;
Mr. Frederick Kenney, Director, Legal Affairs and External Relations Division;
Mrs Linda Ryan, Director, Administrative Division
Mr Juvenal Shiundu, Acting Director, Technical Cooperation Division;
Ms. Ariane Gireud, Acting Director, Conference Division;
Mr. Arsenio Dominguez, Acting Director, Administrative Division and Chief of Staff;
Mr. Sung-Jin Kim, Head, Internal Oversight and Ethics Office.
You cannot contact any of these people via telephone of email. All such information is omitted on the IMO's website.
| | | |
| --- | --- | --- |
| ANTONIO GUTTERAS UN | KITACK LIM | LAURENCE BARCHUE |
| HEIKE DEGGIM | HIROYUKI YAMADA | FREDERICK KENNEY |
| LINDA RYAN | JUVENAL SHIUNDU | ARIANE GIREUD |
| ARSENIO DOMINGUEZ | KOJI SEKIMIZU | SUNG-JIN KIM |

CONTACTS
International Maritime Organization
4, Albert Embankment
London
SE1 7SR
United Kingdom

Tel +44 (0)20 7735 7611
Fax +44 (0)20 7587 3210
Email: info@imo.org
https://indiaseatradenews.com/mansukh-mandaviya-imo-chief-discuss-maritime-issues-concerning-india/
https://www.virahaber.com/imo-genel-sekreteri-denizcilere-is-birligi-cagrisinda-bulundu-56195h.htm