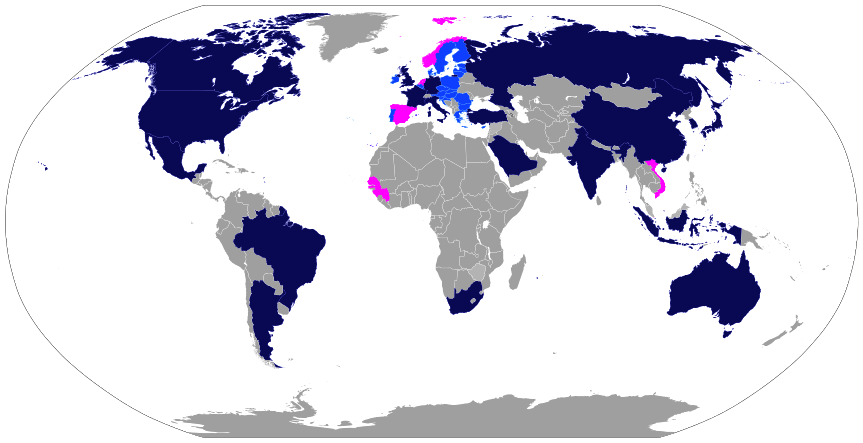 ONE WORLD ONE OCEAN - In the role of guardians of your geographical regions, there is also a responsibility to develop the blue economy for the international circular economies that a sustainable society requires if we are not to burn planet earth out.
The Prime Minister of Singapore, Lee Hsien-Loong, was a guest at the G20 2017 summit in Hamburg and one of the countries of the world that could benefit from joining a World Ocean Anti-Plastic Alliance.
Singapore consists of 63 islands, including the main island, Pulau Ujong. There are two man-made connections to Johor, Malaysia: the Johor–Singapore Causeway in the north and the Tuas Second Link in the west. Jurong Island, Pulau Tekong, Pulau Ubin and Sentosa are the largest of Singapore's smaller islands. The highest natural point is Bukit Timah Hill at 163.63 m (537 ft).

Ongoing land reclamation projects have increased Singapore's land area from 581.5 km2 (224.5 sq mi) in the 1960s to 721.5 km2 (278.6 sq mi) in 2018, an increase of some 23% (130 km2). The country is projected to grow to 766 km2 (300 sq mi) by 2030. Some projects involve merging smaller islands through land reclamation to form larger, more functional islands, as has been done with Jurong Island.

Singapore has a highly developed market economy, based historically on extended entrepôt trade. Along with Hong Kong, South Korea, and Taiwan, Singapore is one of the original Four Asian Tigers, but has surpassed its peers in terms of GDP per capita. Between 1965 and 1995, growth rates averaged around 6 per cent per annum, transforming the living standards of the population. The Singaporean economy is known as one of the freest, most innovative, most competitive, most dynamic and most business-friendly. The 2015 Index of Economic Freedom ranks Singapore as the second freest economy in the world and the Ease of Doing Business Index has also ranked Singapore as the easiest place to do business for the past decade. According to the Corruption Perceptions Index, Singapore is consistently perceived as one of the least corrupt countries in the world, along with New Zealand and the Scandinavian countries. In 2016, Singapore is rated the world's most expensive city for the third consecutive year by the Economist Intelligence Unit.

Singapore traditionally has one of the lowest unemployment rates among developed countries. The unemployment rate did not exceed 4% from 2005 to 2014, hitting highs of 3.1% in 2005 and 3% during the 2009 global financial crisis; it fell to 1.8% in the first quarter of 2015.

The government provides numerous assistance programmes to the homeless and needy through the Ministry of Social and Family Development, so acute poverty is rare. Some of the programmes include providing between SGD400 and SGD1000 per month to needy households, providing free medical care at government hospitals, and paying for children's school fees. The Singapore government also provides numerous benefits to its citizenry, including: free money to encourage residents to exercise in public gyms, up to $166,000 worth of baby bonus benefits for each baby born to a citizen, heavily subsidised healthcare, money to help the disabled, cheap laptops for poor students, rebates for numerous areas such as public transport, utility bills and more.

Although it has been recognised that foreign workers are crucial to the country's economy, the government is considering capping these workers, as foreign workers make up 80% of the construction industry and up to 50% of the service industry. The Immigrations and Checkpoints authority publishes a number of criteria for eligibility for permanent residence.
We share one ocean and one planet. We may care to think otherwise, but in the greatest technical challenge we have yet faced as brothers and sisters of planet earth there are no borders. What neighbor countries trash today is your pollution problem tomorrow, and what we fail to clean up today as responsible parents is our children's legacy for generations to come.
With plastic being a toxin carrier and bioamplifier in the food chain, we can expect that people ingesting fish exposed to marine plastic will be that much more likely to suffer cancer related problems in life, with follow on costs to the health services of contributor nations.
The unique quality of humans is our ability to reason and be reasonable. Provided that the main industrial players in the world accept that plastic production and usage is linked to Gross Domestic Product in proportion to wealth creation, it is reasonable to expect that those with most to gain from ocean research and regeneration might want to contribute what they can afford to removing what is possible to remove to compensate for their part in creating the problem, unwittingly though that may have been in the past.
What we are suggesting is an alliance between the top performing nations dedicated to cleaning the seas up. We invite those nations (and any others that want to fight) to join in the Big Clean by contributing to the cause.
We know that world leaders will consider it unfair if they are asked to contribute more than other nations, but would also expect that each nations should match fund any coordinated efforts of this nature. Funding need only continue until SeaVax reaches break even point, at which stage members might expect to benefit from ongoing operations without any cost of membership attaching.
World Oceans Anti-Plastic Alliance (WOAA)
Cleaner Ocean Foundation Ltd
Solar Studios (Solar House)
BN271RF
United Kingdom.
Tel/Fax: 0044 1323 831727
Email: growth @ blue-growth . org
The World needs an Ocean Action Plan to coordinate the efforts of member nations that in turn will benefit each other as the oceans move from one shoreline to the shores of a neighbor country. To help us develop an international strategy we need to generate sufficient funds effectively make headway, estimated to be in the region of $10 million dollars to develop a SeaVax prototype. Follow on expenses, or pledges of ongoing support should be included to cover the cost of helping contributing nations to set up fleets of ocean cleaning boats - and running them in a network or pattern that stands the best chance of regenerating our oceans.
THE ACTION PLAN IN BRIEF
An Action Plan will involve coordinated research, communications and operations designed to tackle marine plastic, working with other organizations and academics to make people aware of the dangers of plastic pollution and the need to review packaging policies.
An Action Plan will involve developing ocean cleaning vessels and a central hub to coordinate plastic recovery missions and recycling.
Collecting grants, accounting for and end of year reporting on progress to Ocean Alliance members.
GUEST NATIONS 2018
INTERNATIONAL ORGANIZATIONS 2018
THE G20 HEADS OF STATE A - Z
The G20 (or G-20 or Group of Twenty) is an international forum for governments and central bank governors from:
Argentina
Australia
Brazil
Canada
China
European Union
France
Germany
India
Indonesia
Italy
Japan
Mexico
Russia
Saudi Arabia
South Africa
South Korea
Turkey
United Kingdom
United States 
Founded in 1999, the G20 aims to discuss policy pertaining to the promotion of international financial stability. It seeks to address issues that go beyond the responsibilities of any one organization.
The G20's membership does not reflect exactly the 19 largest national economies of the world in any given year. The organization states:

"In a forum such as the G20, it is particularly important for the number of countries involved to be restricted and fixed to ensure the effectiveness and continuity of its activity. There are no formal criteria for G20 membership and the composition of the group has remained unchanged since it was established. In view of the objectives of the G20, it was considered important that countries and regions of systemic significance for the international financial system be included. Aspects such as geographical balance and population representation also played a major part."
ABOUT GROSS DOMESTIC PRODUCT
Gross domestic product (GDP) is the market value of all final goods and services from a nation in a given year. Countries are sorted by nominal GDP estimates from financial and statistical institutions, which are calculated at market or government official exchange rates. Nominal GDP does not take into account differences in the cost of living in different countries, and the results can vary greatly from one year to another based on fluctuations in the exchange rates of the country's currency. Such fluctuations may change a country's ranking from one year to the next, even though they often make little or no difference in the standard of living of its population. The figures quoted here are only a guide.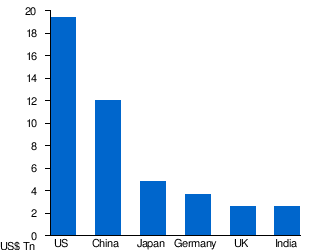 STATE LEADERS
Mauricio Macri
Malcolm Turnbull
Michel Temer
Justin Trudeau
Xi Jinping
Emmanuel Macron
Angela Merkel
Narendra Modi
Joko Widodo
Giuseppe Conte
Shinzō Abe
Enrique Peña Nieto
Vladimir Putin
Salman, King
Cyril Ramaphosa
Moon Jae-in
Recep Tayyip Erdoğan
Theresa May
Donald Trump
Donald Tusk