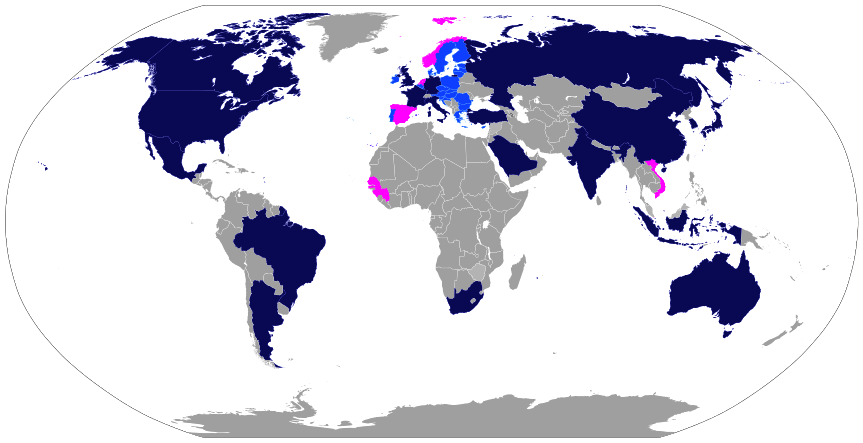 ONE WORLD ONE OCEAN - In the role of guardians of your geographical regions, there is also a responsibility to develop the blue economy for the international circular economies that a sustainable society requires if we are not to burn planet earth out.
Vietnamese Prime Minister, Nguyen Xuan Phuc, was a guest country at the G20 2017 summit in Hamburg and one of the countries of the world that could benefit from joining a World Ocean Anti-Plastic Alliance.
Vietnam is located on the eastern Indochina Peninsula between the latitudes 8° and 24°N, and the longitudes 102° and 110°E. It covers a total area of approximately 331,210 km2 (127,881 sq mi), making it almost the size of Germany. The combined length of the country's land boundaries is 4,639 km (2,883 mi), and its coastline is 3,444 km (2,140 mi) long. At its narrowest point in the central Quảng Bình Province, the country is as little as 50 kilometres (31 mi) across, though it widens to around 600 kilometres (370 mi) in the north. Vietnam's land is mostly hilly and densely forested, with level land covering no more than 20%. Mountains account for 40% of the country's land area, and tropical forests cover around 42%.

In 2012, Vietnam's nominal GDP reached US$138 billion, with a nominal GDP per capita of $1,527. According to a December 2005 forecast by Goldman Sachs, the Vietnamese economy will become the world's 21st-largest by 2025, with an estimated nominal GDP of $436 billion and a nominal GDP per capita of $4,357. According to a 2008 forecast by PricewaterhouseCoopers, Vietnam may be the fastest-growing of the world's emerging economies by 2025, with a potential growth rate of almost 10% per annum in real dollar terms. In 2012, HSBC predicted that Vietnam's total GDP would surpass those of Norway, Singapore and Portugal by 2050.

As a result of several land reform measures, Vietnam has become a major exporter of agricultural products. It is now the world's largest producer of cashew nuts, with a one-third global share; the largest producer of black pepper, accounting for one-third of the world's market; and the second-largest rice exporter in the world, after Thailand. Vietnam is the world's second largest exporter of coffee. Vietnam has the highest proportion of land use for permanent crops – 6.93% – of any nation in the Greater Mekong Subregion. Other primary exports include tea, rubber, and fishery products. However, agriculture's share of Vietnam's GDP has fallen in recent decades, declining from 42% in 1989 to 20% in 2006, as production in other sectors of the economy has risen.

In manufacturing, Vietnam is expected to lose some of its current comparative advantage in low wages in the near future. It will need to compensate for this loss with productivity gains, if it is to sustain high growth rates: GDP per capita almost doubled between 2008 and 2013. High-tech exports from Vietnam grew dramatically during 2008–2013, particularly with respect to office computers and electronic communications equipment – only Singapore and Malaysia exported more of the latter. Vietnam will need to adopt strategies which enhance the technical capacity and skills among local firms that are, as yet, only weakly integrated with global production chains, such as by fostering the transfer of technology and skills from large multinational firms to smaller-scale domestic firms.

In 2014 Vietnam negotiated a free trade agreement with the European Union, giving the country access to the EU's Generalized System of Preferences. This provides preferential access to European markets for developing countries through reduced tariffs.

Vietnam is a member of the Association of Southeast Asian Nations (ASEAN), which formed a common market in late 2015 called the ASEAN Economic Community.

As a coastal country, Vietnam has many major sea ports, including Cam Ranh, Da Nang, Hai Phong, Ho Chi Minh City, Hong Gai, Qui Nhơn, Vũng Tàu Cua Lo and Nha Trang. Further inland, the country's extensive network of rivers play a key role in rural transportation, with over 17,700 kilometres (11,000 mi) of navigable waterways carrying ferries, barges and water taxis.

In addition, the Mekong Delta and Red River Delta are vital to Vietnam's social and economic welfare – most of the country's population lives along or near these river deltas, and the major cities of Ho Chi Minh City and Hanoi are situated near the Mekong and Red River deltas, respectively. Further out in the South China Sea, Vietnam currently controls the majority of the disputed Spratly Islands, which are the source of longstanding disagreements with China and other nearby nations.
We share one ocean and one planet. We may care to think otherwise, but in the greatest technical challenge we have yet faced as brothers and sisters of planet earth there are no borders. What neighbor countries trash today is your pollution problem tomorrow, and what we fail to clean up today as responsible parents is our children's legacy for generations to come.
With plastic being a toxin carrier and bioamplifier in the food chain, we can expect that people ingesting fish exposed to marine plastic will be that much more likely to suffer cancer related problems in life, with follow on costs to the health services of contributor nations.
The unique quality of humans is our ability to reason and be reasonable. Provided that the main industrial players in the world accept that plastic production and usage is linked to Gross Domestic Product in proportion to wealth creation, it is reasonable to expect that those with most to gain from ocean research and regeneration might want to contribute what they can afford to removing what is possible to remove to compensate for their part in creating the problem, unwittingly though that may have been in the past.
What we are suggesting is an alliance between the top performing nations dedicated to cleaning the seas up. We invite those nations (and any others that want to fight) to join in the Big Clean by contributing to the cause.
We know that world leaders will consider it unfair if they are asked to contribute more than other nations, but would also expect that each nations should match fund any coordinated efforts of this nature. Funding need only continue until SeaVax reaches break even point, at which stage members might expect to benefit from ongoing operations without any cost of membership attaching.
World Oceans Anti-Plastic Alliance (WOAA)
Cleaner Ocean Foundation Ltd
Solar Studios (Solar House)
BN271RF
United Kingdom.
Tel/Fax: 0044 1323 831727
Email: growth @ blue-growth . org
The World needs an Ocean Action Plan to coordinate the efforts of member nations that in turn will benefit each other as the oceans move from one shoreline to the shores of a neighbor country. To help us develop an international strategy we need to generate sufficient funds effectively make headway, estimated to be in the region of $10 million dollars to develop a SeaVax prototype. Follow on expenses, or pledges of ongoing support should be included to cover the cost of helping contributing nations to set up fleets of ocean cleaning boats - and running them in a network or pattern that stands the best chance of regenerating our oceans.
THE ACTION PLAN IN BRIEF
An Action Plan will involve coordinated research, communications and operations designed to tackle marine plastic, working with other organizations and academics to make people aware of the dangers of plastic pollution and the need to review packaging policies.
An Action Plan will involve developing ocean cleaning vessels and a central hub to coordinate plastic recovery missions and recycling.
Collecting grants, accounting for and end of year reporting on progress to Ocean Alliance members.
GUEST NATIONS 2018
INTERNATIONAL ORGANIZATIONS 2018
THE G20 HEADS OF STATE A - Z
The G20 (or G-20 or Group of Twenty) is an international forum for governments and central bank governors from:
Argentina
Australia
Brazil
Canada
China
European Union
France
Germany
India
Indonesia
Italy
Japan
Mexico
Russia
Saudi Arabia
South Africa
South Korea
Turkey
United Kingdom
United States 
Founded in 1999, the G20 aims to discuss policy pertaining to the promotion of international financial stability. It seeks to address issues that go beyond the responsibilities of any one organization.
The G20's membership does not reflect exactly the 19 largest national economies of the world in any given year. The organization states:

"In a forum such as the G20, it is particularly important for the number of countries involved to be restricted and fixed to ensure the effectiveness and continuity of its activity. There are no formal criteria for G20 membership and the composition of the group has remained unchanged since it was established. In view of the objectives of the G20, it was considered important that countries and regions of systemic significance for the international financial system be included. Aspects such as geographical balance and population representation also played a major part."
ABOUT GROSS DOMESTIC PRODUCT
Gross domestic product (GDP) is the market value of all final goods and services from a nation in a given year. Countries are sorted by nominal GDP estimates from financial and statistical institutions, which are calculated at market or government official exchange rates. Nominal GDP does not take into account differences in the cost of living in different countries, and the results can vary greatly from one year to another based on fluctuations in the exchange rates of the country's currency. Such fluctuations may change a country's ranking from one year to the next, even though they often make little or no difference in the standard of living of its population. The figures quoted here are only a guide.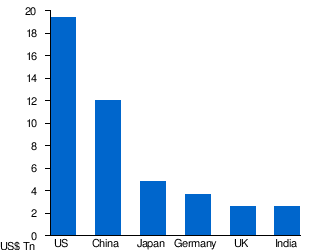 STATE LEADERS
Mauricio Macri
Malcolm Turnbull
Michel Temer
Justin Trudeau
Xi Jinping
Emmanuel Macron
Angela Merkel
Narendra Modi
Joko Widodo
Giuseppe Conte
Shinzō Abe
Enrique Peña Nieto
Vladimir Putin
Salman, King
Cyril Ramaphosa
Moon Jae-in
Recep Tayyip Erdoğan
Theresa May
Donald Trump
Donald Tusk