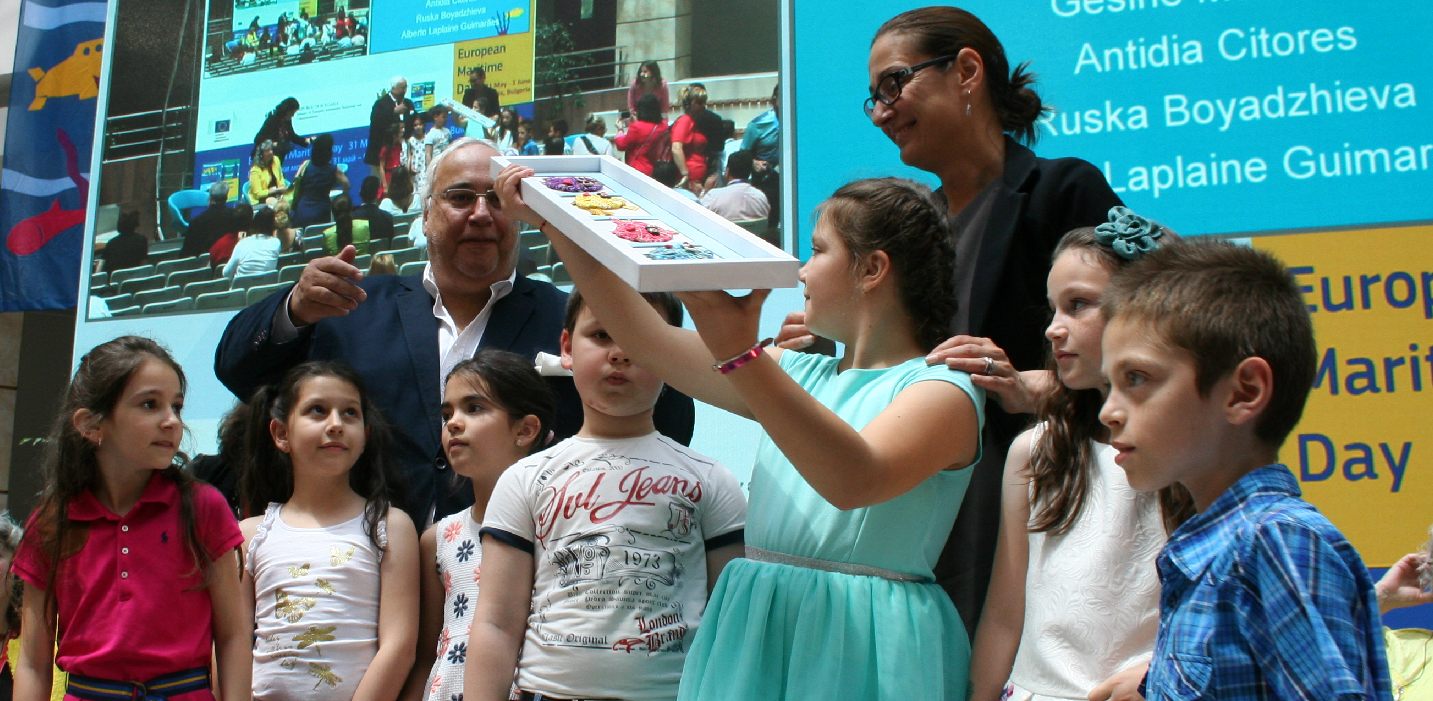 FOR OUR CHILDREN - This was the conclusion of European Maritime Day in Burgas: The children of Burgas present Alberto Laplaine Guimarães with a gift from the Bulgarian City. Sustainable growth and aims for a circular economy are for our children and their children, and their children, and their children - lest we forget why we are working to clean our act up. As trustees of our blue planet we should hand the world to our successors in better shape than we found it. Copyright © photograph June 1 2018 Cleaner Ocean Foundation.
The United Nations Educational, Scientific and Cultural Organization (UNESCO; French: Organisation des Nations unies pour l'éducation, la science et la culture) is a specialized agency of the United Nations (UN) based in Paris. Its declared purpose is to contribute to peace and security by promoting international collaboration through educational, scientific, and cultural reforms in order to increase universal respect for justice, the rule of law, and human rights along with fundamental freedom proclaimed in the United Nations Charter. It is the successor of the League of Nations' International Committee on Intellectual Cooperation.

UNESCO has 195 member states and ten associate members. Most of its field offices are "cluster" offices covering three or more countries; national and regional offices also exist.

UNESCO pursues its objectives through five major programs: education, natural sciences, social/human sciences, culture and communication/information. Projects sponsored by UNESCO include literacy, technical, and teacher-training programs, international science programs, the promotion of independent media and freedom of the press, regional and cultural history projects, the promotion of cultural diversity, translations of world literature, international cooperation agreements to secure the world's cultural and natural heritage (World Heritage sites) and to preserve human rights, and attempts to bridge the worldwide digital divide. It is also a member of the United Nations Development Group.

UNESCO's aim is "to contribute to the building of peace, the eradication of poverty, sustainable development and intercultural dialogue through education, the sciences, culture, communication and information". Other priorities of the organization include attaining quality Education For All and lifelong learning, addressing emerging social and ethical challenges, fostering cultural diversity, a culture of peace and building inclusive knowledge societies through information and communication.

The broad goals and objectives of the international community - as set out in the internationally agreed development goals, including the Millennium Development Goals (MDGs) - underpin all UNESCO strategies and activities.
TOP TEN WORLD HERITAGE SITES A TO Z
ACROPOLIS - ATHENS, ANCIENT GREEKS, PARTHENON, TEMPLE ATHENA NIKE
ANGKOR WAT - HINDU BUDDHIST TEMPLE RELIGIOUS COMPLEX, CAMBODIA
CHICHEN ITZA - ANCIENT MAYAN CITY, YUCATAN PENINSULA, MEXICO
COLOSSEUM - ROMAN HISTORIC CITY CENTRE, ROME, PANTHEON, ITALY
EASTER ISLAND - RAPA NUI, POLYNESIAN HEAD STATUES, PACIFIC OCEAN
GREAT WALL OF CHINA - 3RD CENTURY BC EMPEROR QIN SHI HUANG & MING DYNASTY
MACHU PICCHU - PYRAMID, PERU, INCAN LOST CITY, ANDES
PETRA - TREASURY, AL-KHAZNEH, SIQ GORGE, NABATAEANS, SOUTHERN JORDAN
PYRAMIDS - GREAT SPHINX, MEMPHIS NECROPOLIS, GIZA, EGYPT
TAJ MAHAL - MAUSOLEUM BUILT BY SHAH JAHAN, AGRA, INDIA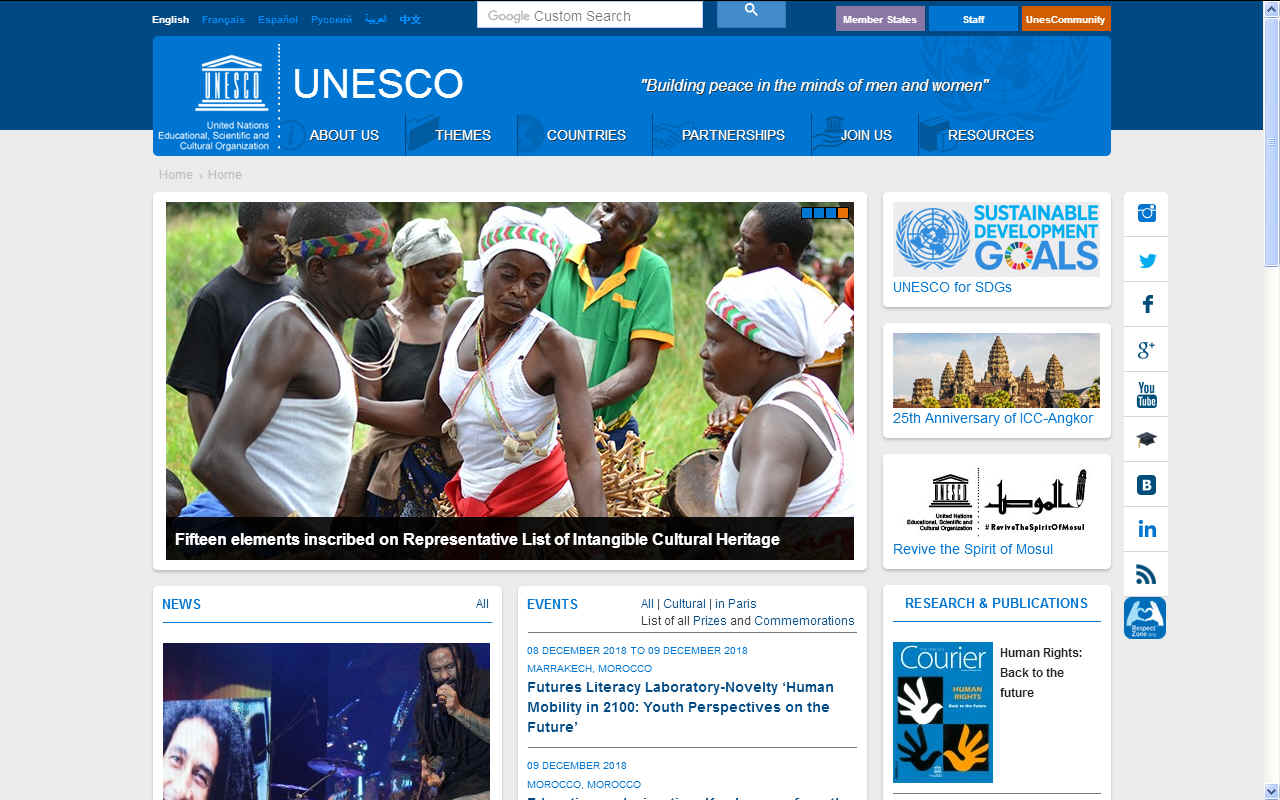 UNESCO CONTACTS
....
INTERNATIONAL ORGANIZATIONS 2018
| | | |
| --- | --- | --- |
| WORLD BANK | FINANCIAL STABILITY BOARD | INT MONETARY FUND |
| UNITED NATIONS | FOOD & AGRICULTURE ORG | INT LABOUR ORG |
| WORLD TRADE ORG | ORG ECONOMIC COOPERATION & DEV | WORLD HEALTH ORG |
| WORLD FOOD PROGRAMME | INT RENEWABLE ENERGY AGENCY | INT MARITIME ORGANIZATION |
| WORLD ECONOMIC FORUM | UNESCO | UN HUMAN RIGHT COUNCIL |