KULO LUNA INDEX TO CHAPTERS
ABOUT - CONTACTS - DONATE - FOUNDATION - HOME - A-Z INDEX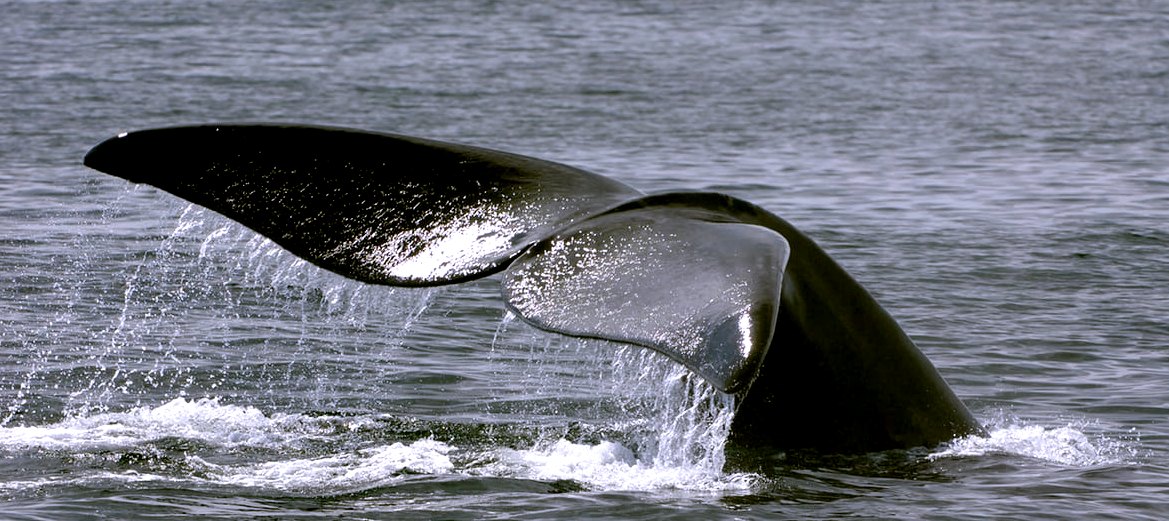 KULO LUNA - Grace and beauty, these giant fins propel the whale at considerable speed over thousands of miles from feeding to breeding grounds. Whales are at risk from toxic plastic waste in our oceans.
This is the index page to the Kulo Luna adventure by Jameson Hunter Ltd working in association with the Cleaner Ocean Foundation to develop the story for ocean awareness purposes, ebook publishing and an eventual film or animation.
SCENE

DESCRIPTION

LOCATION

Chapter 1

Winds of Change (Prologue)

580 W, 750 N

Chapter 2

510 30'N, 00

Chapter 3

420 N,

880 W

Chapter 4

330 S, 1510 E

Chapter 5

270 30'S, 1530 E

Chapter 6

330 20'S, 1520 E

Chapter 7

500 N, 1700

W

Chapter 8

200 N, 1600 W

Chapter 9

420 N, 700 W

Chapter 10

330 N, 1290 E

Chapter 11

330 N, 1290 E

Chapter 12

330 N, 1290 E

Chapter 13

200 N, 1600 W

Chapter 14

130 S, 1310 E – 350 S, 1380 E

Chapter 15

200 N, 1600 W

Chapter 16

240 N, 1410 E

Chapter 17

240 N, 1400 E

Chapter 18

40N0, 1550 W (Whale Trust Maui)

Chapter 19

Sky High (deal)

380 S, 1450 E

Chapter 20

200 N, 1600 E (middle of Pacific)

Chapter 21

200 N, 1300 E (off Philippines)

Chapter 22

Open Season (water)

330 N, 1290 E

Chapter 23

470 N, 70 E

Chapter 24

250 N, 1250 E

Chapter 25

200 N, 1600 W

Chapter 26

140 N, 1800 E

Chapter 27

150 N, 1550 E

Chapter 28

100 N, 1650 E

Chapter 29

100 N, 1650 E

Chapter 30

100 N, 1650

E

Chapter 31

100 N, 1650 E

Chapter 32

100 N, 1650 E

Chapter 33

150 S, 1550 E

Scene 34

150 S, 1570 E

Chapter 35

230 S, 1550 E

Chapter 36

20 S, 1600 E

Chapter 37

20 S, 1600 E

Chapter 38

20 S, 1600 E

Chapter 39

170 S, 1780E

Chapter 40

200 S, 1520 E

Chapter 41

350 S, 1510 E

Chapter 42

Chapter 43

250 S, 1530 E

Chapter 44

Sweet Sorrow (epilogue)

250 S, 1530 E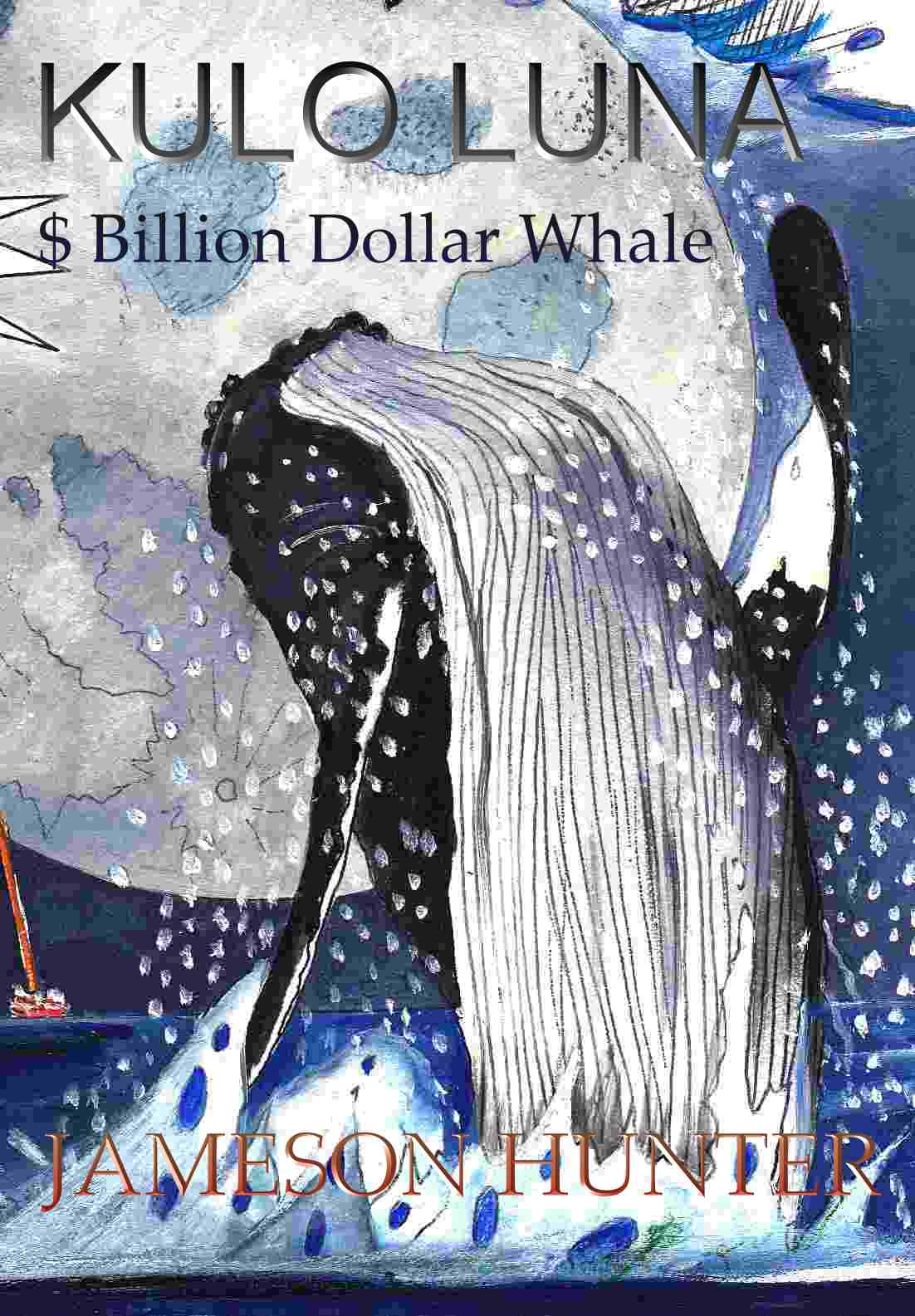 KULO LUNA - Is the story of a giant humpback whale and her young friend Kana who is killed by pirate whalers in the south pacific ocean. Enraged by the death of Kana, Kulo attacks the pirate ship, finally sinking it, but getting herself wounded in the process.
On hearing of the sinking of one of their suppliers, a Japanese cartel put a $multi-million dollar bounty on her head, when another whaling ship gives chase. Before not too long the media hear of the hunt and betting begins all around the world. At this point our hero, John Storm, abandons a solar boat race to try and help the whale where his boat, the Elizabeth Swan, is not far away from the last sighting.
John rescues Kulo from being eaten by sharks, but that is just the beginning of their adventure, as the pirates whalers close in for the kill........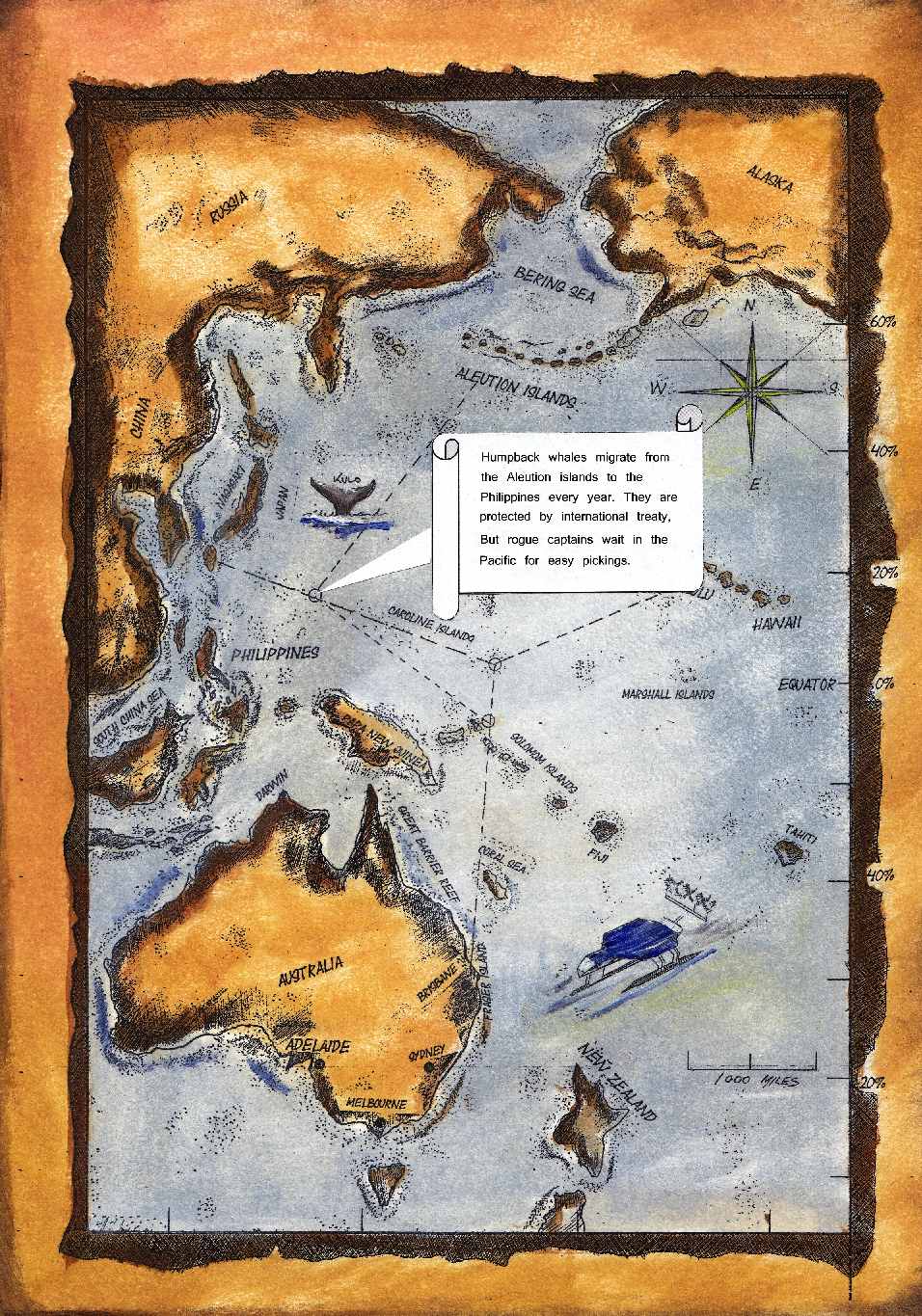 The map above shows you where Kulo's epic fight for life begins and concludes. Copyright © Jameson Hunter 2006 and 2018. The right of Jameson Hunter to be identified as the author of this work has been asserted in accordance with section 77 and 78 of the Copyright Designs and Patents Act 1988. In this work of fiction, the characters, places and events are either the product of the author's imagination or they are used entirely fictitiously. Blueplanet Universal Productions & Electrick Publications, London, England. ISBN: 0-953-7824-01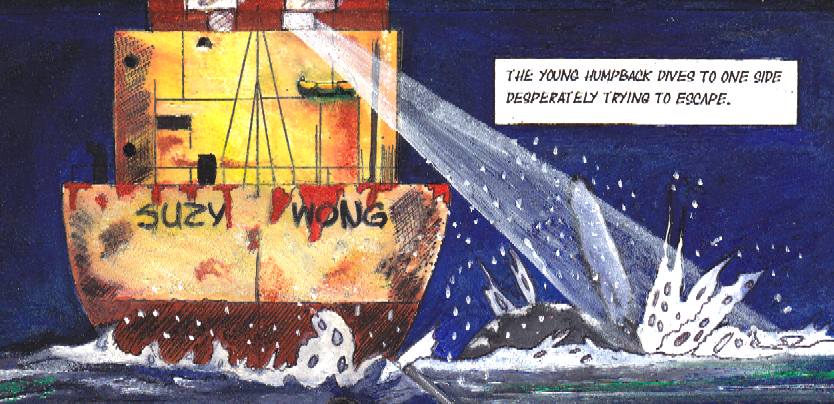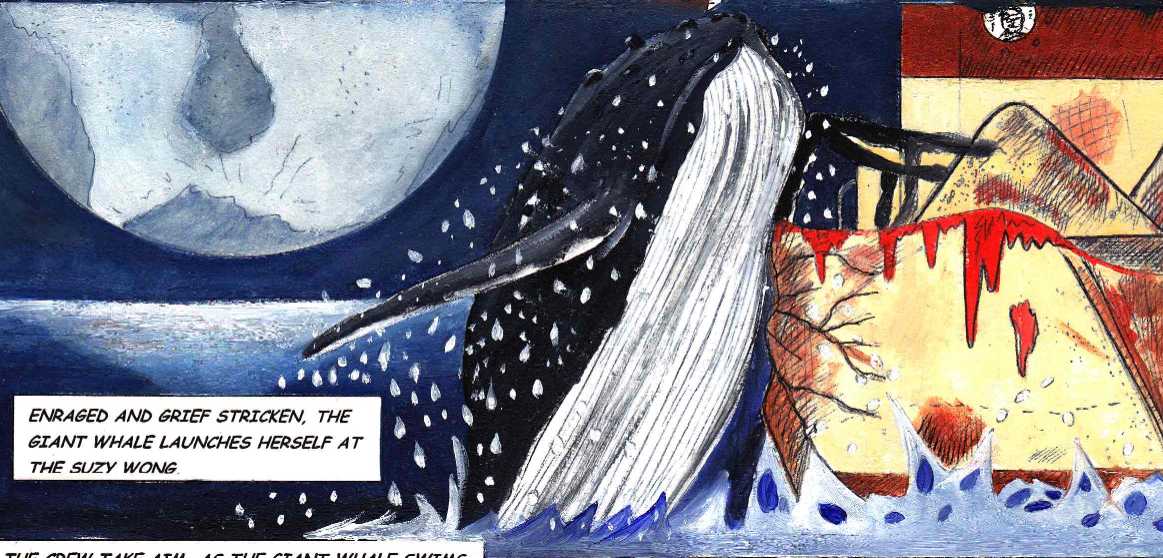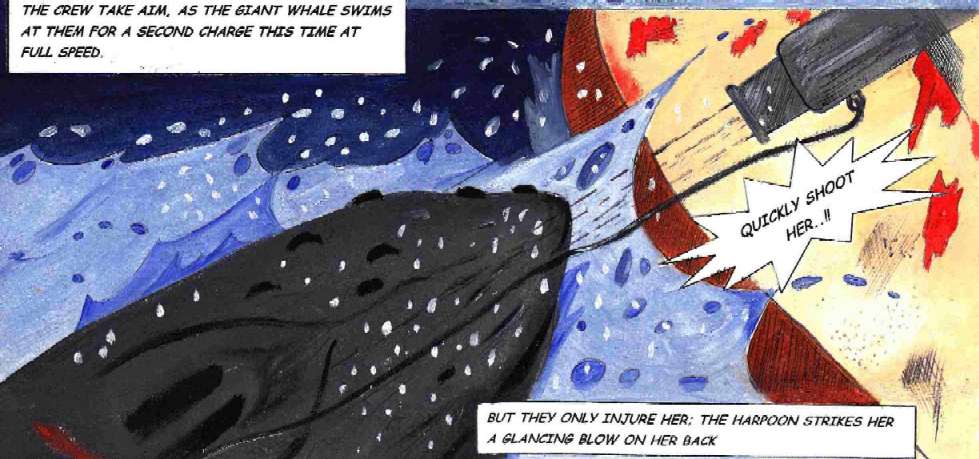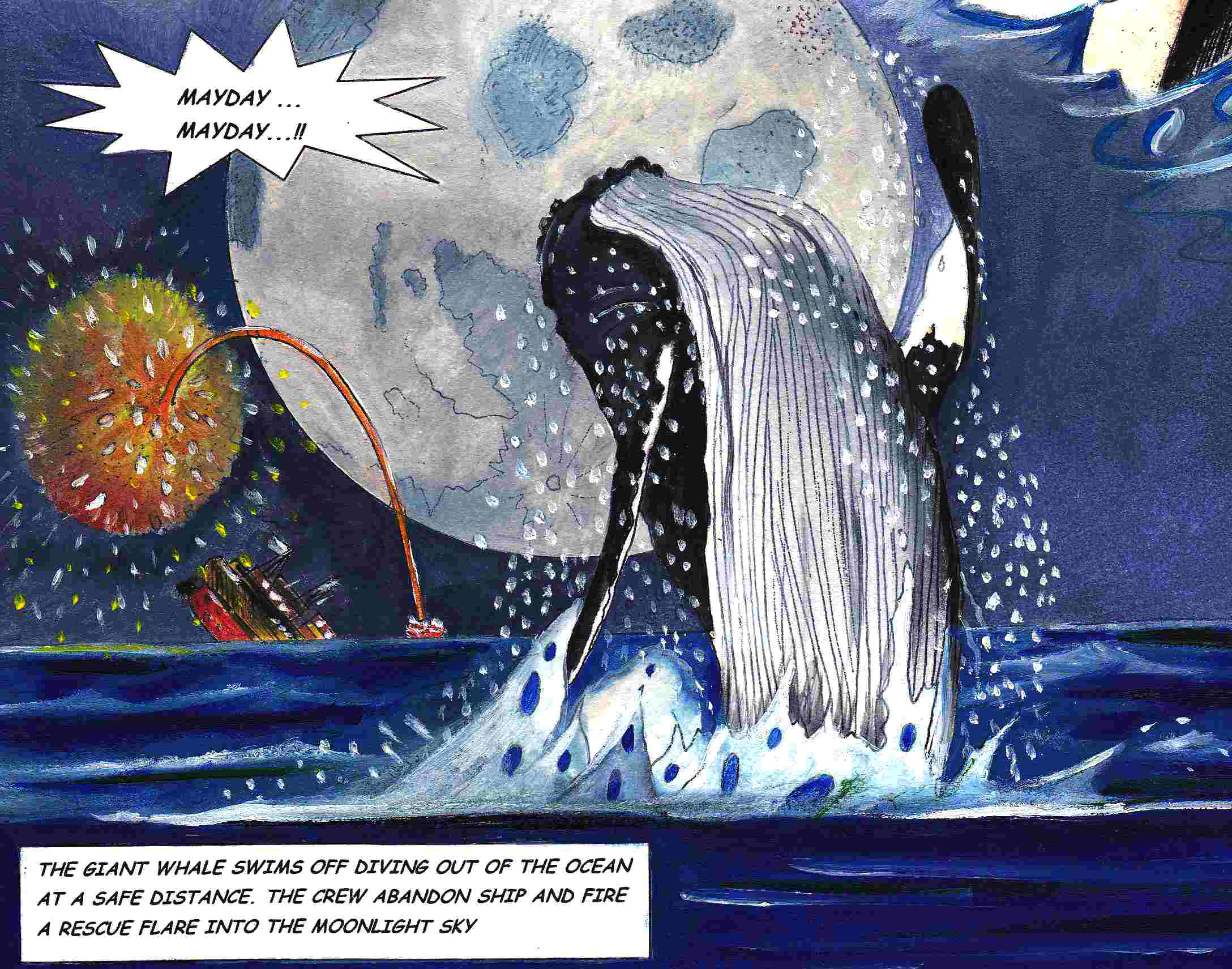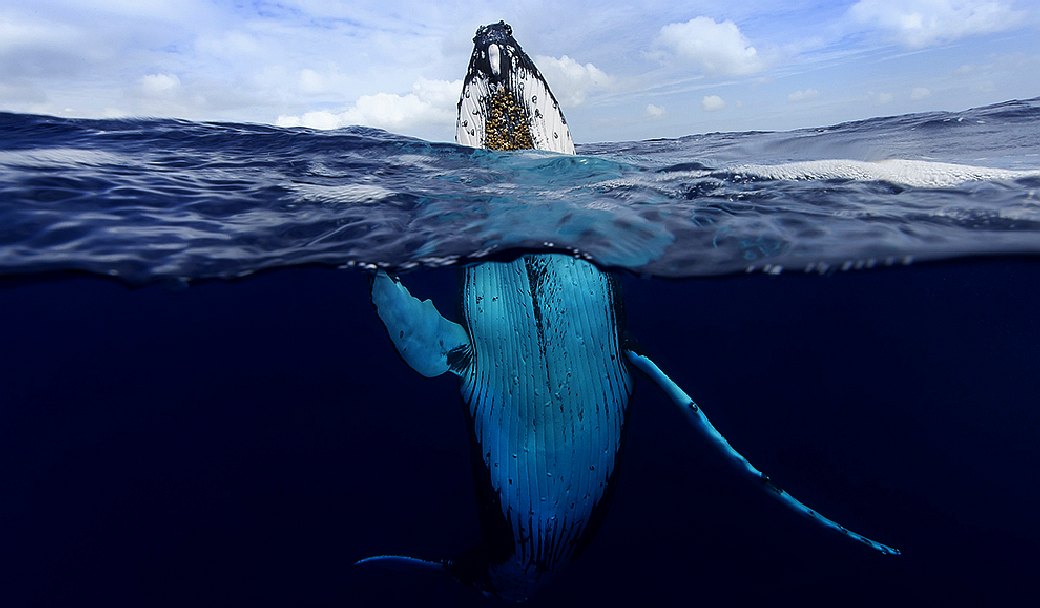 MARINE LIFE - This humpback whale is one example of a magnificent animal that is at the mercy of human activity. Humans are for the most part unaware of the harm their fast-lane lifestyles are causing. We aim to change that by doing all we can to promote ocean literacy. The Kulo Luna story is one of our initiatives to promote ocean issues.
CHARACTER

DESCRIPTION

A

CTOR

–

Adventurer

–

Electronics Wizard

–

Solicitor based in Sydney

–

Marine Biologist

–

Freelance Reporter

–

Camerawoman

–

Solar Racer, Starlight

–

BBC Newsnight Presenter

–

Sky News Editor

–

Editor

–

Captain Ocean Shepherd

–

Captain, Suzy Wong, Japanese whaling Boat

–

Captain, Jonah, Japanese whaling Boat

–

Japanese Black Market Boss

–

Pilot

–

Editor the Independent
This website is provided on a free basis as a public information service. Copyright © Cleaner Oceans Foundation Ltd (COFL) (Company No: 4674774) 2018. Solar Studios, BN271RF, United Kingdom. COFL is a charity without share capital.