THE ELIZABETH SWANN
ABOUT - CONTACTS - DONATE - FOUNDATION - HOME - A-Z INDEX
THE ELIZABETH SWAN - The graceful lines of this beautiful solar powered boat complements the zero carbon cruising ideal that many designers and United Nations planners aspire to under SDG13.
A 1:20th scale test tank model of the Elizabeth Swan is under construction. For the SNAV, Elizabeth Swann, development models we will use triple layer, laminated, amorphous cells in combination with polycrystaline (16.5 - 17%) cells to provide 100+ watts of energy for hull speed tests.
The full size vessel could achieve a superior power to weight ratio as kilowatts per ton, but is being limited to 67kW (55kW + 12kW) on economic grounds, so around 2.8kW/ton at present displacement estimates for the smaller turbines setup, and 90kW (60kW + 30kW) for the larger turbine installation, to give 3.4kW/ton. 100w on this model is the equivalent of between 3.73kW/ton (5hp) - 5.89 kW/ton (7.9hp), depending on the weight of the final model.
The model is therefore more powerful than the full size ship pro-rata, when it should perhaps be the other way around - and of course it is, because the model should have a considerable battery mass and it has none. Ballasted (lead weights) the power to weight ratio is roughly 5.27kW/ton (7.07hp) in the upper range. Or, looking at it another way, the full size ship may prove to be faster than we are working towards giving us a respectable safety margin.
The world record at the moment is held by Planetsolar, a ship that weighs 95 tons and generates 93.5kW from 825 solar panels. That works out to .984kW per ton. For this reason the Bluefish platform promises to advance the state of the art significantly in theory. That coupled to the stable low drag hull, could yield sprint speeds in excess of 18 knots with suitable motors, and that is why this is an exciting time for us. When built the Bluefish hull will be the largest solar powered boat in the world at 43 meters (140ft). Planetsolar is 113 ft long and the current record holder.
The Elizabeth Swan is an advanced boat inherited and completed by John Storm in time to enter the worlds first solar circumnavigation race starting and ending in Hawaii. This is a fictional adventure story intended to increase ocean awareness. The Swan is said to be the world's fastest solar powered vessel with twin solar arrays that track the sun and quad wind turbines as the power source; all harvesting free energy from nature.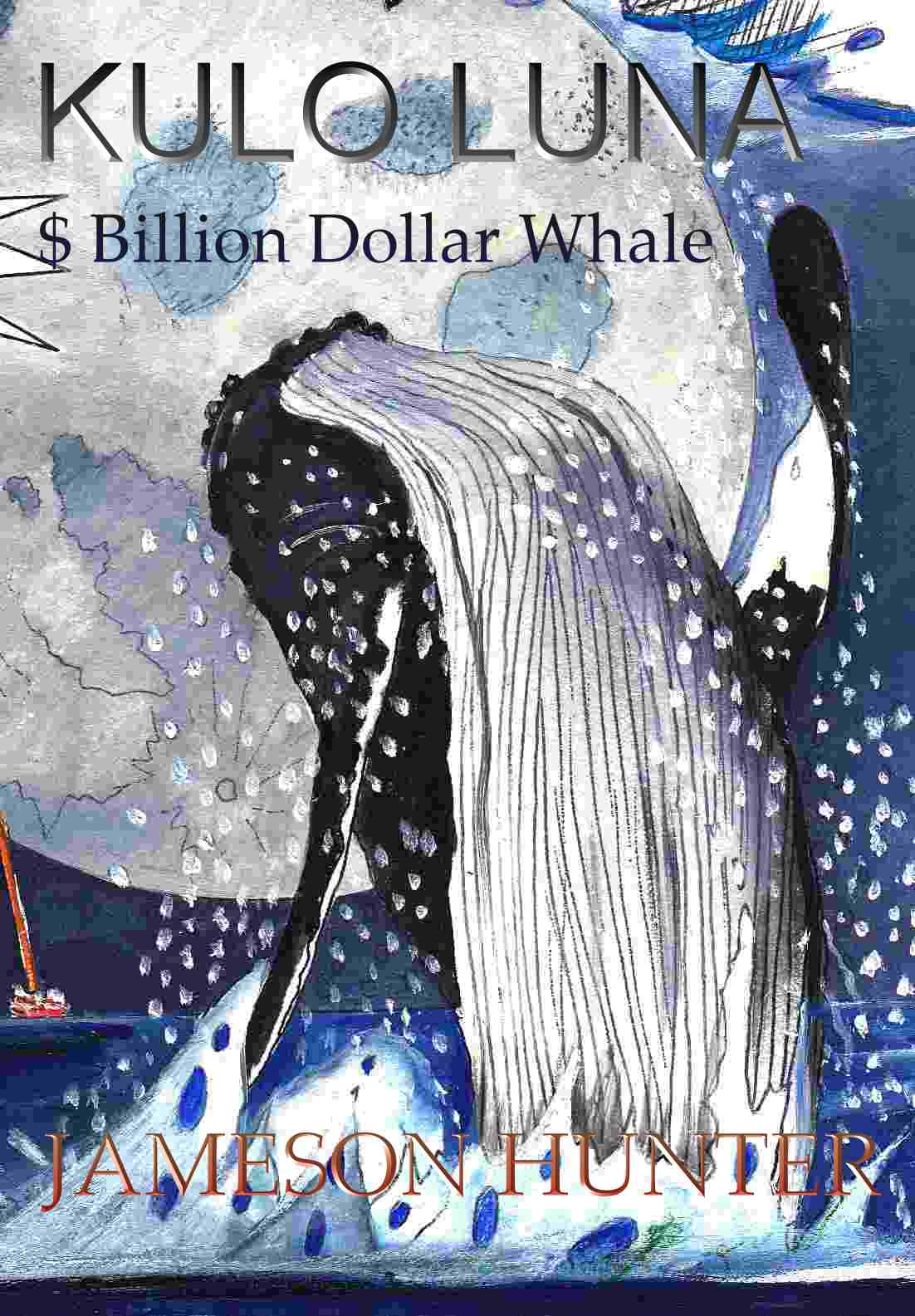 KULO LUNA - Is the story of a giant humpback whale and her friend Kana, who is killed by pirate whalers in the south pacific ocean. Enraged by the death of the young whale, Kulo attacks the pirate ship, finally sinking it, but getting herself wounded in the process.
A Japanese cartel put a $multi-million dollar bounty on her head, when another whaling ship gives chase. Before not too long the media hear of the hunt and betting begins all around the world. At this point our hero, Johnny Storm, abandons a solar boat race to try and help the whale where his boat, the Elizabeth Swan, is not far away from the last sighting.
John rescues Kulo from being eaten by sharks, but that is just the beginning of their adventure, as the pirates whalers close in for the kill ........

Copyright © Jameson Hunter 2006 and 2018. The right of Jameson Hunter to be identified as the author of this work has been asserted in accordance with section 77 and 78 of the Copyright Designs and Patents Act 1988. In this work of fiction, the characters, places and events are either the product of the author's imagination or they are used entirely fictitiously. Blueplanet Universal Productions & Electrick Publications, London, England. ISBN: 0-953-7824-01
SCENE

DESCRIPTION

LOCATION

Chapter 1

Winds of Change (Prologue)

580 W, 750 N

Chapter 2

510 30'N, 00

Chapter 3

420 N,

880 W

Chapter 4

330 S, 1510 E

Chapter 5

270 30'S, 1530 E

Chapter 6

330 20'S, 1520 E

Chapter 7

500 N, 1700

W

Chapter 8

200 N, 1600 W

Chapter 9

420 N, 700 W

Chapter 10

330 N, 1290 E

Chapter 11

330 N, 1290 E

Chapter 12

330 N, 1290 E

Chapter 13

200 N, 1600 W

Chapter 14

130 S, 1310 E – 350 S, 1380 E

Chapter 15

200 N, 1600 W

Chapter 16

240 N, 1410 E

Chapter 17

240 N, 1400 E

Chapter 18

40N0, 1550 W (Whale Trust Maui)

Chapter 19

Sky High (deal)

380 S, 1450 E

Chapter 20

200 N, 1600 E (middle of Pacific)

Chapter 21

200 N, 1300 E (off Philippines)

Chapter 22

Open Season (water)

330 N, 1290 E

Chapter 23

470 N, 70 E

Chapter 24

250 N, 1250 E

Chapter 25

200 N, 1600 W

Chapter 26

140 N, 1800 E

Chapter 27

150 N, 1550 E

Chapter 28

100 N, 1650 E

Chapter 29

100 N, 1650 E

Chapter 30

100 N, 1650

E

Chapter 31

100 N, 1650 E

Chapter 32

100 N, 1650 E

Chapter 33

150 S, 1550 E

Scene 34

150 S, 1570 E

Chapter 35

230 S, 1550 E

Chapter 36

20 S, 1600 E

Chapter 37

20 S, 1600 E

Chapter 38

20 S, 1600 E

Chapter 39

170 S, 1780E

Chapter 40

200 S, 1520 E

Chapter 41

350 S, 1510 E

Chapter 42

Chapter 43

250 S, 1530 E

Chapter 44

Sweet Sorrow (epilogue)

250 S, 1530 E
CHARACTER

DESCRIPTION

A

CTOR

–

Adventurer

–

Electronics Wizard

–

Solicitor based in Sydney, Australia

–

–

Freelance Reporter

–

Camerawoman

–

Solar Racer, Starlight

–

BBC Newsnight Presenter

–

Sky News Editor

–

Editor

–

Captain Ocean Shepherd

–

Captain, Suzy Wong, Japanese whaling Boat

–

Captain, Jonah, Japanese whaling Boat

–

Japanese Black Market Boss

–

Pilot

–

Editor the Independent
SUPERB - Keira Knightly portrays Elizabeth Swann as the girl who grew up with a thing for pirates and then fell in love with one - and his swashbuckling lifestyle.
The Elizabeth Swan has an active hull that for the main part rides under the water to reduce wave and skin friction drag. Above the water, robotics control the energy harvesting apparatus to maximize the efficiency of a relatively small collection area. The Swan was named after Elizabeth Swann, the fictional character in Disney's Pirates of the Caribbean series of adventure films played by Kiera Knightley.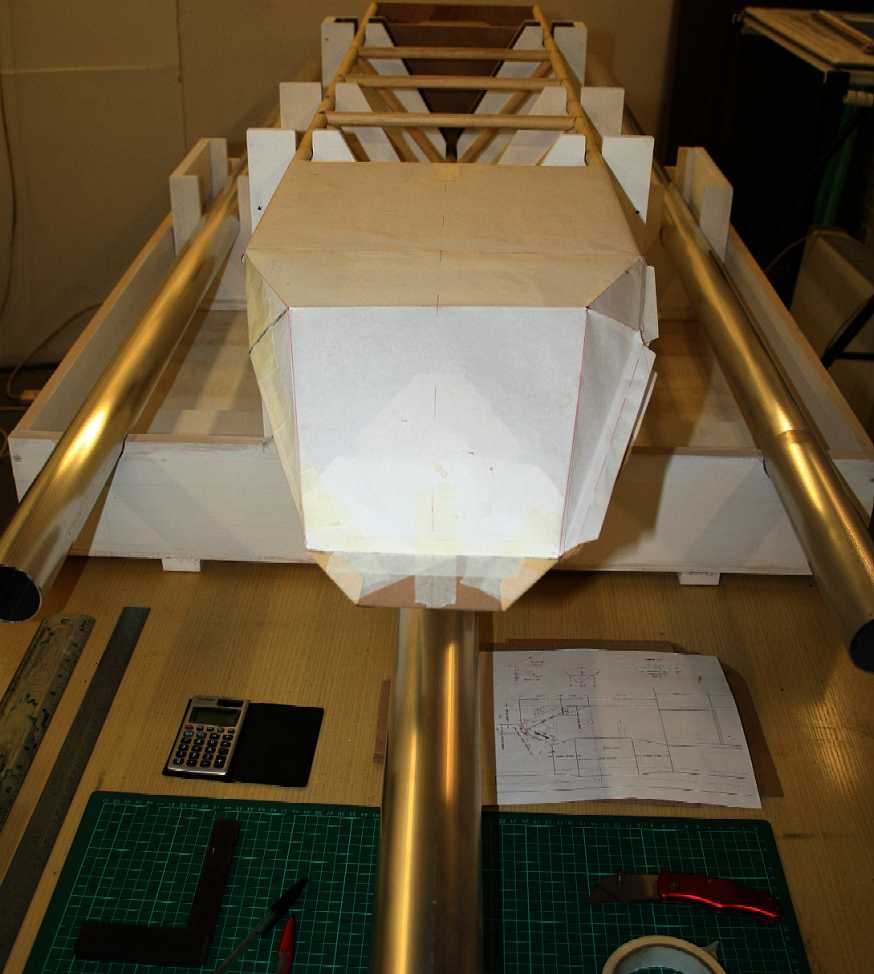 DUAL HELMS - You can live on board this blue water cruising craft in comfort with relatively little cabin space. The Swan boats two helm positions, one fully enclosed at the front for rough weather sailing and one open deck at the back for sunning yourself in fine conditions, for fishing and with diving ladders water sports.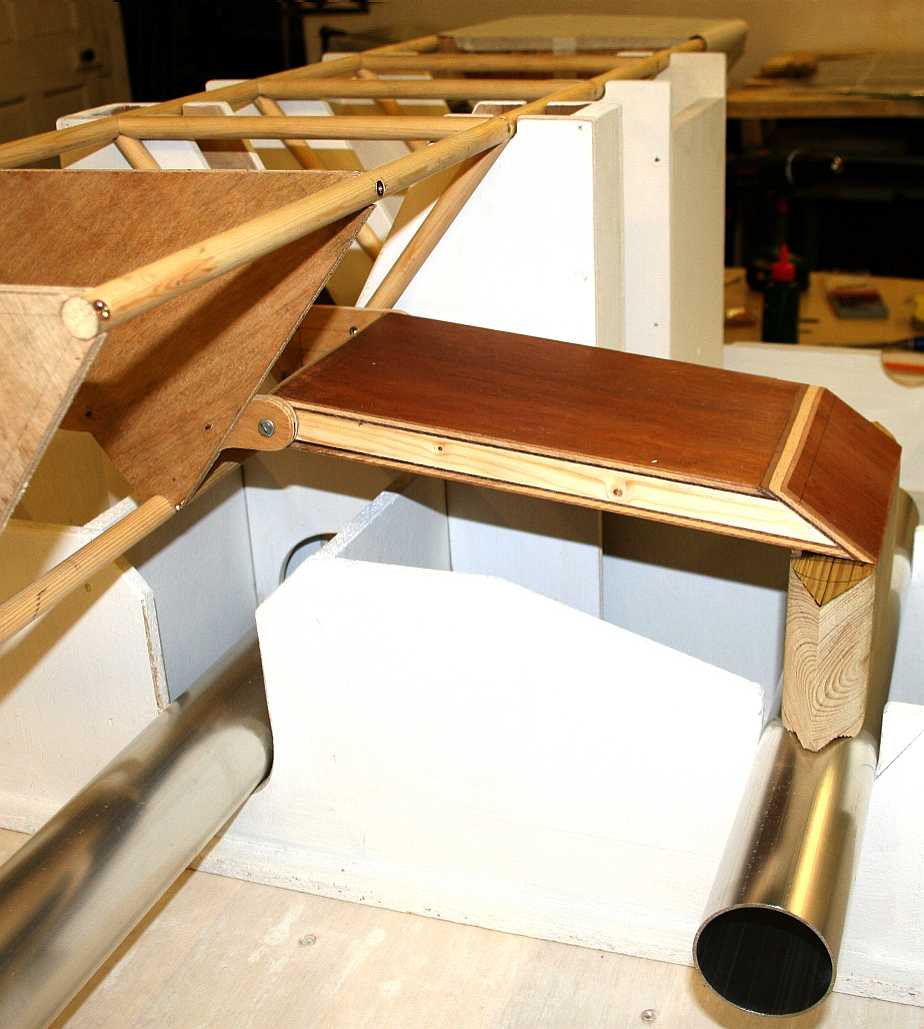 ACTIVE HULL - With a SWATH hull design reserve buoyancy becomes an important consideration. With an active hull the reserves are increased dramatically. SWATH is the acronym for Small Waterplane Area Triple Hull. When in fact the two outriggers may be lifted out of the water completely in ideal conditions and lowered to cope with cargo carrying where the recommended limits have been exceeded, in times of emergency.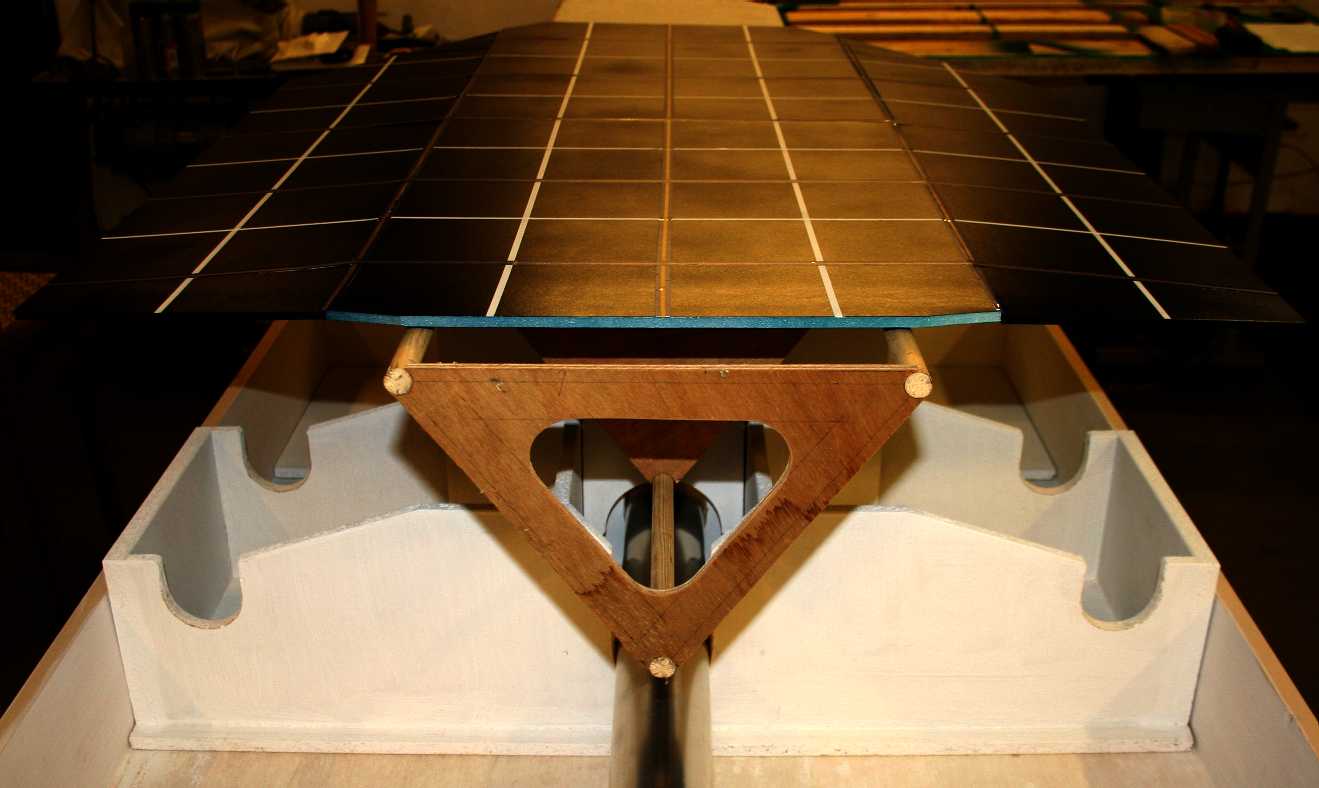 TEST TANK MODEL - A model of the Elizabeth Swan under construction, to be used for test tank and open water trials. In this picture you see the solar wings before fitting to the main hull. The rights to this design have now been acquired by Jameson Hunter for the Kulo Luna novel.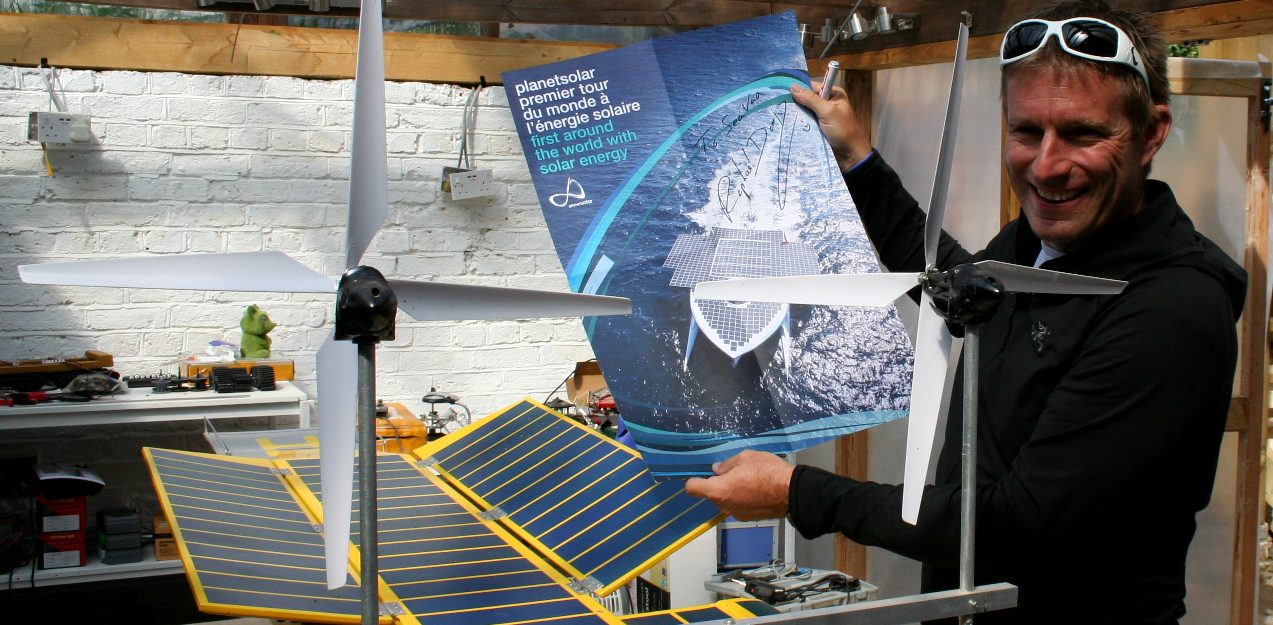 SOLAR COUSINS - Raphaël Domjan has long been an advocate of renewable energy, finally realising his dream in 2005, when he set up an association with people able to help him develop the PlanetSolar project. Five years later, a catamaran 35 metres long, 23 metres wide, with solar panels covering a surface of 537 m2 was launched.
With a crew of three, Raphaël set sail at the helm of 'his' solar boat on 27 September 2010, heading west in search of the sun. PlanetSolar returned with its Swiss skipper to 'le Rocher' on 4 May 2012 to complete the first solar-powered voyage around the world. This was a stunning world a record first and a milestone for solar powered marine transport.
Raphaël is pictured here in the recently built robotics laboratory in Sussex, England where SeaVax, also a solar (and wind) powered vessel, is being developed as an ocean cleaning workboat. Copyright photograph © Cleaner Ocean Foundation August 25 2017.
DRAFT WEIGHT ANALYSIS
The initial weight analysis and subsequent structural analysis will determine the thickness and type of materials to be employed in any design. The approximate figures below are guidelines to be reduced if possible, once the hull has been tested and stressed for loadings in various sea states. More than likely the displacement will rise, especially if it has to accommodate passengers and life support. These figures are based on the boat being unmanned.
Any naval architect will tell you that this is a significant challenge. If at all possible, we do not want to use composites if by clever design we can use more cost effective materials. In this case aluminium in the preferred material because it is easy to form, weld and repair while at sea. Please note that if this project proceeds that we will be looking for risk sharing collaborative partners in connection any EU Horizon 2020 application for autonomous or low carbon vessels. We do not at this time have a suppliers of steel, aluminium sheet or welding consumables.
| | | |
| --- | --- | --- |
| DESCRIPTION | KILOGRAMS | MATERIAL |
TEST TANK MODEL
The weight analysis for the development model of the Elizabeth Swan is seen here based on the measurement of actual components using a laboratory grade balance:
| | | |
| --- | --- | --- |
| ITEM | KILOGRAMS | DESCRIPTION |
| | | |
| Hull spaceframe | 1.30 | |
| Hull active arms x 2 | .80 | Alloy |
| Hull main hull | 1.96 | Aluminium |
| Hull cones x 6 | 1.00 | Composite |
| Hull outriggers x 2 | .88 | Alloy |
| Hull helm developments x 2 | 2.00 | Aluminium |
| Hull foils x 4 | 1.00 | Aluminium |
| Wings honeycomb | .55 | Composite |
| Wings frames | .50 | Alloy |
| | | |
| HULL subtotal | 9.99 | |
| | | |
| | .34 | Polycrystalline |
| BATTERIES (radio control & navigation) | 0.25 | Lithium |
| BATTERIES (storage) | 0.00 | (12.75% = 2.178 kg ballast add) |
| E MOTORS including transmission | 1.00 | |
| WIND GENS including boom | 1.25 | |
| NAVIGATION instruments | .50 | |
| AUTONOMOUS sensors | 1.50 | |
| COMPUTERS | 0.50 | |
| ACTUATORS | 0.50 | |
| PAINTS | 0.25 | 2 pack |
| | _____ | |
| TOTAL | (35.44 lbs) 16.08 | (17.26 kg ballasted - 38.04lbs) |
LINKS & REFERENCE
https://
This website is provided on a free basis as a public information service. Copyright © Cleaner Oceans Foundation Ltd (COFL) (Company No: 4674774) 2018. Solar Studios, BN271RF, United Kingdom. COFL is a charity without share capital.